Please note this post contains affiliate links.
BBQ Glazed Grilled Bratwurst with Spicy Peach Bacon Salsa is a simple recipe with big bold flavors that are ideal for celebrating the end of summer. The grilled brats have a sweet and savory glaze from the Head Country BBQ Sauce, which pairs perfectly with the smoky, spicy, and fruity salsa on top. Easy enough to make any night of the week, but totally wow-worthy for a party!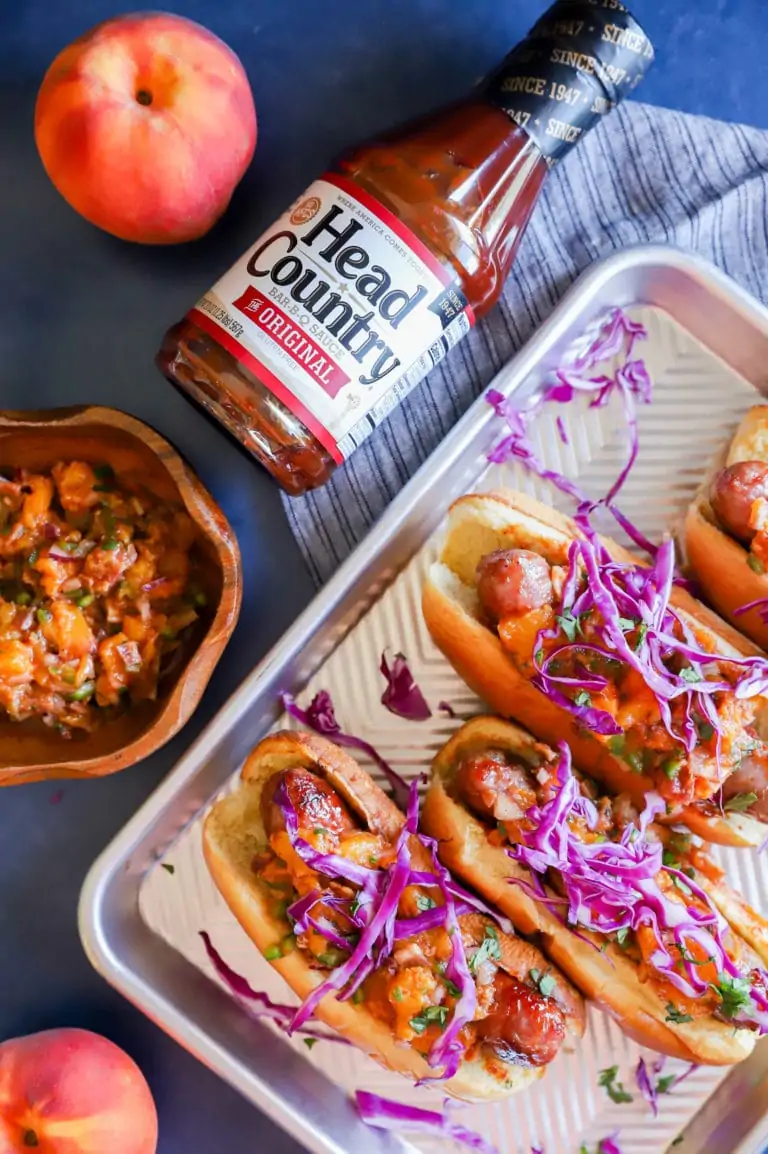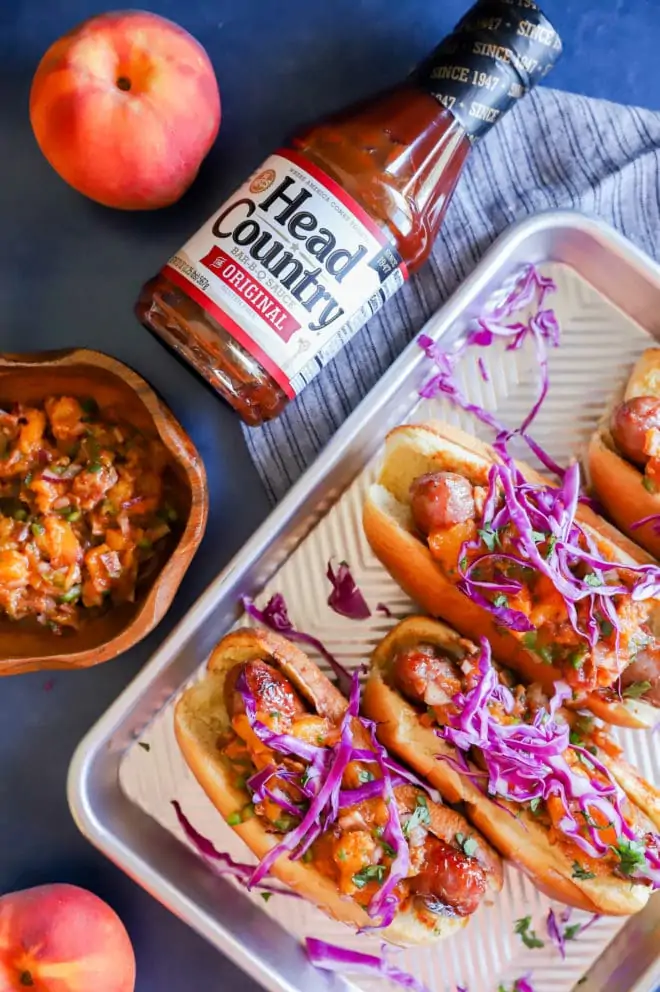 Disclosure: This post was sponsored by Head Country Bar-B-Q. As always, all opinions are my own. Thank you for supporting the brands that support Cake 'n Knife.
about these bbq glazed grilled bratwursts
There's something about BBQ and peaches that just go together, you know what I mean? I've made bourbon peach bbq sauce and bourbon peach bbq wings here before, but now it's time to bring that peachy goodness to some grilled bratwurst.
The peach part of this recipe comes in the form of a spicy peach bacon salsa that really sets your taste buds on fire. There's a nice level of heat from the jalapeño, sweetness from the ripe grilled peaches, and smokiness from hearty bacon. Combined with red onion, cilantro, lime juice, and some chili powder, it's an easy grilled salsa that you'll want to use on all your grilled brats!
But these aren't just any grilled bratwurst… Instead of simply grilling them, I added a sticky glaze to them with my favorite BBQ sauce – Head Country Original BBQ Sauce!
I've always loved using Head Country BBQ Sauces, because they are truly packed with flavor. There's this blend of spices that makes it so much more than other BBQ sauces on the market. Even the Original (the one that started it all for them) is a STANDOUT in my book. We go through it like crazy, and lately I've loved using it to glaze my brats.
You brush on the sauce in the last 5 minutes of cooking, making sure to get both sides, and the result is sticky, sweet, and full of flavor. You can add it to grilled bratwurst like I do here, but it's also so good on wings, burgers, chicken, and more!
Let's get into this recipe though, shall we?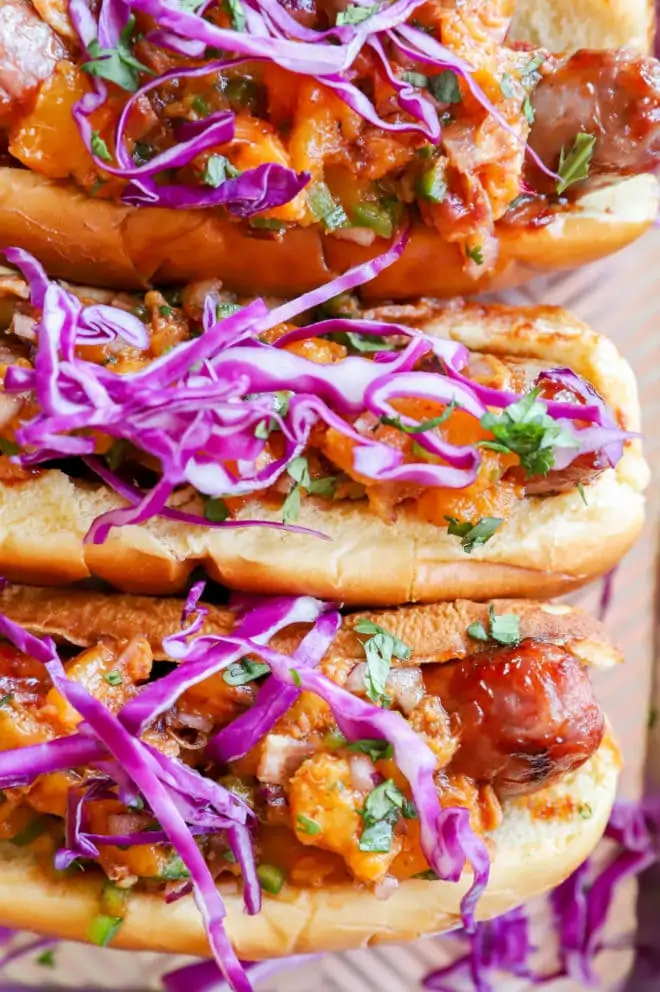 ingredients
Head Country Original BBQ Sauce – this is hands-down the best original BBQ sauce that I have tried (and you all know that I've tried a LOT). There's a wonderful blend of sweet, savory, and a touch of spice that makes it ideal for any BBQ recipe you might whip up. I love the flavor it brings to the brats with its sticky glaze from the grill.
brats – you can choose whatever bratwurst you like for this recipe. I recommend avoid ones with big flavors as they might compete with the ingredients in the recipe.
buns – brioche buns are the best in my opinion!
peaches – be sure to pick the ripest peaches for the most flavor (see the bottom of this post for how to select them!)!
bacon – I used thick-cut bacon that is hickory-smoked for extra smoky flavor. Choose your favorite brand!
red onion – I used half a medium red onion for this recipe, but you can also use one small red onion.
jalapeño – if you like it spicy, leave the seeds in when you chop up the pepper! To tone down the heat in the salsa, seed the pepper before dicing it.
lime juice – fresh lime juice is best for the salsa, but you can also use store bought if that's what you have on hand.
chili powder – either chili powder or ancho chili powder works in this recipe!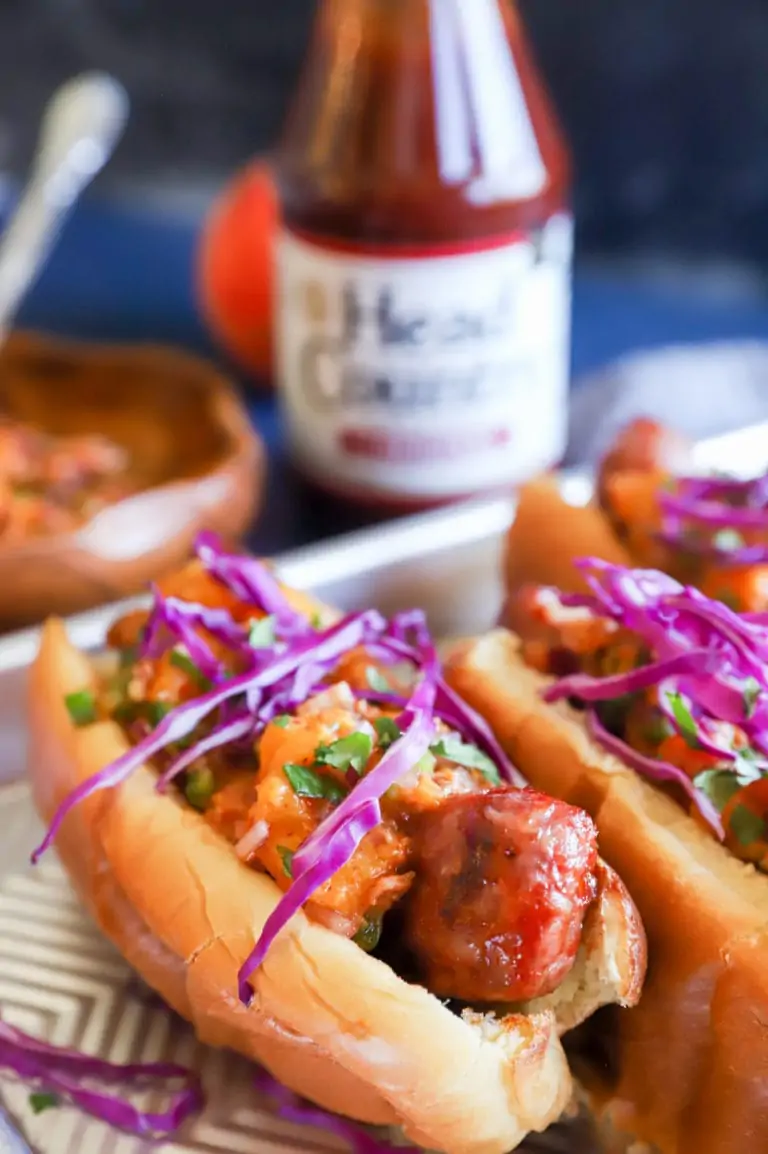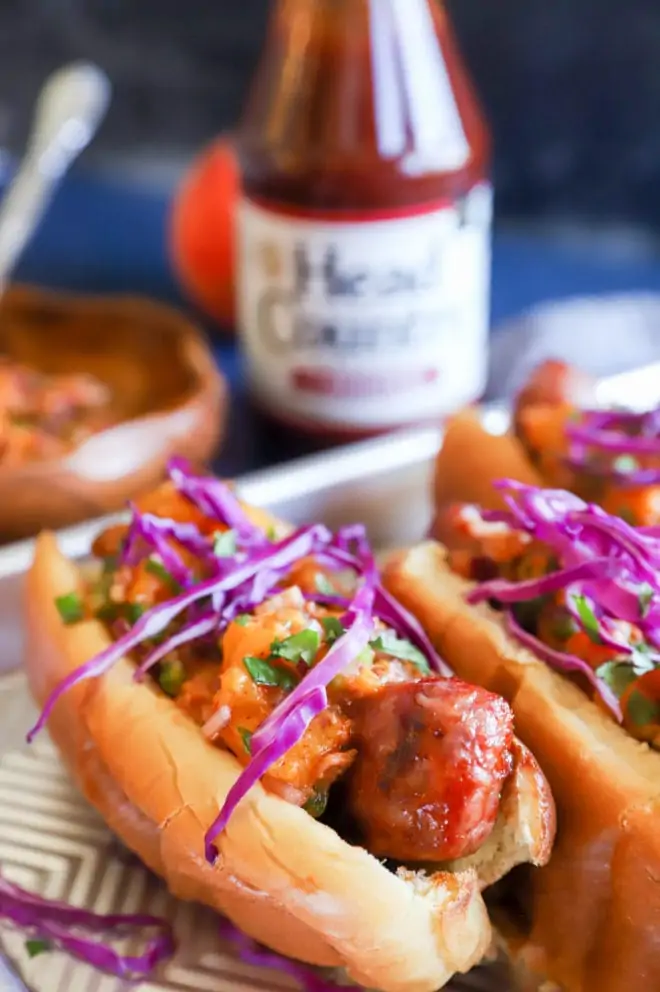 this recipe's must haves
To start, you'll want a good quality chef's knife and cutting board because there's a bit of chopping.
You'll want to fire up your grill! I love using my Traeger grill because it grills, but also smokes and that's a big bonus for me. Don't forget the tongs too!
I like to use a silicone brush to brush the brats with the Head Country Original BBQ Sauce in the final minutes of cooking.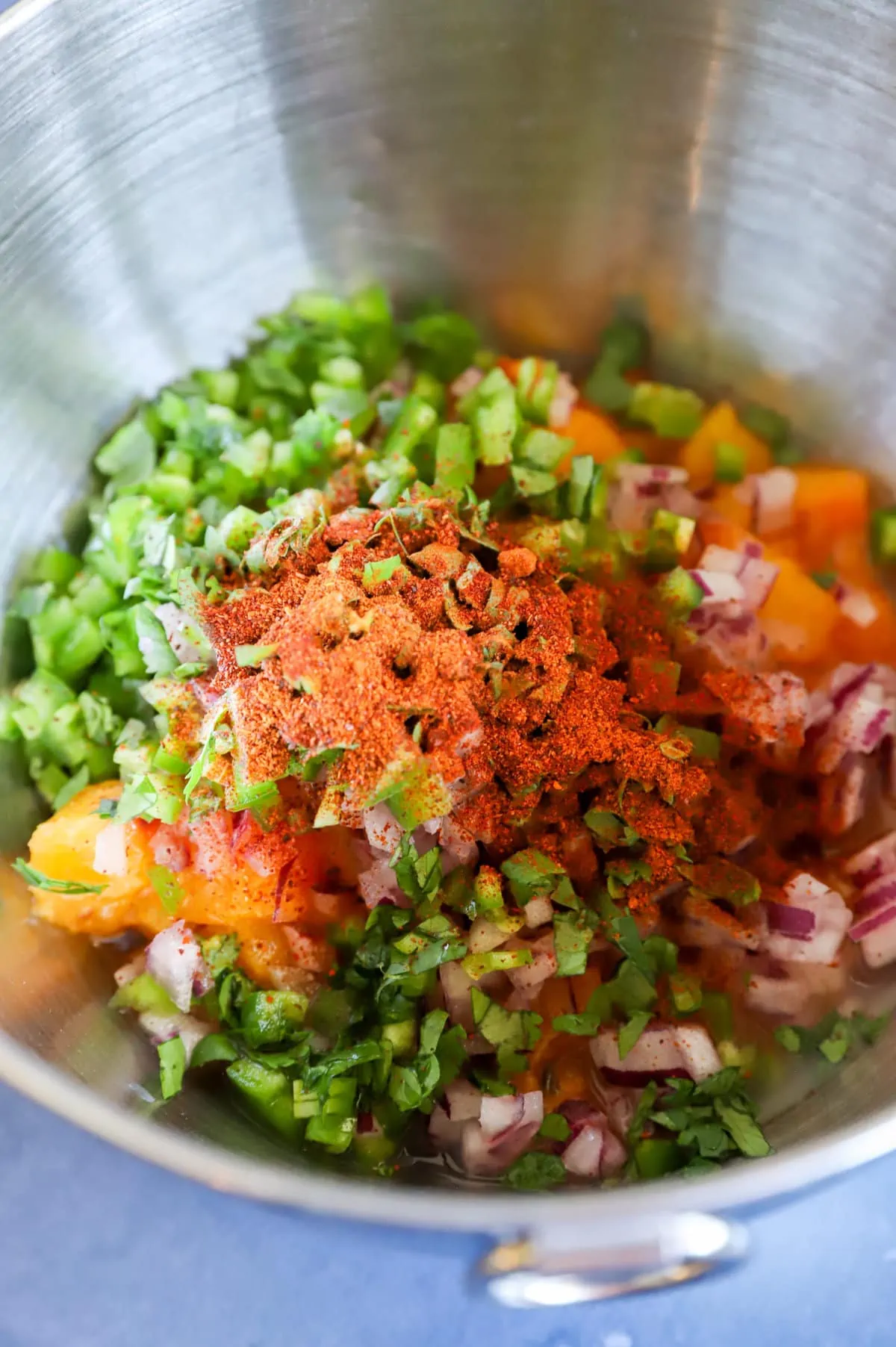 here's how to make a bbq glazed grilled bratwurst
grill brats and peaches
Grill the brats and peaches on a greased grill. For the peaches, cook them for 5 to 7 minutes, covered. Turn and cook for another 2 to 3 minutes.
Bratwurst usually takes about 15 to 20 minutes to cook through on the grill. Turn them frequently to prevent uneven cooking.
glaze brats
In the last 5 minutes of cooking, add Head Country BBQ Sauce with a silicone brush. Turn after a couple minutes to glaze the other side! Remove from heat.
make salsa
To make the salsa, I prefer to remove the peel from the cooked peaches as it tends to fall off when chopping anyway. However it's up to you if you want to just leave it!
Combine all the salsa ingredients in a medium bowl, stirring to combine.
assemble
Add grilled bratwurst to brioche buns. Top with a couple spoonfuls of salsa, some shredded purple cabbage, and chopped cilantro. Serve!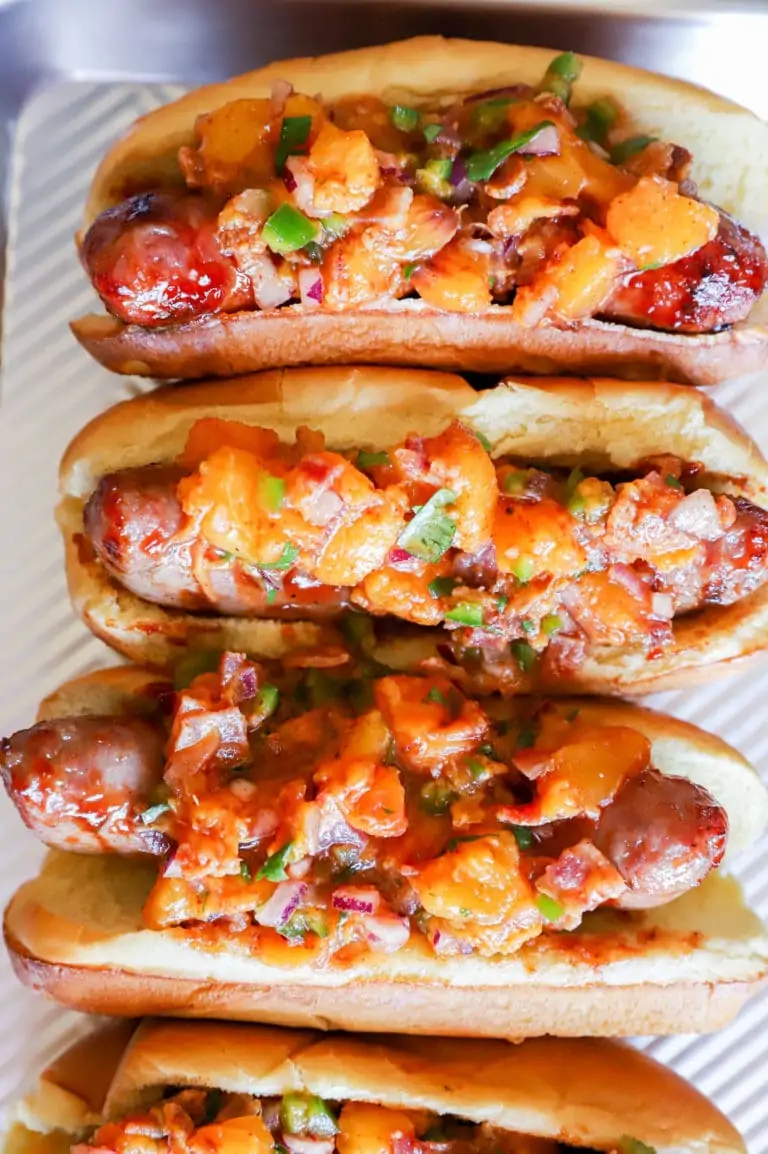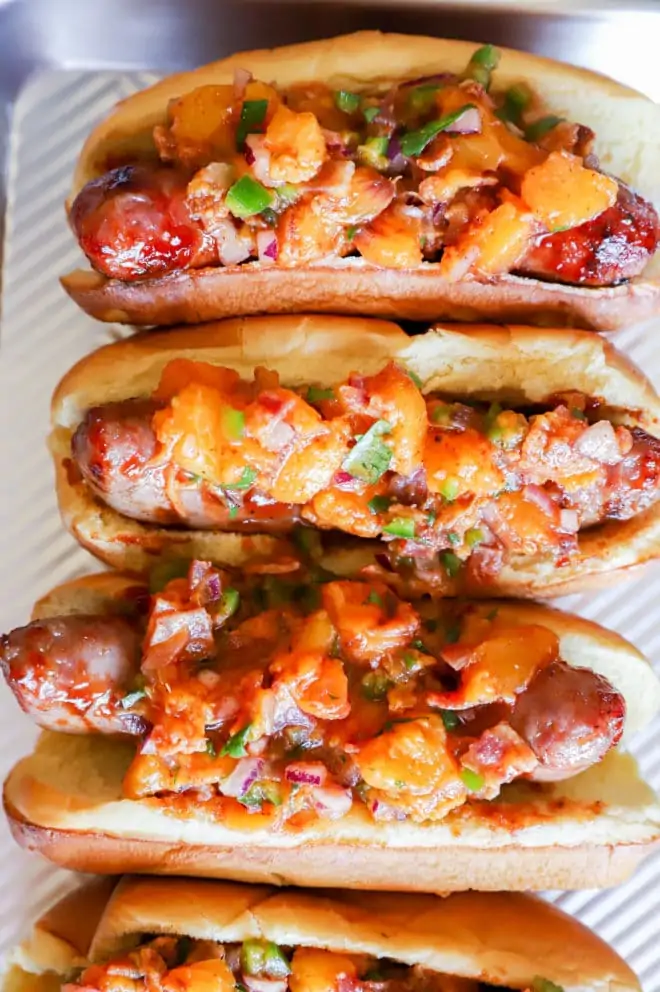 tips for success
use a thermometer in the right place. When checking the internal temperature of the brats with your meat thermometer, don't stick it right through the middle and pierce the casing. Instead, insert the probe in the center of the brat through the end where the casing is already open!
alter the heat level. If you want to amp up the heat, leave the seeds of the jalapeño in to add to the salsa! It's an easy way to make it more spicy if you like it that way.
More tasty things in buns for the grill: Bacon-Wrapped Bratwurst | Salsa Jalapeño Crunch Burger | Miso Glazed Sriracha Burgers | Crunch Cheeseburger Sliders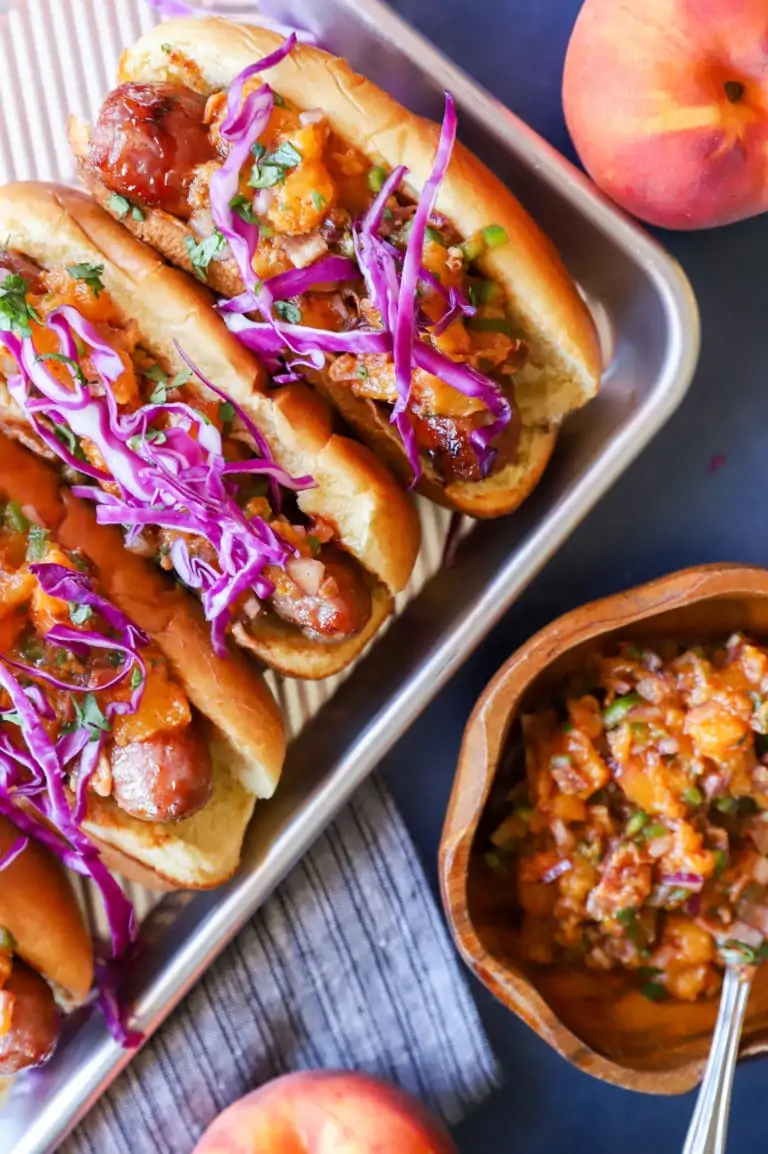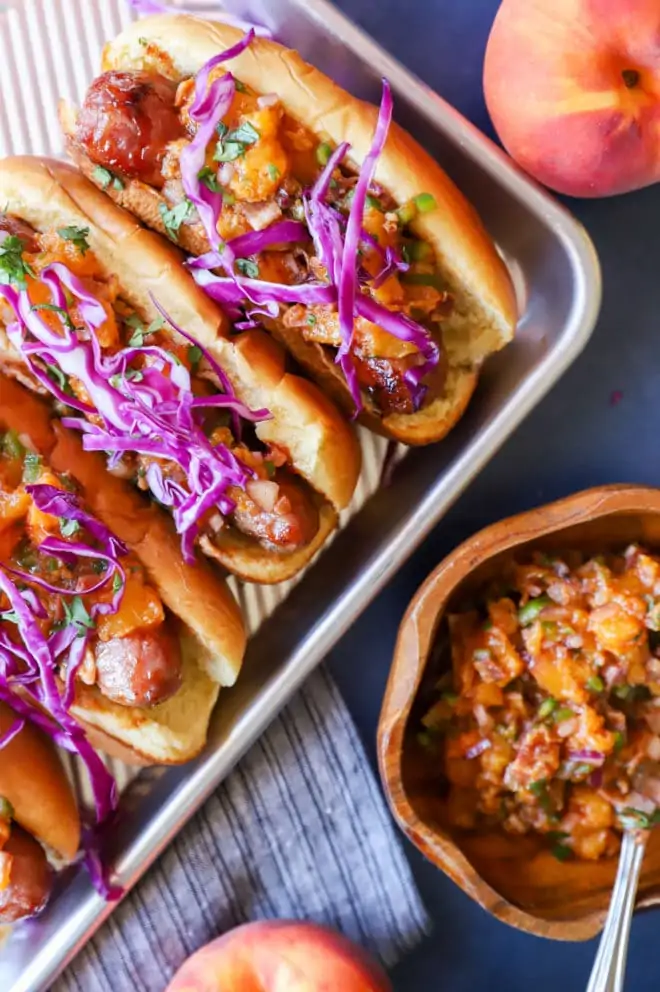 how long do you cook brats on the grill?
Bratwurst usually takes about 15 to 20 minutes to cook on the grill, over medium-high heat. You should plan to flip them every 5 minutes to make sure they cook evenly. Once the internal temperature reaches 160˚F, you can remove them from the grill.
how do you tell when brats are done cooking?
Brats are done cooking once they've reached an internal temperature of 160˚F. To test this, do not simply insert the meat thermometer into the middle of the brat. This will break the casing and all those yummy juices will leak out!
Instead, insert your thermometer through the center of the brat at the end where the casing is already open slightly.
do you have to boil brats before grilling them?
No, you do not need to boil brats before grilling them. For grilled bratwurst, they can go straight on the grill. Boiling them actually takes flavor away from them!
do I need to peel the peaches after I grill them?
It's up to you! I prefer it since the peel can come off when you chop the grilled peaches. However, if you are short on time, just skip that step!
Need some more inspiration for grilling? Check out my grilling recipes page!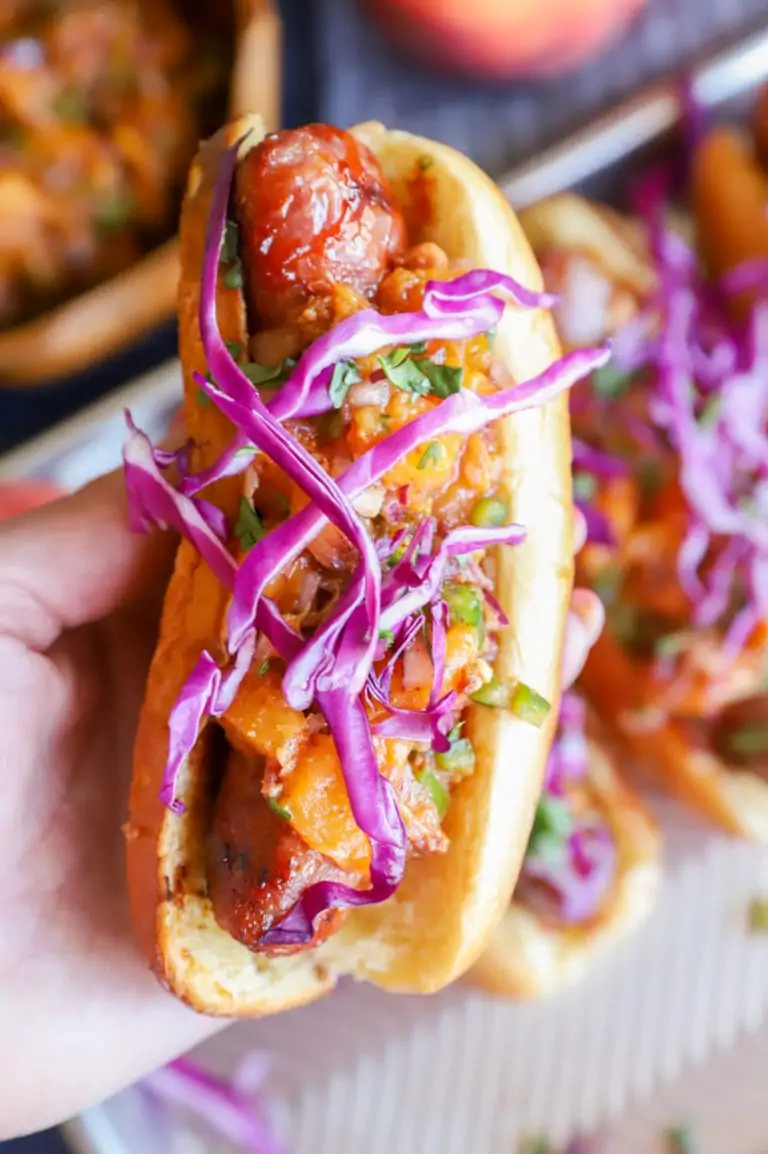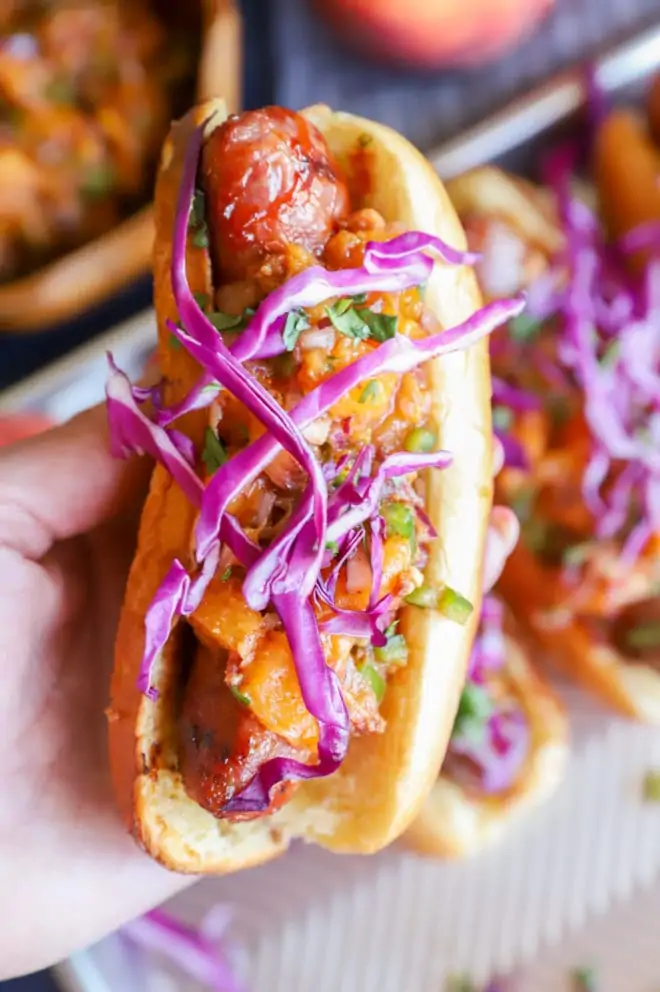 what to serve with bbq glazed grilled bratwurst
For sides, this dish is best with chips, fries, or even some grilled vegetables! The simpler items are best when it comes to pairing with a bold recipe like this one. You might be serving this for a party, so I'm listing my favorite libations and sweet treats to round out the whole experience below.
seasonal tip
To pick the ripest peaches, look for deep golden yellow peaches and avoid any that look too pale in color. They should be soft to the touch and should easily give when you squeeze them!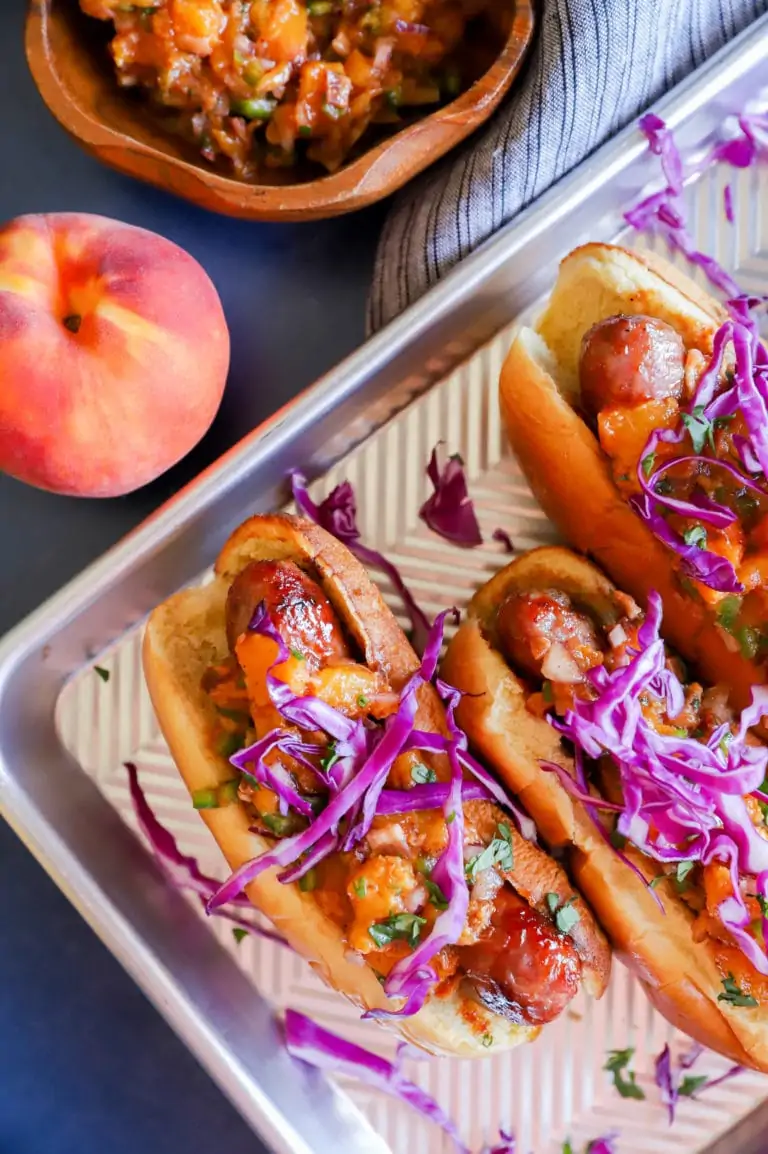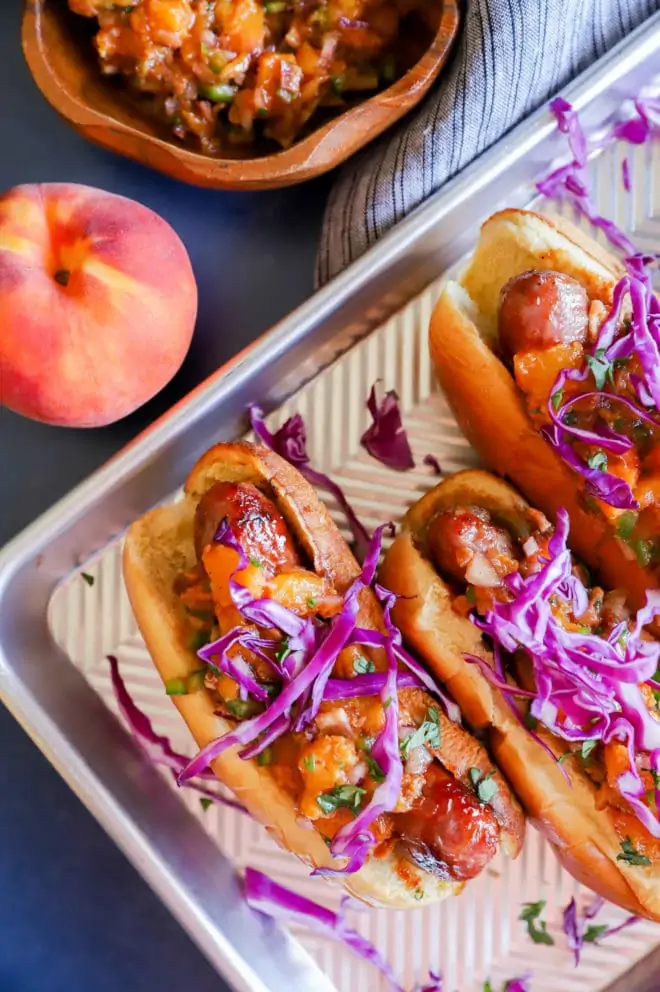 Finally, if you make this bbq glazed grilled bratwurst, please be sure to give this recipe a rating or leave a comment! I love to hear when you all make recipes, and I do take the time to respond to every single comment. Feel free to drop questions below too, if you have them!
Oh and be sure to tag me on Instagram if you make the recipe! Love being able to see these recipes come to live in your homes – it's my favorite thing to look through those photos. It really means the world to me!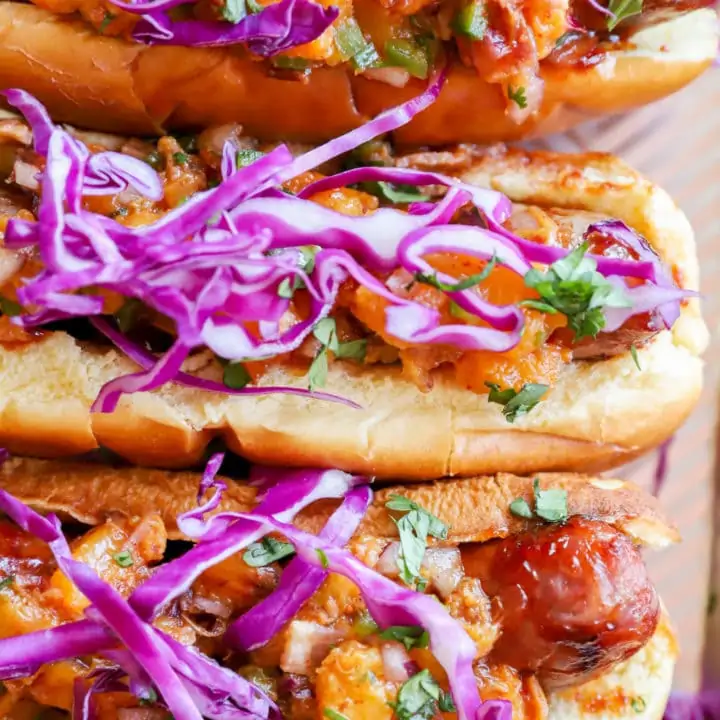 BBQ Glazed Grilled Bratwurst with Spicy Peach Bacon Salsa
The grilled brats have a sweet and savory glaze which pairs perfectly with the smoky, spicy, and fruity salsa on top.
Ingredients
brats
4 hot dog buns
4 bratwursts of your choice
Garnish: freshly chopped cilantro, shredded purple cabbage
grilled bacon peach salsa
4 slices bacon, cooked and diced
2 ripe peaches, pitted and cut in half
1/2 red onion, diced
1 jalapeno pepper, diced
1 tsp lime juice
1 Tbsp chopped cilantro
1/2 tsp chili powder
Salt and pepper to taste
Instructions
Preheat grill to medium-high heat. Lightly grease the grates with canola oil.
Once hot, add brats and halved, pitted peaches to the grill.
Grill peaches for 5 to 7 minutes, turn and cook another 2 to 3 minutes.
Grill brats for 15 to 20 minutes, turning every 5 minutes to prevent uneven cooked, until cooked through. In the last 5 minutes, brush the brats with Head Country Original BBQ Sauce. Flip after 2 minutes and brush the other side.
When the peaches are done cooking, peel them and roughly chop. Add to a bowl with the remaining ingredients for the salsa. Season with salt and pepper to taste.
Serve brats in buns topped with peach bacon salsa, shredded purple cabbage, and a sprinkle of fresh cilantro.
Recommended Products
As an Amazon Associate and member of other affiliate programs, I earn from qualifying purchases.