Please note this post contains affiliate links.
Zesty lemon simple syrup is the easiest way to enhance your culinary creations! This refreshing syrup is the perfect balance of tangy citrus and delicate sweetness, adding a burst of flavor to cocktails, desserts, and beverages. Elevate your recipes with this versatile and easy-to-use syrup, crafted to infuse your dishes with a delightful lemony twist.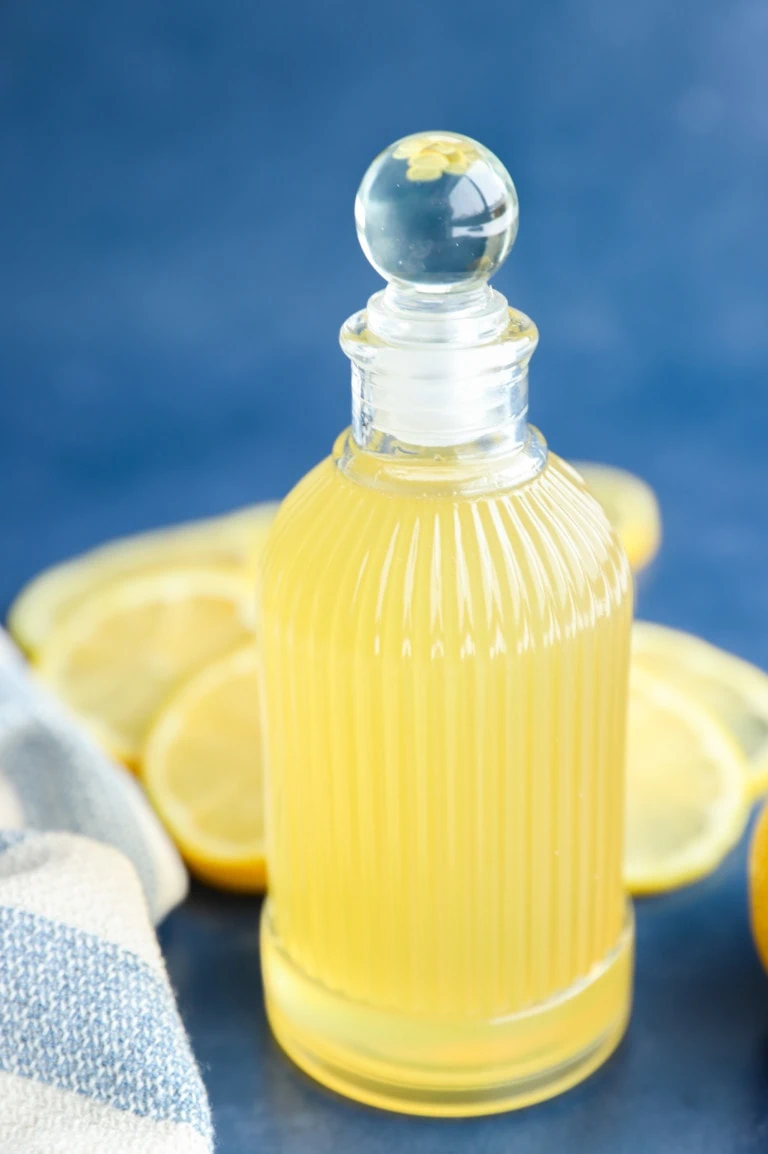 about this lemon simple syrup
Lemon simple syrup is a simple way to elevate your everyday cooking, baking, and cocktail mixing!
I love a touch of acid in anything. There are always at least two lemons hanging out in my fridge, waiting to be used. It's amazing what a small squeeze of fresh lemon juice or a little lemon zest will do to a recipe to take it to the next level.
While lemons are in their prime ripe season in winter, they are readily available all year round here in the United States.
Therefore, you can make this simple syrup anytime of year! Since lemon goes with almost anything, it will pair perfectly with any of your seasonal recipes no matter what time of year it is.
I've listed a bunch of different ways to use this recipe within the post (check the table of contents above or simply scroll to before the recipe card!), as well as tips and tricks to make this simple syrup the best way possible.
If you want, you can further customize the syrup by adding a couple of sprigs of fresh herbs (basil or thyme) to the syrup when you add the zest. This is a fun way to add some herbaceous notes to the tart and sweet syrup.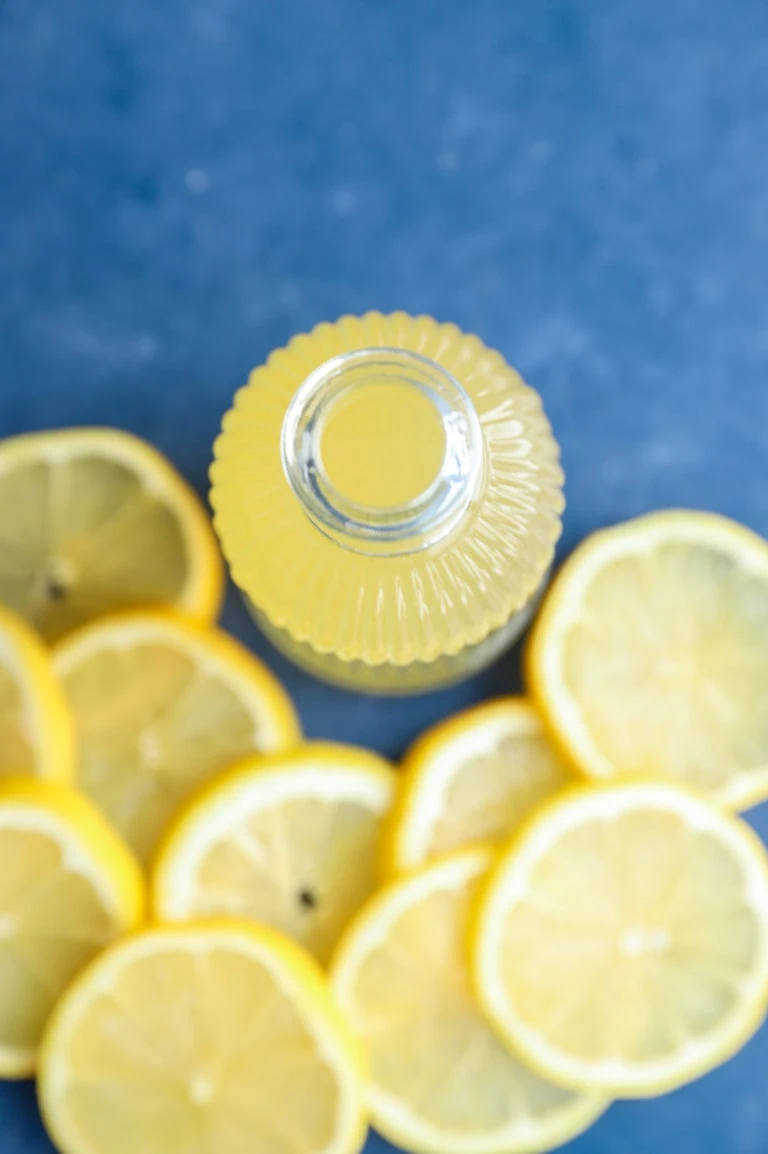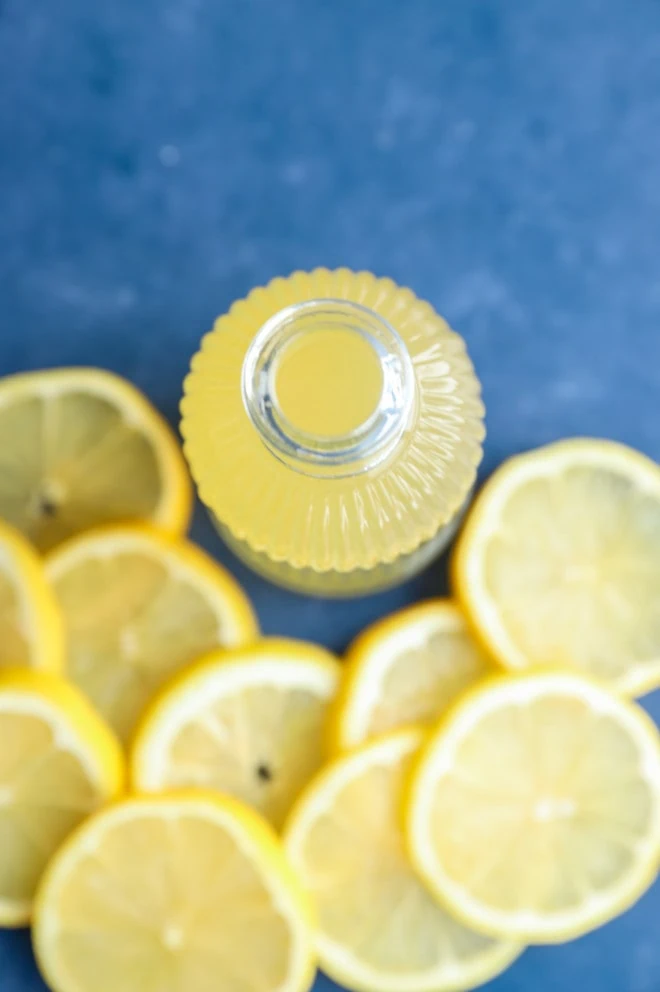 what is lemon simple syrup?
Lemon syrup is a lemon-infused simple syrup made with water, sugar, and fresh lemons. It's a simple recipe that you can use in a plethora of ways. This recipe lasts for a long time in the refrigerator, so you can use it as you please until it is all gone!
It's a staple in our kitchen because it's an easy way to add flavor to a dish or drink that you feel needs a touch of tart, sweet flavor.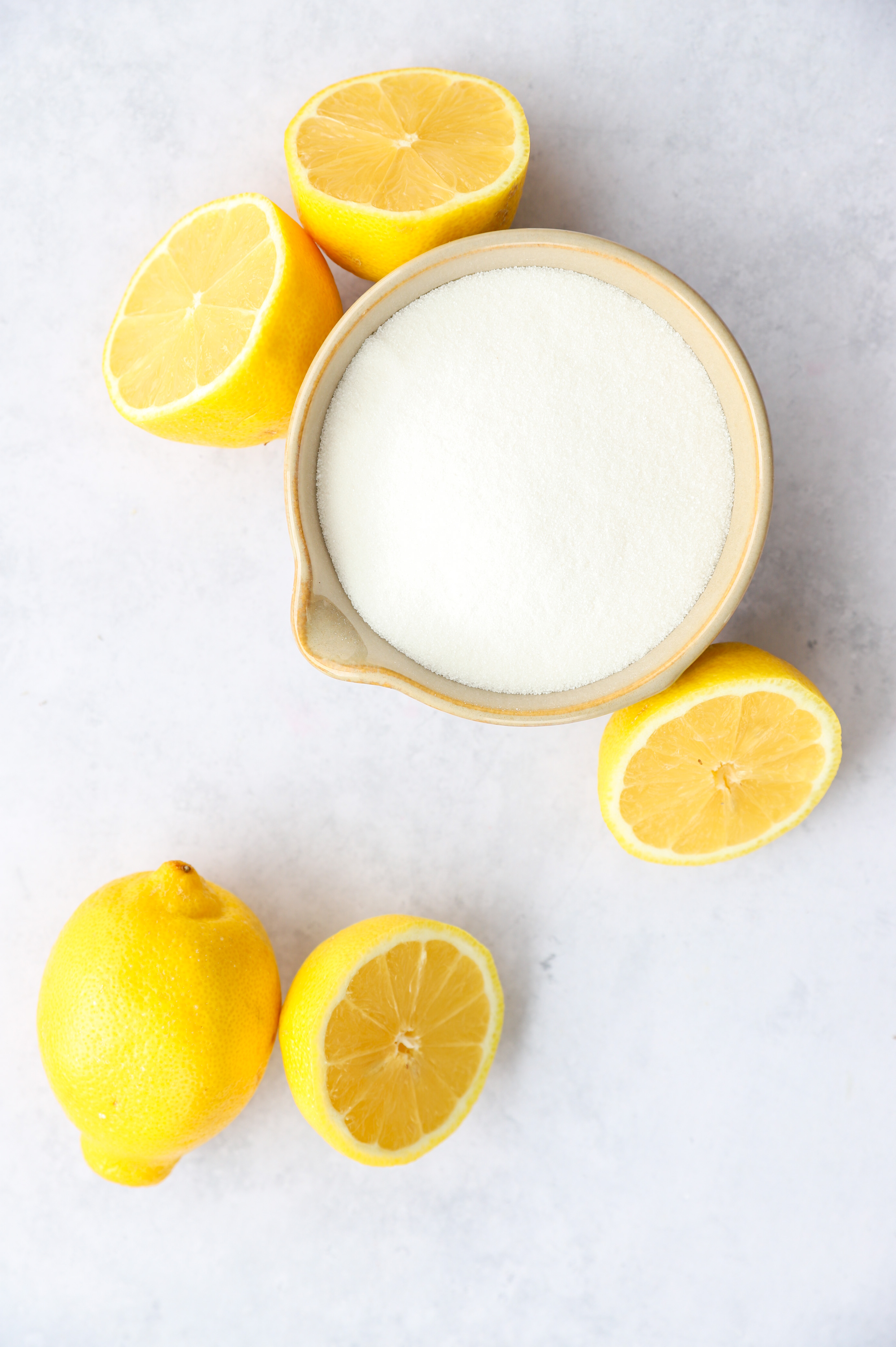 ingredients
lemons. I use 3 to 4 large lemons for this recipe. Generally I like my syrup a bit more tart, so I'll end up using 4 lemons to use all the zest from them. You could also use Meyer lemons if you prefer! I recommend making sure that the lemons you use are organic and unwaxed whenever you can.
sugar. Use granulated sugar for this recipe. Do not use dark or light brown sugar.
water. I generally prefer to use filtered water, but you can use tap water if that's what you drink normally!
this recipe's must haves
To make this lemon simple syrup, all you need is a saucepan and a wooden spoon. You will also need a mason jar or plastic container to store in the refrigerator.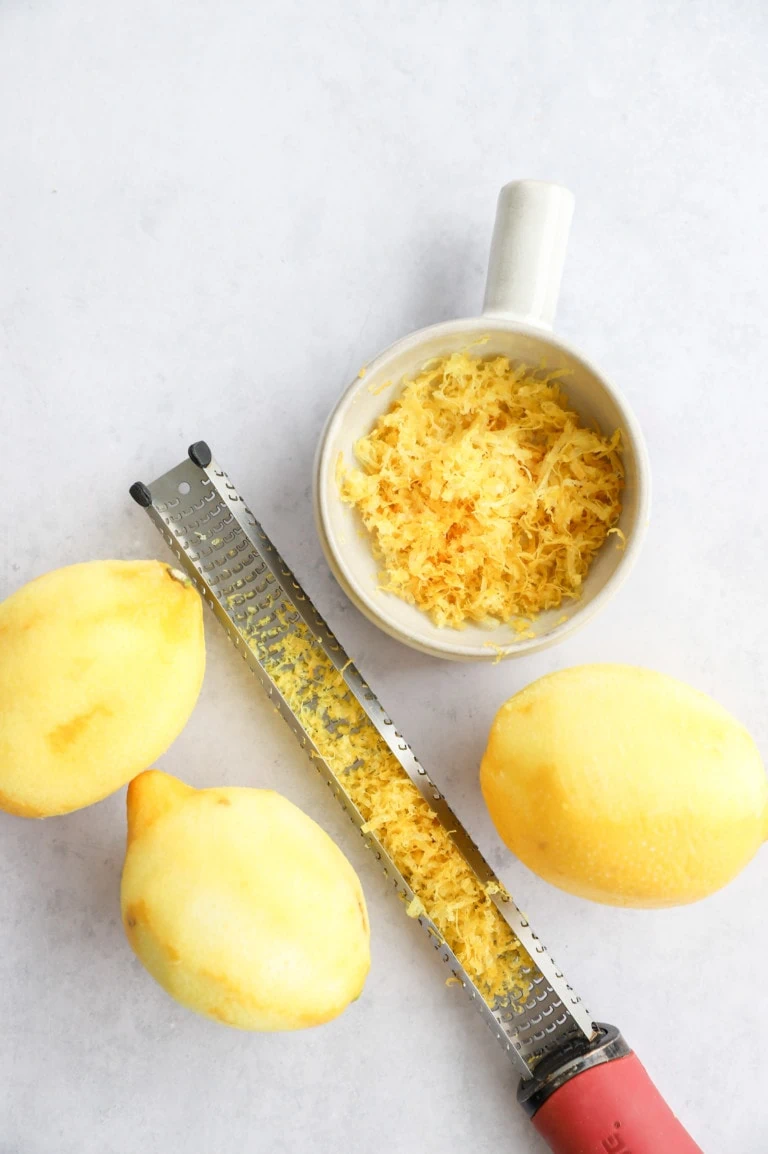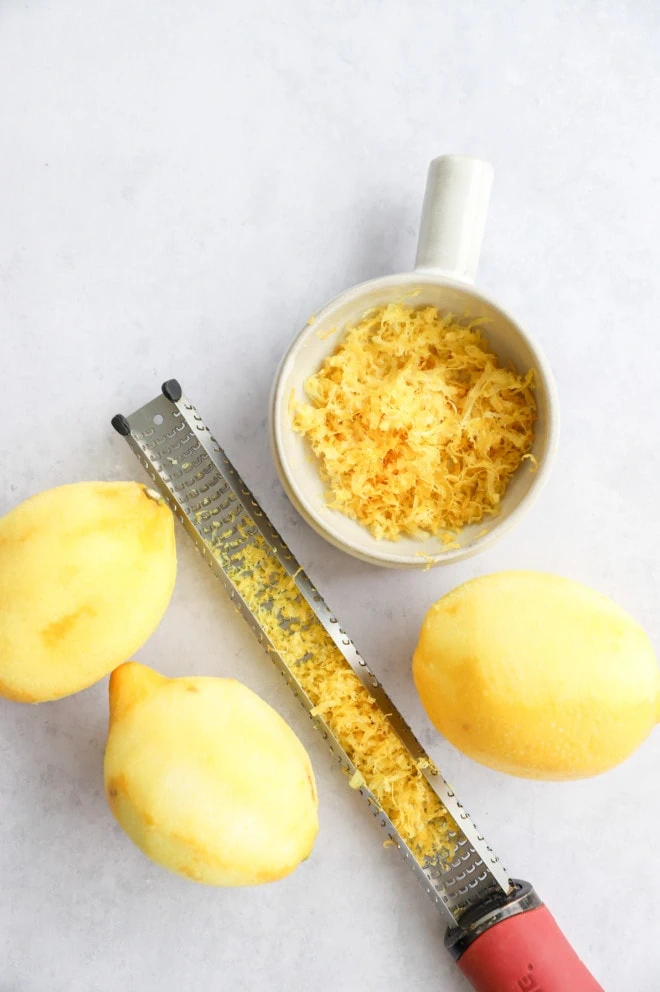 here's how to make lemon simple syrup
zest
To make this lemon syrup recipe, start with using a microplane or grater to remove the zest from all the lemons. Set aside.
Juice the lemons you have until you have 1/2 cup fresh lemon juice total. Make sure that you remove any seeds that might fall out.
simmer
Add juice, water, and sugar to a small saucepan over medium heat. Cook, stirring occasionally, until the sugar dissolves, about 5 minutes.
cool and strain
Remove from heat and add lemon zest. Let sit until cooled, about 20 minutes.
Strain out the lemon zest and cool completely before using.
tips for success
don't forget to clean the lemons. Since the zest is being used in this recipe, make sure that you take the time to wash the lemons well. Pat them dry to remove excess moisture before zesting them.
make it thicker. If you like a thicker syrup to pour over pancakes or waffles, double the amount of sugar (2:1 ratio) and proceed with the recipe as instructed. The result will be a thicker syrup, similar to maple syrup.
use fresh lemons. Fresh lemons are a must because you will need the zest and the juice for this recipe!
More tasty simple syrup recipes: Strawberry Simple Syrup | Lavender Simple Syrup | Cherry Simple Syrup | Cinnamon Simple Syrup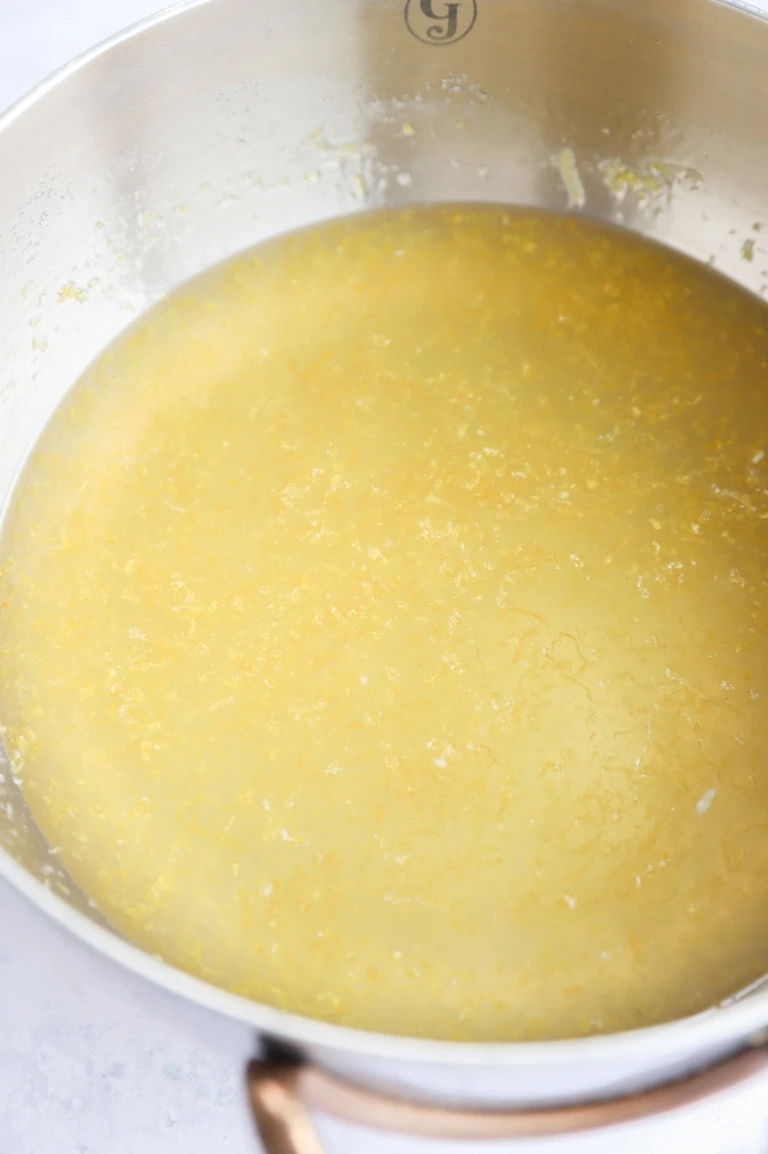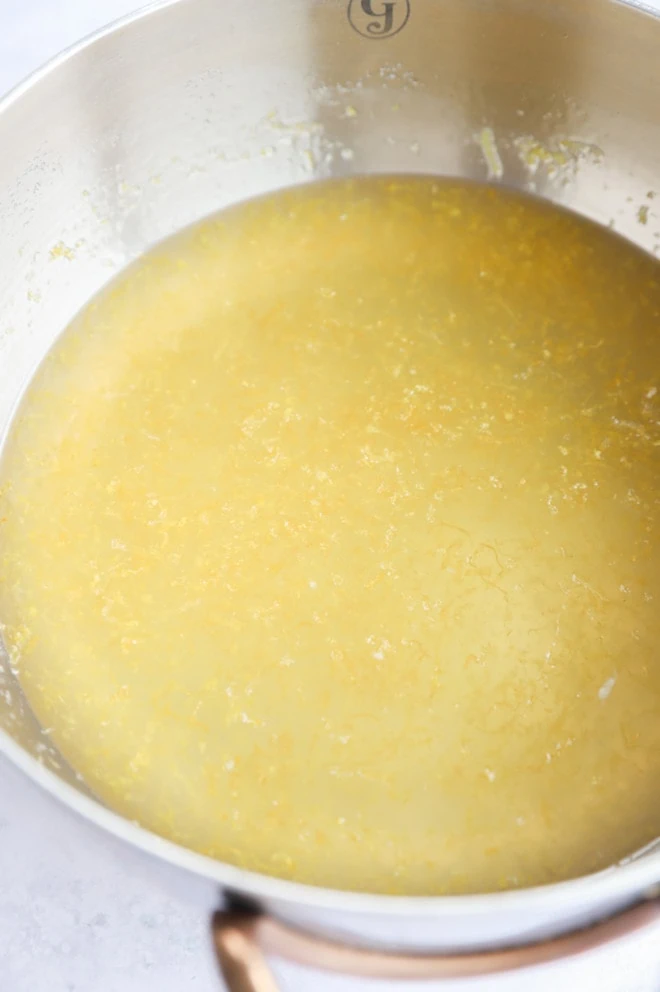 do you have to refrigerate simple syrup?
Yes, you do. By storing it in the refrigerator, it will extend the life of the syrup and also slow the growth of bacteria. If you leave it at room temperature, it will go bad within a couple of days.
how do I use simple syrup on cakes?
Simple syrup is a fantastic way to add flavor to your cakes! Not only does it add flavor, but it also helps keep cake moist.
All you have to do is use a basting brush to brush the simple syrup onto your favorite cakes. This will infuse lemon flavor into the cake. It's ideal to use for vanilla cakes, lemon cakes, and other cakes that lend themselves to the lemony flavor of this syrup.
can you freeze homemade lemon syrup?
Yes, simple syrup can be frozen! You can easily add it to a plastic ice cube tray to freeze the syrup in cubes and thaw as needed. Once frozen, add them to a plastic freezer-safe storage container and freeze for up to 3 months. Thaw in the refrigerator in a bowl as desired overnight!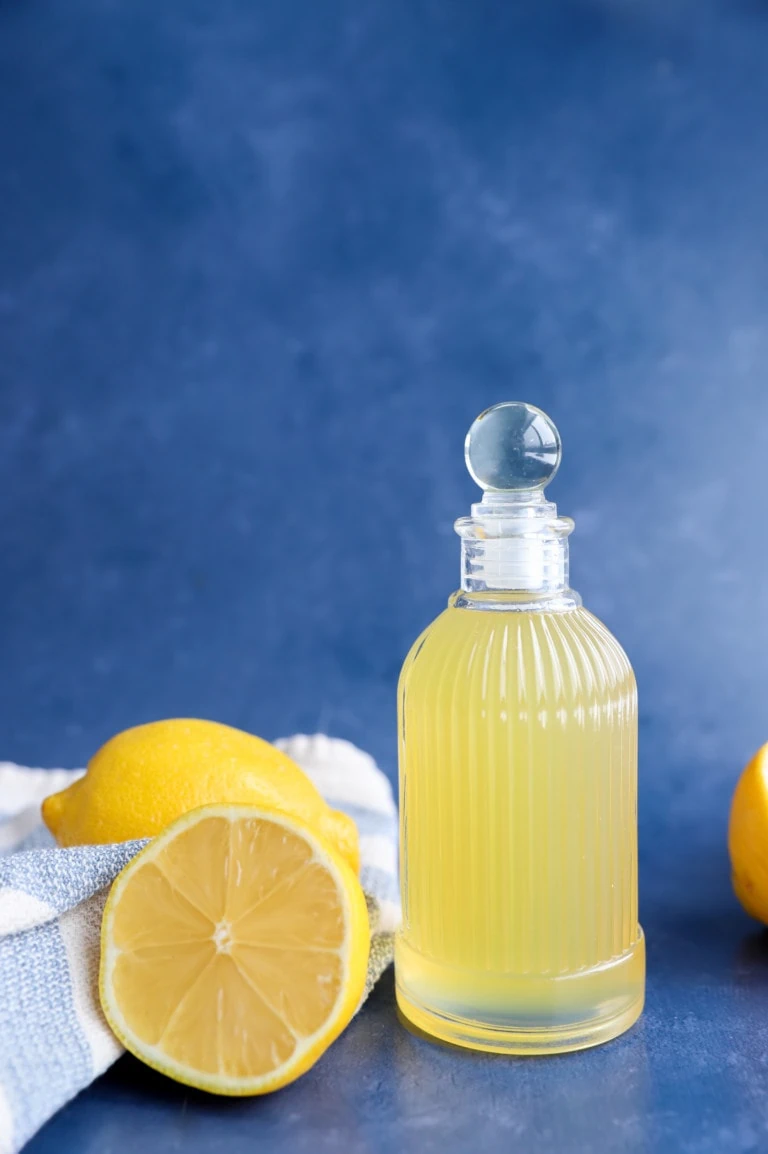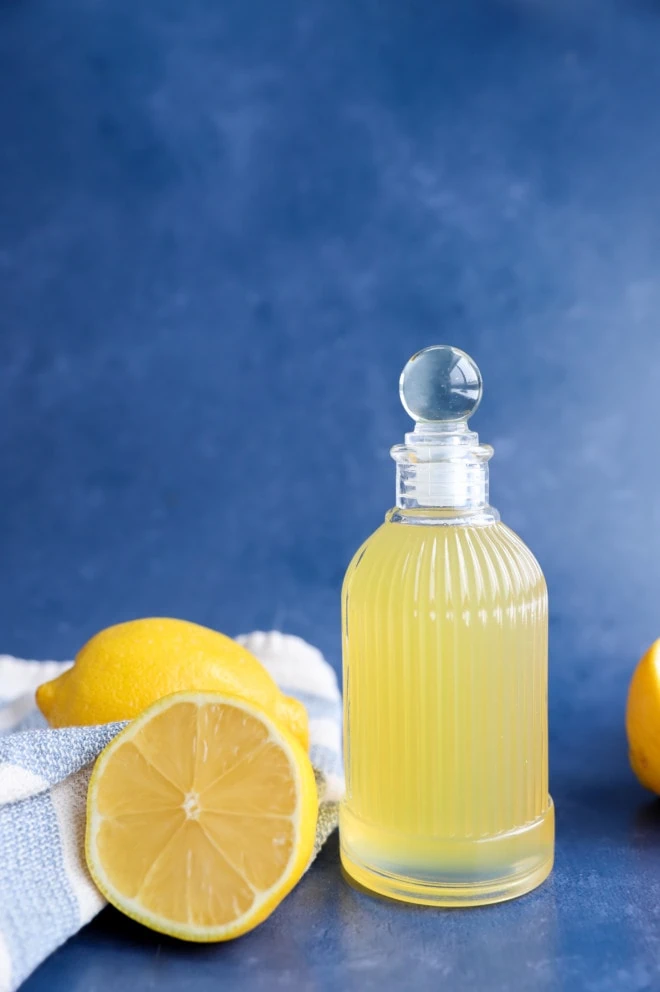 how much syrup does this make?
This recipe makes 1 1/2 cups lemon simple syrup. The typical serving size in beverages is 1/2 ounce to 1 ounce, so you should have about 12 to 24 servings total.
how do I tell if the syrup goes bad?
Simple syrup does go bad at some point. If the mixture turns cloudy or opaque, this is the sign that fermentation has started. Discard the syrup at this time.
Need more inspiration for cocktail hour? Check out my cocktail recipes page!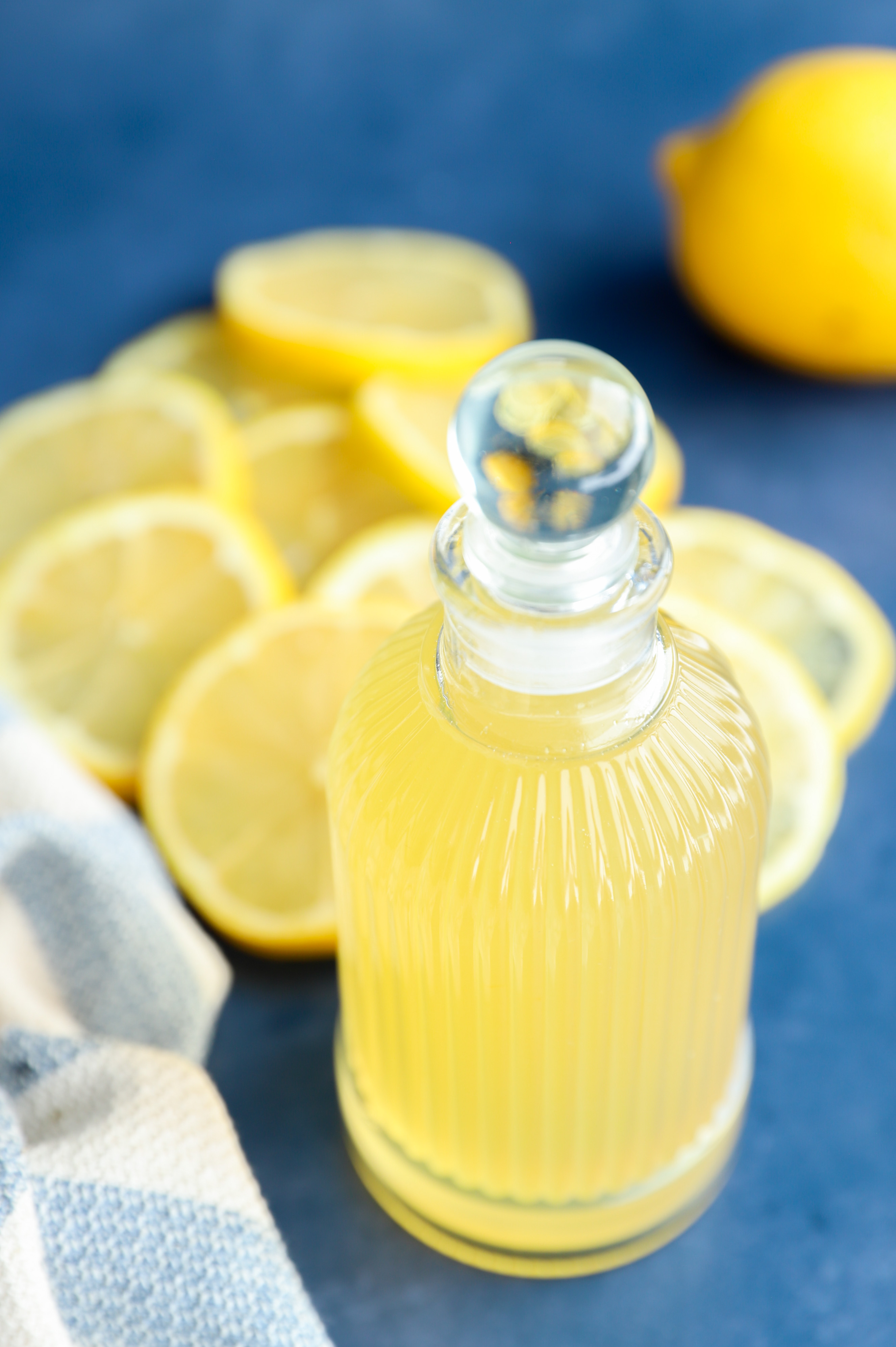 how to use lemon simple syrup
There are so many ways to use this delicious syrup. It has just the right balance of sweet and tart, so it's delicious in drinks, breakfasts, and desserts. Here are some of my personal favorite ways to use it:
Use instead of simple syrup in a lemon drop martini or in another cocktail that could use a hint of lemon.
Sweeten lemonade or iced tea with the syrup.
Glaze fruit tarts or breakfast pastries with it.
Macerate berries in a bowl with it.
Drizzle the syrup over pancakes or waffles.
Brush on top of cakes before frosting them, or on slices of pound cake or bundt cake.
Use a few drops in your favorite fruit salad recipe.
Add it to marinades instead of using honey or agave.
Stir 1/2 ounce to 1 ounce into your next glass of sparkling water with a wedge of lemon.
If you need a couple specific recipe ideas, consider swapping this syrup for the simple syrup in a raspberry margarita. Alternatively, use it in place of agave in this lemon margarita.
For dessert, brush the tops of the cakes for this mixed berry vanilla bean cake with the syrup before frosting.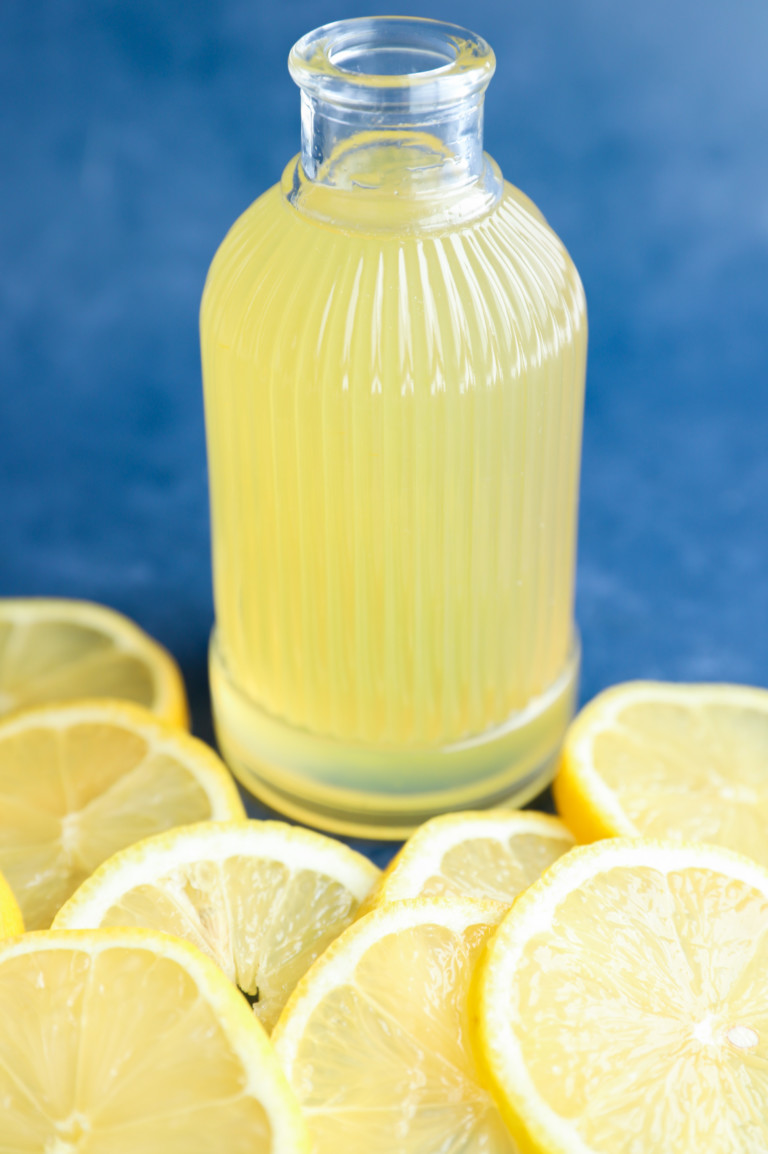 how to store and reheat
Store. Let the syrup cool completely before storing. Store lemon simple syrup in a sealed jar and store in the refrigerator for up to 2 months. Do not leave it at room temperature.
Freeze. Simple syrup can be frozen! Add it to ice cube trays to freeze before storing them in a freezer-safe plastic airtight container. They will keep for up to 3 months.
Thaw. Thaw in a bowl in the refrigerator overnight before using as desired.
Select the best lemons possible for this recipe! Make sure that they don't have a mushy texture or any discoloration. Select lemons with a bright yellow skin. If they appear dry or shriveled on the outside, they will not have as much oil to create the strong lemon flavor you are looking for in this recipe.
Finally, if you make this lemon simple syrup recipe, please be sure to give this recipe a rating or leave a comment! I love to hear when you all make recipes, and I do take the time to respond to every single comment. Feel free to drop questions below too, if you have them!
Oh and be sure to tag me on Instagram if you make the recipe! I love being able to see these recipes come to life in your homes – it's my favorite thing to look through those photos. It really means the world to me!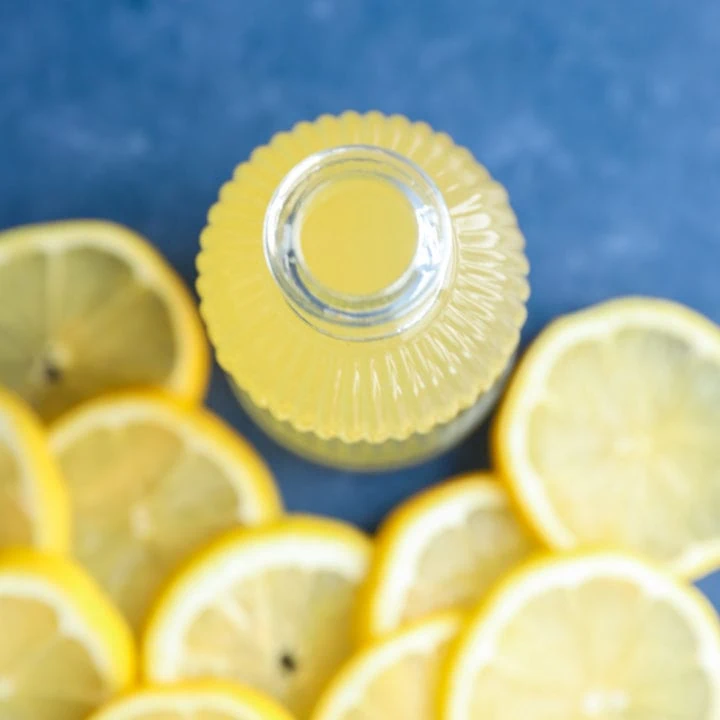 Lemon Simple Syrup
Yield:
Makes 1 1/2 cups syrup
Additional Time:
20 minutes
The delicious lemon flavor of this syrup will enhance your drinks, desserts, and more!
Ingredients
3 to 4 lemons
1/2 cup water
1 cup sugar
Instructions
Remove the zest from the lemons. Set aside.
Juice lemons until you have 1/2 cup total fresh lemon juice.
Add juice to a small saucepan with water and sugar. Stir to combine. Bring to a simmer over medium high heat until sugar dissolves, about 5 minutes.
Remove from heat and stir in lemon zest. Let sit until cooled slightly, about 20 minutes.
Strain and cool completely before using.
Recommended Products
As an Amazon Associate and member of other affiliate programs, I earn from qualifying purchases.