Please note this post contains affiliate links.
Sparkling Blackberry Vodka Lemonade is a big batch boozy punch recipe that's ideal for summer! The fresh and tart flavor is just the thirst quencher your next gathering has to have. It's an easy pitcher cocktail for a crowd!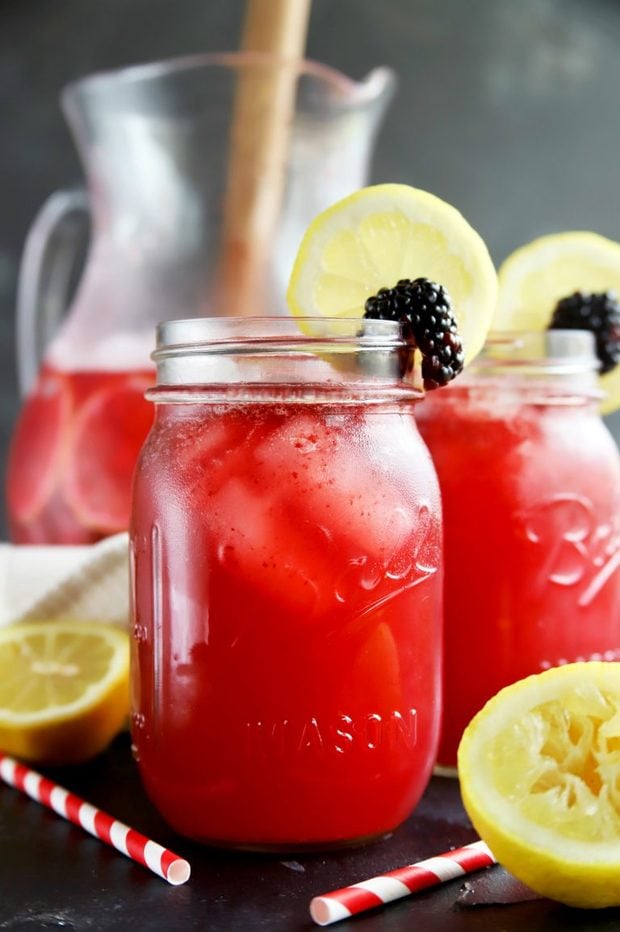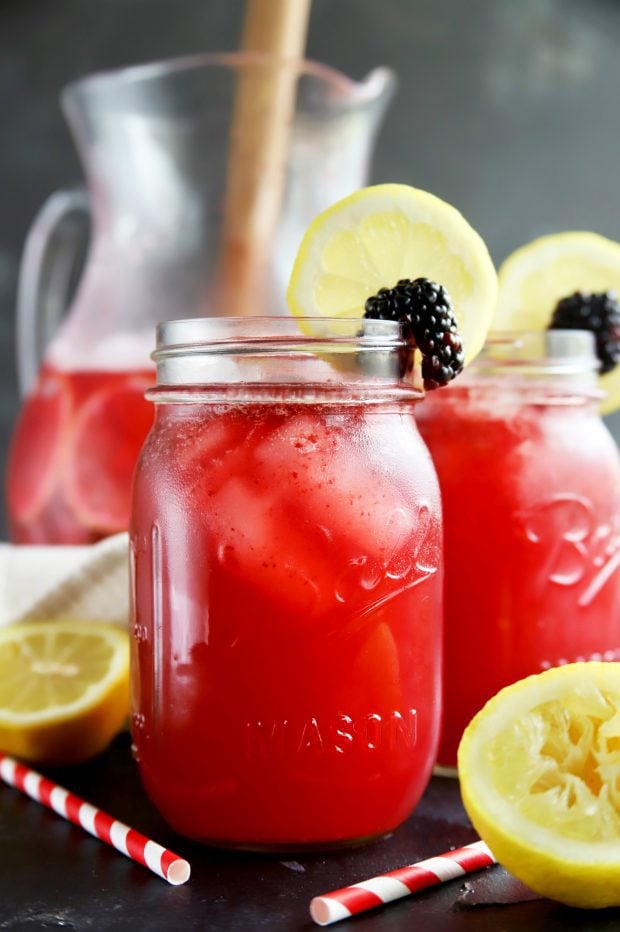 You all have to know that I love homemade vodka lemonade cocktails by now. I've actually tried to turn it into a tradition each year to make a couple.
There's something about sipping on fresh lemonade on a hot afternoon… It takes me back to the days when I would rock the lemonade stand on our corner. Even if it was a slow afternoon, I would still be entertained. I'd cool off with a refreshing glass of lemonade and watch the clouds form various shapes in the sky.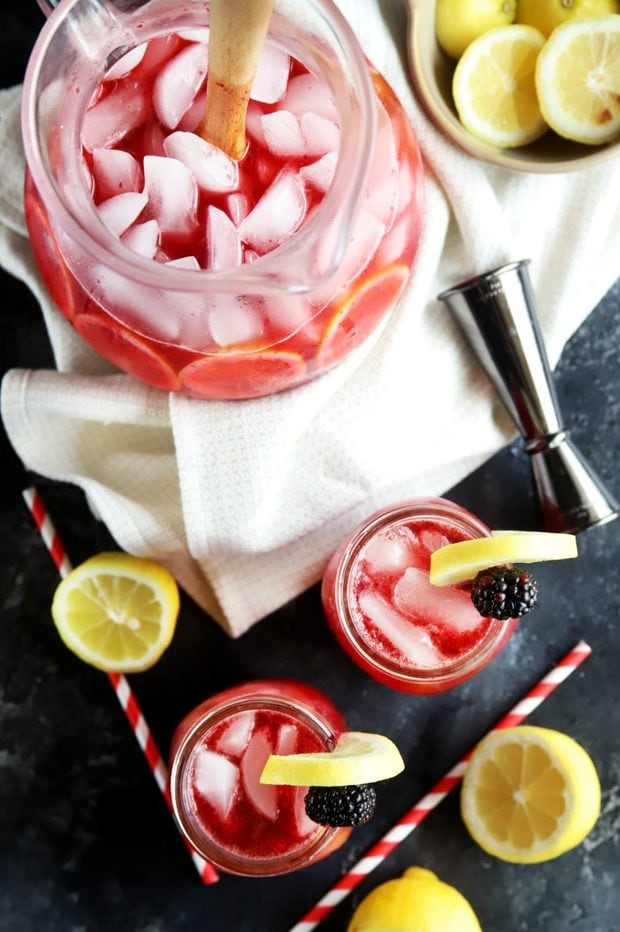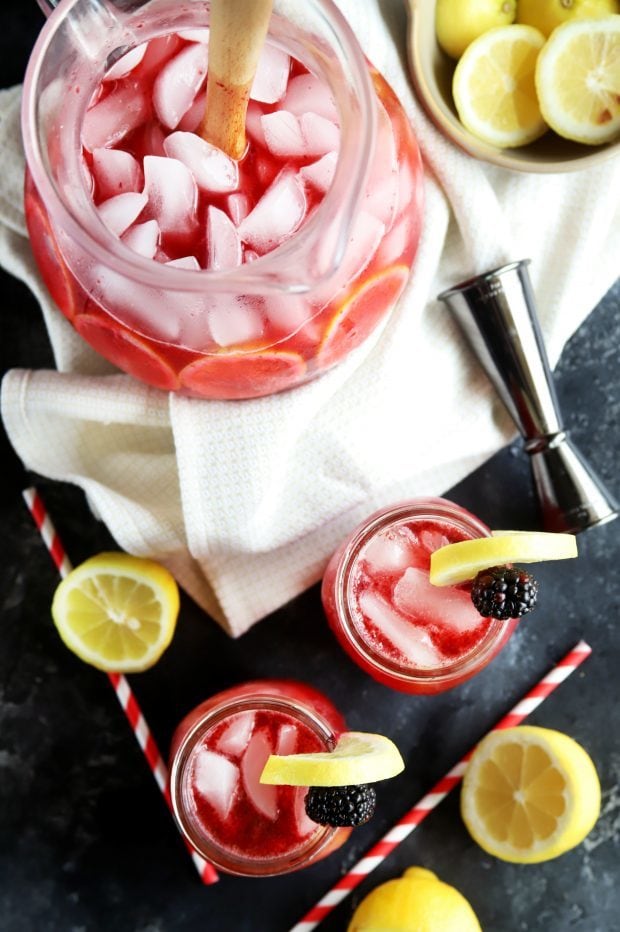 As an adult, I have the same fondness for the refreshing drink, but I like it to have a boozy kick at the end of a long day. Don't we all?
The best part is that vodka lemonade recipes like this one are so stinkin' easy to whip up. All you need is fresh ingredients and about 5 minutes to stir together your ingredients until the sugar has completely dissolved.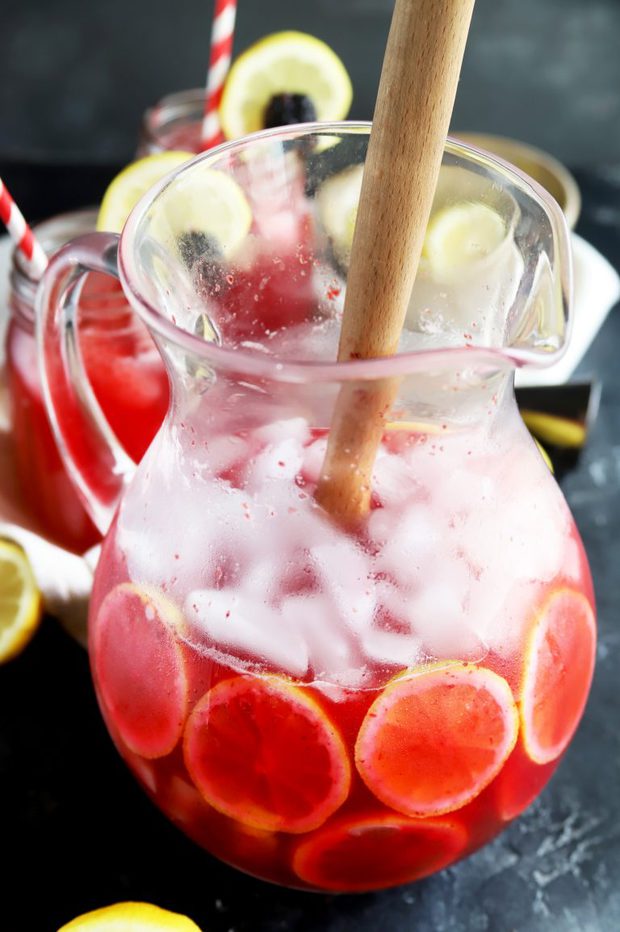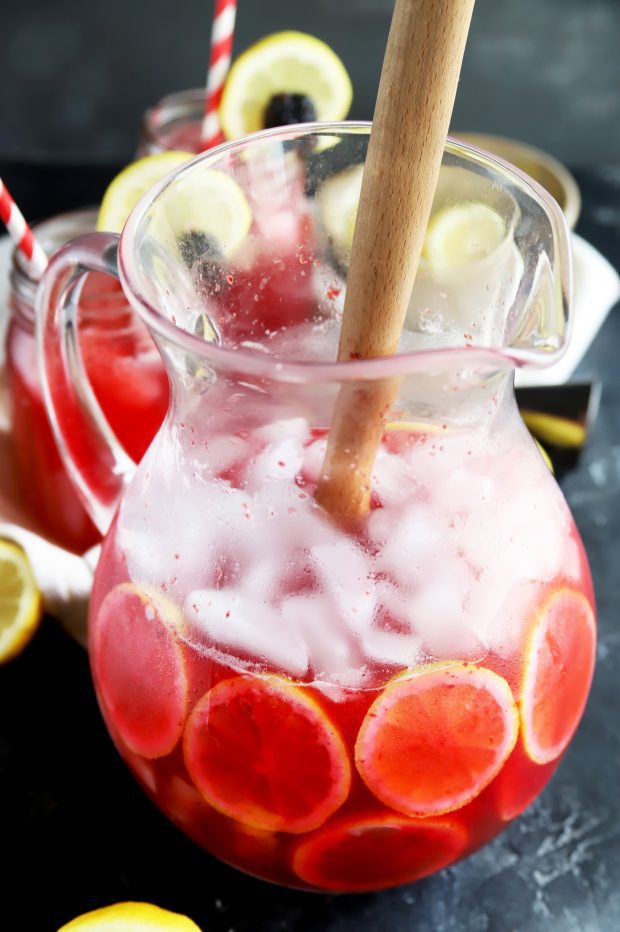 Then all you need is some fresh garnish and boom, you've got a party in a pitcher (and you didn't have to spend all day slaving over the recipe).
I mean, I'll take a complicated cocktail recipe from time to time, but when I'm hosting? I need simple, flavorful, boozy, and bright – at least during these summer months.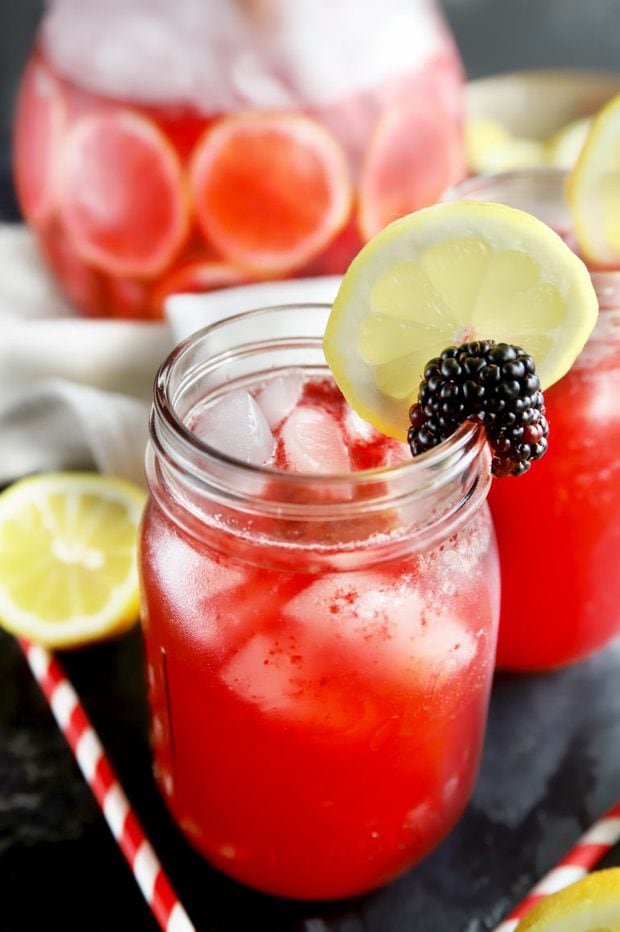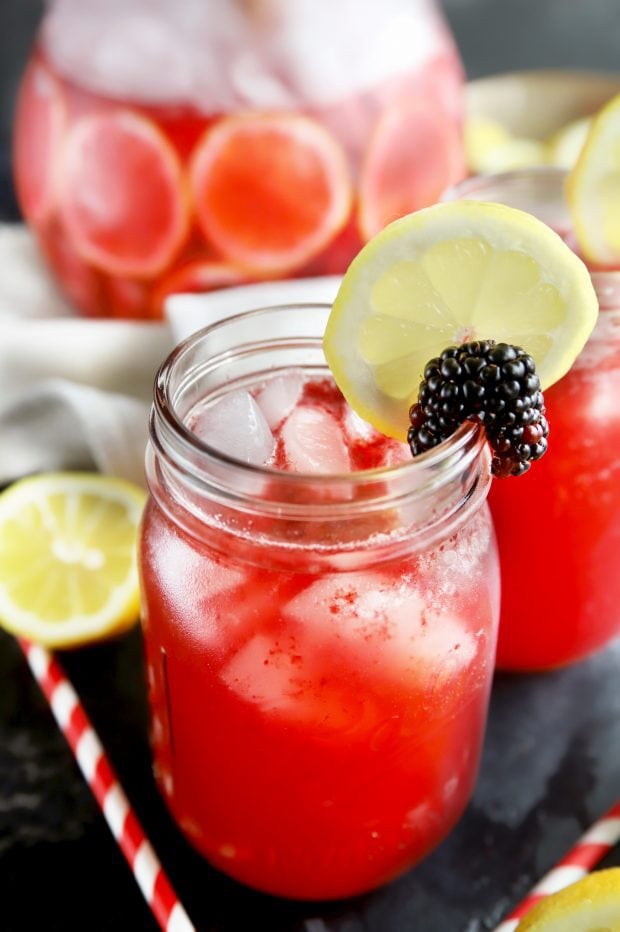 This Recipe's Must Haves
To make the blackberry juice, if you don't already have a juicer, you'll need to pull out a food processor or Vitamix.
Once it's all pureed together, you can strain out the blackberry juice with fine mesh strainers.
I have always, and will always, love this festive pitcher. It's the ideal size with just a touch of fun, while also showing the slices of lemon through if you choose to step up your garnish game for a party.
Stir all the ingredients together with a wooden spoon or an elegant bar spoon that every home bar needs.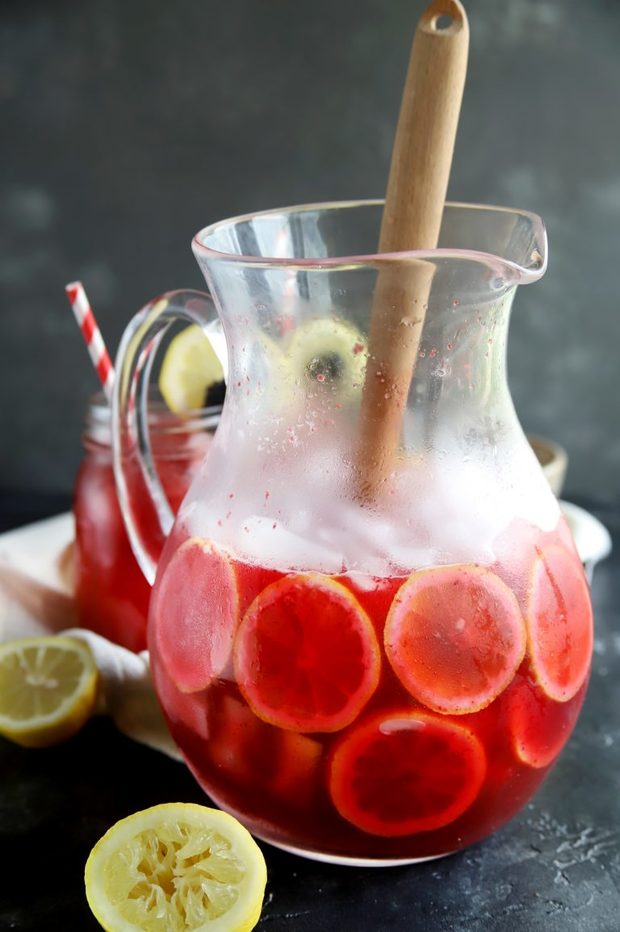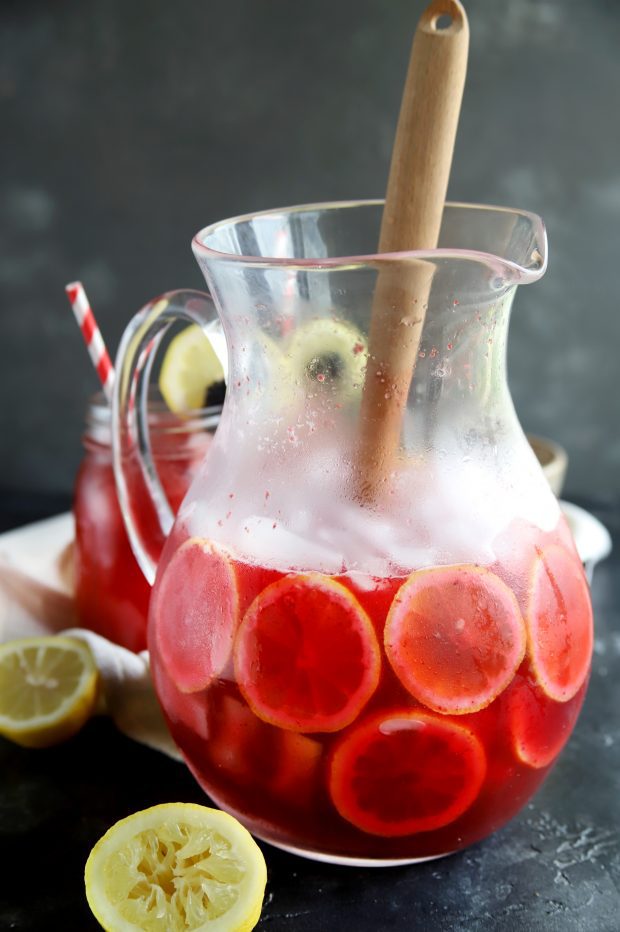 How to make sparkling blackberry vodka lemonade
Make The Blackberry Juice
Making the blackberry juice to enhance this pitcher cocktail, you can easily use your juicer! If you don't have a juicer, blend the berries up in your food processor or blender.
Strain Out Blackberry Seeds
Blackberry seeds are not fun to sip on (normally they get stuck in my teeth with every sip lol), so you'll want to strain them out.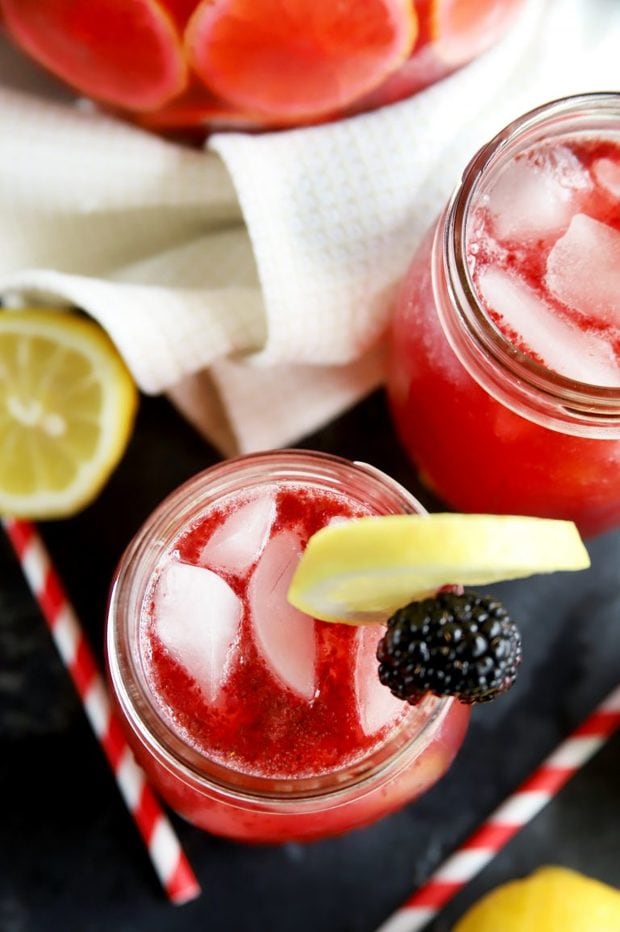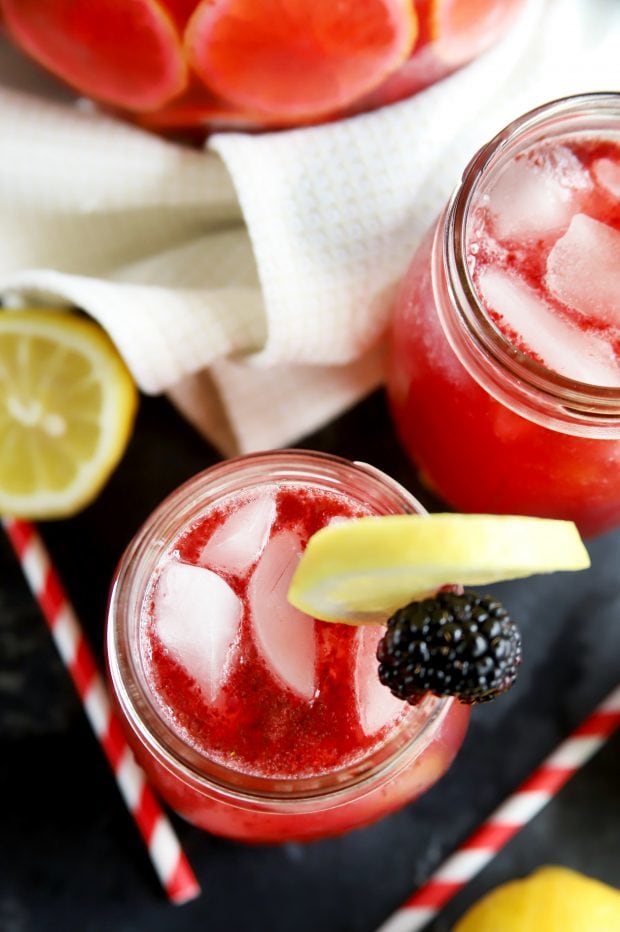 Mix It All Together
All you have to do next is add everything to a pitcher and stir it together. However, make sure you continue to stir until the sugar has completely dissolved! That way the sweetness is throughout the cocktail instead of floating to the bottom and sitting there.
Got Questions?
Can I make this nonalcoholic?
If you want to make this nonalcoholic, simply replace the vodka with equal parts club soda. That's it!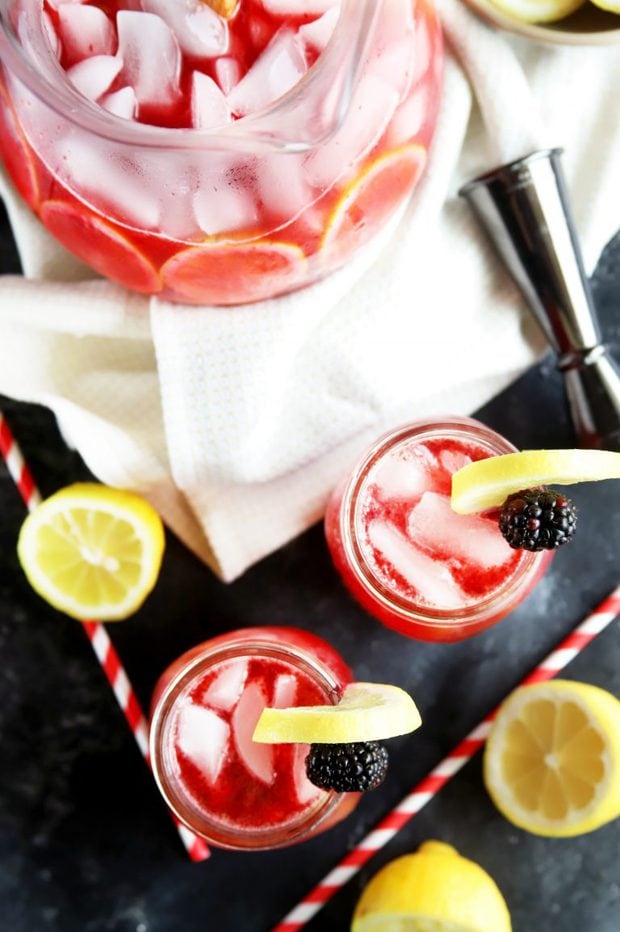 What if I don't like blackberries?
If you don't like blackberries, be sure to checkout any of the other vodka lemonades I listed at the beginning of this post. The recipe is basically the same, you just need to switch out the blackberries for another favorite berry or fruit, like peaches!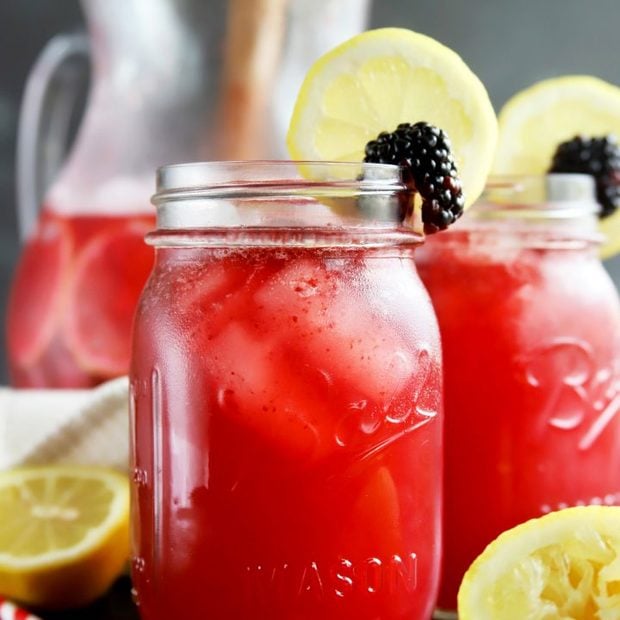 Sparkling Blackberry Vodka Lemonade
Bubbly, light, and boozy, this fruity vodka lemonade is just the cocktail your summer patio party needs!
Ingredients
12 oz blackberries
1/2 cup fresh lemon juice
1/4 cup sugar
1 cup vodka
4 cups club soda, chilled
Instructions
Run blackberries through a juicer and pour the fresh blackberry juice into a large pitcher filled halfway with ice. If you do not have a juicer, puree the blackberries in a blender or food processor. Strain through a fine mesh strainer into a large pitcher filled halfway with ice.
Add lemon juice, sugar, vodka and water to the large pitcher with blackberry juice.
Stir to combine until the sugar has dissolved.
Serve cold.
Recommended Products
As an Amazon Associate and member of other affiliate programs, I earn from qualifying purchases.