Please note this post contains affiliate links.
A Raspberry Blueberry and Strawberry Galette is the ideal rustic, patriotic dessert recipe for summer. The simple homemade pie crust and berry filling is perfect for topping with vanilla ice cream. It's a triple berry threat!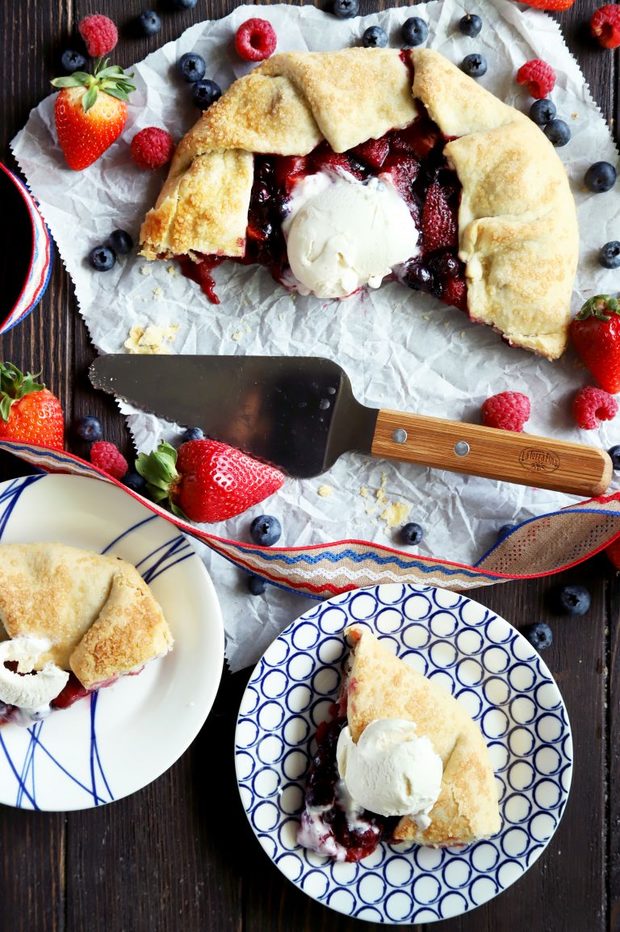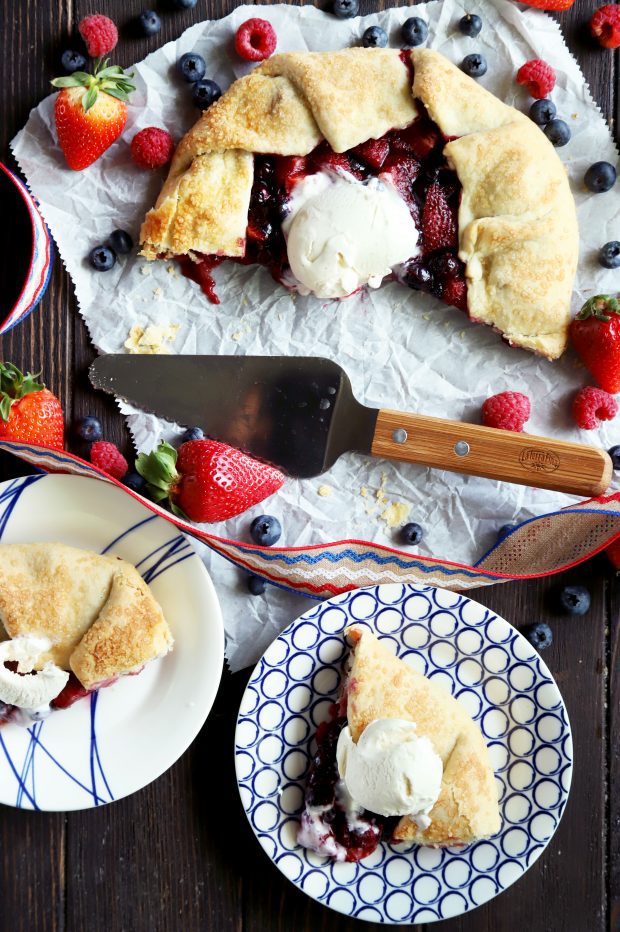 You know what you need for dessert this Memorial Day, July 4th, and Labor Day?
THIS GALETTE.
It's basically a rustic red, white, and blue galette that really brings out all the patriotic feels. To me, it's so much better than baking a whole pie from scratch. Let me tell you now, it's SO MUCH EASIER that making a whole pie.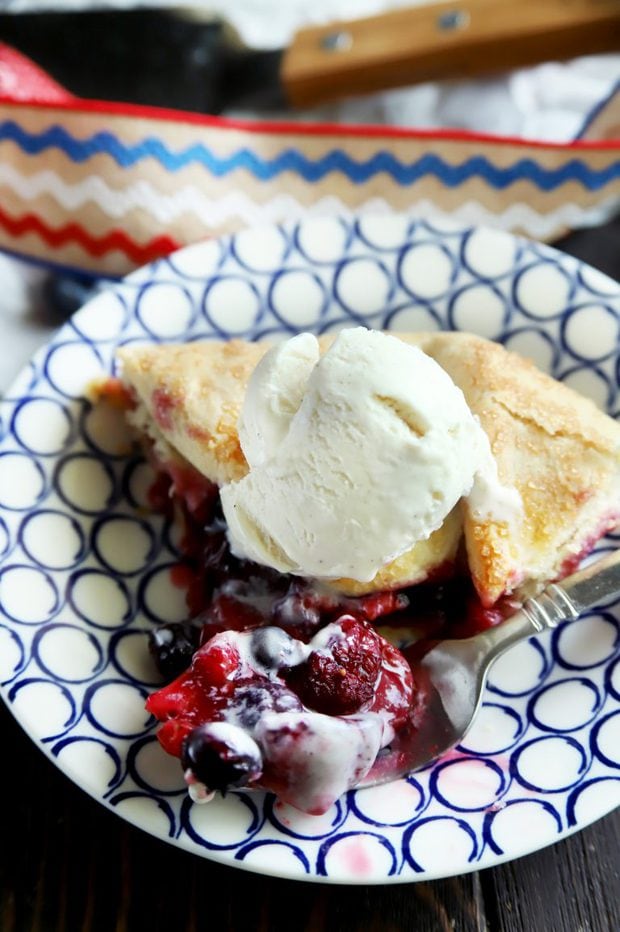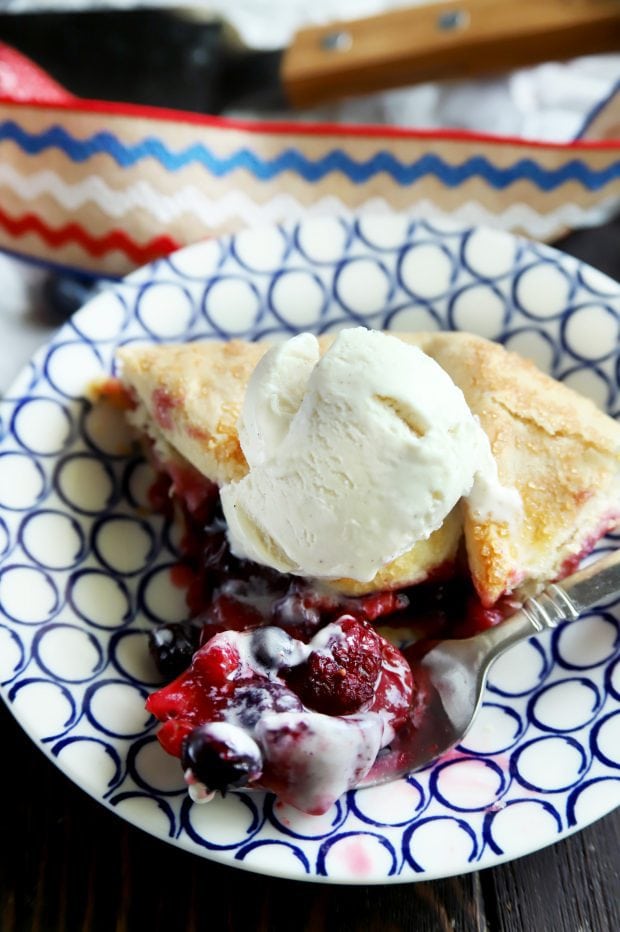 I know that might sound totally crazy though. When I first heard about the whole "galette" thing, I never thought I could make it myself.
I had it for dessert in this fancy restaurant with my grandparents, and it just seemed so gorgeous, flavorful, and PERFECT.
How could I possibly replicate it at home?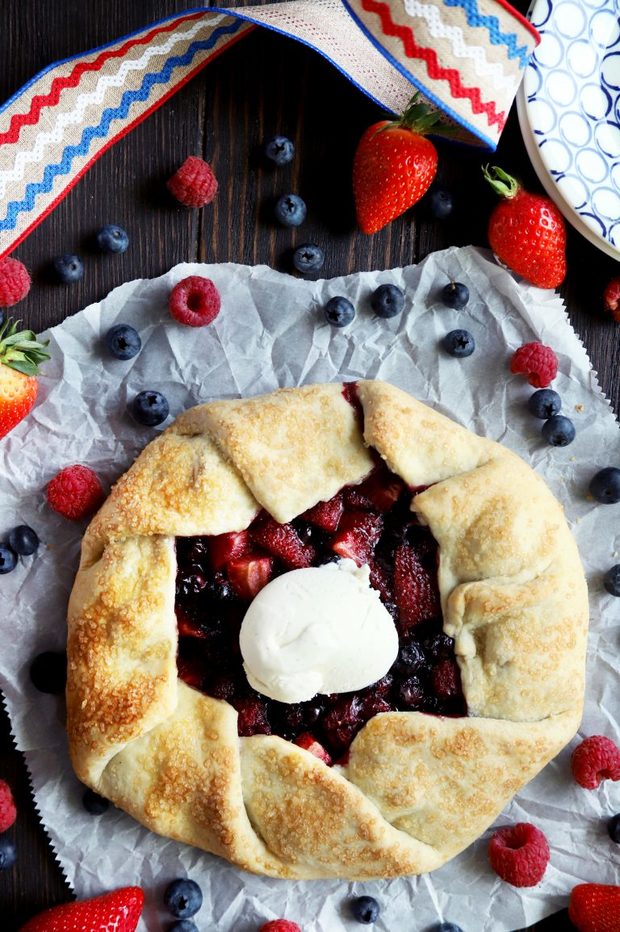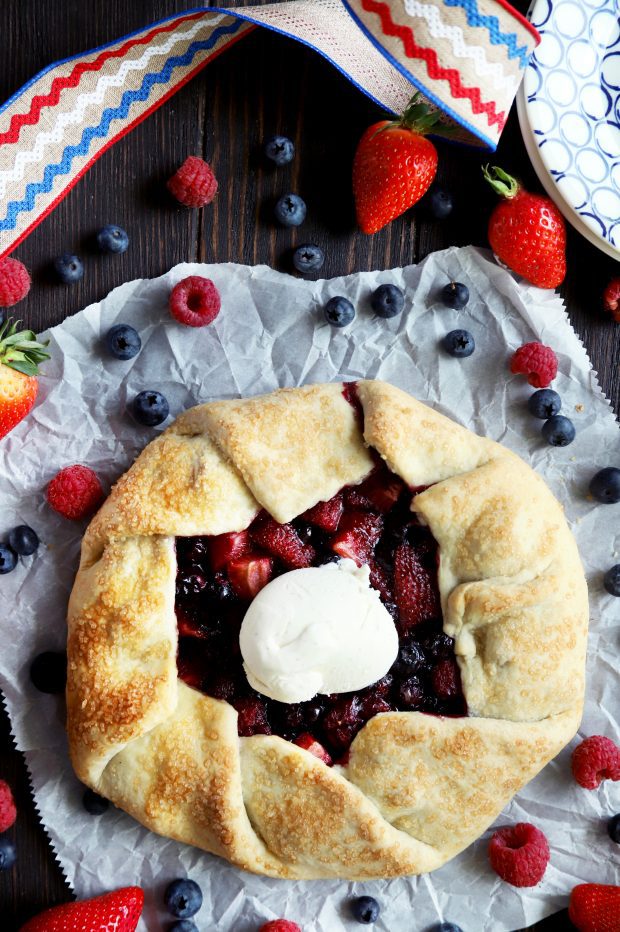 A galette is so stinking easy to make, you are going to be absolutely shocked. I outline it all in more detail below, but trust me when I say this recipe is super easy. The crust is totally foolproof and I have been using it for YEARS without a problem.
Whether you are just looking for the perfect closer to your grilled spread of deliciousness, or you are hoping to wow a group of friends, this is the recipe to truly impress.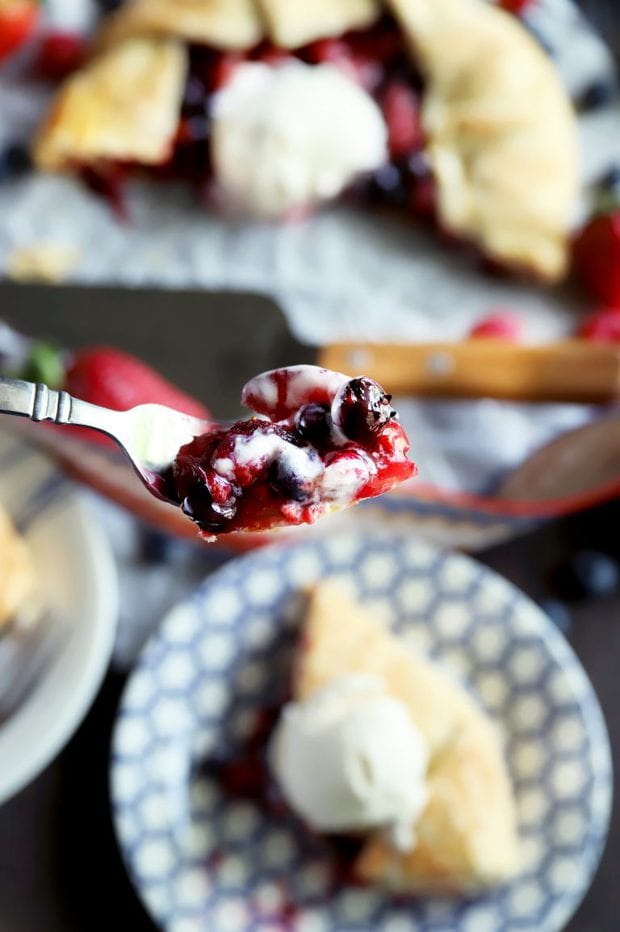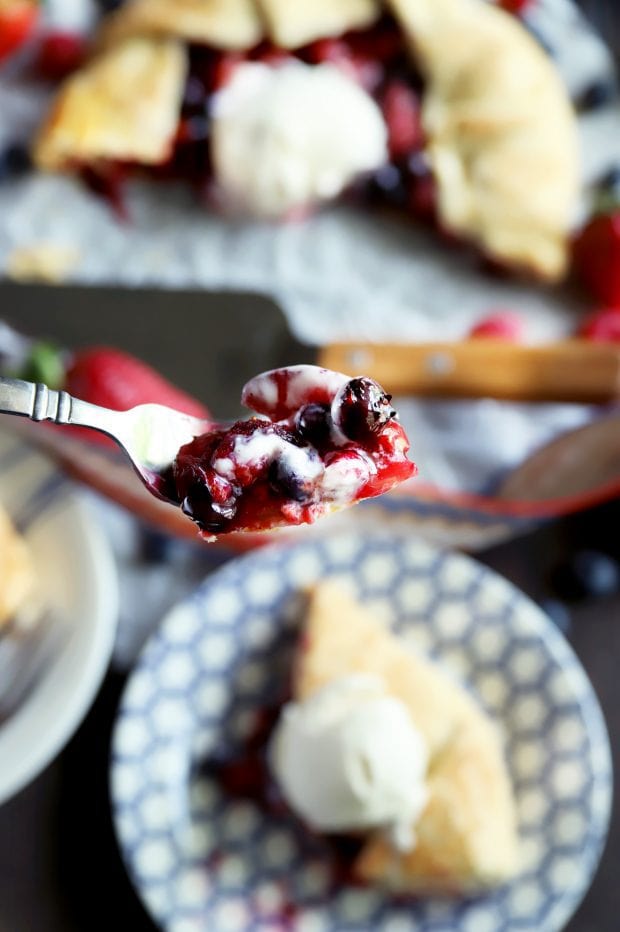 This Recipe's Must-Haves
To cut up the strawberries for this recipe, you'll need to bust out your chef's knife and your favorite cutting board.
To make the crust and the filling, reach for your favorite set of metal mixing bowls!
When I'm rolling out the crust, I love my marble rolling pin and marble pastry board. It really makes it easy to roll out the dough, without the dough getting too warm.
For baking up the galette, you'll just need a half sheet baking pan!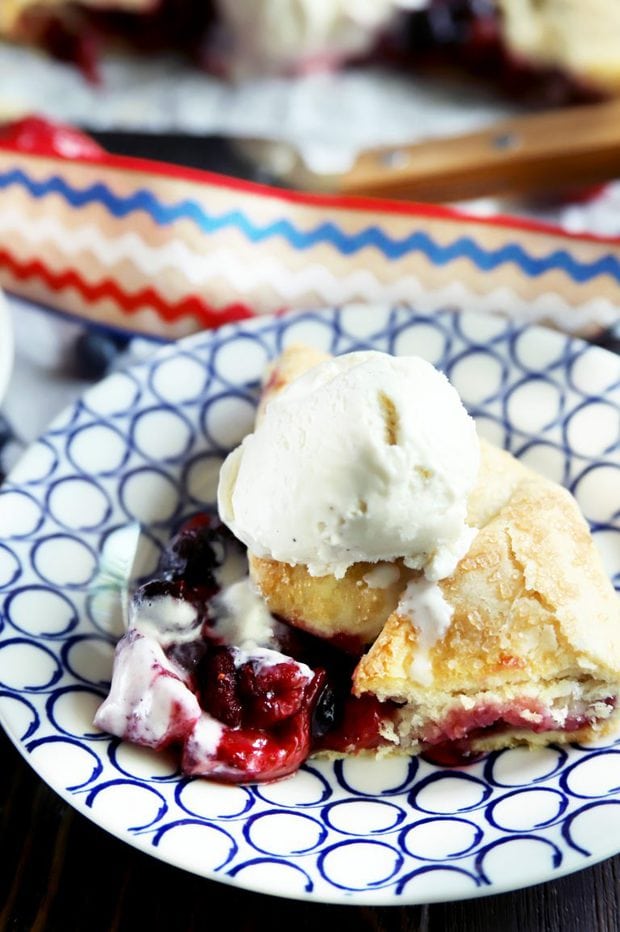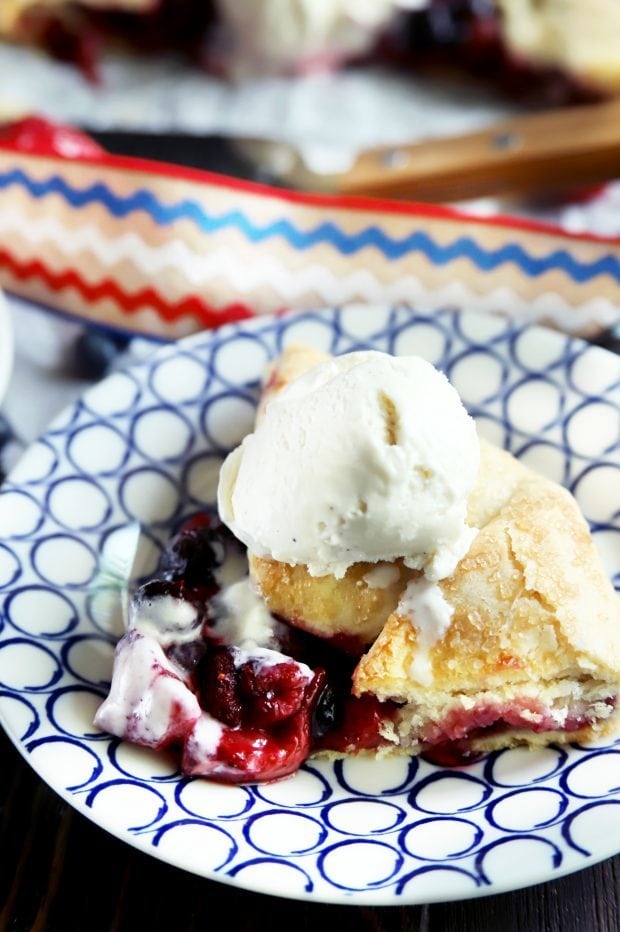 How To Make A Galette
Make The Crust
To make the crust, you simply combine the dry ingredients, then cut in the butter. My pro tip for cutting in butter? Use your fingers! Simply pinch those cubes of butter with your index finger and thumb to break it up to combine with the dry ingredients.
Next you drizzle over the water and then bring it all together with your hands! Make sure to knead it a bit before wrapping it up in plastic wrap.
Is your dough too dry? Add a teaspoon of cold water. Is your dough too sticky? Add a teaspoon of all-purpose flour.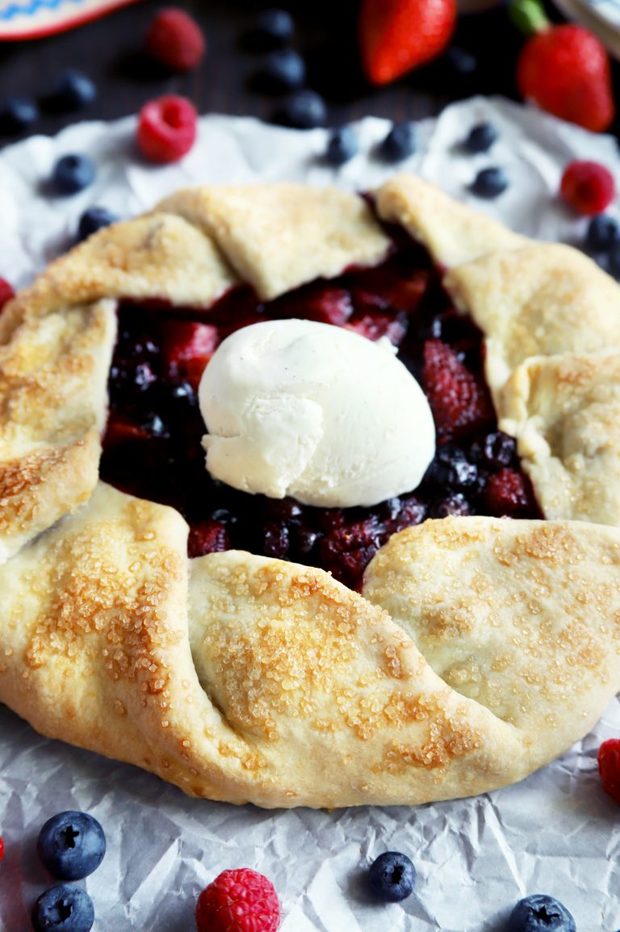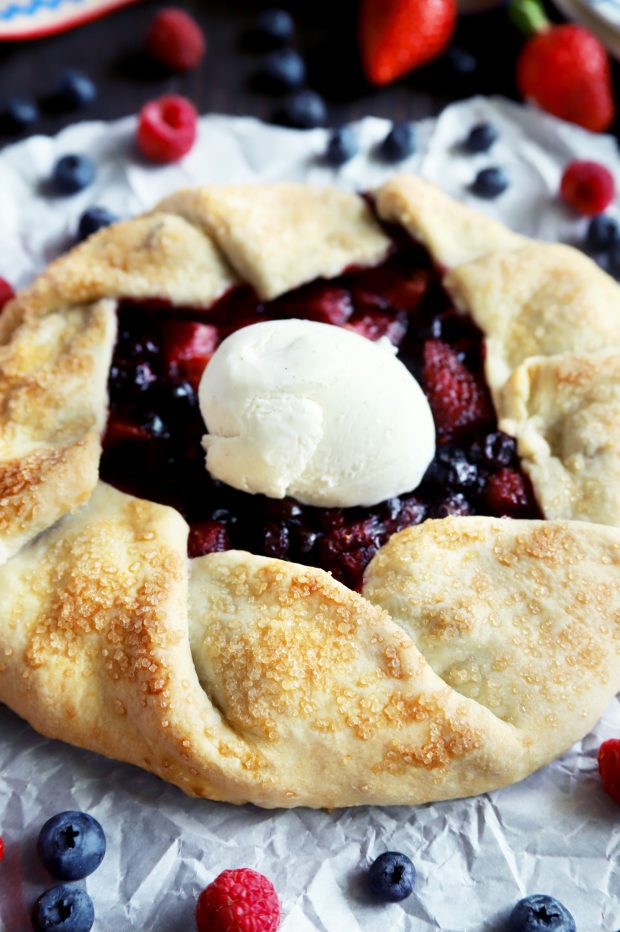 Make The Filling
All you have to do to make the filling is to combine all the ingredients in a bowl! Toss to coat everything evenly, then set aside to meld together until your dough is rolled out.
Roll Out Dough & Assemble
Use your marble rolling pin and marble pastry board to roll out the dough. The marble really keeps the dough cold, so it's easy to assemble the galette.
To assemble the galette, you simply dump the filling in the center of the rolled out circle of dough. Don't worry about making it perfect! It's supposed to be rustic after all 😉
Fold up the edges around the filling, pleating them as you go. Again, it doesn't have to be perfect!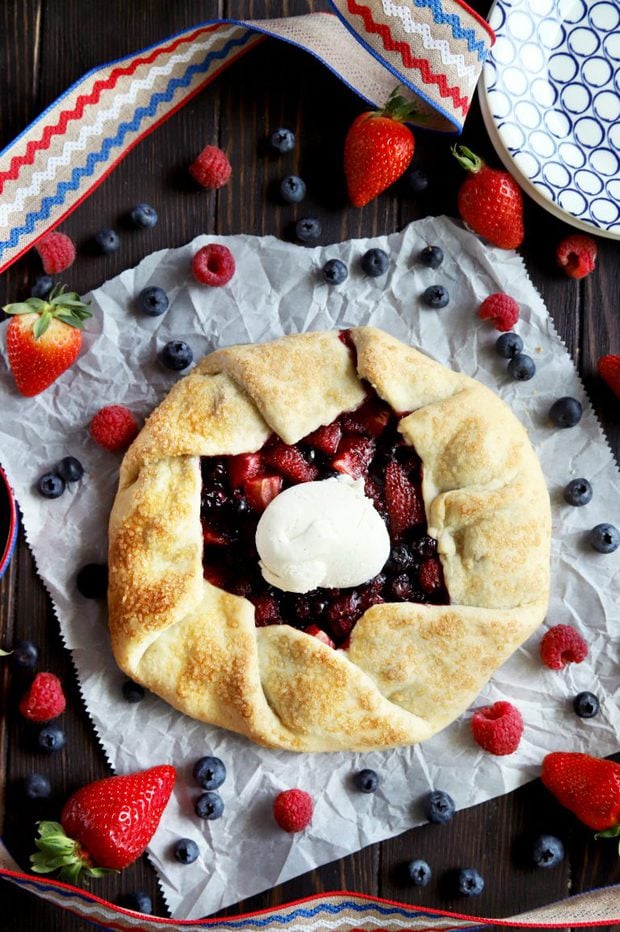 Bake
With a brush of butter and sprinkle of turbinado sugar, your galette is ready to bake! Just make sure the dough is cooked through and golden brown before you take it out of the oven.
What If I Don't Have Fresh Fruit?
If you don't have fresh fruit, you can use frozen. Make sure that you fully thaw the fruit and drain it before using it in the filling mixture.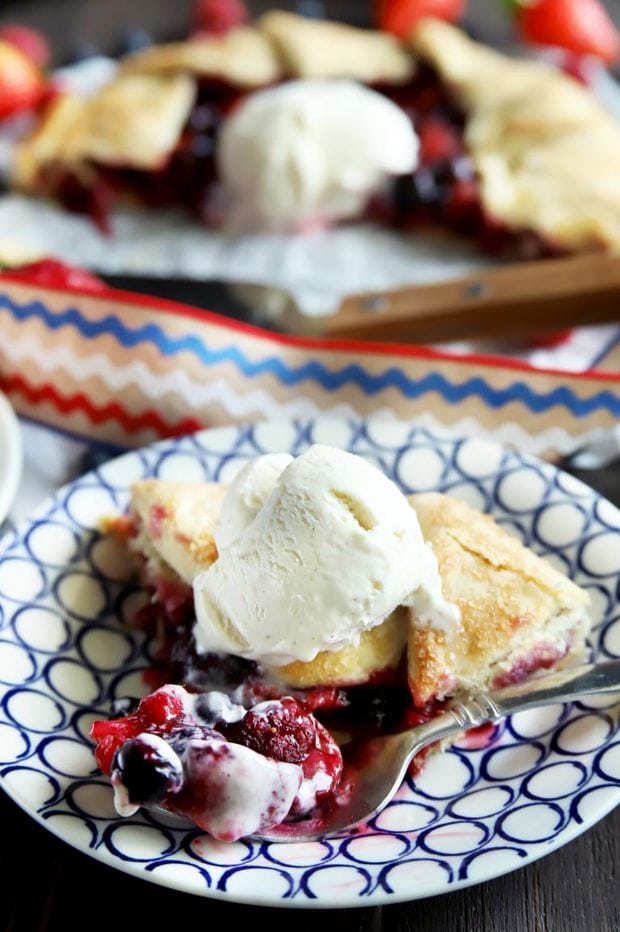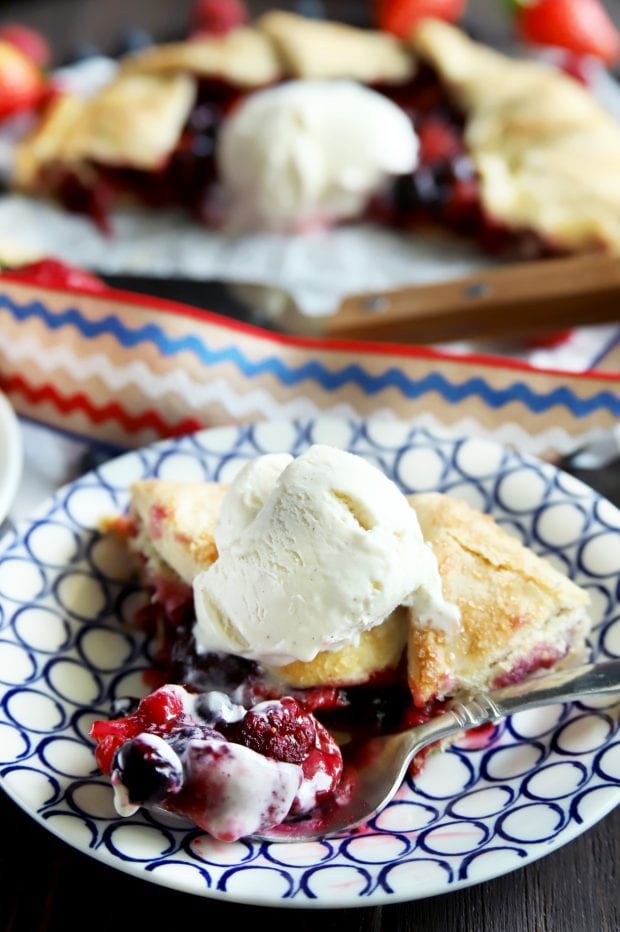 Can I Use Store-bought Pie Crust
I do not recommend using store-bought pie crust for this recipe. It usually isn't sturdy enough and when the homemade crust is so easy to make, why not just do it yourself??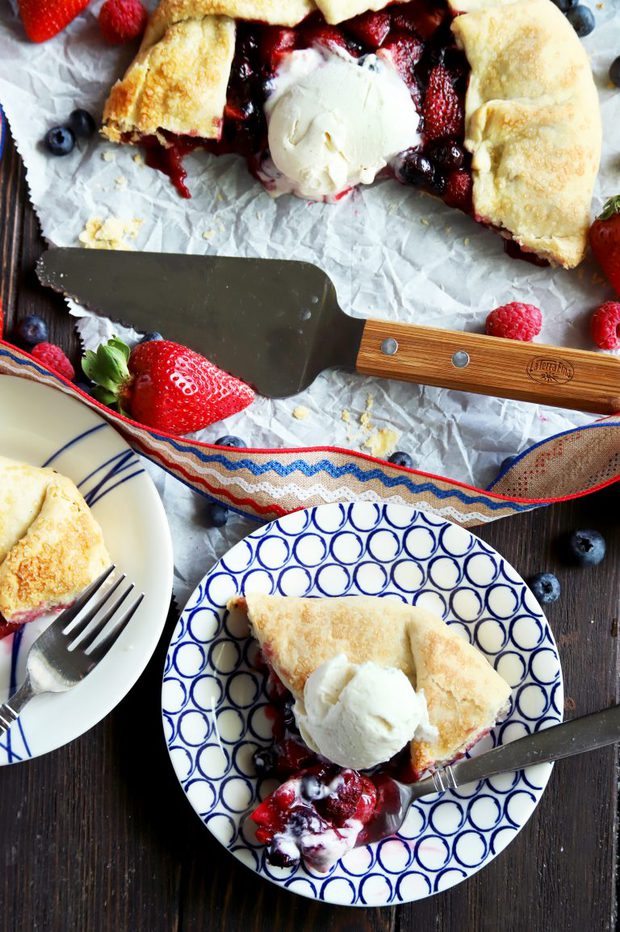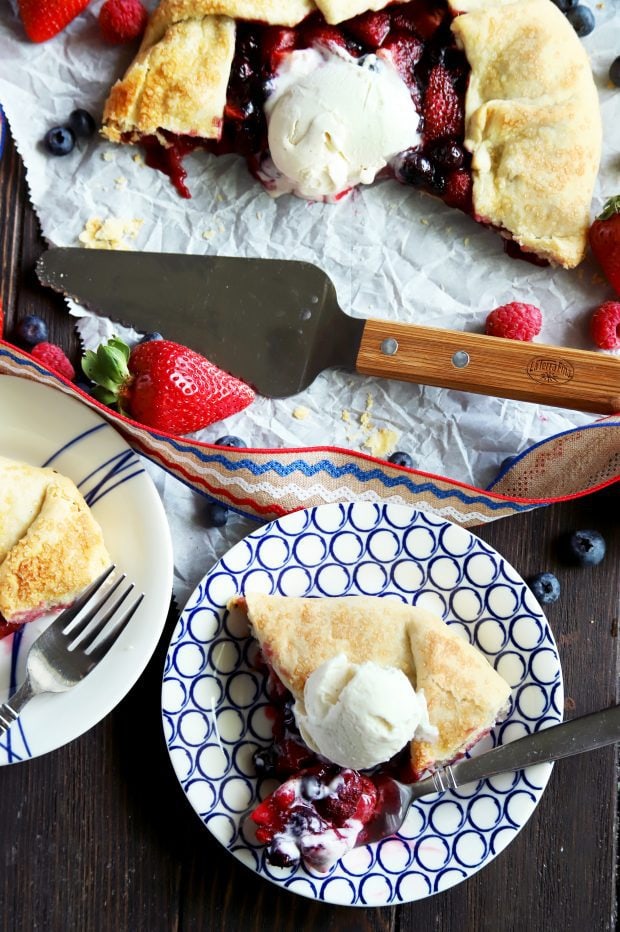 Consider pairing this with a red white and blue brunch punch for a festive celebration!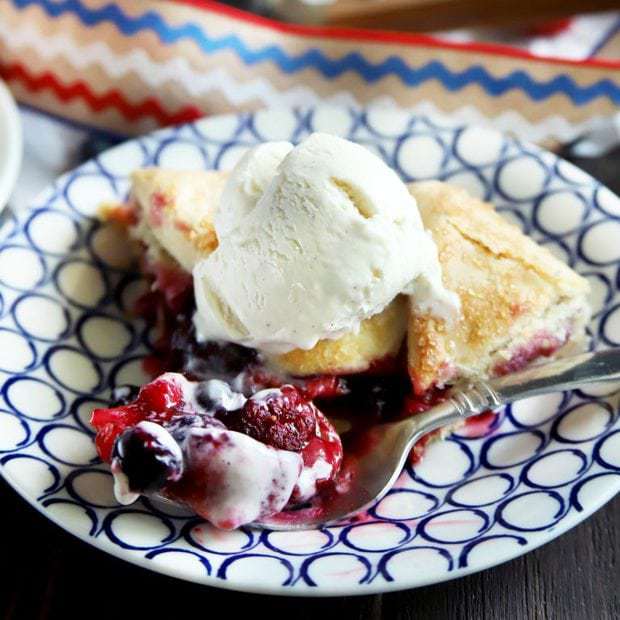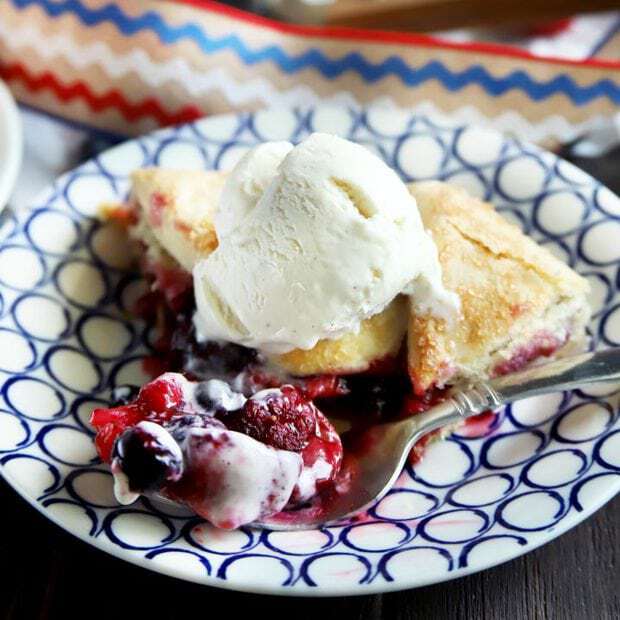 Raspberry Blueberry And Strawberry Galette
The triple berry combination with a splash of lemon juice is folded up in a foolproof galette crust, making it ideal for any summer gathering!
Ingredients
Crust
1 1/2 cups flour
1 1/2 tsp sugar
1/4 tsp salt
8 Tbsp cold unsalted butter, cubed into 1/2" pieces
1/3 cup ice water
Filling
1/2 cup raspberries
1/2 cup blueberries
1 cup quartered strawberries
2 tsp fresh lemon juice
1 Tbsp cornstarch
2 Tbsp brown sugar
Pinch of salt
Topping
2 Tbsp melted butter
2 tsp turbinado sugar
Vanilla bean ice cream
Instructions
In a large bowl, mix together flour, sugar and salt. Using your hands, mix in half of the butter, squeezing the cubes between your fingers, until the mixture resembles a coarse meal. Add in the remaining butter, squeezing the cubes between your fingers once again, until the largest pieces of butter are approximately the size of a pea.
Drizzle water over the dough and bring together, kneading 3 to 4 times. Note: you may not need to use all the water depending on where you live so use a little at a time until it comes together.
Flatten the dough into a disk, wrap tightly in plastic wrap and cool in the refrigerator for 30 minutes.
When ready to bake, preheat oven to 375˚F. Line a rimmed baking sheet with parchment paper.
In a large bowl, combine raspberries, blueberries, strawberries, lemon juice, cornstarch, brown sugar, and salt. Gently toss to coat the fruit evenly. Let sit for 10 minutes.
Roll out the galette dough into a 14" round. Arrange the fruit in the center of the dough, leaving about a 1 1/2 to 2-inch edge of dough all the way around.
Fold the pastry edge up and over the filling, pleating the dough in evenly spaced folds, pressing to seal as you work your way around. Brush the pastry border and edges with the melted butter. Sprinkle the edges generously with turbinado sugar.
Bake for 35 to 45 minutes. Transfer the galette with the parchment paper onto a rack to cool for approximately 15 minutes before serving.
Serve warm with vanilla gelato or ice cream.
Recommended Products
As an Amazon Associate and member of other affiliate programs, I earn from qualifying purchases.