Please note this post contains affiliate links.
A Blackberry Thyme Gin And Tonic is a fruity, herbaceous spin on the classic gin cocktail. Made with a thyme simple syrup and fresh blackberries, the recipe is simple and ideal for summer. Cheers, my friends!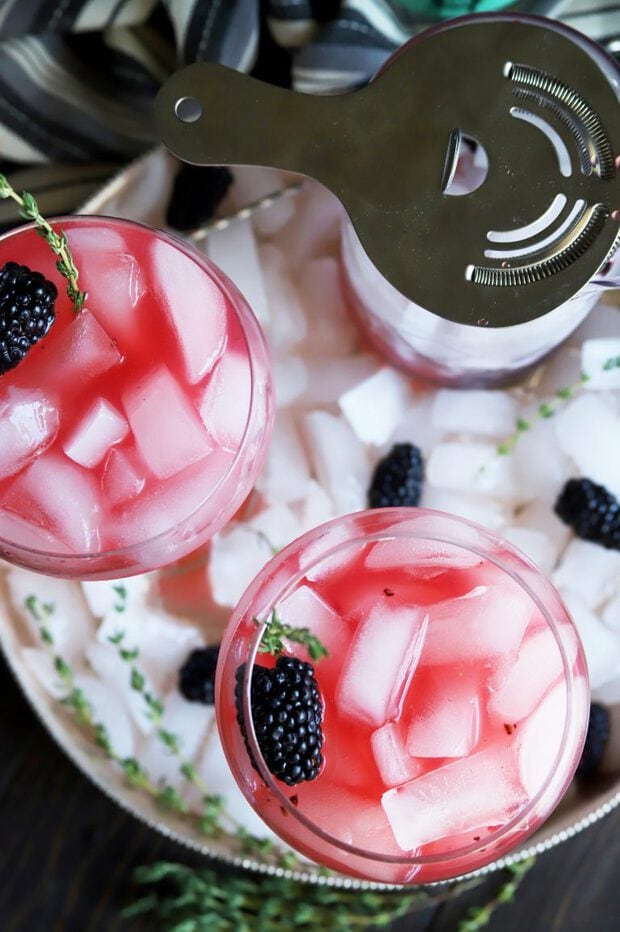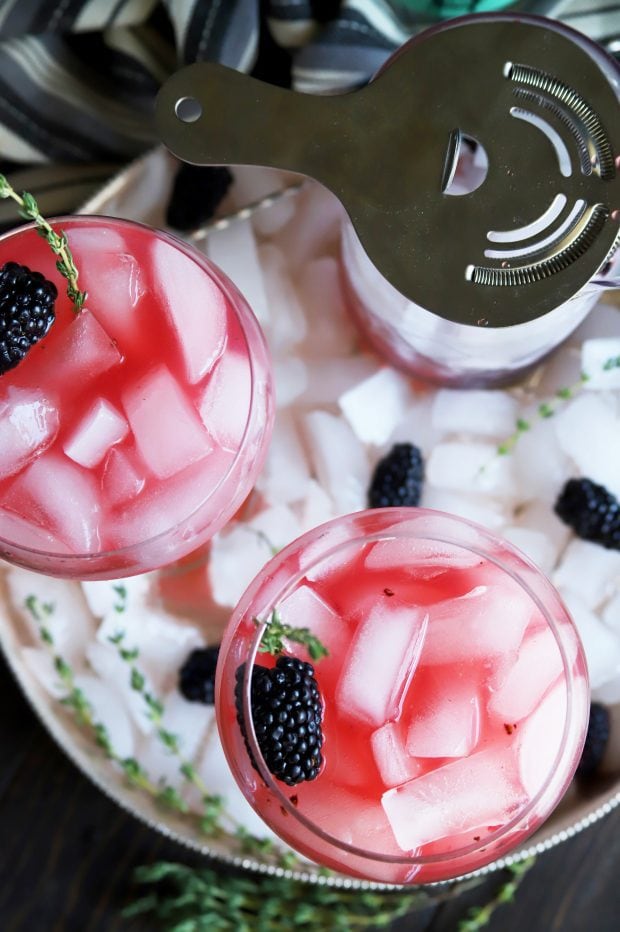 Do you know what I love more than anything? Twisting up a classic cocktail with some fruit and herbs!
There's something about blackberries that is totally my jam with gin. I've made a gin smash with the combination and it was brilliant… that time I used sage but for a more summery cocktail, I went reaching for the thyme.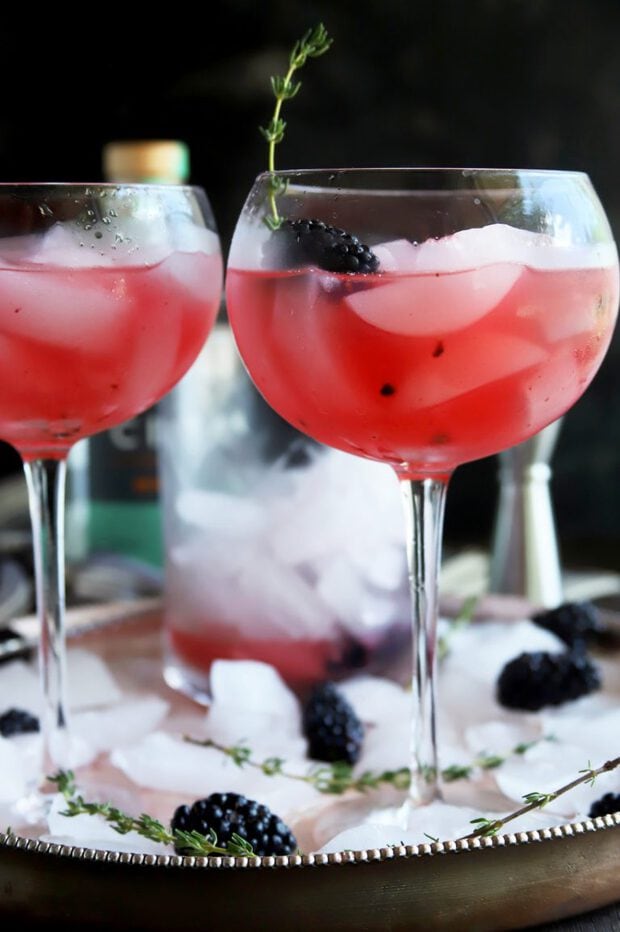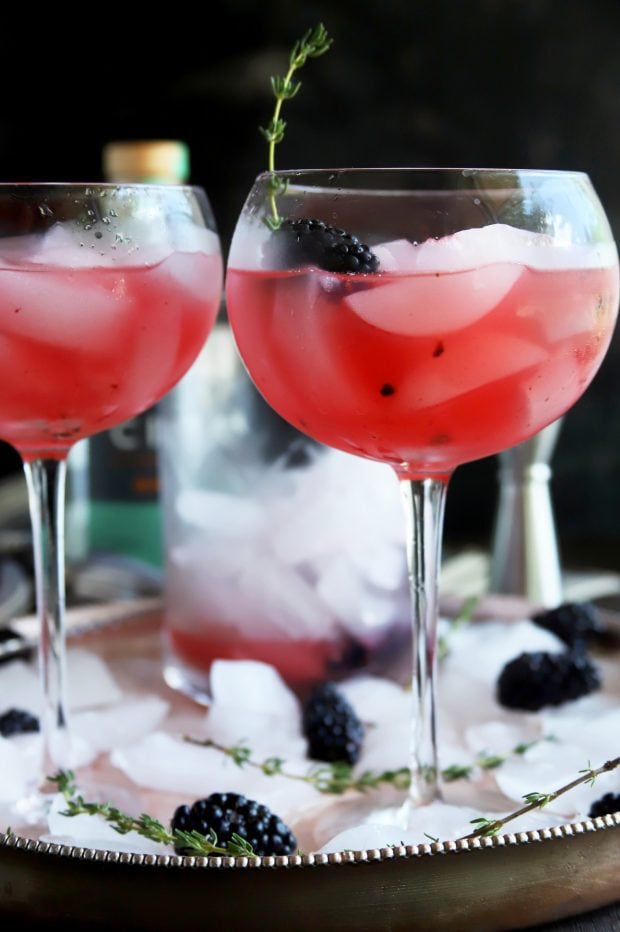 Using fresh herbs in cocktails is an absolute must lately for me. The fresh flavor comes across in both taste and scent, elevating any cocktail you use it in.
If you love gin and tonics, this customization of the classic cocktail recipe is a MUST for this week. It's super simple to make from the thyme simple syrup to the addition of fruit. It will change everything you thought you knew about the gin and tonic.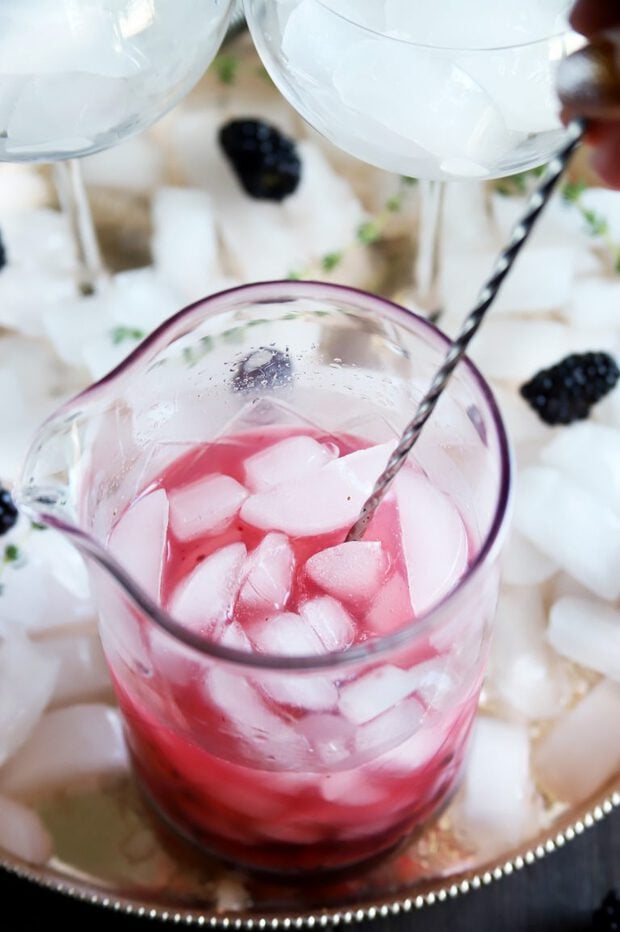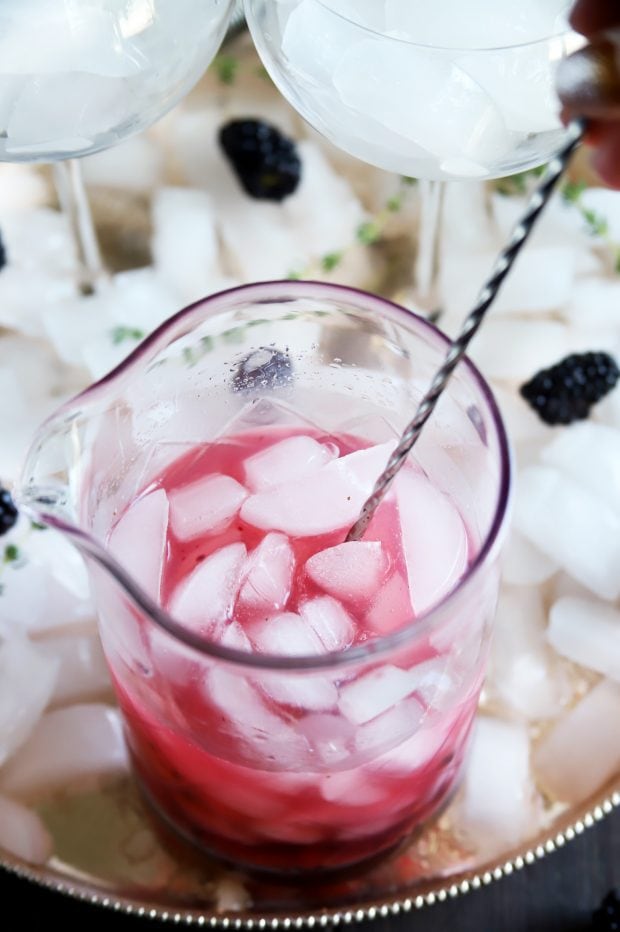 This Recipe's Must-Haves
I recently got a Viski crystal mixing glass and it's totally changed my cocktail game. Instead of stirring in the glass, I can make these cocktails in one large glass then strain into cocktail glasses with a cocktail strainer.
Make sure you have this bar spoon so you can whip the ingredients into a frenzy!
I personally like to use large red wine glasses filled with ice to serve this cocktail. However you can also use a classic highball glass or whatever cocktail glasses you have on hand.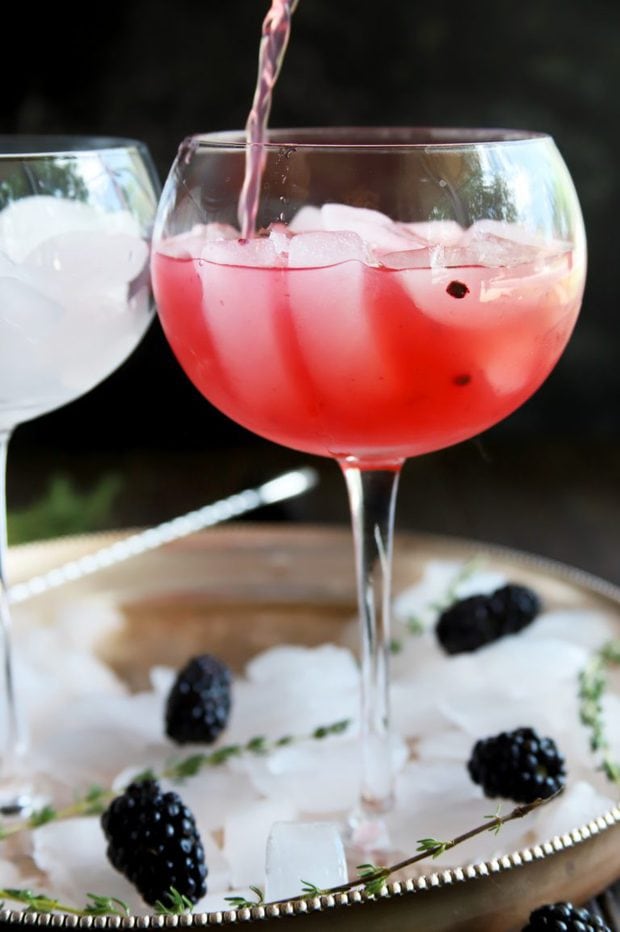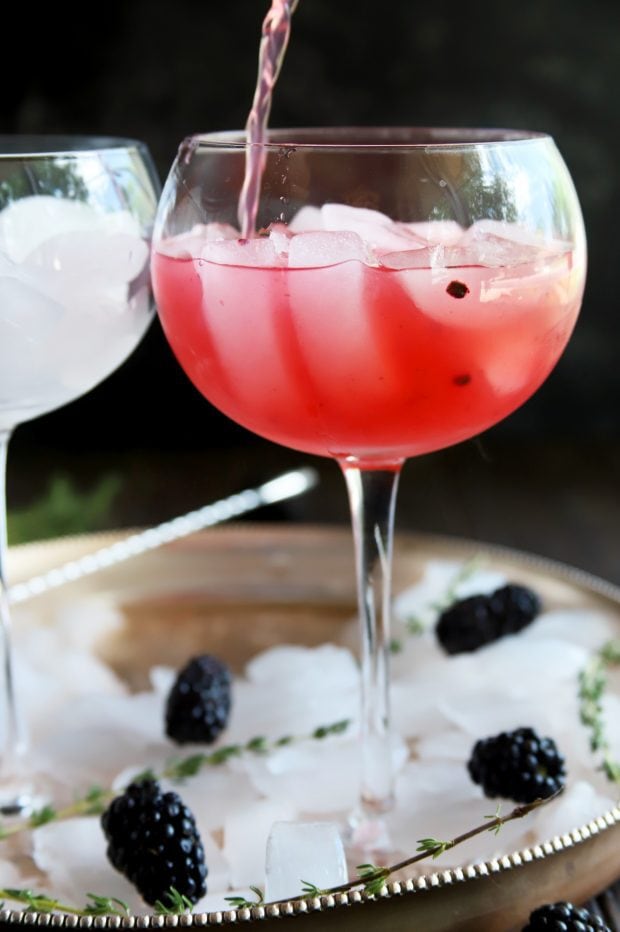 How To Make This Fruity, Herbaceous Cocktail
Make Thyme Simple Syrup
To make the thyme simple syrup, all you need is to throw all the ingredients together in a saucepan, bring it to a boil, and steep. That's it!
Just make sure you cool it down to room temperature before you make the cocktail.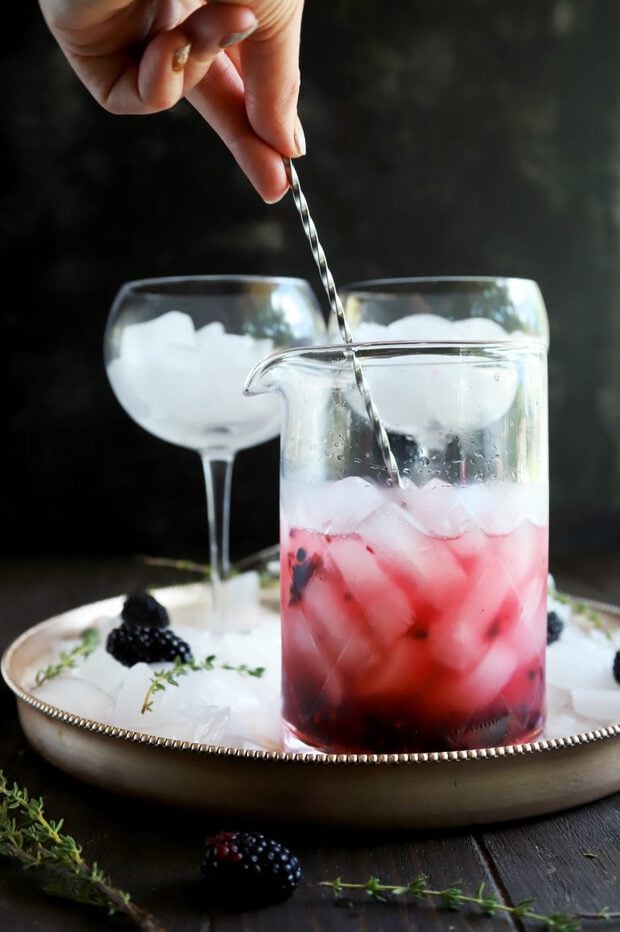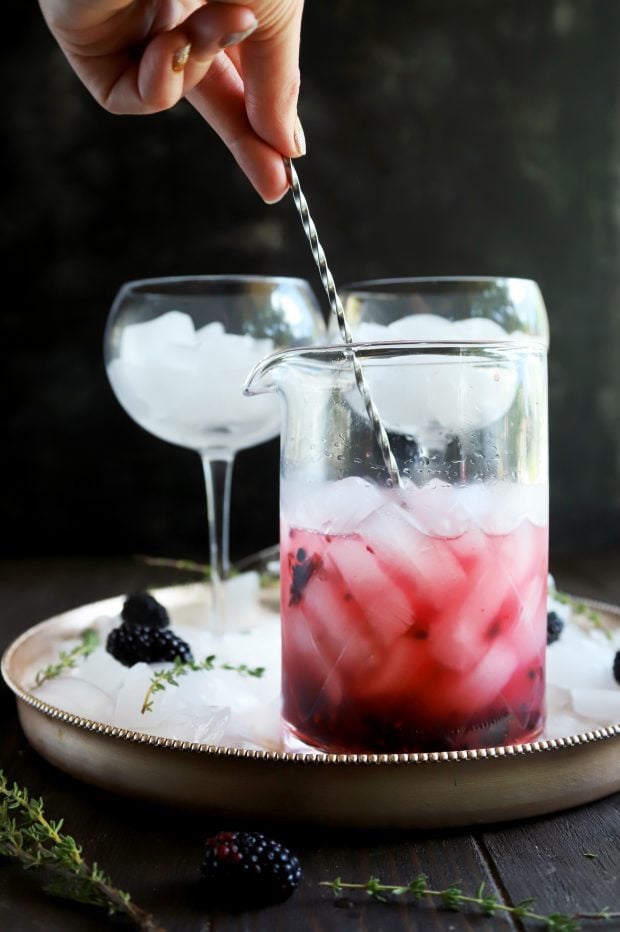 Make Cocktail
For the cocktail itself, you start by muddling together blackberries and lime juice in the bottom of a mixing glass. Then you fill that mixing glass with ice and stir in the gin and simple syrup.
You stir it all together and strain it into ice-filled glasses. Finally top it off with tonic and serve.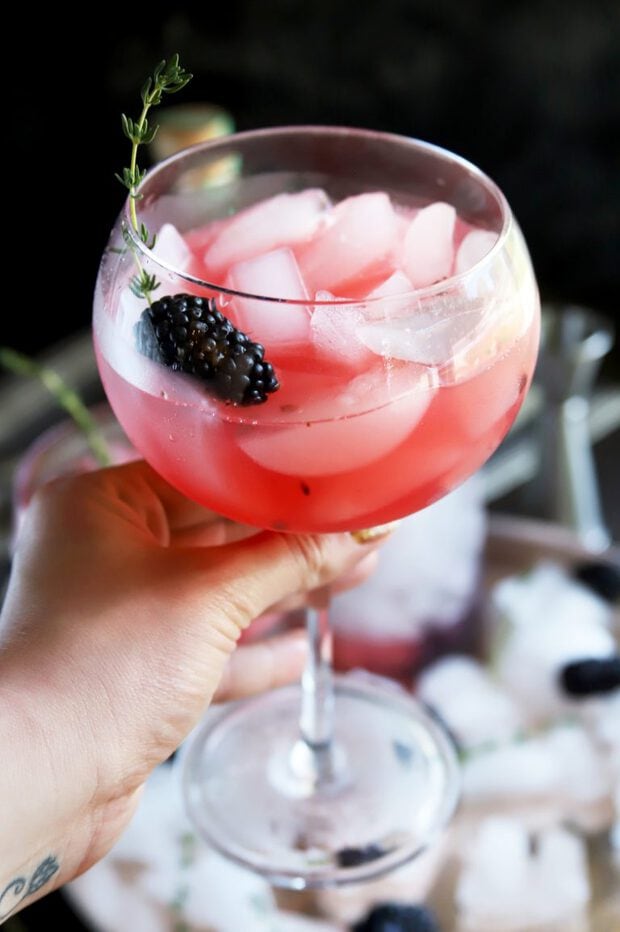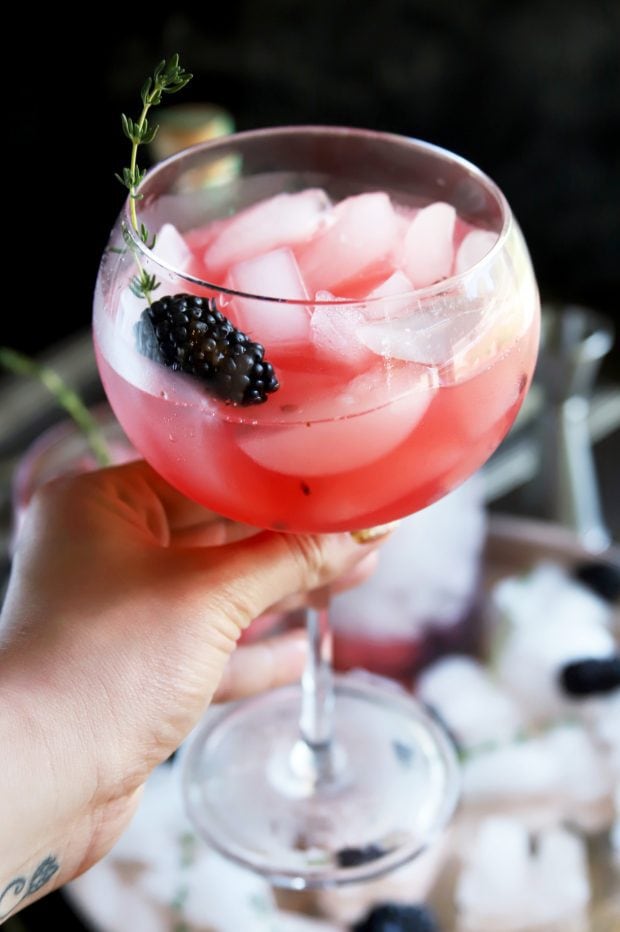 How should I serve this cocktail?
Like I said before, I am all about serving this cocktail in large wine glasses that are filled with ice. Make sure if you do this that the glasses are made of thick glass and not thin crystal like Riedel. Those with thinner glass or crystal will shatter if they are chilled too much with ice (speaking from personal experience over here!).
You can also serve the glasses in highball glasses, chilled coupe glasses without ice, or regular old rocks glasses. Whatever you have works, so don't stress on it!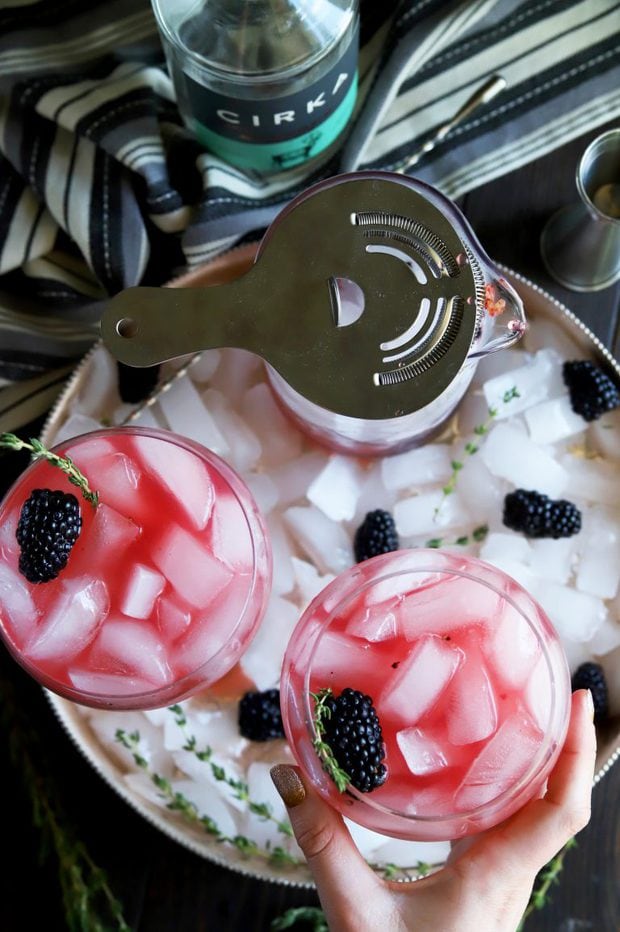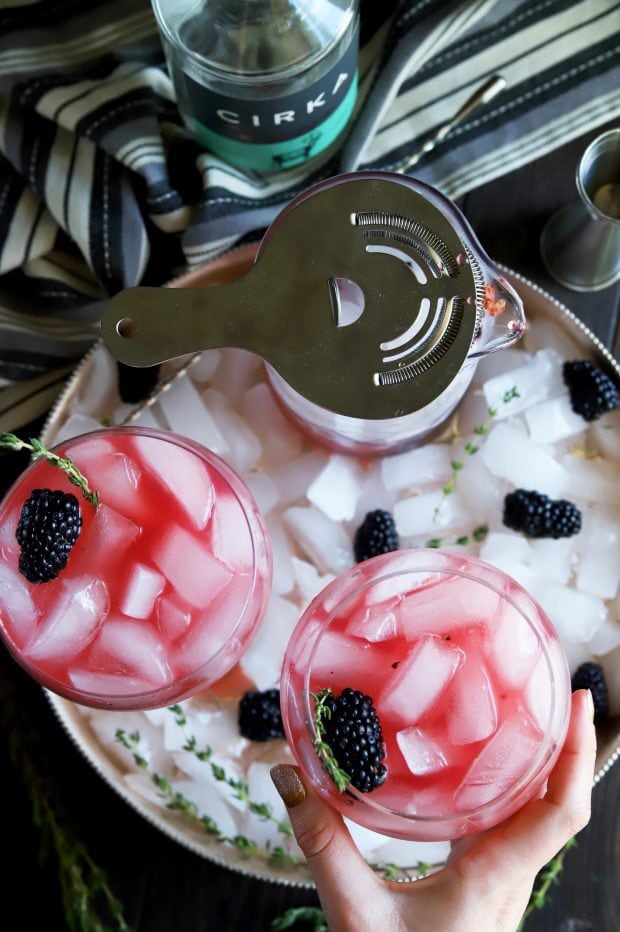 Can I make the thyme simple syrup ahead of time?
You can definitely make the simple syrup ahead of time! If you do this, cool the syrup to room temperature and then store it in an airtight container. It can be tupperware or mason jars, just as a couple of examples.
Store in the refrigerator for up to one week.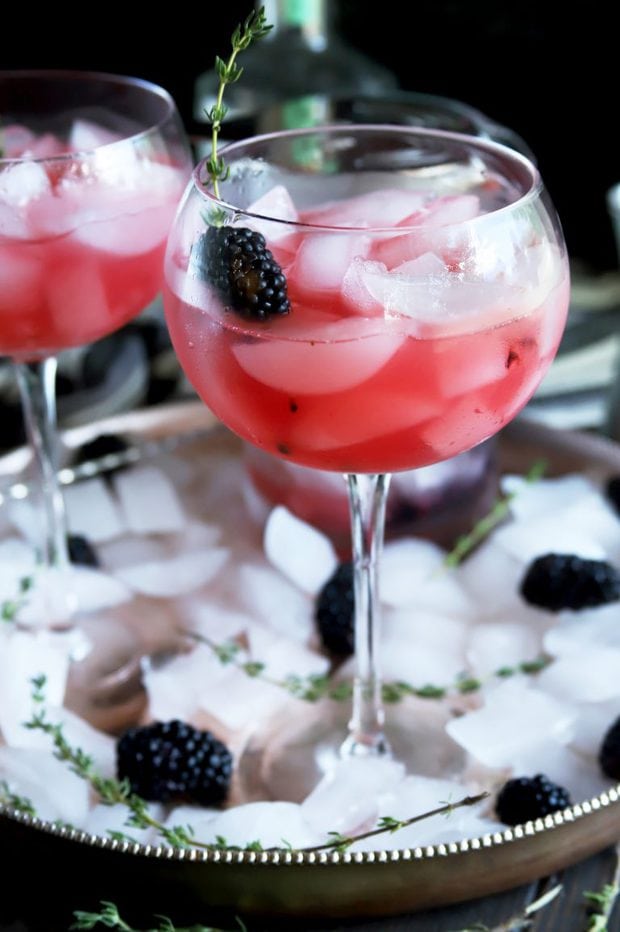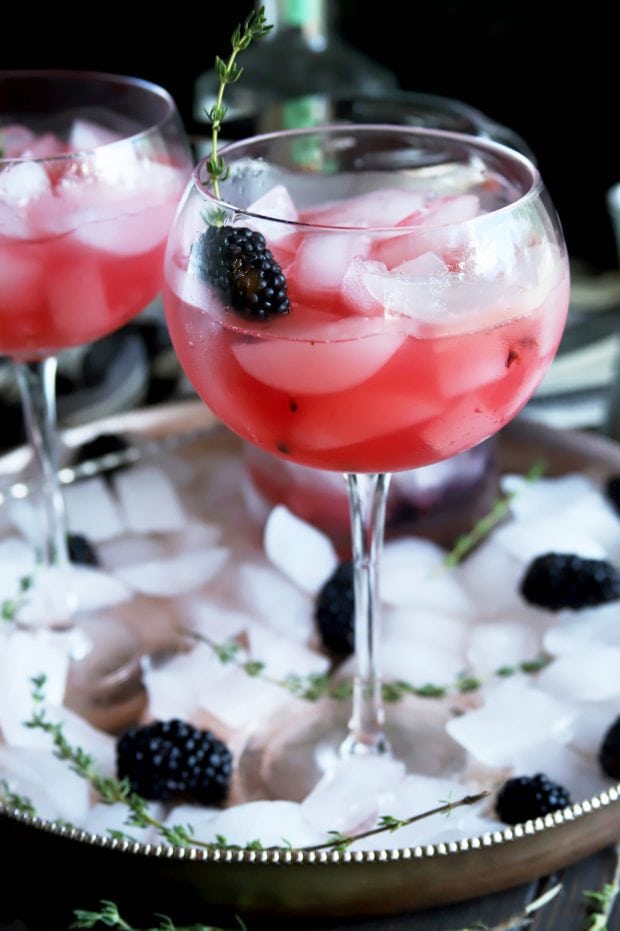 Quick Tips For Making This Cocktail
To store any extra thyme simple syrup, make sure you keep it in an airtight container or mason jar in the refrigerator.
If you don't like blackberries, you can use blueberries or strawberries instead.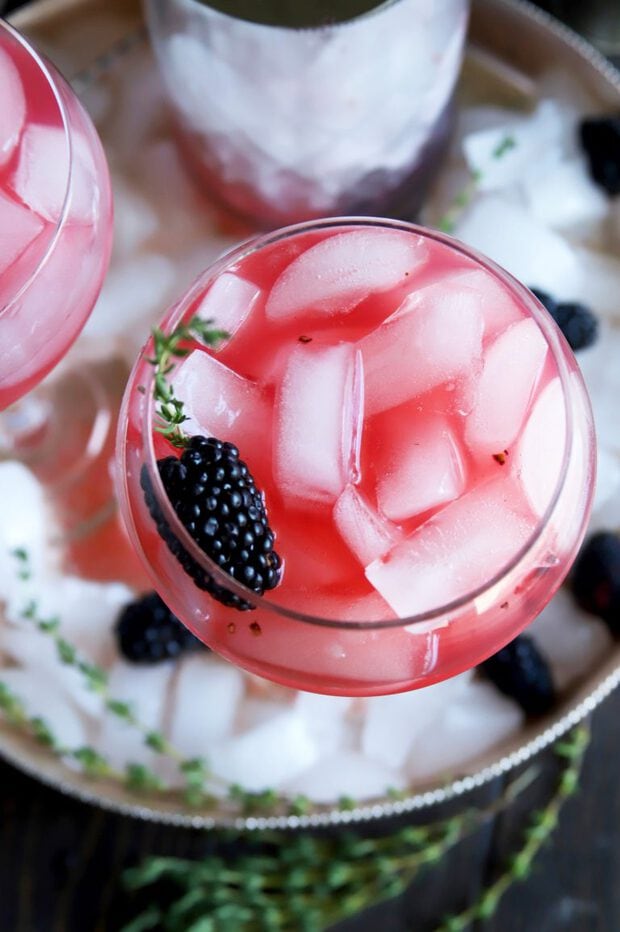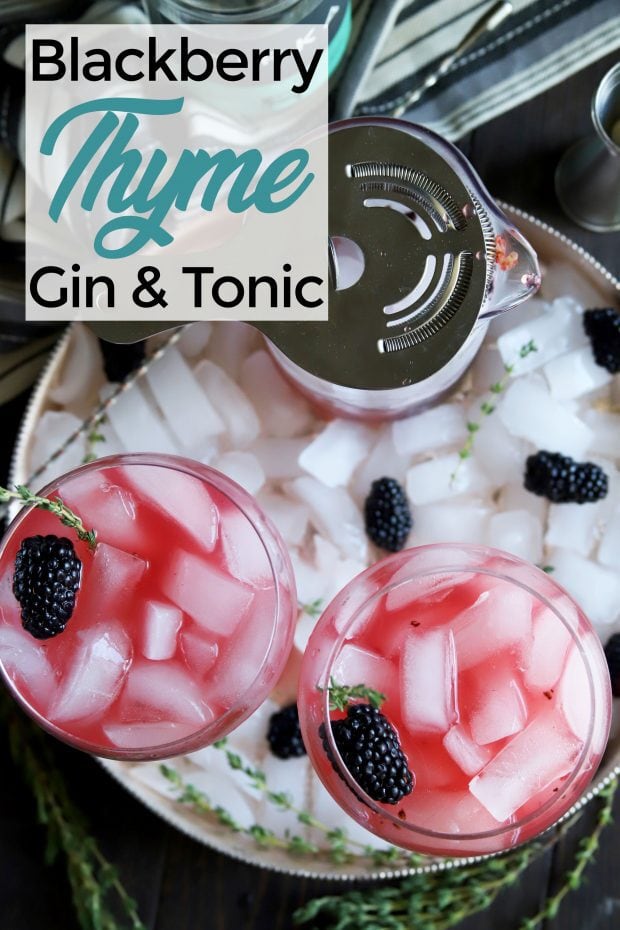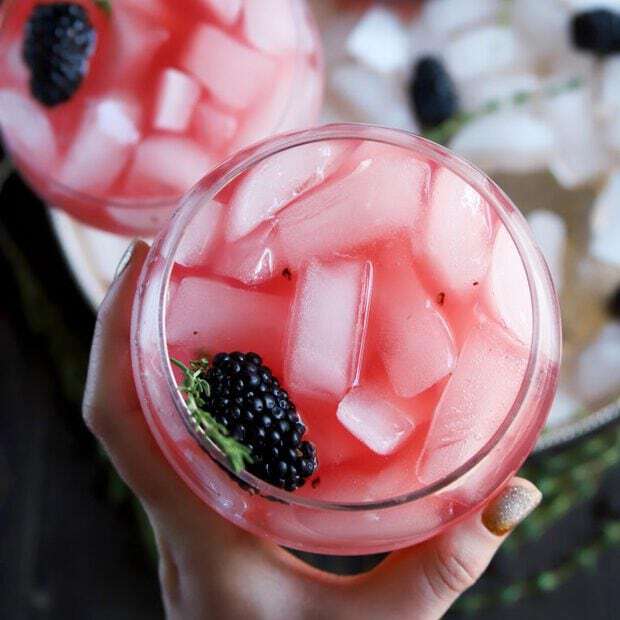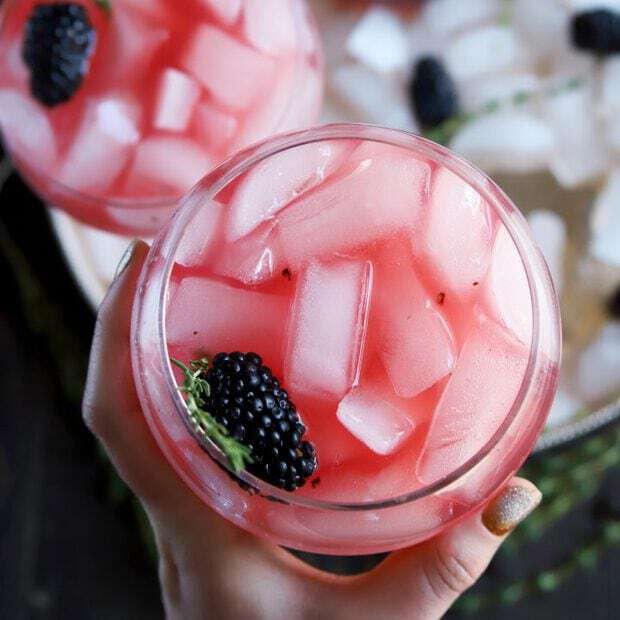 Blackberry Thyme Gin And Tonic
Just a little herbs and fruit take the classic gin and tonic cocktail to the next level!
Ingredients
Thyme Simple Syrup
3 sprigs thyme
1/2 cup water
1/2 cup sugar
Cocktail
1 oz fresh lime juice
8 blackberries
4 oz gin
2 oz thyme simple syrup
Tonic
Ice
Garnish: blackberries, thyme sprigs
Instructions
To make the thyme simple syrup, add thyme, water, and sugar for the syrup in a small saucepan. Place over high heat and bring to a boil, stirring until the sugar is dissolved.
Remove syrup from heat, cover and let steep for 15 minutes. Remove thyme sprigs and cool to room temperature before making the cocktail.
Add blackberries and lime juice for the cocktail to a mixing glass. Muddle together.
Add gin and syrup, then fill with ice. Stir to combine.
Strain into two cocktail glasses filled with ice, dividing the cocktail evenly between the glasses.
Top each glass with tonic water. Garnish with fresh blackberries and thyme. Serve.
Recommended Products
As an Amazon Associate and member of other affiliate programs, I earn from qualifying purchases.