Please note this post contains affiliate links.
Strawberry Cheesecake Ice Cream is creamy, a little tangy, and full of fresh strawberries and graham crackers. It's your favorite cheesecake treat, in ice cream form! Makes 1 qt.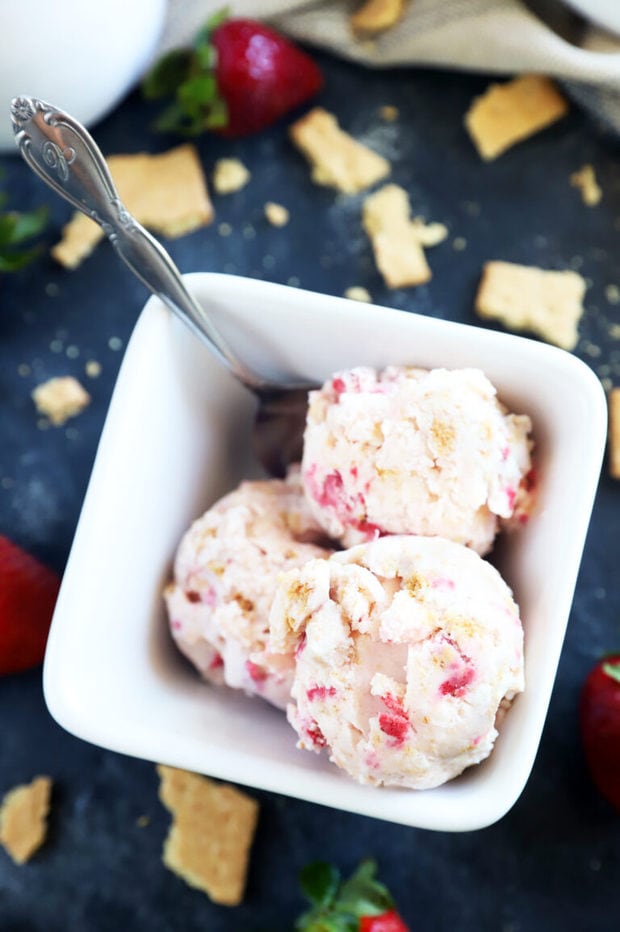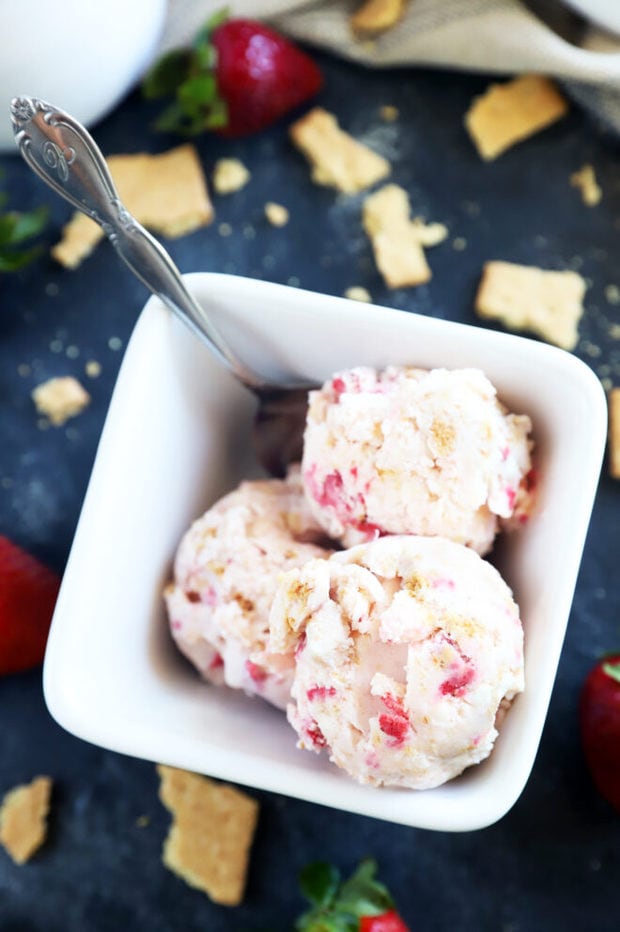 I am sure I have told you all this before, but when I am stressed/out of sorts, I like to make ice cream.
No idea why (and yes, I do feel exactly like Meryl Streep in It's Complicated when I say this), but it soothes me.
There's something about pulling together a mixture, sticking it in the freezer overnight, and waking up to deliciously creamy ice cream that puts my mind right once again.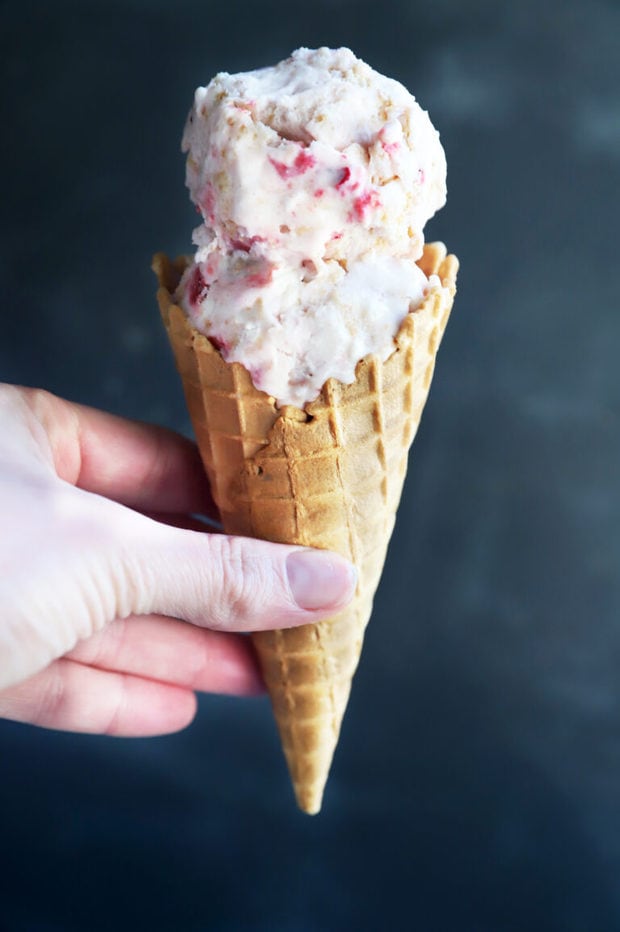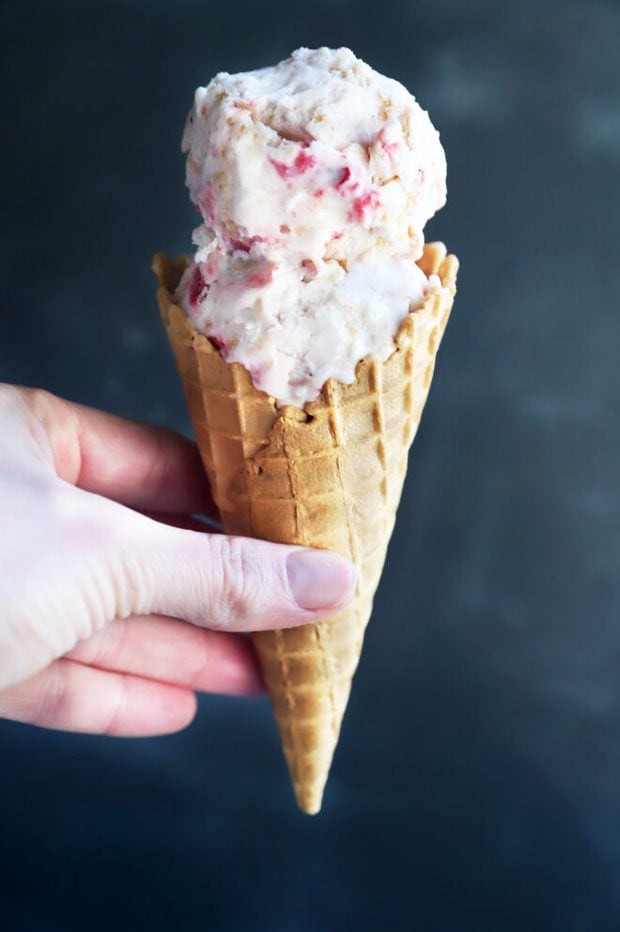 The past few weeks have been very heavy, with an information onslaught that has left me exhausted (in a good way, like I used to feel before finals in school).
Therefore, I have turned to ice cream to provide me with a sense of relief.
I made a blueberry cheesecake ice cream ages ago – like back when I actually went full-time with this whole freelance and blogging thing.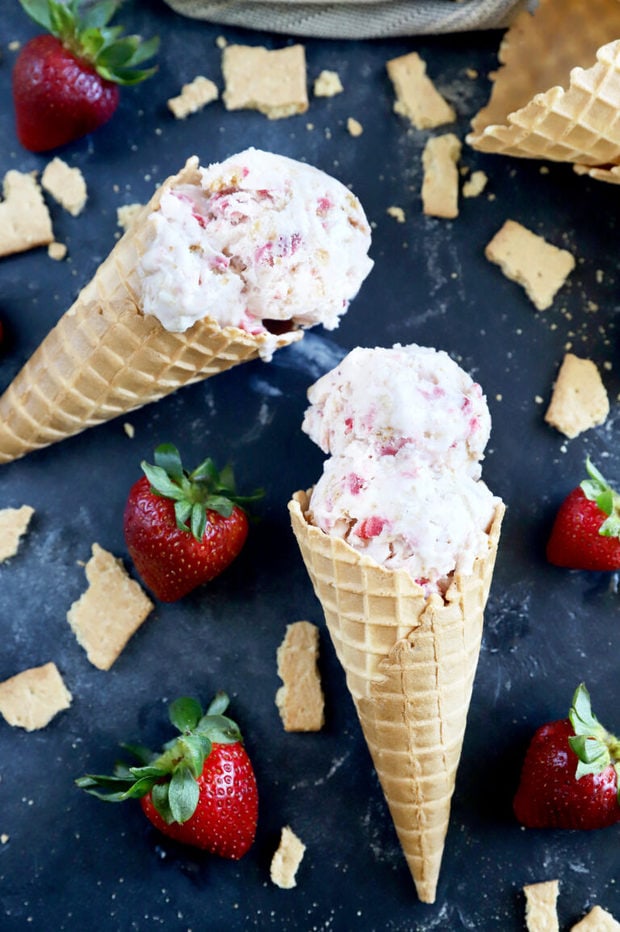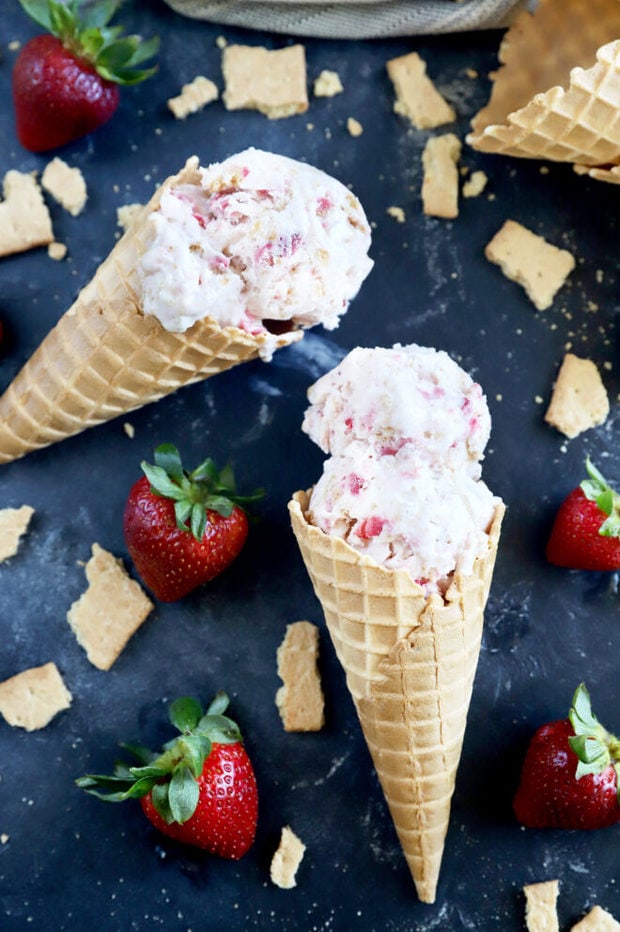 It is one of those recipes that I keep going back to, but when I went to make it a couple of weeks ago, my blueberries had gone bad instantly.
Don't you just HATE that?? I bought the berries two days before, and then they were bad. ARGH.
SO, I turned to strawberries instead and holy crap, say hello to a whole new level of deliciousness. This strawberry cheesecake ice cream is everything the name makes it sound like it is.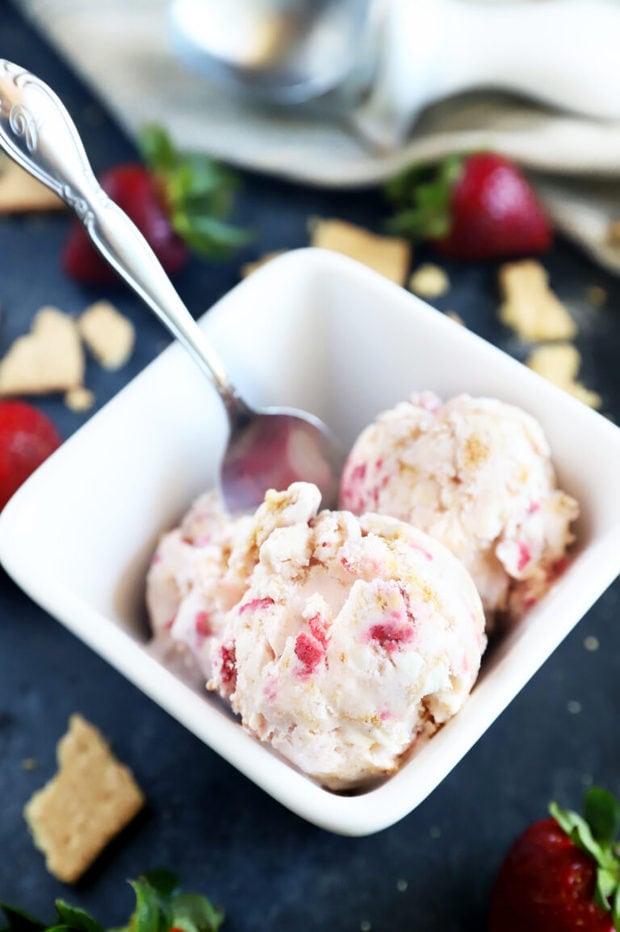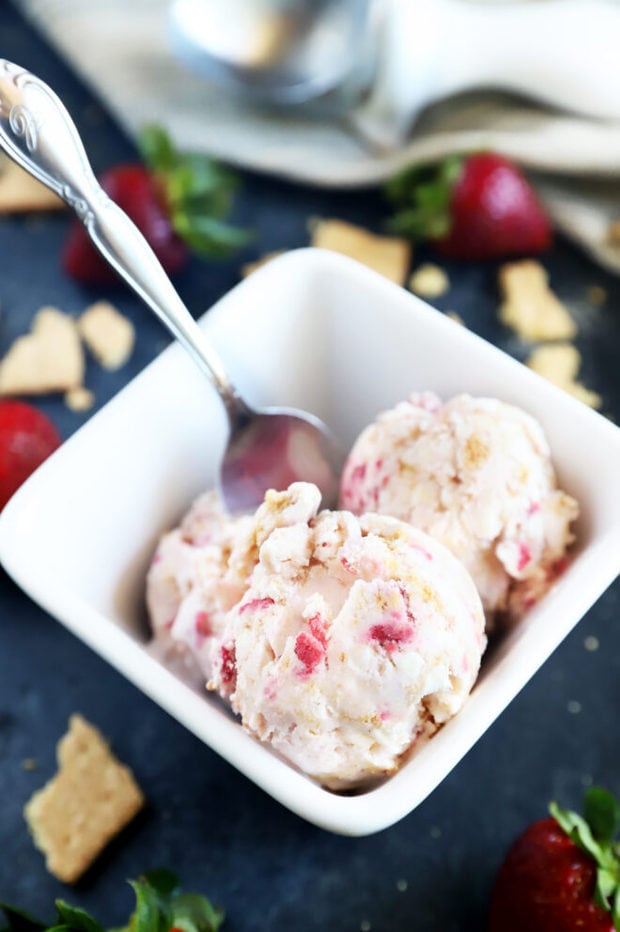 The fresh strawberries make for the best strawberry ice cream, with a lovely tang from the cream cheese. Then there are pieces of yummy graham cracker studded throughout – it seriously tastes like biting into a slice of strawberry cheesecake!
This Recipe's Must-Haves
You will need a saucepan to make the fresh strawberry compote for the ice cream!
I like to use my stand mixture to cream together the ice cream base, but you can also use one of your mixing bowls and an electric hand mixer.
Grab your favorite ice cream maker to make the ice cream mixture.
Finally, make sure you have an ice cream scoop like this one. It's my favorite and you can set it on the counter without getting it all messy in between scoops!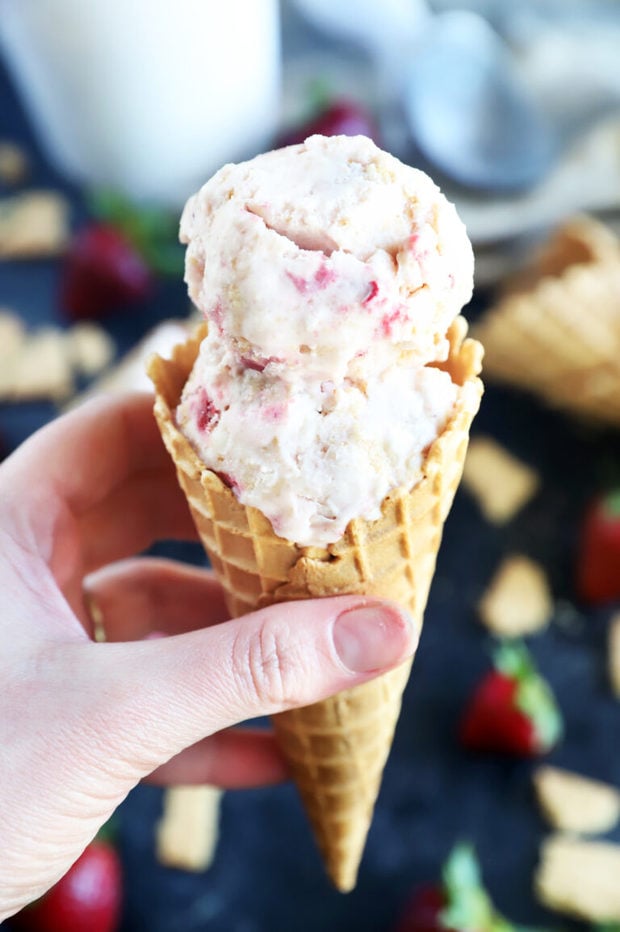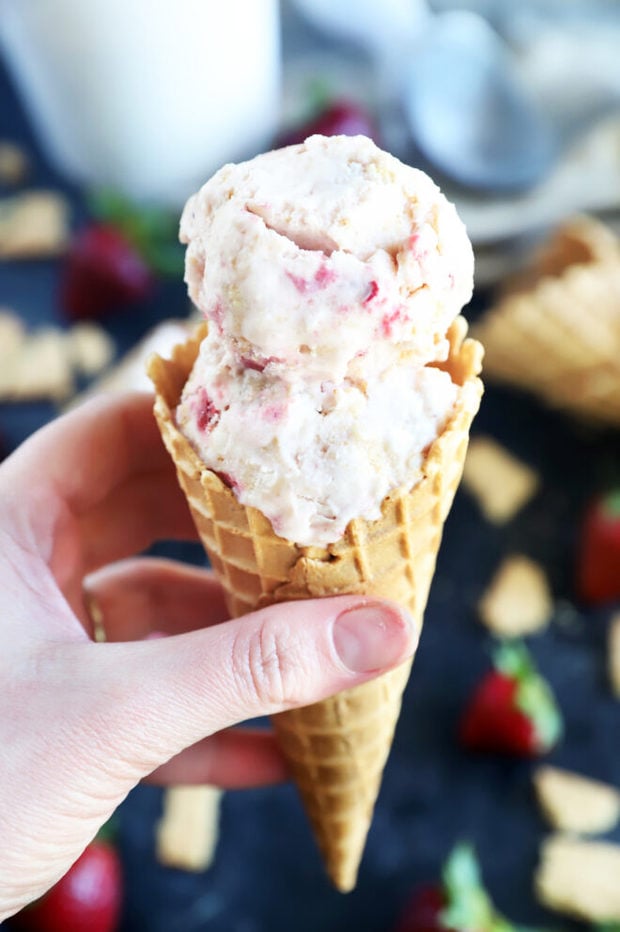 Let's make yummy strawberry cheesecake ice cream!
Make Strawberry Compote
Combine the strawberries, sugar, and lemon juice in a medium saucepan, bringing the mixture to a simmer. Let those berries simmer away until the strawberries have broken down and the mixture is thickened.
Place the mixture in a bowl and chill until it's cooled completely.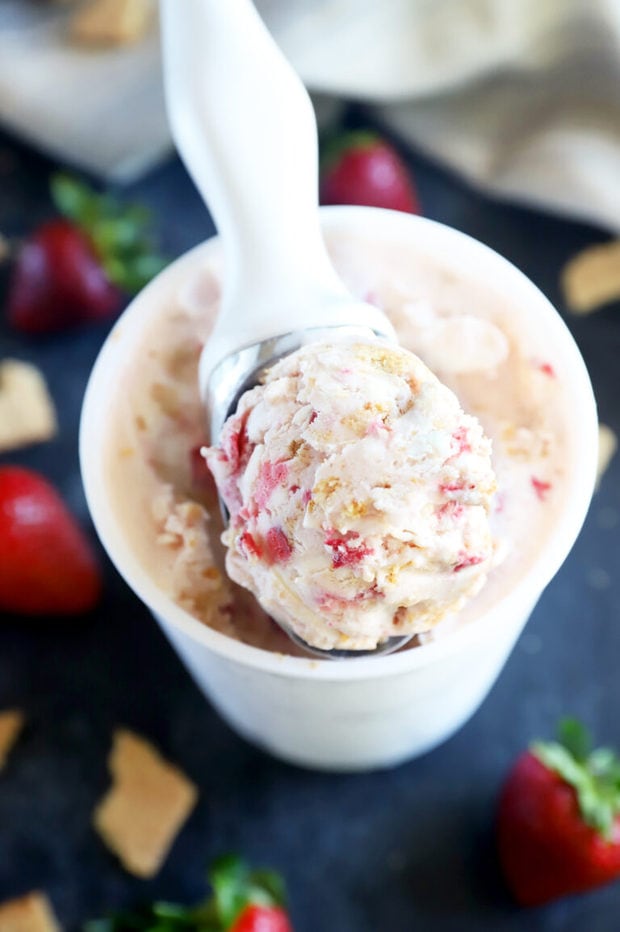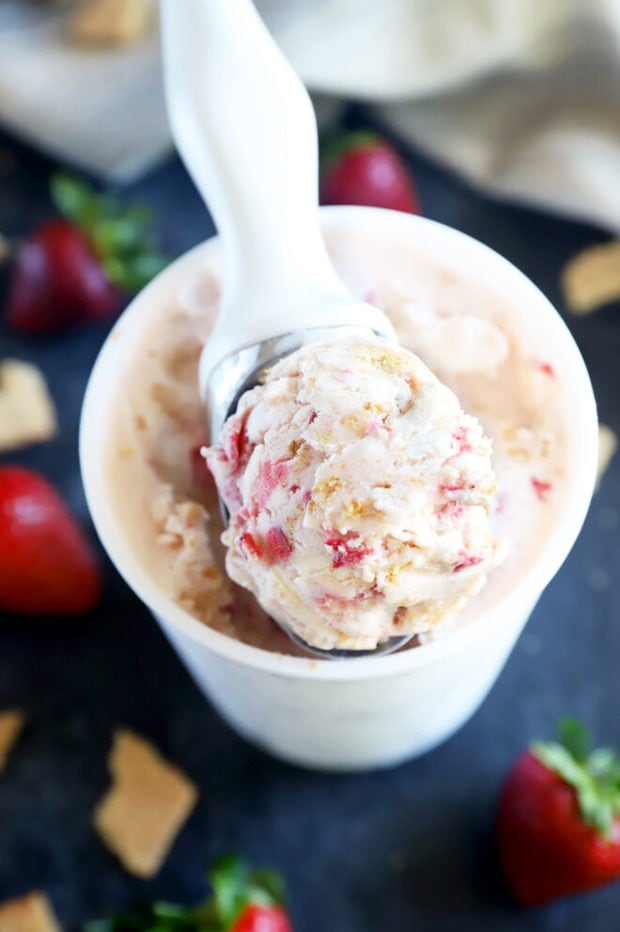 Make Ice Cream
To make the ice cream base, add the cream cheese to a stand mixer and beat until it's nice and creamy. Beat in the milk, cream, sugar, and salt, blending until smooth.
Then place the mixture in your ice cream maker! Process per your machine's instructions. In the last minute of churning, add in the strawberry compote and graham crackers.
Freeze
Add the ice cream to an airtight container, covering and freezing overnight before you serve it up. Let it sit on the counter for about 5 to 10 minutes to soften up before scooping out.
If you are obsessed with making ice cream this summer, check out my ice cream recipes page for more ideas!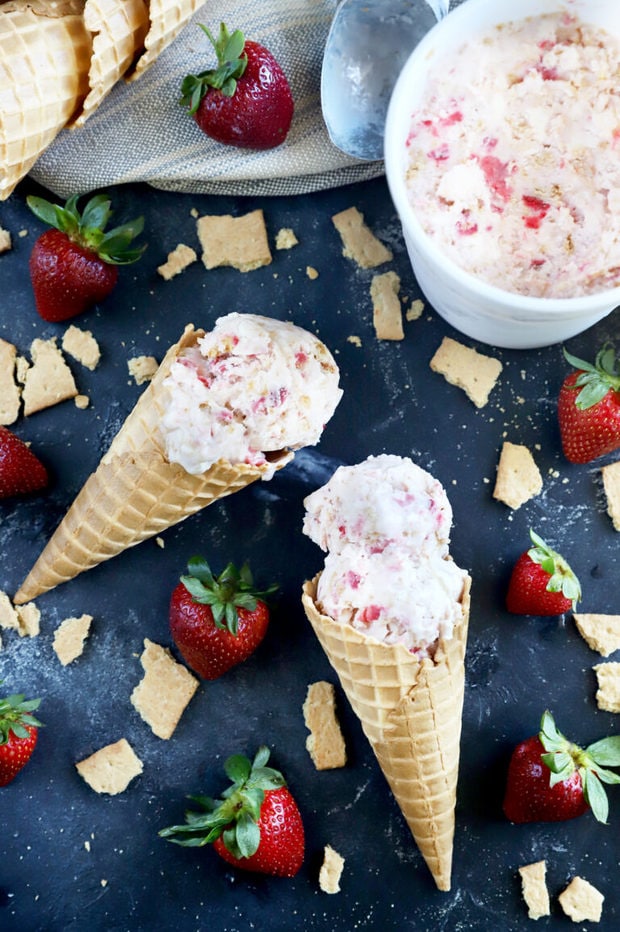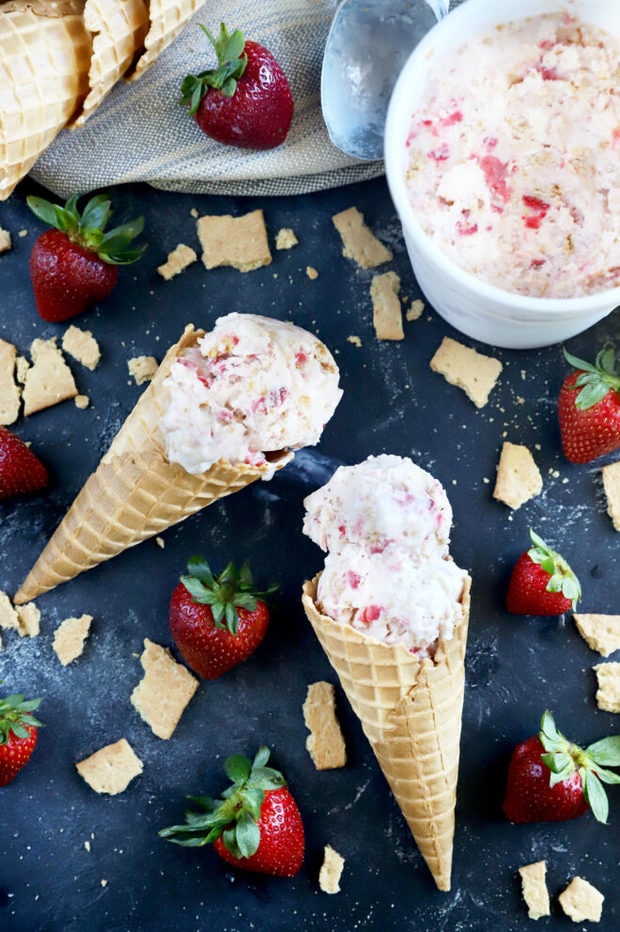 Got questions?
Can I use frozen strawberries?
You sure can! Simply thaw the strawberries and drain out the excess liquid before using them in the recipe.
How small should the graham cracker pieces be?
I like mine to be a variety of sizes for texture surprises throughout. I roughly smash mine in a sealed plastic bag, using a meat tenderizer (the smooth side) or a heavy jar.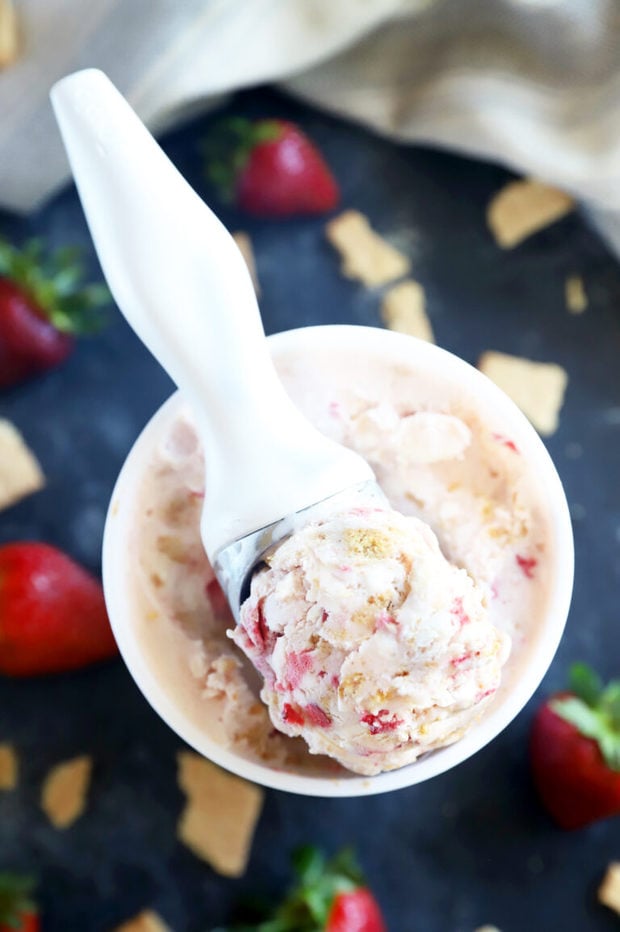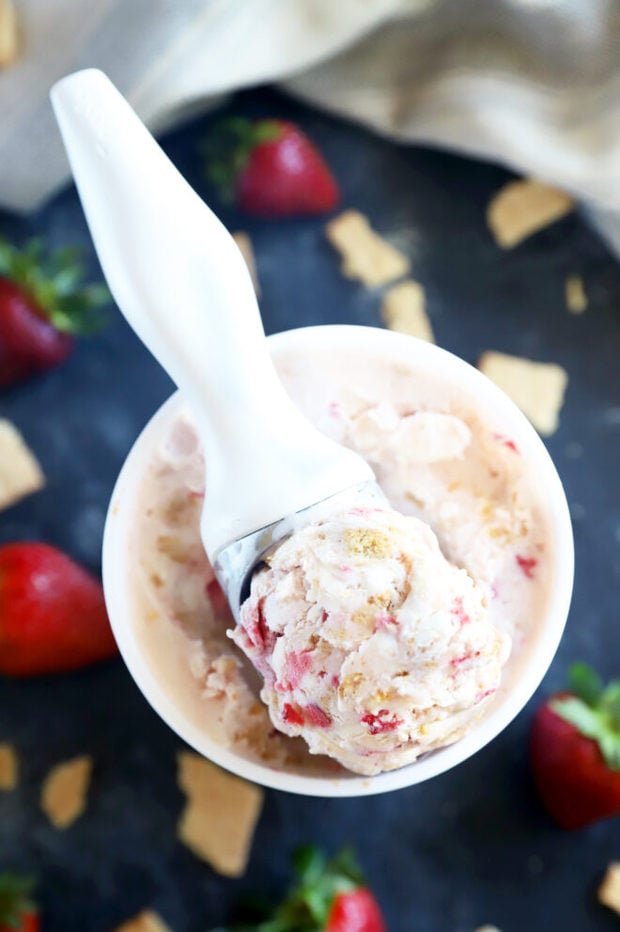 A Few Tips & Tricks
Make sure the cream cheese is softened! If it is too cold it won't be the right texture for the ice cream.
Use fresh strawberries for the best flavor 😉
Try this ice cream out with your favorite toppings! My personal favorite is hot fudge sauce and whipped cream. Because sundaes will forever be my passion.
Don't forget to check out this honeycomb ice cream for a refreshing summer treat!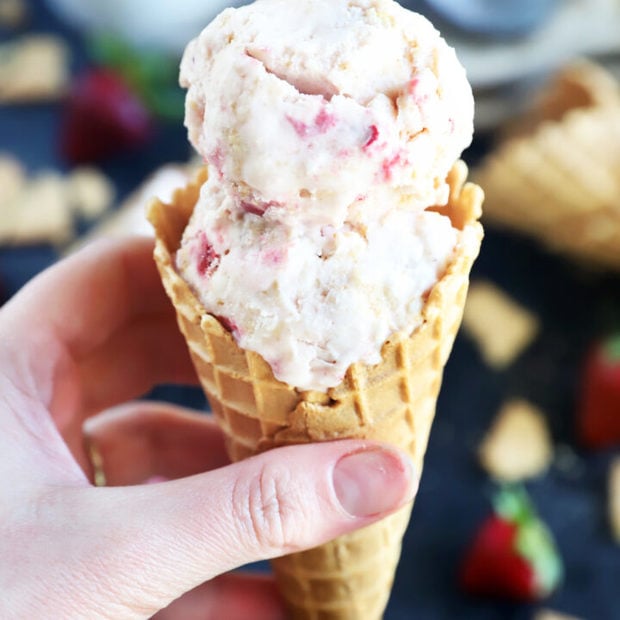 Strawberry Cheesecake Ice Cream
Total Time:
8 hours
35 minutes
Creamy and tangy with fresh strawberries and graham cracker, this ice cream is summer perfection!
Ingredients
Strawberry Compote
1 1/2 cups freshly chopped strawberries
2 1/2 Tbsp sugar
1 tsp fresh lemon juice
Cheesecake Ice Cream
8 oz cream cheese, softened
1 cup milk
1 cup heavy whipping cream
1 cup granulated sugar
Pinch of salt
1 cup smashed graham crackers
Instructions
In a medium saucepan over medium heat, combine strawberries, sugar, and lemon juice. Bring to a simmer and cook, stirring occasionally for 5 to 7 minutes, or until strawberries have softened and the mixture is thick. Remove from stove and cool completely, chilling in the fridge if needed to cool faster.
Add cream cheese to the bowl of a stand mixer fitter with the paddle attachment. Cream the cheese lightly, until it is creamy and smooth. Add in milk, cream, sugar and salt and continue to blend until smooth.
Add the cream cheese ice cream mixture to your ice cream maker and churn according to the manufacturer's instructions.
Spoon in the strawberry compote, add in the graham crackers, and churn for 1 additional minute.
Pour the mixture into an airtight container and freeze overnight before serving.
Recommended Products
As an Amazon Associate and member of other affiliate programs, I earn from qualifying purchases.