Please note this post contains affiliate links.
Vodka Strawberry Lemonade is a fresh and fruity lemonade with just the right amount of booze to help you maximize those lazy summer afternoons! Made with fresh strawberries and lemons, this glass of summer goodness is bursting with fruity flavor. Forget going for the processed stuff – from scratch is oh so much better.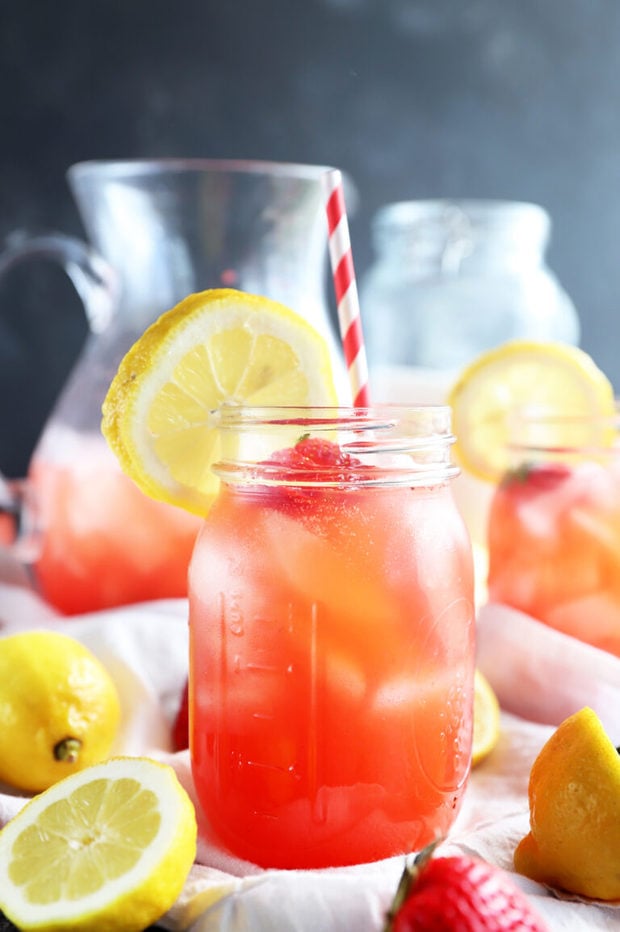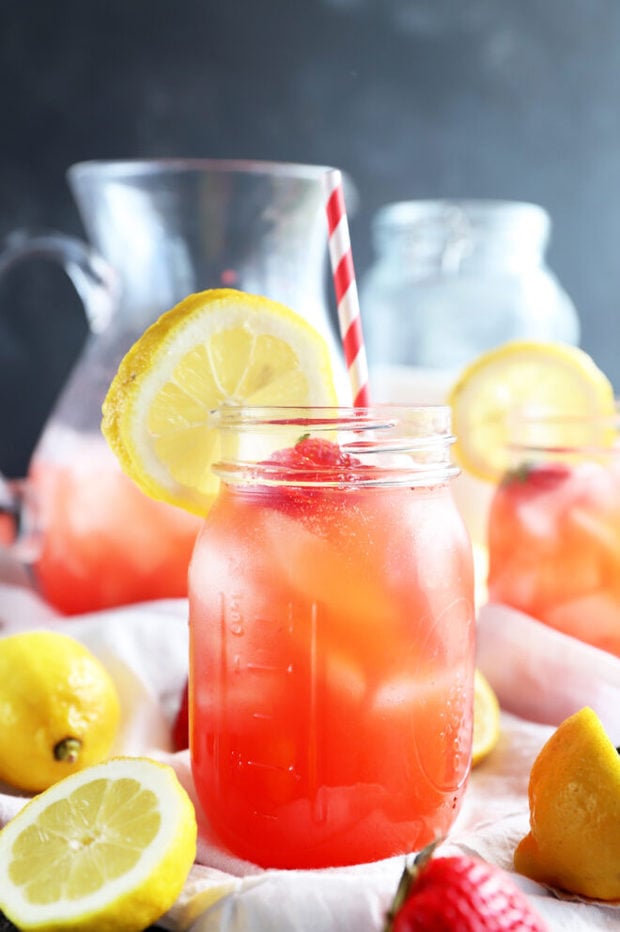 Note: this post is an updated version of the one posted on April 21, 2015.
I am seriously missing sunshine right now.
It's been stormy for what feels like ages and I am ready to get in the sun again.
Sitting on my couch watching the rain pour down outside has been a bit tragic…
Especially when I actually WANT to be outdoors (because I am not the outdoorsy type of lady that most CO females are, so that's really saying something!).
I mean, with Memorial Day on Monday, how in the world can I tolerate more rain??
I need sun, a patio, a grill and a pitcher of this vodka strawberry lemonade!
Add a comfy chaise lounge chair, a great book and a bucketload of sunscreen and I am in heaven.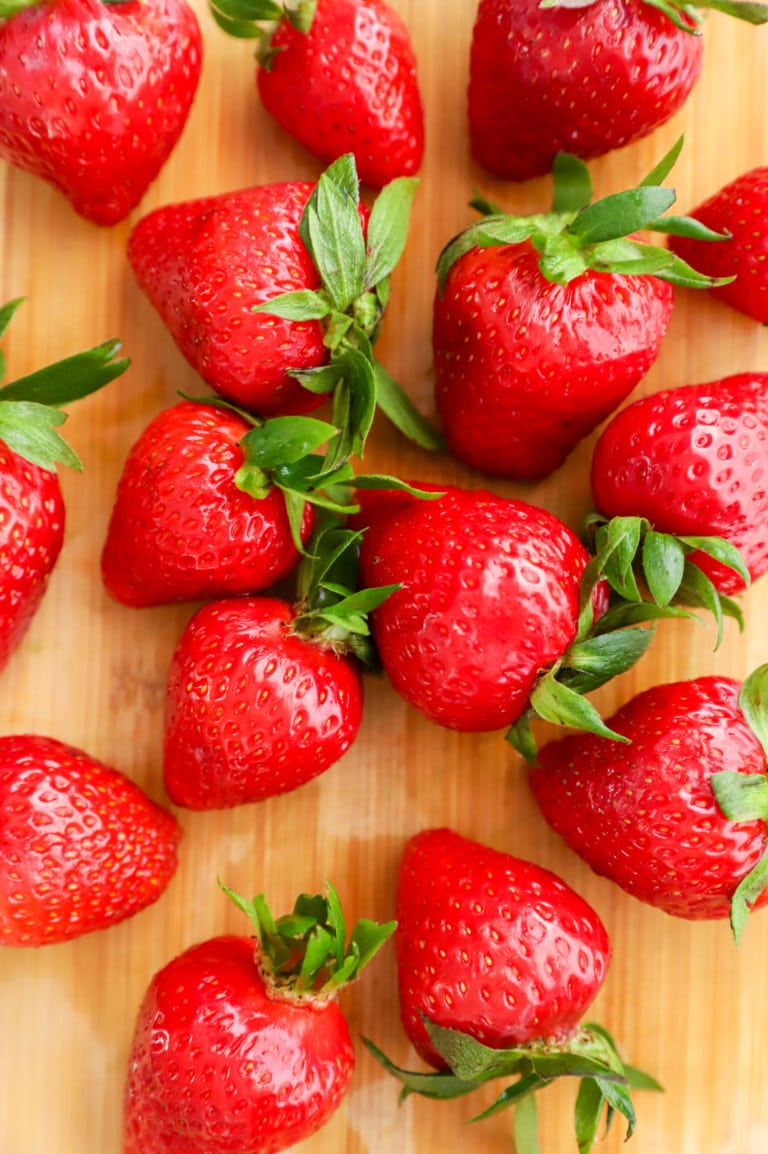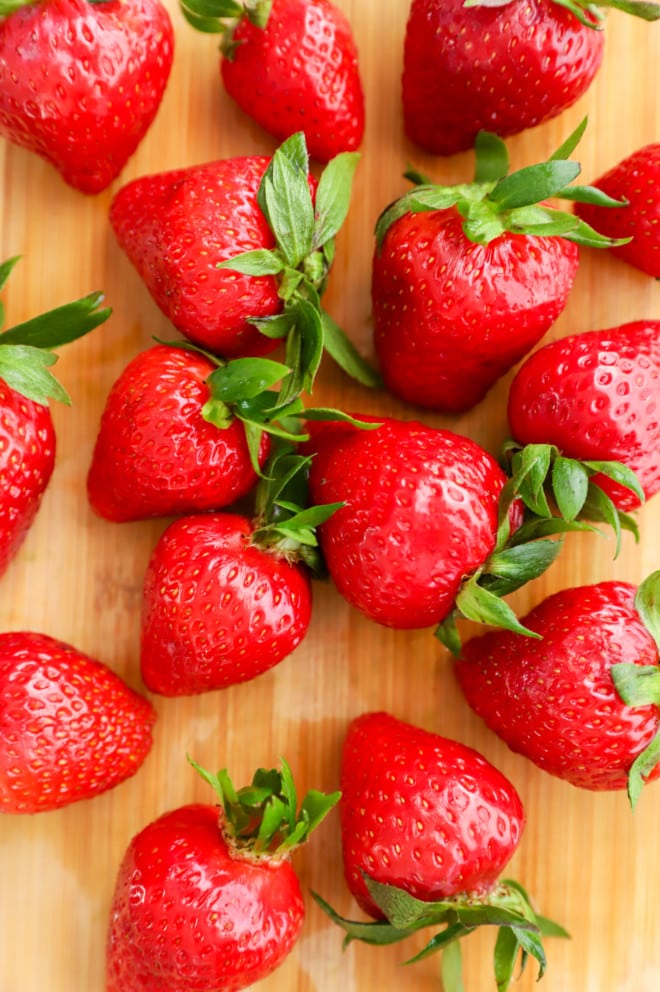 I think part of me was meant to grow up close to a beach… Too bad my favorite state is completely landlocked. THE HORROR.
If you ever knew me in high school, you would know that Red Robin was the hangout for us choir/theater kids.
Yes, we were massive dorks, but as a high schooler with little money, how can you resist bottomless fries and lemonade for dinner on a Friday night?
Their strawberry lemonade was SO good and I could never resist the bottomless option. Unlimited refills of strawberry-lemon sugar-packed goodness?
Well don't mind if I do. Just throw in those bottomless fries too…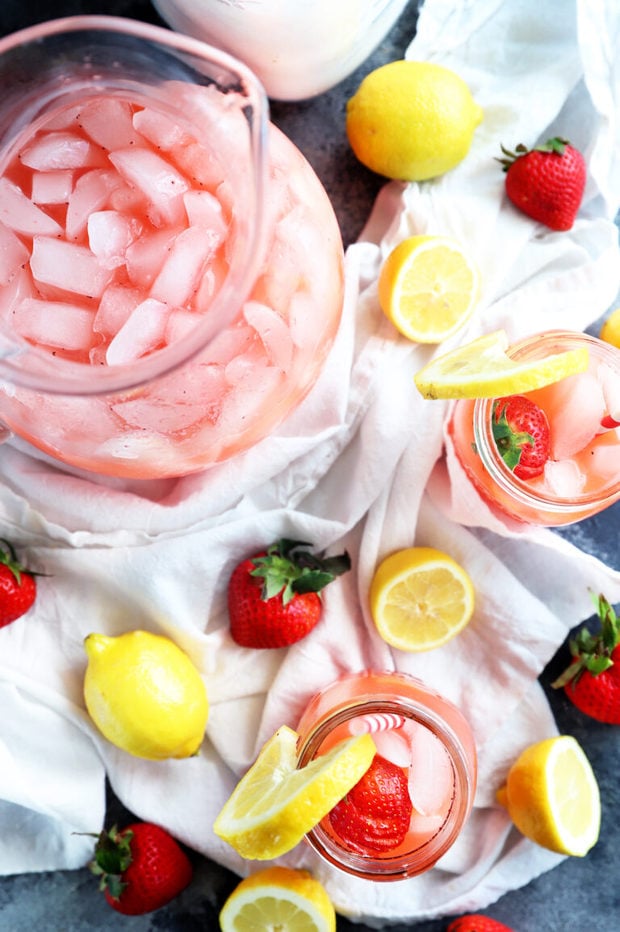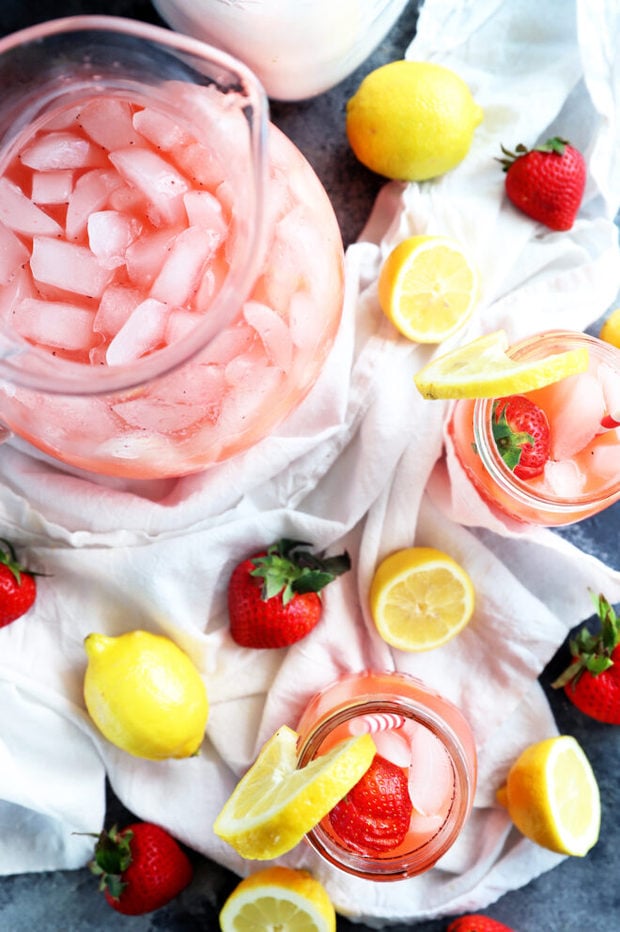 about this vodka strawberry lemonade
Reunions and Red Robin aside, this recipe for vodka strawberry lemonade is perfection.
Fresh strawberry and lemon juices make all the difference in this sweet and sour refreshment. I literally can never stop myself from drinking at least two glasses of this lemonade vodka drink whenever I make it.
It'll quench your thirst and give you the buzz that you probably wished you had all throughout high school…
Juuuuust kidding. 😉
Well, sort of. It would have been a whole lot easier with some booze, you know?
I'll be indulging in this sunshine in a glass of this lemonade vodka cocktail over the long weekend, even if I am inside looking out on endless clouds…
Thank goodness we know how to grill indoors, that's all I can say!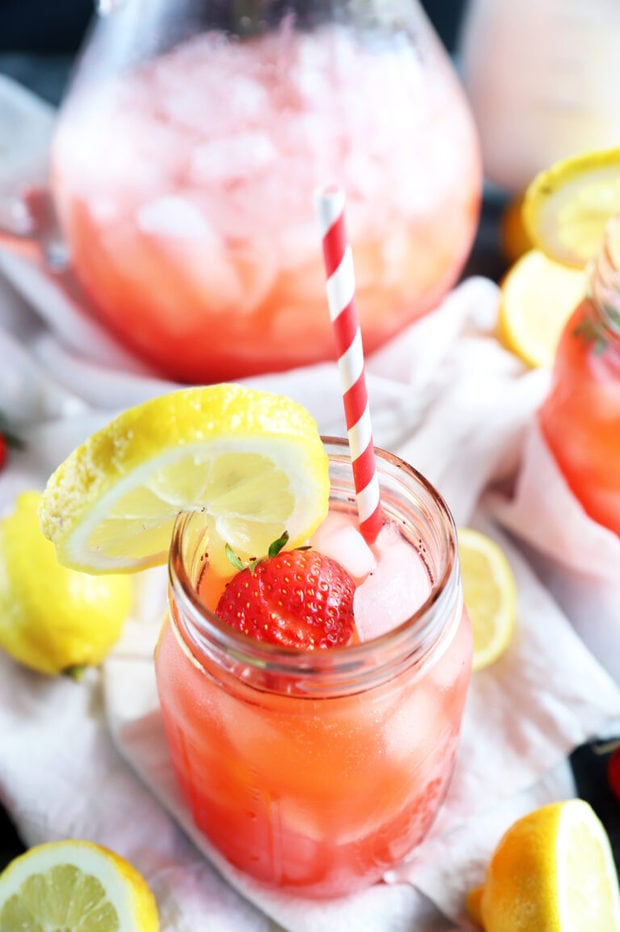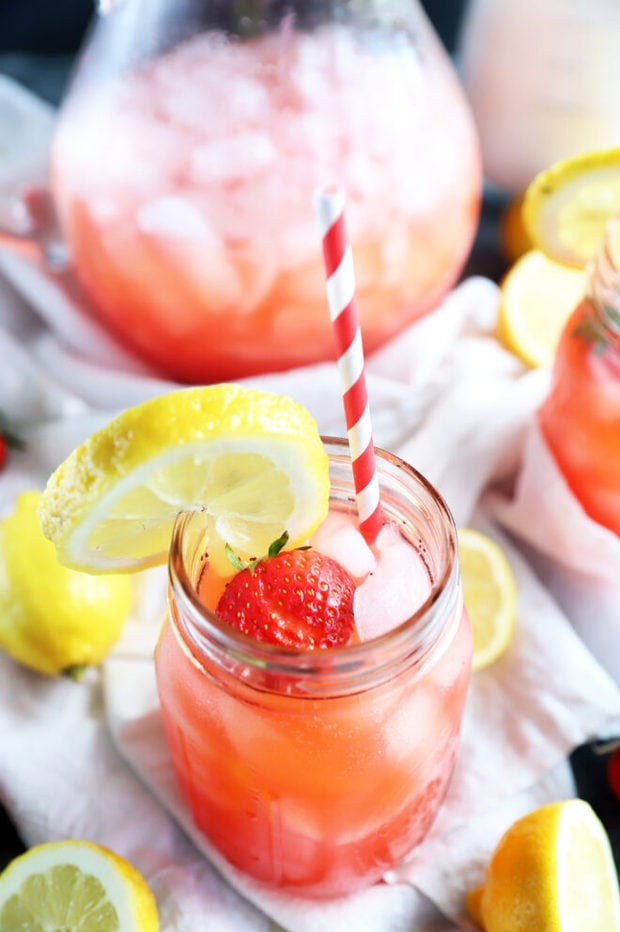 ingredients
strawberries – you can use fresh or frozen strawberries for this recipes. Of course, I always recommend fresh.
lemon juice – I always recommend fresh lemon juice! It gives this lemonade the BEST flavor.
sugar – all you need is granulated white sugar for this recipe.
vodka – pick the best vodka in your price range! I recommend Tito's or Absolut (splurge for Absolut Elyx if you want to!). No need to go top shelf since you are mixing it into the cocktail!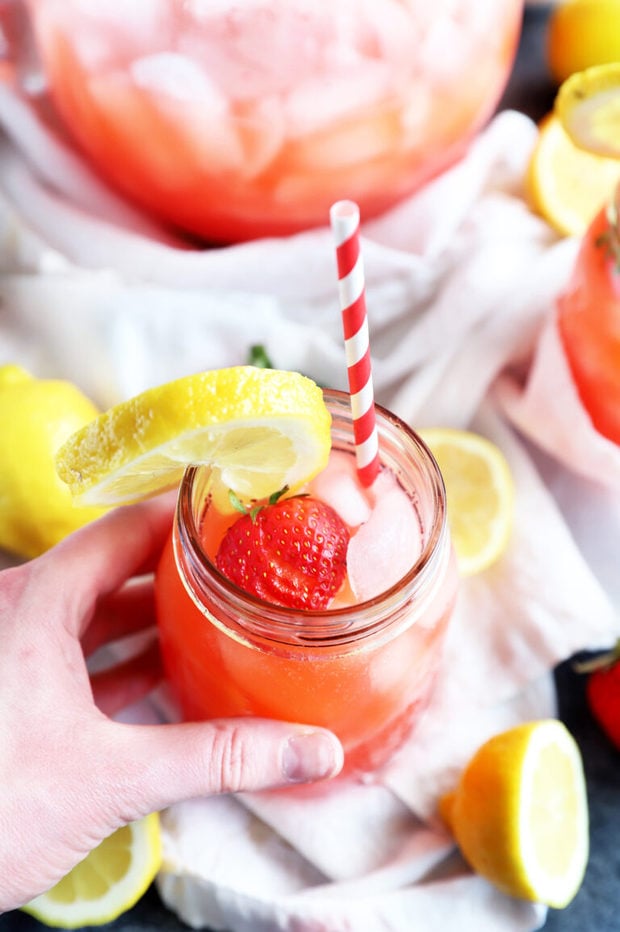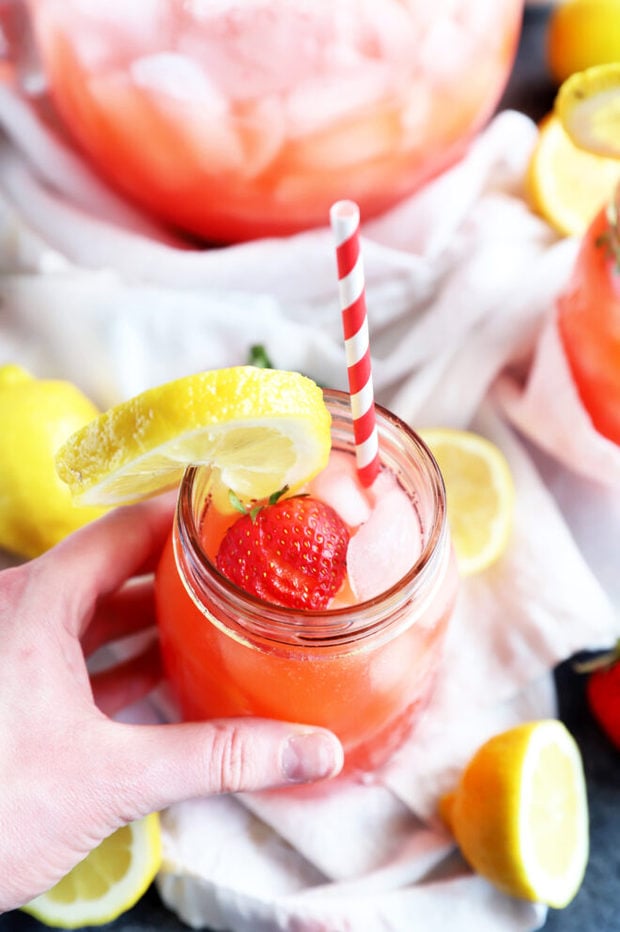 this recipe's must-haves
Get the look with simple mason jars! I love using something simple to serve this classic recipe.
This pitcher is a great option to serve everything up in style.
My favorite food processor to make the strawberry puree with!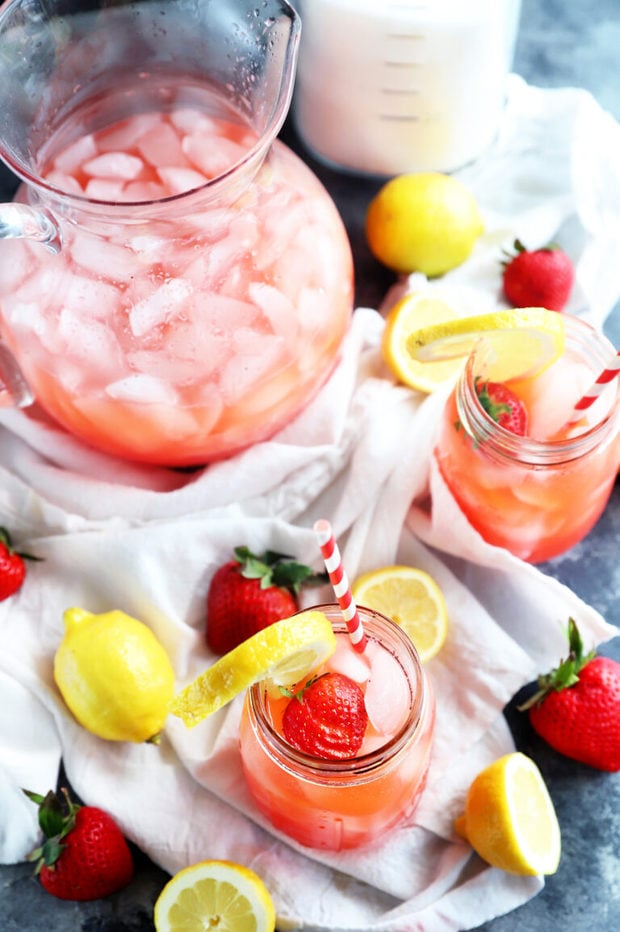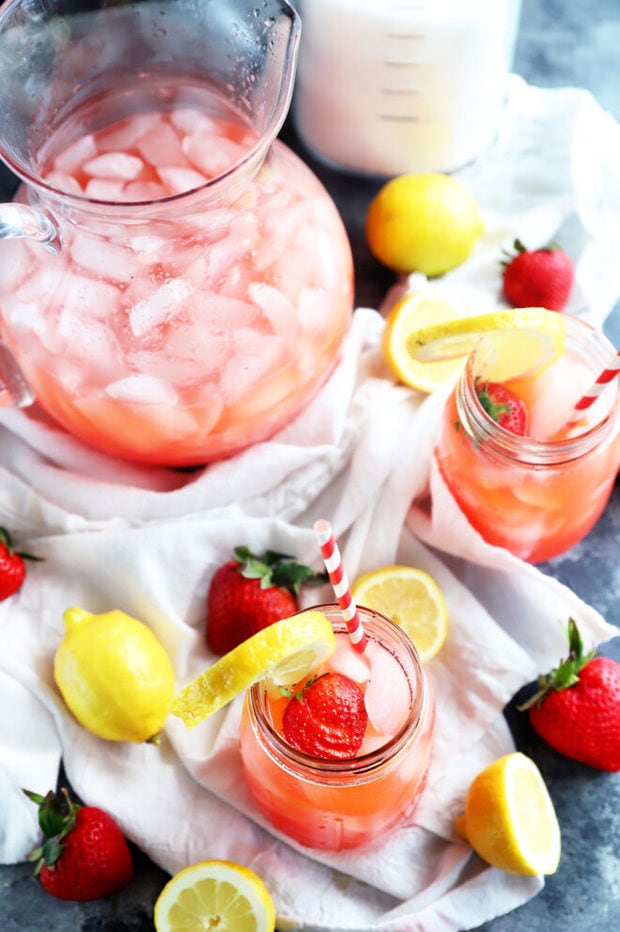 here's how to make vodka strawberry lemonade
juice strawberries
Add strawberries to a juicer and juice. Pour the fresh strawberry juice into a pitcher filled halfway with ice (unless you are making this ahead of time! If you are, skip the ice).
If you do not have a juicer, you can also puree the strawberries in a blender or food processor until smooth. Strain through a fine mesh sieve into a large pitcher as instructed above.
make lemonade
Add lemon juice, sugar, vodka, and water to the pitcher. Stir until the sugar has dissolved. Serve cold. Garnish glasses with fresh sliced strawberries and lemon slices as desired.
Pro Tip: Chill this strawberry vodka lemonade for at least 1 to 2 hours before serving! Just be sure to chill it without ice if you plan to chill it ahead of time.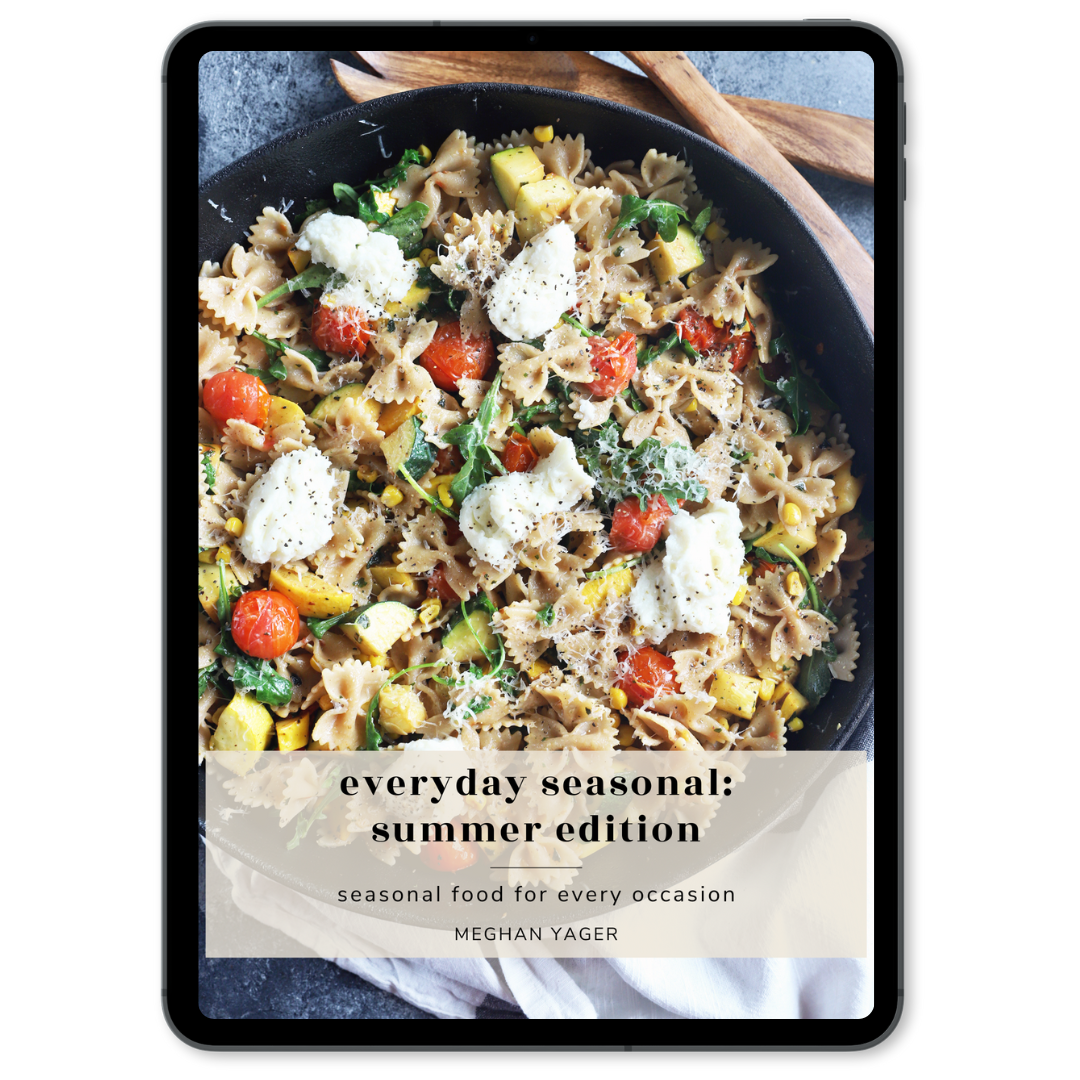 everyday seasonal: summer
With seasonal summer recipes, a comprehensive produce guide, and more, this is the cookbook to help you celebrate the season.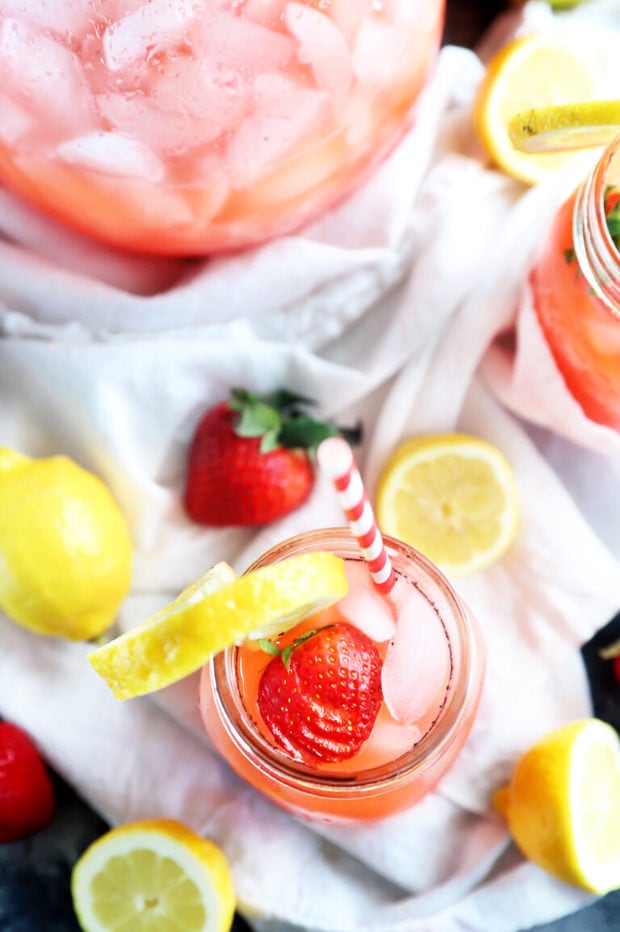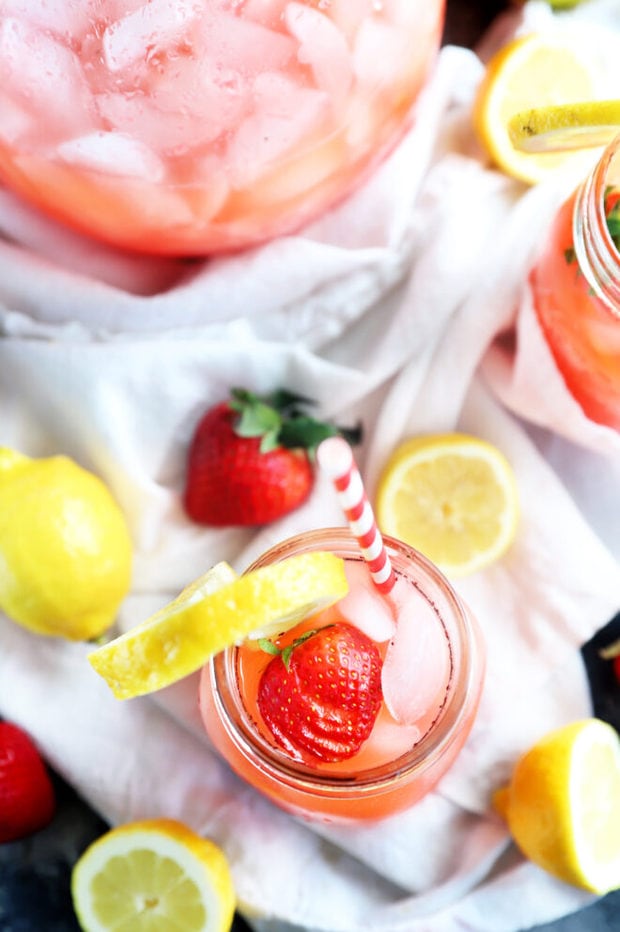 tips for success
use your favorite vodka. Be sure to use your favorite vodka in this recipe, whatever it is! It's a really bright recipe so you'll get the chance to really taste the vodka you select.
use fresh strawberries. Technically you can use frozen strawberries for this recipe, but I recommend making it with fresh strawberries! Be sure to make this when strawberries are in season to get the best flavor possible out of this recipe.
make it bubbly. Want to make this cocktail bubbly? Simple use sparkling water (club soda) instead of flat water!
More vodka lemonade recipes to try: Homemade Vodka Lemonade | Sparkling Blackberry Vodka Lemonade | Sparkling Peach Vodka Lemonade | Lavender Lemonade Cocktail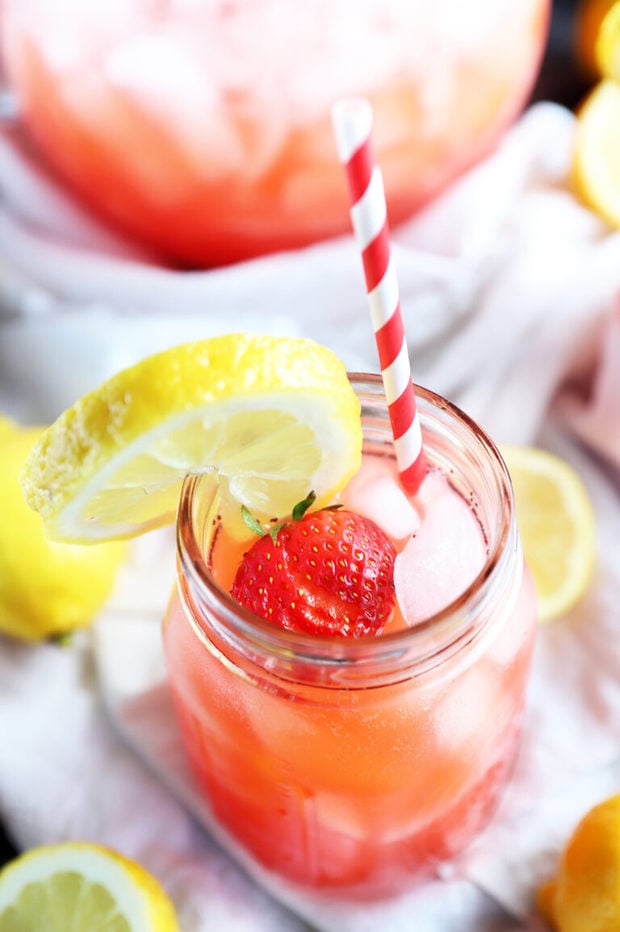 can I use frozen strawberries?
You sure can! Just make sure that you thaw and drain them well before using them.
is there a way to make this nonalcoholic?
There sure is! All you have to do is substitute water for the vodka in the recipe. Then you will have a fresh and bright homemade strawberry lemonade that can be enjoyed by all ages.
can I make this vodka strawberry lemonade ahead of time?
Of course! You can make this up to one day ahead. Just make sure to chill it in the refrigerator without ice until ready to serve.
what if I don't have a juicer?
If you don't have a juicer, that's no problem! All you need is a blender or a food processor to make the strawberry juice. Simply blend up the berries until they are smooth.
Strain through a fine mesh sieve, making sure to press out as much of the liquid as possible. Discard the solids and use the strained liquid as instructed in the cocktail.
Need more inspiration for cocktail hour? Check out my booze recipes page!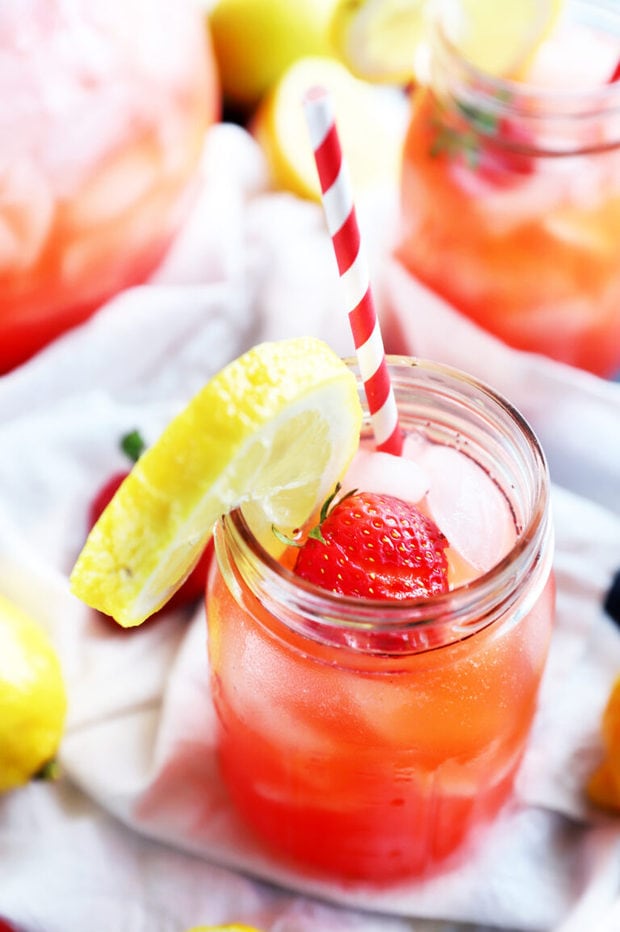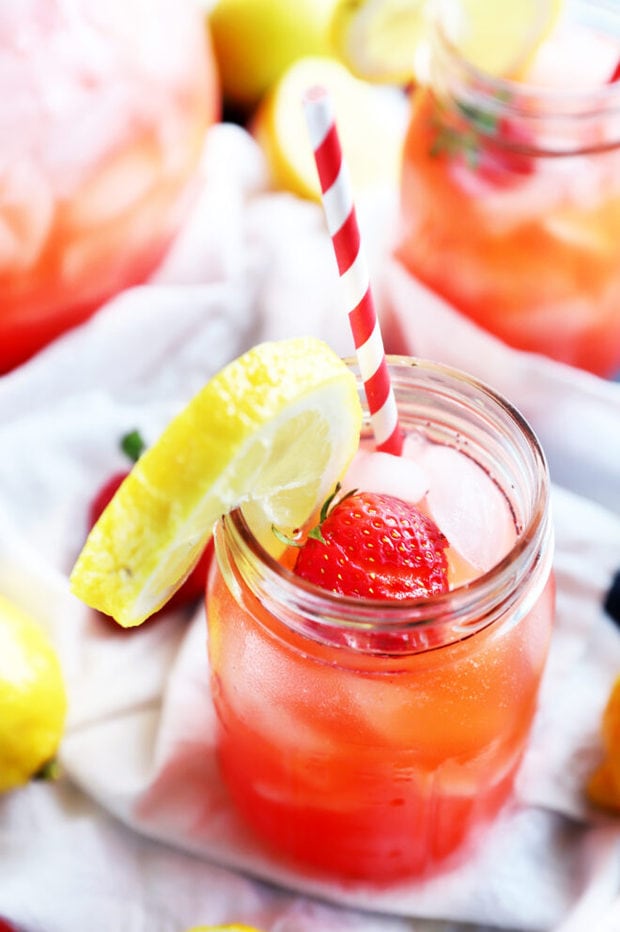 what to serve with strawberry vodka lemonade cocktail
This recipe is the ultimate summer recipe. Therefore, I'm all about pairing it with my favorite summer recipes!
Here's a few for some inspiration (or you can click the summer recipe link in this paragraph to peruse my summer recipes archive):
The only must-have you need for a summer of grilling is this easy all purpose marinade! It works with beef, chicken and pork.
Love brats? I have bbq glazed grilled bratwurst or drunken philly cheesesteak brats that are fan favorites.
My favorite grilled burrata pizza is a recipe I wait to make every single summer!
If you are hosting a party, make hosting easier with a build your own gourmet bbq burger bar. Simple and unique toppings are what make this burger bar really stand out from the rest!
If you need more ideas, check out all of my delicious backyard bbq recipes!
For those of you that LOVE strawberry cocktails, this strawberry gin cocktail is simple with just four ingredients!
how to store
This homemade lemonade can be made up to one day ahead. Chill it in a pitcher or airtight container in the refrigerator without ice until ready to serve.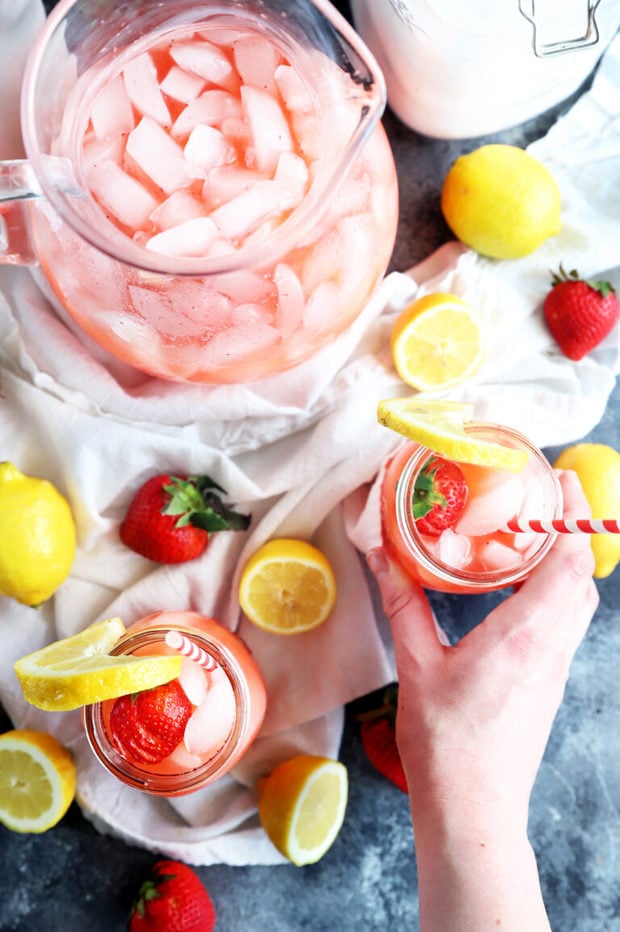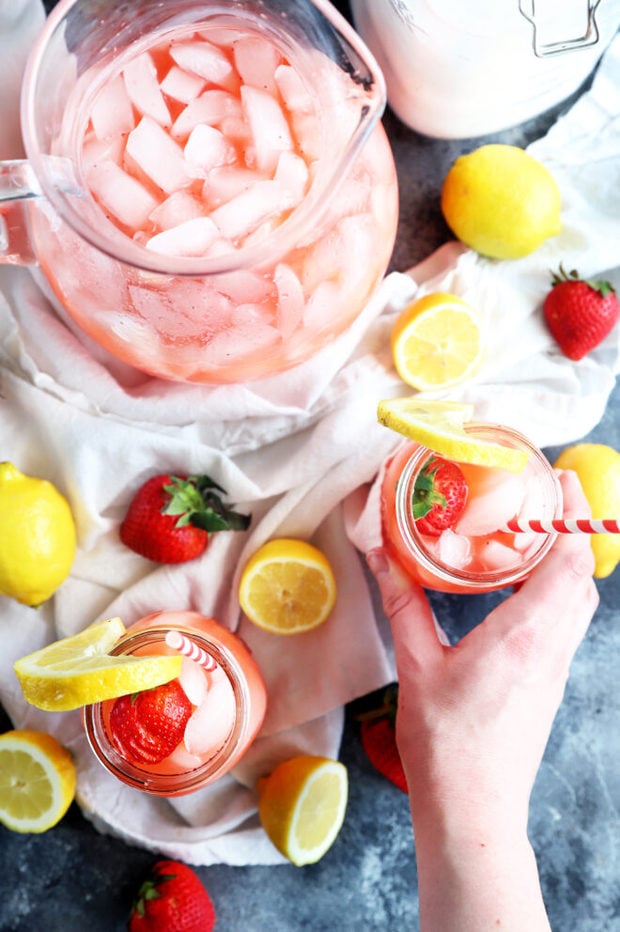 seasonal tip
Choose the best ripe blackberries! Make sure that the blackberries are dark purple-black all over. Don't be afraid to open the container to check behind the label. The berries should be plump and large because these are the sweetest. Be sure to check for any signs of mold as well. Once you get home, wash the berries well before using them in this recipe or enjoying on their own!
Finally, if you make this vodka strawberry lemonade recipe, please be sure to give this recipe a rating or leave a comment! I love to hear when you all make recipes, and I do take the time to respond to every single comment.
Feel free to drop questions below too, if you have them!
Oh and be sure to tag me on Instagram if you make the recipe! I love being able to see these recipes come to life in your homes – it's my favorite thing to look through those photos.
It really means the world to me!
everyday seasonal cookbook
With seasonal produce guides, recipes, and more, this cookbook is filled with seasonal food for every occasion.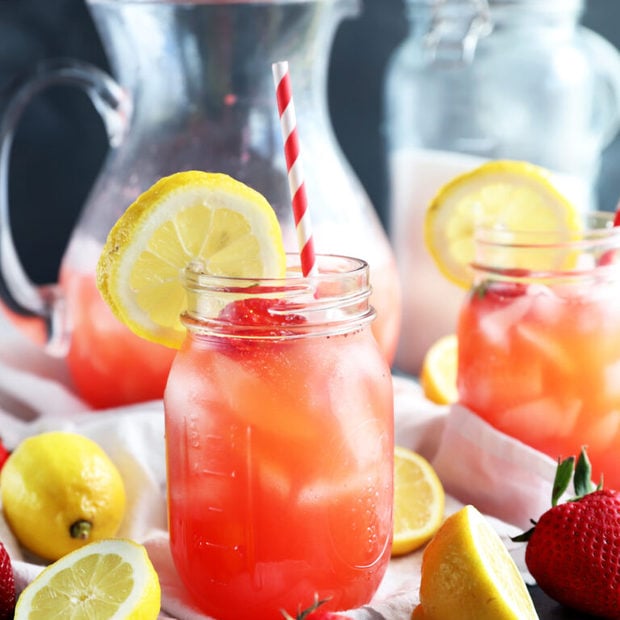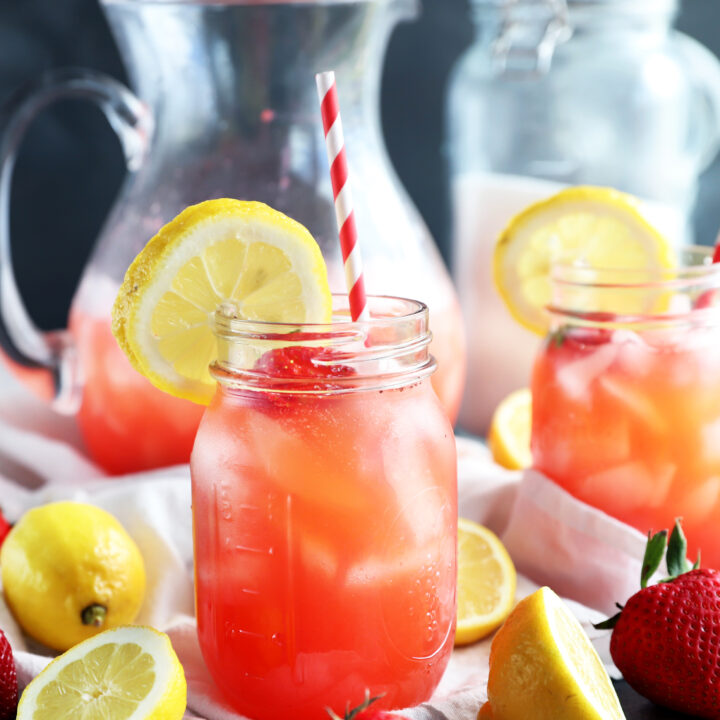 Vodka Strawberry Lemonade
A boozy version of fresh strawberry lemonade is a summer favorite.
Ingredients
1 lb strawberries, tops removed and hulled
3/4 cup lemon juice
2/3 cup sugar
1 cup vodka
3 cups water
Instructions
Run the strawberries through a juicer and pour the fresh strawberry juice into a large pitcher filled halfway with ice. If you do not have a juicer, puree the strawberries in a blender or food processor. Strain into a large pitcher filled halfway with ice.
Add lemon juice, sugar, vodka and water to the large pitcher with strawberry juice. Stir to combine until the sugar has dissolved. Serve cold.
Recommended Products
As an Amazon Associate and member of other affiliate programs, I earn from qualifying purchases.