Up your sandwich game with a Balsamic Grilled Vegetables Grilled Cheese Sandwich this week! Fresh vegetables get a kiss from the grill with smoky flavor, then piled high on your favorite bread with savory Cache Valley® Sharp Cheddar. The final tang of a balsamic reduction makes for the best cheesy and bright bite of pure goodness.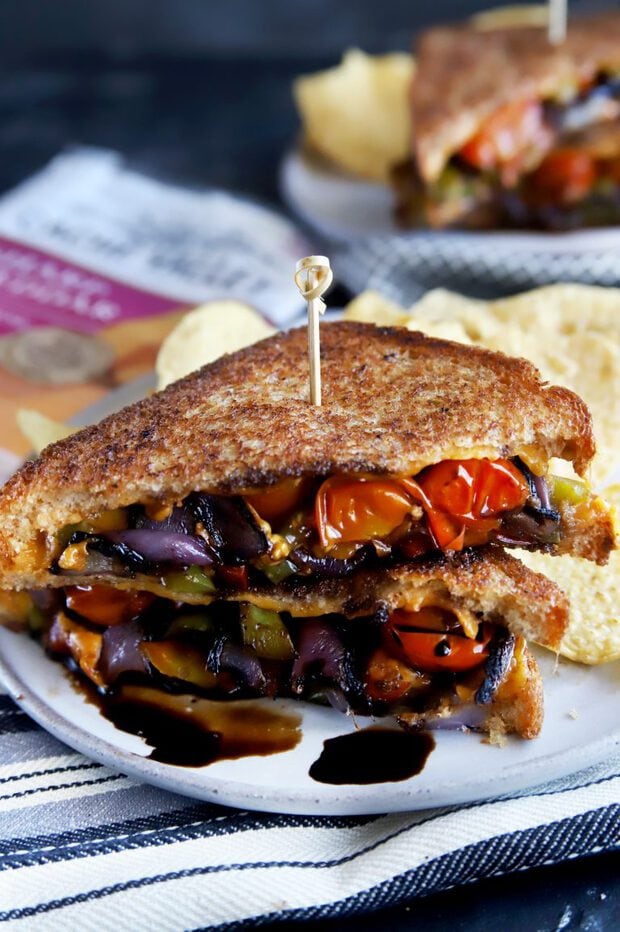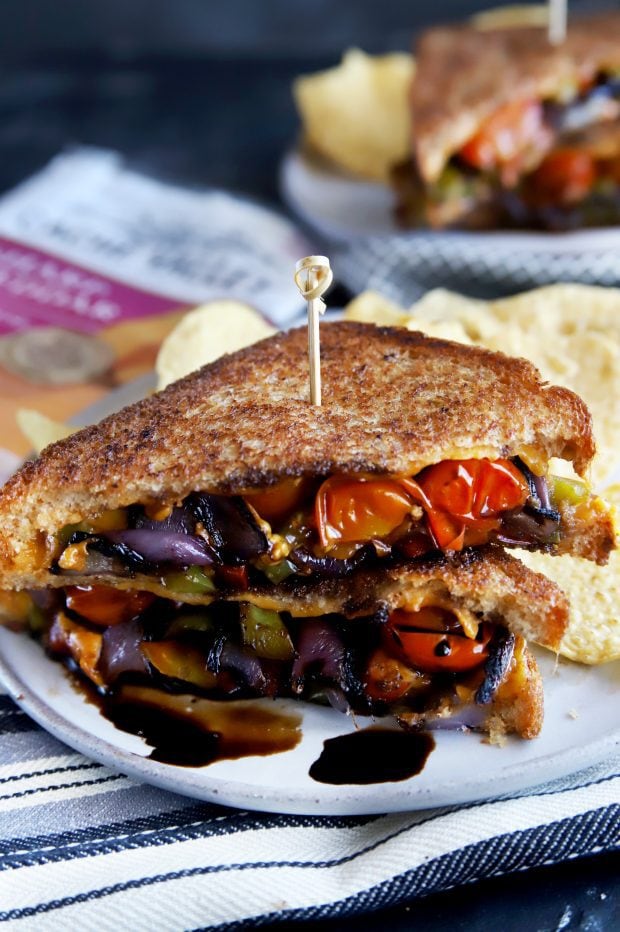 This post has been sponsored by Dairy Farmers of America. All thoughts and opinions are my own.
The sun is out and that means only one thing for me: my grill is on every. single. day.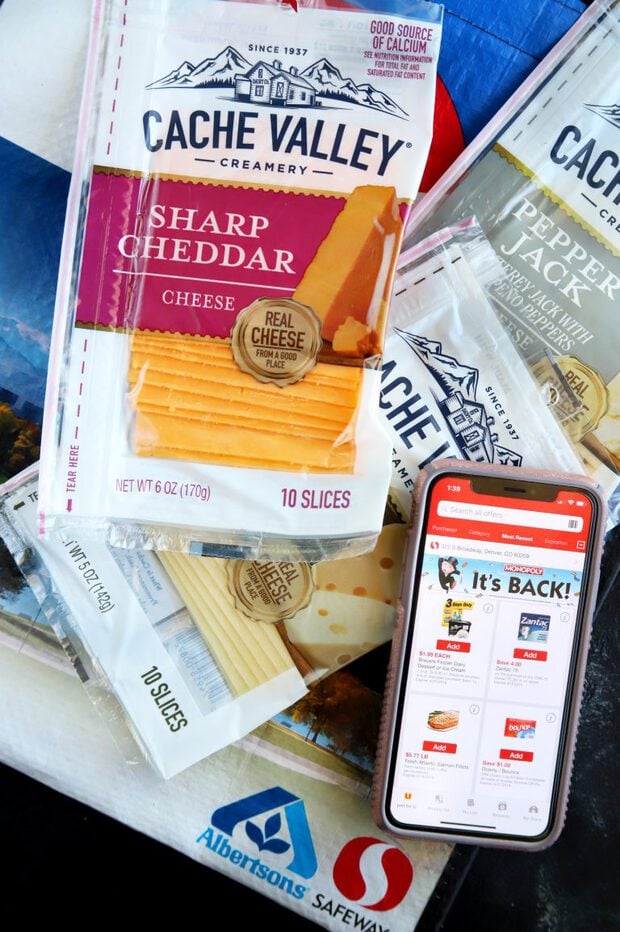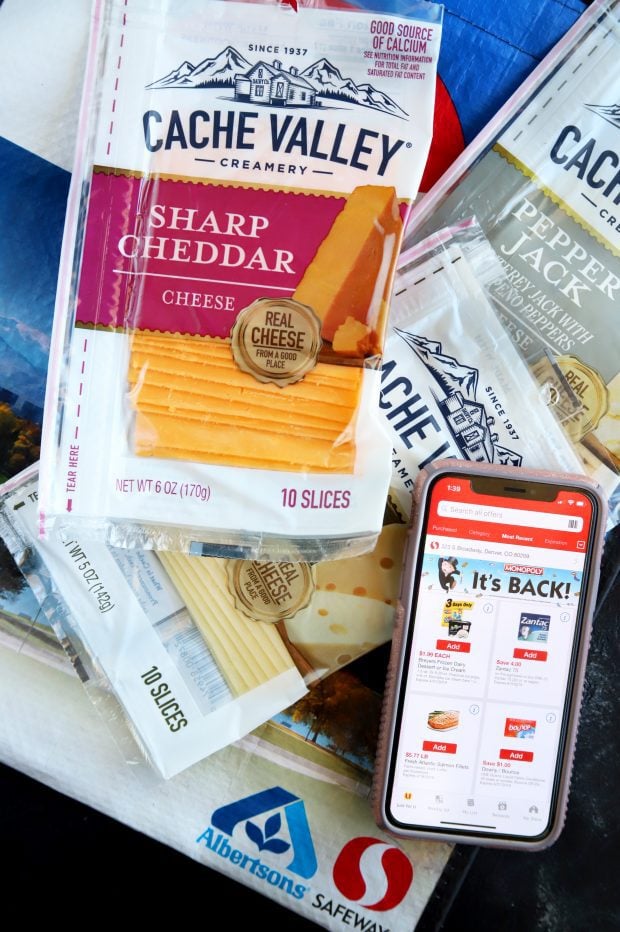 Seriously though, there's nothing like the warmer weather to get me in the mood for grilling. There's something about that kiss of fire that really makes for a tasty combination of goodness, no matter what you might be cooking.
After heavy meals all winter long, I'm ready to start lightening things up (without making everything into a salad, of course).

With all the fresh produce popping up at the local Safeway, it's time to make the most of the variety—isn't it?!
This spin on your favorite grilled cheese sandwich is one that everyone can get behind, in my oh-so humble opinion. It is full of grilled vegetables, including ripe cherry tomatoes, sweet bell peppers, spicy jalapeños, and sharp red onion.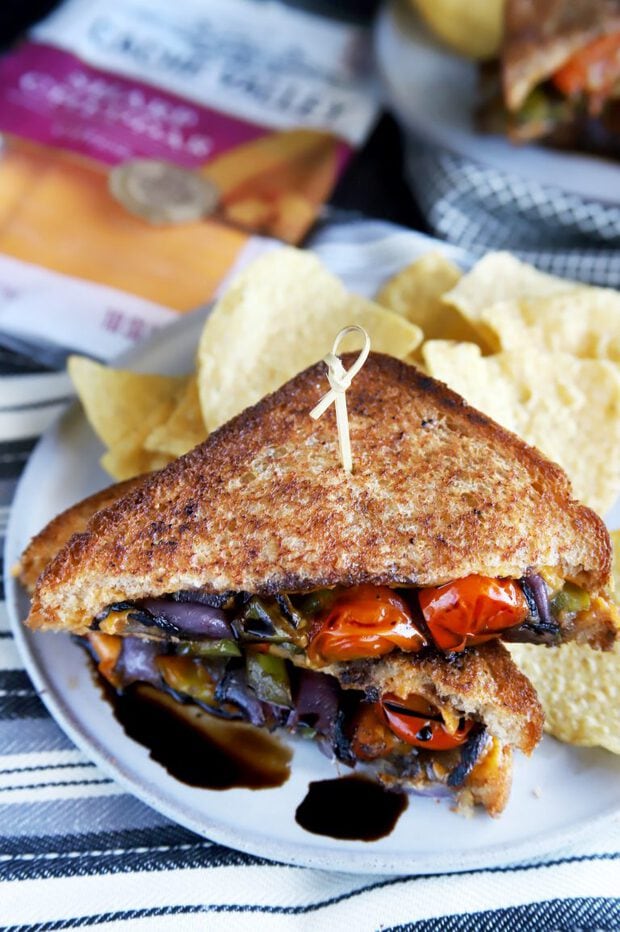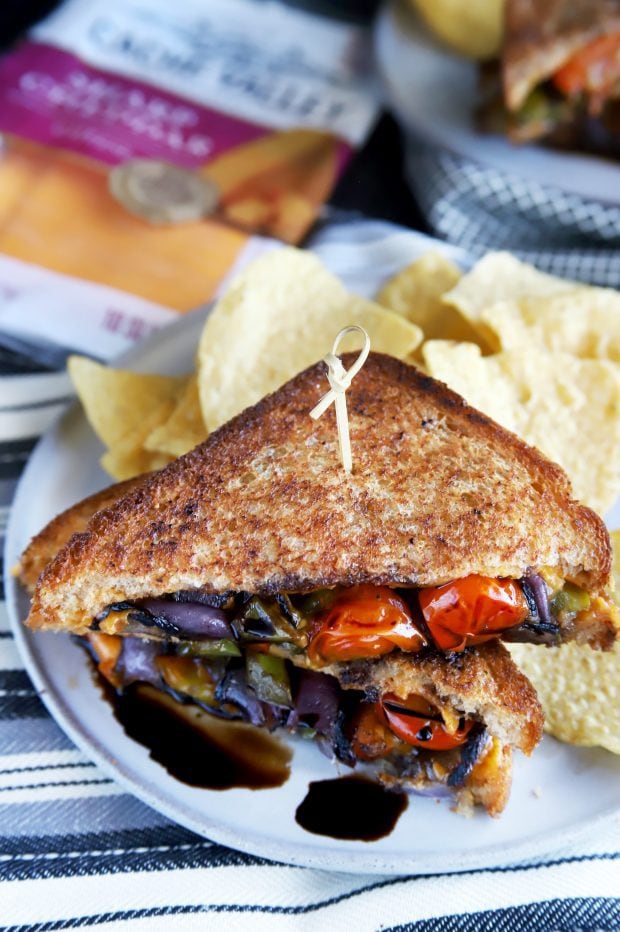 Instead of throwing the vegetables into a salad, these grilled bad boys are nestled between slices of gooey Cache Valley® Sharp Cheddar Cheese and my favorite multi-grain bread!
Have you heard of Cache Valley® Creamery yet? If you haven't, you NEED to track them down at your local Safeway!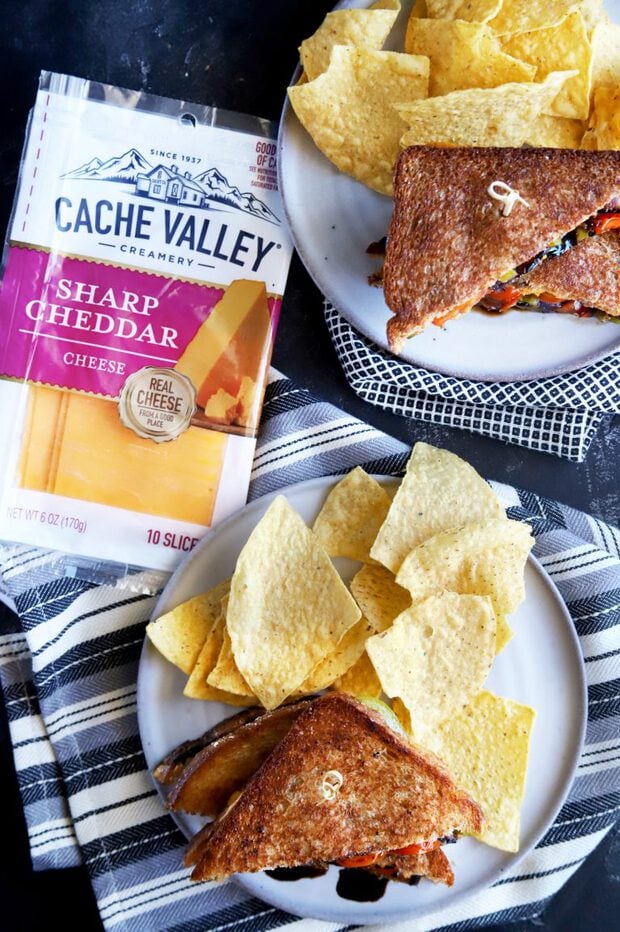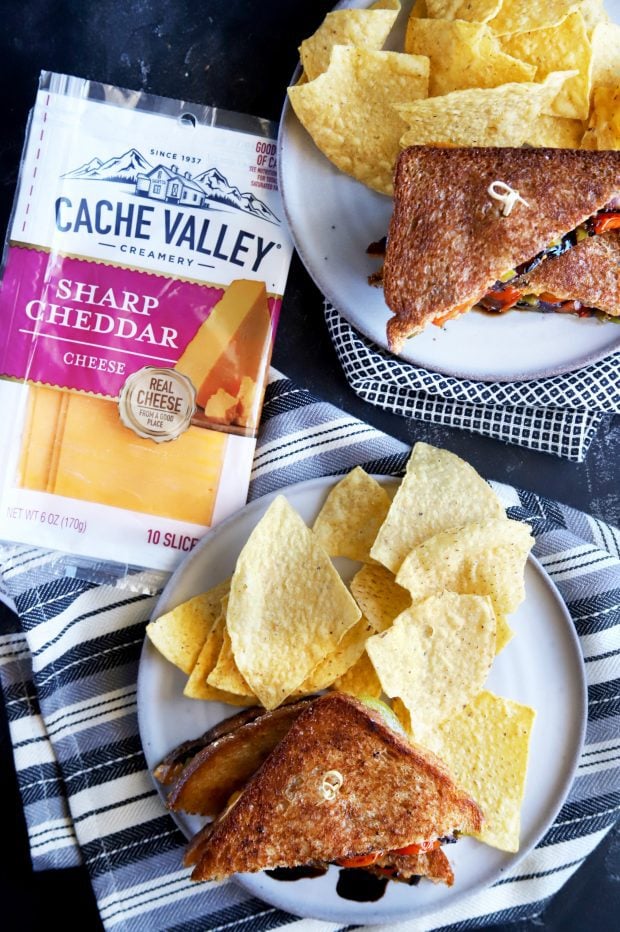 I recently had a chance to not only check out their delightful sharp cheddar cheese slices that are featured in this post but also their pepper jack cheese and their Swiss cheese. All three of them are very special cheeses, from a very special place.
The flavor each of them brings to the party is really stunning, but it's also nice to know that they are a good source of protein and calcium! Especially when you are trying to be a little more wholesome about your diet, like I am. Let me tell you, you start paying attention to these things LOL.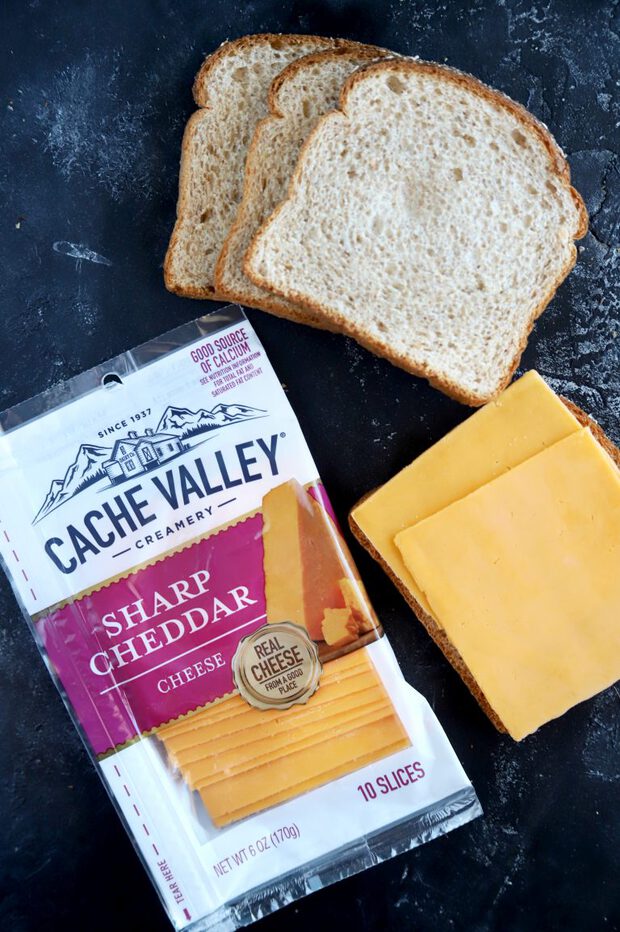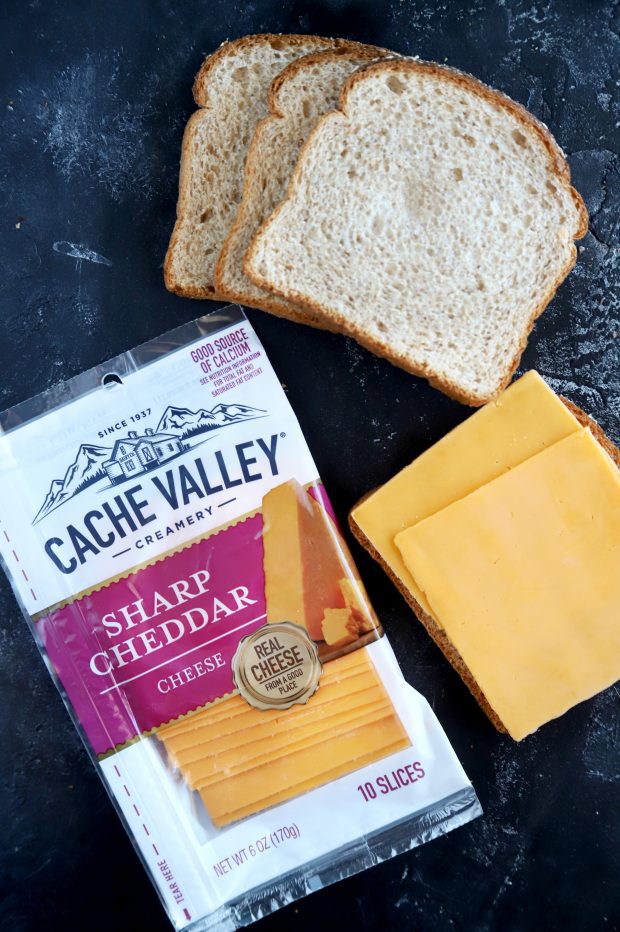 I don't know about you, but I love authentic brands with good ingredients that also dedicate themselves to communities and families. Cache Valley® Creamery is definitely all about that, with goodness being not only a culture but a way of life.
Fun Fact: Cache Valley Creamery is actually a new brand here in Denver. It's based out of Utah, where it's named after the region it's from! I really want to see how they make cheese… I might have to plan a trip out there to check it out—Utah isn't too far from Denver after all!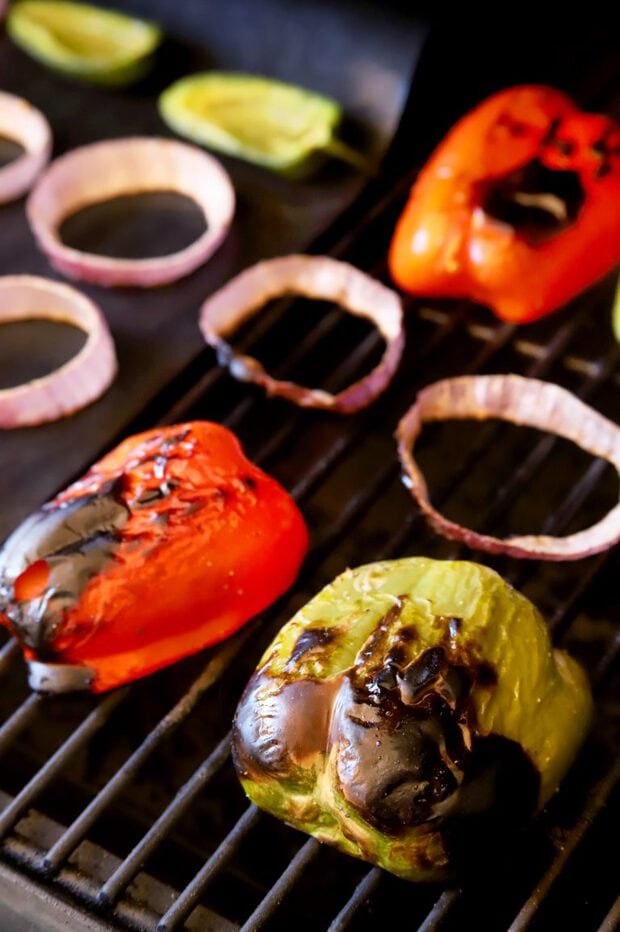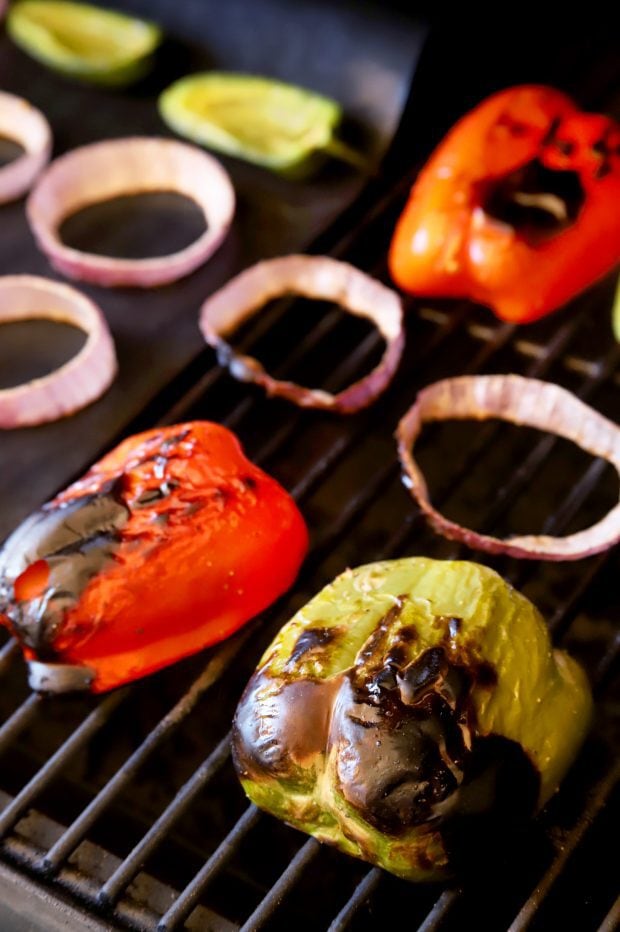 Let's get back to this sandwich though, shall we? I am all about the combination of vegetables listed, but you can also mix things up with your favorite vegetables. For example, swapping in yellow onion for red, choosing different bell peppers. You can even add in favorites like asparagus or broccoli.
All vegetables end up amazing after being grilled! Just make sure you chop them up into pieces that are good for layering in the sandwich. You don't want them falling out; you want them to get trapped by all the gooey cheese!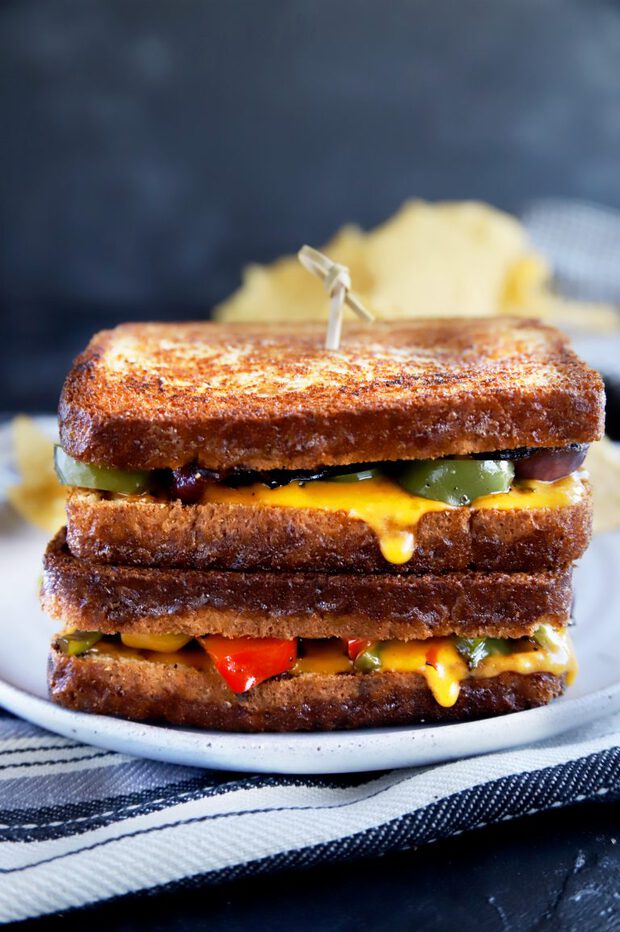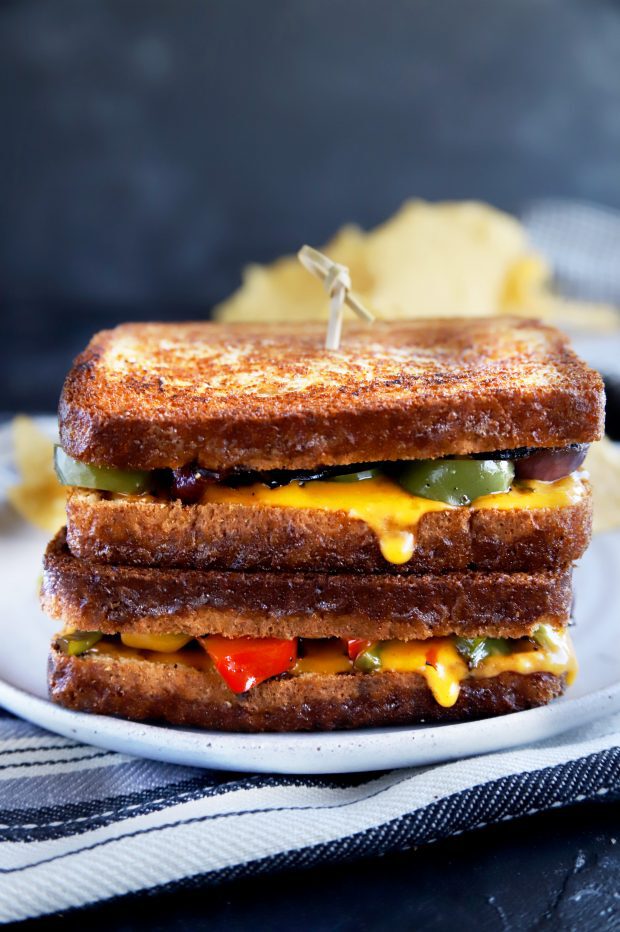 It's a killer way to sneak in those vegetables without forcing you to gobble up yet another salad, am I right?
Of course, you can't forget about the sweet and tangy balsamic reduction. It really brings the whole thing together with a surprising burst of flavor!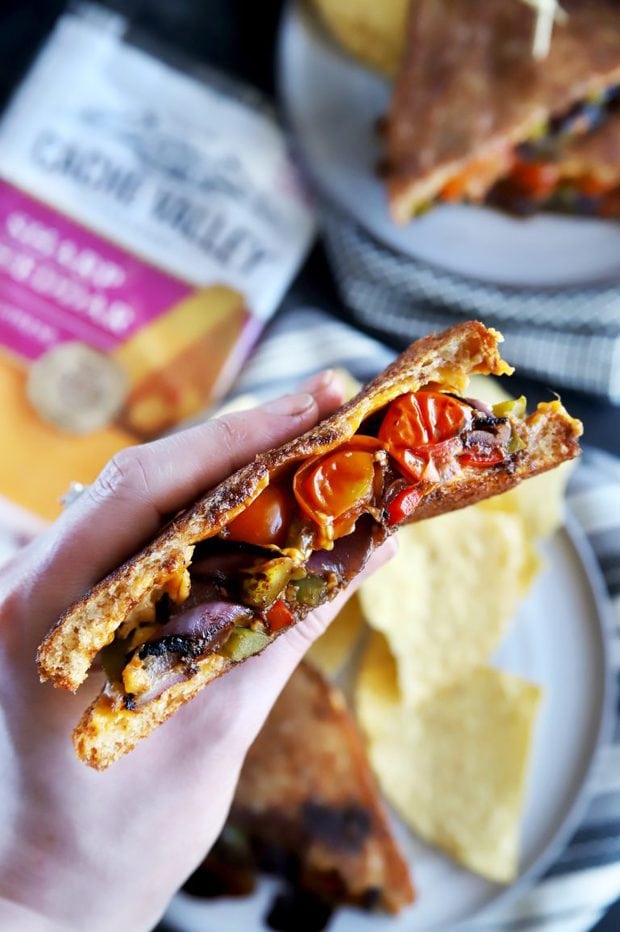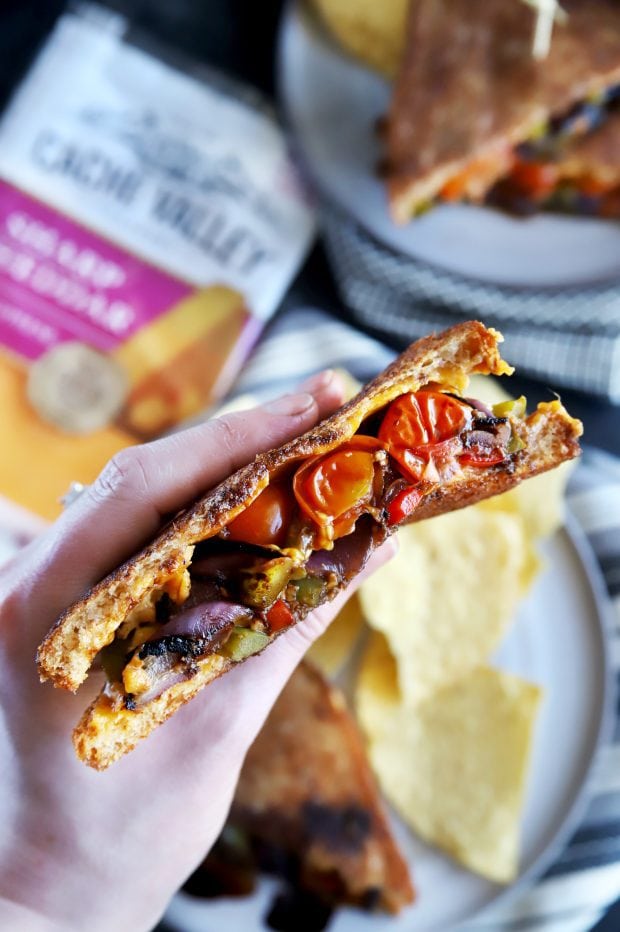 Don't forget to also check out Cache Valley® Whole Milk Mozzarella Shreds for your future recipes! Like PIZZA! *hint hint* You can find it, along with all the other cheeses I've mentioned here, at your local Safeway in the Dairy or Meat & Cheese section!
Be sure to check your Safeway mobile app to find extra savings on all your favorite brands as well!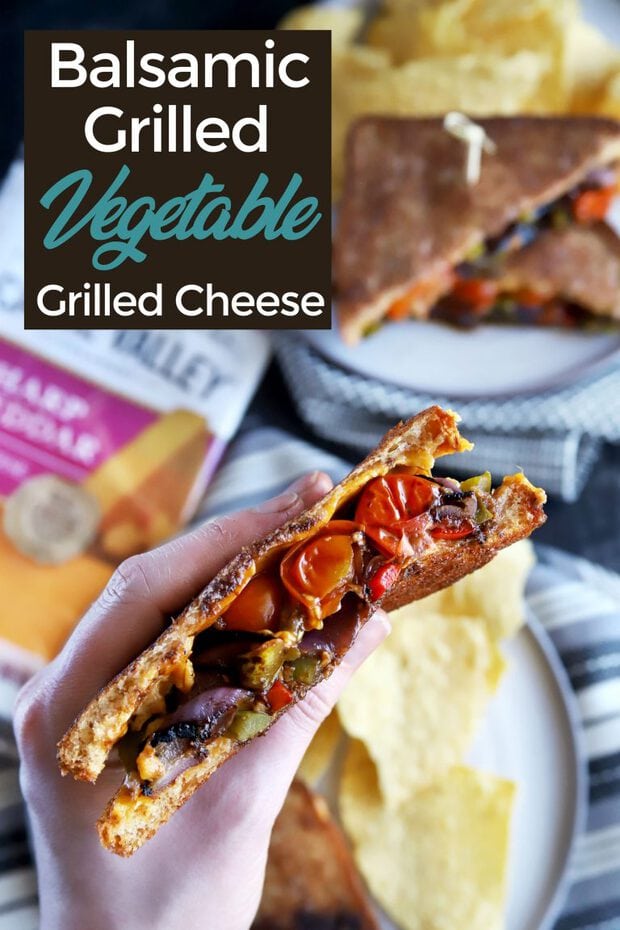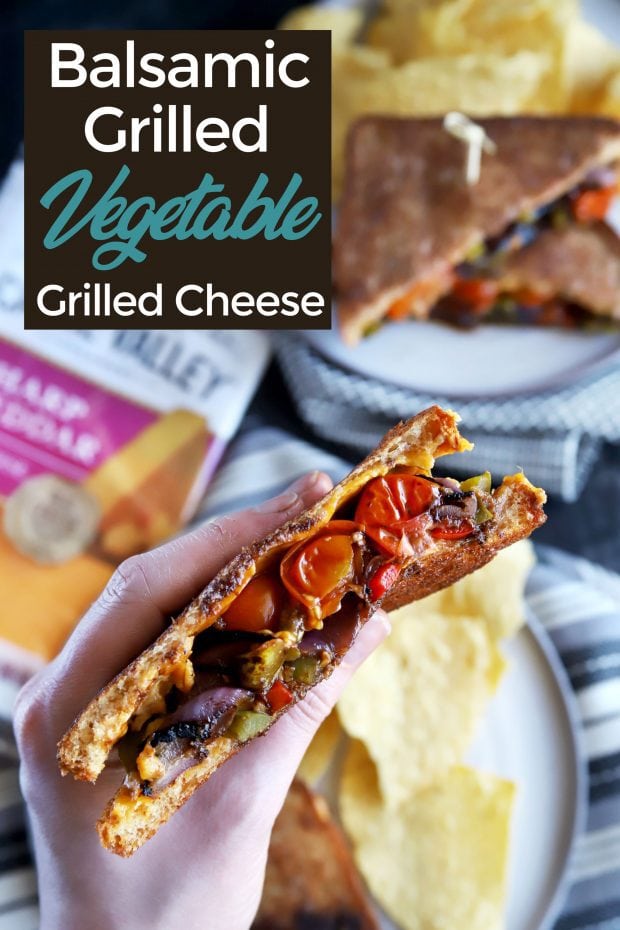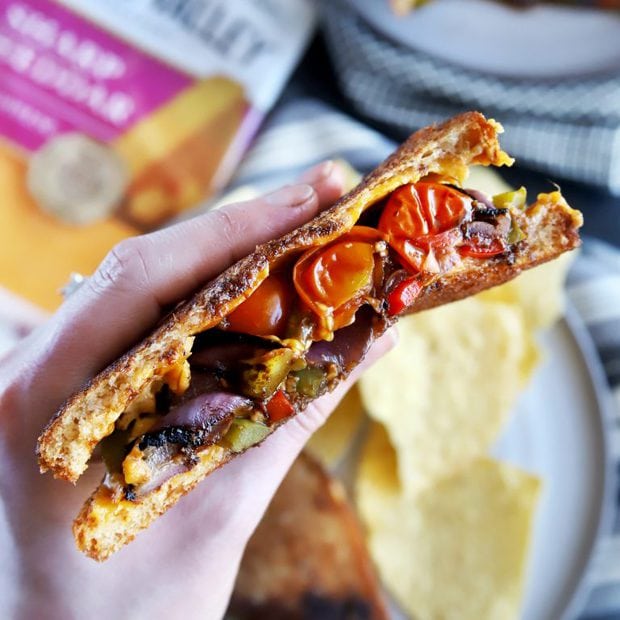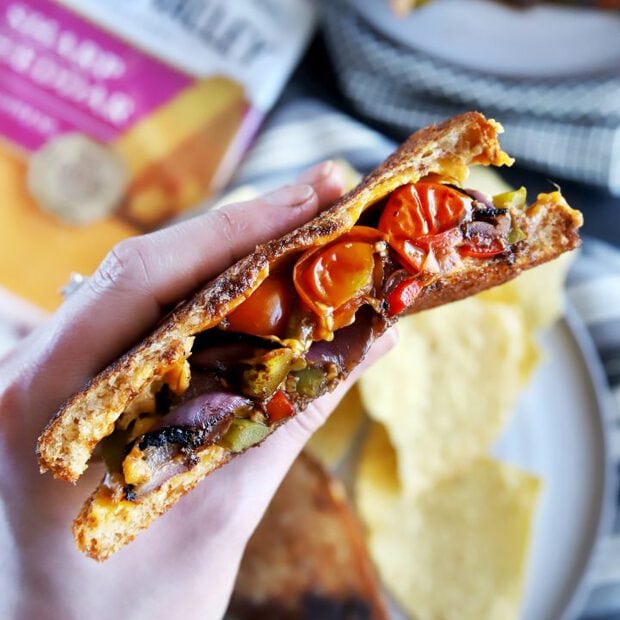 Balsamic Grilled Vegetables Grilled Cheese Sandwich
Fresh vegetables are kissed by the grill with smoky flavor, then piled high on your favorite bread with savory sharp Cheddar.
Ingredients
Sandwiches
2 tsp olive oil
1/2 tsp salt
1/2 tsp black pepper
1 green bell pepper, halved and seeded
1 orange bell pepper, halved and seeded
1 jalapeño, halved and seeded
1 small red onion, cut into thick rings
1 cup cherry or grape tomatoes
4 slices your favorite bread
6 slices Cache Valley® Sharp Cheddar
4 Tbsp unsalted butter
Balsamic Reduction
1/2 cup balsamic vinegar
1/4 tsp black pepper
1/4 tsp brown sugar
Instructions
Preheat grill.

In a large bowl, toss peppers, onion, and tomatoes with olive oil, salt, and black pepper.

Place pepper halves, onion rings, and tomatoes on the grill. For the tomatoes, use a grilling basket or a silicone grilling mat to avoid them falling through the grate.

Grilled for about 5 to 7 minutes, turning the vegetables halfway through, until cooked through and slightly charred.

Remove from grill and set aside to cool slightly.

Once cool enough to handle, slice the peppers into thin strips.

Place balsamic vinegar in a small saucepan over medium-high heat. Bring to a rolling simmer and continue to cook until reduced by at least half, about 5 to 7 minutes. Remove from heat and stir in pepper and brown sugar.

Assemble the sandwiches by placing two slices of Cache Valley

®

Sharp Cheddar Cheese on two slices of bread each. Top each with half of the vegetables. Top with one more slice of cheese each. Drizzle with balsamic reduction and top with the other slices of bread.

In a large skillet over medium heat, melt 2 Tbsp butter. Place both sandwiches carefully in the skillet and cook until the cheese is melted on both sides. The bread should be golden brown and toasted. It will take you about 2 to 3 minutes per side.

Remove from heat and serve immediately.