Please note this post contains affiliate links.
A Grilled Lemon Lime Mojito Cocktail is how to make your favorite refreshing drink even more summery. The taste of the grill infuses the bubbly, boozy refreshment with extra depth. It's a citrusy explosion that you'll want to drink all summer long!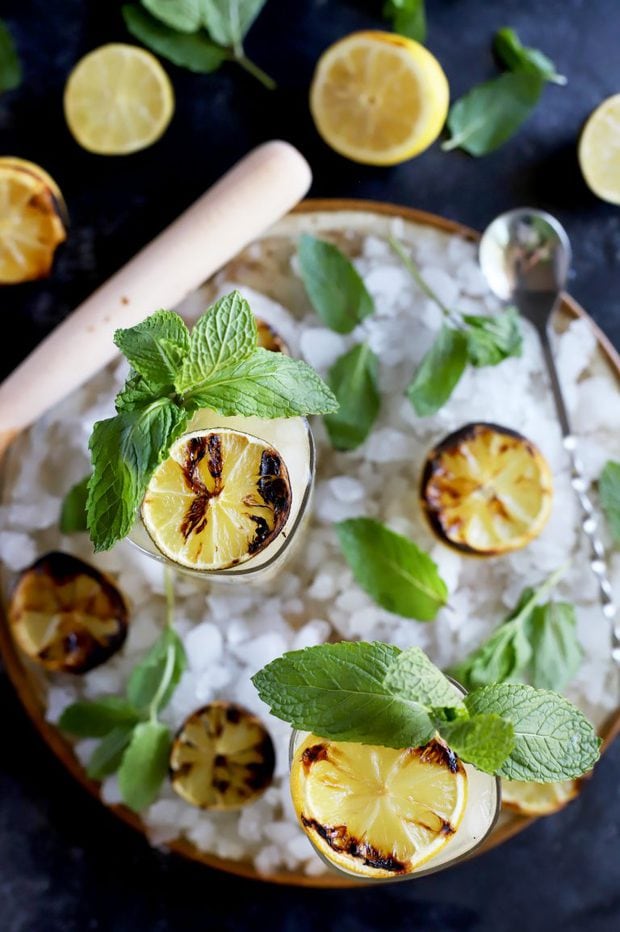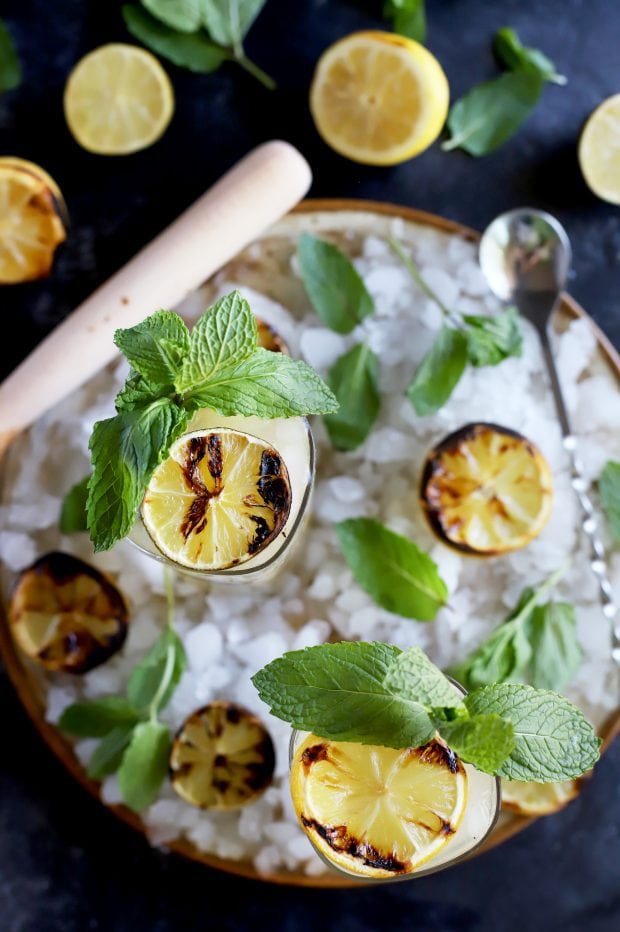 Summer, summer, summertiiiiiiiime…
If there's anything more refreshing than a mojito during a long summer evening, I dare you to tell me.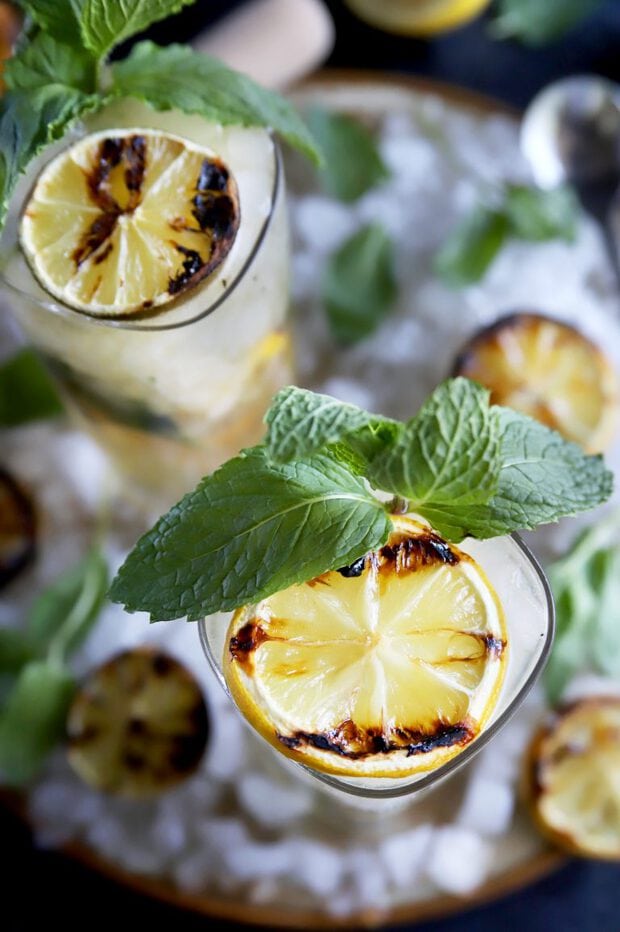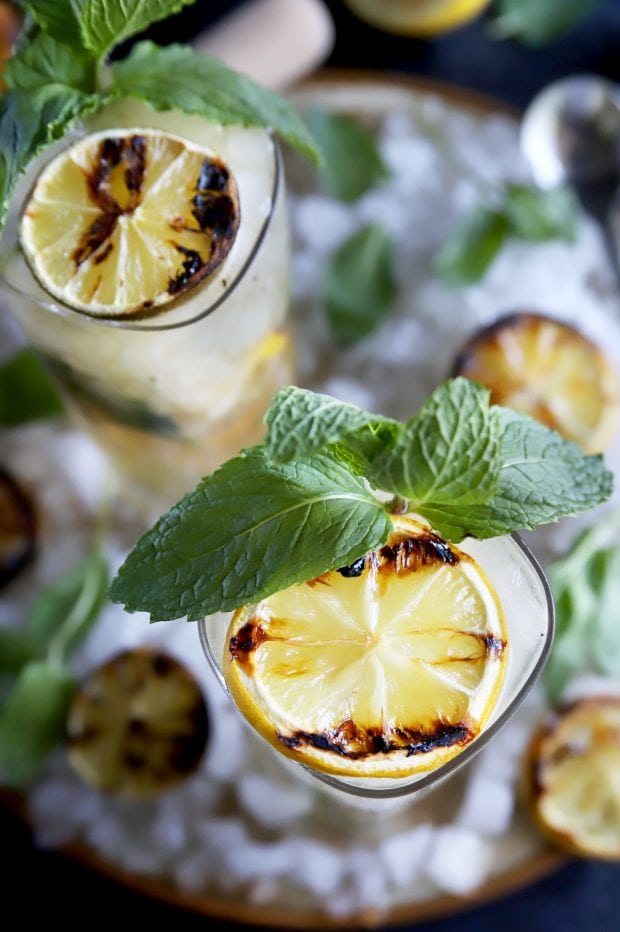 The cooling mint combined with boozy, bubbly liquid and fresh citrus makes for an easy-to-make, oh-so tasty cocktail.
Instead of just making the typical cocktail, there's a bit of the twist that comes straight from the grill.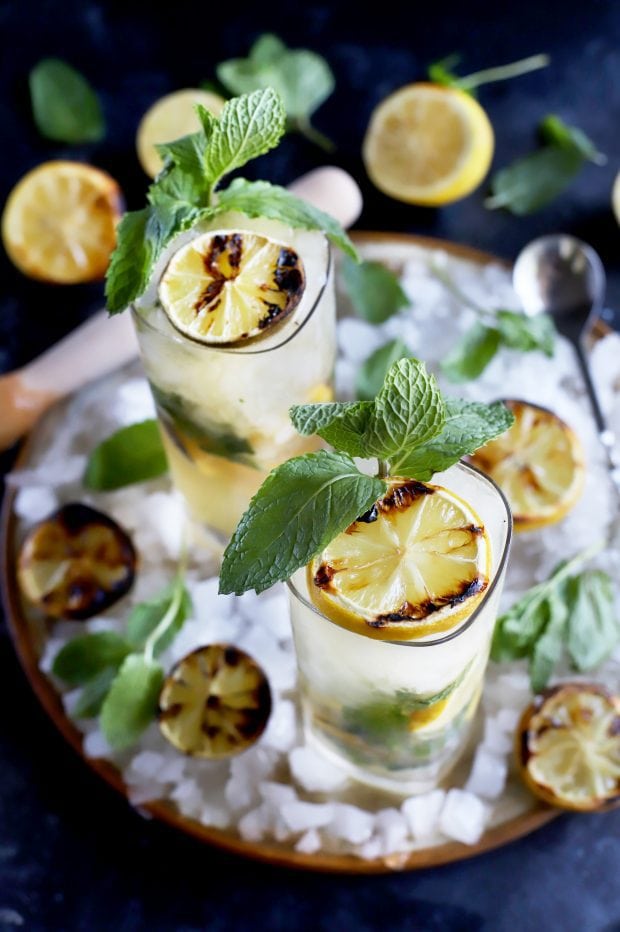 Do you grill your citrus? If you don't, this is the recipe to start doing it with.
I love to grill citrus, especially on a summer night because the Man and I usually have the grill fired up anyway for dinner.
While the other meats and vegetables are cooking up, you can quickly grill up the lemon and lime slices for this cocktail.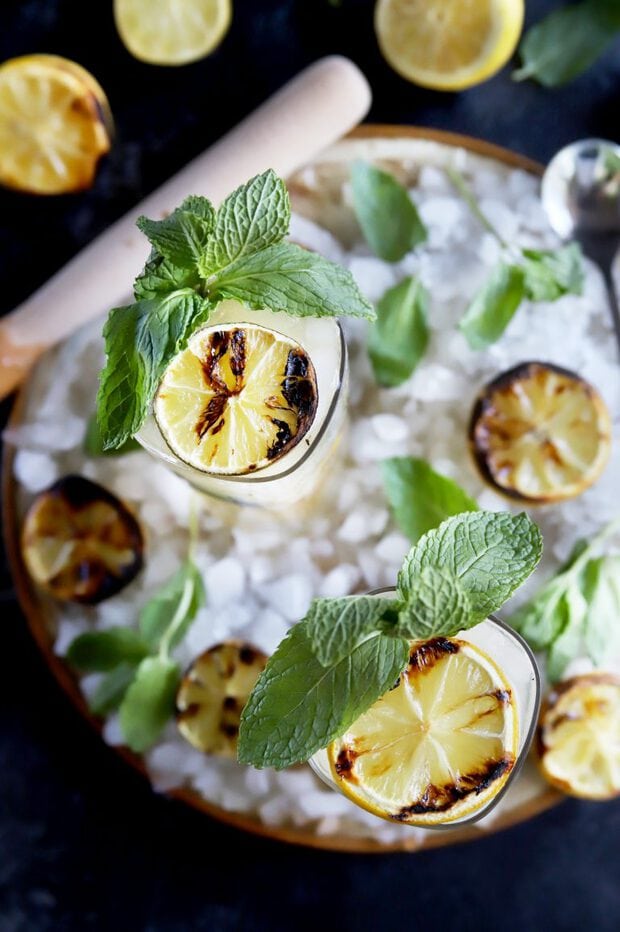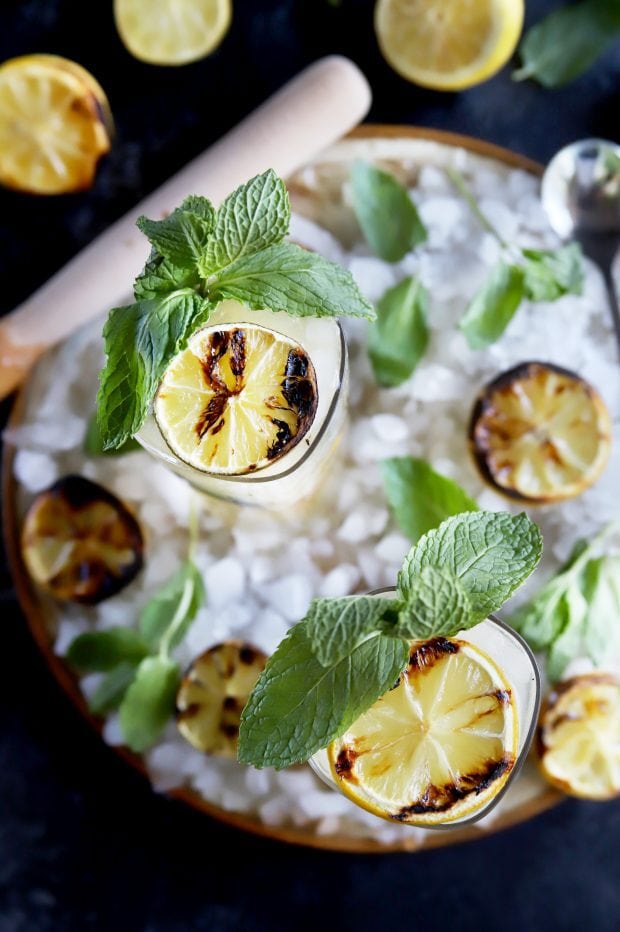 I swear the grill flavor really comes through in the drink, making it even more refreshing and summery.
This Recipe's Must-Haves
To grill up those citrus slices, be sure to grill them up on your favorite Traeger grill. I like to use the signature pellets but you can use apple, cherry, or pecan for this recipe!
These highball glasses are great for serving/making the cocktails in.
Be sure to have a muddler and a bar spoon on hand as well to make this recipe easily.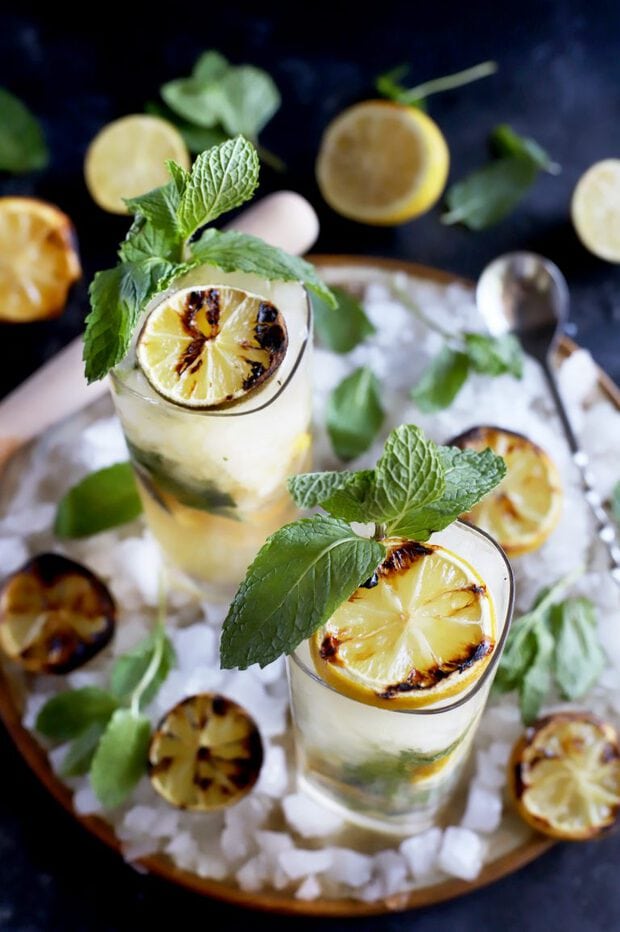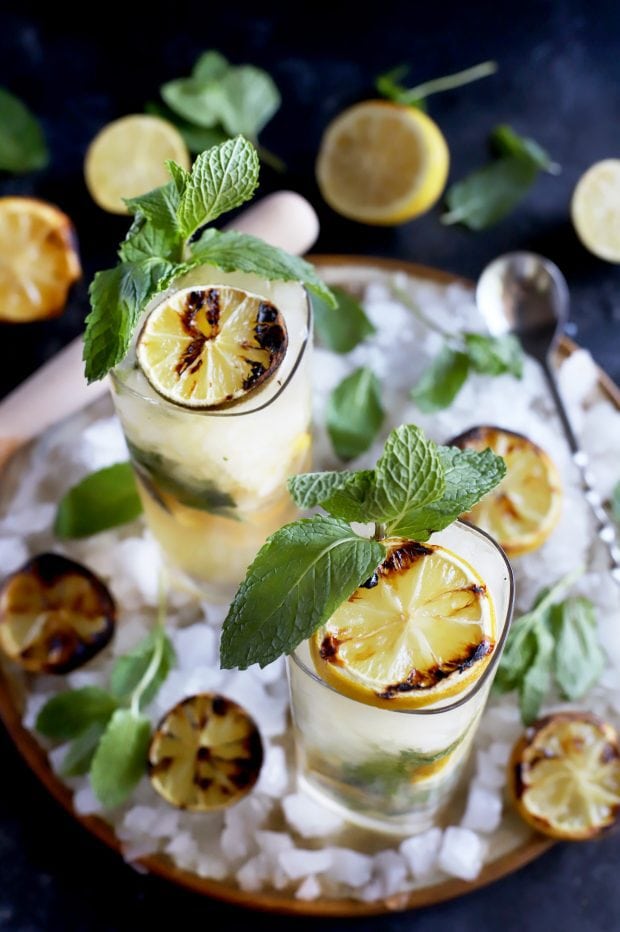 How To Make A Grilled Lemon Lime Mojito Cocktail
Grill Citrus
Obviously, the key to this recipe is making sure that you grill the citrus well. The slices of lemon and lime only take about 5 minutes total to grill so it's super easy!
Just make sure that you grease the grill with olive oil first so you can easily remove the citrus slices after they are cooked.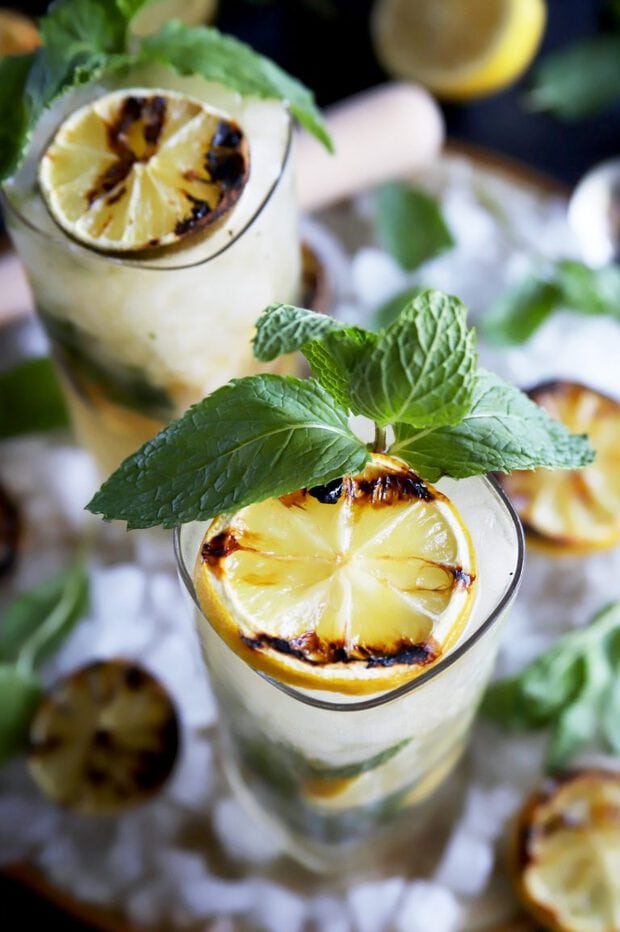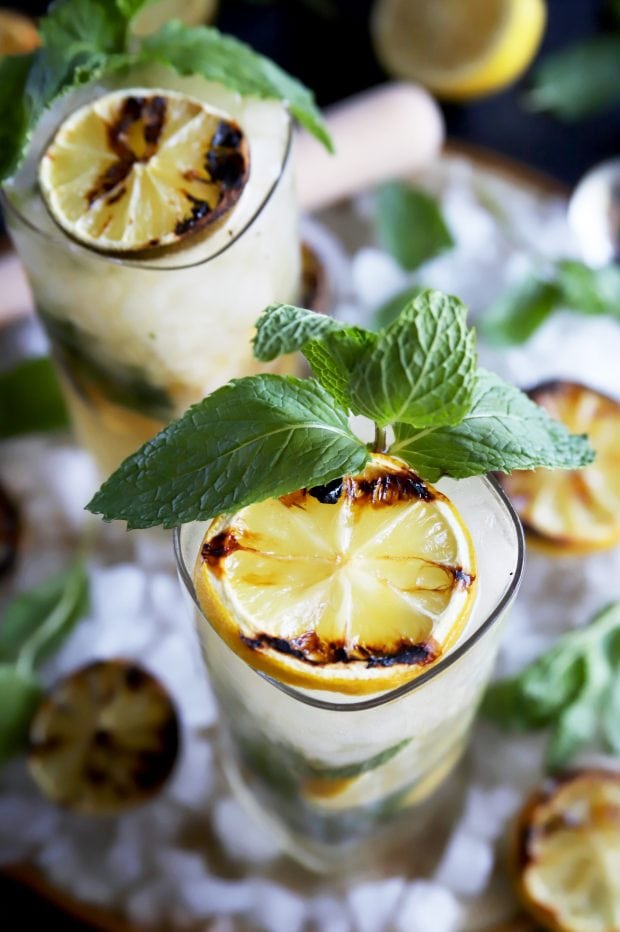 Muddle
You'll want to grab your favorite muddler to mash up the grilled slices of citrus! Make sure to muddle them up well with the sugar and mint to release all the flavor from the herb and the citrus.
Finish Cocktail
Top it off with the remaining ingredients and stir until the sugar dissolves. Then you finish it off with crushed ice and soda water.
Time to cool off, am I right?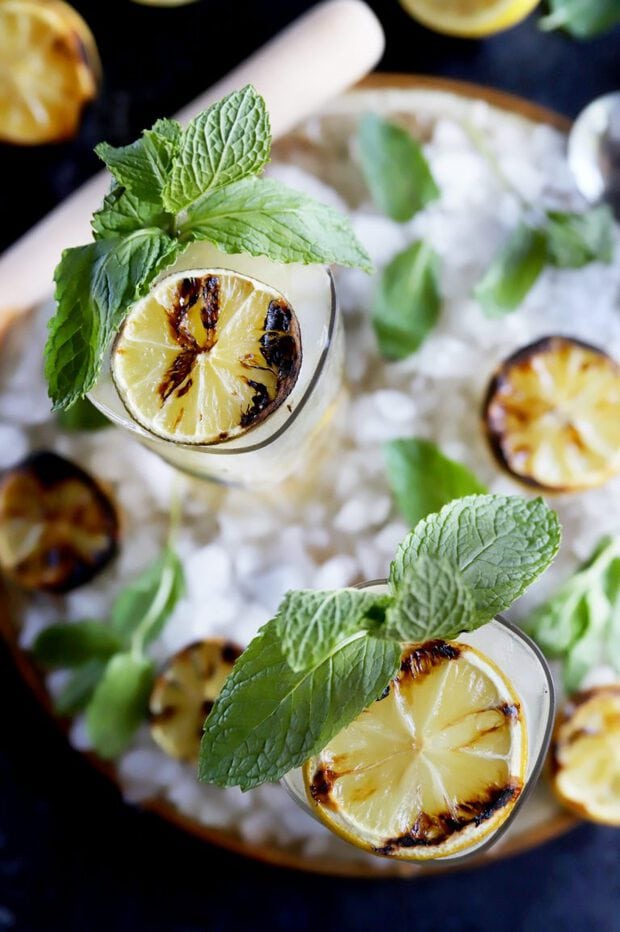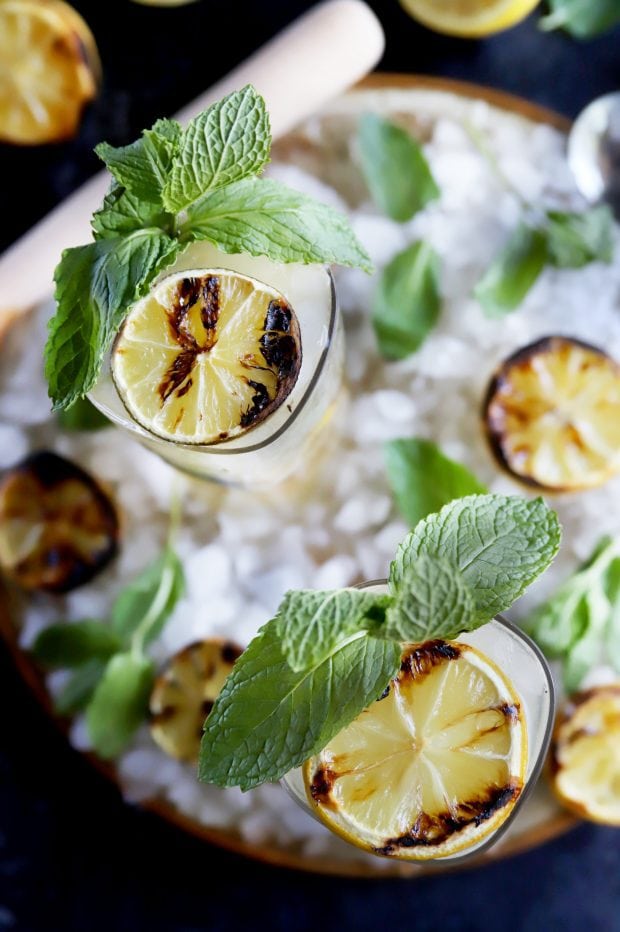 Do I have to grill the citrus?
Well, the main point of this drink is to grill the citrus but if you can't grill them, then you can simply skip the grilling step! Make the recipe starting with the muddling step and you are good to go.
Can I use simple syrup instead of sugar?
If you prefer to use simple syrup, you can substitute the sugar for 1/2 oz simple syrup. Simply muddle the citrus slices and mint together, then add the simple syrup with the lemon juice and rum.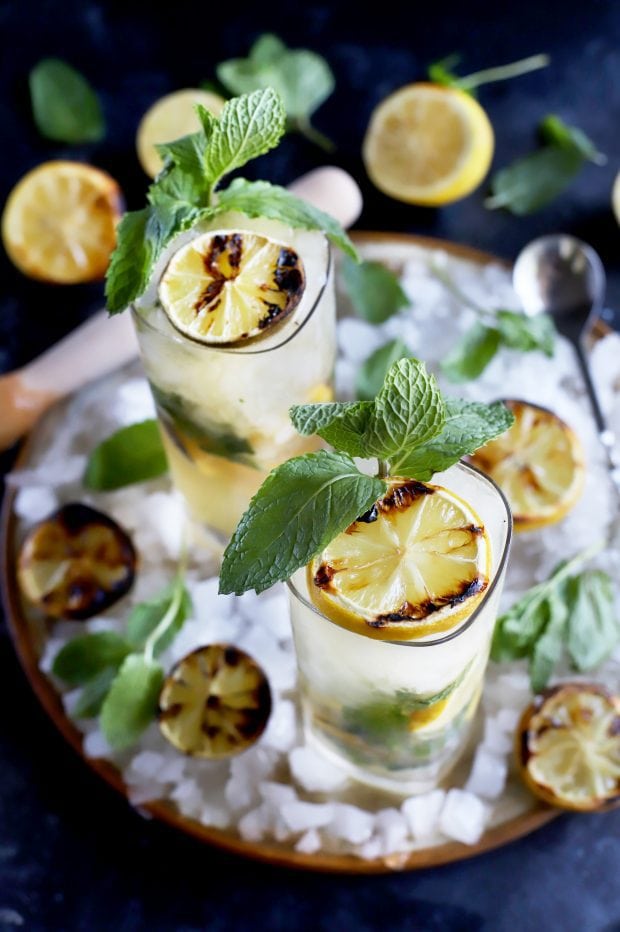 For another cocktail fresh off the grill, try this grilled jalapeño orange shandy.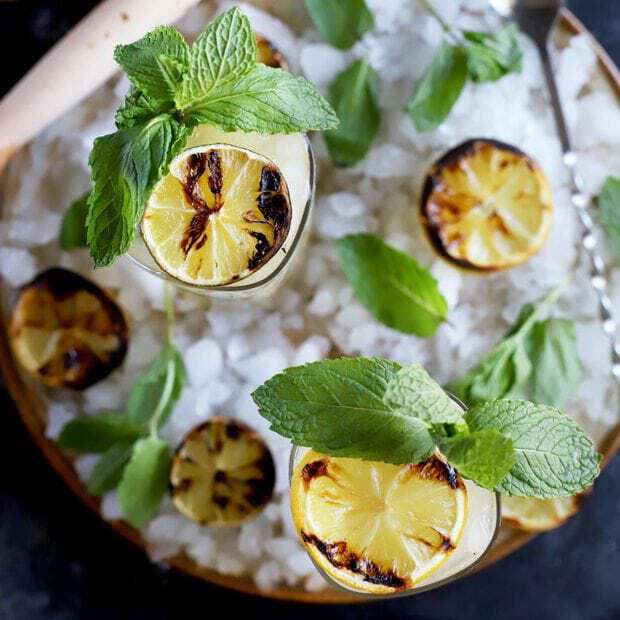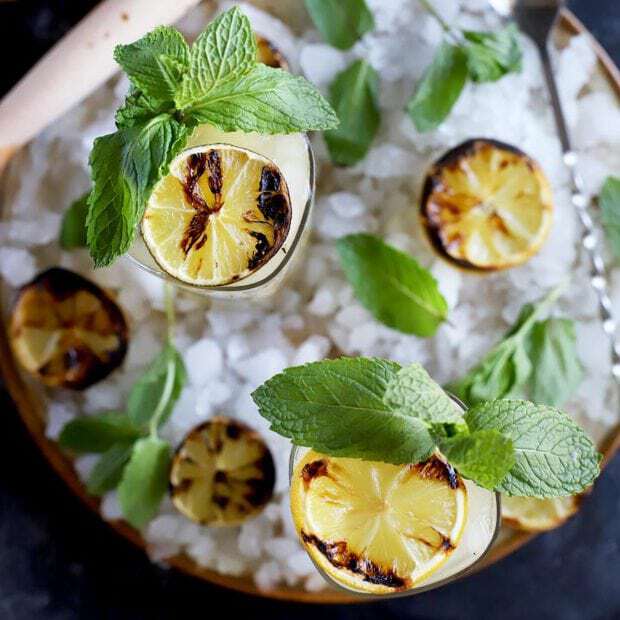 Grilled Lemon Lime Mojito Cocktail
Grilled citrus gives a lemon lime twist to the classic mojito for the perfect summer cocktail!
Ingredients
1 1/2 cups fresh mint leaves
2 tsp white sugar
2 lemons, thinly sliced
2 limes, thinly sliced
3/4 cup white rum
Chilled soda water
Crushed ice
Instructions
Preheat grill.
Once the grill is hot, grill lemon and lime slices until cooked through and grill marks appear, about 2 to 3 minutes per side.
Divide lemon and lime slices evenly between 4 highball glasses. Make sure to reserve 4 lemon slices for garnish.
Divide mint and sugar evenly between the glasses and muddle with the citrus slices.
Add rum, stirring until sugar is dissolved.
Top with ice and fill with soda water.
Garnish with extra lemon and lime slices, as well as mint sprigs.
Recommended Products
As an Amazon Associate and member of other affiliate programs, I earn from qualifying purchases.