Please note this post contains affiliate links.
A Lemon Basil Cooler cocktail is the quintessential refreshing blend of zesty lemon and aromatic basil! Made with an easy basil simple syrup, this summer sipper has tangy citrus notes with a delicate herbaceous flavor. Served over ice, the bubbly lemon basil cocktail is the ideal balance for any gathering.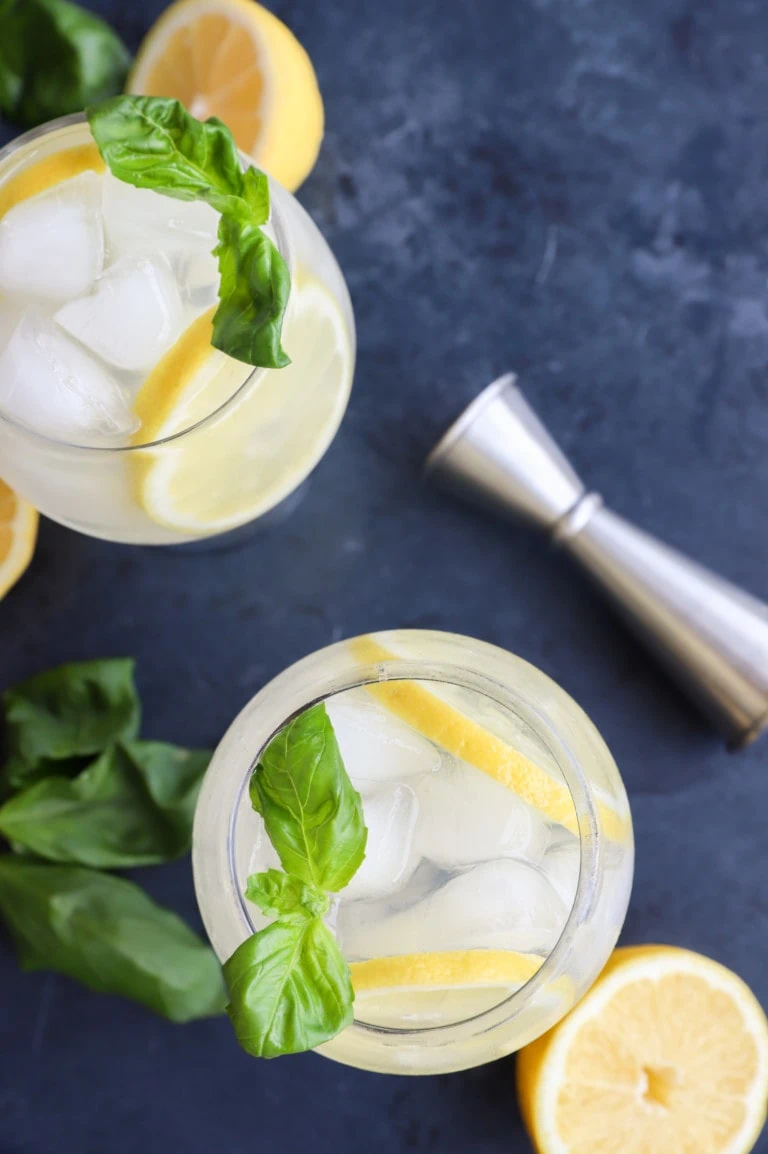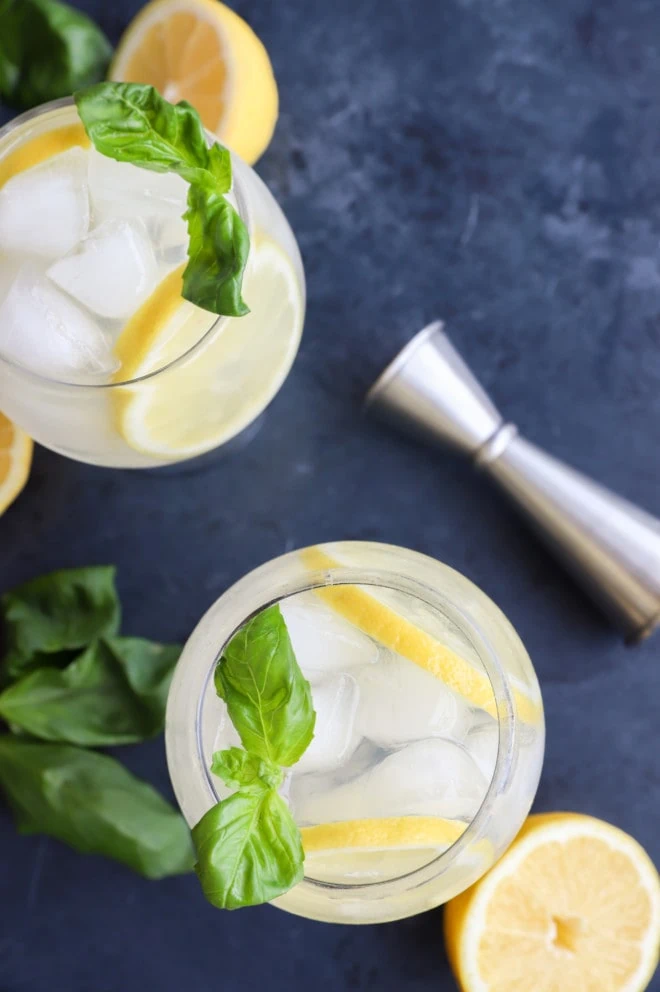 about this lemon basil cocktail
There's nothing like a lemon basil cocktail to cool off with on a hot day.
This time of year is when the basil plants start going crazy. The truth is, basil thrives most when you continue to prune it back. Sometimes that means that you are left with a bunch of basil that needs to be used and one of my favorite ways to use it up is to use it in this lemon basil cooler.
I've had a longtime obsession to add basil to my cocktails. I love the floral and slightly peppery note that basil brings to each sip, tickling my nostrils with its sweet scent.
Since Denver is a bit dreary lately I wanted to liven things up with something fun and bright! Thus the lemon basil cooler was born – the perfect fizzy drink to take a moment to relax and smile with.
The best part of this drink is the basil simple syrup that goes in it. It's so easy to make and can be used in cocktails, mocktails, shaved ice, ice creams, frostings, the list goes on and on! Nothing like getting your money's worth out of some basil leaves, water, and sugar, am I right??
Note: This is an updated version of the original published on September 12, 2014. The update includes minor changes to the recipe and plenty of additional information, including common FAQs!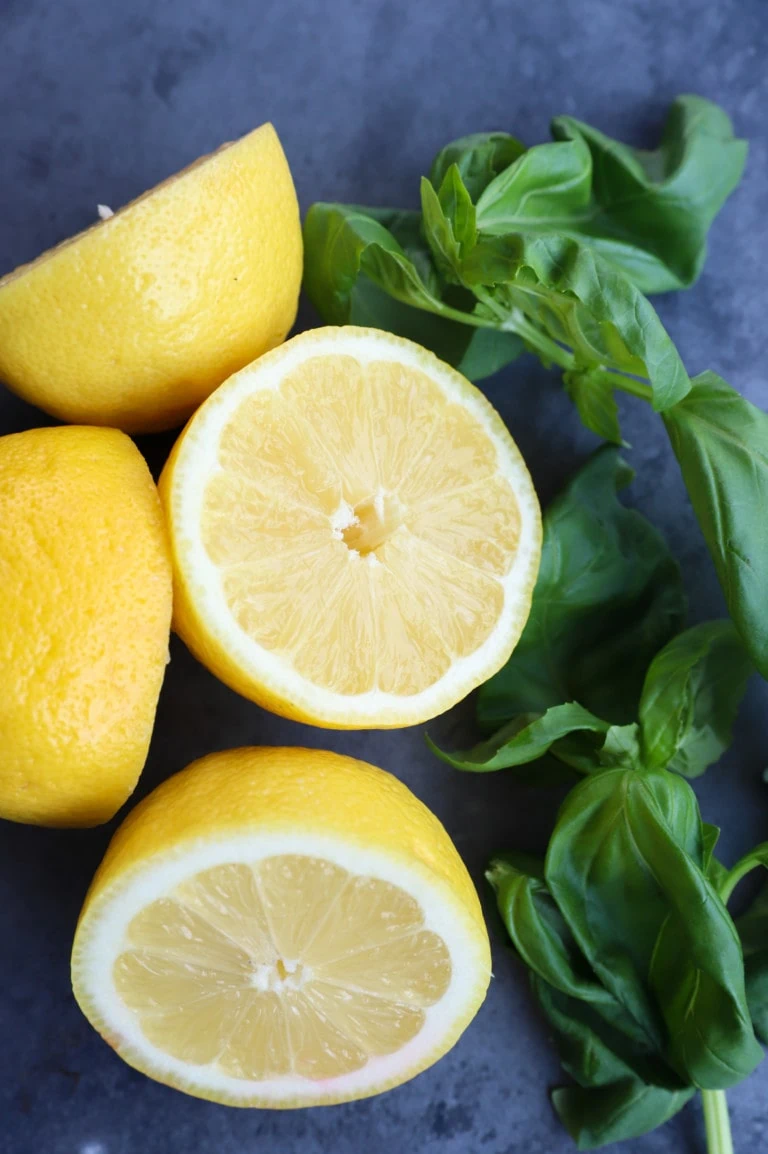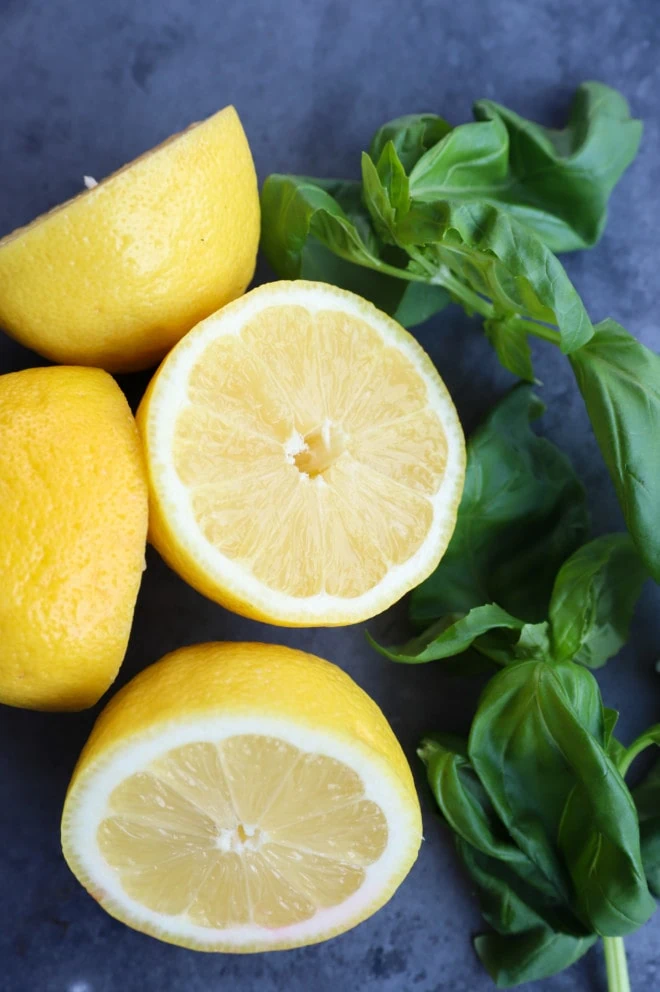 ingredients
simple syrup. This recipe calls for a homemade basil simple syrup as this is where the basil flavor comes in! It is very simple to make like a regular simple syrup, you will simply add basil leaves to the 1:1 mixture of sugar and water.
lemon juice. I always recommend fresh lemon juice because store-bought tends to taste a lot more sour, in my opinion at least.
vodka. Pick the best vodka that is in your price range! Since you are using this vodka in a cocktail, I recommend a mid range option like Tito's or Absolut (splurge for Absolut Elyx if you want to!).
club soda. Club soda, sparkling water, soda water – these are all different names for the same thing! I usually make my own with a SodaStream but you can also buy it at your local grocery or liquor store.
this recipe's must haves
All you need for this recipe is standard barware including a jigger for measuring ingredients, a cocktail shaker (I prefer a Boston cocktail shaker), and a cocktail strainer.
You will also need your favorite large cocktail glasses. This could be highball glasses or even pint glasses if that's what you have on hand.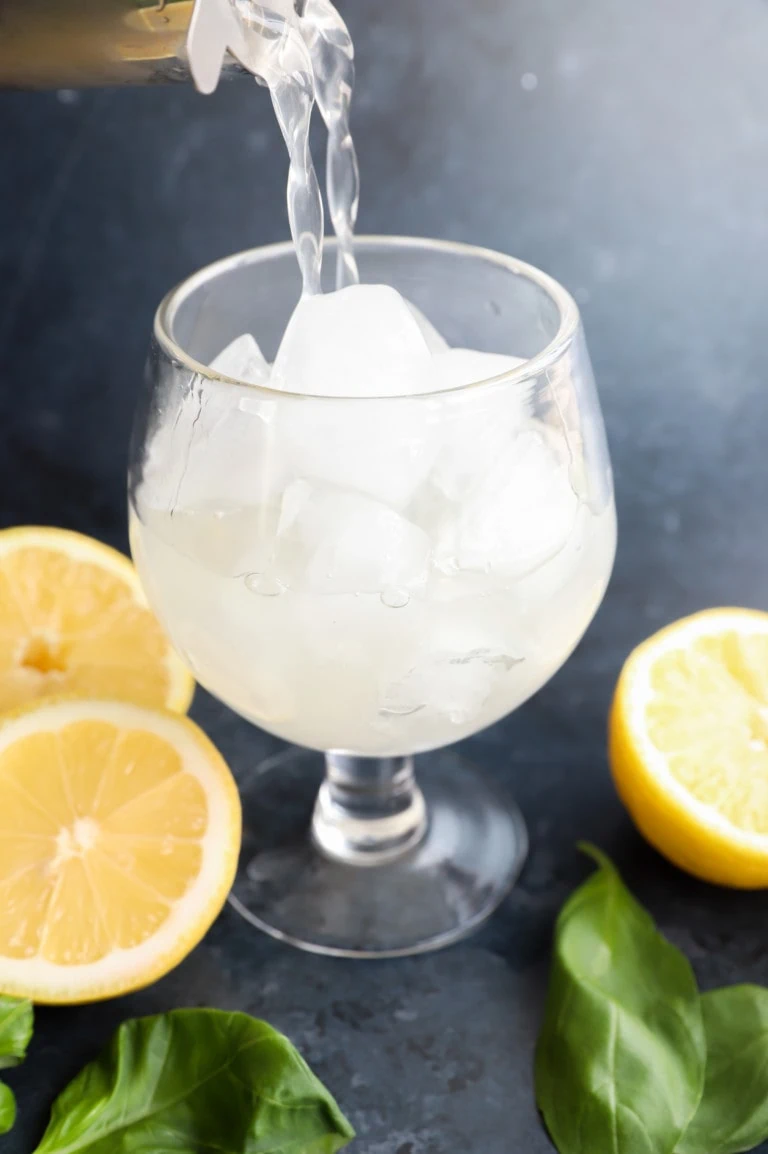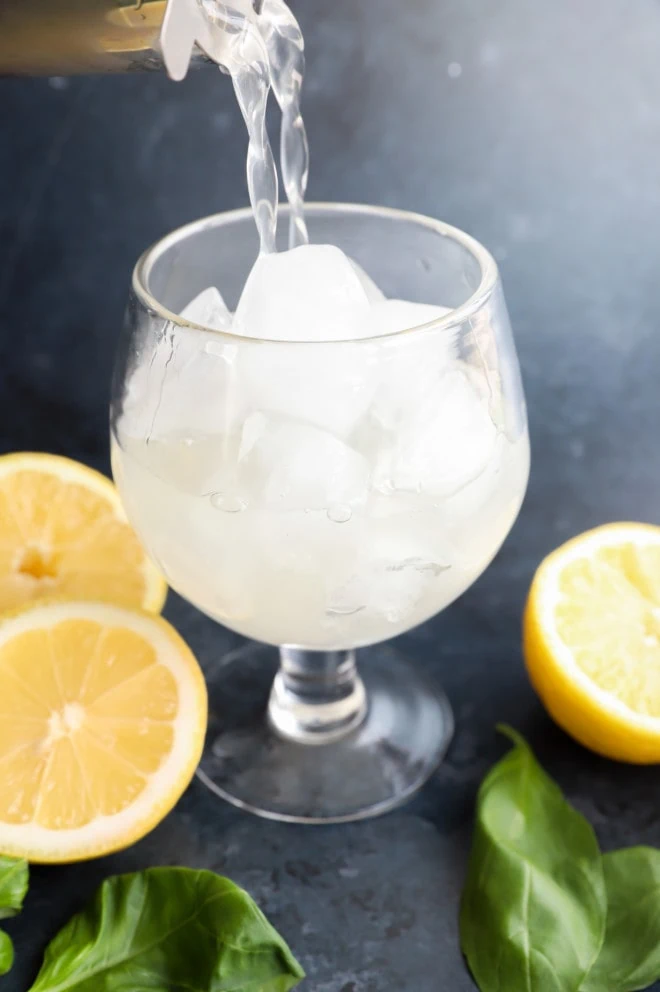 here's how to make a lemon basil cocktail
shake
Fill a cocktail shaker with ice. Add basil simple syrup, lemon juice, and vodka. Shake.
strain
Strain into a cocktail glass filled with ice and top with club soda. Garnish with lemon wheel and basil sprig, if desired.
More tasty simple syrup recipes: Lemon Simple Syrup | Strawberry Simple Syrup | Cherry Simple Syrup | Cinnamon Simple Syrup
tips for success
use fresh lemon juice. With only four ingredients, there's not a lot of places for ingredients to hide in this mixed lemon basil cocktail. Therefore, fresh ingredients are preferred. You can even pick up some seedless lemons if you want to make juicing them infinitely easier!
use fresh basil. As stated above, fresh ingredients are preferred! I do not recommend using dried basil for the simple syrup as the flavor can come out a little bitter.
make the basil simple syrup ahead of time. The basil simple syrup used in this recipe lasts for up to 1 month in the refrigerator. Therefore, it's an easy element to make ahead of time if you are planning to make this cocktail for a party. It's also a wonderful way to prep for making this cocktail whenever the mood strikes you!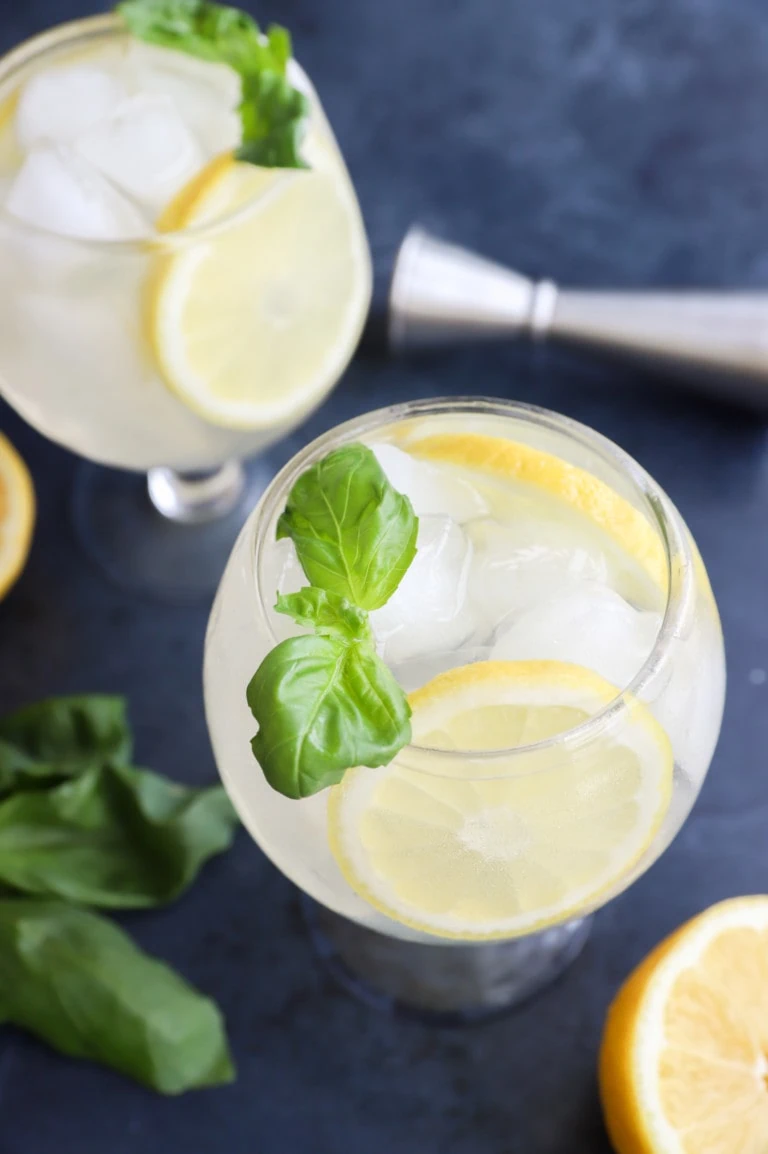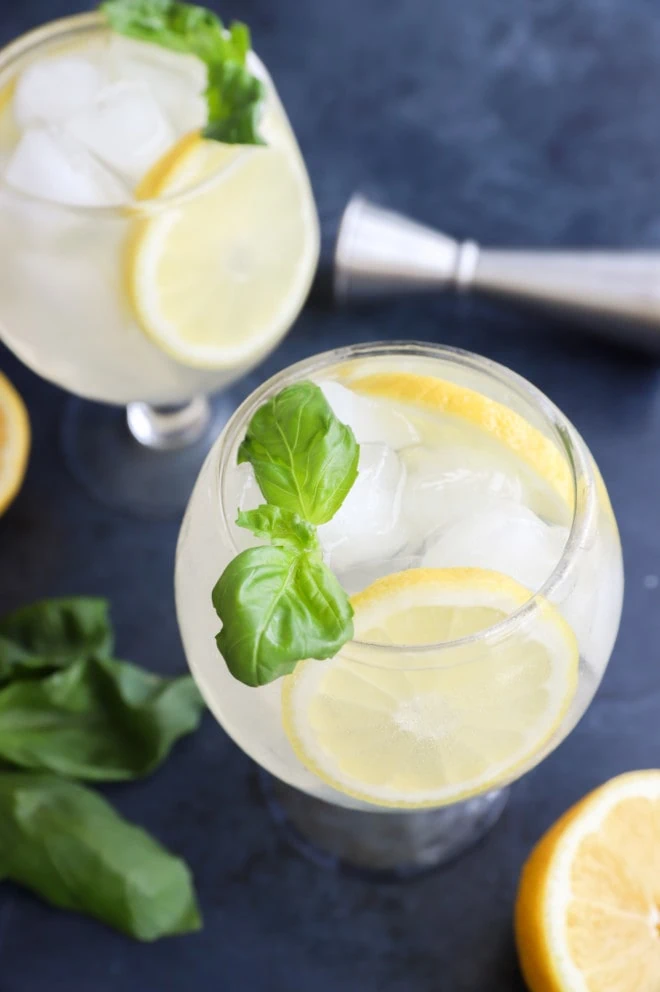 do I have to use fresh lemon juice?
I highly recommend using fresh lemon juice! You can easily buy lemon juice at the store, but I find that store bought lemon juice is a lot more tart than fresh lemon juice.
can I make this a big batch cocktail?
This cocktail is super simple to make in a big batch. To serve 8, combine 2 cups vodka, 1 1/2 cups basil simple syrup (essentially an entire batch), and 1 cup lemon juice in a pitcher filled with ice. Stir to combine and top with 2 cups soda water. Garnish with basil leaves and lemon wheels right in the pitcher for an elevated presentation!
can this cocktail be made ahead of time?
There is a way to make this vodka cocktail ahead of time! If you are making a couple of cocktails, I recommend shaking together the basil simple syrup, lemon juice, and vodka in a cocktail shaker filled with ice. Place in the refrigerator until ready to serve, then fill with ice and top with soda water.
If you are making a big batch, combine basil simple syrup, lemon juice, and vodka in a pitcher. When ready to serve, fill with ice and top with club soda. Serve in glasses filled with ice.
Need more inspiration for cocktail hour? Check out my cocktail recipes page!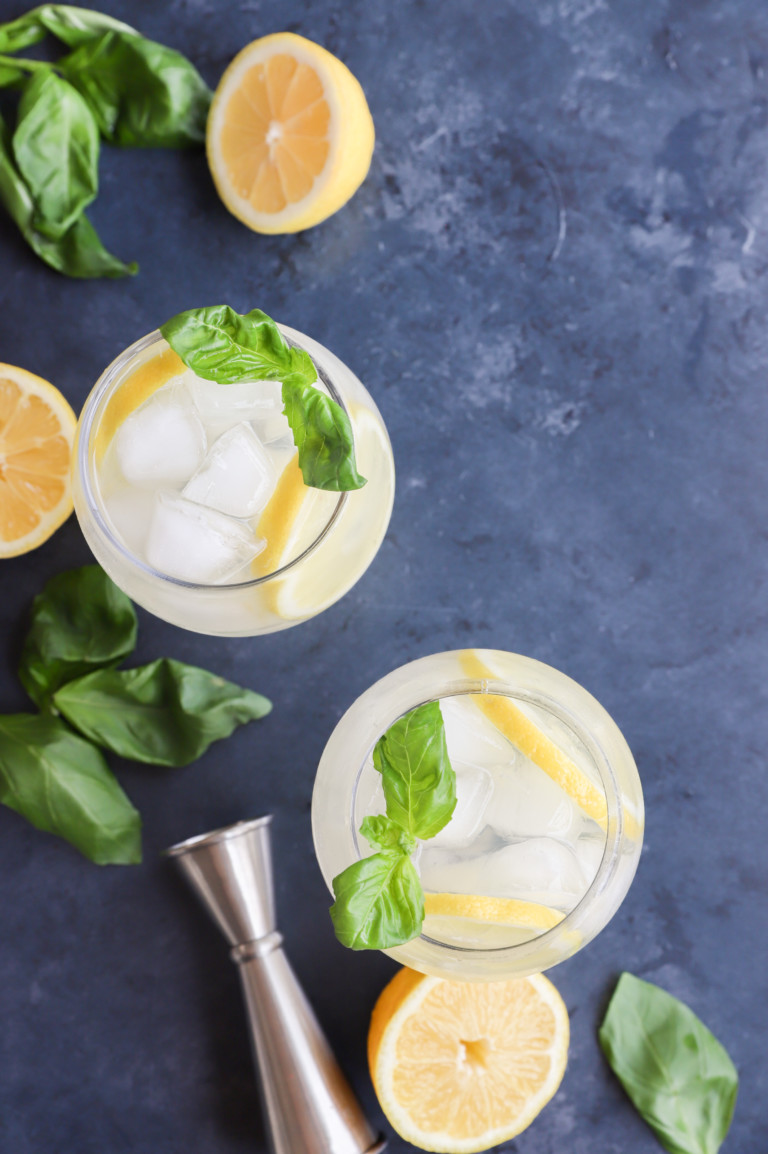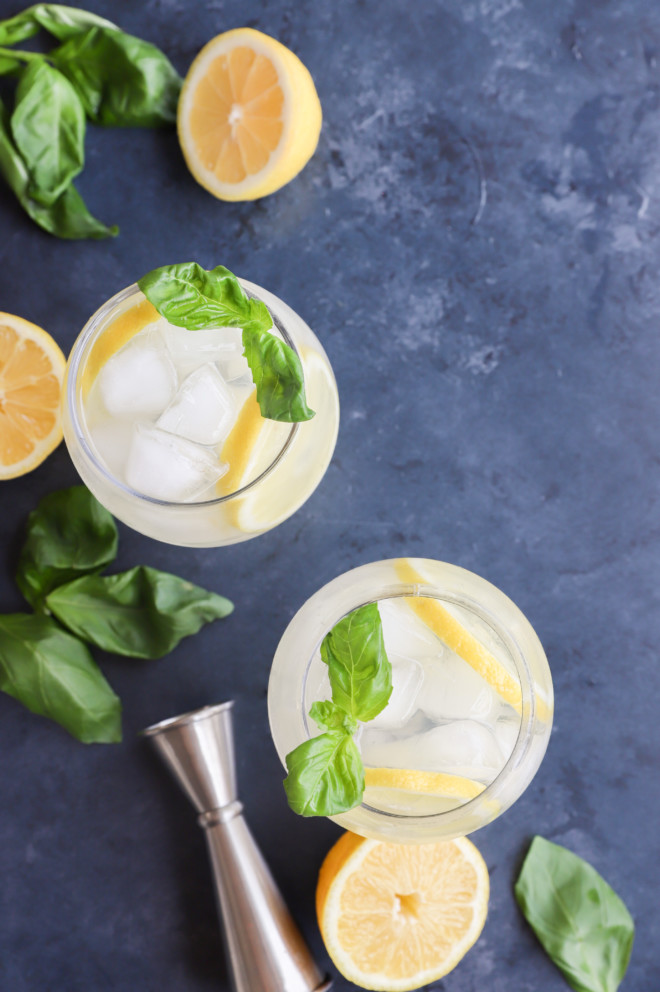 what to serve with a lemon basil cooler cocktail
A lemon basil cocktail is a little tart, a little tangy, and has a touch of fresh herby flavor. Therefore, I like to pair this drink with appetizers/desserts that are light and bright OR heavier mains that could use a light drink to counter their richness.
For a party, air fryer scallops with chive lemon butter are an easy recipe to elevate a gathering. You can serve them on their own or with a little pasta. If you want more of a party bite-sized appetizer, consider tomato peach bruschetta or avocado bruschetta as lighter options that are handheld.
If you are looking to serve this cocktail with dinner, I feel like bbq is the best option for that savory richness. Classic dishes like a pulled pork burger or apple cider ribs are favorites, or mix things up with bbq short rib tacos.
looking for more drinks with basil in them?
Blackberry Basil Bourbon Smash
Strawberry Basil Frozen Daiquiris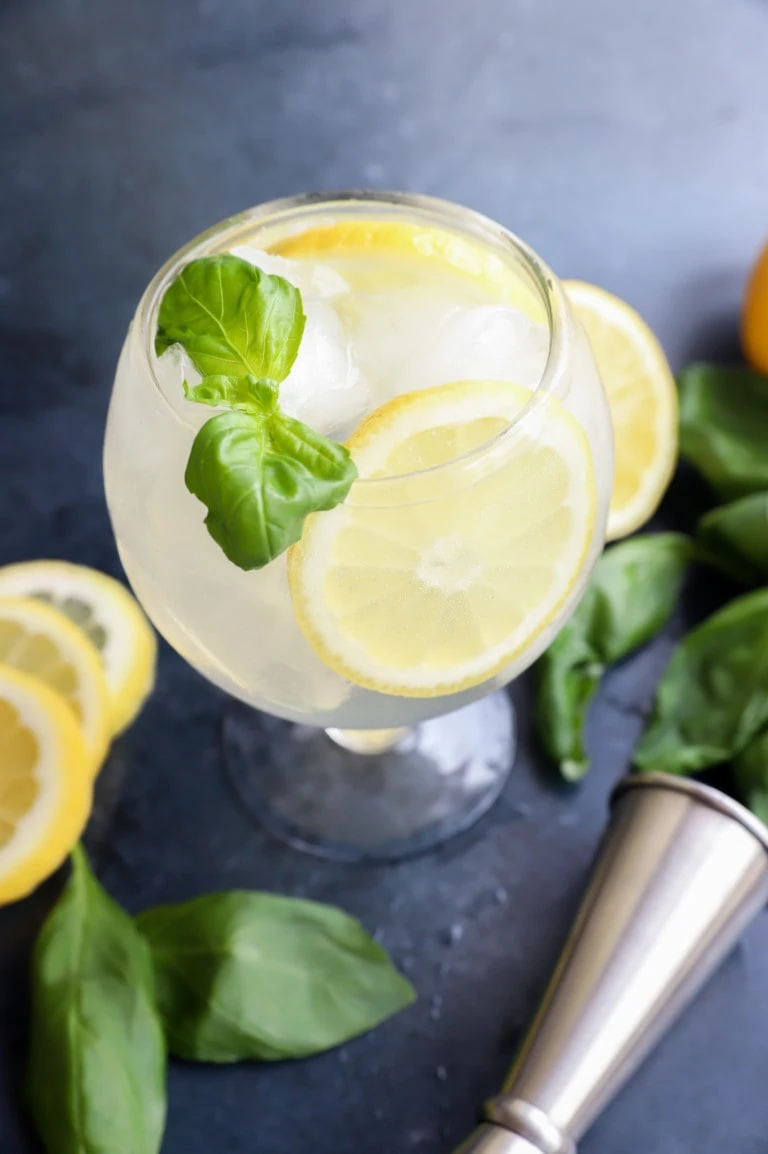 Finally, if you make this lemon basil cocktail recipe, please be sure to give this recipe a rating or leave a comment! I love to hear when you all make recipes, and I do take the time to respond to every single comment. Feel free to drop questions below too, if you have them!
Oh and be sure to tag me on Instagram if you make the recipe! I love being able to see these recipes come to life in your homes – it's my favorite thing to look through those photos. It really means the world to me!
everyday seasonal cookbook
With seasonal produce guides, recipes, and more, this cookbook is filled with seasonal food for every occasion.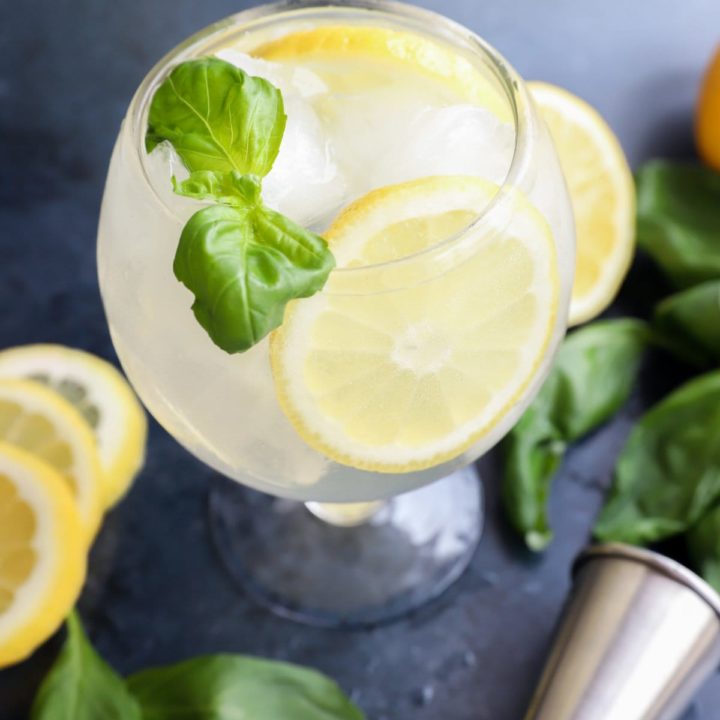 Lemon Basil Cooler + Basil Simple Syrup
This easy simple syrup can go in so many things, but it goes especially well in this citrusy cocktail.
Ingredients
Basil Simple Syrup
1 cup sugar
1 cup water
12 to 14 basil leaves
Lemon Basil Cooler
2 oz vodka
1 oz freshly squeezed lemon juice
2 oz club soda (soda water, sparkling water, etc)
Garnish: lemon wheels, basil sprig
Instructions
To create the simple syrup, combine sugar, water, and basil leaves in a small saucepan. Bring to a simmer over medium heat, stirring constantly until sugar dissolves. Remove from heat and allow to steep for 10 minutes. Strain and cool completely before using.
To create the cocktail, add basil lemon simple syrup, vodka, and lemon juice to a shaker filled with ice. Shake well.
Strain into a cocktail glass filled with ice. Top with club soda and garnish as desired.