A Mojo Steak Salad with Corn is the ultimate combination of summery flavors. The citrusy flavor of the marinade makes the beef sing on top of a bed of spring greens. The addition of grilled corn gives the entire dish a pop of summer deliciousness.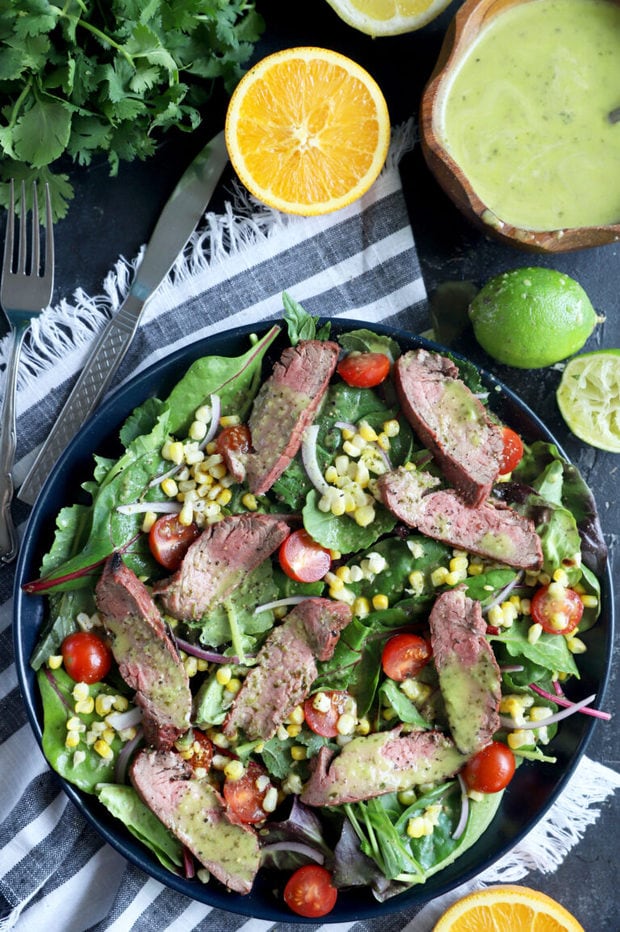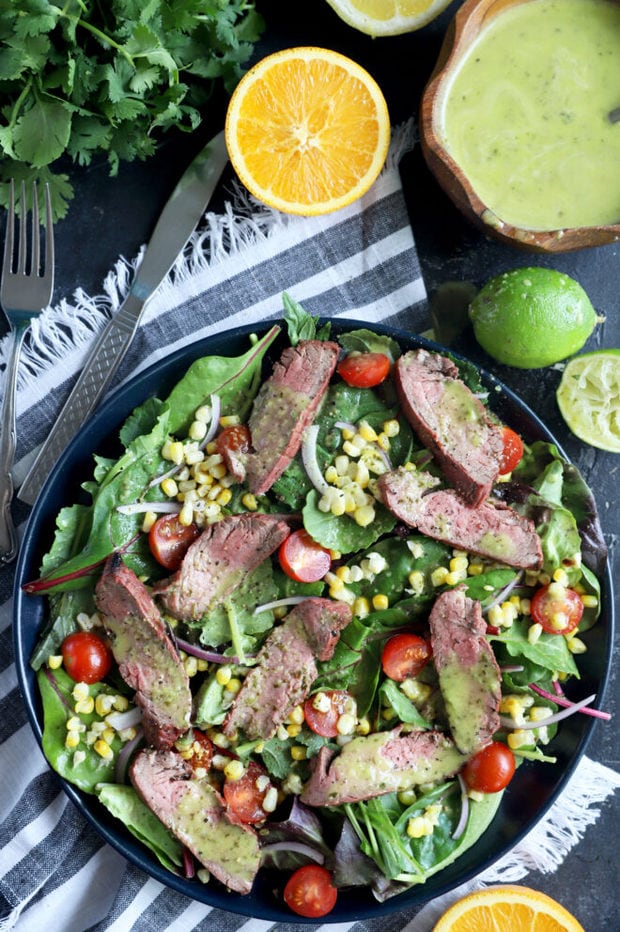 Disclosure: This post is sponsored by Sprouts. As always, all opinions and thoughts are my own.
What marks the unofficial kick-off of summer? Memorial Day weekend.
For me, I remember it as being the mark of the end of school (or close to it). There was usually only a couple of weeks left after the holiday weekend so it felt like the first celebration of summer freedom.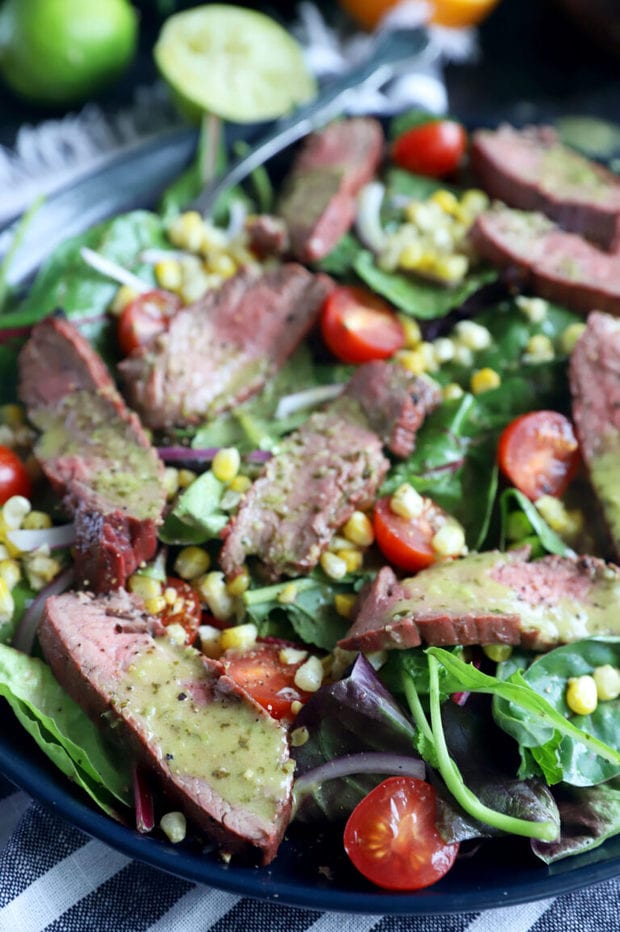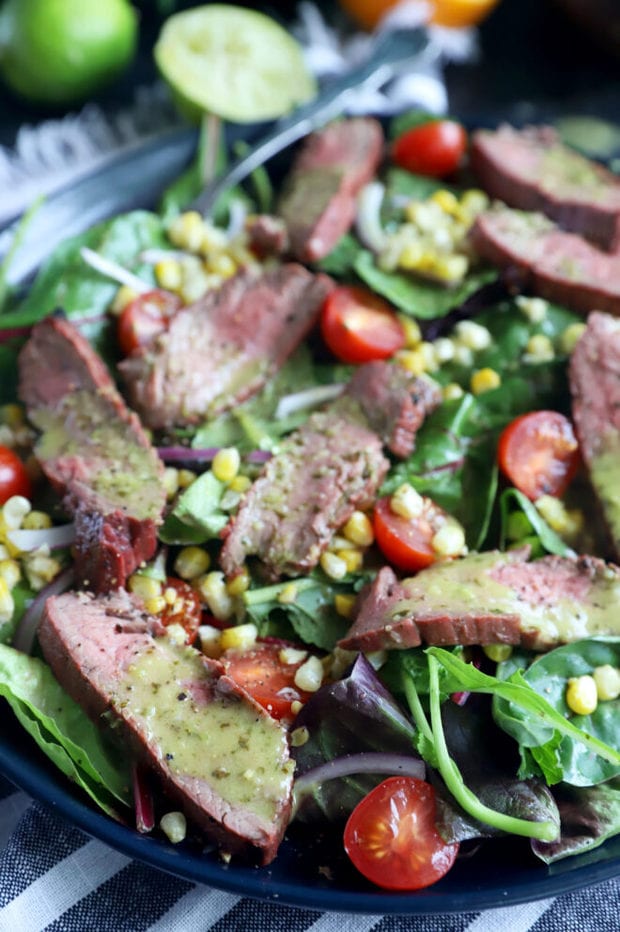 A little taste before the months of goodness ahead.
Alas, as adults, we cannot look forward to summer in quite the same way as we did as children. We may not have a few months off to look forward to, BUT we do have fresh summer flavors, plenty of sunshine, and warm weather to celebrate.
This Memorial Day weekend looks a little different. Instead of celebrating out and about with friends and family, most of us will be home.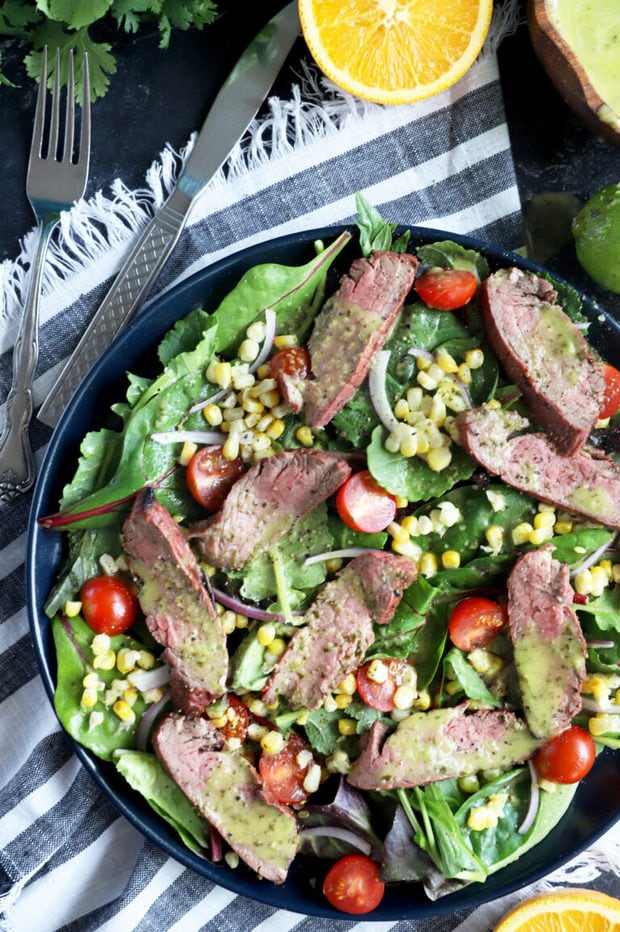 Don't let that limit you though!
Just because you are celebrating at home doesn't mean you can't serve up something oh-so flavorful for your family.
Like this mojo steak salad…
When I think about seasonal cooking, my mind always drifts over to Sprouts. It's the BEST place to get seasonal produce that is flavorful and affordably priced. It just so happens to be the best choice for picking up all-natural USDA Choice Beef.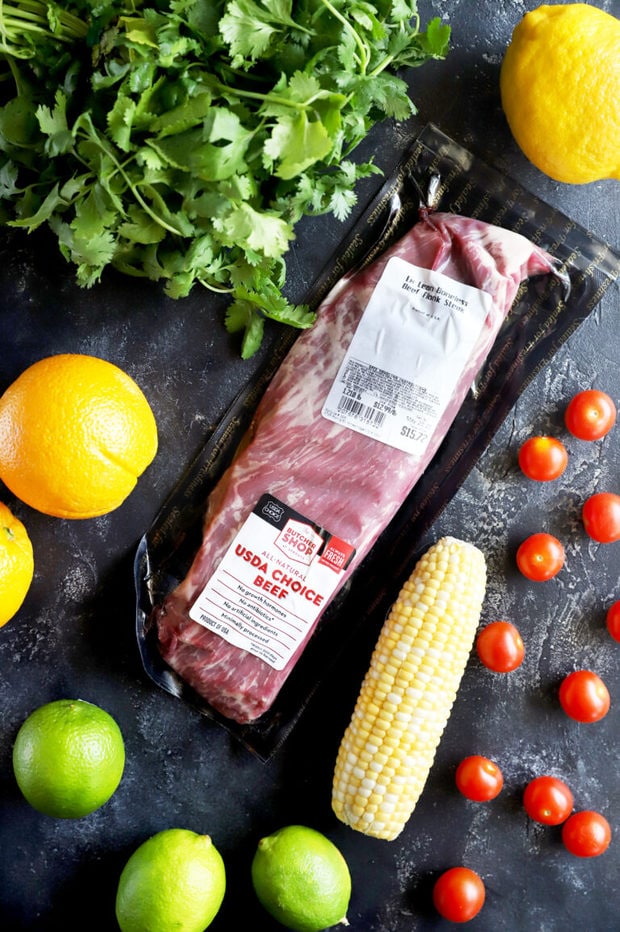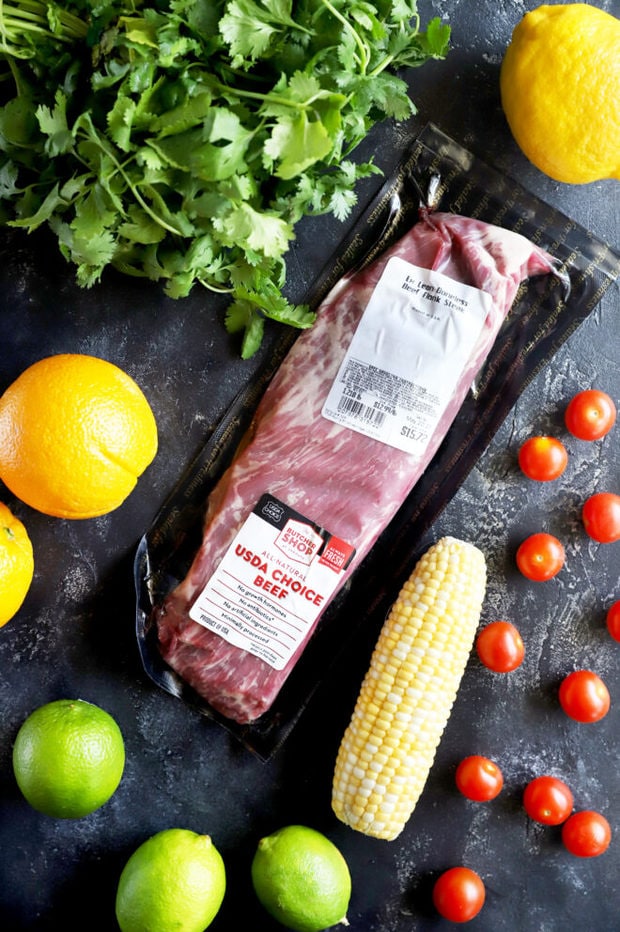 While being home, I've made a concerted effort to eat better. With this beef, I can feel even better about what I am eating because there are no added hormones, ever. The meat is raised in the U.S. and sourced from purebred, heritage cattle, exclusive to Sprouts.
The quality of the beef makes the difference here in flavor and you can really taste it in this salad recipe!
Not to mention you can get all your other barbecue favorites from Sprouts at the same time. There are so many options, you might have trouble resisting all of them…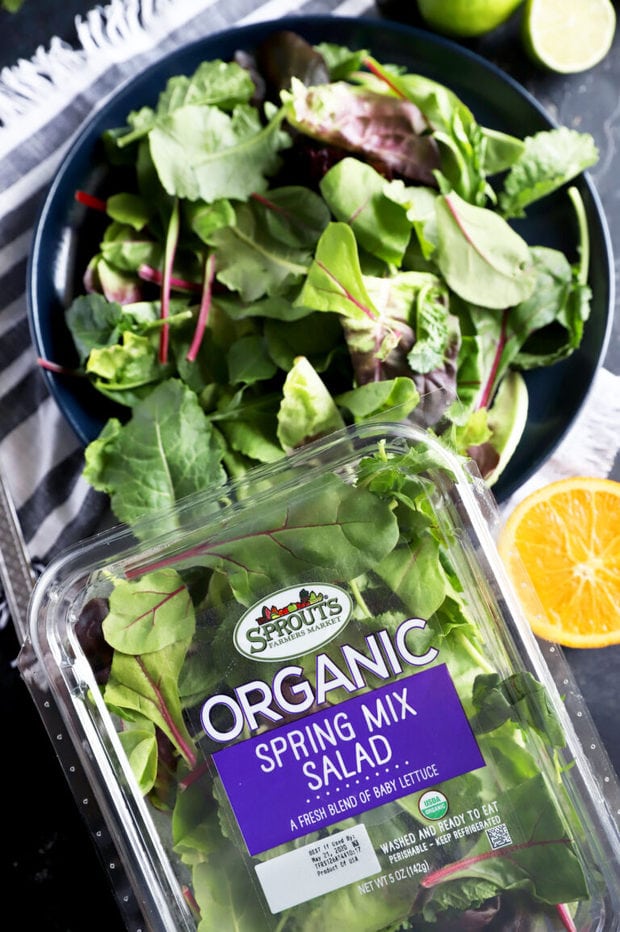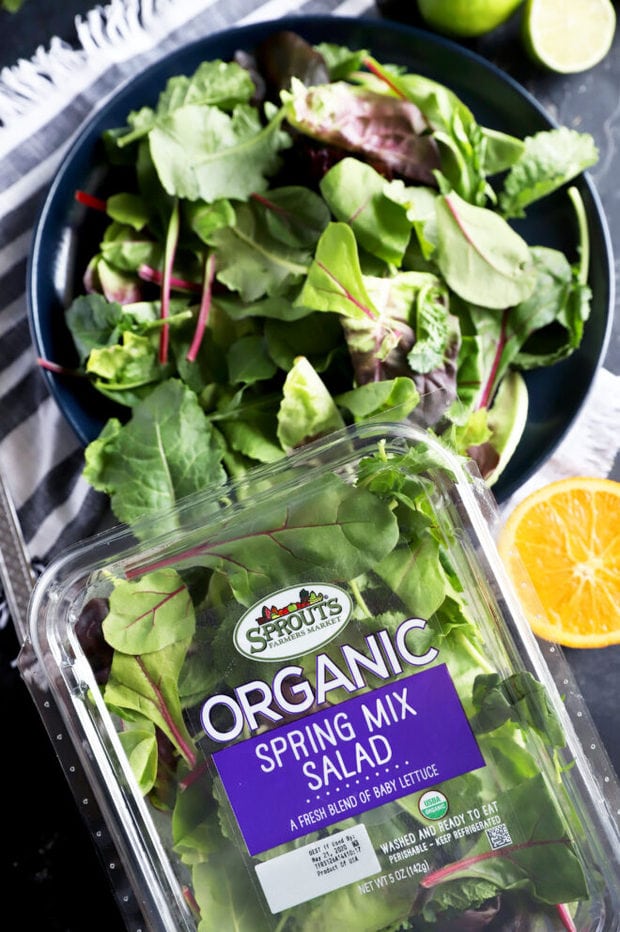 This Recipe's Must-Haves
The most important tool you need for this recipe is a grill. I personally can't recommend a Traeger grill more because it gets extra flavor into the meat and the corn for this recipe.
You will also need tongs to flip the food on the grill!
The vinaigrette comes together in the blender, super fast.
Finally, make sure that you have a set of mixing bowls to make the salad.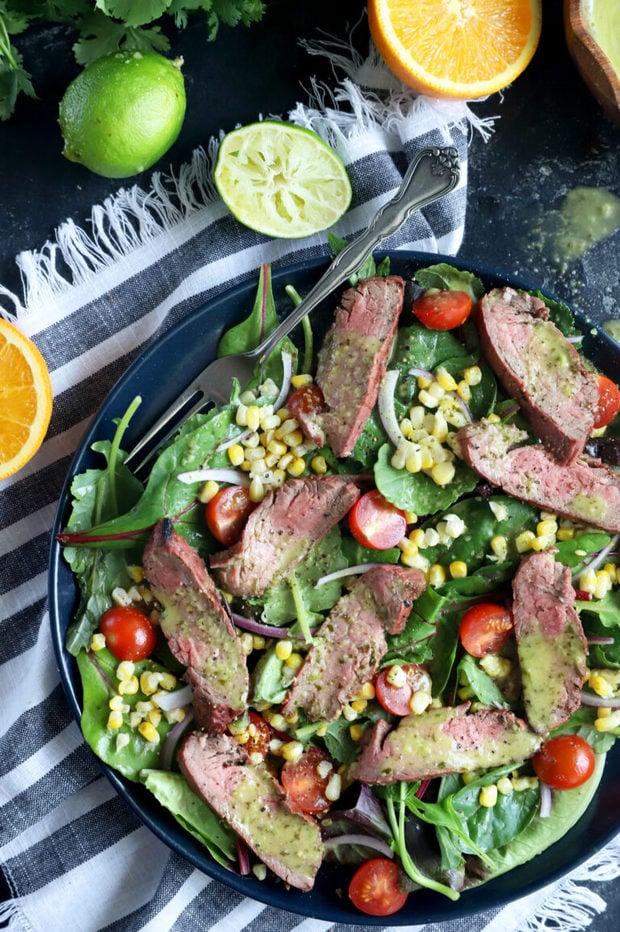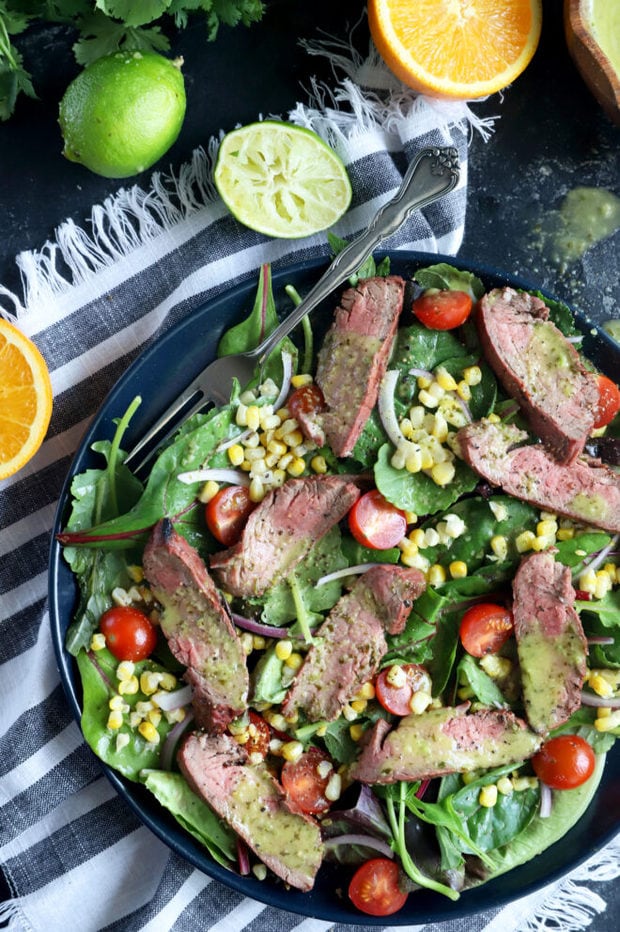 Let's make a yummy mojo steak salad with corn!
Marinate Steak
The steak only needs to be in the mojo marinade for at least an hour, so SCORE. All you have to do is add the steak along with all the marinade ingredients to a resealable bag. Shake it all up to combine and place in the refrigerator for at least one hour.
Have a little extra time on your hands? The steak can sit in the marinade overnight if you want! The longer it sits, the more flavor it will have.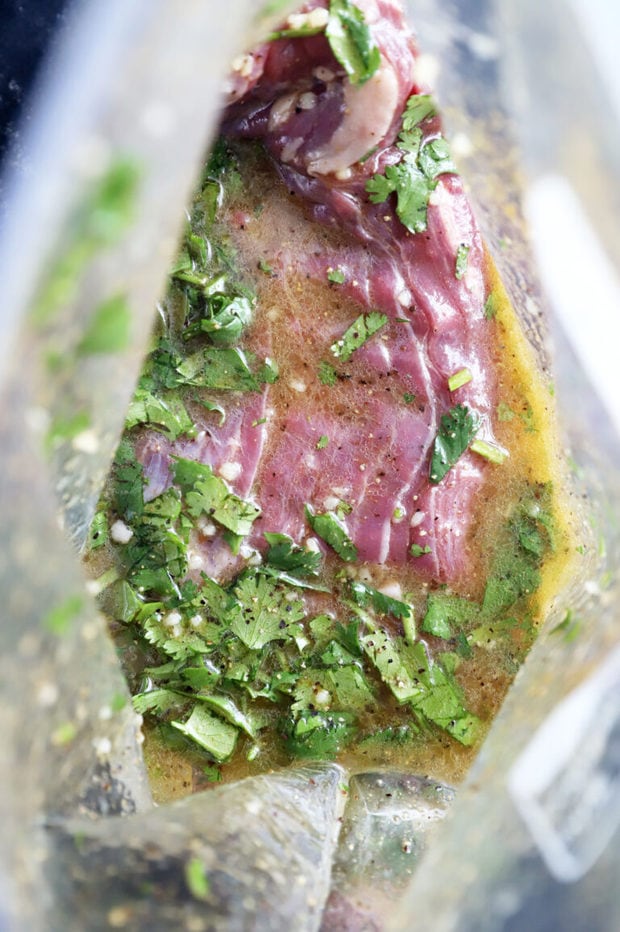 Grill
Fire up that grill once you are ready to cook. Remove the steak from the marinade and then grill it alongside the corn.
The steak will take about 4 to 5 minutes per side for medium-rare. The corn will take about 10 to 15 minutes total. Be sure to turn the cobs every few minutes!
Make Vinaigrette
While everything is on the grill, I like to whip up the vinaigrette. All you have to do is add all the ingredients, except the olive oil, to a blender or food processor. Blend it all up and once combined, keep it on low speed.
Gently drizzle in the olive oil until the whole thing is combined.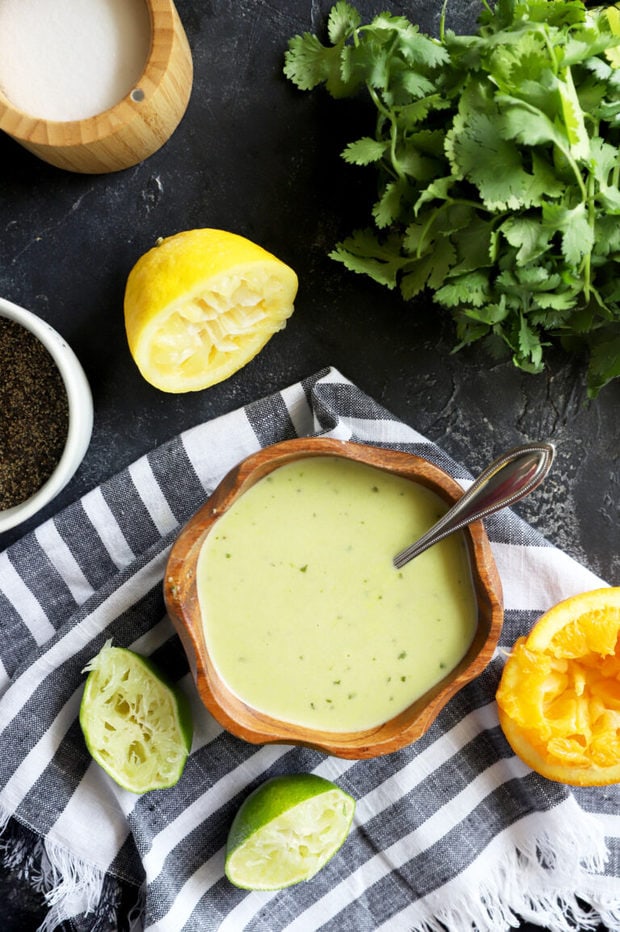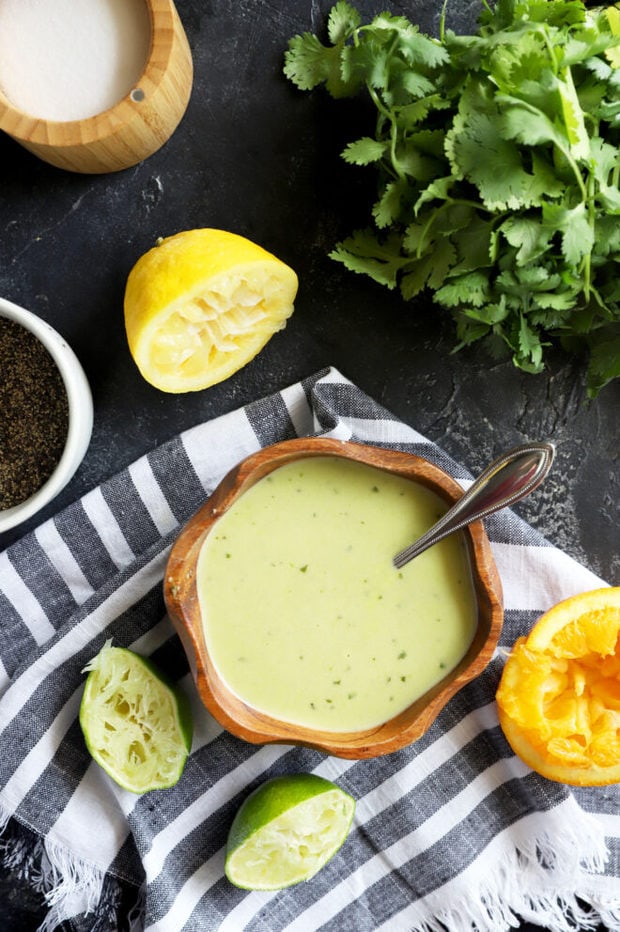 Assemble Salad
Now let's put it all together! Remove the corn from the cob.
Toss together half the vinaigrette, cherry tomatoes, red onion, spring greens, and corn.
Thinly slice the steak and place on top of the salad. Drizzle the salad with remaining vinaigrette, as desired, and serve.
Need inspiration for a meaty main? Check out my favorite meat recipes page for some tasty ideas.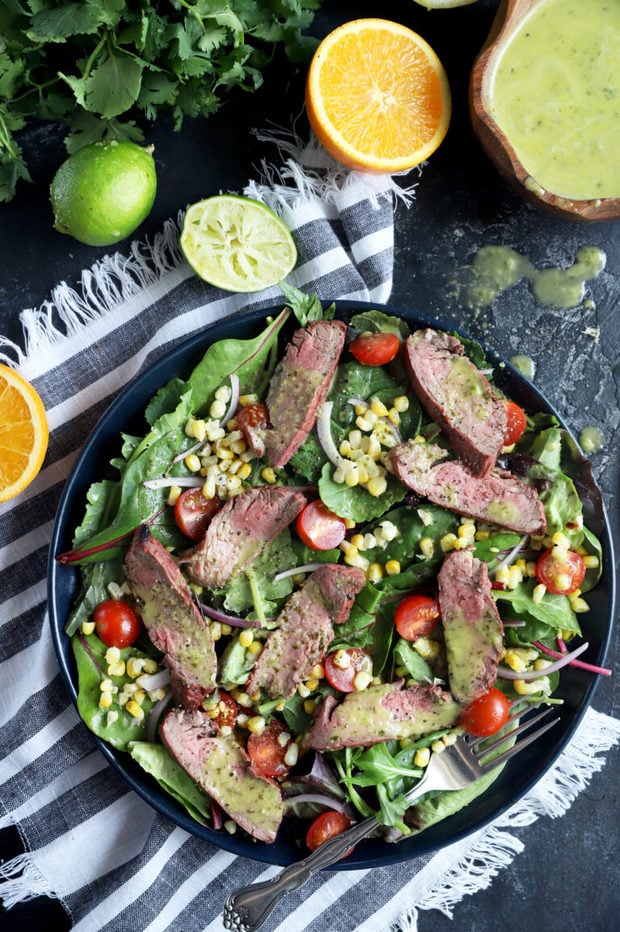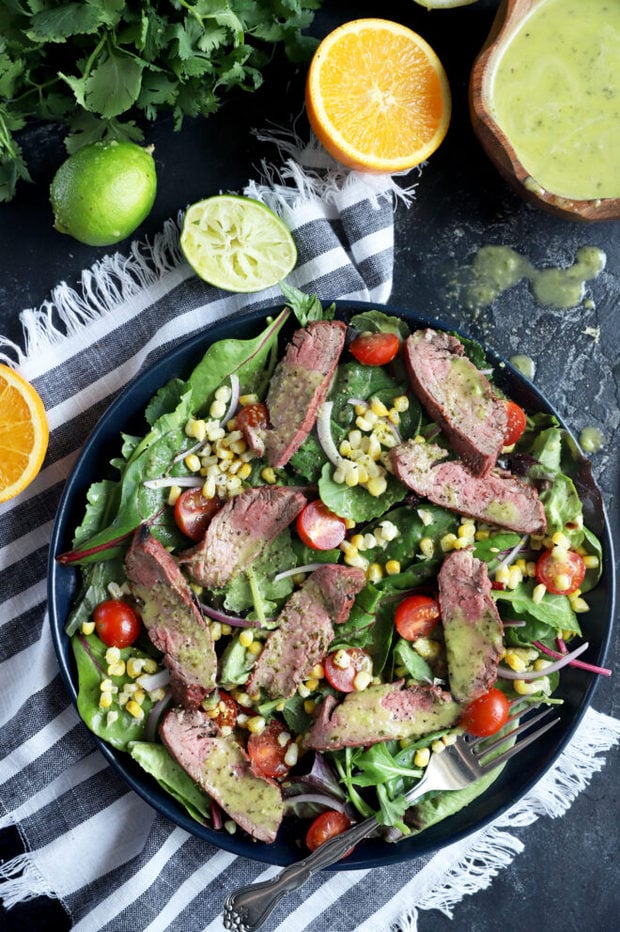 Got questions?
What cut of steak should I use?
For this salad, I love to use flank steak because it can marinate fairly quickly. However you can also use skirt steak or strip steak depending on what's available in your local Sprouts butcher shop.
Can I make this for meal prep?
You certainly can! Here's the changes to make. First, slice the steak and remove the corn kernels from the cob. Let both elements cool completely to room temperature.
Toss together the cherry tomatoes, red onion, mixed greens, and corn. Separate the salad mixture into your containers and divide steak on top of each. Store the dressing in a separate container. Enjoy throughout the week!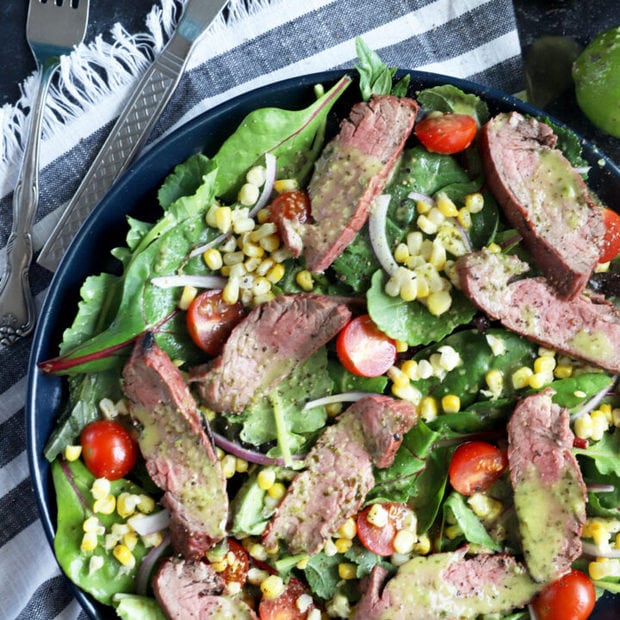 Mojo Steak Salad With Grilled Corn
Total Time:
1 hour
30 minutes
Citrusy mojo flavors are infused into the steak AND salad, making it the best summery salad!
Ingredients
Mojo Steak
2 lbs flank steak
Juice of 2 limes (about 3 Tbsp)
Juice of 1 orange (about 1/4 cup)
1/3 cup olive oil,
4 cloves garlic, minced
1 tsp ground cumin
1/2 tsp salt
1/2 tsp black pepper
1/4 cup chopped fresh cilantro leaves
Salad
1 Tbsp olive oil
1 corn on the cob, husk removed
1 cup cherry tomatoes, halved
1/2 red onion, thinly sliced
6 cups mixed spring greens
Vinaigrette
1/2 jalapeño, seeded and minced
2 cloves garlic, minced
1/4 cup chopped fresh cilantro leaves
Juice of 1 orange (about 1/4 cup)
Juice of 1 lime (about 1 Tbsp)
Juice of 1 lemon (about 2 Tbsp)
1 Tbsp apple cider vinegar
1/2 tsp ground cumin
1/2 tsp kosher salt
1/2 tsp freshly ground black pepper
2/3 cup olive oil
Instructions
In a large resealable bag, add all the steak, lime juice, orange juice, olive oil, garlic, cumin, salt, pepper, and cilantro for the mojo steak. Squish everything around until well-combined. Place in the refrigerator to marinate for at least 1 hour, up to overnight.
When ready to cook, preheat the grill. Remove steak from marinade and discard the marinade. Grill the steak until medium rare or until desired doneness. For medium rare, it took about 5 minutes per side. At the same time, drizzle the corn with 1 Tbsp olive oil and grill. This will take about 10 to 12 minutes, turning every few minutes. Remove steak and corn from heat.
While the steak and corn is grilling, add all ingredients for the vinaigrette to a blender or food processor. Process on high until combined, then turn to low speed. Slowly drizzle in oil and process until combined.
Remove corn kernels from cob. Thinly slice steak.
Toss half the vinaigrette, corn, cherry tomatoes, red onion, and spring greens. Top with sliced steak and drizzle with remaining vinaigrette, as desired. Serve.

Recommended Products
As an Amazon Associate and member of other affiliate programs, I earn from qualifying purchases.