Please note this post contains affiliate links.
This list of Christmas cocktails and nonalcoholic Christmas drinks is the perfect addition to any holiday gathering. 'Tis the season to be jolly, and that means making whatever you are sipping on a little extra special, right? I've included all of my favorites from a Christmas mimosa to champagne cocktail, mules to warm and cozy nonalcoholic sippers.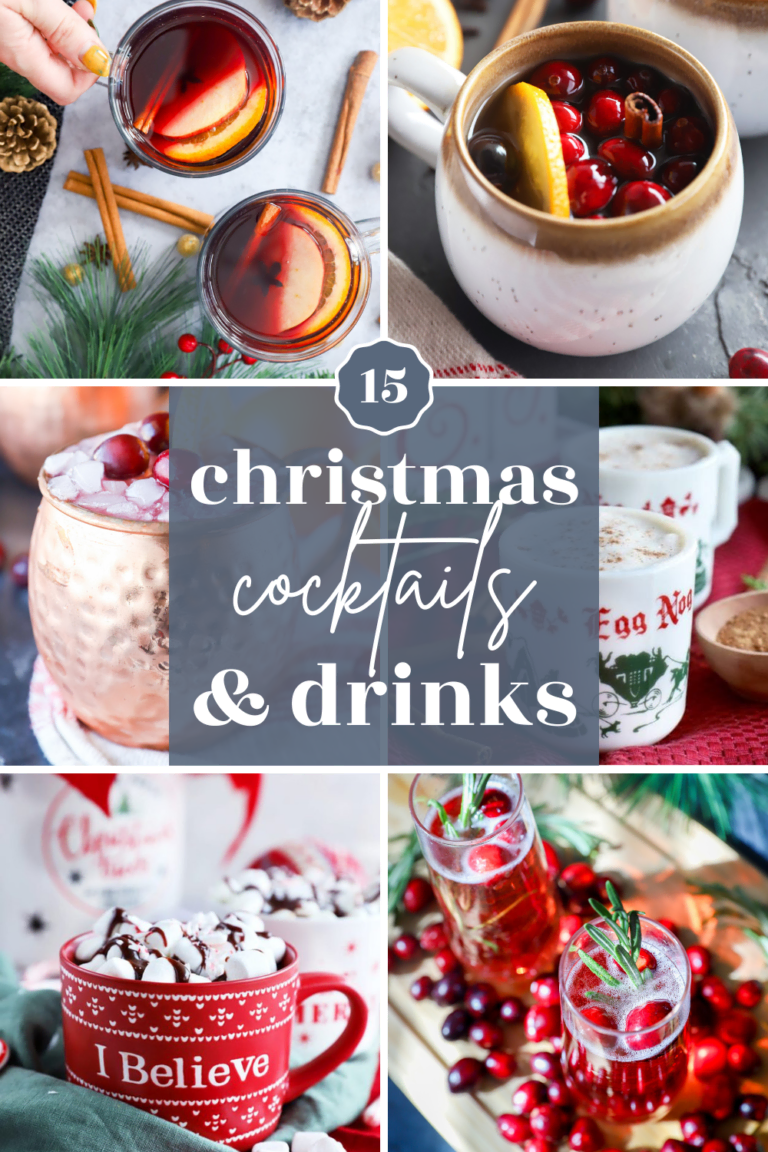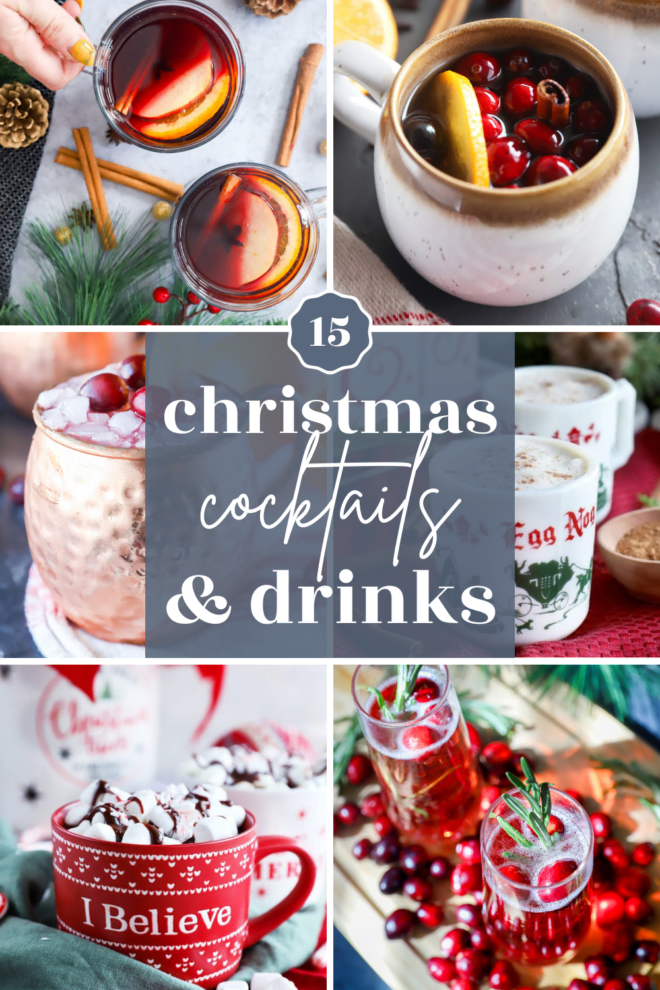 my favorite must-haves for christmas cocktails recipes
Let's get the basic barware out of the way to start. Make sure your cocktail set up includes a bar spoon, jigger, cocktail shaker, cocktail strainer, mixing glass, and muddler. You'll be able to make any of the above with these basic tools!
When it comes to warm cocktails and drinks, be sure you have a large stockpot, dutch oven, or slow cooker to make them in.
For serving, I use my favorite pitcher, or if you want a punch bowl situation, I think a copper punch bowl always looks eye-catching.
My favorite glassware include coupe glasses, double old fashioned glasses, floral moscow mule mugs, and Gatsby cocktail glasses!
garnish and festive bar cart additions
There are so many things you can add to these Christmas cocktails, or any of your favorite cocktails to make the season more festive! Here's some ideas to try out:
cinnamon whipped cream – a great addition to hot chocolate bars or your mug of coffee!
cinnamon simple syrup – replace simple syrup in your favorite cocktails with this cinnamon-flavored option to make it more festive! I love using it in an old fashioned, manhattan, or even a vodka cranberry.
cranberry simple syrup – just like the above, but cranberry! My friend Susannah at Feast + West has a recipe I love.
sugar cookie syrup – how festive is this?!
Garnish ideas always include fresh ingredients the pair with the flavors you are using! See below:
Fresh cranberries
Herbs – rosemary, mint, thyme, etc
Cinnamon sticks and other whole spices
Citrus – orange, lime, lemon (wedges, wheels or the peels!)
Shaved chocolate
Whipped cream
Dash of ground cinnamon or nutmeg (particularly for eggnog!)
christmas cocktails and drinks pairings
I have so many holiday themed recipes to check out on my holiday recipes page! For me, no holiday gathering is complete without sweets, though. Here are some reader favorites to check out:
christmas shortbread cookies are the quintessential holiday cookie in our home. We like to dip them in chocolate and top with festive sprinkles or crushed candy canes.
If you want an incredibly simple dessert/snack, this gingerbread christmas crack candy is the classic crack candy taken to a new level with the addition of warming spices. It tastes like gingerbread!
Everyone loves a chewy snickerdoodle cookies, but these chai snickerdoodles have a touch of spice that brings the holiday season into them.
just one more thing…
If you're looking for more holiday recipes for your next gathering or a cozy night in watching Christmas movies, head to my holiday recipes page for more inspiration!
Finally, if you make any of these Christmas cocktails recipes, please be sure to give this recipe a rating or leave a comment! I love to hear when you all make recipes, and I do take the time to respond to every single comment. Feel free to drop questions below too, if you have them!
Oh and be sure to tag me on Instagram if you make the recipe! I love being able to see these recipes come to life in your homes – it's my favorite thing to look through those photos. It really means the world to me!