Cranberry Boulevardier
A Cranberry Boulevardier is a festive holiday twist on the classic cocktail. With an easy-to-make homemade cranberry shrub, this boulevardier is tangy, bright and flavorful. It's the ideal cocktail to serve up before any holiday meal you have planned this season!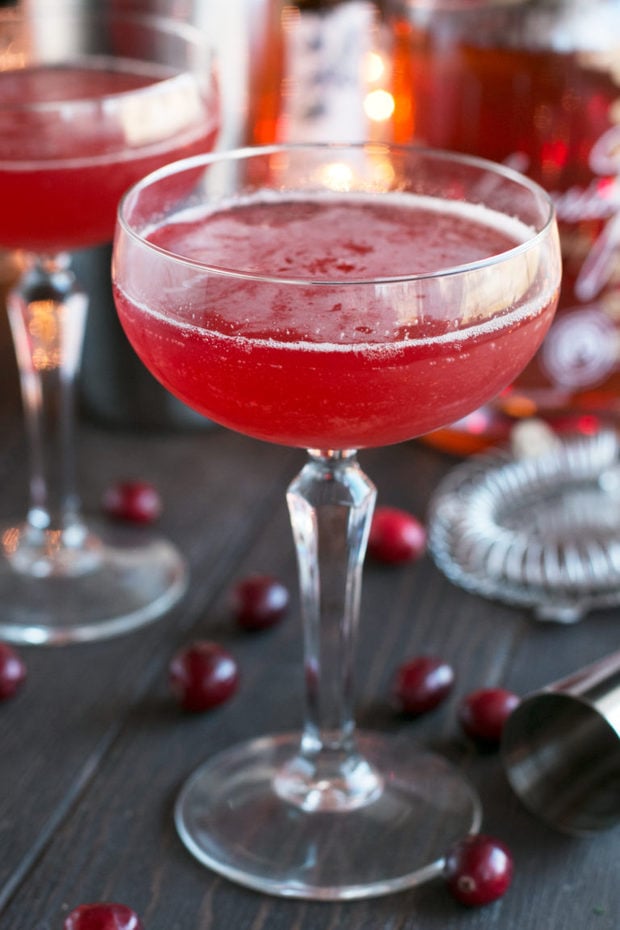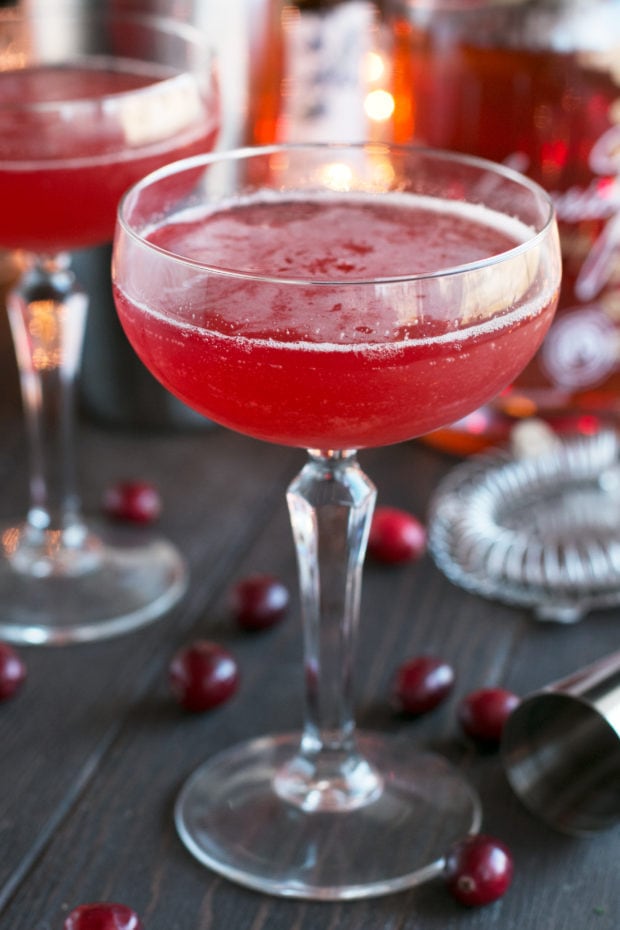 Disclosure: This post was sponsored by Breckenridge Distillery! As always, all opinions and recipe are my own. Thanks for supporting the brands that support Cake 'n Knife!
Christmas is commmmming…..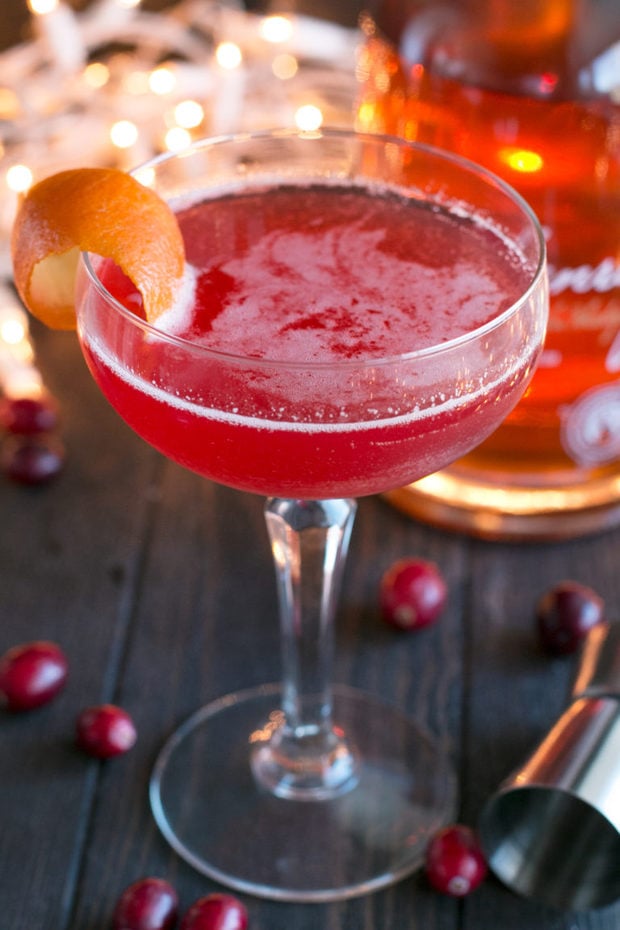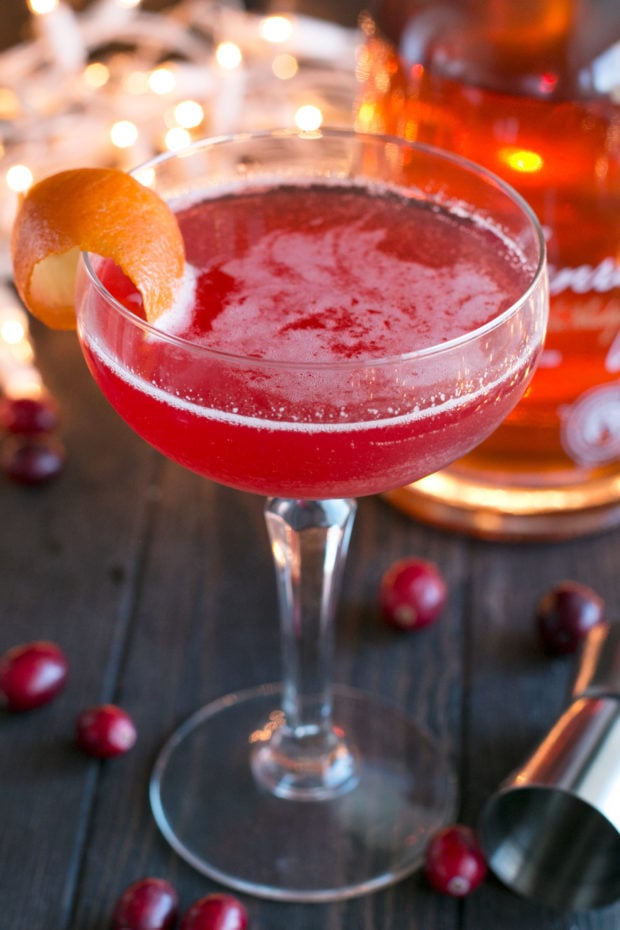 Are you just so over-the-moon, leaping-out-of-your-socks, jumping-with-joy excited?!
I feel like a giddy little child right now. The anticipation of celebrating with family and friends, the magic in the air every time I step outside, and everyone suddenly being in a happy mood sure does bring me right back to the childhood joy I had when I was young.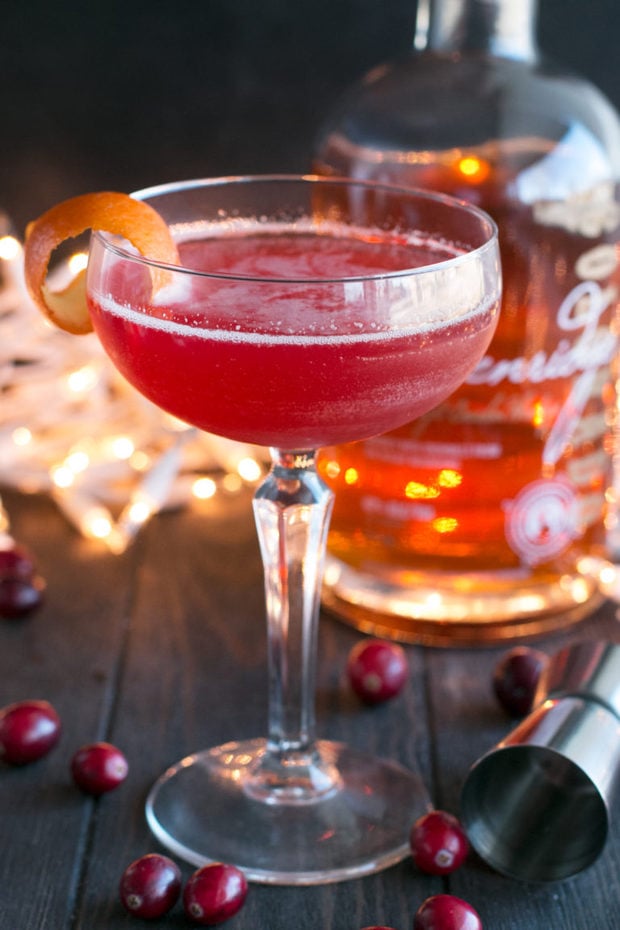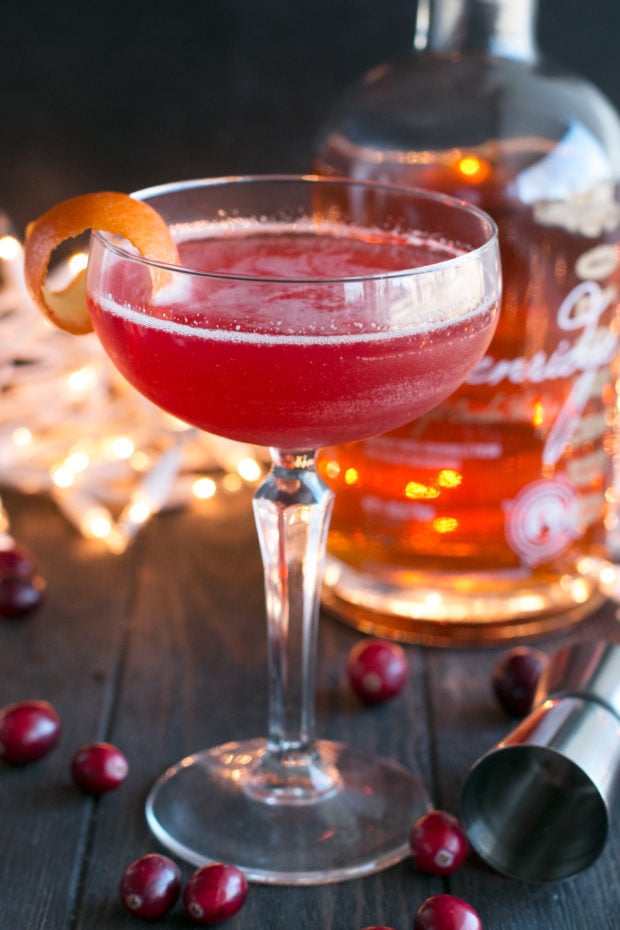 Please note that some of the links below are affiliate links. If you make a purchase through one of these links, I will receive a small commission. Thank you for supporting Cake 'n Knife!
Of course, now that I am an adult, I get to enjoy the benefits of adult drinks to ring in the merriest season of all.
WOOT.
I have recently become a big fan of the classic boulevardier cocktail. It's sultry with a little nip of whiskey bite at the end of each sip. What's not to love about that?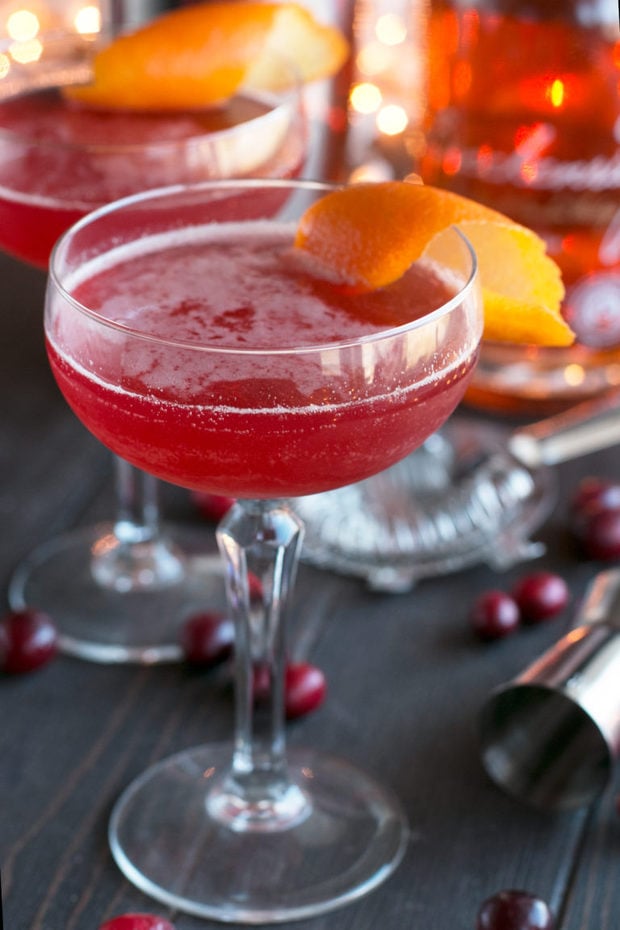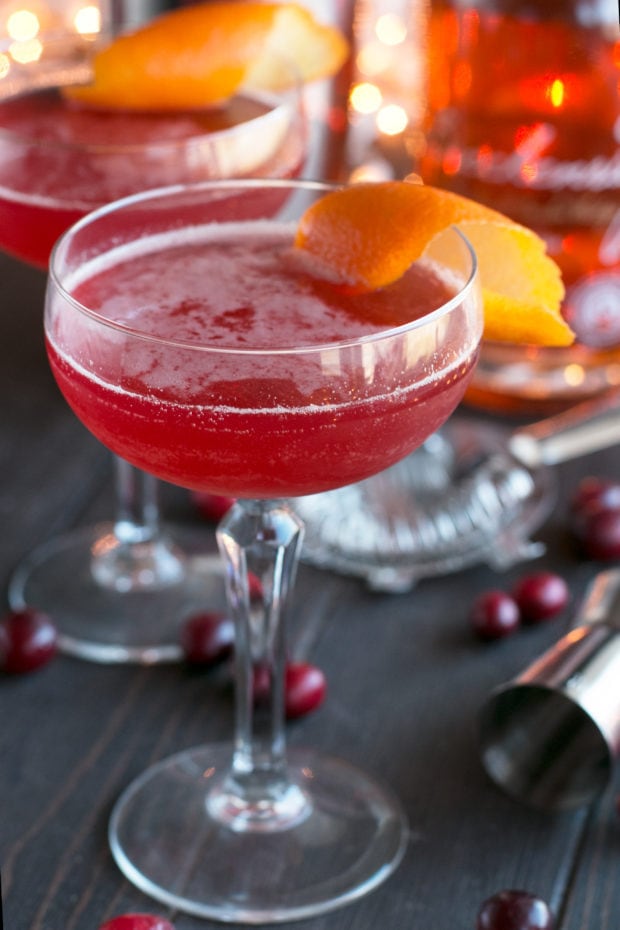 Usually it's served up with a rye whiskey, but I've been playing with my favorite Breckenridge Distillery bourbon and it's exactly what this classic cocktail needs. The bourbon is smooth with just a little bit of a bite, making it just the right accompaniment for the boulevardier.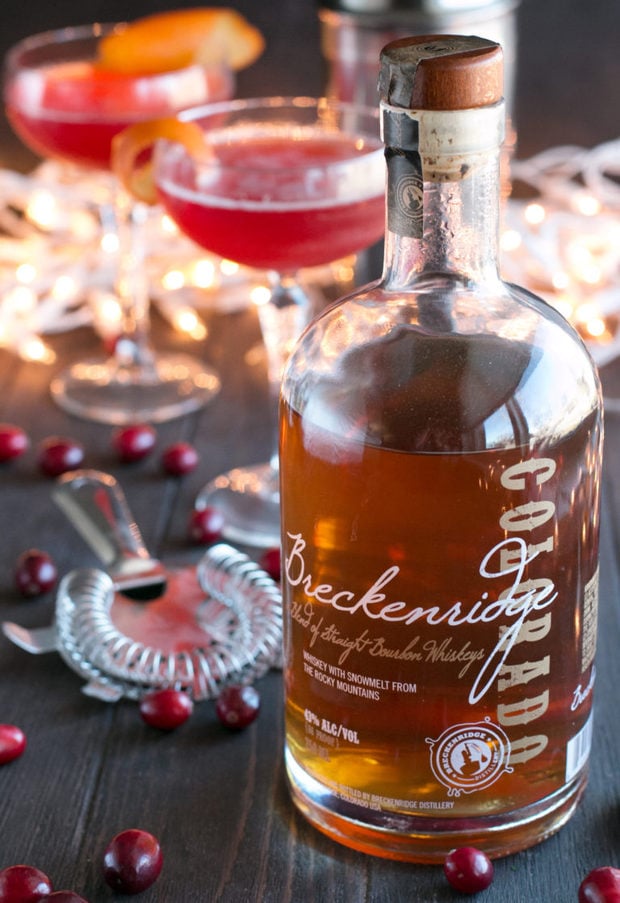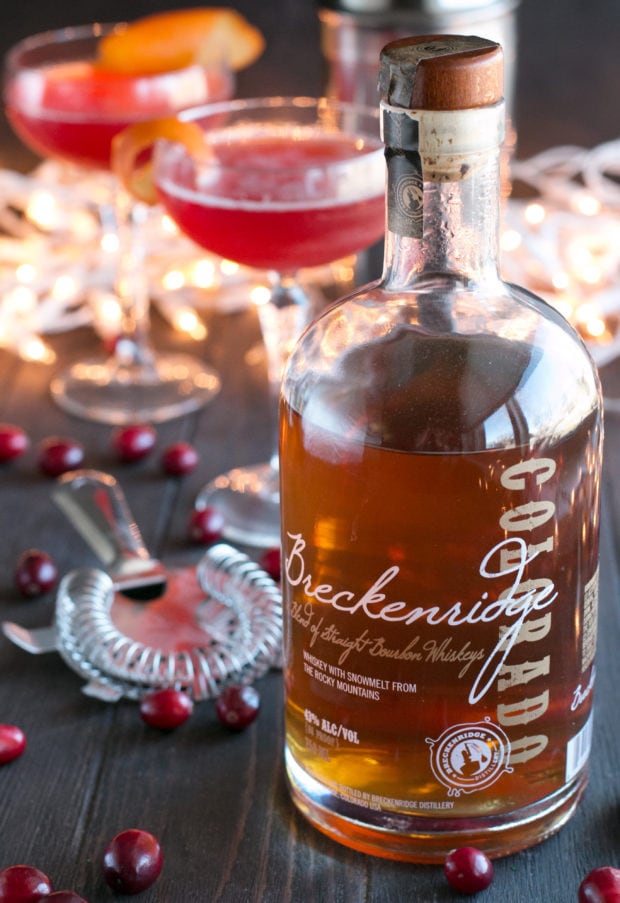 Breckenridge Distillery bourbon is simply my favorite (and I swear, it's not only because it's local!). The flavor they impart into their bourbon (and other spirits, now that I mention it) is unreal. It's so much more rich and bold than other bourbons that I've tried, making it just the right fit for this bold holiday version of this cocktail.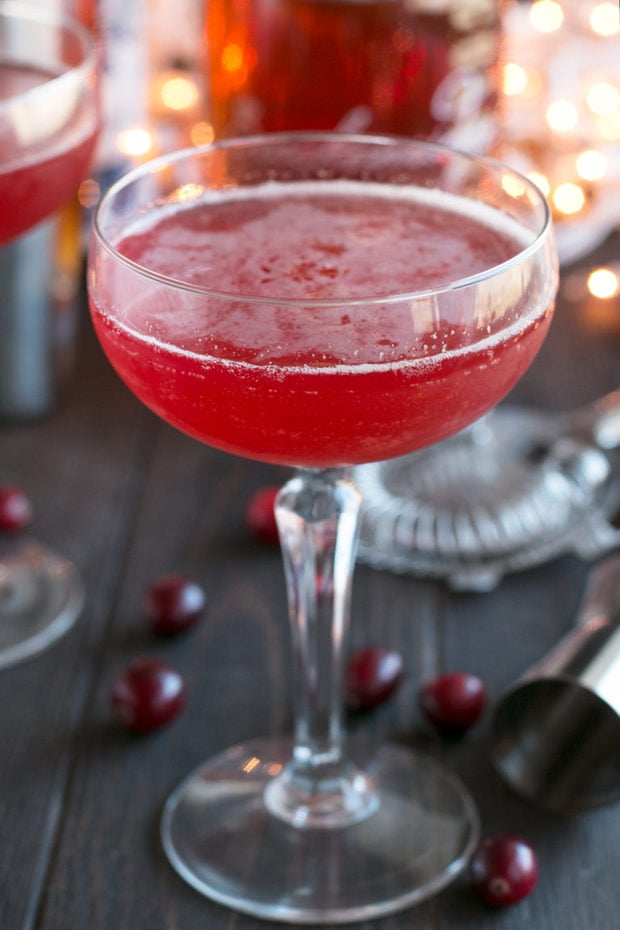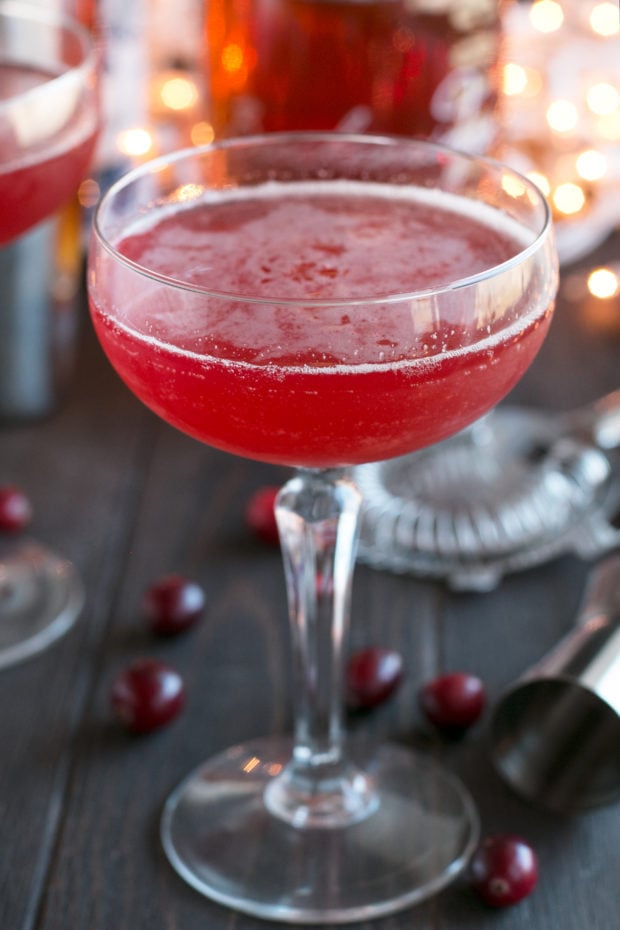 With the addition of a homemade cranberry shrub, the boulevardier becomes all festive and bright, just in time for Christmas! The tang of the shrub is a wonderful addition to balance out the smoothness of the cocktail and the richness of the bourbon.
I love serving these up right before a big meal to wet the appetite! It pairs especially well with a variety of meats and cheeses, cleansing your palate between each pairing you try 🙂


THIS GIVEAWAY IS NOW CLOSED.
Only two more days left of the 12 Days of Jolly Giveaways my friends!! You all have been so into all the giveaways and sharing your holiday memories, so I've decided this is going to be an ANNUAL thing! That's right, next year after Thanksgiving you can keep your eyes out for another run of giveaways leading up to Christmas 🙂 I just hope it's one small way I can say a giant THANK YOU for all the love and support you all give me throughout the year!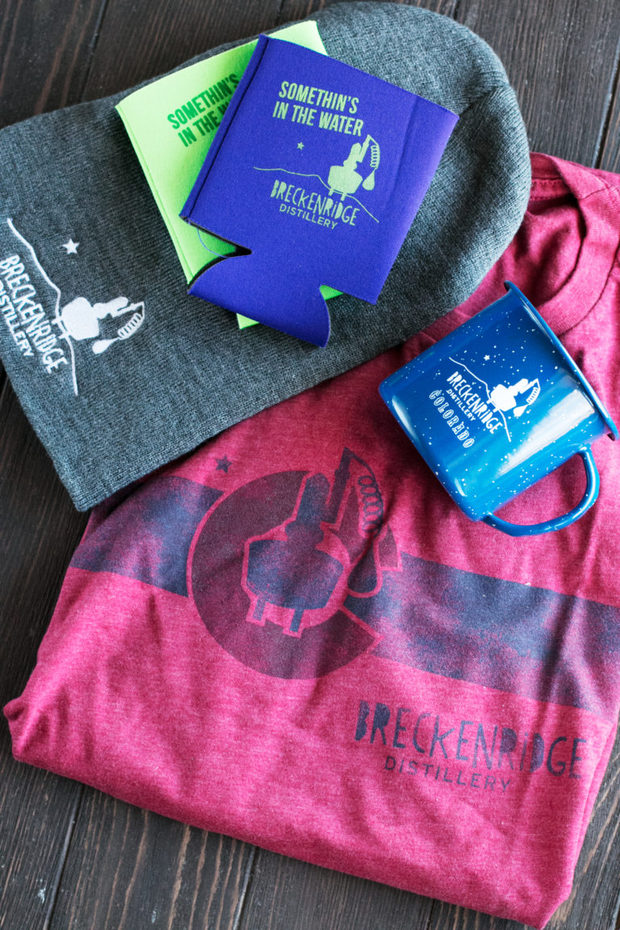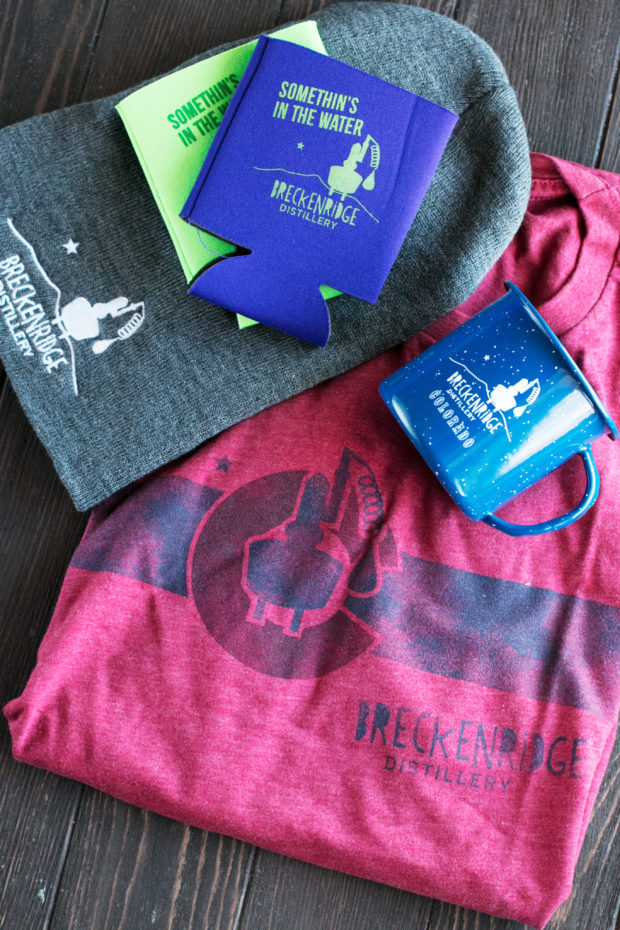 To go along with this AWESOME cocktail, and to support a local distillery that I am a huge fan of, I'm giving away a Breckenridge Distillery Swag Pack complete with t-shirt, beanie, koozies, and campfire mug! Their campfire mug is honestly one of my favorite glasses and I use it all. winter. long. So head on down below the recipe to enter the giveaway and get your hands on some awesome SWAG!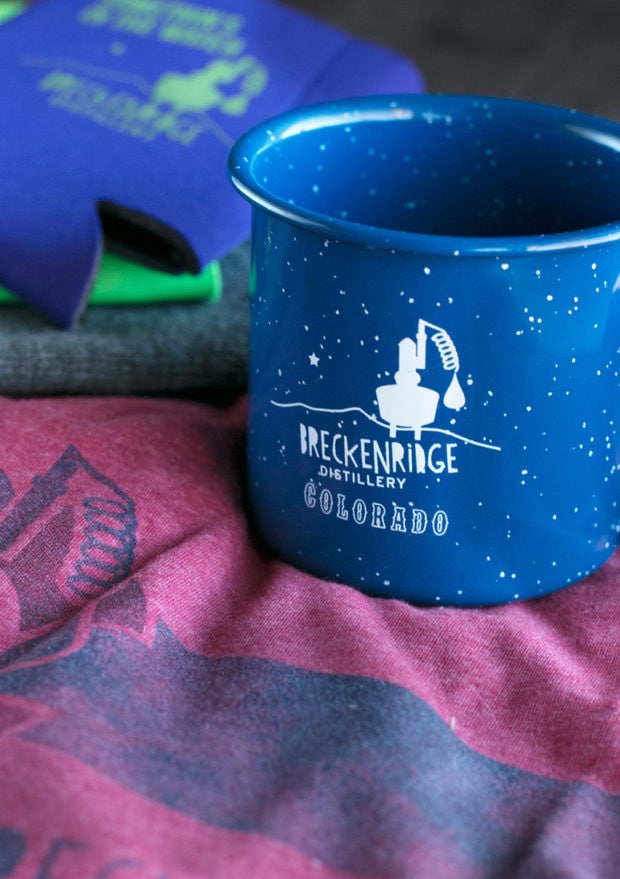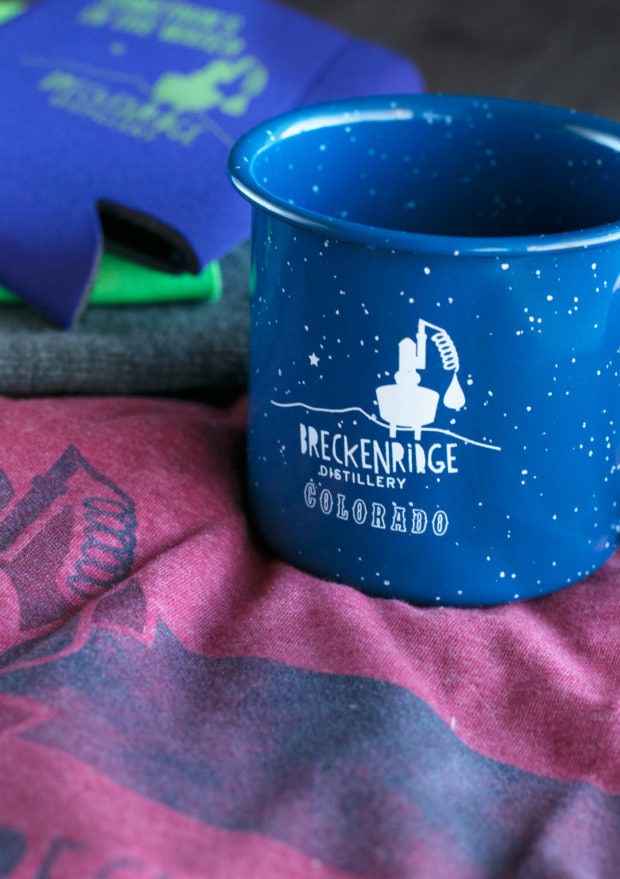 Don't forget to check out the other holiday recipes I've shared for the 12 Days of Jolly Giveaways (Day 10's cookware giveaway is still open!)!
Day One – Red Wine Slow Cooker Short Rib Ragu
Day Two – Gingerbread Challah Bread
Day Three – Mini Beef Wellingtons
Day Four – Bourbon Gingerbread Punch
Day Five – Twice-Baked Chicken Shawarma Stuffed Potatoes
Day Six – Head Country BBQ Prize Pack
Day Seven – White Chocolate Dipped Dark Chocolate Peppermint Cookies
Day Eight – Red Christmas Single Serve Sangria
Day Nine – How to Make Craft Beer Cocktails, Part One
Day Ten – Salmon Chowder
Day Eleven – Cranberry Boulevardier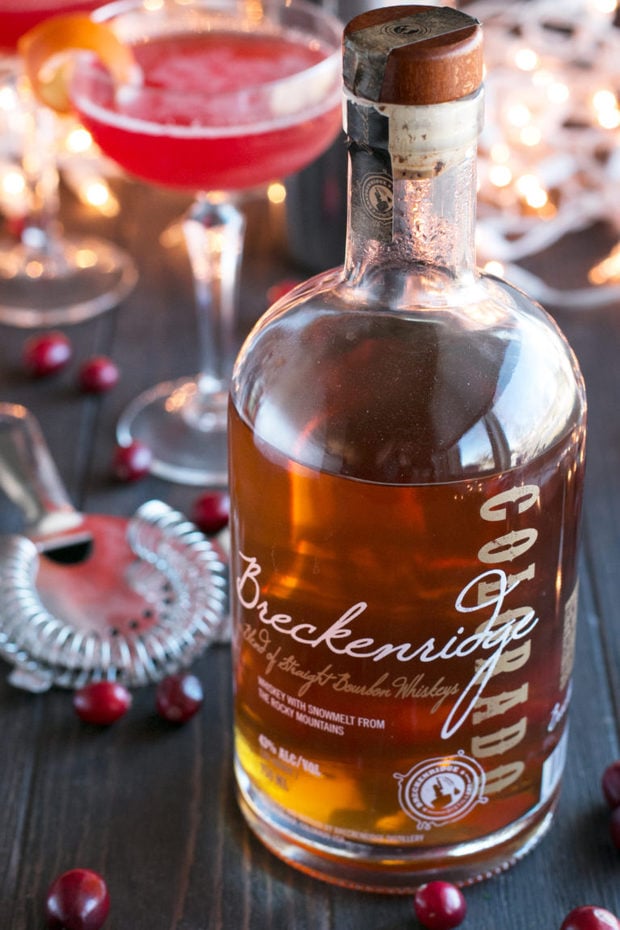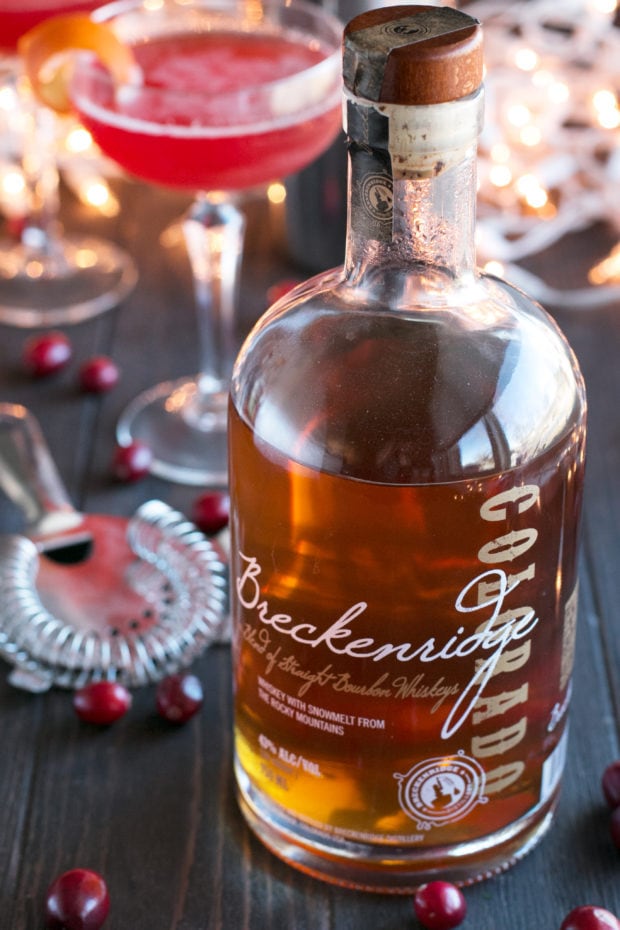 This Recipe's Must Haves
Pin this Cranberry Boulevardier recipe for later!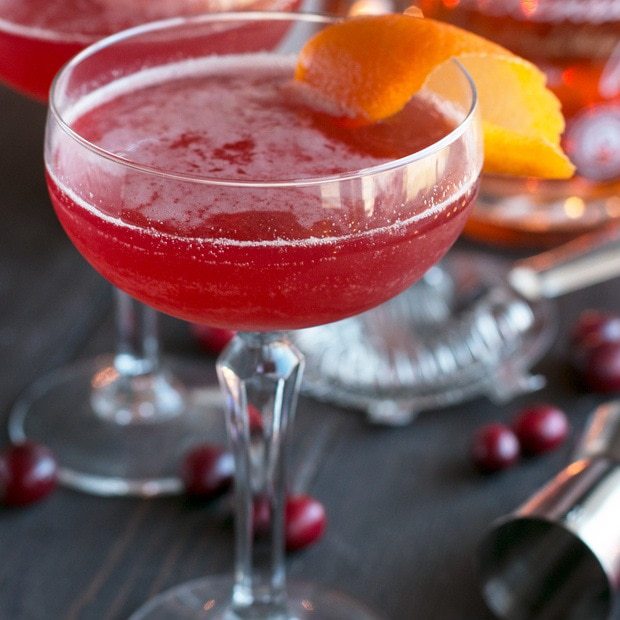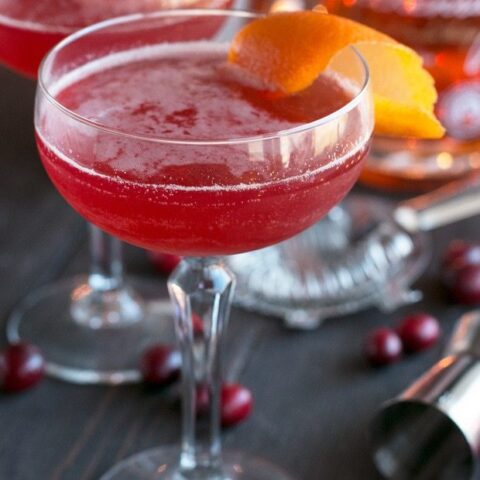 Cranberry Boulevardier
Yield: Makes 1 cocktail + 2 cups homemade shrub
Prep Time: 5 minutes
Cook Time: 10 minutes
Total Time: 15 minutes
A holiday take on the classic Boulevardier, made with bourbon and a homemade easy peasy cranberry shrub!
Ingredients
Cranberry Shrub
1 cup water
2 1/4 cups fresh or frozen cranberries
3/4 cup sugar
8 cloves
1/4 tsp ground cardamom
1 cup apple cider vinegar
Cranberry Boulevardier
2 oz. Breckenridge Distillery Bourbon Whiskey
3/4 oz homemade cranberry shrub
1/2 oz. Campari
1/2 oz. sweet vermouth
1 orange or lemon peel
Instructions
To make the cranberry shrub, bring water, cranberries, sugar, cloves and cardamom to a boil over medium-high heat. Reduce heat and simmer gently until the cranberries are soft, approximately 8 minutes.
Remove from heat and strain through a fine mesh strainer into a mason jar. Using the back of a spoon to press down the cranberries and extract as much just as possible, without pushing any of the solids through.
Stir in the vinegar and cover. Refrigerate until ready to use. This mixture can be kept for several months in the refrigerator.
To make the cocktail, add whiskey, cranberry shrub, Campari, and sweet vermouth into a mixing glass or empty cocktail shaker. Stir for 30 seconds.
Strain into a chilled coupe glass. Garnish with orange or lemon twist.