Please note this post contains affiliate links.
A Cranberry Spice Manhattan Cocktail is a holiday favorite that you'll want to turn into a tradition. The cranberry spice infused whiskey makes the cocktail stand out for happy hour throughout the season!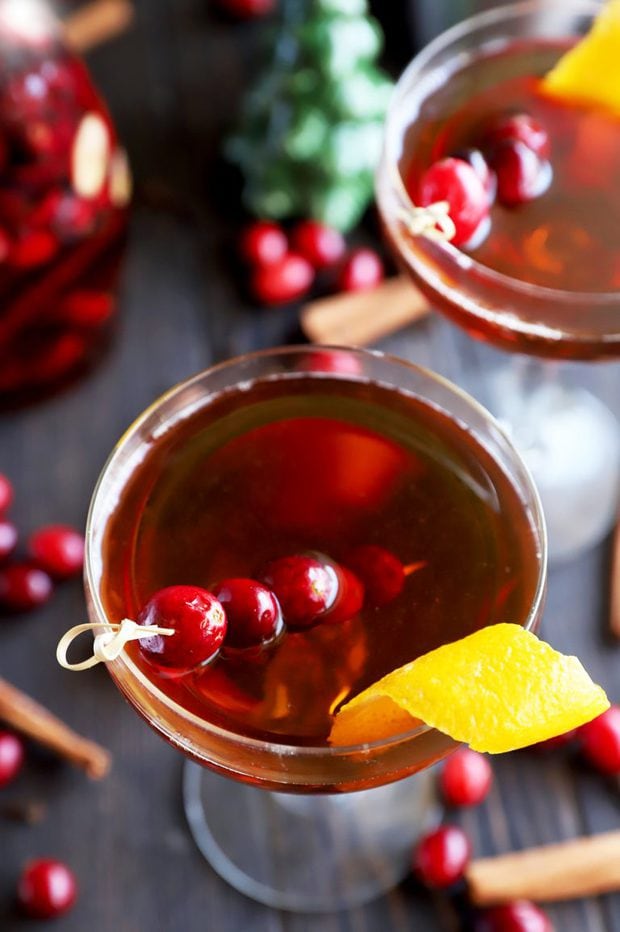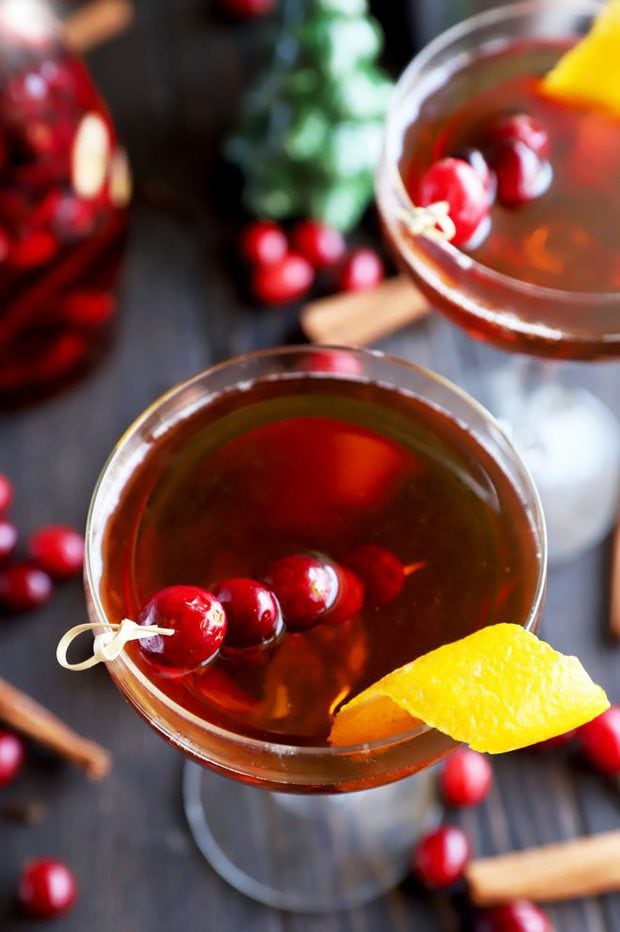 Disclosure: This post was sponsored by Stirrings. As always, all opinions are my own. Thank you for supporting the brands that support Cake 'n Knife!
There's nothing like a strong Manhattan to mark the end of an extra long day…
I am not going to lie, this week has been a bit of a struggle and I really couldn't be happier that it is Friday. It's been a long time since I've been SO impatient for a weekend to roll around. Usually I feel like the weeks fly by this time of year, but this week has been a long, slow one.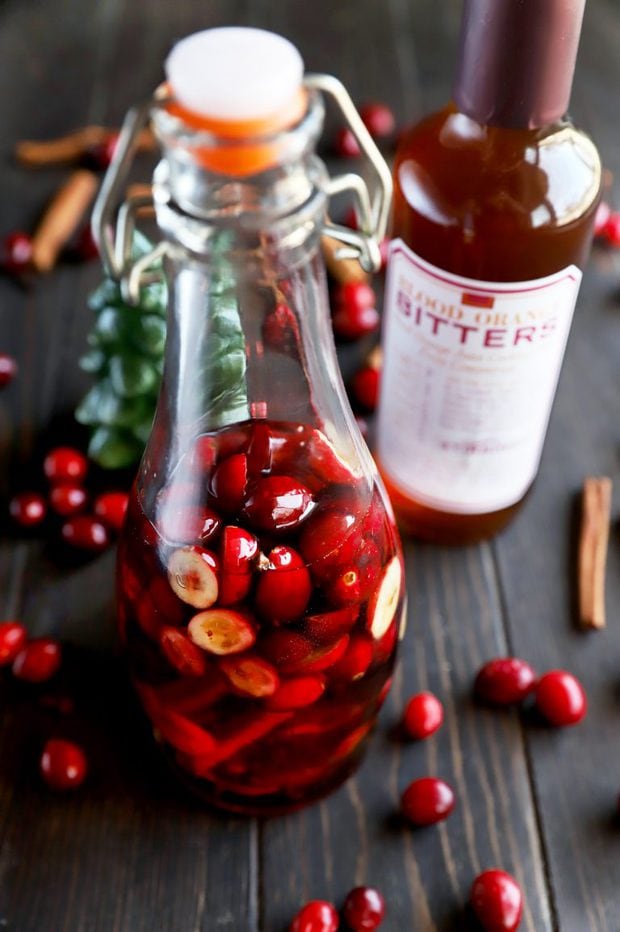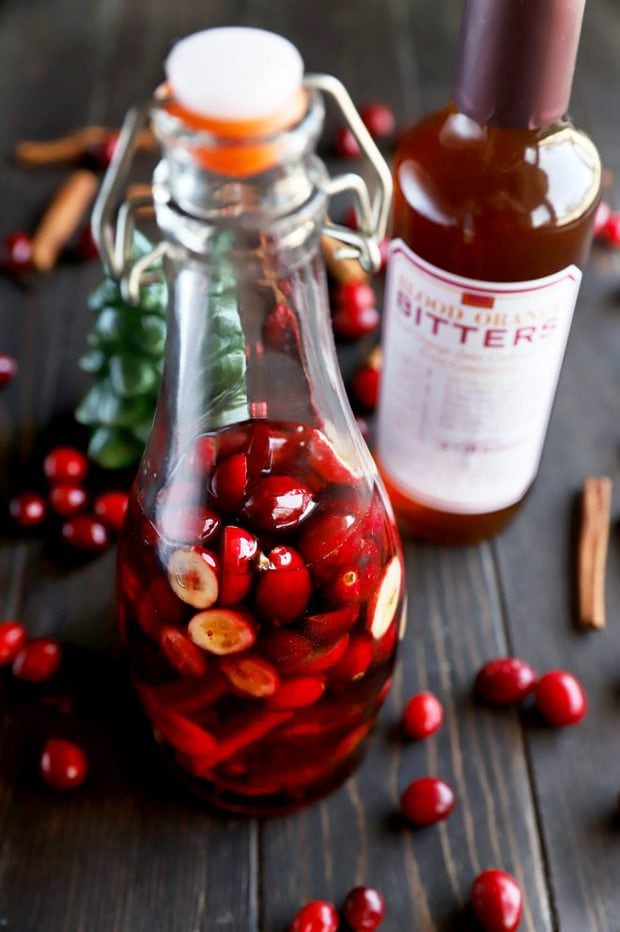 It feels like my feet are trudging through a foot of muck and mud. I just can't seem to get my feet under me!
Therefore, I strive to make myself a smart cocktail at the end of the day.
It's a little ritual for me, because it helps me end the day on a high note and start the evening off of the right foot.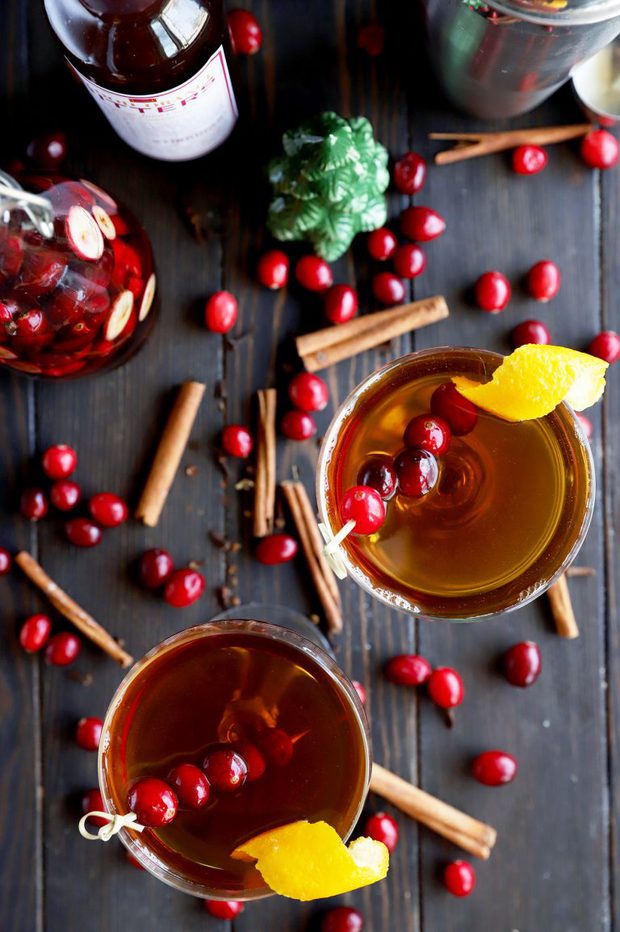 To make the cocktails that I make perfect, I rely on Stirrings. If you haven't heard of Stirrings before, they are an incredible company that makes mixers, rimming mixes, and bar ingredients. All of their products are flavorful and result in cocktails that are quite tasty.
The full set of bar ingredients from Stirrings is one that I constantly have stocked in our home bar. They have simple syrup, dirty martini mix, blood orange bitters, and grenadine – all ingredients that I use all the time in cocktails! I am a particular fan of their flavorful blood orange bitters, because it gives just the right amount of citrus infusion to the bitters. It's actually one of the ingredients in this Manhattan cocktail that helps it stand out so much!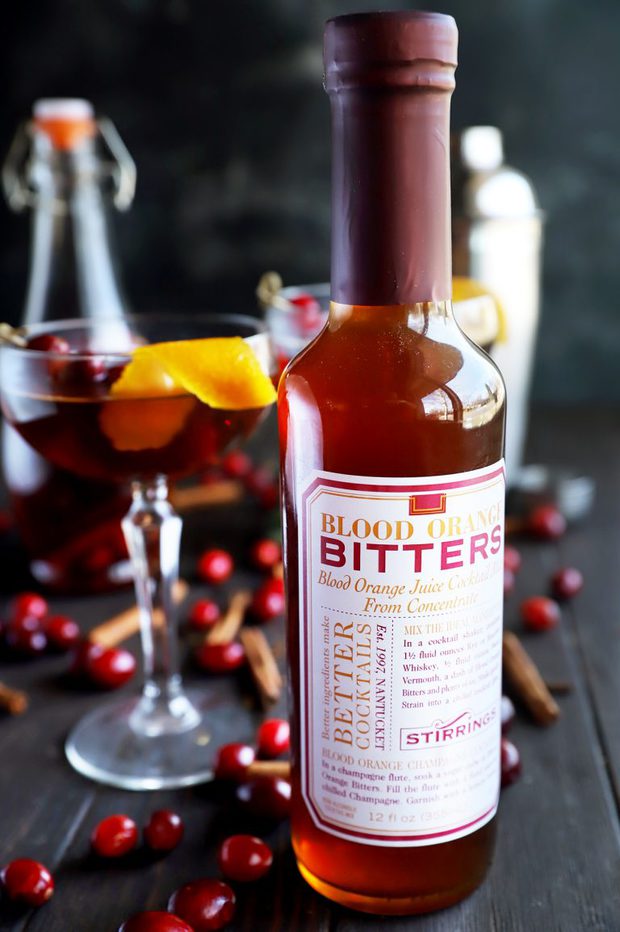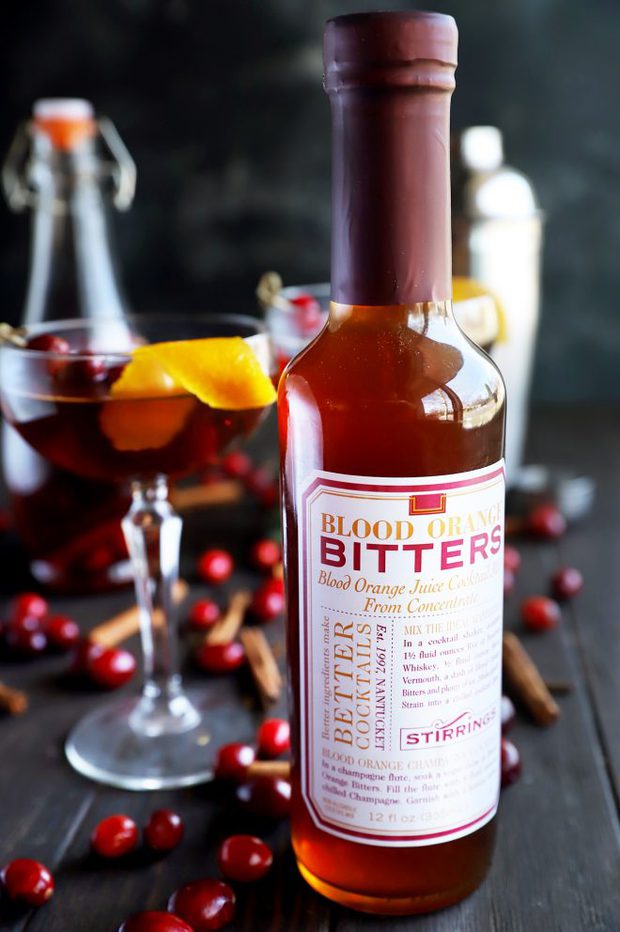 This Recipe's Must-Haves
To make the infused whiskey, the only thing you'll need is an airtight container, such as a mason jar, to keep the whiskey in while it sits.
For the cocktail, you'll need a Boston cocktail shaker and a cocktail strainer.
Once the cocktail is made, you simply need one of these coupe glasses that you see featured here, or one of these double old fashioned glasses, to serve it in.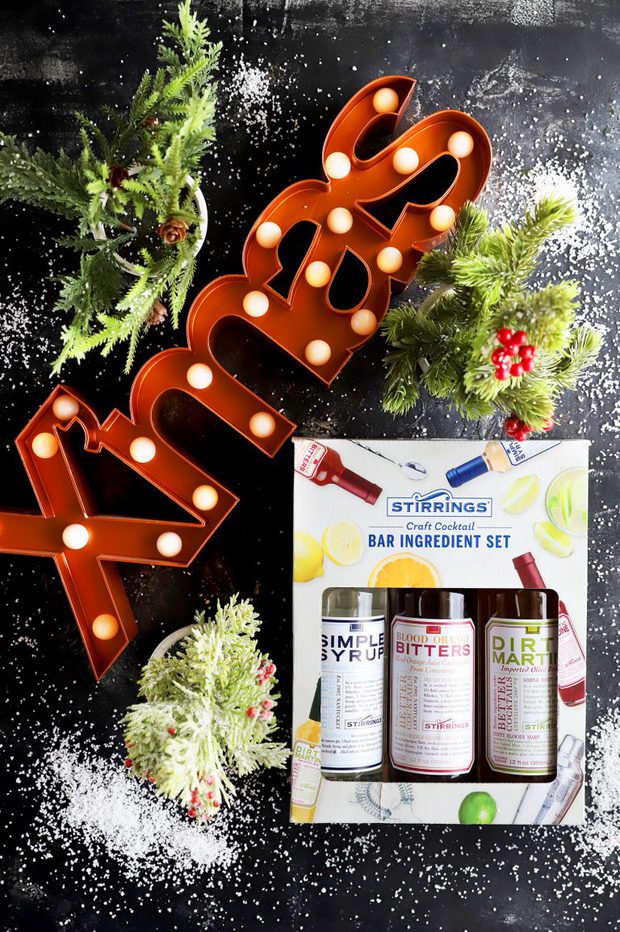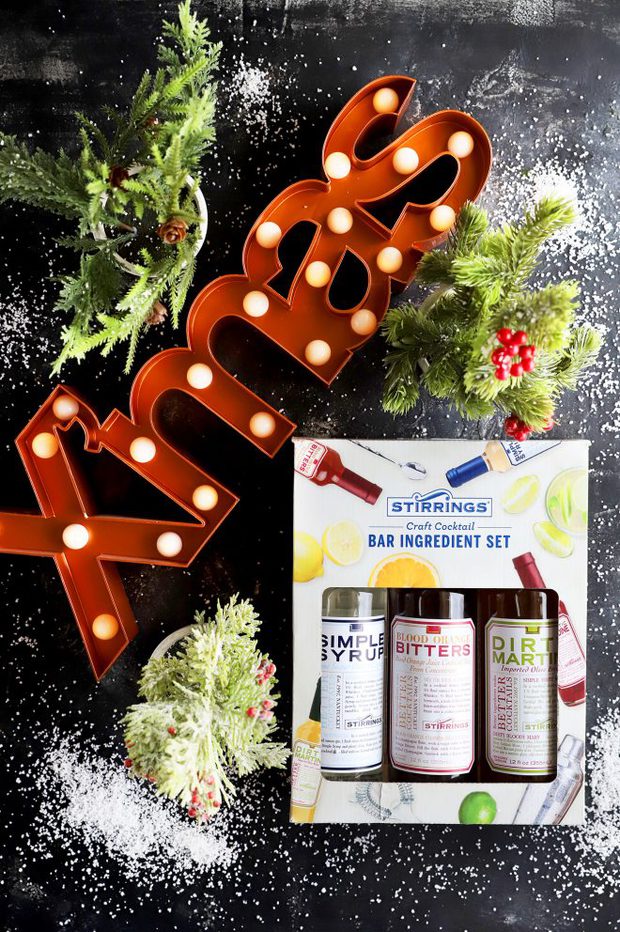 How To Make A Manhattan Cocktail
Make Infused Whiskey
The infused whiskey is a fantastic element of this cocktail. It's super simple to make, and with the size of the recipe, you can use it to make multiple Manhattan cocktails (or simply sip it straight!). The whiskey is infused with fresh cranberries, cinnamon sticks, and cloves. You get the tart sweetness of the cranberries, and the warming spices add another layer of depth to the spirit.
You can infuse it in as little as 24 hours, then strain and keep the whiskey in an airtight container to enjoy throughout the season.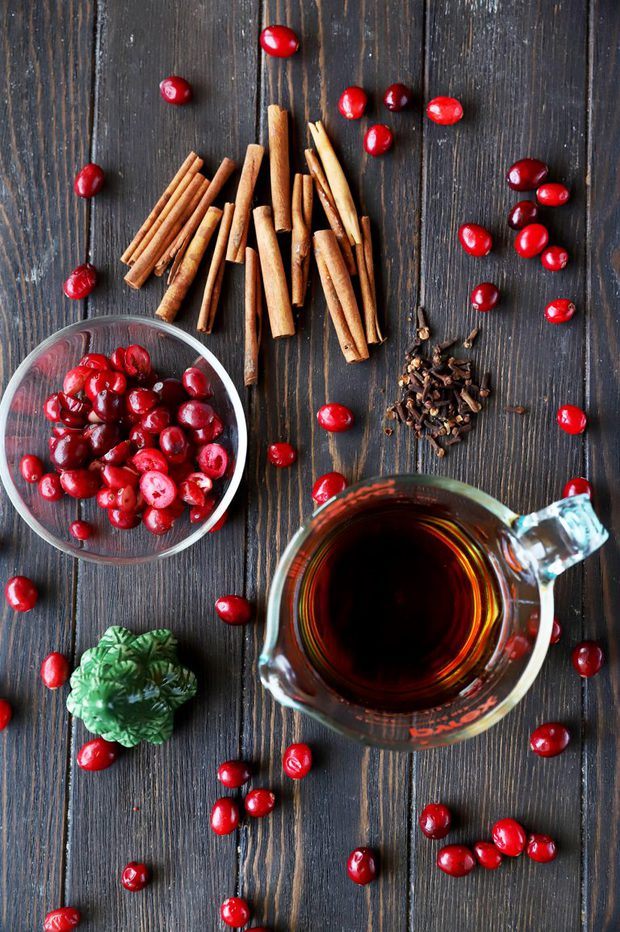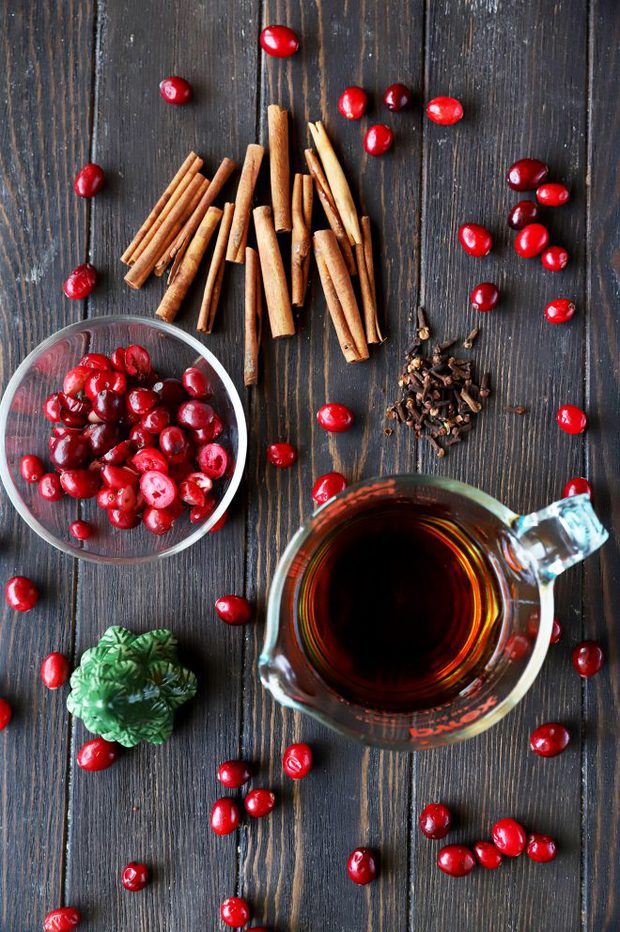 Make Cocktail
Making a Manhattan cocktail is super simple. You add all of the ingredients for the cocktail to a shaker with ice, then shake shake shake. Strain it into a cocktail glass with a large ice cube, then garnish as you like.
Personally I love the look of a few cranberries skewered on a toothpick and an orange peel twist.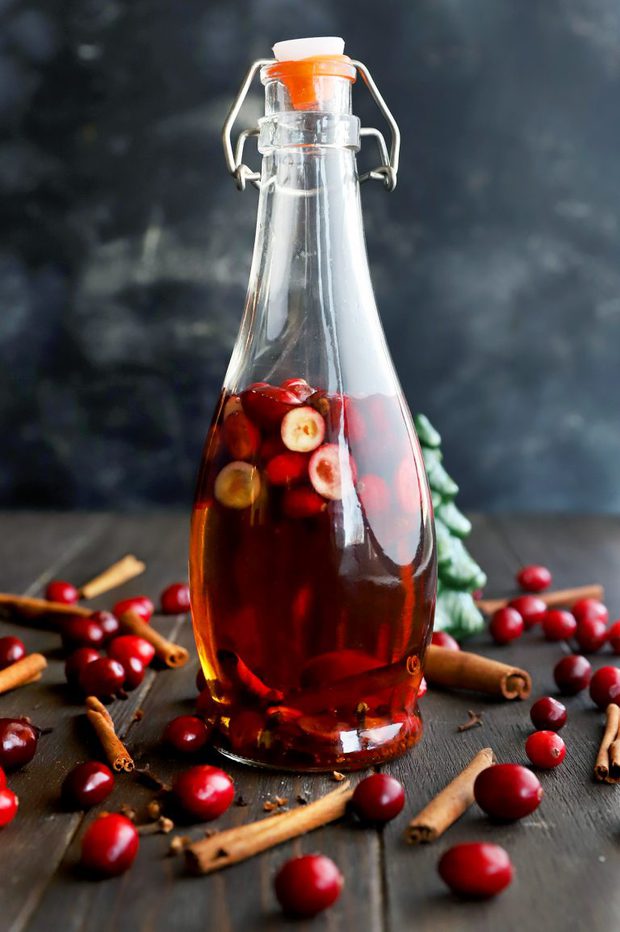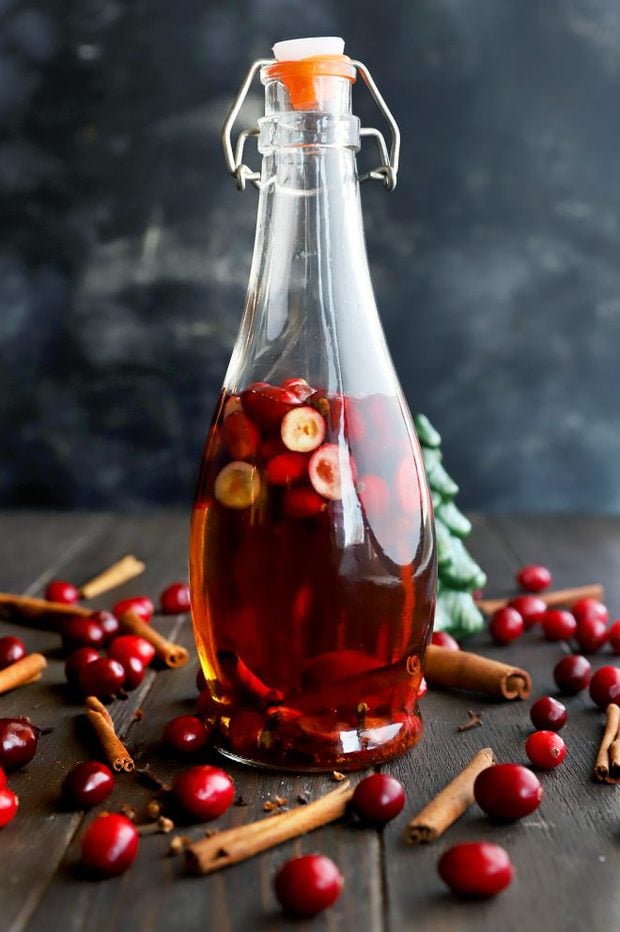 What goes into a Manhattan cocktail?
Manhattan cocktails are made up of three ingredients – rye whiskey, vermouth, and bitters. It's such a simple combination, and it's definitely a strong combination so if you don't like strong cocktails, this one might not be for you.
The thing that makes this Manhattan cocktail so special is the infused whiskey and the Stirrings blood orange bitters. The cranberry, warming spices, and orange flavors flowing through the cocktail scream holiday cheer, without you having to buy super expensive ingredients to make it.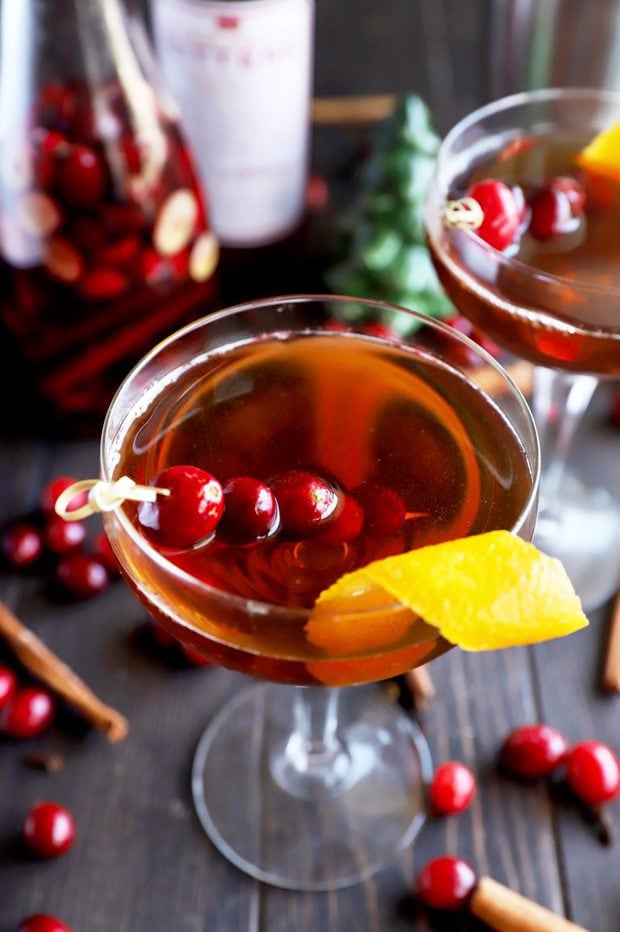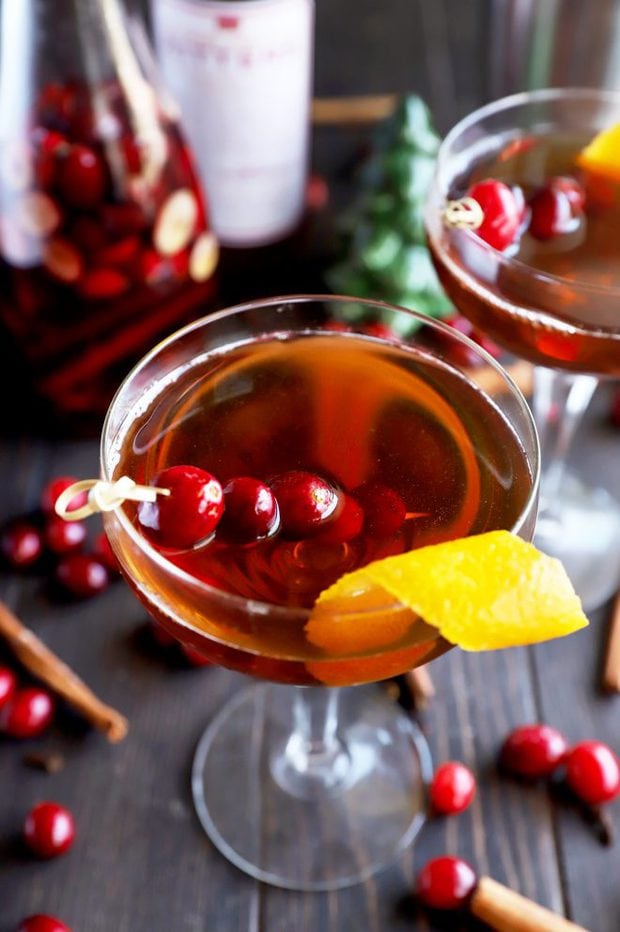 Can I use bourbon instead of rye whiskey?
I know that there are some who prefer bourbon to rye whiskey, and if we are talking about sipping the spirits straight, I am in the bourbon camp more often than not. The good thing about this cocktail is you can buck tradition and use bourbon instead. The sweet smoothness of bourbon lends itself well to the other ingredients!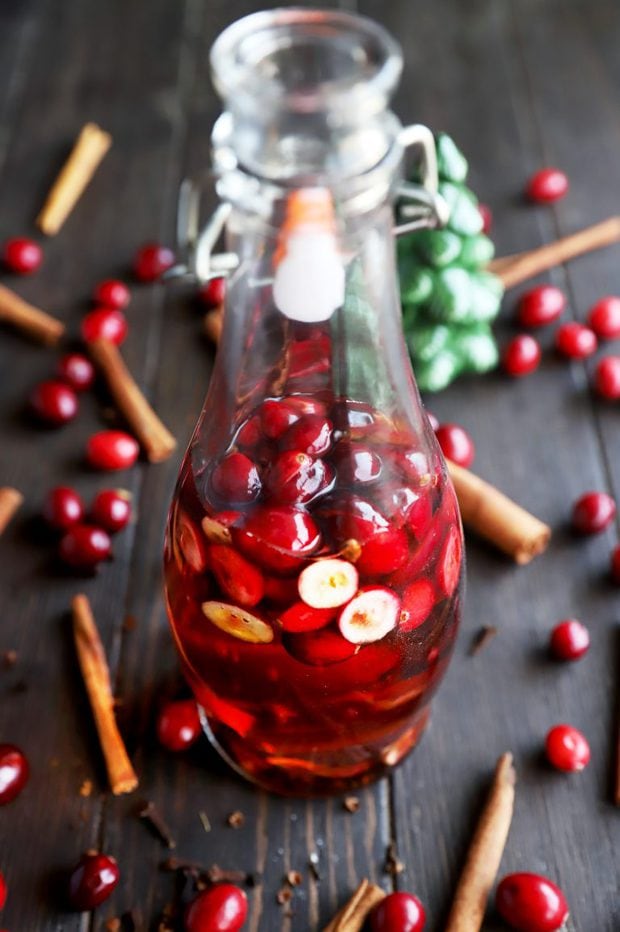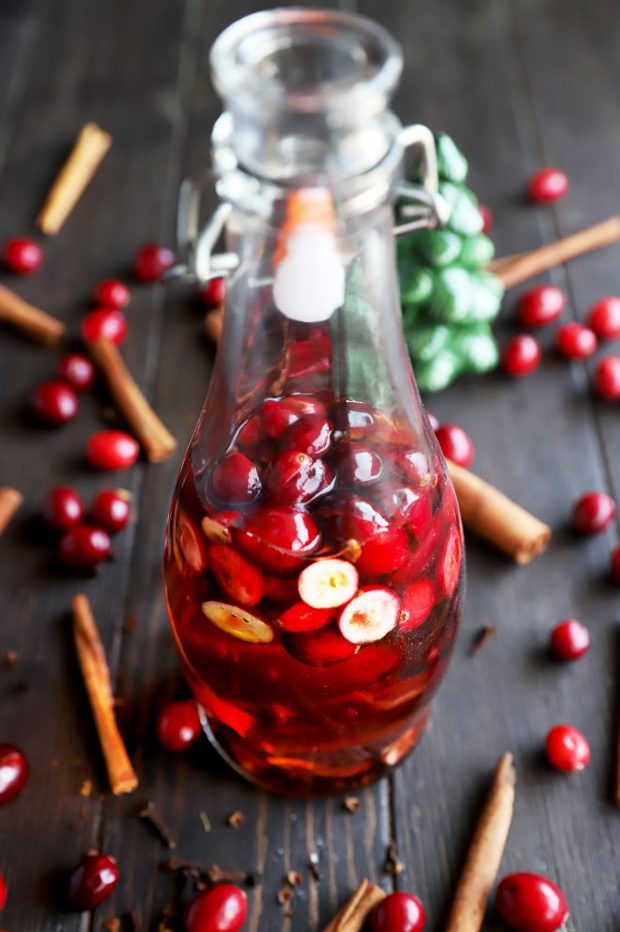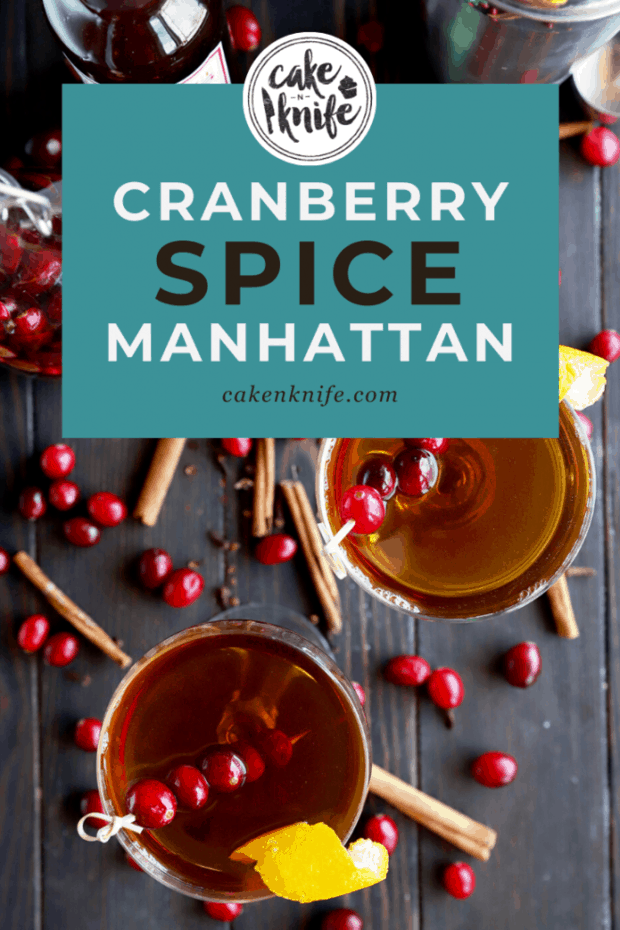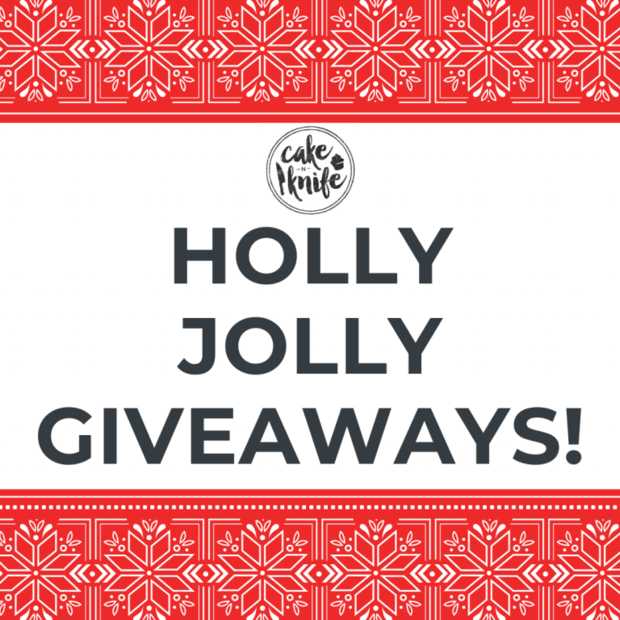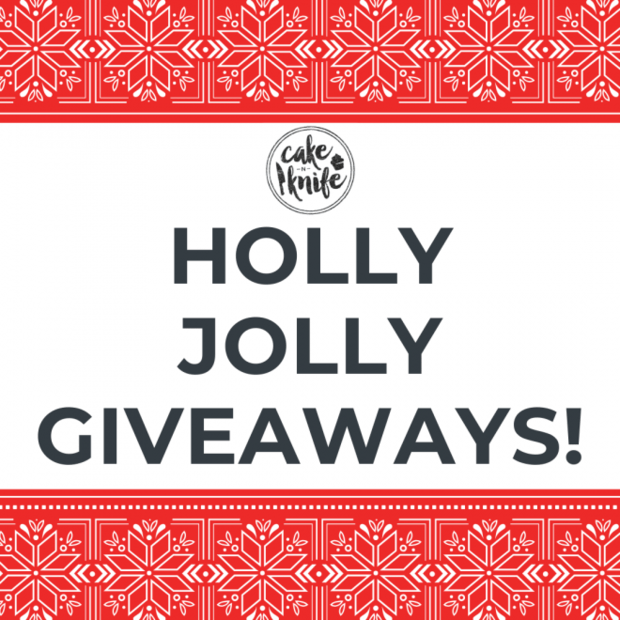 We are continuing the Holly Jolly Giveaways on Cake 'n Knife today!
You all know that the best cocktails are made amazing because of their ingredients, and that's why I turn to Stirrings for their mixers and bar ingredients consistently. Today I am partnering with Stirrings to give one lucky winner a set of bar ingredients of their choice!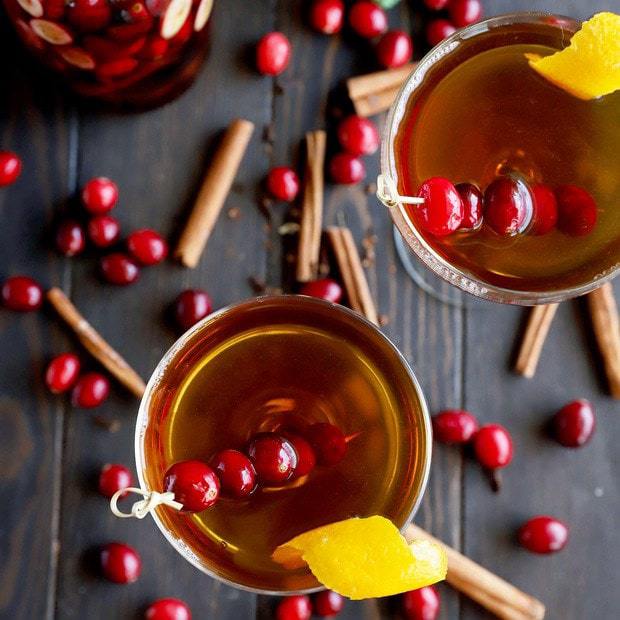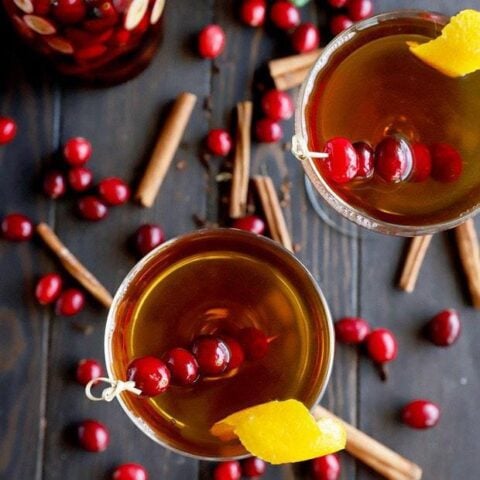 Cranberry Spice Manhattan Cocktail
Yield:
Makes 1 cocktail + 2 cups cranberry spice whiskey
Whiskey is infused with fresh cranberries and warming spices, then added to a traditional Manhattan cocktail for the ultimate holiday beverage.
Ingredients
Cranberry Spice Infused Whiskey
1 cup halved cranberries
2 cups whiskey
2 cinnamon sticks
1 tsp whole cloves
Manhattan Cocktail
2 oz whiskey
1 oz sweet vermouth
1 to 2 dashes Stirrings Blood Orange Bitters
Ice
Garnish: cranberries, orange peel
Instructions
To make the infused whiskey, add cranberries, whiskey, cinnamon sticks, and cloves to an airtight container, such as a mason jar. Seal and let sit at room temperature for at least 24 hours.
To make the cocktail, place ice in a cocktail shaker. Add the whiskey, vermouth and bitters.
Rub the orange peel around the rim of the cocktail glass.
Strain the drink into the glass. Add a couple of cranberries and garnish with orange peel.
Recommended Products
As an Amazon Associate and member of other affiliate programs, I earn from qualifying purchases.
a Rafflecopter giveaway