Please note this post contains affiliate links.
Cinnamon Simple Syrup is a four-ingredient recipe that'll make all your favorite cocktails feel like fall. You can even use it in mocktails, coffee, desserts, and more! Not the mention, your house is going to smell amazing when you make it. Makes 1 cup.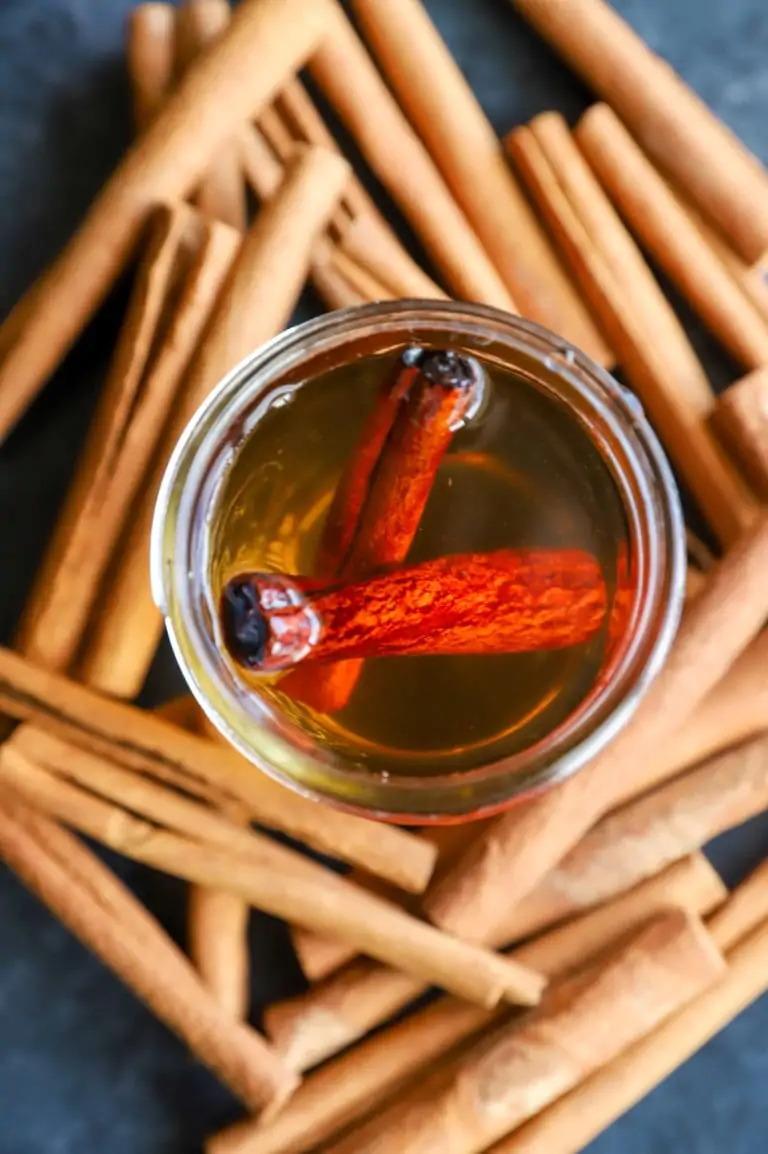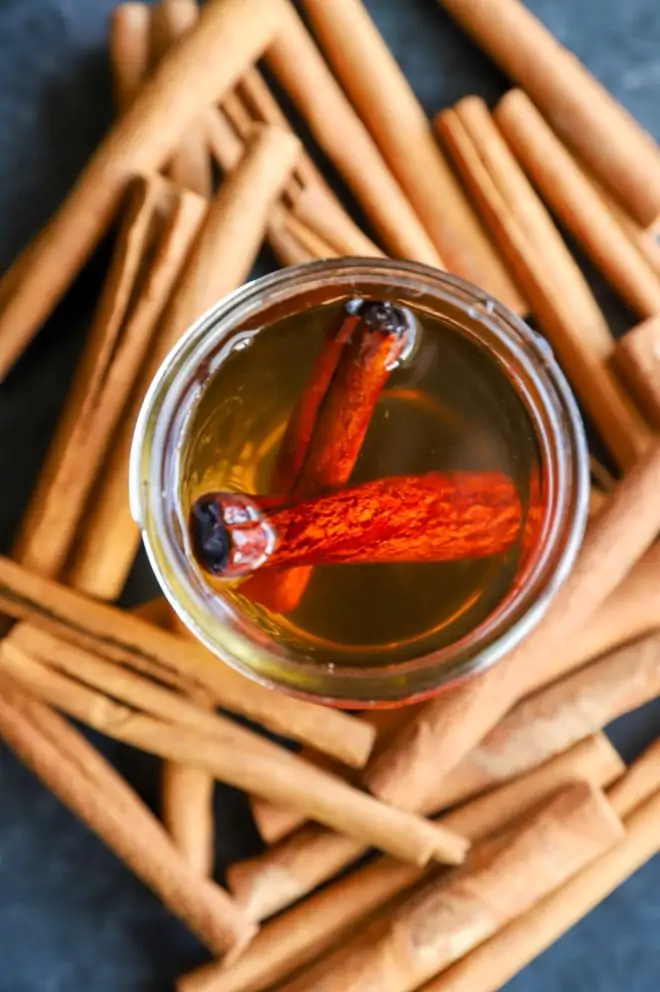 about this cinnamon simple syrup
The first day of autumn is in a couple of days and I am deep in a cinnamon phase right now. Cinnamon candles, cinnamon rolls, cinnamon in my coffee, all of it!
This cinnamon simple syrup is the ideal way to infuse your cocktails, mocktails, and coffee drinks with a lovely hit of warming spice. The moment that you make it, you will find yourself making it consistently to keep in your kitchen or bar!
I've always been a fan of homemade simple syrup because it's a snap to make and it is so much cheaper than buying it from your local grocery or liquor store. Adding the cinnamon flavor doesn't complicate the recipe much!
All you add are cinnamon sticks and some pure vanilla extract! Others don't add the vanilla into their simple syrup, but I feel like it brings out the warming notes of cinnamon even more when you do.
The mixture lasts in the refrigerator for 2 weeks, so it's ideal for making on a regular basis or just ahead of time for upcoming gatherings like tailgating parties or even Thanksgiving.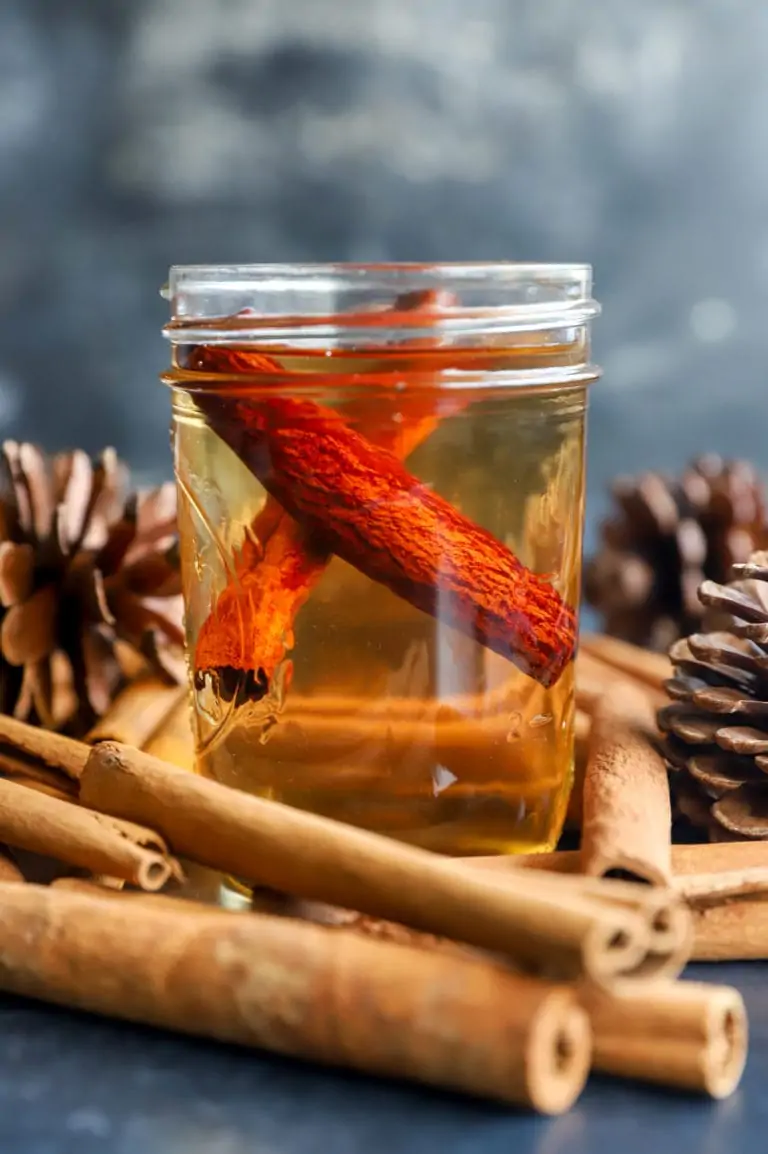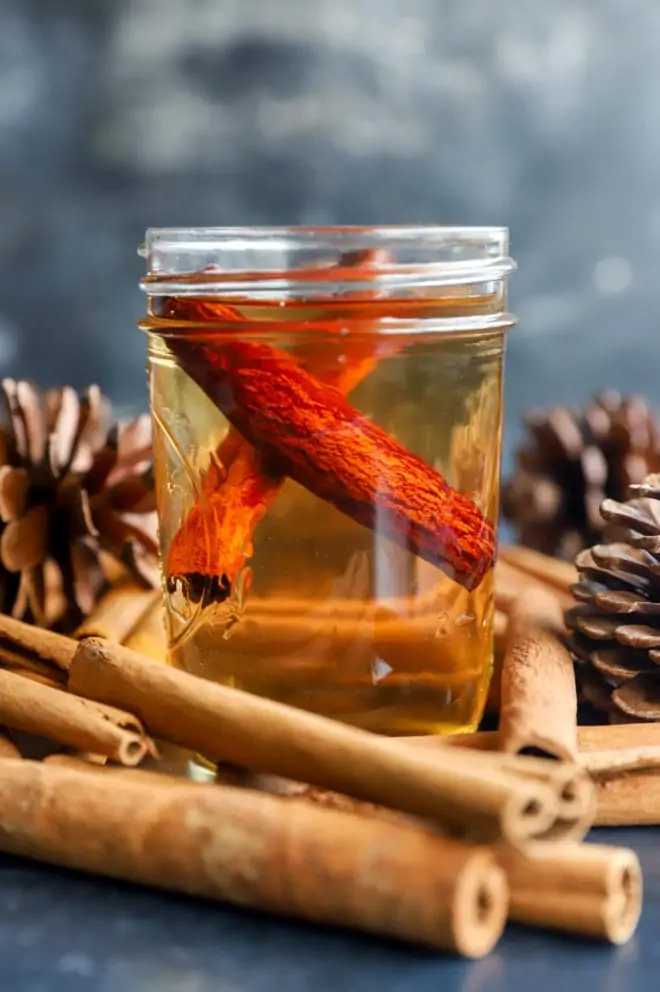 ingredients
water – since you are boiling the water, you don't need to worry about it being purified water unless you really want to.
sugar – I use granulated sugar for this recipe, but can also use brown sugar (light or dark) for a hint of molasses flavor in the syrup. Make sure to break up any large chunks before adding it to the saucepan.
cinnamon sticks – use whatever cinnamon sticks you like! There are many different types out there, such as Saigon, Ceylon, and Royal (to name the most common). Experiment with them to see which one you like best, if the mood strikes you!
vanilla extract – a high-quality vanilla extract is always key for your recipes, including this cinnamon simple syrup. My favorite is Nielsen Massey – their Madagascar Bourbon Pure Vanilla Extract is ridiculously good.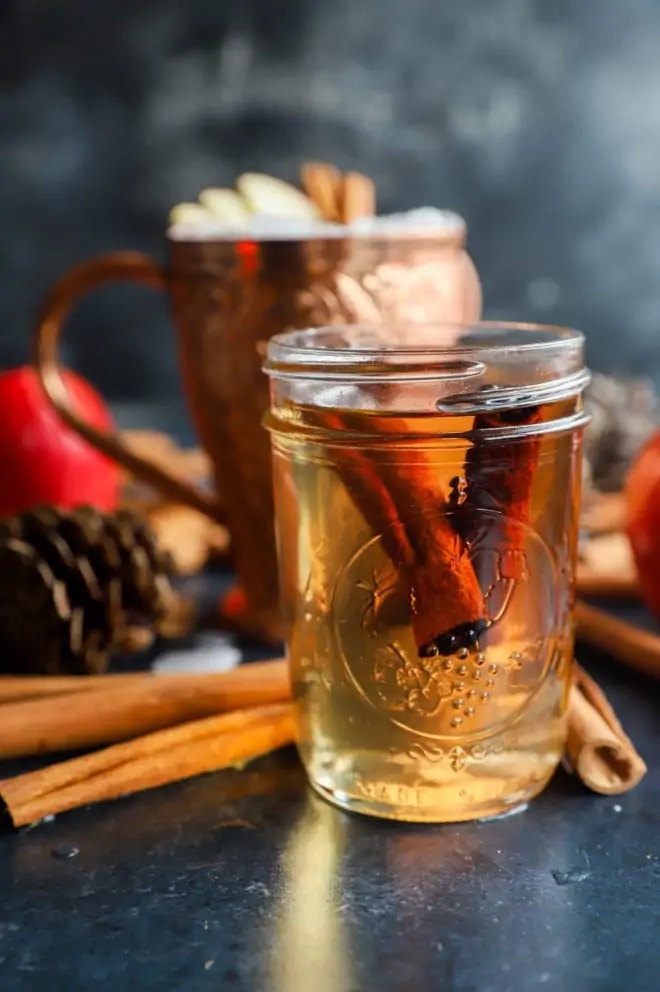 this recipe's must haves
All you need to prepare this recipe is a saucepan and a wooden spoon.
I do like to use a fine mesh sieve to strain out the cinnamon sticks, but really you can just pick them out with tongs.
Finally you will need something to store it in! I go with a classic mason jar because I always have them around. You can use any airtight container.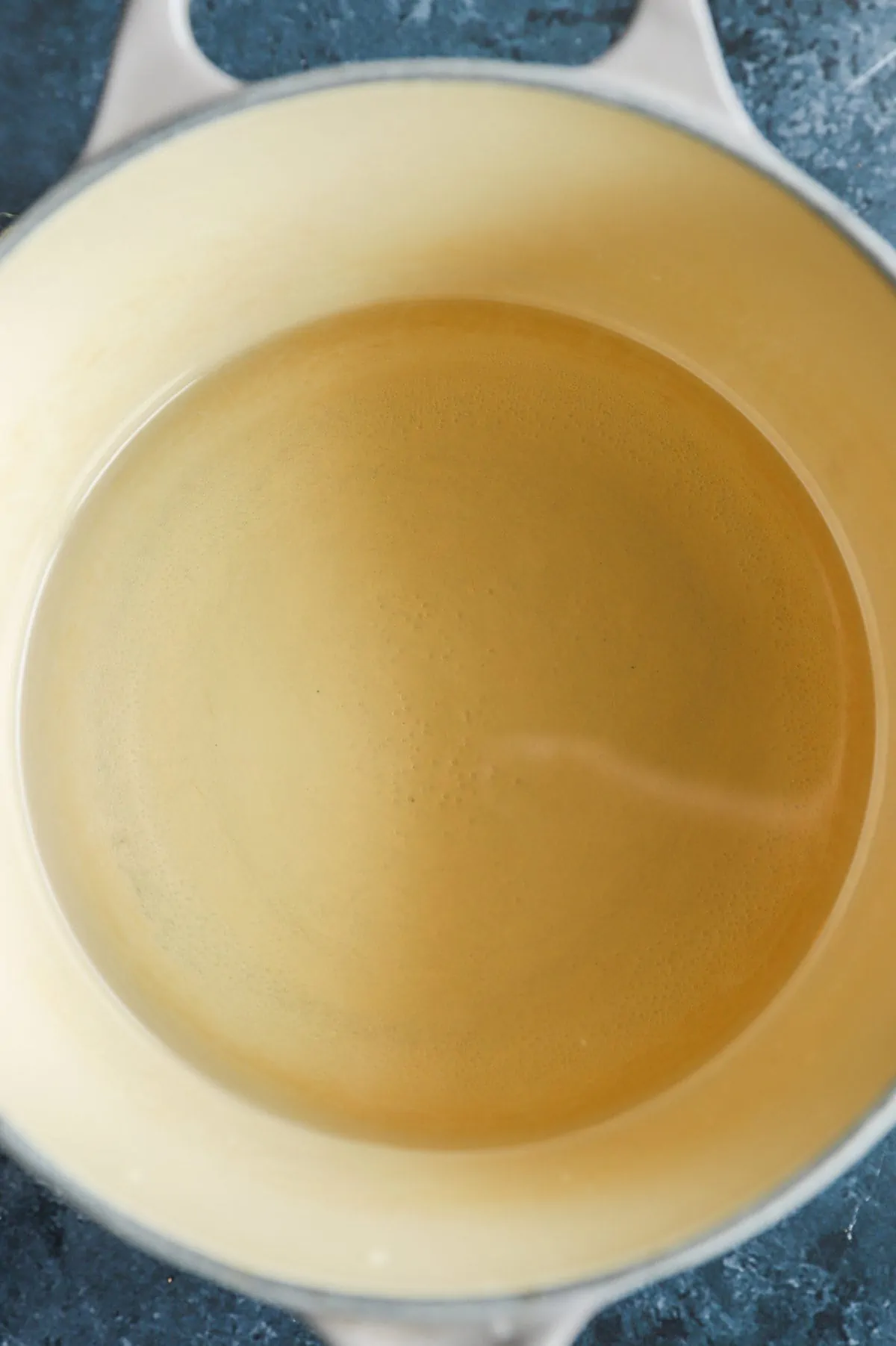 here's how to make cinnamon simple syrup
boil
Bring water and sugar to a boil in a pan over medium-high heat. Stir until the sugar dissolves.
simmer
Add in cinnamon sticks and vanilla. Simmer for 5 minutes and then cover.
Remove from heat and steep for 1 hour.
strain
Strain and transfer into an airtight container. Once cooled, seal and store in the refrigerator.
tips for success
let it steep. Make sure that you let the syrup steep for at least one hour! It'll help really infuse that flavor into the syrup.
break them up. If you want more cinnamon flavor, consider breaking the sticks into larger pieces to create more surface contact with the syrup if you like. Alternatively, you can also let the syrup steep for longer for more flavor!
Tasty fall cocktails to try: Pumpkin Spice Bourbon Old Fashioned | Apple Whiskey Sidecar | Pumpkin Pie Martini | Apple Bourbon Smash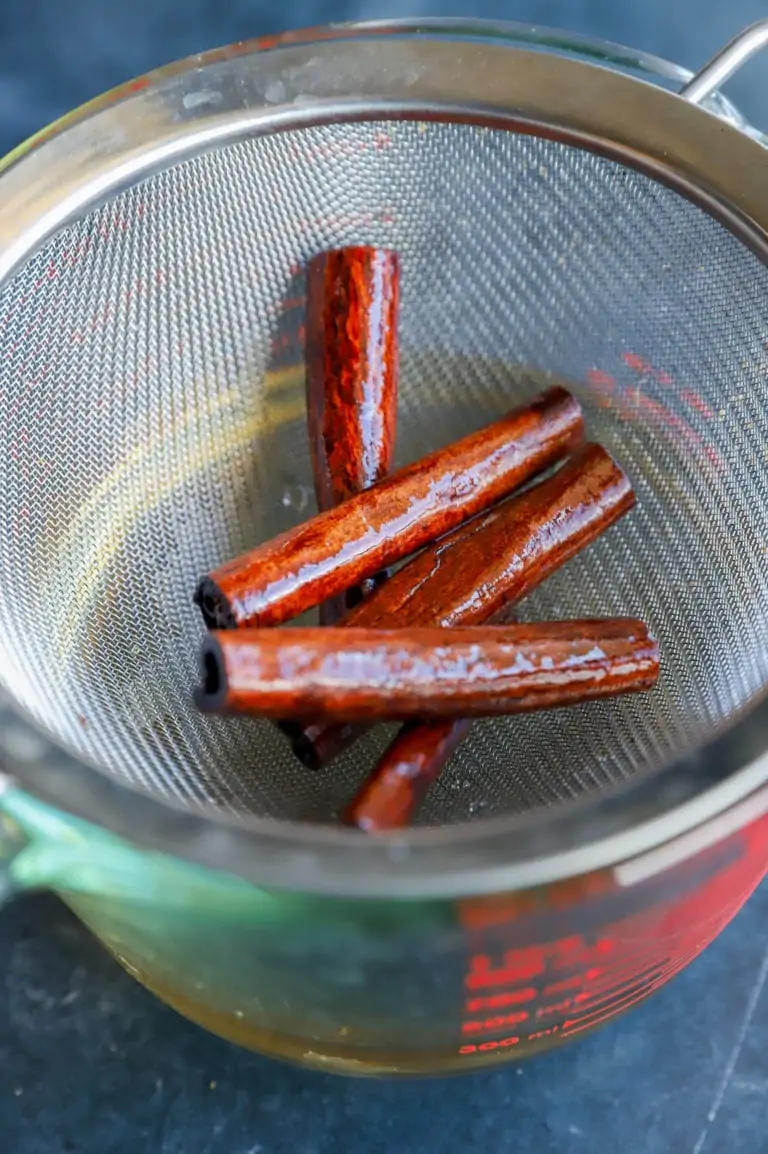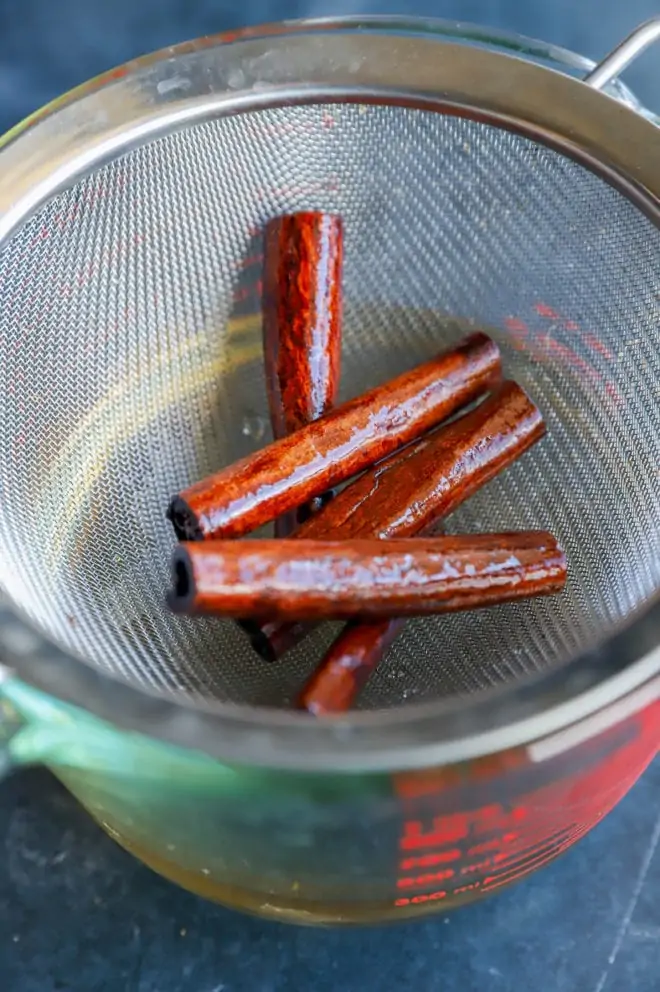 how long does cinnamon simple syrup last in the fridge?
Two weeks in an airtight container in the refrigerator. I prefer to use a mason jar (make sure to label it with what's inside and when it was made!), but you can use any container really.
do I have to use granulated sugar?
Nope! You can opt to use light or dark brown sugar in this recipe. Note that this will change the flavor of the syrup and it'll have some molasses notes to it (especially with dark brown sugar). Just keep that in mind when you are making the recipe!
can I use ground cinnamon?
I don't recommend it. Technically you can use ground cinnamon, but it comes out kind of grainy and that transfers to whatever you are using the syrup in. The problem is that ground cinnamon will not dissolve completely. Cinnamon sticks are the way to go here!
Need some more inspiration for happy hour? Check out my booze recipes page!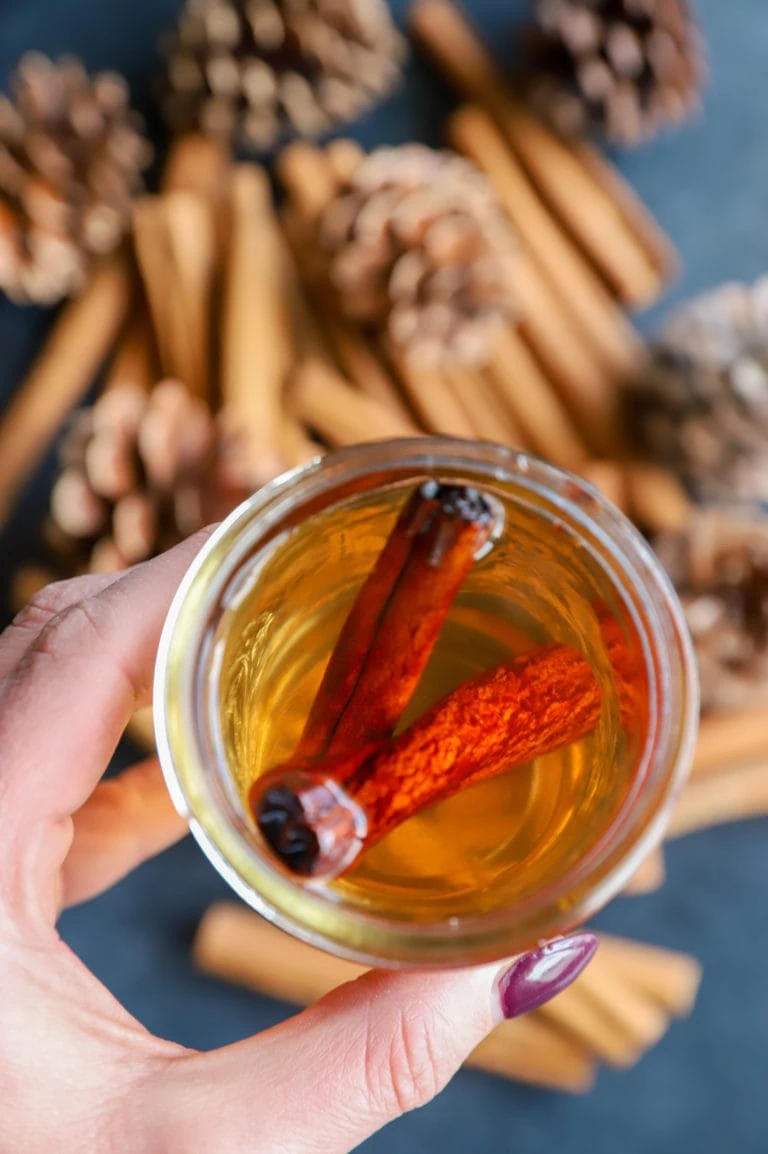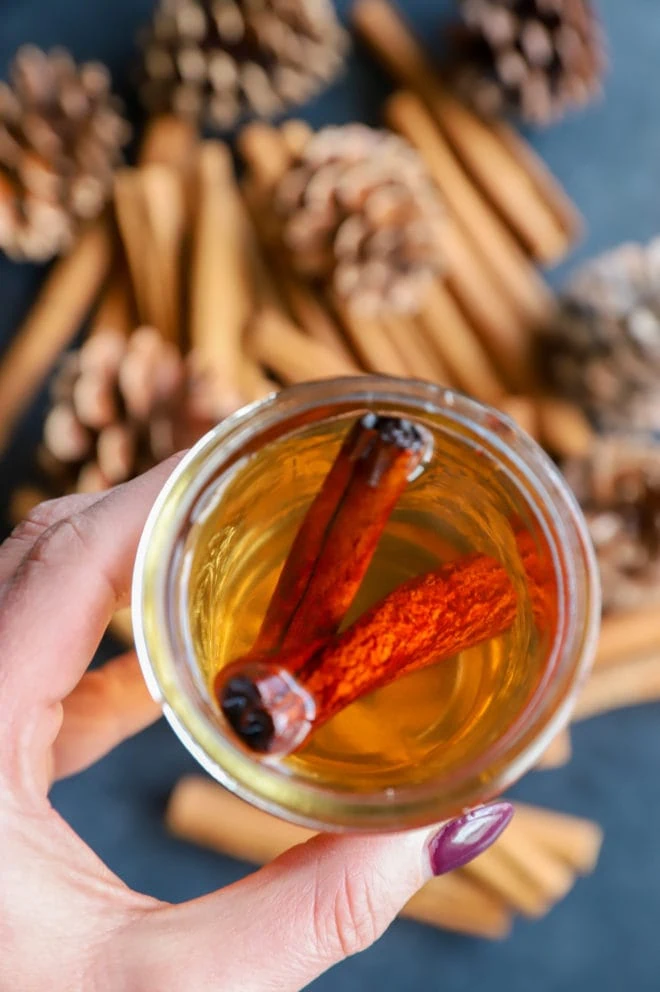 what cocktails can I make with cinnamon simple syrup?
Well, the truth is the options are wide and varied here! You can use this cinnamon simple syrup in place of most cocktails and drinks that call for simple syrups. My mind immediately goes to the following:
Old fashioned
Moscow mule
Coffee
Whiskey or tequila sours
Tea
Hot chocolate
how to store
Cool to room temperature and store in an airtight container. It will last for up to 2 weeks in the refrigerator!
If you are looking for another simple syrup recipe to try out, check out my floral lavender simple syrup recipe!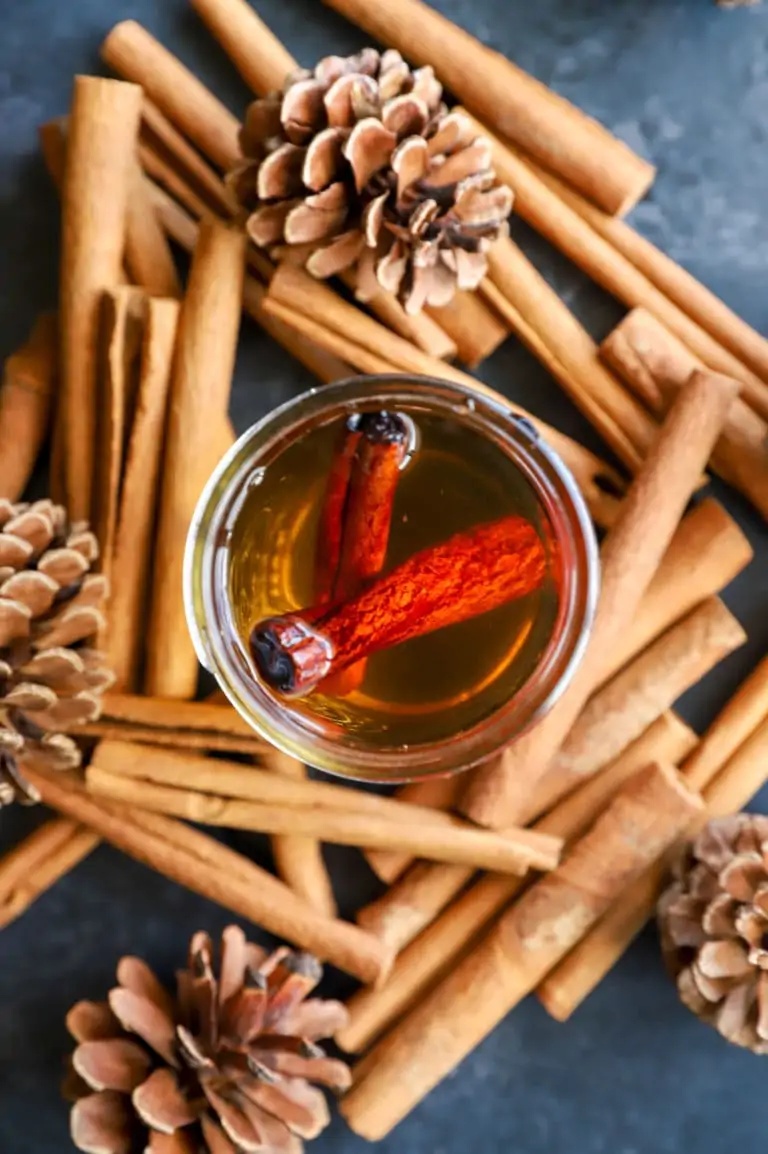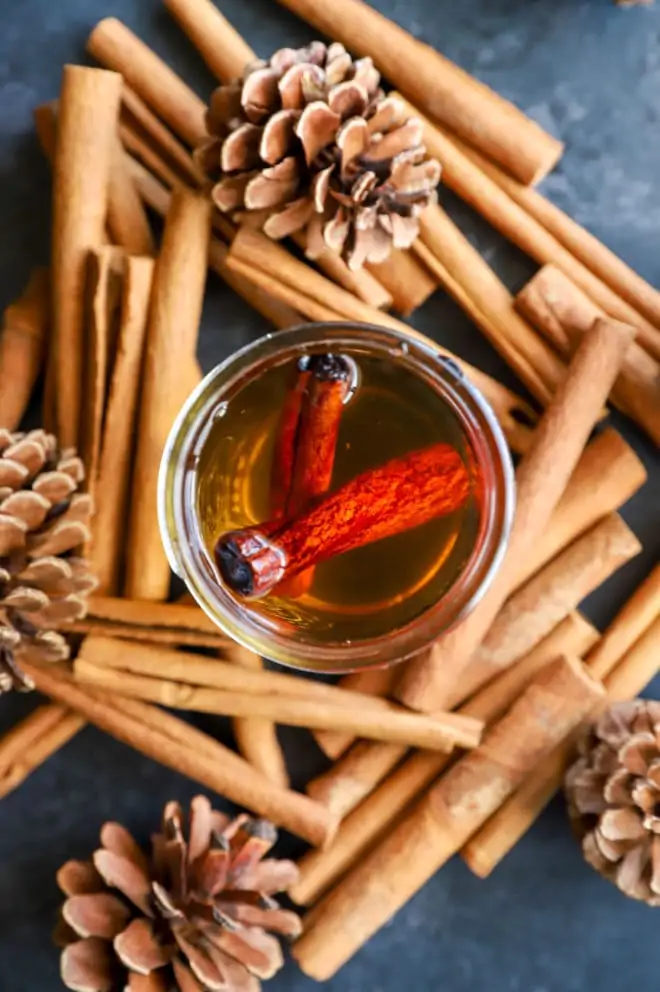 Finally, if you make this cinnamon simple syrup, please be sure to give this recipe a rating or leave a comment! I love to hear when you all make recipes, and I do take the time to respond to every single comment. Feel free to drop questions below too, if you have them!
Oh and be sure to tag me on Instagram if you make the recipe! Love being able to see these recipes come to live in your homes – it's my favorite thing to look through those photos. It really means the world to me!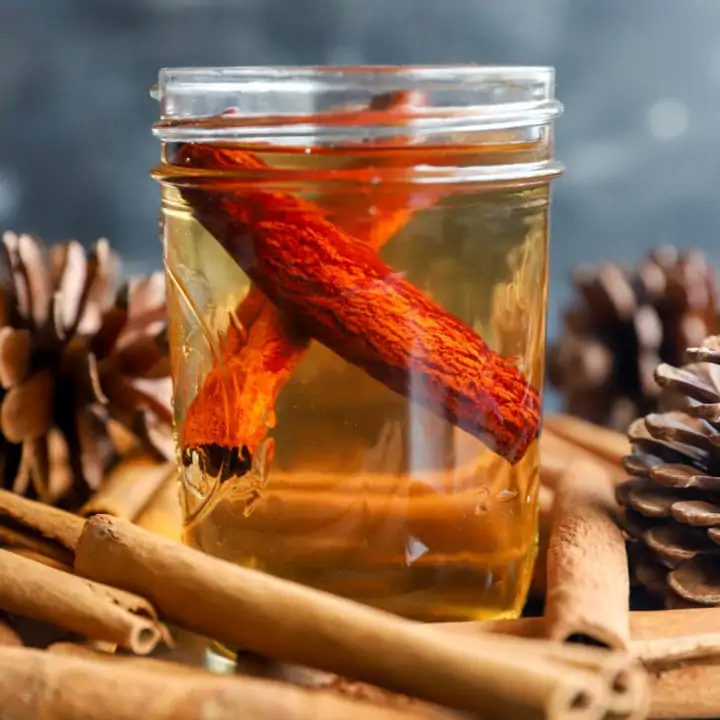 Cinnamon Simple Syrup
Total Time:
1 hour
12 minutes
Cinnamon simple syrup is an easy way to add a warm spice flavor to your favorite drinks!
Ingredients
1 cup water
1 cup white or raw granulated sugar
5 cinnamon sticks
1/2 tsp pure vanilla extract
Instructions
Stir together water and sugar in a saucepan over medium-high heat. Bring to a boil and stir until the sugar dissolves.
Add cinnamon sticks and vanilla, stirring to combine. Reduce to a simmer and cook for 5 minutes covered.
Remove from heat and steep for at least 1 hour.
Strain into an airtight container. Seal and store in the refrigerator until ready to use.
Recommended Products
As an Amazon Associate and member of other affiliate programs, I earn from qualifying purchases.