Please note this post contains affiliate links.
A pear rosemary gin and tonic is the classic cocktail you know and love, with a wintery twist. Fresh fruit and herbs infuse the simple syrup, giving the drink ample amounts of flavor without being too sweet!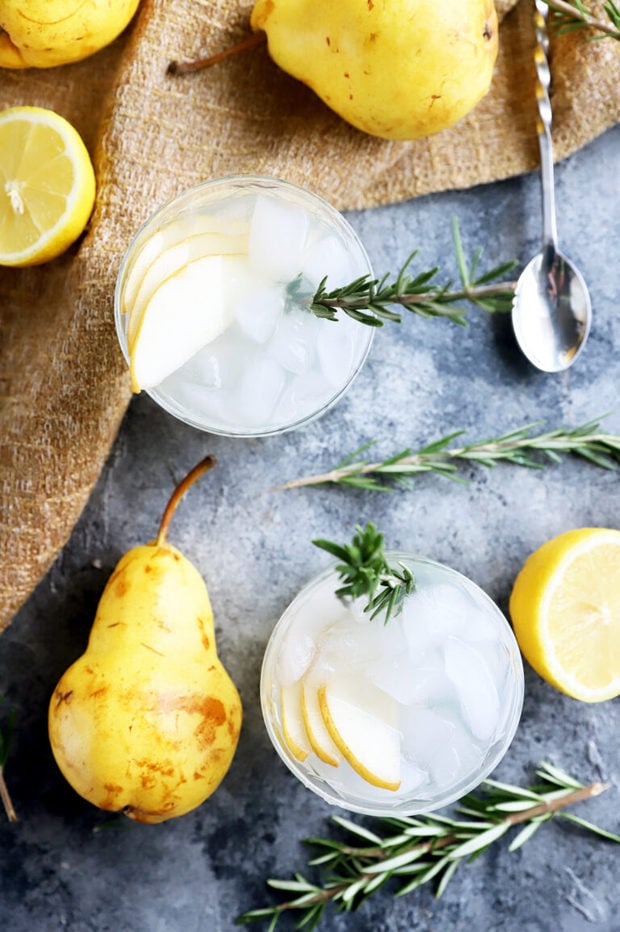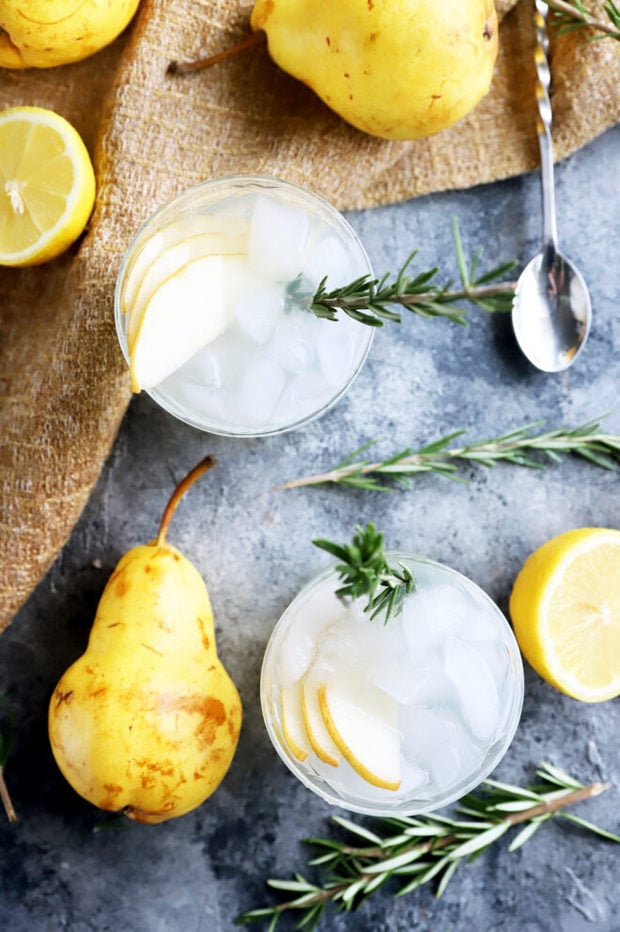 I'm bringing winter REALNESS to the table today with this pear and rosemary infused cocktail.
For me, a gin and tonic is a classic cocktail that never gets old. With all the different types of gin and brands of tonic out there, you can constantly make the simple drink with it coming out differently each time.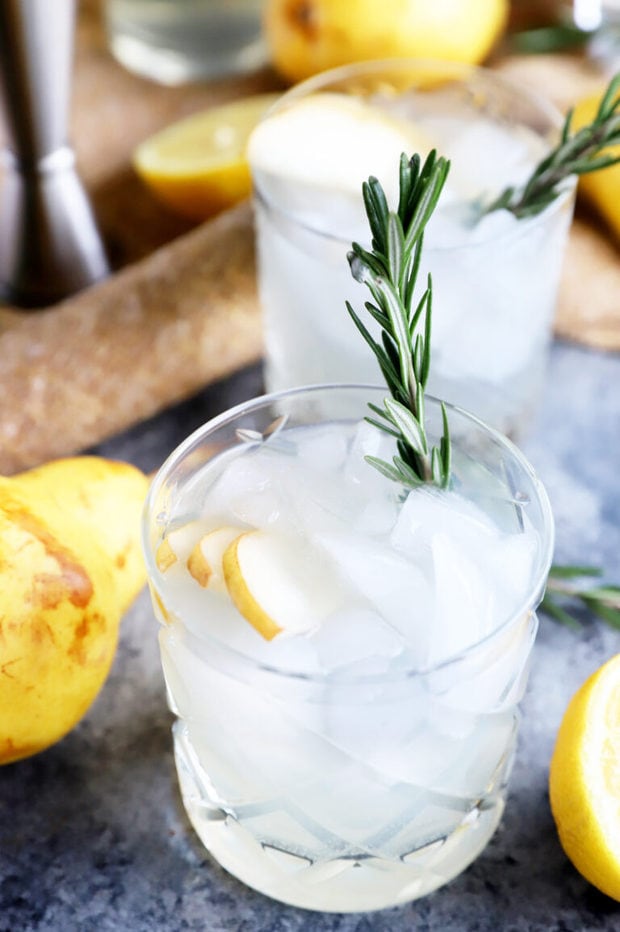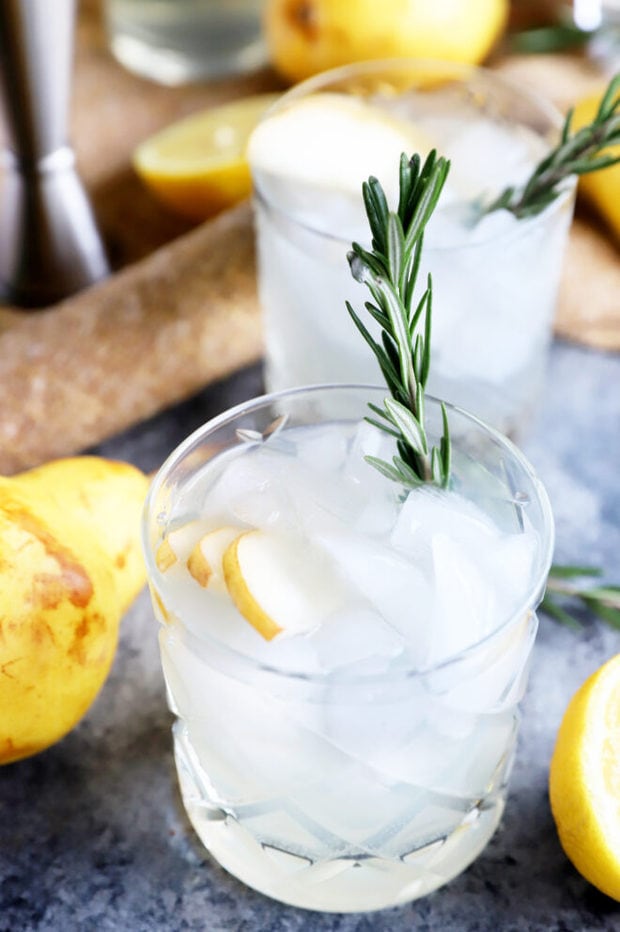 Gin and tonics also happen to be the easiest cocktail to modify!
All you need is a homemade simple syrup to completely change the flavor profile. That's why I LOVE this drink. Pear and rosemary are such a natural combination, making the cocktail both fruity and herbaceous.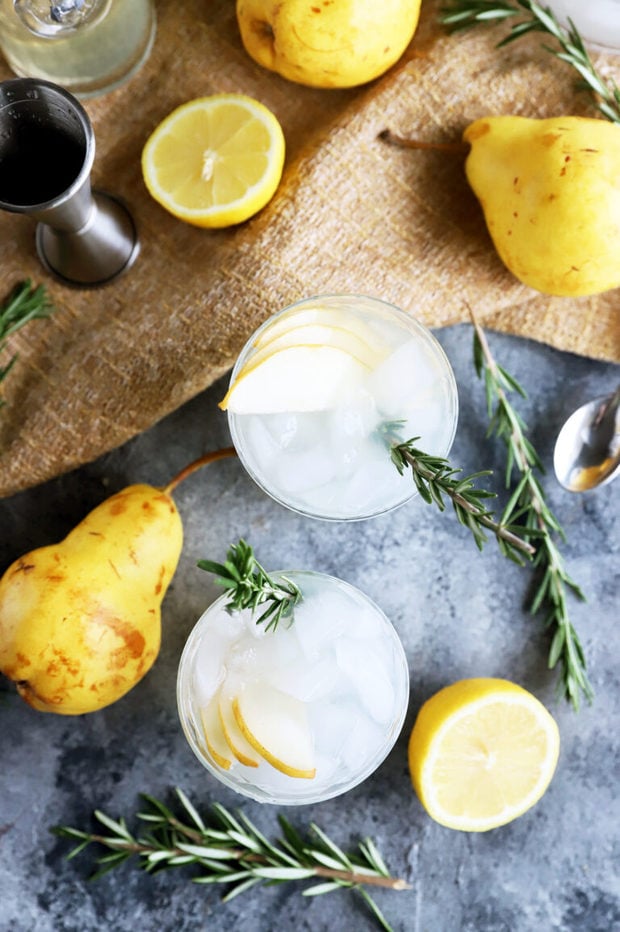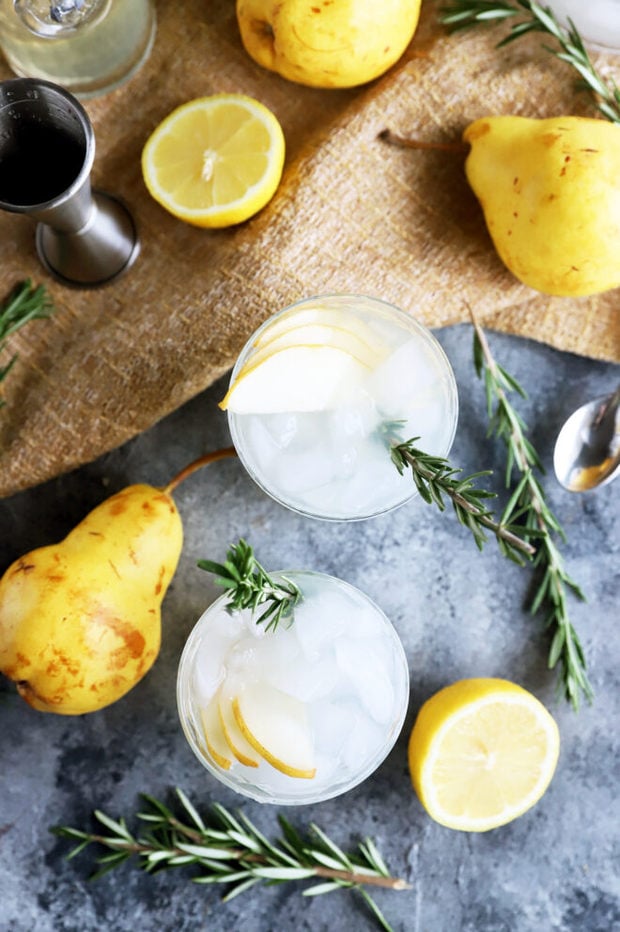 This Recipe's Must-Haves
First, you need the right tools for making the simple syrup. You will need a saucepan that has a cover to cook the syrup. Then you will need a fine mesh strainer to strain out the syrup, removing the chopped pears and rosemary.
To assemble the cocktail, you will stir together the main ingredients in a mixing glass with a bar spoon or one of these cocktail spoons.
Use a cocktail strainer to strain it into a cocktail glass, and you are done!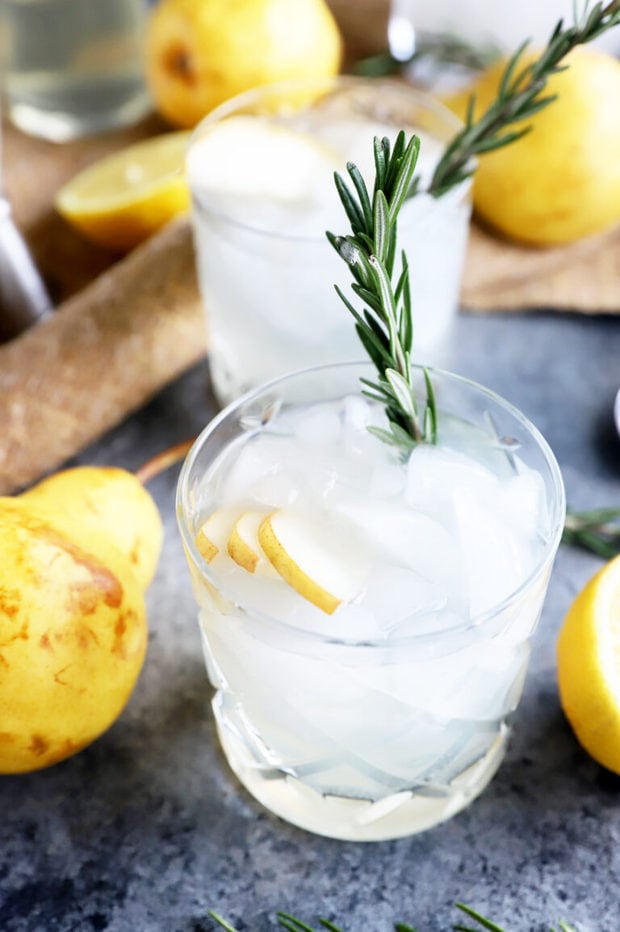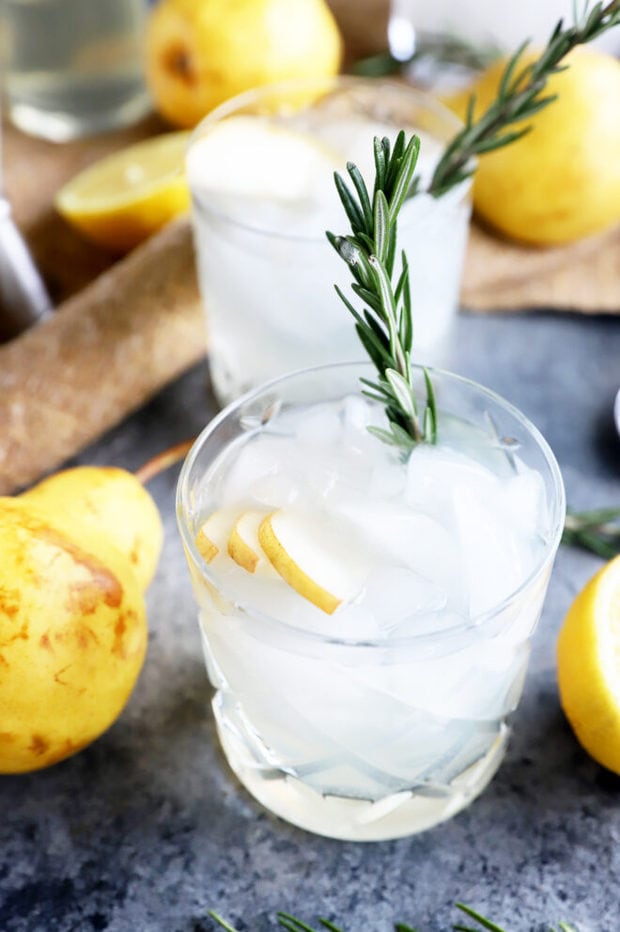 Here's How To Make A Gin & Tonic
Make Simple Syrup
For this pear rosemary gin and tonic, you need to start by making the pear rosemary simple syrup. If you have never made a simple syrup before, it is super easy! All you have to do is add equal parts water and sugar, bring it to a boil and stir until the sugar is dissolved. This version has you add pear and rosemary to the saucepan, then steeping it until the flavor is bold.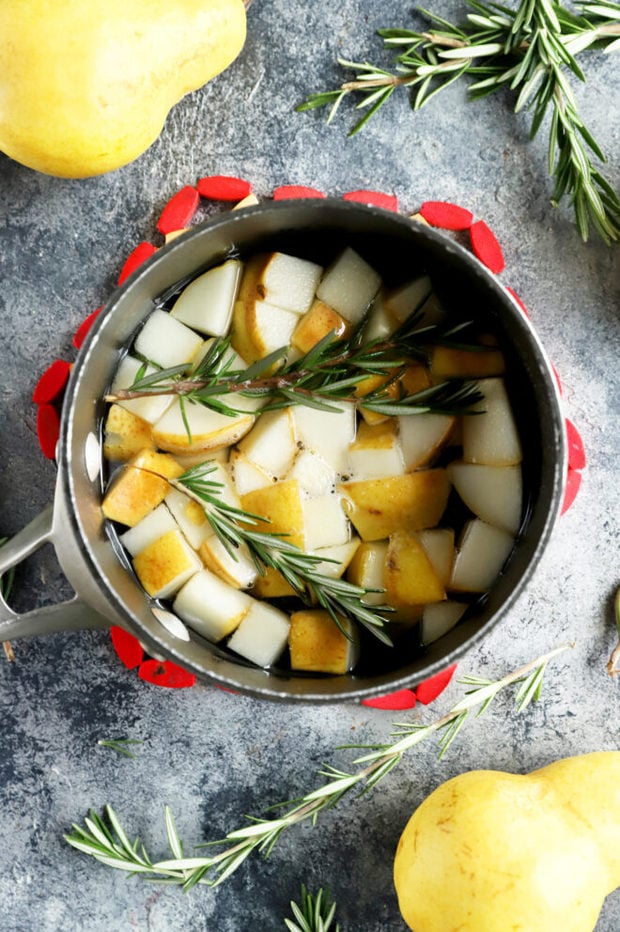 Assemble Cocktail
It's as simple as measure, pour, and stir! Seriously, that's all you have to do.
Strain & Top Off
Strain the cocktail into a glass full of ice! Top it off with tonic water and give it one final twirl with a spoon before garnishing with sliced pear and a rosemary sprig. It's cocktail time!
Need cocktail inspiration? Check out my Booze page for some tasty ideas.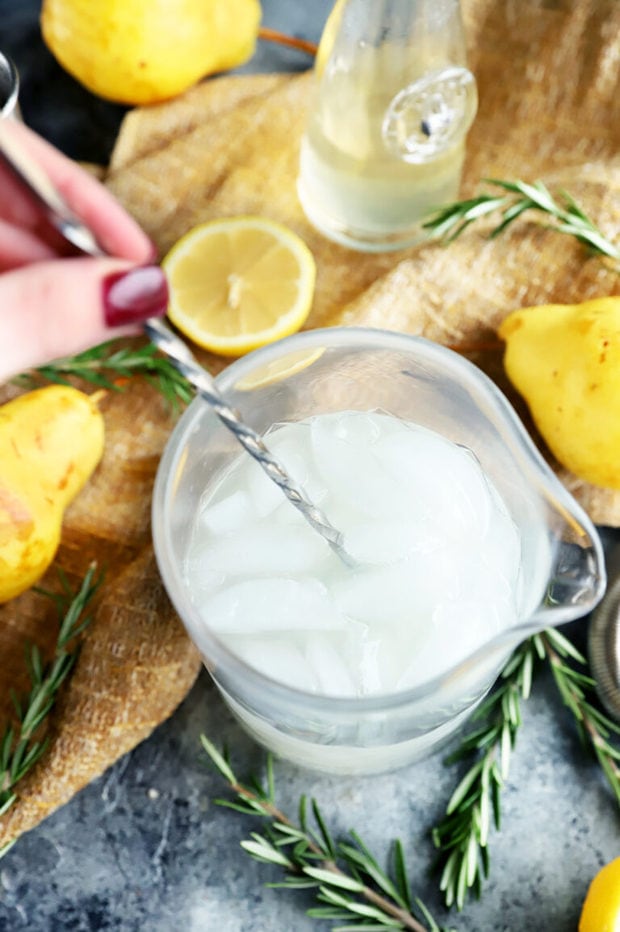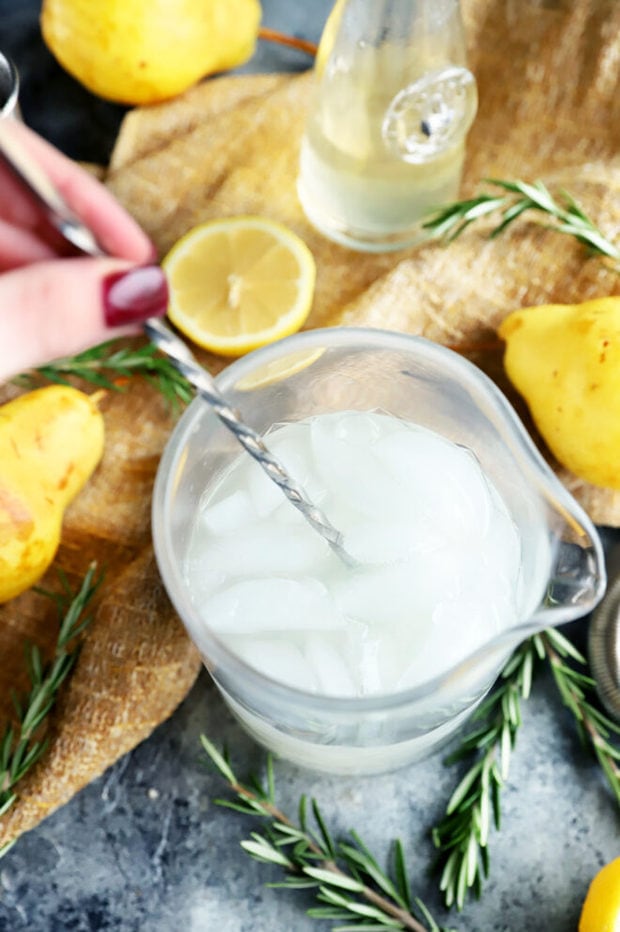 FAQs
Is this cocktail sweet?
Don't worry, it isn't! The simple syrup adds just the right amount of sweetness with pear and rosemary, without taking over the cocktail. You still get the gin flavor in every sip!
Can I save the leftover pear rosemary simple syrup?
Of course you can! Simply store it in an airtight container in the refrigerator. It will keep for a few weeks so you can enjoy more of these tasty cocktails.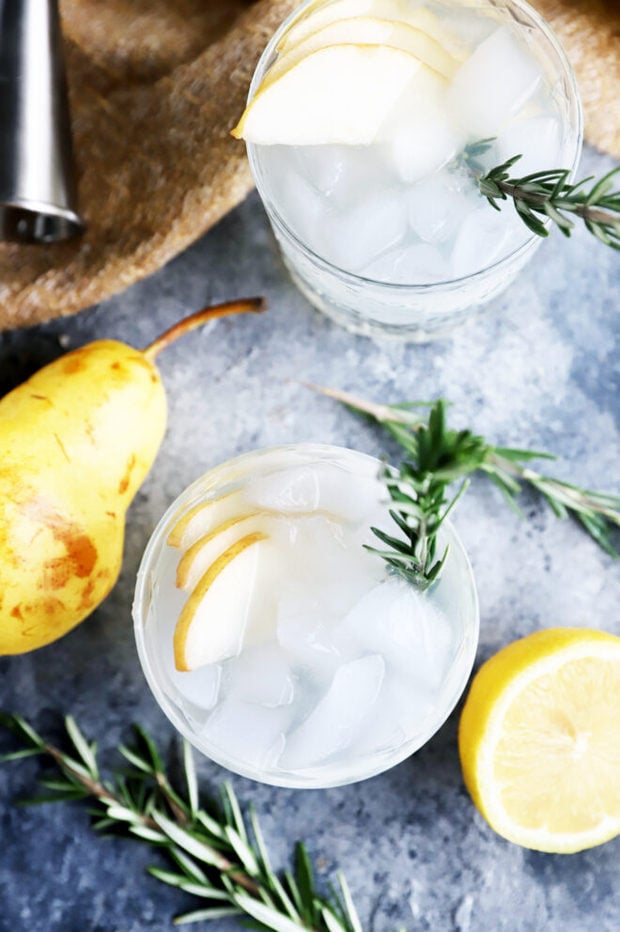 A Couple Helpful Tips
• Use up leftover simple syrup in another drink like a vodka soda or vodka tonic!
• Make sure you let the simple syrup cool to room temperature or colder before you make the cocktail. Otherwise the syrup will melt the ice and the cocktail will be watered down.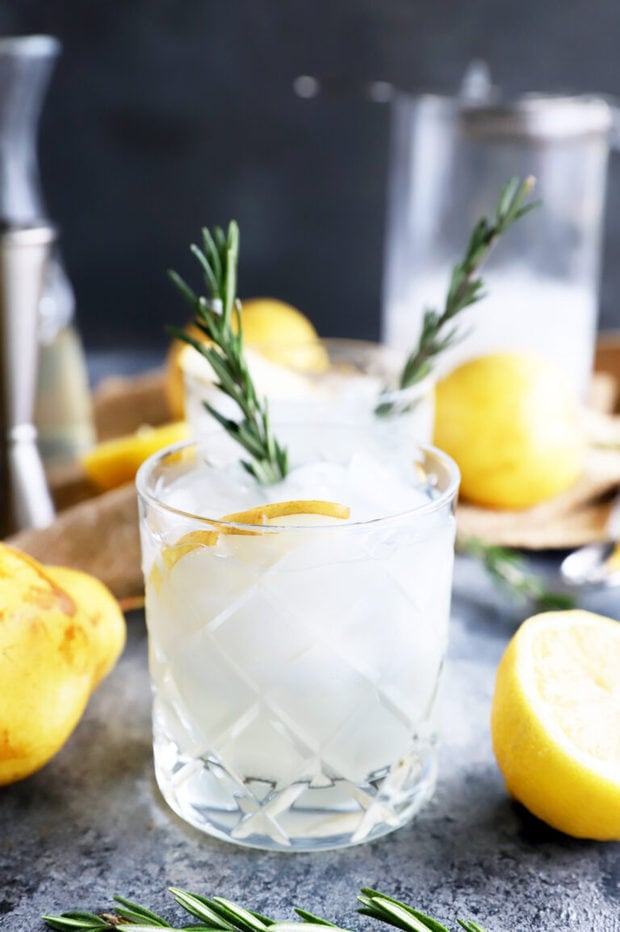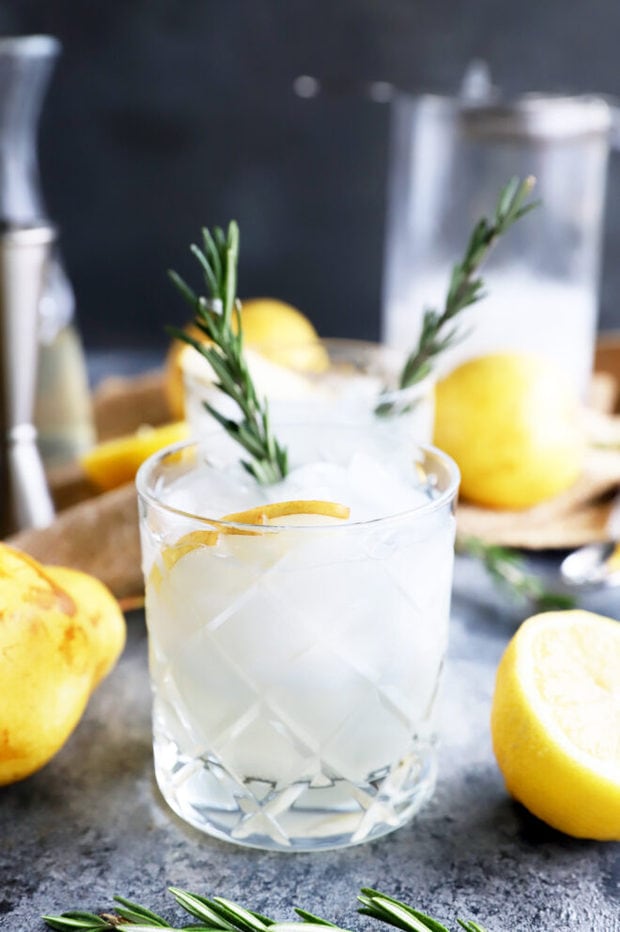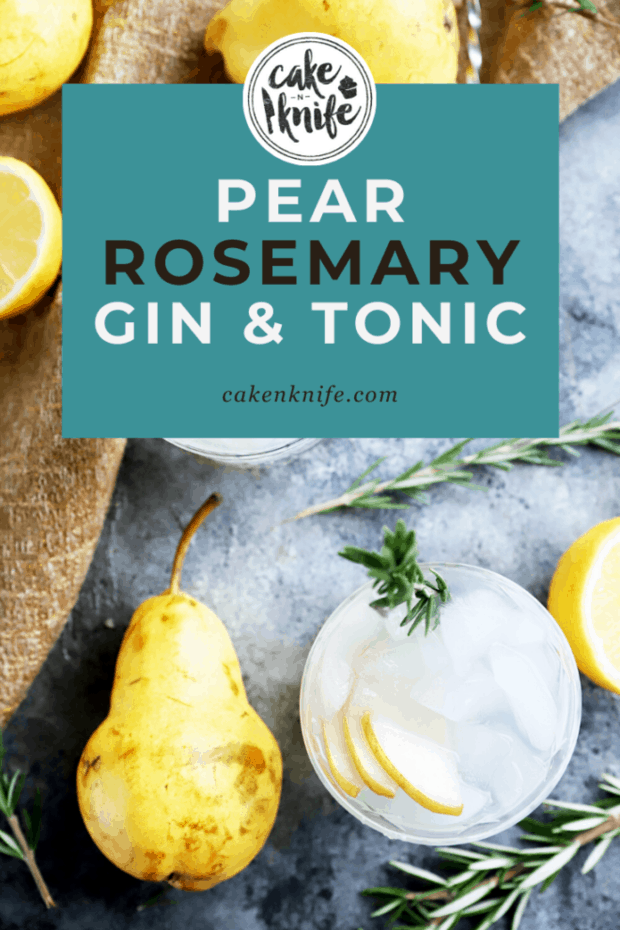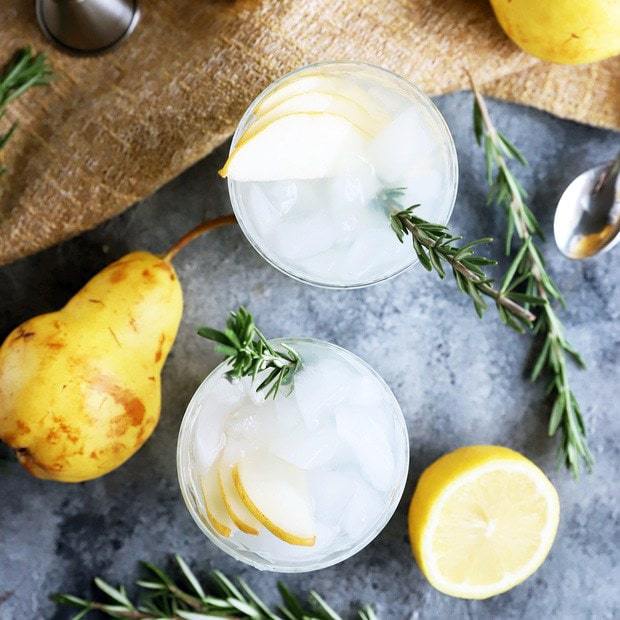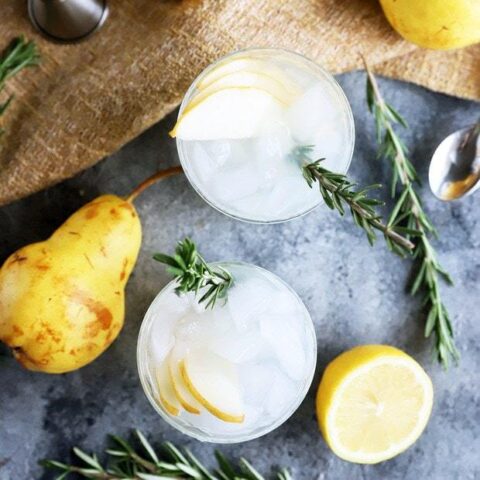 Pear Rosemary Gin and Tonic
Yield:
Makes 1 cocktail + extra pear rosemary syrup
Additional Time:
30 minutes
Fresh pear and herbaceous rosemary take the gin and tonic to the next level!
Ingredients
Pear Rosemary Simple Syrup
1 pear, roughly chopped
1/2 cup sugar
1/2 cup water
2 sprigs rosemary
Cocktail
2 oz gin
1/2 oz pear rosemary syrup
1/2 oz lemon juice
4 oz tonic water
Ice
Garnish: sliced pear, rosemary sprigs
Instructions
Add pear, sugar, water, and rosemary for the simple syrup to a small saucepan. Bring the mixture to a boil, cooking until sugar is dissolved.
Remove from heat, cover, and let steep for 30 minutes. Strain the syrup into an airtight container and chill until at least room temperature before using.
Fill a mixing glass with ice. Add gin, syrup, and lemon juice, stirring to combine. Strain into a cocktail glass filled with ice.
Top the cocktail with tonic water and give a final stir.
Garnish and serve.
Recommended Products
As an Amazon Associate and member of other affiliate programs, I earn from qualifying purchases.