Please note this post contains affiliate links.
The Best Homemade Eggnog will spread cheer from ear to ear this holiday season! The simple, straightforward recipe is flavorful, rich, and boozy, making it ideal for Christmas gatherings of all sizes. You won't want to miss out on sipping a mugful underneath the Christmas tree.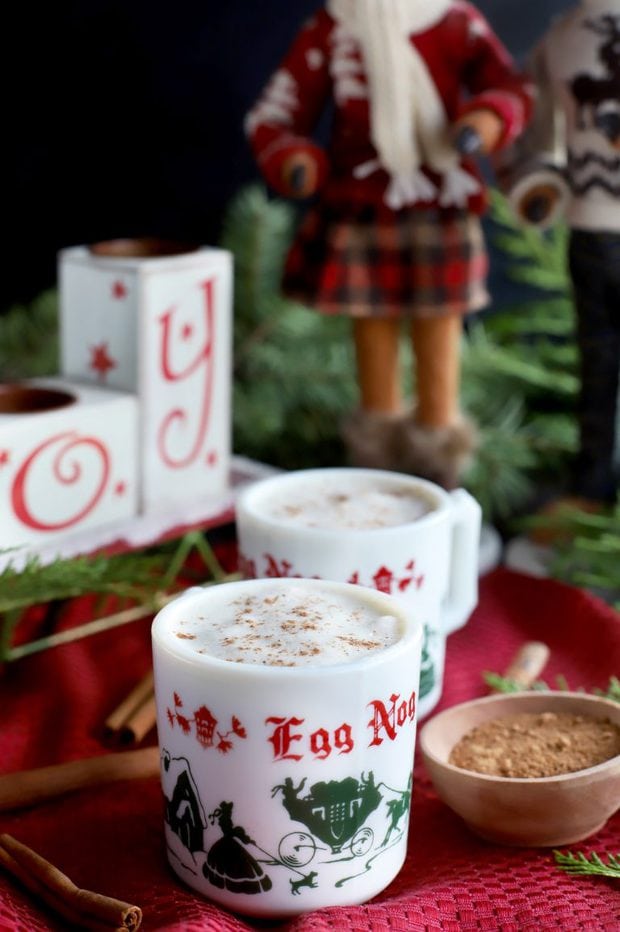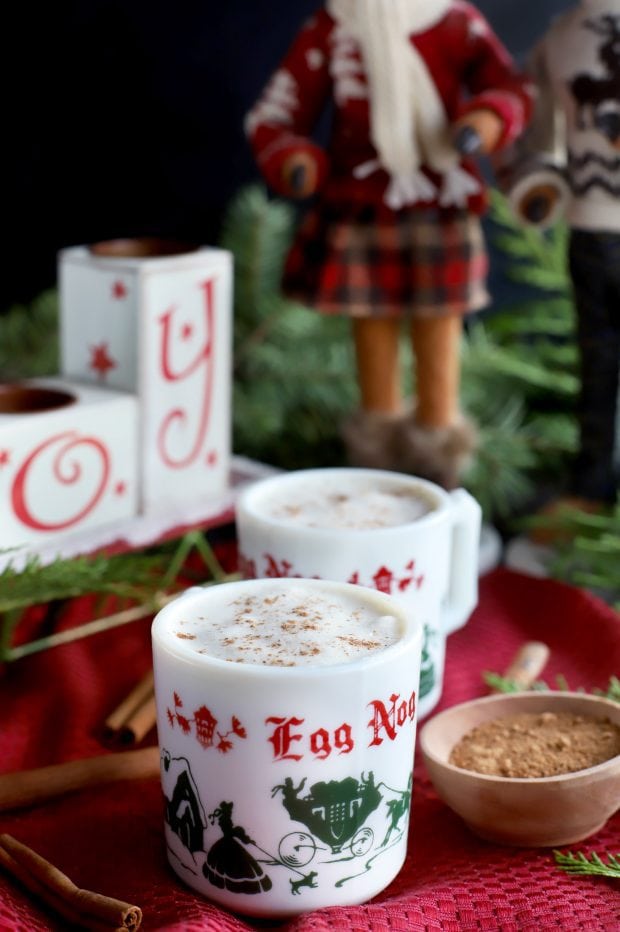 Please note that some of the links below are affiliate links. If you make a purchase through one of these links, I will receive a small commission.
When it comes to the holidays, there's only one drink that I will forever and always cherish….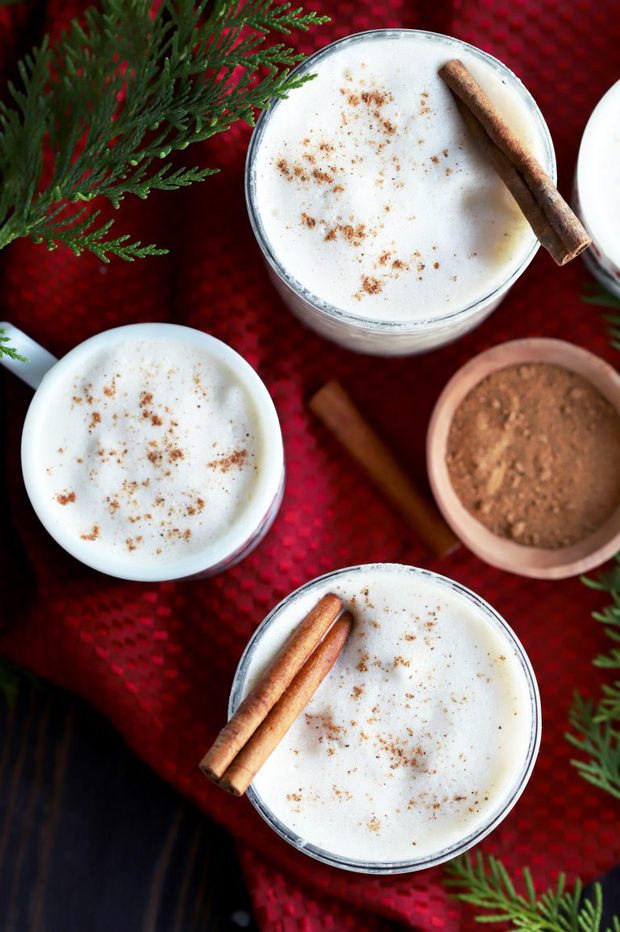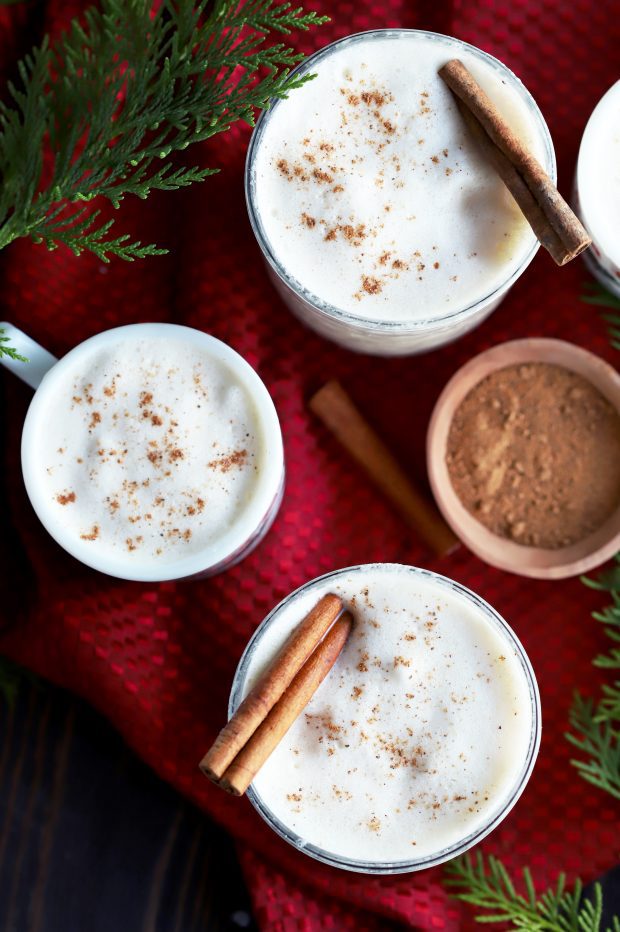 Eggnog.
The rich and creamy beverage is one that I grew up on, starting from as early as I can remember (the non-alcoholic version back then, of course).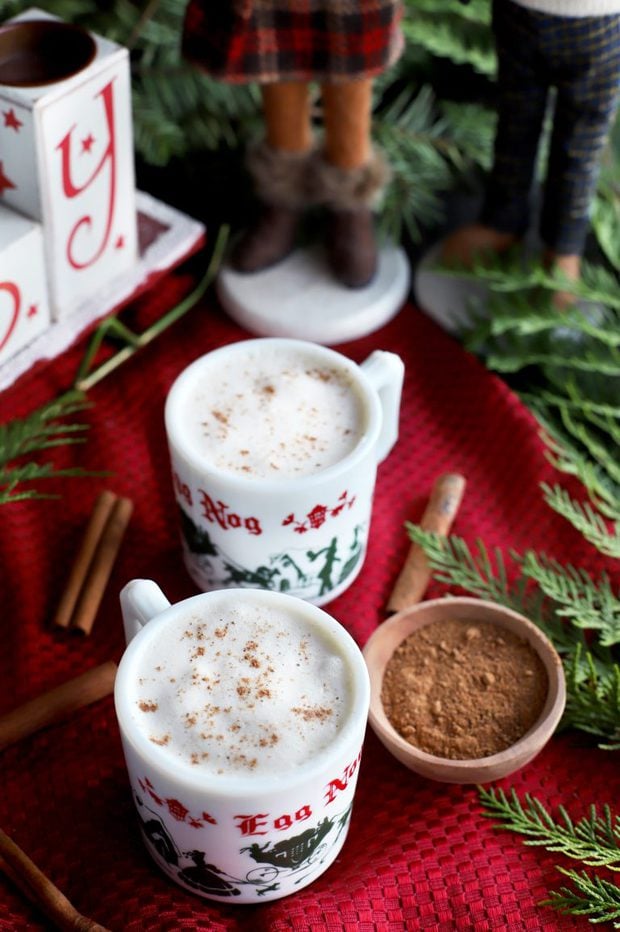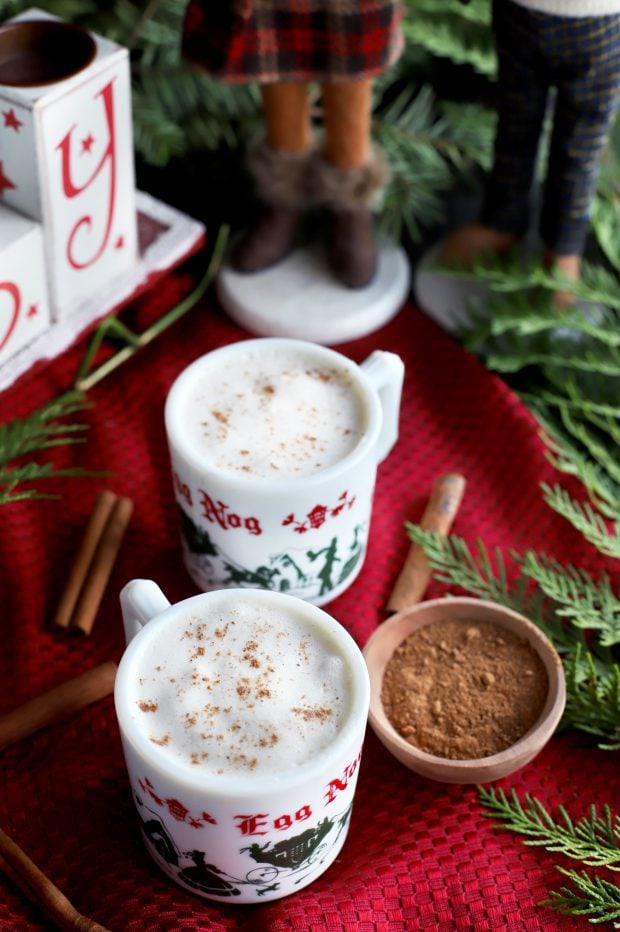 My grandfather was known for his eggnog recipe, and I SO wish I had it.
Among the recipes from my grandparents that were saved and scanned in by my uncle, the eggnog recipe is frustratingly minimal. Apparently it was a recipe in my grandpa's mind with a few minor notes written down.
No ingredients list. No full instructions.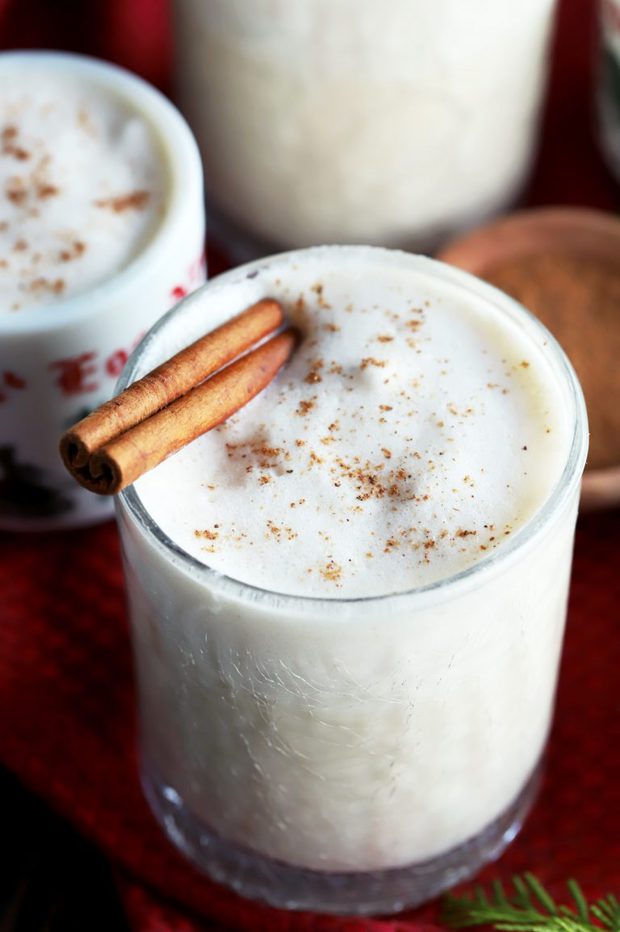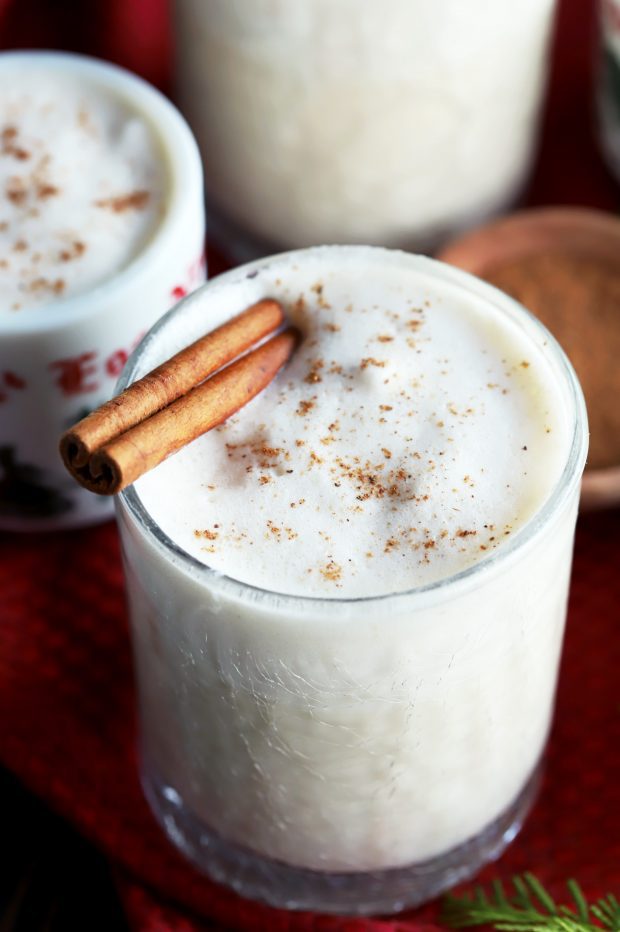 ARGH.
So I went to another recipe that was in their collection from years and years ago. I modified it from there until it tasted like pure perfection.
This is the best homemade eggnog. It is made in the traditional way, as in the eggs are not cooked for the recipe. I know this can make people a little wary in a time of crazy bacteria showing up in everything from romaine lettuce to ground beef. So when you make this recipe, make sure you are using organic eggs.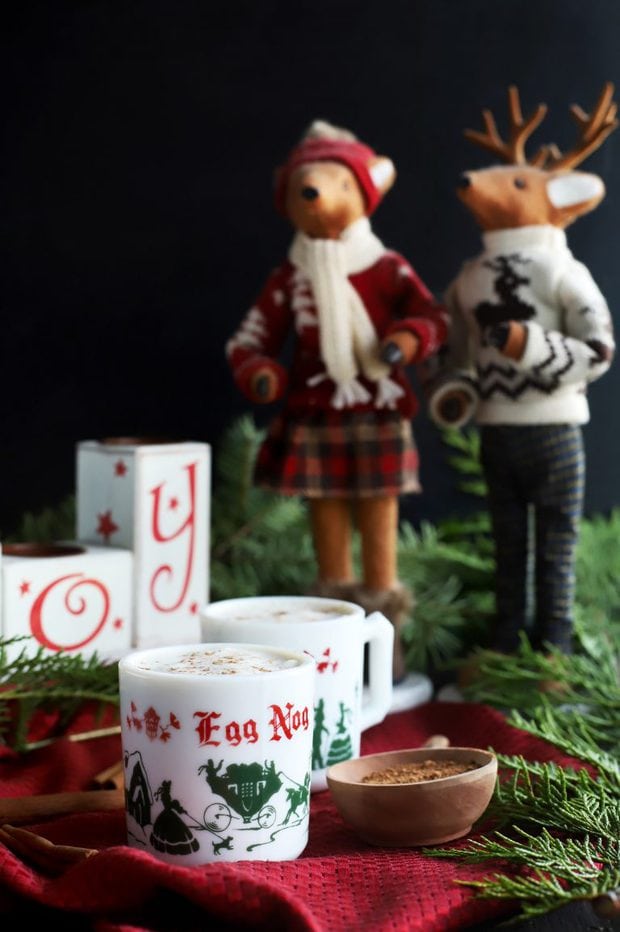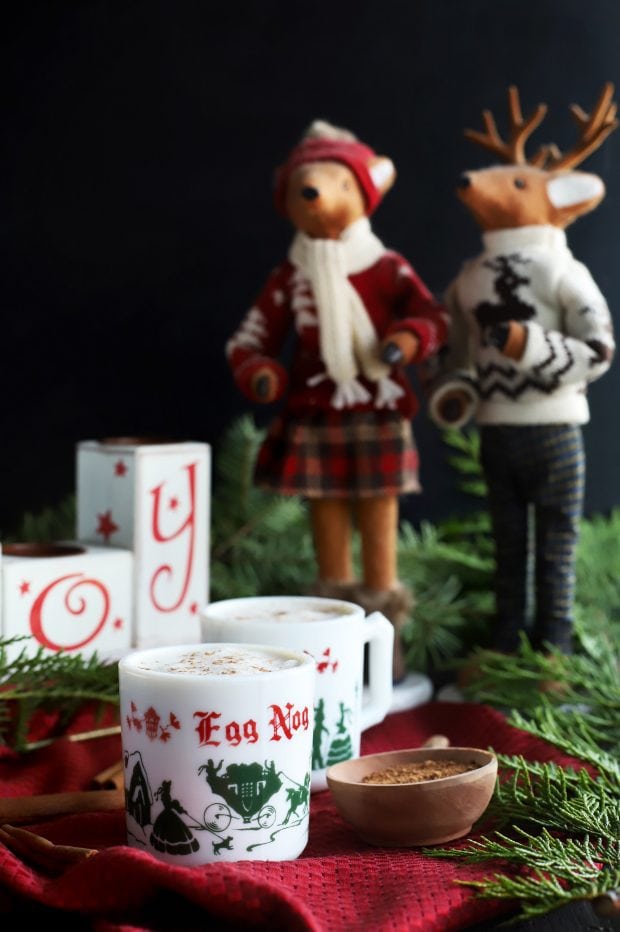 I know this means spending a little more money, but the minor investment is worth the end result (and worth not freaking out about getting everyone sick too).
The old way of making eggnog is simply the best. It's rich and creamy, with this luscious texture that I literally can't get over.
The best part is this recipe has that classic eggnog foamy floating layer on top. You know, the kind you used to see in party punch bowls. I'm thinking National Lampoon's over here, as well as my grandparents' house at Christmastime.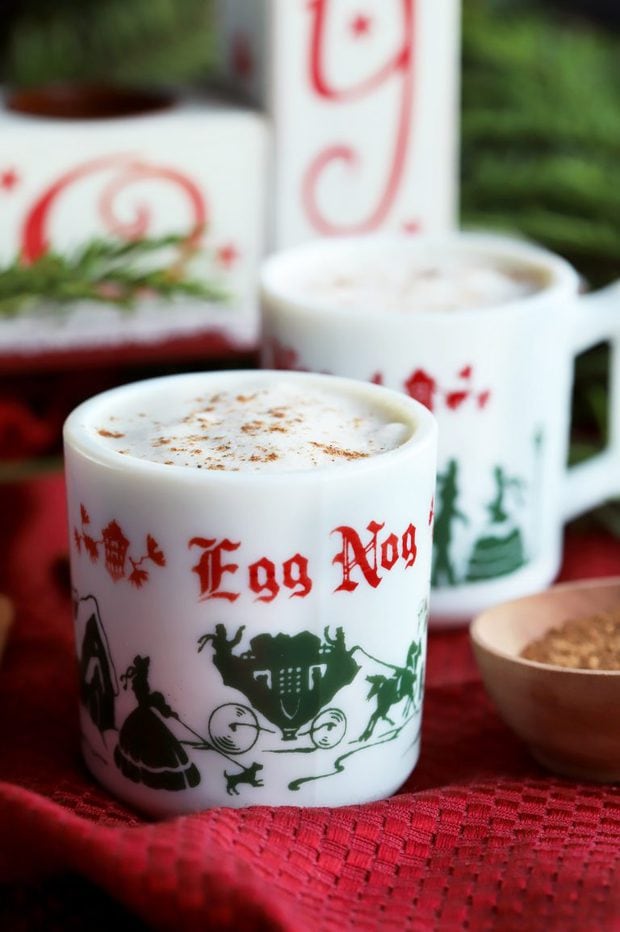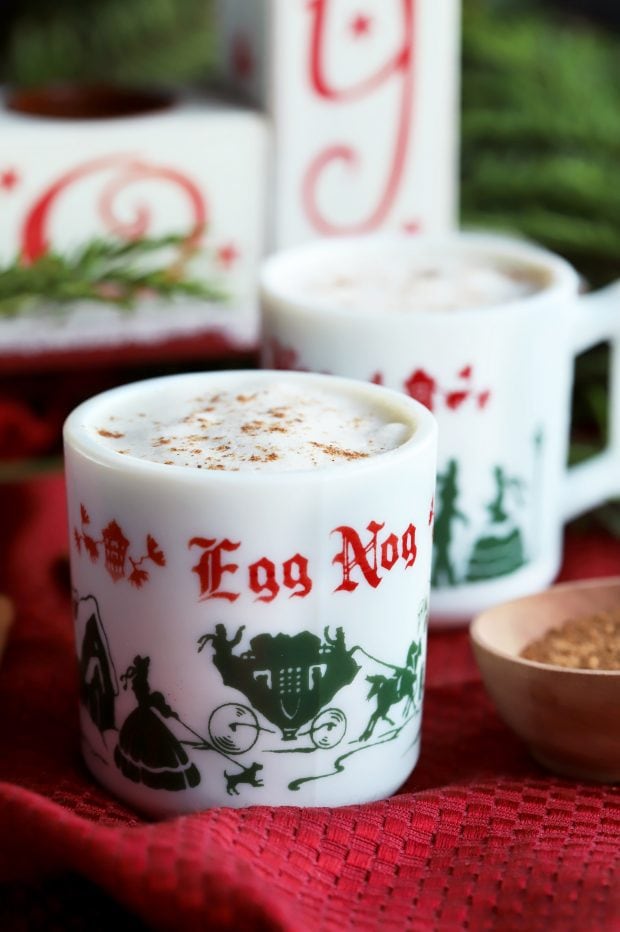 With a sprinkle of fresh eggnog on top, you seriously can't go wrong with this recipe.
So gather up the Christmas cookies alongside your mug of eggnog, it's going to be a delightful holiday.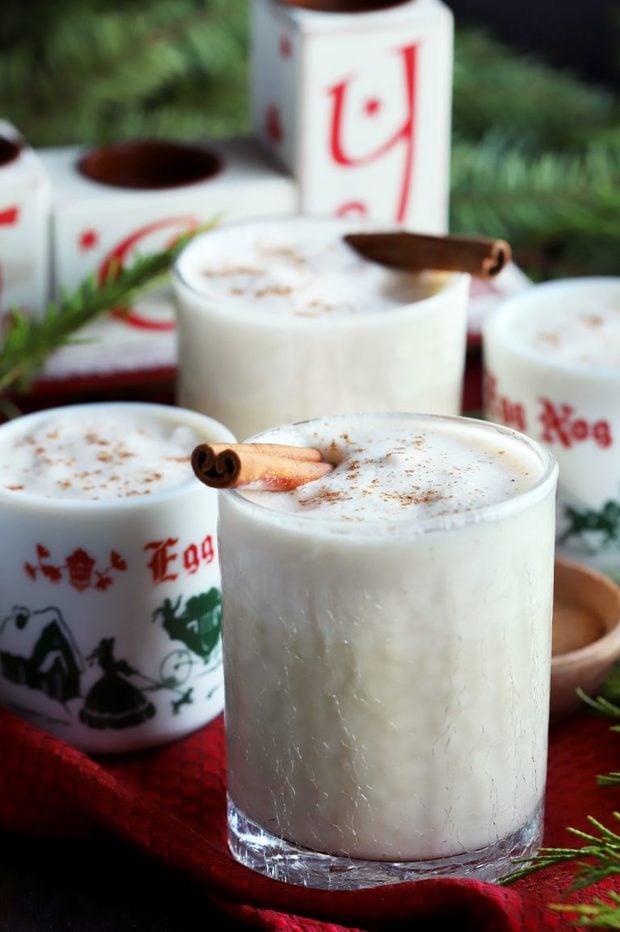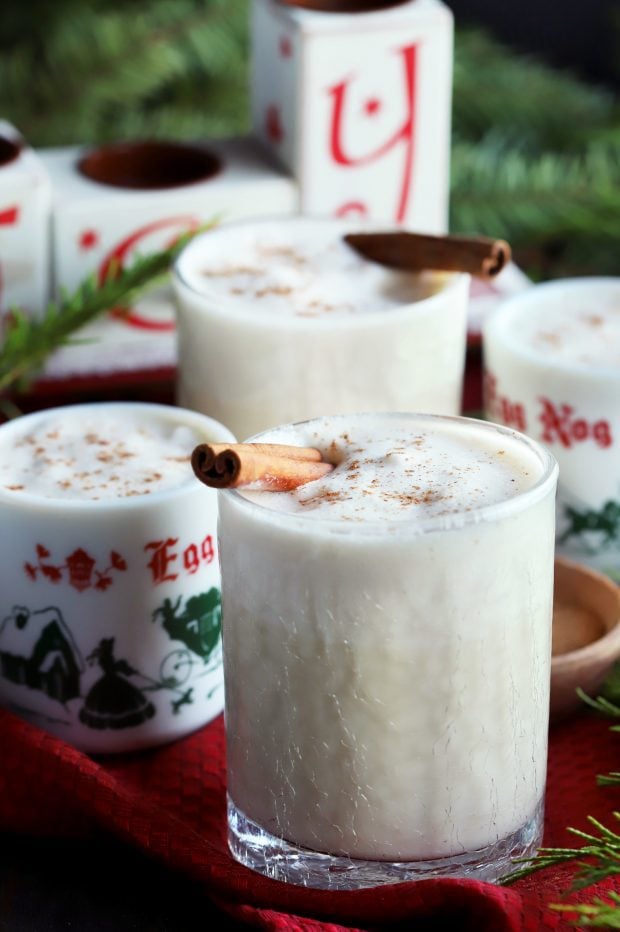 This Recipe's Must Haves
The eggnog mugs you see here are special edition from a small Christmas popup here in Denver last year, but if you want to be truly festive, grab this Officially Licensed National Lampoons Christmas Vacation Glass Moose Mug Set
! If that's a little too much for you, I love serving eggnog in crystal double old fashioned glasses like this Lorren Home Trends Crystal Melodia Collection Double Old Fashioned Glass Set
.
To make the eggnog recipe itself, there are a few tools I rely on. One of which is this FineDine Premium Various Sizes Stainless Steel Mixing Bowl Set
which is ideal for all your holiday cooking to have handy.
For all your electric mixing needs, I depend on this KitchenAid 5-Speed Ultra Power Hand Mixer
and this KitchenAid Artisan Tilt-Head Stand Mixer. You have to use both in this recipe (or clean one in between) so it's kinda nice to have both.
Finally, the nutmeg topping is oh-so important to the eggnog when you serve it. I got this Norpro Nutmeg Grater
ages ago from my Uncle Mike (my nickname in the family has always been Nutmeg) and I still use it to this day. Grab a Whole Nutmeg Tin
so you have the full nutmeg to grate with the grater.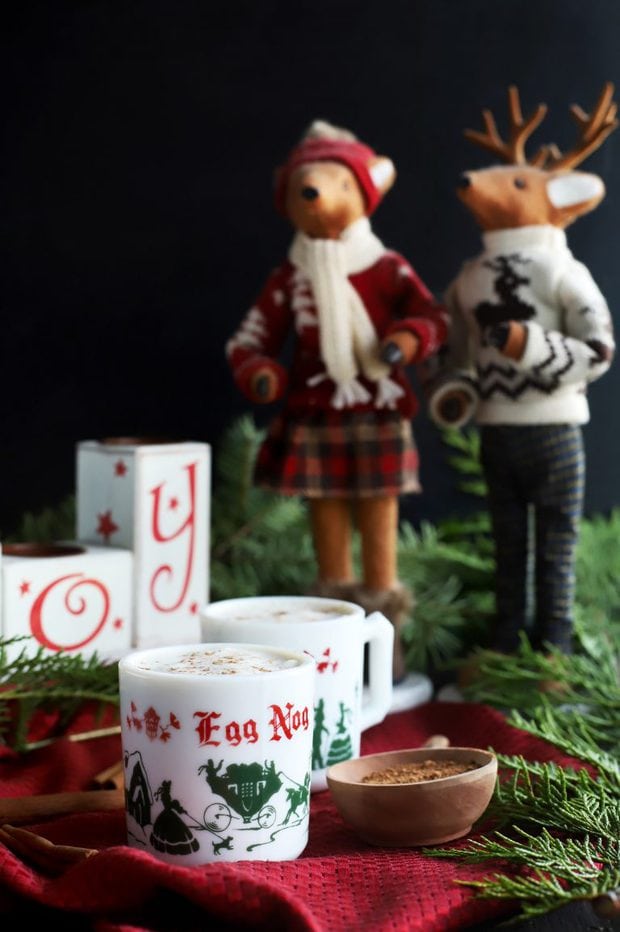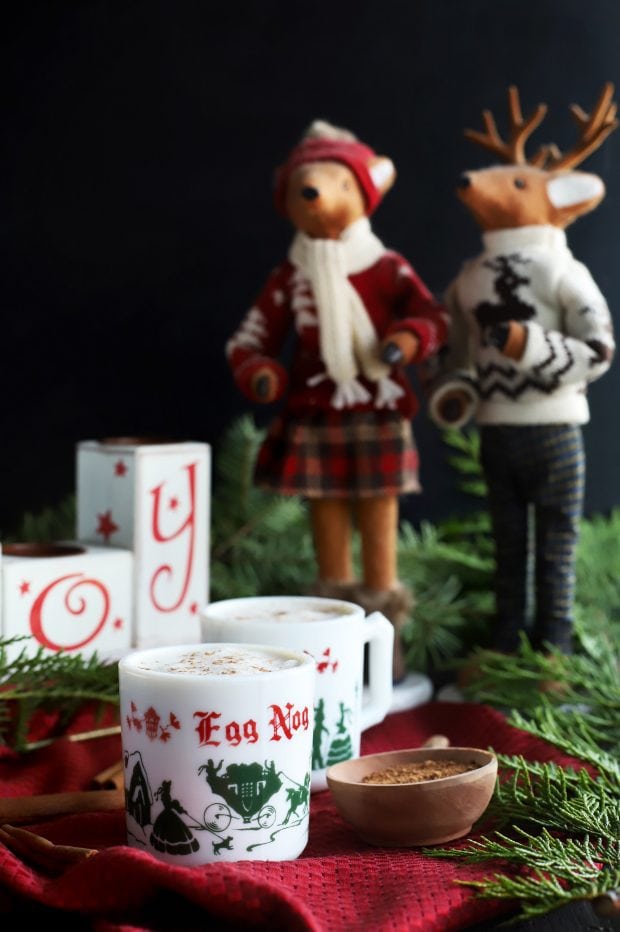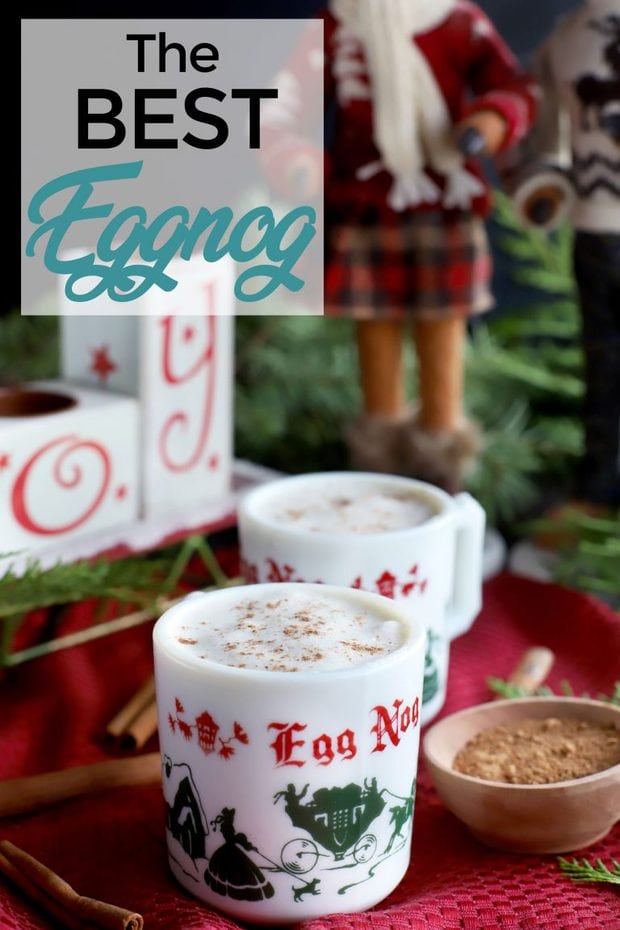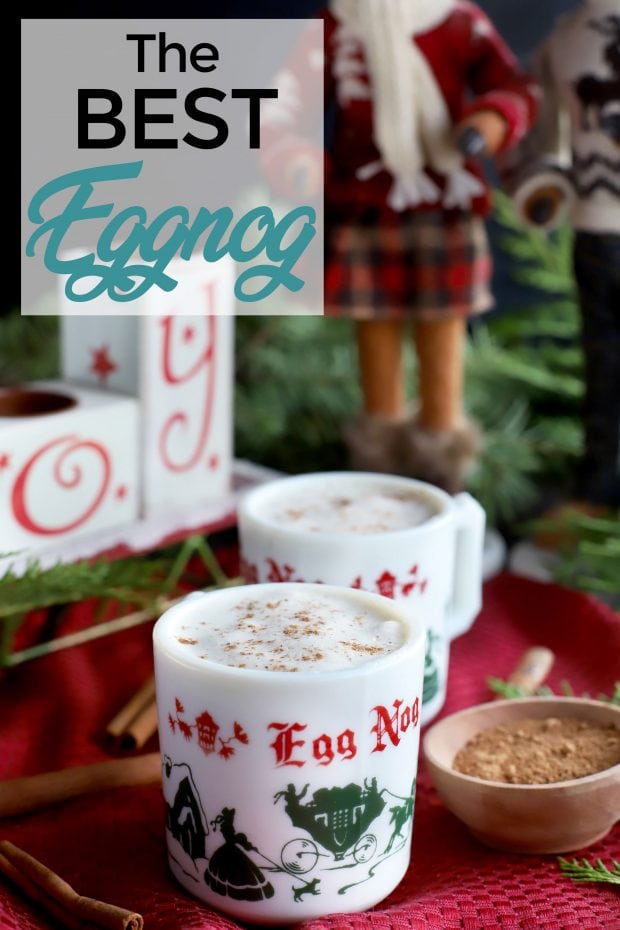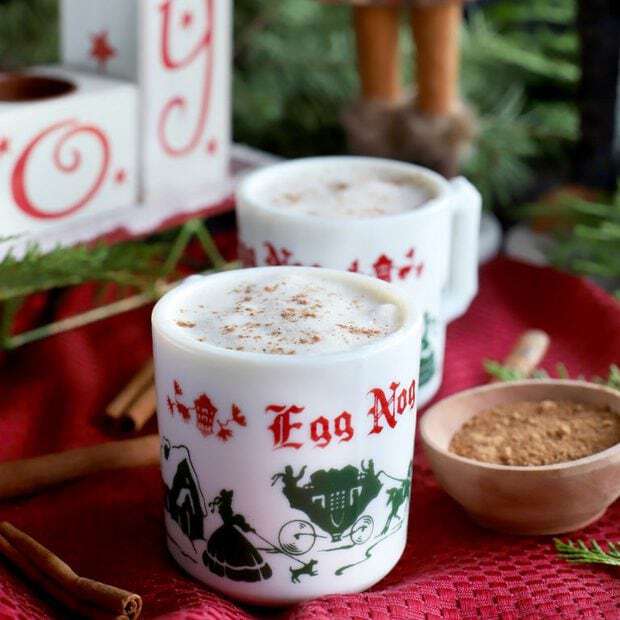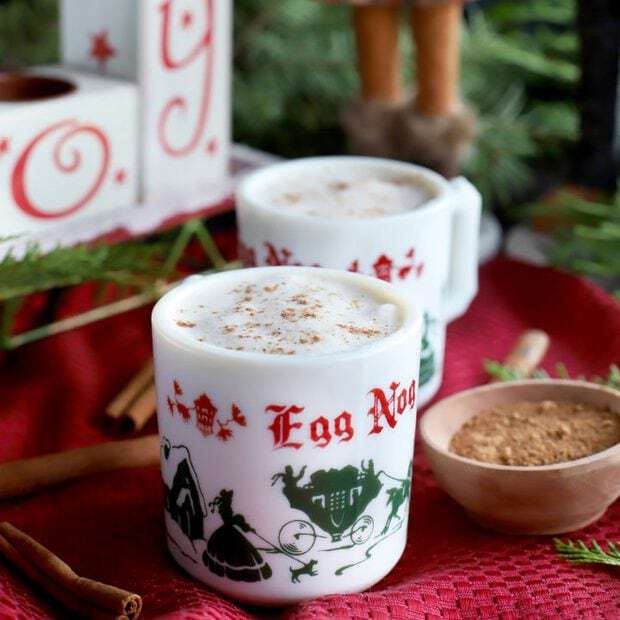 The Best Homemade Eggnog
Total Time:
2 hours
15 minutes
Rich, creamy, and boozy eggnog is the easiest recipe to make! Perfect for the holiday season.
Ingredients
4 large egg yolks
1/3 cup plus 1 tablespoon sugar, divided
2 cups whole milk
1 cup heavy cream
1/2 cup bourbon
1/3 cup cognac
1 tsp freshly grated nutmeg, plus more for serving
4 large egg whites
Instructions
In a large bowl, beat the egg yolks with a handheld electric mixer on medium speed until they lighten in color. Gradually add 1/3 cup sugar and continue to beat on medium speed until it is completely dissolved. Add the milk, cream, bourbon, cognac, and nutmeg, stirring to combine.
Place the egg whites in the bowl of a stand mixer and beat to form soft peaks on medium-high speed. With the mixer still running, gradually add the remaining tablespoon of sugar and beat until stiff peaks form.
Whisk the egg whites into the egg yolk mixture. Chill for 2 hours and serve.
Recommended Products
As an Amazon Associate and member of other affiliate programs, I earn from qualifying purchases.