Please note this post contains affiliate links.
BBQ Beef Tenderloin is an elegant and simple way to make an impression this holiday season. It's so easy to prepare, and when served with a creamy horseradish sauce, it's the star of any winter gathering. Serves 8 to 10.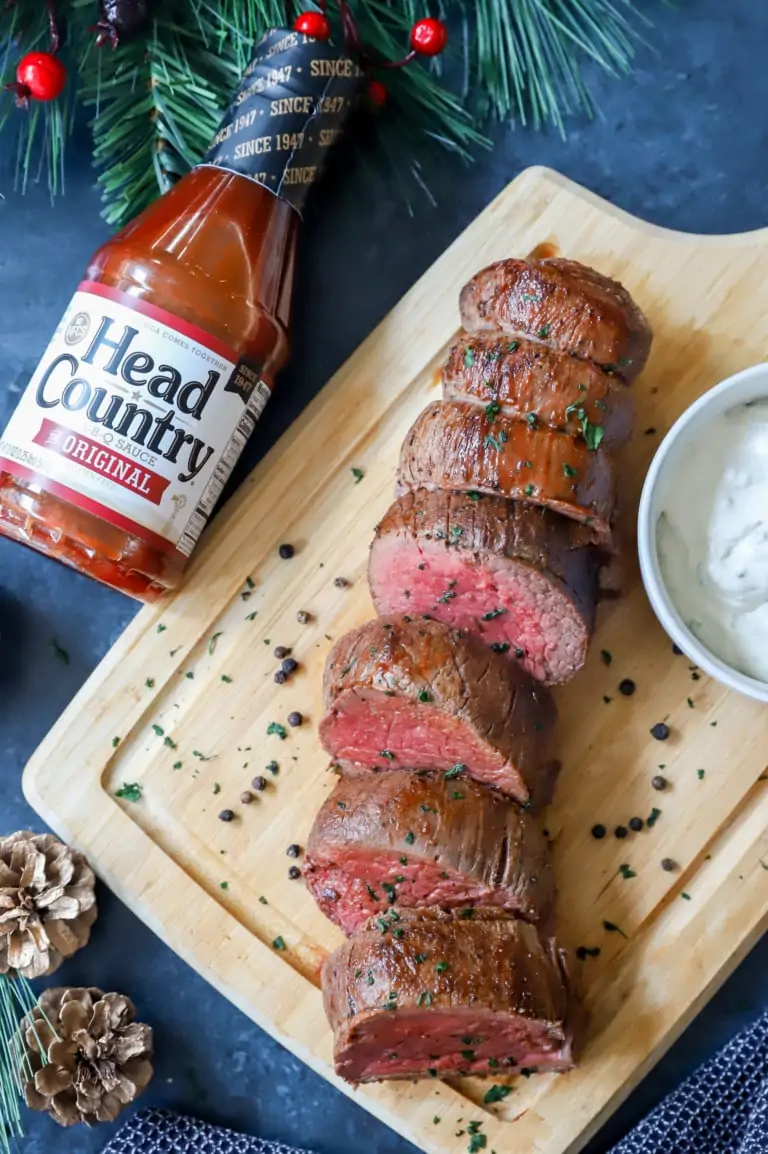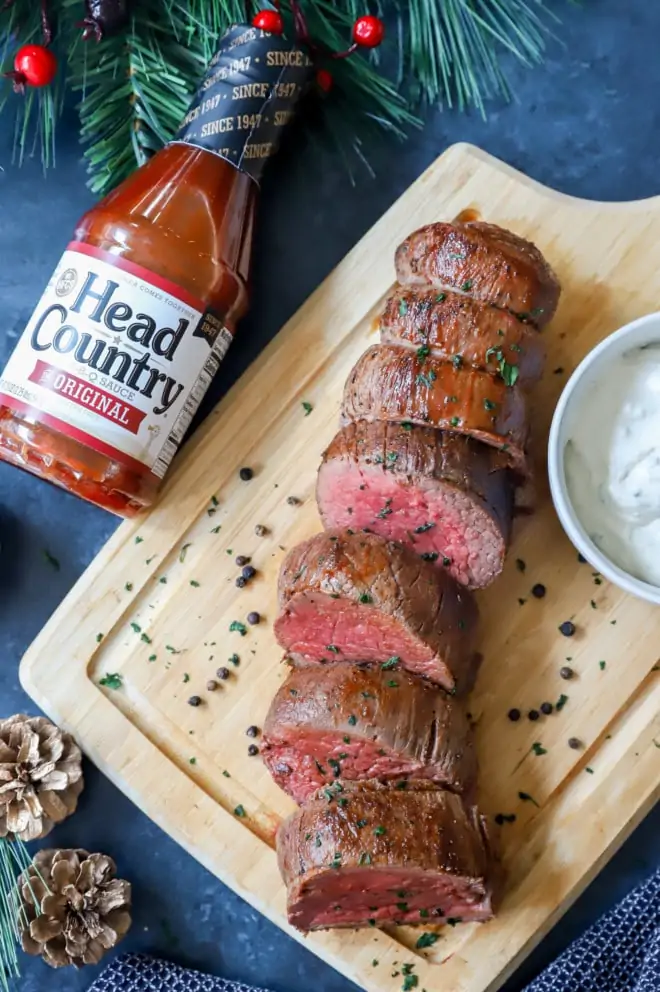 Disclosure: This post is sponsored by Head Country Bar-B-Q. As always, all opinions are my own.
about this bbq beef tenderloin
Today, I am going to guide you through this stunning recipe that should be the centerpiece of your holiday dinner table. The indulgent meal is oh-so worth it, and I'm going to guide you through how to make it PERFECTLY.
Beef tenderloin can seem a bit intimidating because you want to make sure you serve the cut at the perfect temperature. Honestly, all you need is a good meat thermometer to make sure you temp the meat correctly! Other than that, this BBQ beef tenderloin is deceptively simple to make.
Instead of making a fancy glaze or homemade spice rub, I went with three simple ingredients for the outside of this bbq beef tenderloin. Salt, freshly cracked black pepper, and Head Country Original BBQ Sauce.
With Head Country's signature blend of sweet, spice, and savory in their Original sauce, this is the ideal pairing for the rich and tender beef tenderloin. It's a classic sauce for a reason, and that makes it perfect to pair with a classic dinner like this one.
Want to change things up? Consider using any of Head Country BBQ's signature sauces to change up the flavor profile! May I suggest Hickory Smoke for a smokier flavor profile?
I made my bbq beef tenderloin in the oven because it gets pretty darn chilly here in Colorado. However, you can also grill this beef tenderloin if you feel like firing up your grill for a holiday gathering! I've included instructions on this in the post below, as well as below the recipe card for your reference.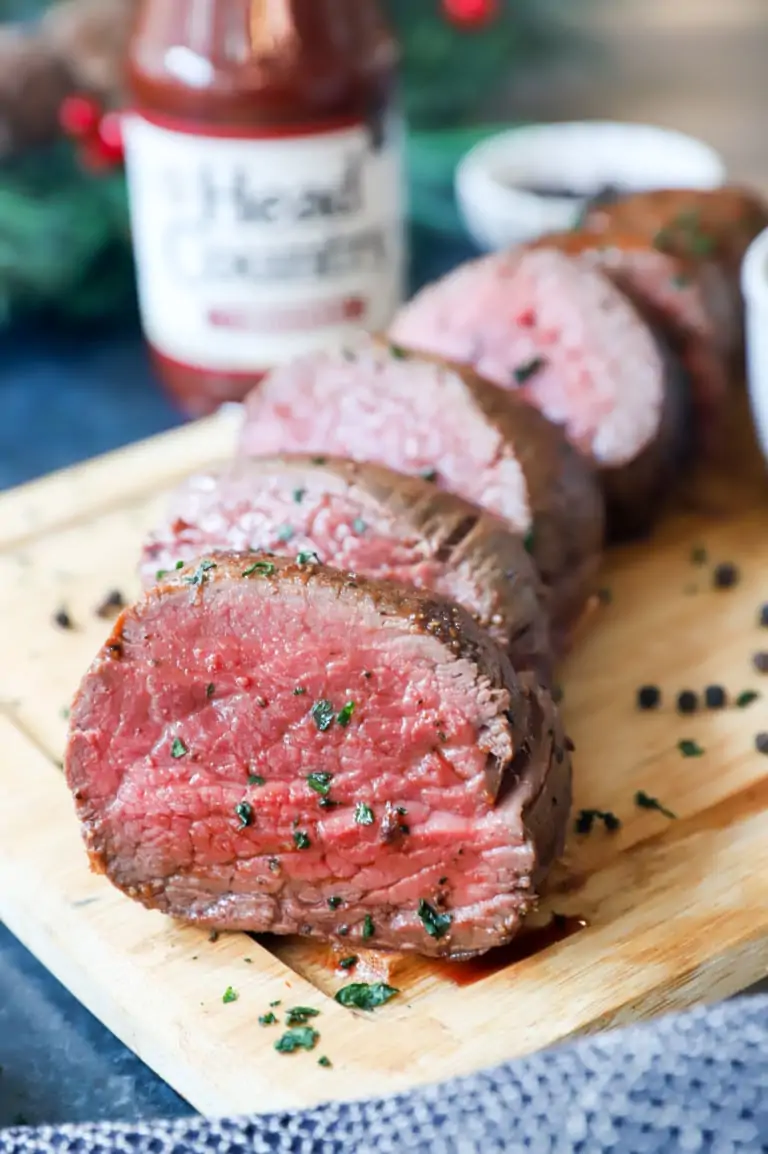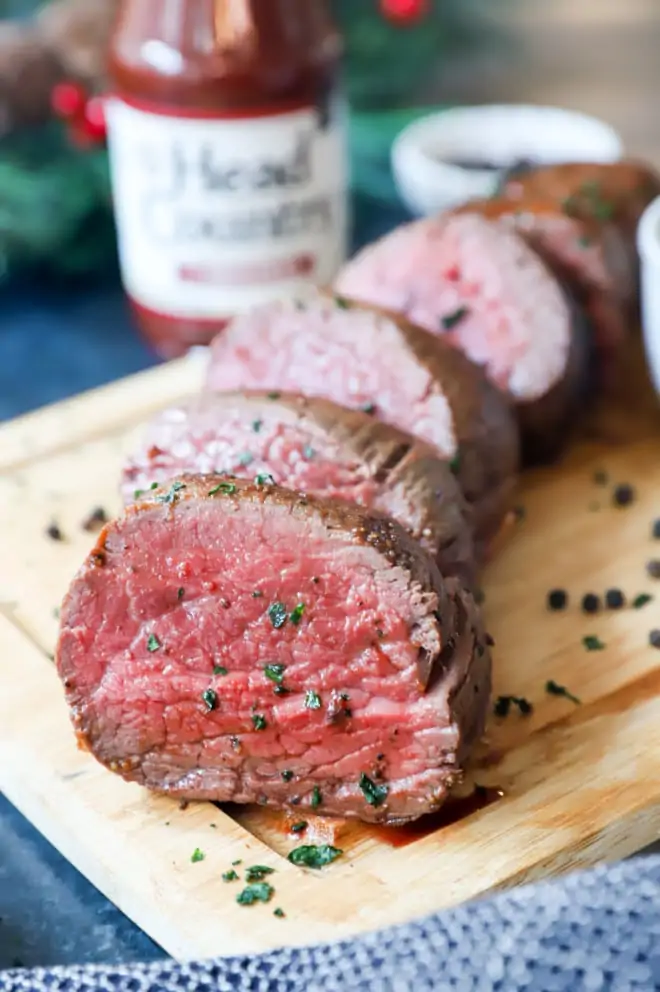 ingredients
bbq sauce – I highly recommend using Head Country Original BBQ Sauce for this recipe. The blend of sweet, savory, and spice makes it the ideal pairing for a classic beef tenderloin whether it's roasted in the oven or grilled.
beef tenderloin – you will need a 4 to 5-pound whole beef tenderloin for this recipe. I prefer to have my butcher cut it in half, or simply purchase two 2-pound center-cut tenderloins. It should already be trimmed for you, but make sure to double-check with your butcher before walking out the door. You can also ask your butcher to tie your tenderloin up for you, or you can do this at home.
salt and pepper – don't skimp on the salt and pepper! I recommend coarse sea salt and freshly cracked black pepper to give the meat the most flavor.
sour cream – you will need this as part of the base for the creamy horseradish sauce.
horseradish – this is what brings the zing to that creamy sauce on top! I just buy prepared horseradish at the store, but you can also make your own if you prefer.
mayonnaise – any type of mayonnaise will do here!
chives – fresh chives are key to lifting up the creamy sauce with a bit of fresh flavor. You can use dried chives in a pinch, but be sure to cut the amount in half if you are using dried since it's stronger.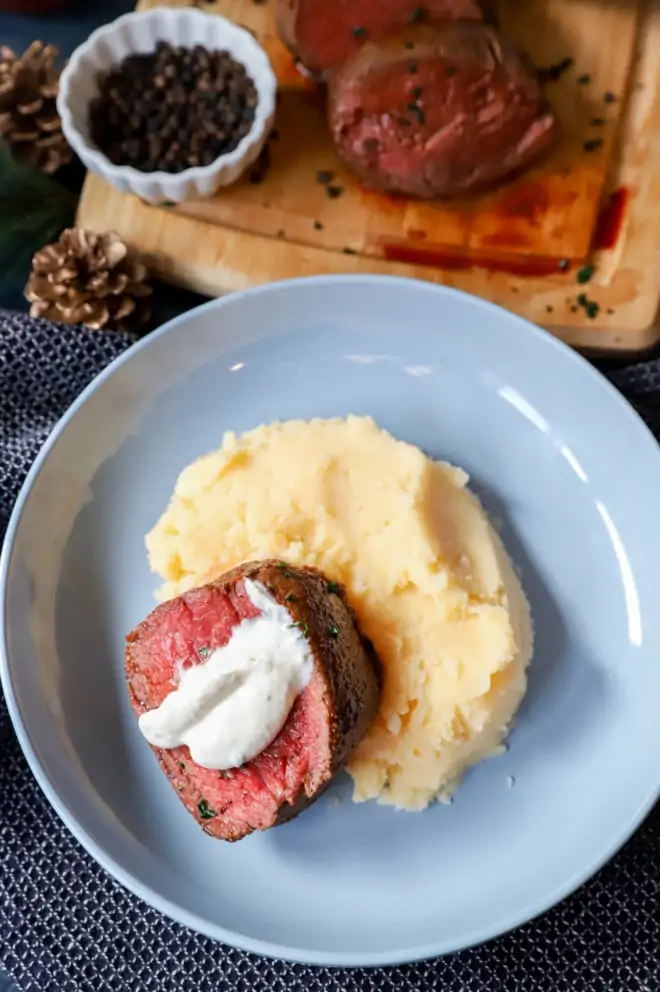 this recipe's must haves
To tie up the beef tenderloin, you will need butcher's twine and a pair of kitchen shears.
I use a cast iron skillet to both sear off the tenderloin and to roast it in the oven. Any heavy duty skillet that is oven safe will work for the recipe.
You will also need a silicone brush to brush on the BBQ sauce, as well as a sharp butcher's knife to cut the BBQ beef tenderloin after resting.
To make the horseradish sauce, you just need a small bowl from your set of mixing bowls and a spoon or whisk.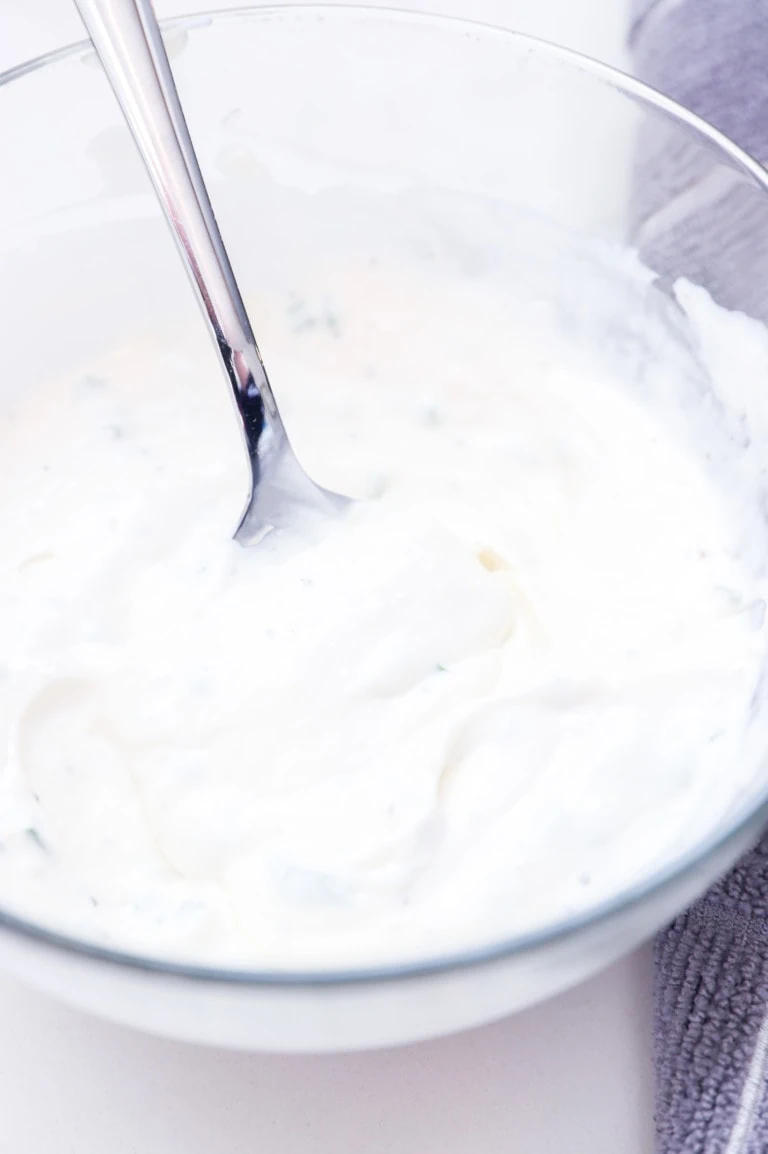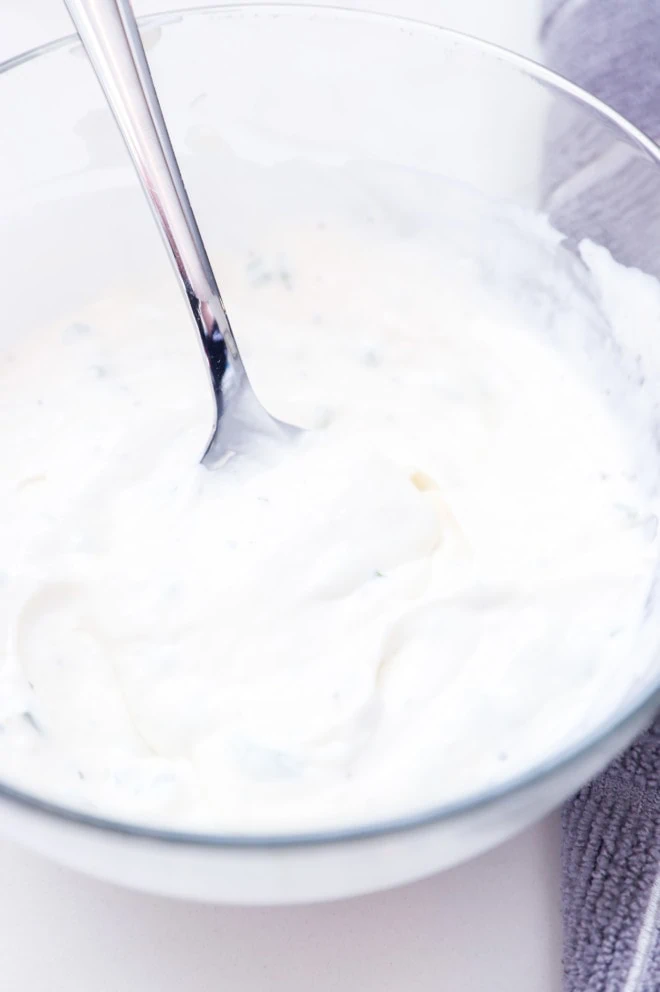 here's how to make bbq beef tenderloin
make creamy horseradish sauce
Stir together the ingredients for the creamy horseradish sauce. Place in the refrigerator until you are ready to serve.
prep beef tenderloin
Make sure your beef tenderloin is already trimmed before tying it. You can trim it yourself by removing the "silverskin" that runs down the length of the tenderloin. Run a sharp knife gently underneath it while pulling it up with your other hand. Trim off any excess fat around the outside and remove the fatty strip that runs along the outside as well.
To tie your beef tenderloin, you'll want to tie it into even segments down the length with a simple knot. Make it as uniform in shape as possible. Trim off any excess string.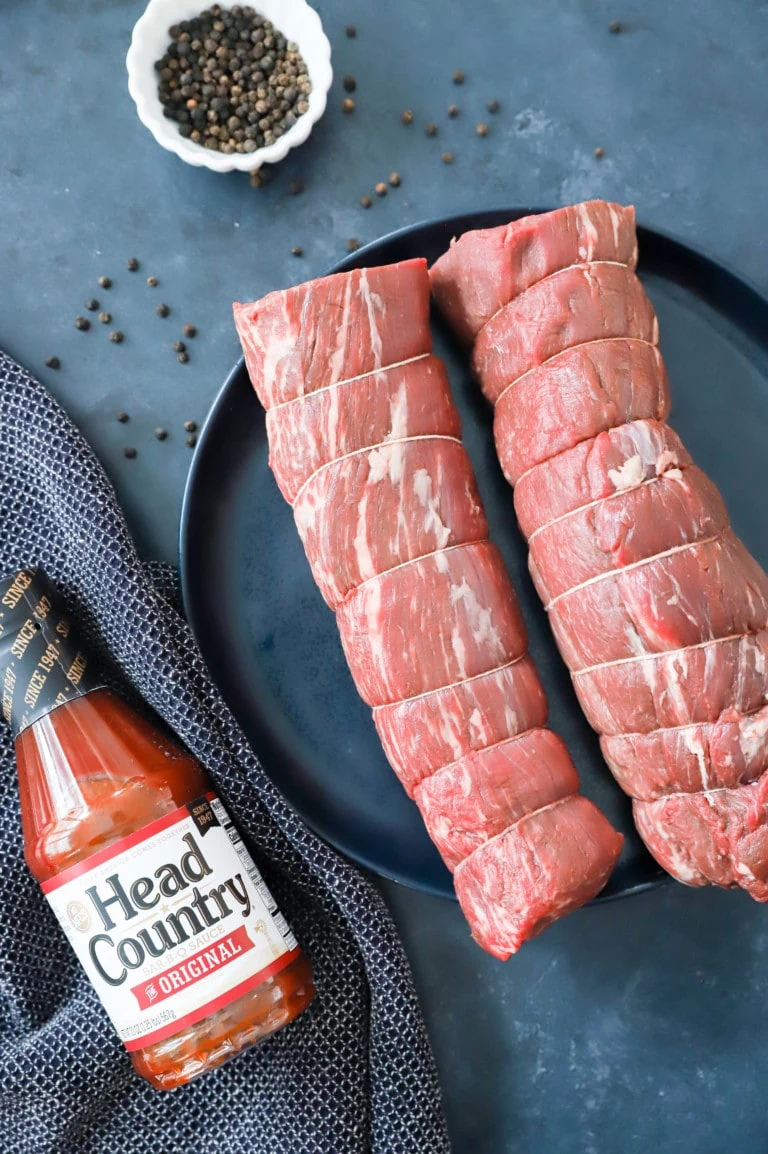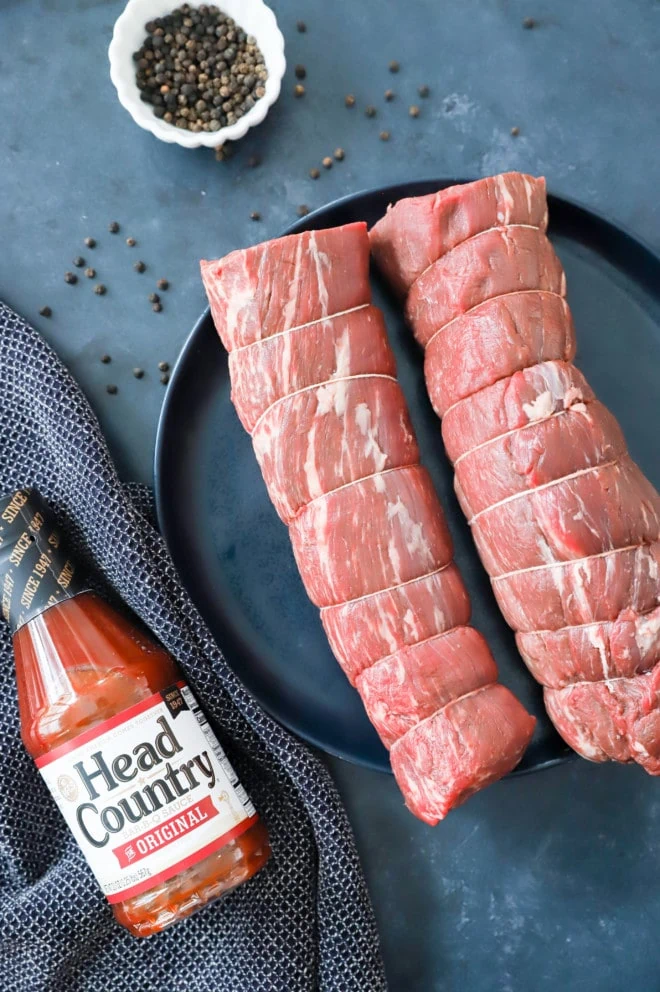 sear and roast (or grill!)
Once your beef tenderloin is prepared, it's time to sear it in a hot skillet. Heat oil in a skillet over medium-high heat. Once shimmering, add beef tenderloin and brown for 2 to 3 minutes per side (about 10 minutes total). Brush the tenderloin with Head Country BBQ Original Sauce.
Place the skillet in the oven and bake at 425˚F until it reaches your desired doneness. This will take about 15 to 25 minutes, depending on how you like your meat cooked. I like to brush my tenderloin again with sauce about halfway through cooking.
Remove from the oven and rest for at least 15 minutes before slicing. Serve with creamy horseradish sauce.
Note: if you prefer to grill your beef tenderloin, I've included instructions for this below in the recipe card.
More tasty holiday dinner recipes to try: Gnocchi Bolognese Bake | Roasted Chicken with White Wine and Fresh Herbs | Herb Crusted Rack of Lamb | Beer Brined Turkey Breast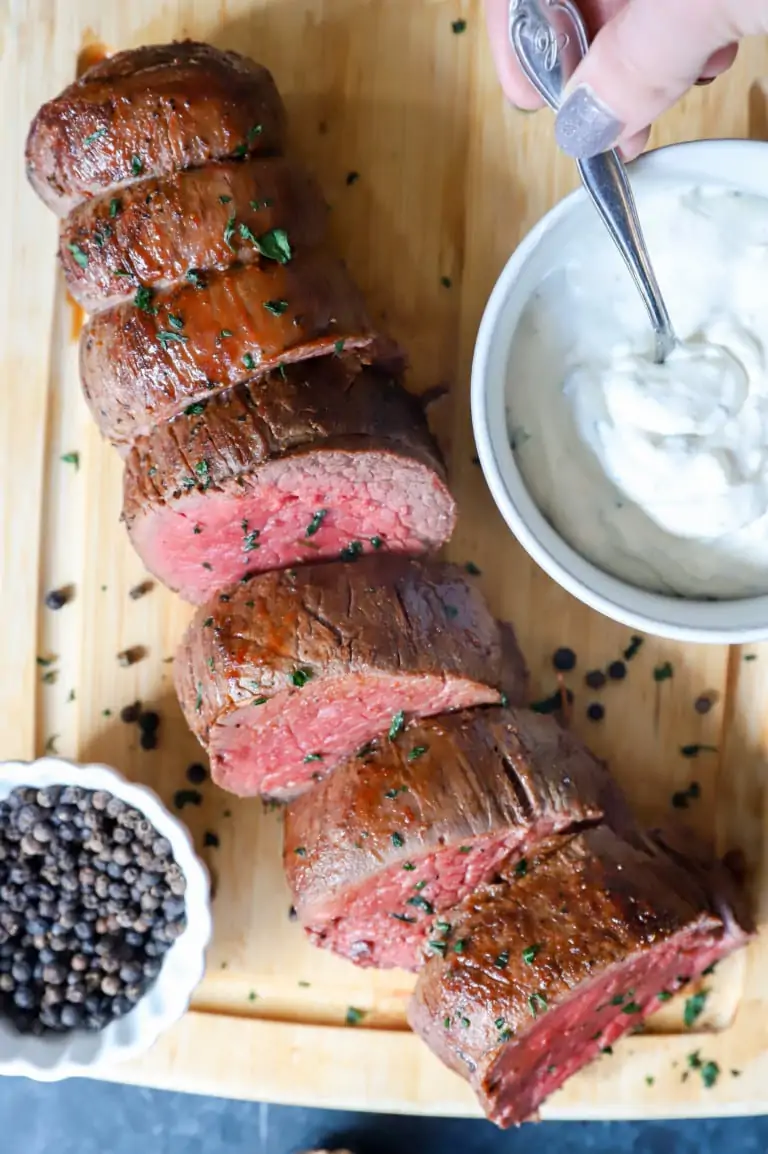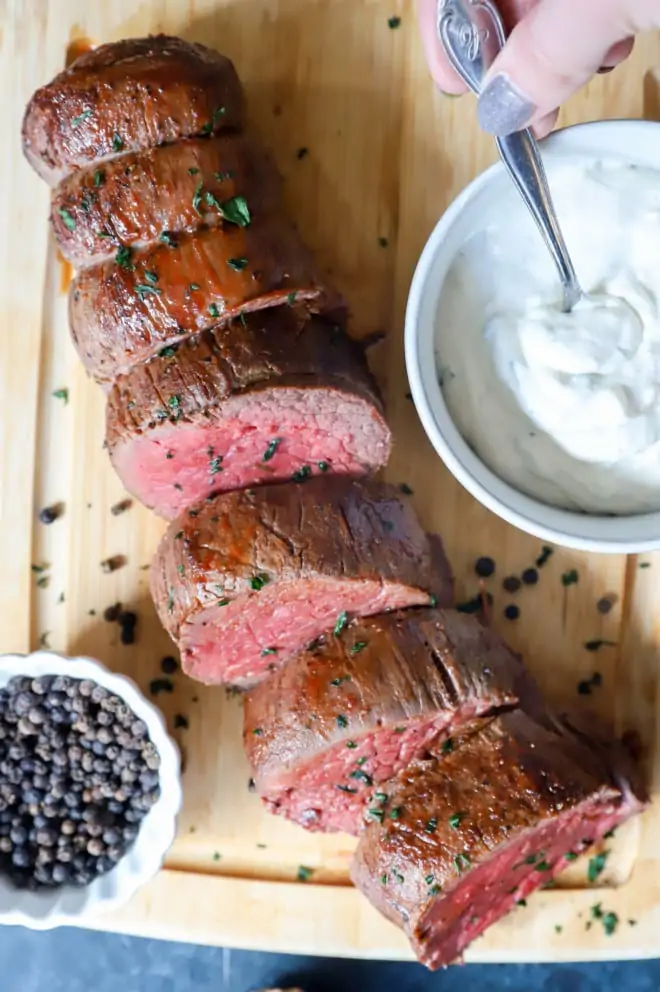 should I sear beef tenderloin before roasting?
I definitely recommend it! Not only will it cut down on the total cooking time, but it also creates a nice crust that stands up to the BBQ sauce glaze.
can I grill this beef tenderloin?
Yes you can! If you grill your beef tenderloin, you will skip searing it before cooking it on the grill. Instead you will crank up the heat at the end of cooking to get that crust. Note that it does take longer to grill the meat, but it tastes great and is worth the wait! I've included specific instructions for this at the bottom of the recipe card.
how do I know when this bbq beef tenderloin is done cooking?
The beef tenderloin is done when it has reached between 135˚F and 140˚F for medium rare. The best way to serve beef tenderloin is medium rare, but cook it to your desired doneness. The higher the internal temperature, the tougher the meat will become. I've noted the temperatures for steak doneness below:
Rare – 125˚F
Medium Rare – 135˚F
Medium – 145˚F
Medium Well – 155˚F
Well Done – 160˚F
Pro Tip: Keep in mind that the temperature will rise about 5 to 7 degrees after removing it from the oven.
Need some more inspiration for dinner? Check out my main dish recipes page!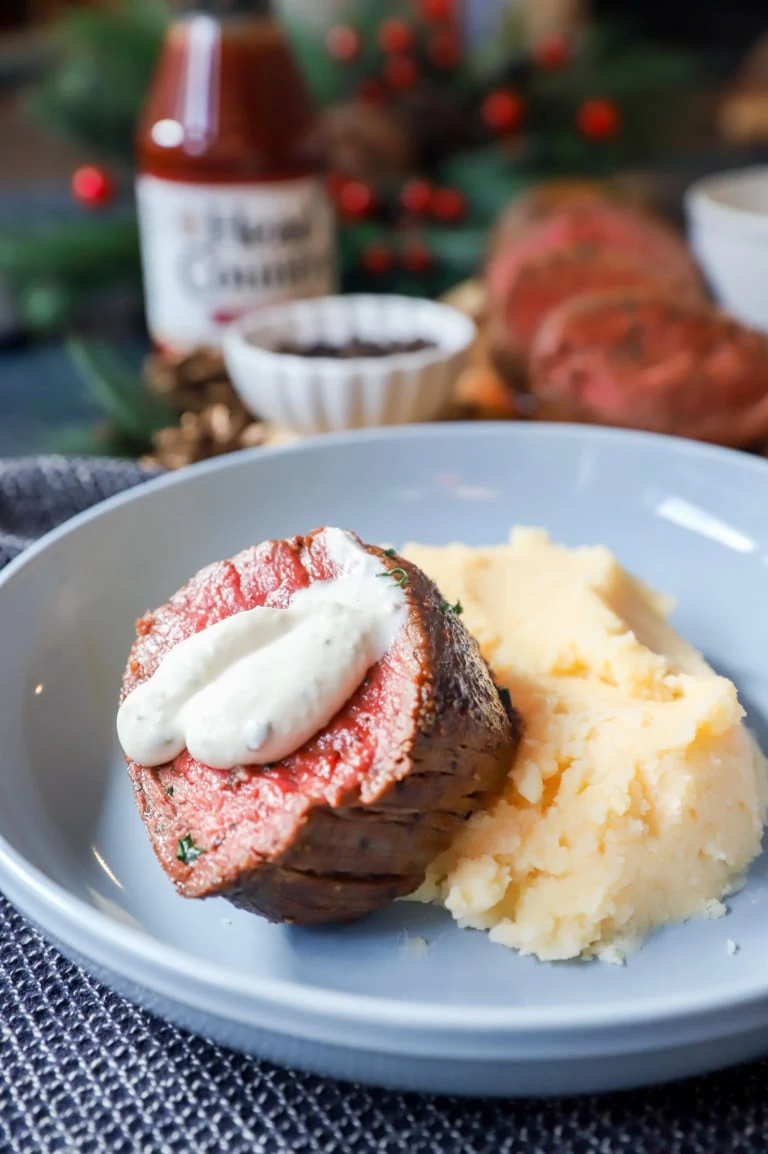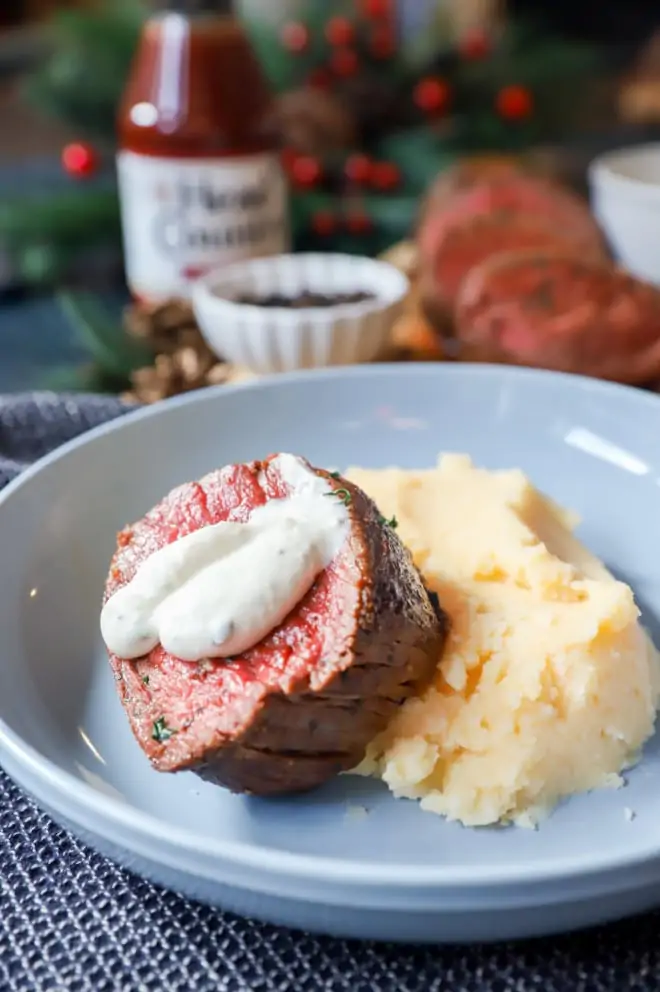 what to serve with bbq beef tenderloin
Any side dish goes with BBQ beef tenderloin! I always love a classic potato and some sort of green veggie combo, but there are lots of sides that you can whip up. Here are some personal blog favorites to inspire you!
Crispy brussels sprouts with balsamic and lemon are tangy and spicy!
Instant Pot mashed potatoes with roasted garlic and parmesan and the easiest way to make the flavorful and creamy side dish.
Spicy-sweet roasted broccolini is fresh and easy to throw together.
Garlic butter roasted potatoes and carrots are hearty and only require a handful of ingredients!
Bring out the air fryer for these easy hasselback sweet potatoes!
If you don't like creamy horseradish with your tenderloin, whip up an easy au jus recipe to pair with the meat.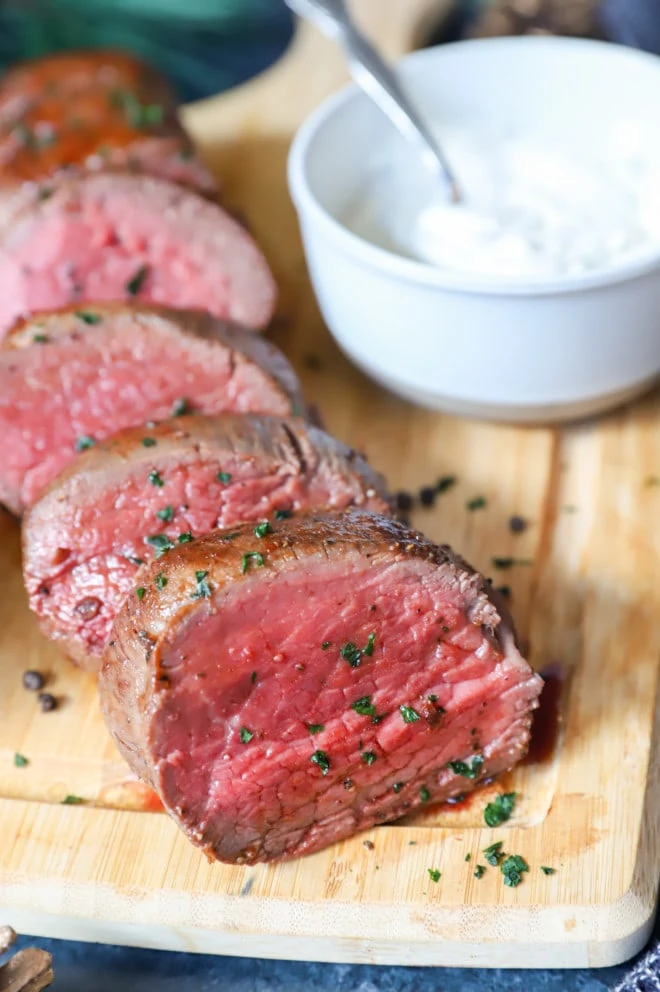 Finally, if you make this bbq beef tenderloin recipe, please be sure to give this recipe a rating or leave a comment! I love to hear when you all make recipes, and I do take the time to respond to every single comment. Feel free to drop questions below too, if you have them!
Oh and be sure to tag me on Instagram if you make the recipe! I love being able to see these recipes come to life in your homes – it's my favorite thing to look through those photos. It really means the world to me!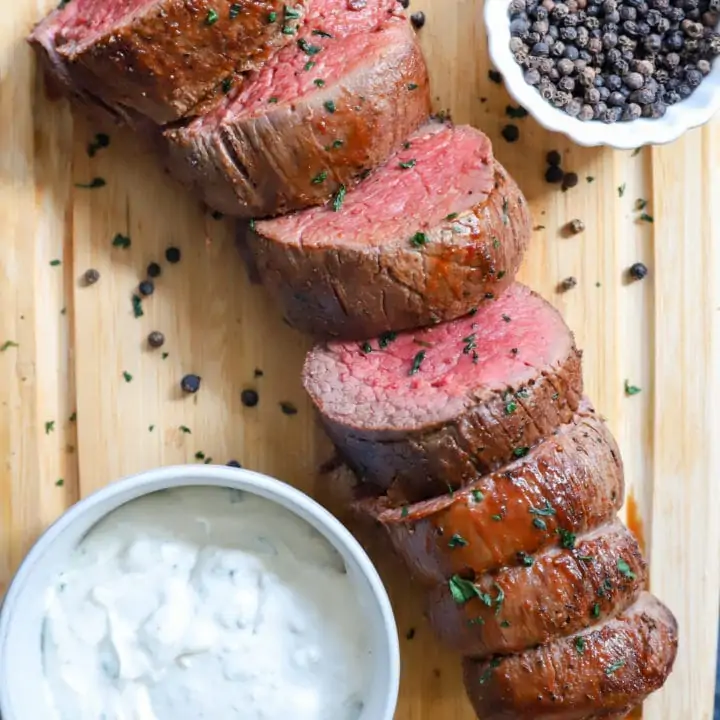 BBQ Beef Tenderloin
A simple, elegant dinner that is sure to impress!
Ingredients
creamy horseradish
1/2 cup sour cream
2 tbsp prepared horseradish
2 tbsp mayo
1/4 tsp salt
1/8 tsp black pepper
1 tbsp chives, freshly chopped
beef tenderloin
4 to 5-pound beef tenderloin, trimmed, cut into two pieces, and tied
2 Tbsp olive oil
Coarse sea salt
Freshly cracked black pepper
1/2 cup to 1 cup Head Country Original BBQ Sauce
Instructions
Allow beef tenderloin to come to room temperature for about 1 hour before cooking.
Preheat the oven to 425˚F.
To make the creamy horseradish sauce, add all ingredients for the sauce to a small bowl. Stir to combine. Place in the refrigerator until ready to serve.
Pat any excess moisture from the beef tenderloin with paper towels. Season generously on all sides with salt and pepper.
Heat oil in a large cast iron skillet over medium-high heat. Once the oil is shimmering, place beef tenderloin in the skillet to sear on all sides. This will take about 2 to 3 minutes per side, about 10 minutes total.
Remove from heat. Brush with Head Country Original BBQ Sauce all over.
Roast the beef tenderloin in the oven for 15 to 25 minutes total, until it reaches your desired doneness. After the first 10 minutes of cooking, brush the beef tenderloin with another coat of BBQ sauce. Make sure that you use a digital meat thermometer probe to gauge the internal temperature in the thickest part of the meat.
Remove from the oven and let the beef tenderloin rest on a cutting board for at least 15 minutes. Slice and serve with creamy horseradish sauce.
Notes
If you prefer to grill your beef tenderloin, grill at 325˚F over indirect heat for about 40 to 45 minutes, until the internal temperature reaches 125˚F when a meat thermometer is inserted in the thickest part. Move the meat over to direct heat, and grill over high heat, uncovered, for another 8 to 10 minutes to give the outside a nice char. Remove from the grill when it reaches your desired doneness, turning once throughout cooking. I've noted the doneness temperatures above in the notes of the recipe! Let rest for 15 minutes before slicing.
Recommended Products
As an Amazon Associate and member of other affiliate programs, I earn from qualifying purchases.