Please note this post contains affiliate links.
Chocolate Dipped Candied Orange Slices are ideal for gifting this holiday season or decorating your favorite baked goods! Making them is super simple and with a sprinkle of flaky salt on top, they really stand out. I recommend using different oranges from navel to blood orange.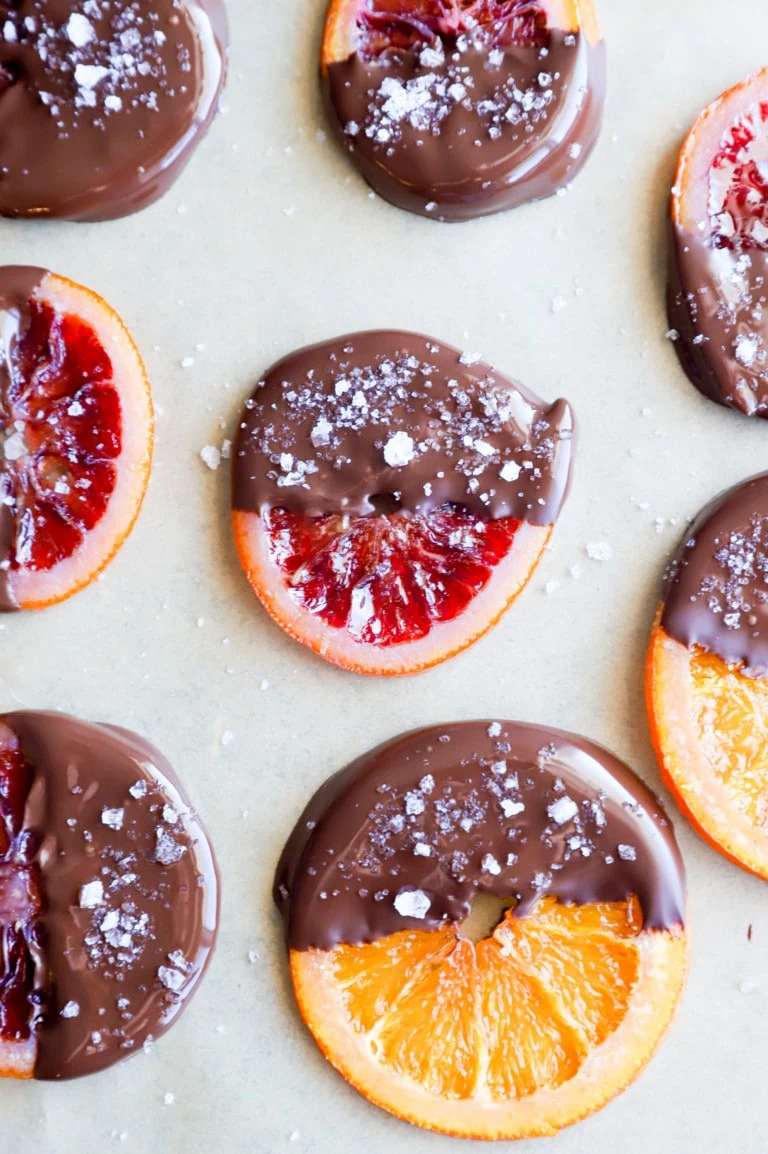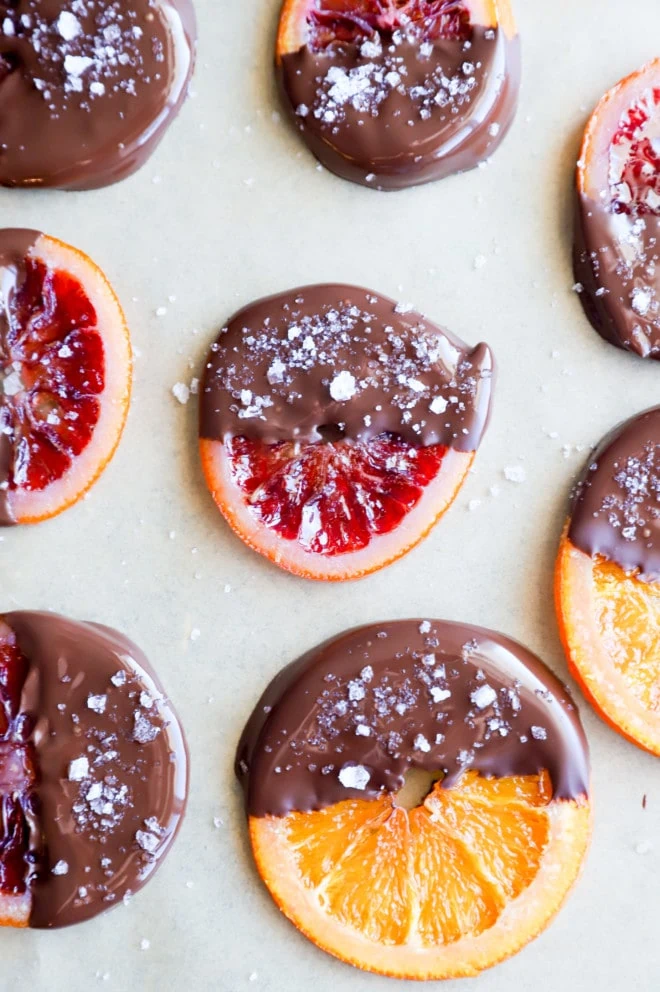 about these chocolate dipped candied orange slices
Candied orange slices are one of those treats that just screams holidays to me.
Funny story, I always thought chewy candied orange slices were the gummy orange slices that my grandmother loved to eat when I was a kid. I am not sure when I realized there's a difference, but I still think of those candies first whenever anyone mentions candied oranges.
I just love creating treats for the holidays, and these chocolate dipped candied orange slices are a step up from the candied orange slices you may know.
Dipping them in chocolate gives you that chocolate orange combination that I LOVE (anyone else always get a chocolate orange in their stocking??). Plus a sprinkle of flaky sea salt just elevates them to an elegant level that takes you no effort.
Making candied orange slices is really easy! This is one of those low effort recipes that still takes a bit of time. The slices take a bit to cook on the stove, but you don't have to tend to them at all. Just let them simmer away while you wrap gifts, watch a holiday movie, or read a book!
Easy candied orange slices are ideal for gifting, but you can also add them as garnish to your holiday cocktails, for some variety on a cookie tray, or as a fun topping to your christmas cakes, cupcakes, and other desserts.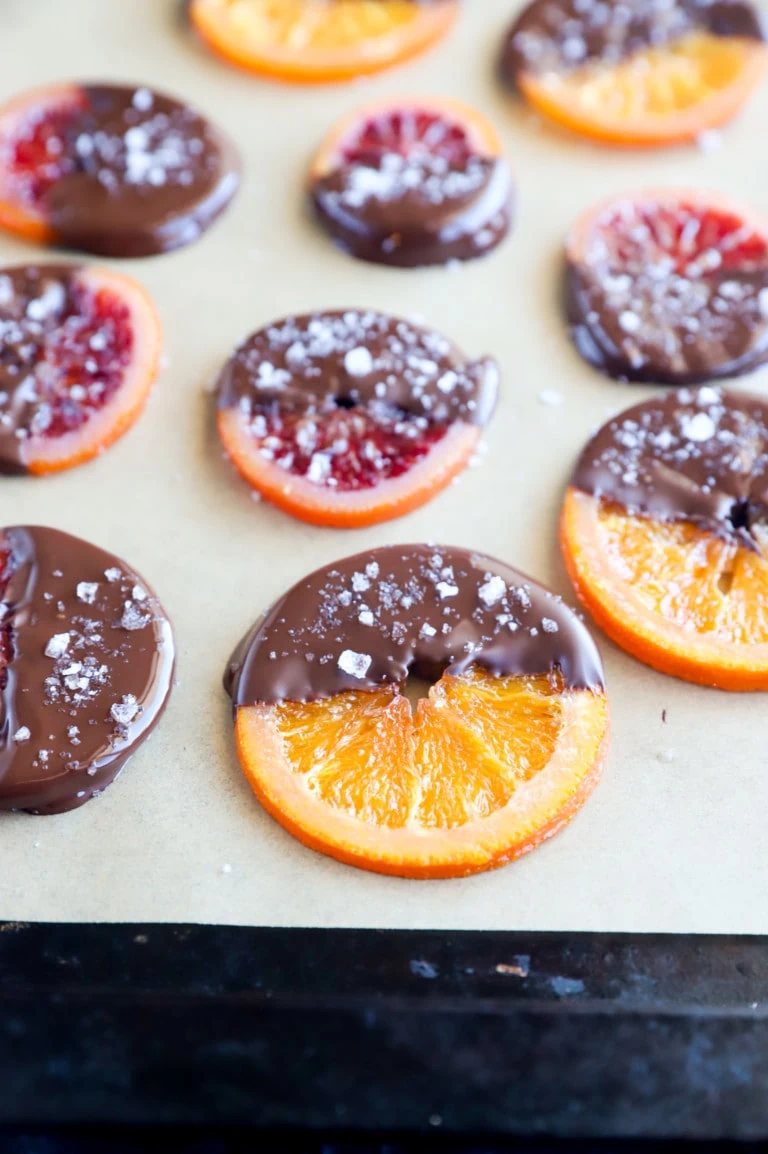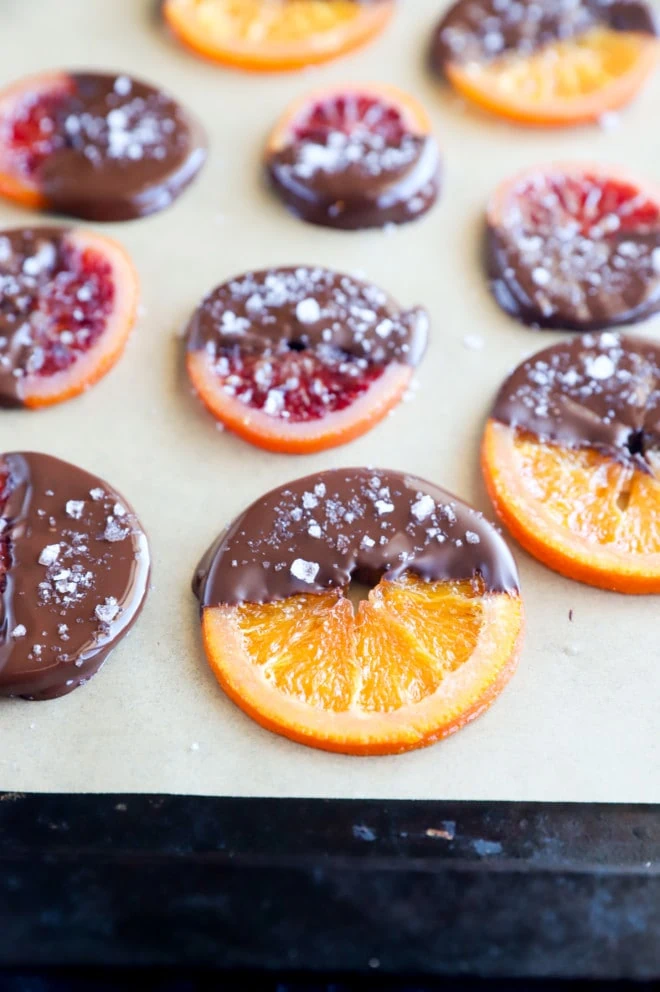 ingredients
oranges. I like to use a combination of different types of oranges! My personal favorites are blood oranges and cara cara oranges. You can also use navel or whatever other type you love to eat.
sugar. All you need is granulated sugar for this candied oranges recipe.
water. Tap water or filtered water is fine, just use whatever you prefer to cook with.
chocolate. I used dark chocolate melting wafers because I love dark chocolate. You can also use milk chocolate or white chocolate. All types of chocolate go with these candied orange slices!
salt. Use a flaky sea salt like fleur de sel for finishing off these candied orange slices. You can also use a coarse sea salt if that's what you have on hand.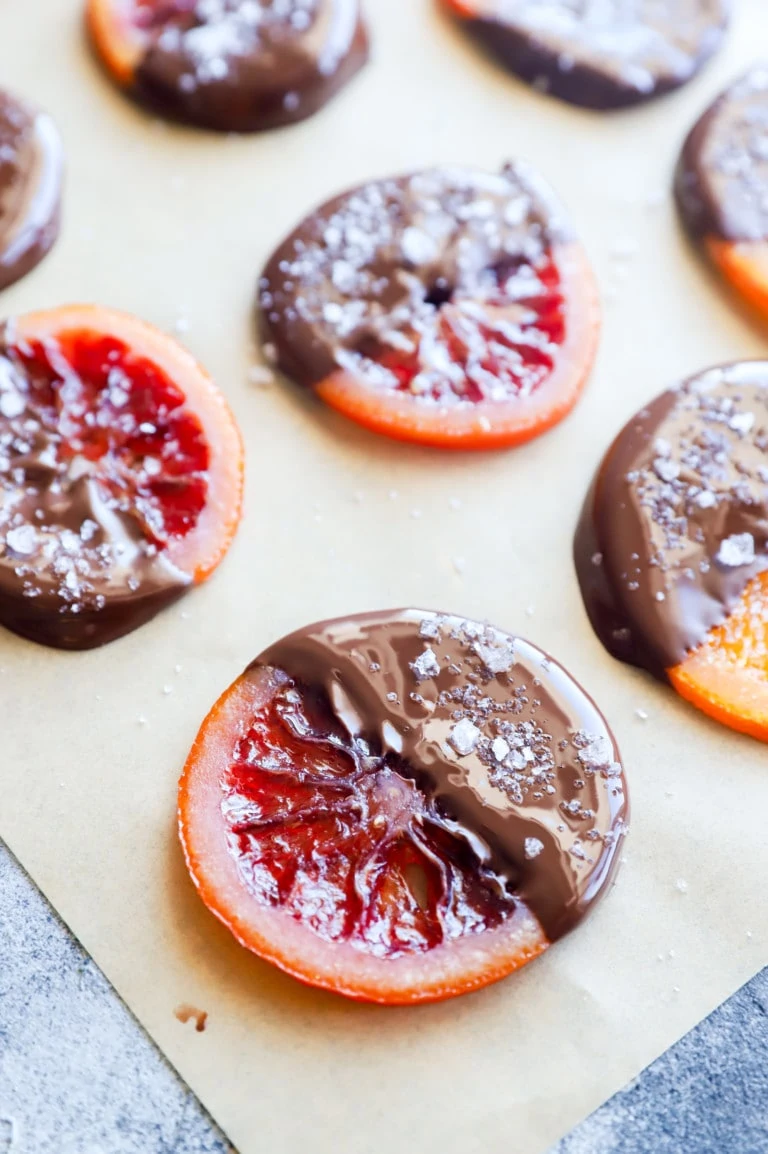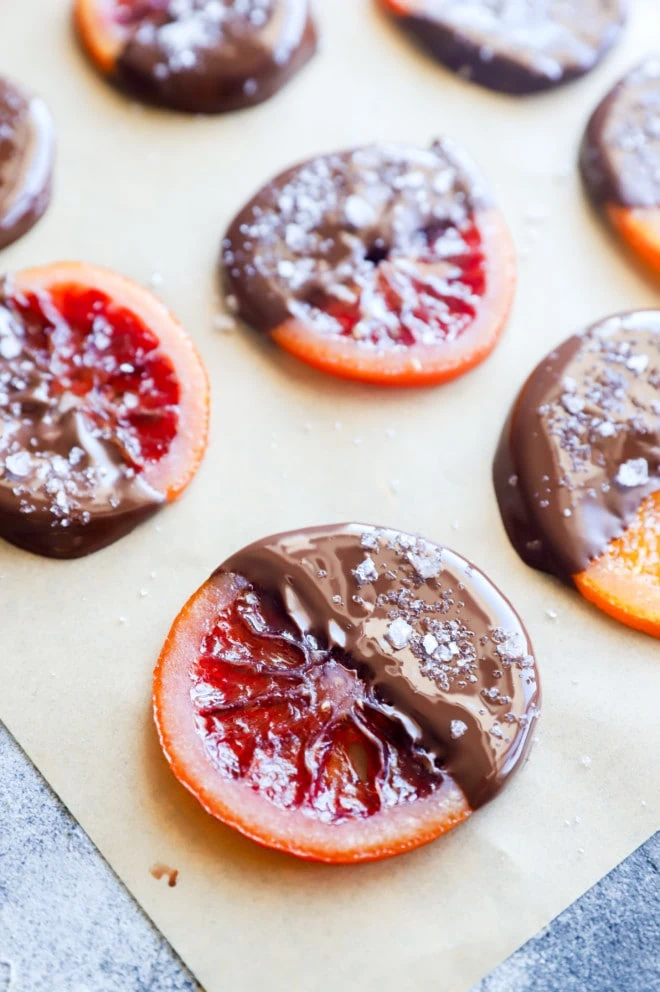 this recipe's must haves
You will need to grab your favorite chef's knife and cutting board to slice the oranges. Alternatively, you can use a mandoline for slicing if you prefer.
A wide large skillet is ideal for cooking the slices. Make sure it is at least 12 inches in size, but the bigger the better.
You will also need one or two half sheet baking sheet to let the orange slices set after they are dipped in chocolate.
candied orange slice must-haves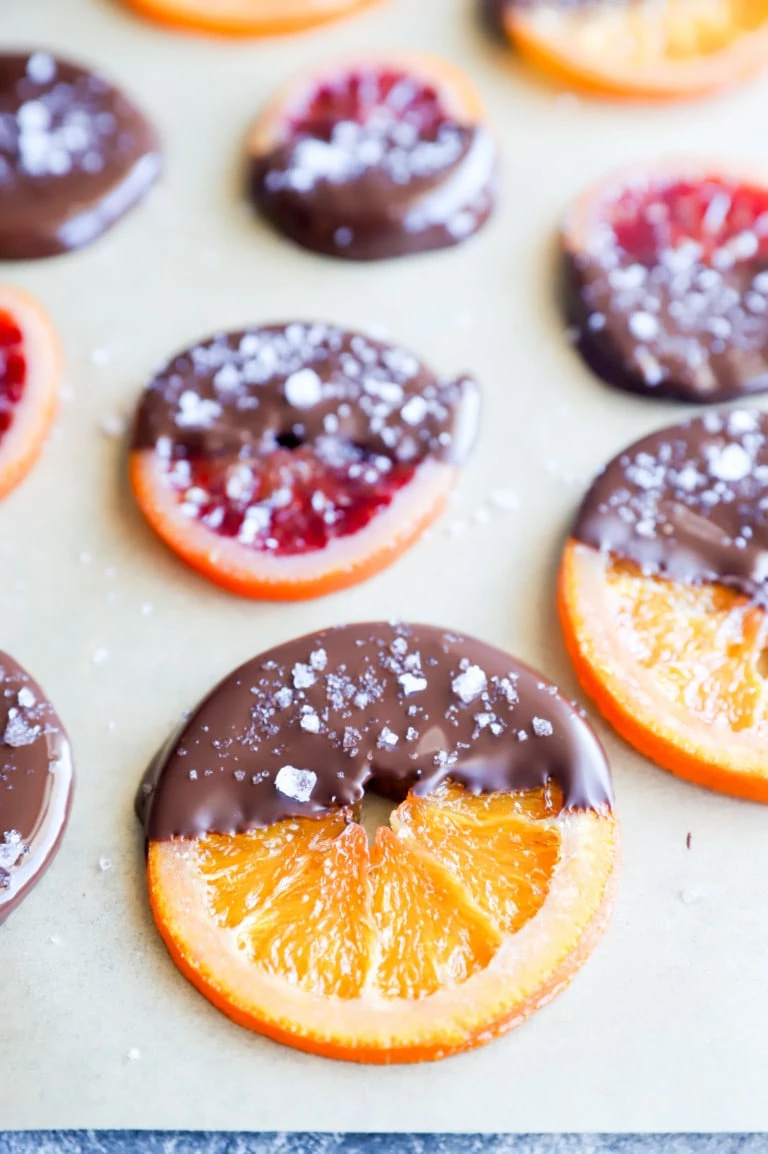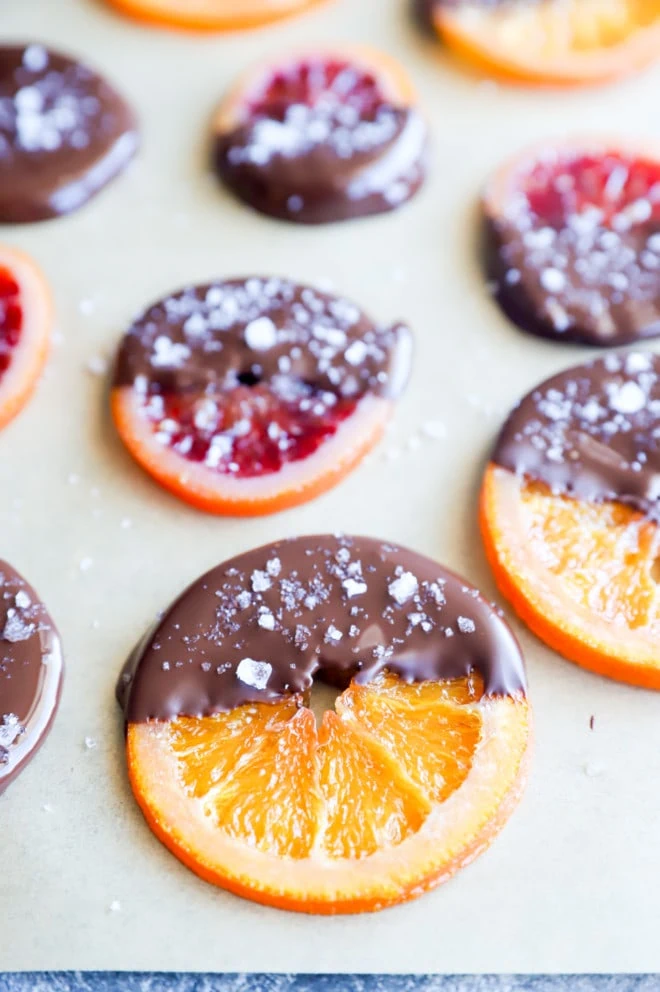 here's how to make chocolate dipped candied orange slices
slice oranges
Slice your oranges 1/4-inch thick. Be sure to remove any seed fragments before cooking them.
make syrup
Add water and sugar to a wide, large skillet. Cook, whisking constantly, over medium-high heat and bring to a boil. Once the sugar has dissolved, place the orange slices in a single layer in the pan in the sugar orange syrup. You may need to cook the slices in batches if you don't have a wide enough pan.
cook
Simmer the slices for about 1 hour, or until they are translucent. Remove orange slices and place orange slices on a baking sheet that's lined with parchment paper. Let them dry out for at least 24 hours, uncovered, on a cooling rack. They will still be a bit sticky!
dip
Melt your chocolate and dip slices halfway in. Sprinkle the chocolate dipped orange slices with flaky sea salt (this is optional!) and return to the lined baking sheet to harden. Let set for at least 15 minutes before serving or storing (storing instructions are below in the post and also in the recipe card).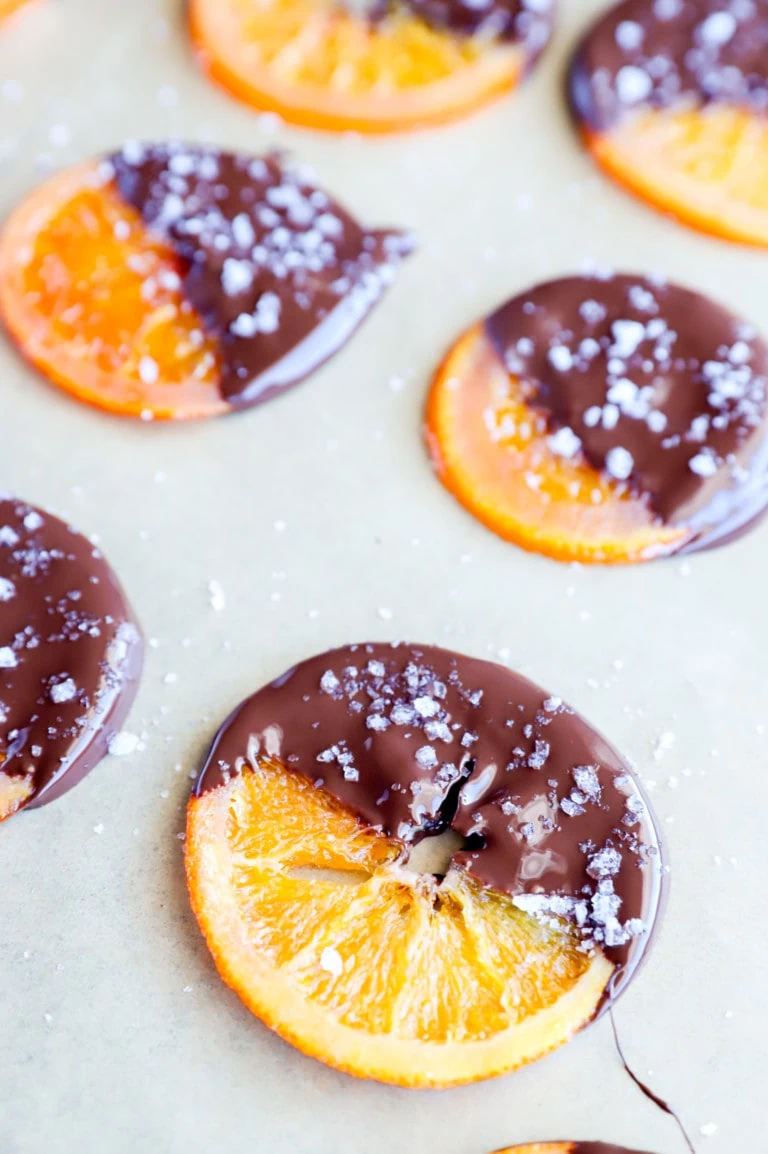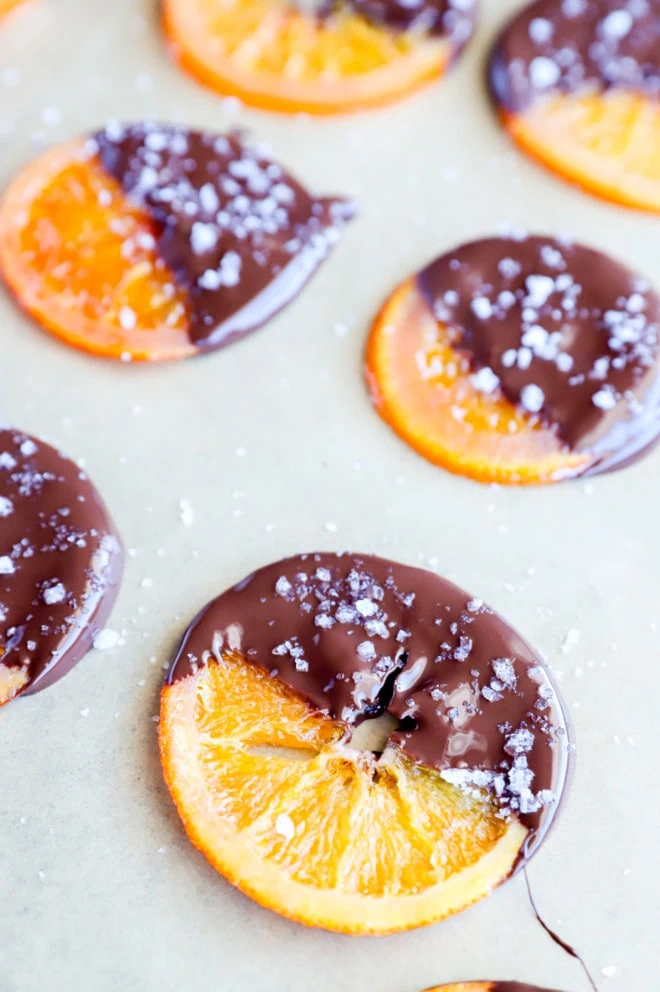 tips for success
slice them evenly. If you don't slice them evenly, then the slices will cook differently and they won't all be done at the same time. I slice mine at 1/4-inch thickness, but if you want them to cook faster, you can slice them at 1/8-inch thickness. You can use a mandolin to make it easier!
remove the seeds. Be sure to remove the seed fragments after slicing. No one wants to crunch into those when eating these!
use different citrus. You can change things up by using different citrus slices! Use lemon or lime if you would like. save the syrup. Don't throw away the syrup! It's a great addition to seasonal cocktails because you can use it in place of any simple syrup. It takes on the flavor of the citrus and leaves you with a delicious addition to your favorite drinks.
More festive treats to whip up this season: Crockpot Cinnamon Almonds | Gingerbread Christmas Crack Candy | Chocolate Covered Oreos | Crispy Bourbon Buckeyes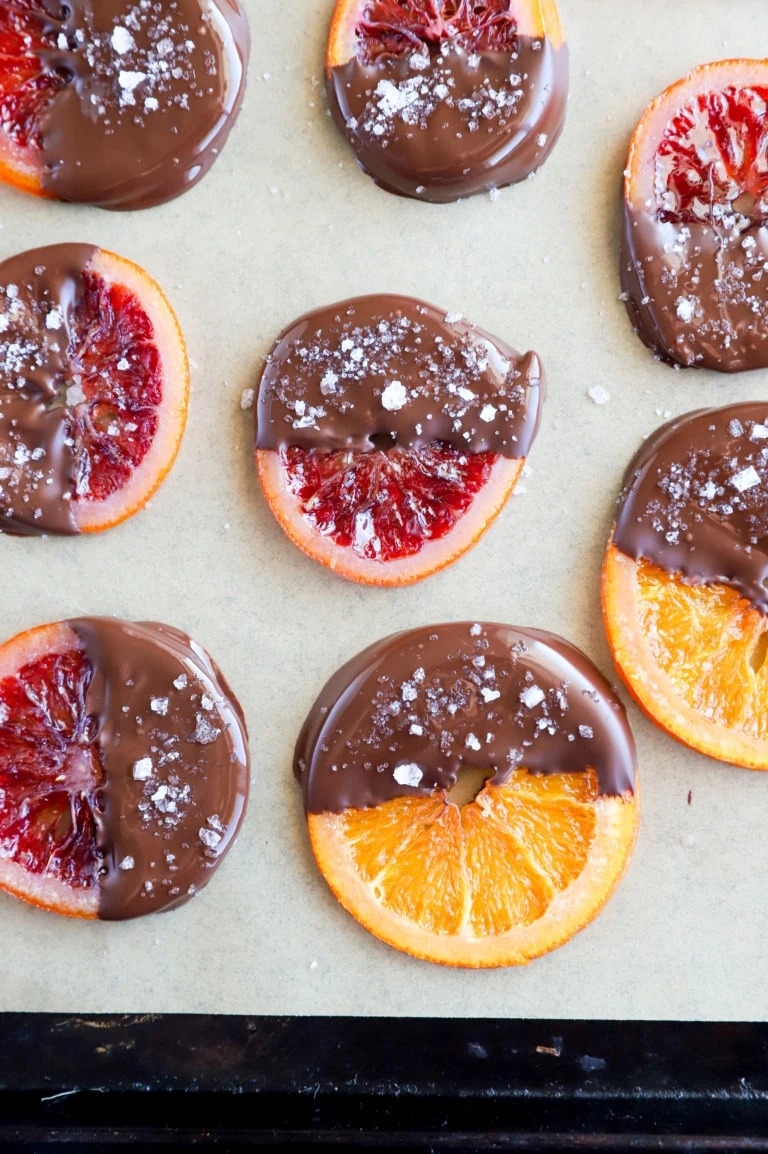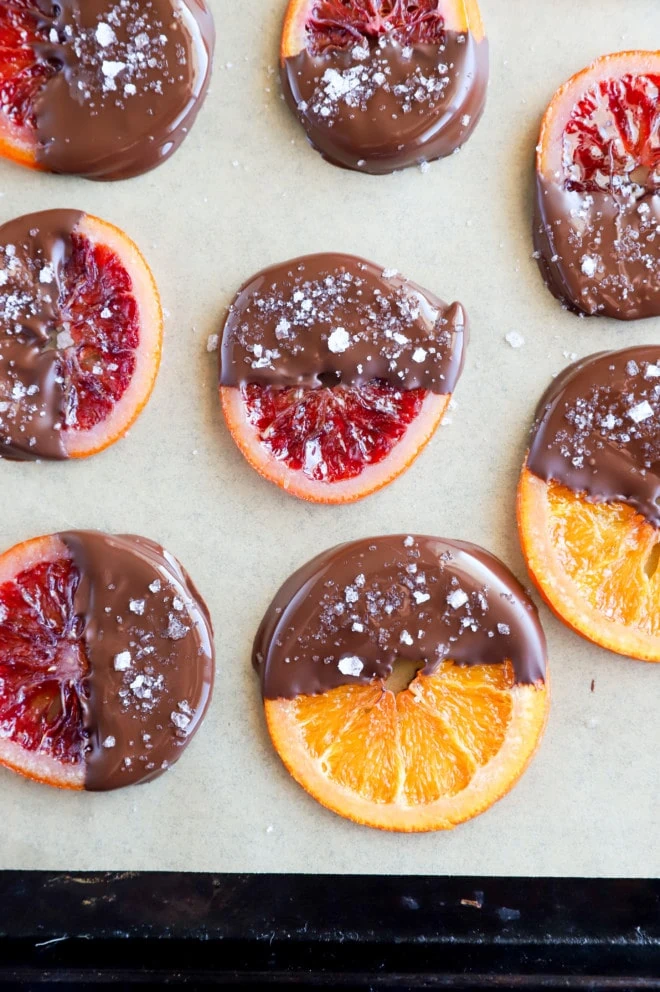 what are candied orange slices?
Candied orange slices are an edible garnish or treat that are absolutely delicious. The inside pulp is soft and tender, while the rind is chewy. You get the sweetness and orange flavor, with a gummy candy-like texture. With the chocolate and sea salt, it's a new level of deliciousness.
can I use different citrus?
Yes you can! This candying process works for other citrus fruits like limes and lemons. With this recipe you can make your own candied lime slices and other candied citrus slices – dipped in chocolate or not!
do these candied orange slices need to be store in the refrigerator?
Yes, they do. I do not recommend storing them outside of the refrigerator because the chocolate can melt and make the treat messy to eat.
can you freeze candied orange slices?
Of course you can! These are fantastic for freezing. Simply make sure to store them in airtight containers with layers of parchment paper or wax paper between them. They will keep for about 2 to 3 months. Thaw in the refrigerator.
Need some more inspiration for sweet treats? Check out my desserts recipe page!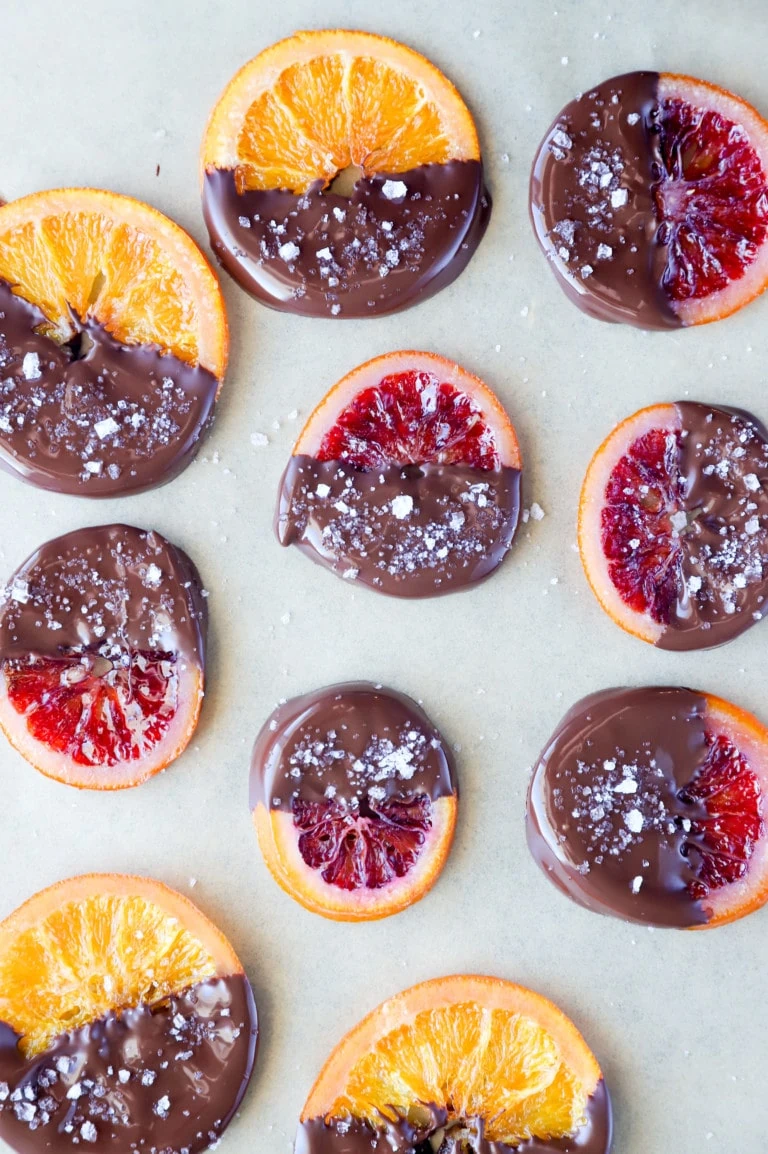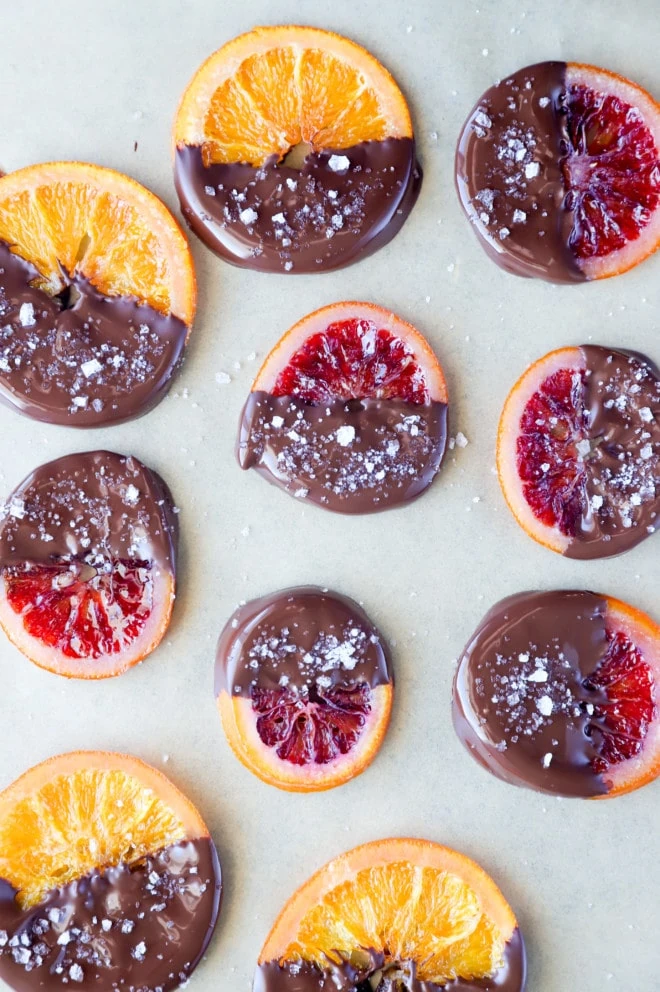 what to serve with candied orange slices
There are a few different ways to use these chocolate dipped candied orange slices! I personally love to eat them as they are, so they are fantastic for adding to a cookie tray or a cookie box for a gift. Here's what I would add to the cookie tray with these slices:
Chai Snickerdoodle Cookies are my favorite combination of snickerdoodle with a chai spice for a cozy addition to any cookie box.
Peppermint Hot Chocolate Cookies are stuffed with marshmallows!
Chewy Snickerdoodle Cookie Bars are topped with a delicious eggnog buttercream frosting…
Christmas Shortbread Cookies are a classic that you can cut into shapes and decorate however you like!
Another idea? Use them to garnish desserts! Here are a few ideas to try:
Ginger Cranberry Orange Loaf Cake is such a moist, light cake that everyone will love.
Chocolate Tart with Hazelnut Crust is an elegant and deceptively simple dessert to whip up for any celebration.
Orange Pound Cake is a classic for anytime of year!
Orange Cupcakes with a candied orange slice on top is a next level elegant dessert choice.
They are gorgeous on any cake, cupcake, cheesecake, the list goes on and on!
Finally, if you have a couple leftover, use them to garnish cocktails! You can use them with my smoked orange old fashioned or my friend Susannah's orange gin and tonic.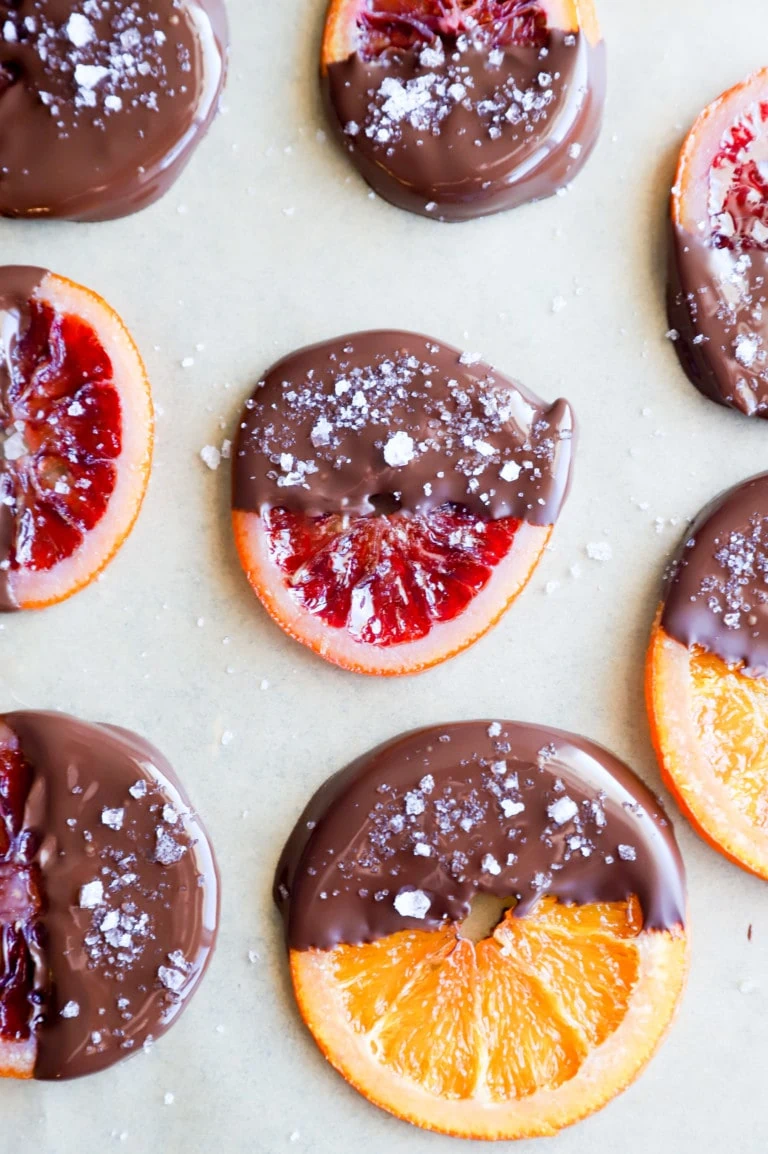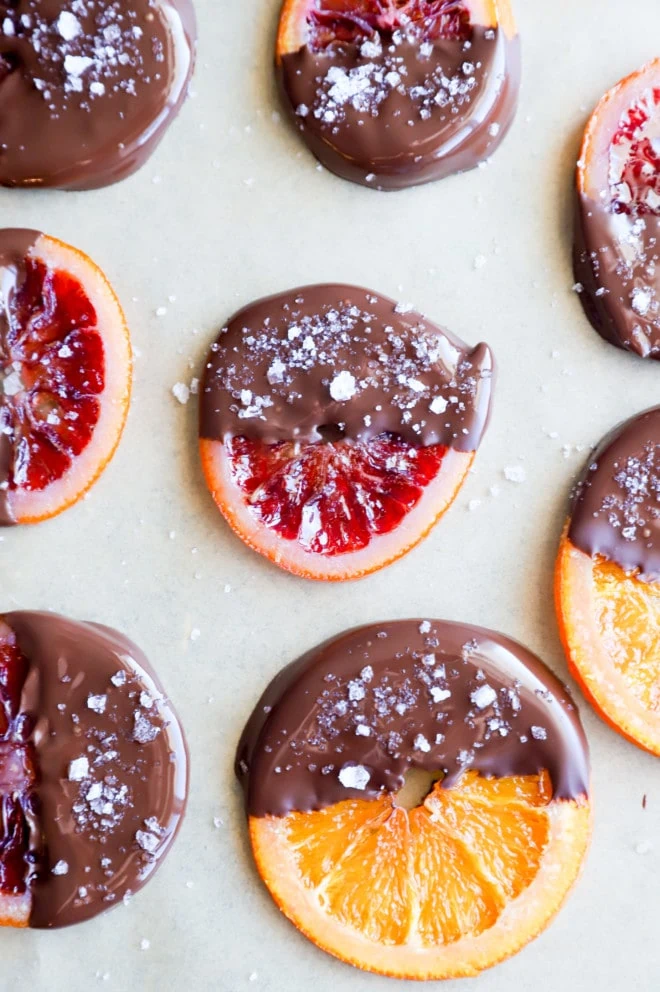 how to store and reheat
Store. Once the chocolate is set, place in an airtight container. If you are layering them, place a piece of parchment paper or wax paper between each layer so they don't stick to each other. Store in the refrigerator for up to 5 days.
Freeze. These orange slices can also be frozen in an airtight container and stored for up to 3 months!
Finally, if you make these chocolate dipped candied orange slices, please be sure to give this recipe a rating or leave a comment! I love to hear when you all make recipes, and I do take the time to respond to every single comment. Feel free to drop questions below too, if you have them!
Oh and be sure to tag me on Instagram if you make the recipe! I love being able to see these recipes come to life in your homes – it's my favorite thing to look through those photos. It really means the world to me!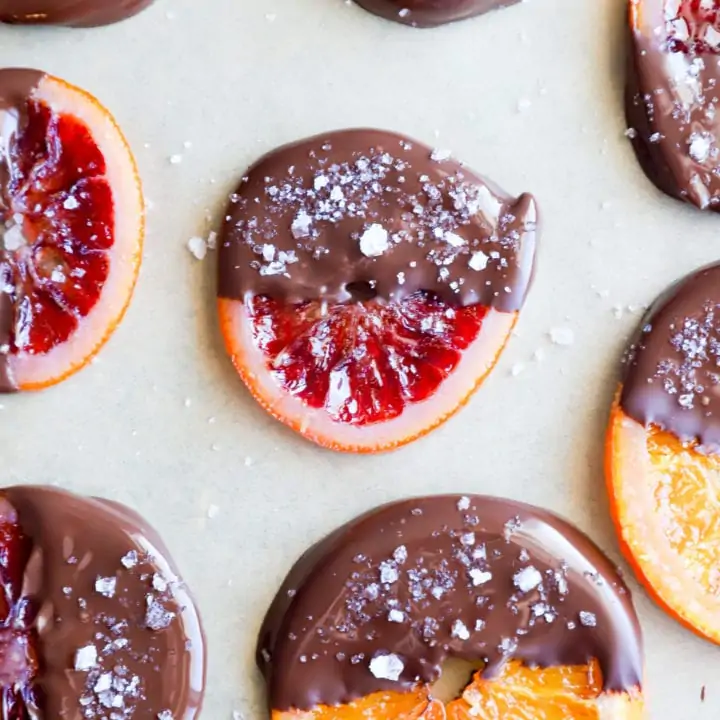 Chocolate Dipped Candied Orange Slices
Yield:
Makes approx. 16-20 slices
Cook Time:
1 hour
5 minutes
Additional Time:
1 day
15 minutes
Total Time:
1 day
1 hour
30 minutes
Tangy and sweet, these are a fantastic holiday treat!
Ingredients
2 to 3 oranges (any kind, I like a combination of navel, cara cara, and blood oranges)
1 cup granulated sugar
2 cups water
1 cup dark chocolate melting wafers (you can also use milk chocolate or white chocolate!)
Flaky sea salt (optional)
Instructions
Line a rimmed baking sheet with parchment paper and set aside.
Slice oranges into 1/4-inch slices. Be sure to remove any seeds.
Combine sugar and water in a wide, large skillet. Over medium-high heat, bring the mixture to a boil, whisking until the sugar has dissolved.
Add orange slices in an even layer (you may need to cook the slices in batches depending on how big your skillet is). Bring the liquid to a simmer. Simmer for approximately 1 hour, uncovered. The orange slices should look transparent when they are done.
Remove orange slices to the prepared baking sheet. Let slices dry for at least 24 hours, uncovered. They will still be a little sticky at this point, and that's ok.
Place chocolate melting wafers in a bowl and melt in 10-15 second increments, stirring between each, until melted. You can also melt the chocolate in a double-boiler over medium-low heat if you prefer.
Once melted, dip each slice halfway into the chocolate and return to the parchment-lined baking sheet to set. Sprinkle with flaky salt right after dipping, if you are using it.
Repeat this dipping process until all slices have been dipped. Let set for at least 15 minutes, until the chocolate hardens, before serving or storing.
Notes
Store in an airtight container up to 5 days in the fridge. They can also be stored in the freezer for up to 2 to 3 months. See notes in post for how to store.
Recommended Products
As an Amazon Associate and member of other affiliate programs, I earn from qualifying purchases.