Please note this post contains affiliate links.
Cinnamon Whipped Cream is the easiest way to give your desserts an extra "wow" factor for fall and the holiday season! The homemade fluffy topping is full of flavor and all you need is three simple ingredients.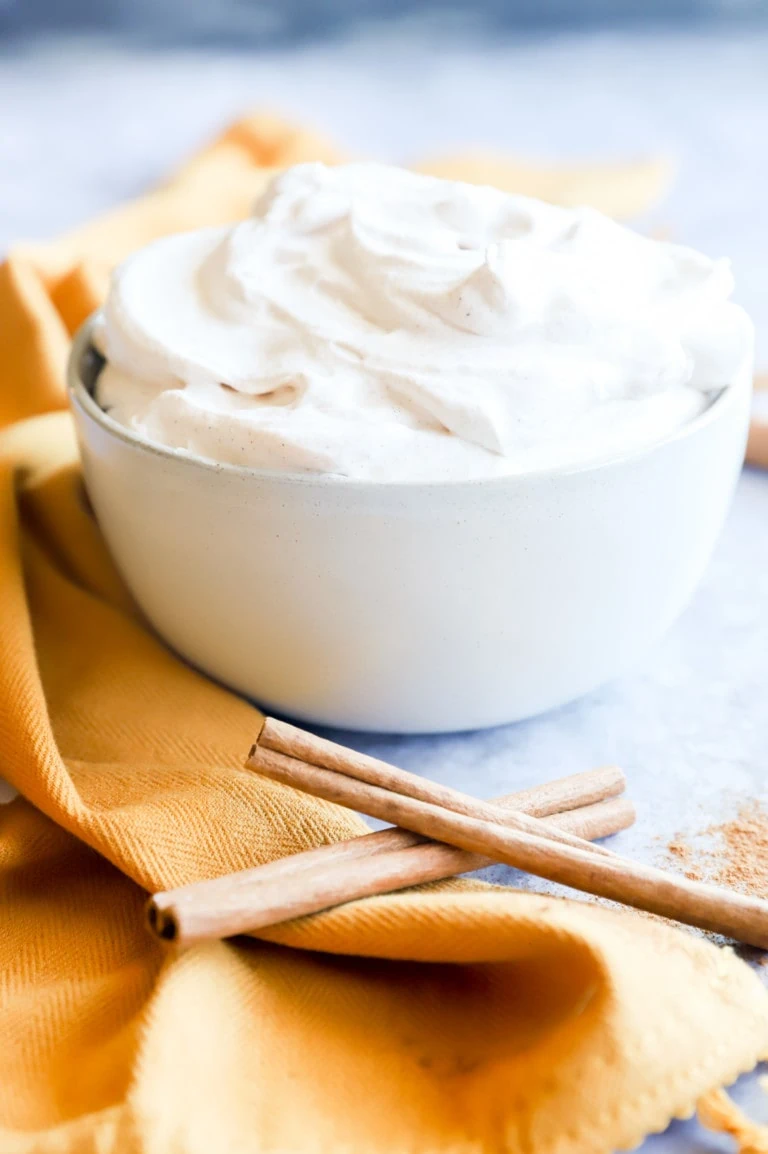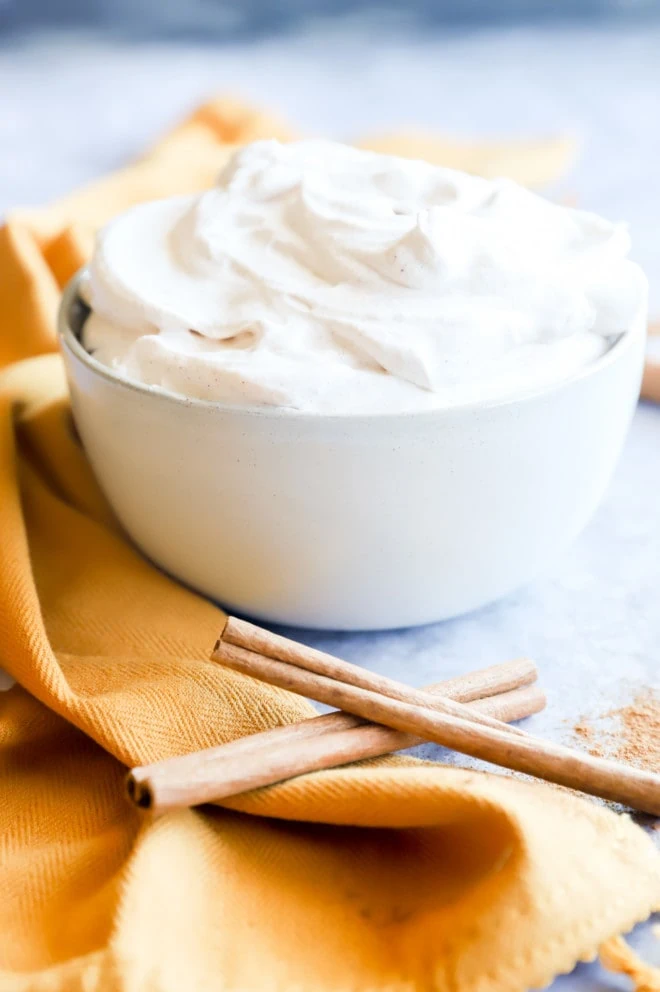 about this cinnamon whipped cream
Since we are not hosting Thanksgiving this year, I've been really focusing on the recipes that are last-minute, easy, and effortless. To me, little things like homemade biscuits or flavored whipped cream can be an easy upgrade to whatever you might have planned.
This homemade cinnamon whipped cream is what I love to make to top all my fall desserts, but especially pies for Thanksgiving. Whether you are buying a pie, or making it from scratch, cinnamon whipped cream is just the right balance of warming spice and sweetness to amp up the flavors of any Thanksgiving desserts.
It only requires three ingredients, so it's a simple add on for your dessert spread while also being a lovely extra touch to make those sweets that much more special.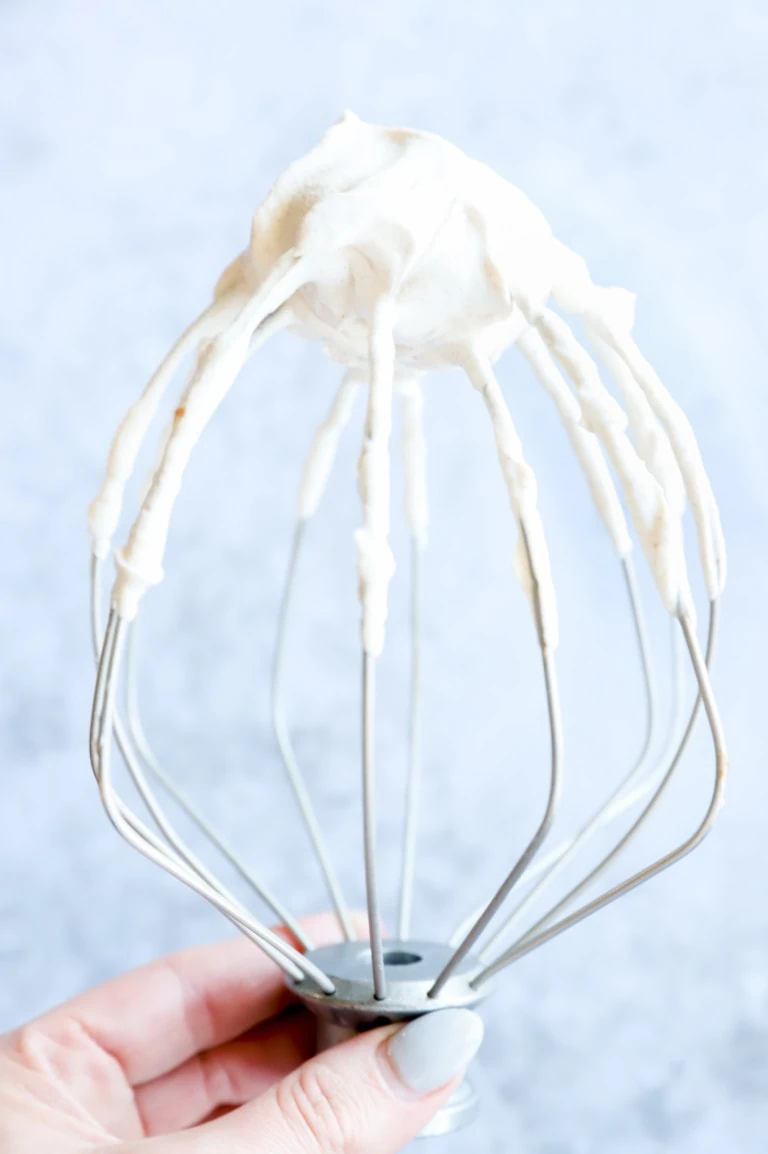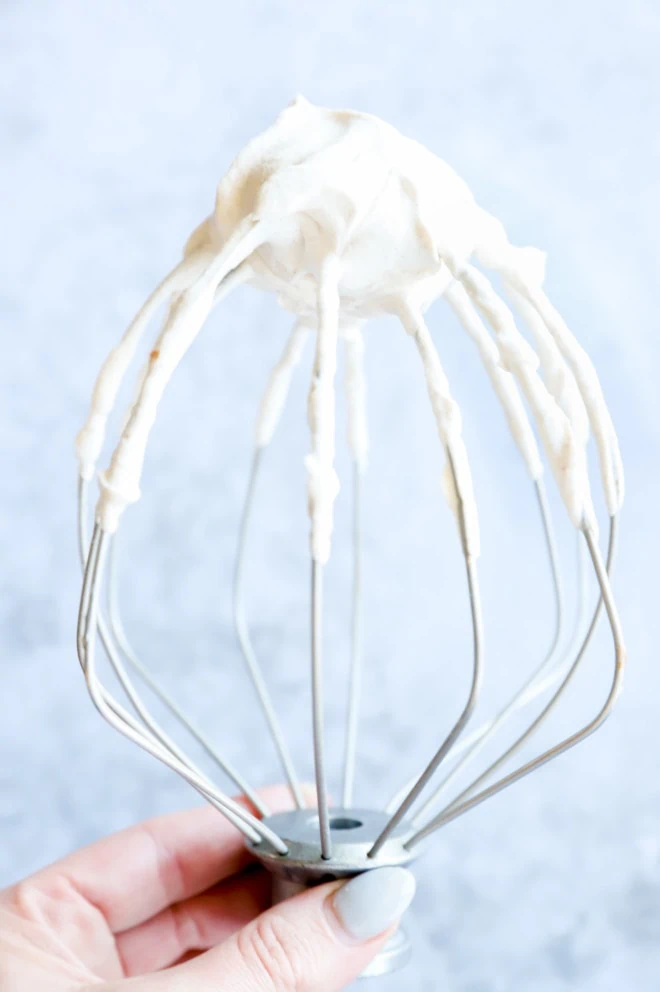 ingredients
heavy whipping cream. You will want to use heavy whipping cream for the ideal result as it has a high fat content. You can also use coconut cream or full-fat coconut milk as an alternative, dairy-free option. See more on that below in my FAQs.
cinnamon. Use your favorite ground cinnamon for this recipe! Cinnamon just reminds me of all things fall. You simply can't cook or bake without it this time of year!
sugar. All you need is powdered sugar (confectioners sugar) for this whipped cream to sweeten it.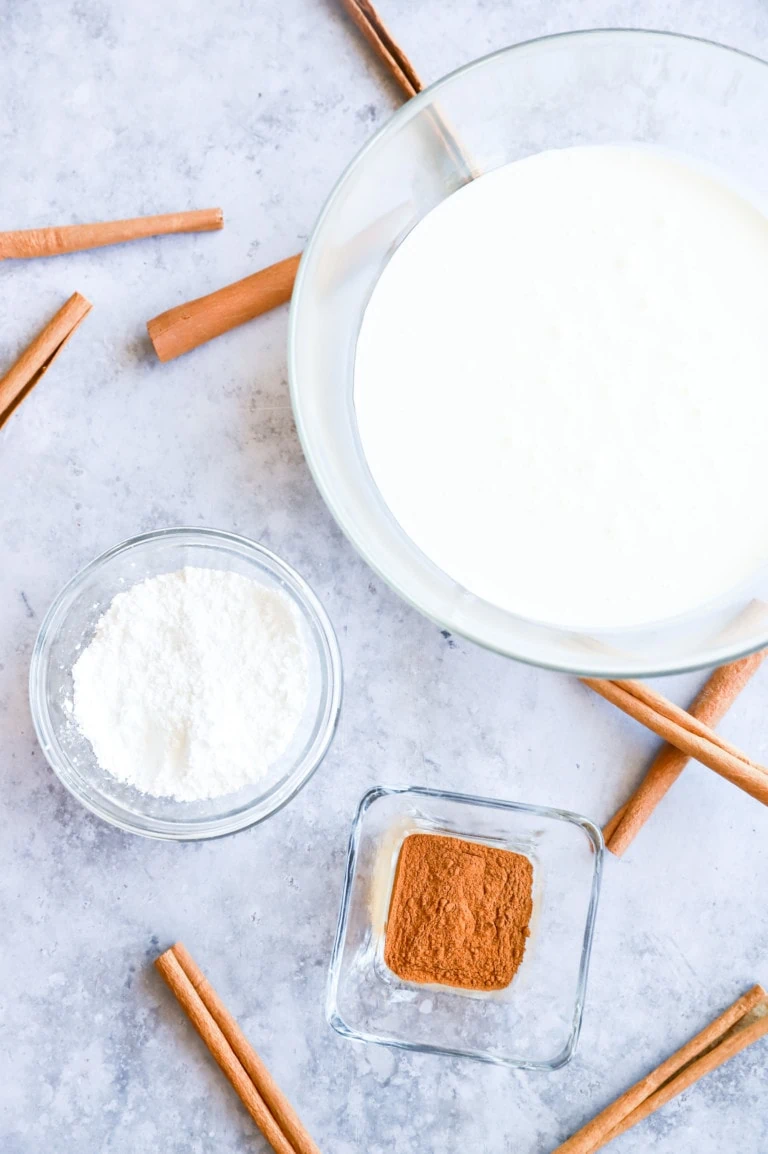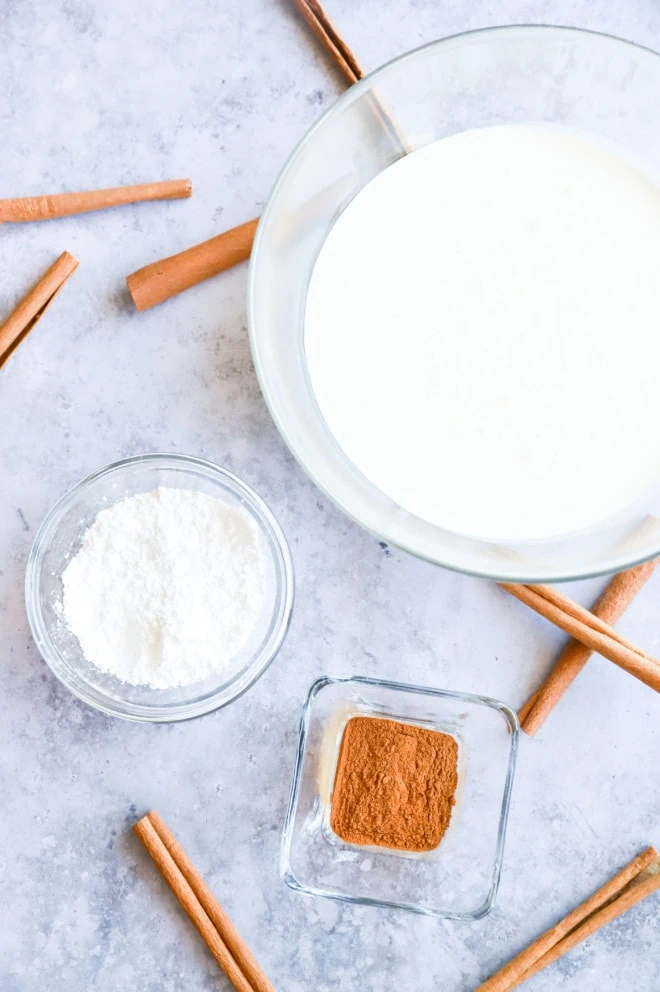 this recipe's must haves
I recommend making this cinnamon whipped cream in a stand mixer. In my opinion, it's the easiest and fastest way to get it done! You can also use an electric hand mixer and large metal mixing bowl from your set of mixing bowls to get the job done.
If you don't want to use an electronic solution, you can whip it by hand with a whisk and get an arm workout in.
here's how to make cinnamon whipped cream
chill mixing bowl
Especially if you are making this whipped cream on a hot day, be sure to chill the bowl you are whipping the cream in. I recommend placing it in the refrigerator for a few hours or chill it quickly in the freezer.
beat it
Add heavy cream to the chilled mixing bowl with powdered sugar and cinnamon. Begin to mix it on medium-low, until it just starts to thicken. Crank the speed up to medium-high and beat until it reaches stiff peaks (or soft peaks if you prefer it more fluffy).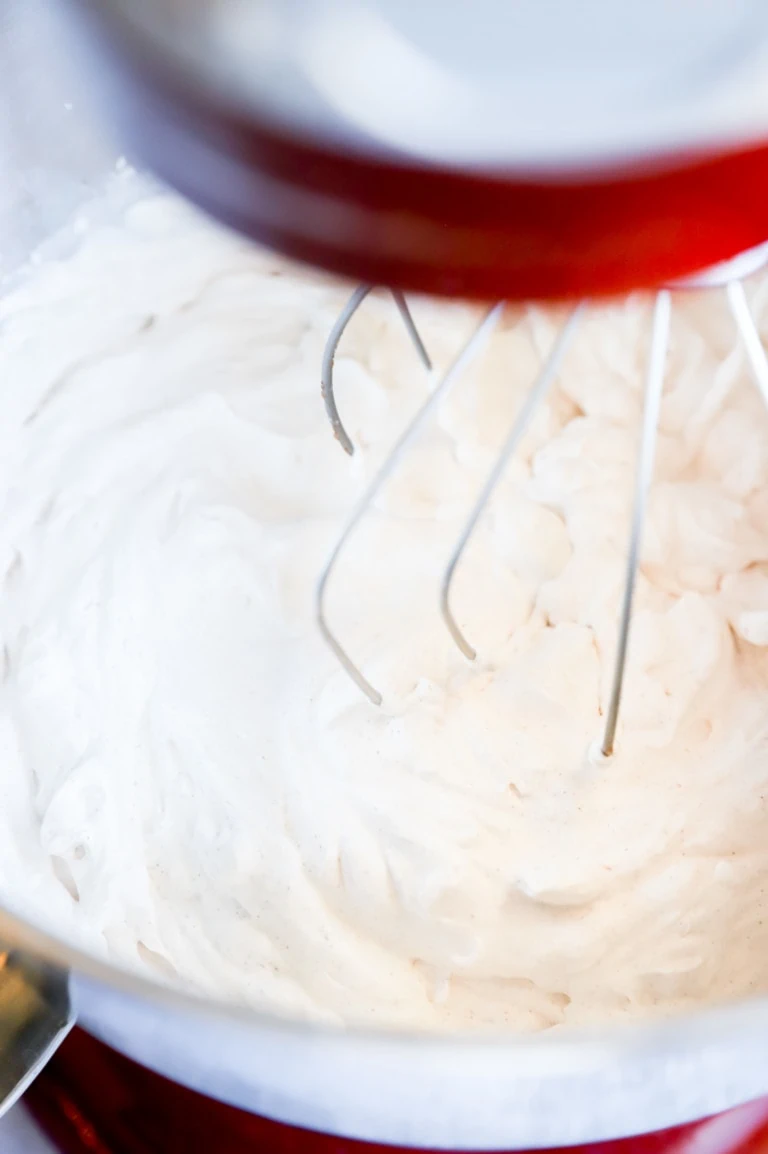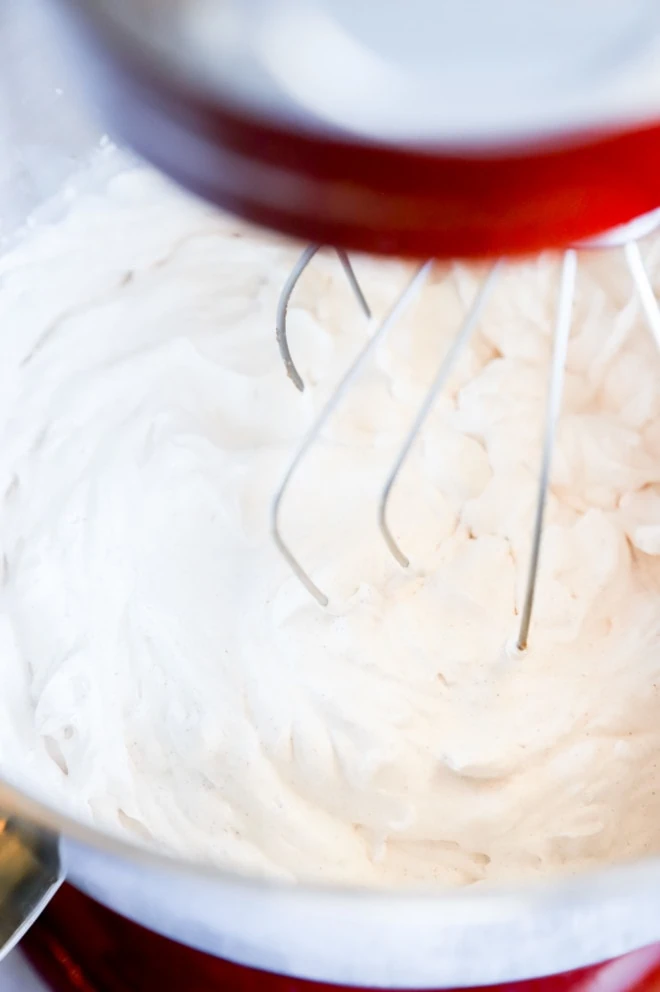 tips for success
use what you have to whip. You can use a stand mixer, an electric mixer, or even a whisk (I don't recommend this, but if that's all you have, you can get it done!).
watch it closely. Whipped cream is done when it hits soft peaks or stiff peaks (depending on how fluffy you like your whipped cream). It can change very quickly from stiff peaks to over whipped, so keep an eye on it, especially if you are using a stand mixer.
if you over whip. If you accidentally over whip it (you'll notice it start to get grainy if it is over whipped), then add in a bit of cold heavy whipping cream (about 2 Tbsp). Fold it in with a spatula and it should be saved! If it isn't coming back, continue to beat it until it forms butter, and then you have cinnamon butter for scones, pancakes, waffles, and more.
Desserts to use this cinnamon whipped cream on: Christmas Cranberry Cobbler | Pecan Pie Cheesecake | Bourbon Caramel Apple Galette | Pumpkin Spice Cheesecake Mousse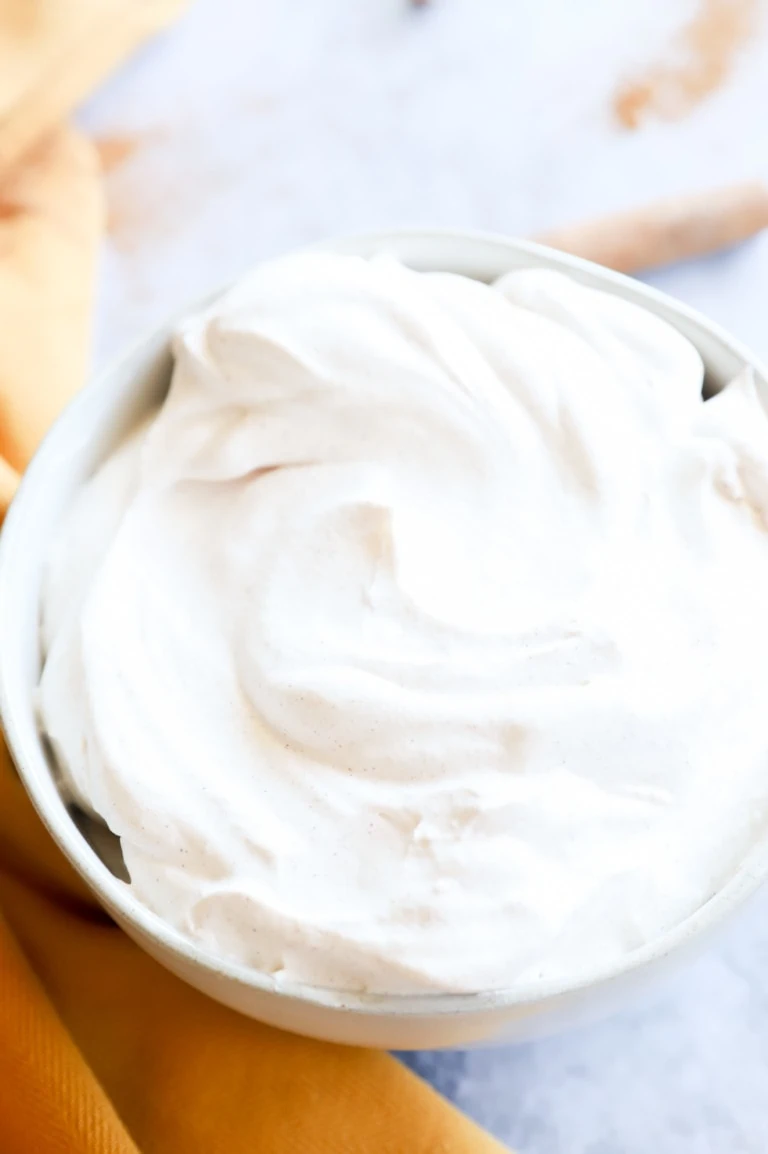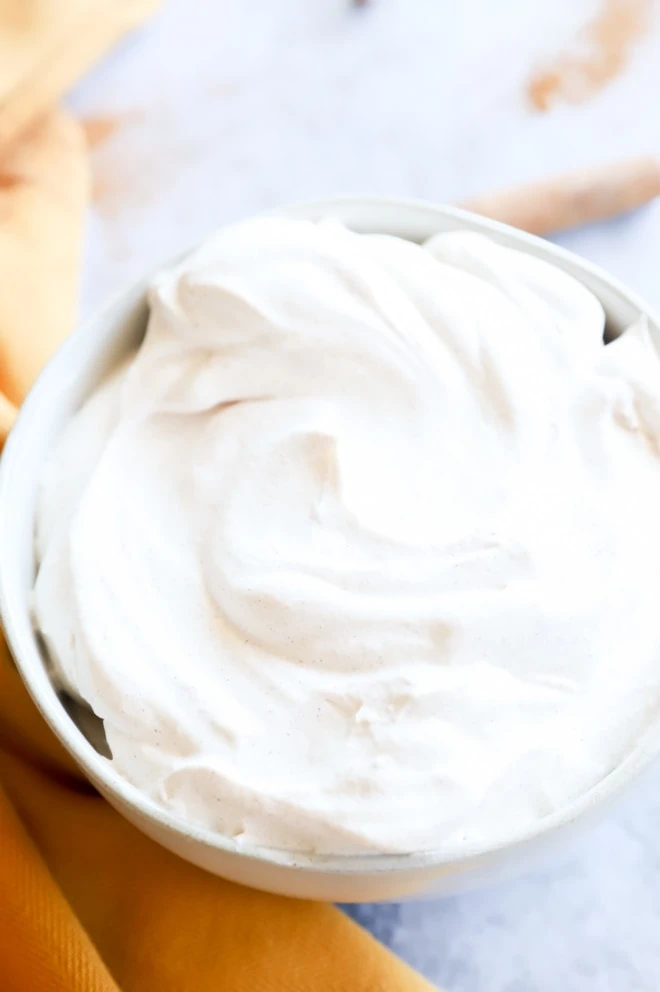 can I make this dairy-free/vegan?
You sure can! Instead of using heavy whipping cream, swap in a high-quality full-fat coconut milk or coconut cream. Whip until it reaches soft peaks.
can I add additional flavorings?
If you'd like to add some vanilla flavor to the whipped cream, you can beat in about 1/2 teaspoon vanilla extract for added flavor. You can also swap ground cinnamon for warming spice mixes like pumpkin pie spice or chai spice mixes.
how far in advance can I make this?
Homemade whipped cream will stay fresh in the refrigerator for up to 48 hours in an airtight container in the refrigerator. Note that whipped cream will start to deflate the longer it sits, so I prefer to serve it right away, or within 1 to 2 hours.
Need some more inspiration for Thanksgiving? Check out my Thanksgiving recipes page!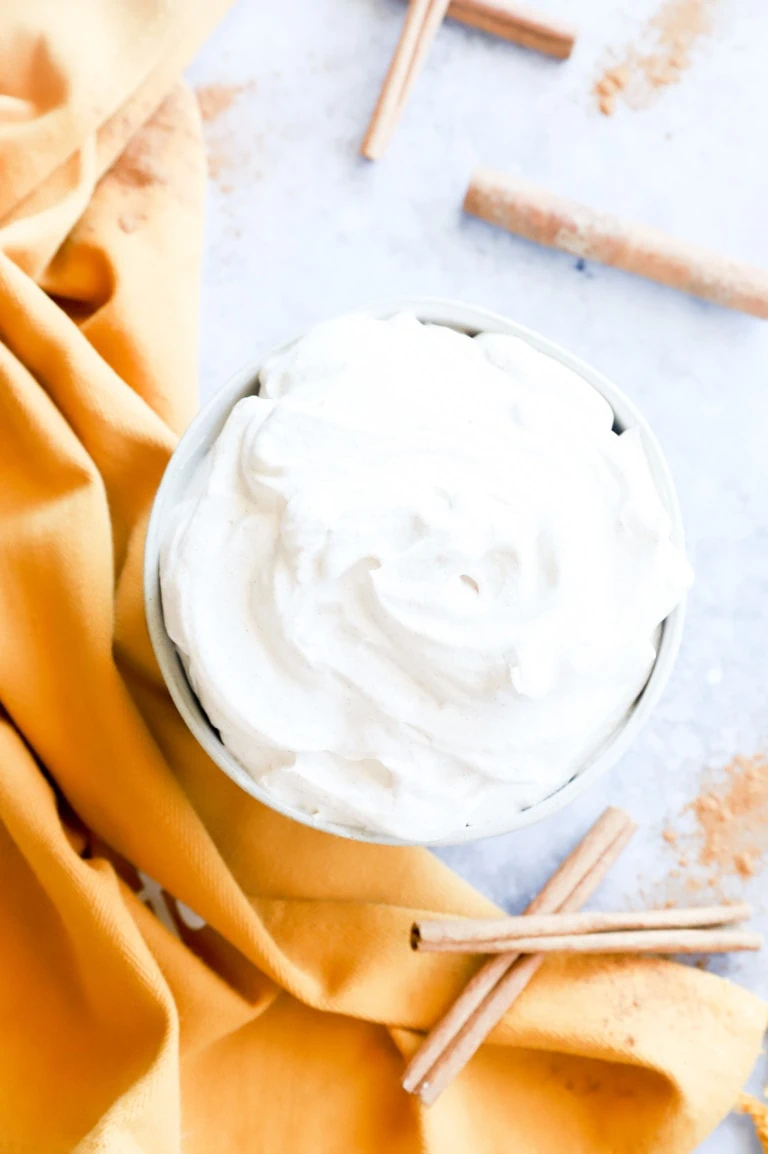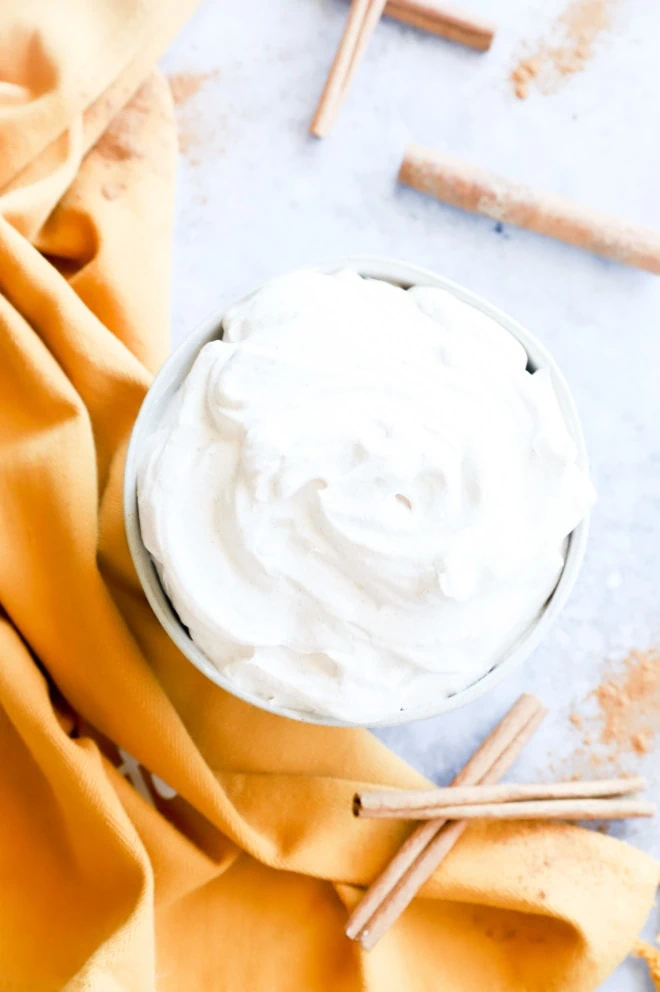 what to serve cinnamon whipped cream with
This cinnamon whipped cream goes with so many different desserts! I love to have it on hand for Thanksgiving for all the pies, but there are so many other occasions where you can use it too. Here's some of my favorite ideas:
Pies of all kinds! Pumpkin, apple, cranberry, pear, and more
Top off your favorite coffee drinks or hot chocolate
Waffles and pancakes
Puddings (banana or chocolate are my favorites)
Mousse
Pumpkin milkshake
Ice cream sundaes
how to store and reheat
Store. Store in an airtight container in the refrigerator for up to 48 hours. I recommend using it right away, or only storing it for an hour or two, because the cinnamon whipped cream will begin to deflate as time goes by.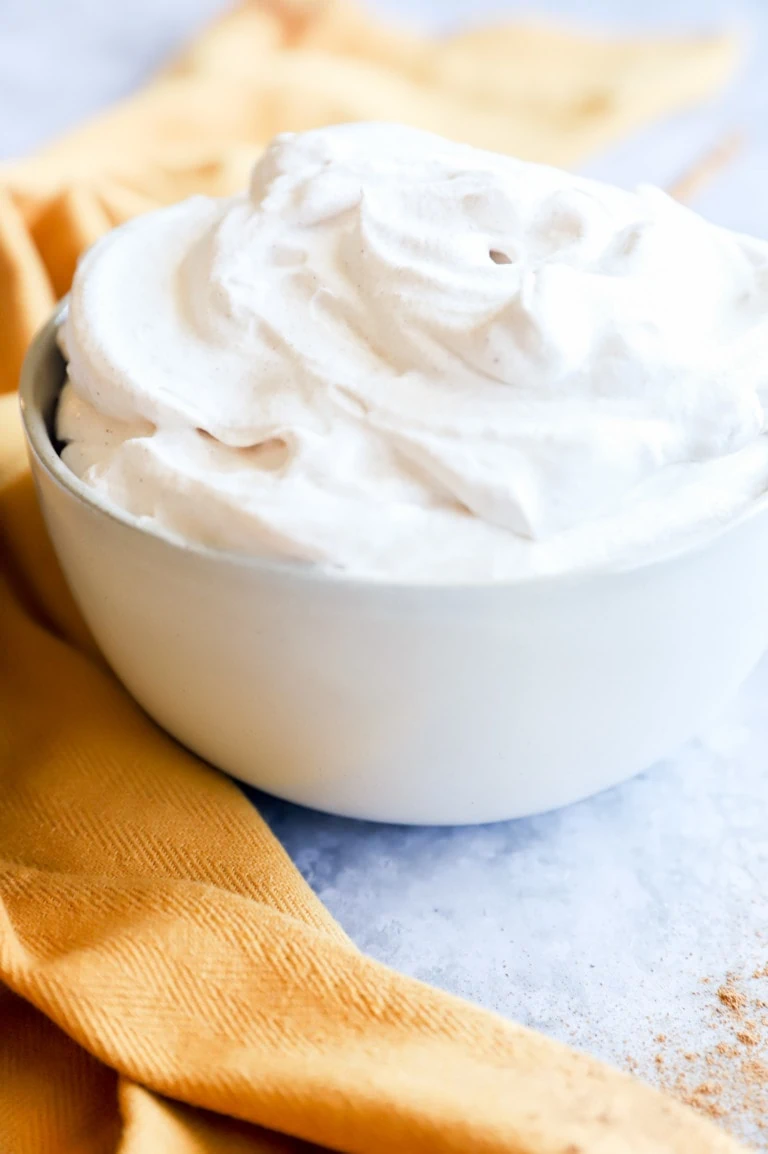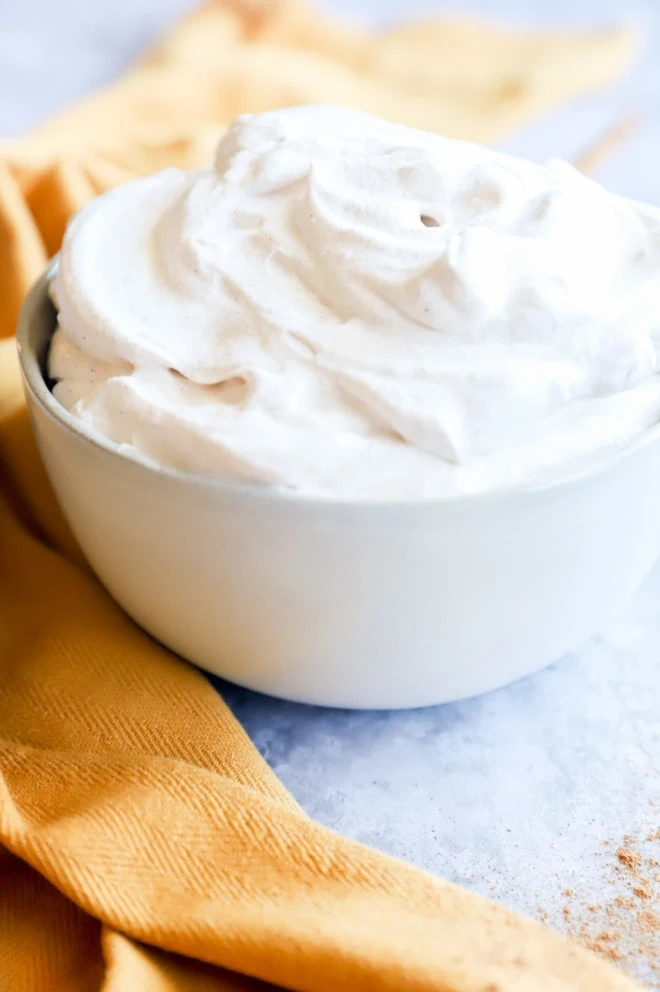 Finally, if you make this cinnamon whipped cream recipe, please be sure to give this recipe a rating or leave a comment! I love to hear when you all make recipes, and I do take the time to respond to every single comment. Feel free to drop questions below too, if you have them!
Oh and be sure to tag me on Instagram if you make the recipe! I love being able to see these recipes come to life in your homes – it's my favorite thing to look through those photos. It really means the world to me!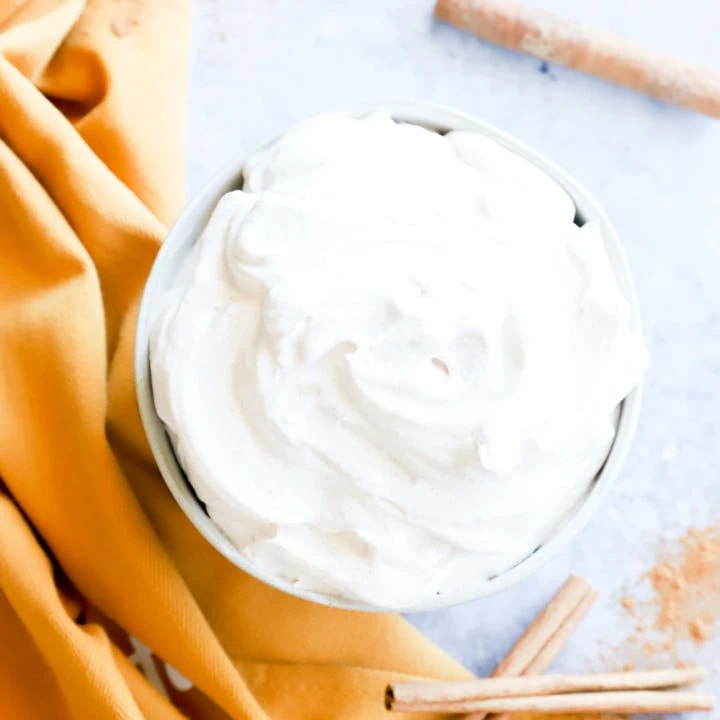 Cinnamon Whipped Cream
Yield:
Makes approx. 4 cups
Delicious, warm cinnamon flavor makes this whipped cream stand out!
Ingredients
2 cups heavy whipped cream
5 Tbsp powdered sugar
2 tsp ground cinnamon
Instructions
Add heavy whipping cream, powdered sugar, and cinnamon to a chilled mixing bowl from a stand mixer (or large bowl using an electric hand mixer).
Beat on medium-low speed, until slightly thickened, about 1 to 2 minutes. Continue to beat on medium-high speed, until the cream reaches stiff peaks.
Notes
If you like your whipped cream fluffy and not as stiff, you can beat it to soft peaks.
Recommended Products
As an Amazon Associate and member of other affiliate programs, I earn from qualifying purchases.