Please note this post contains affiliate links.
Red Christmas Single Serve Sangria is how I get my sangria fix, without making an entire pitcher of the stuff! Instead of dealing with hosting a party to get rid of a giant batch of sangria, you can celebrate your general fabulousness this holiday season with a festive glass of sangria just for Y-O-U. Garnished with a sugar-coated sprig of rosemary, you'll be feeling all merry and bright with every sip.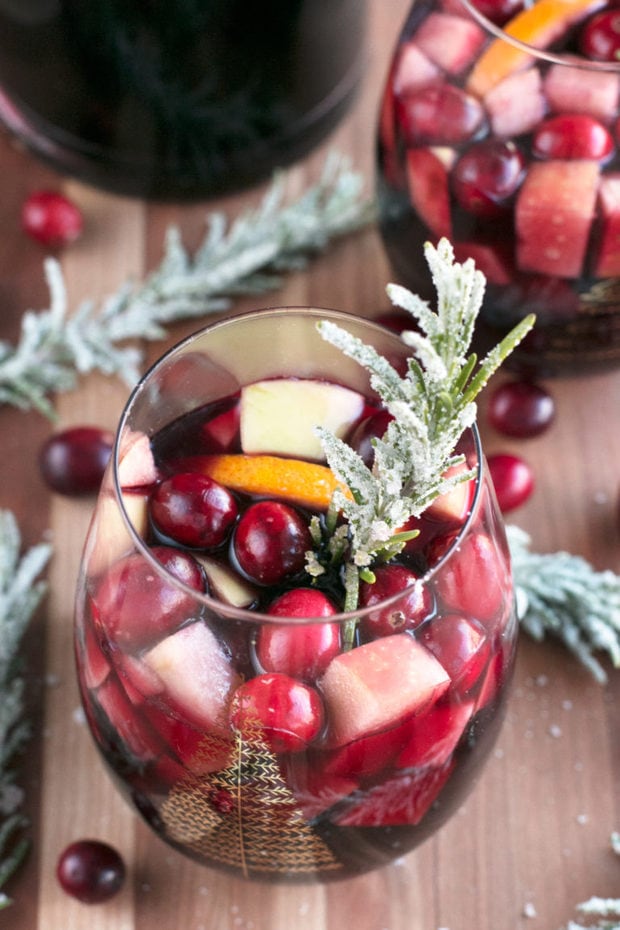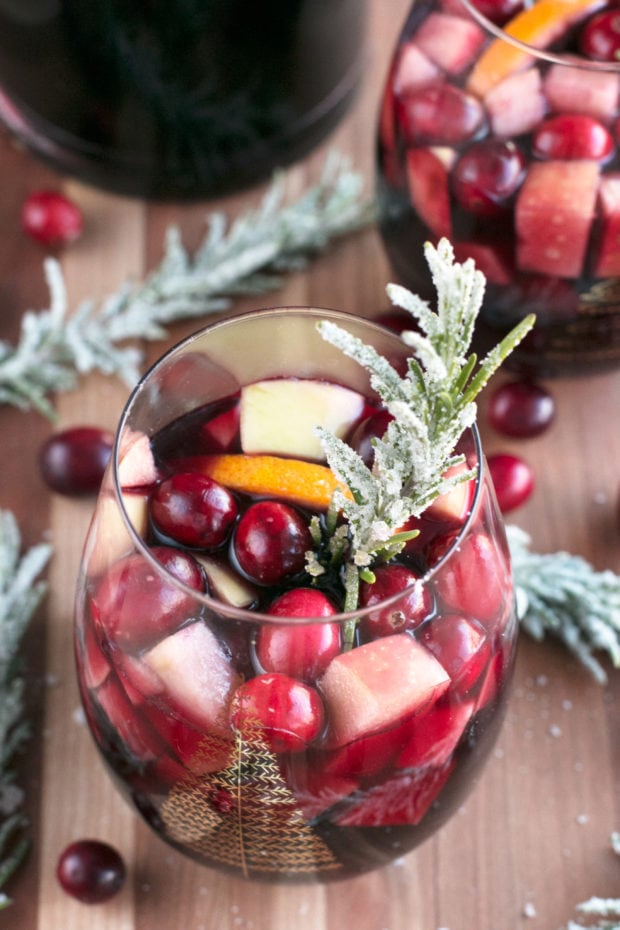 Please note that some of the links below are affiliate links. If you make a purchase through one of these links, I will receive a small commission. Thank you for supporting Cake 'n Knife!
If I am going to be hosting a party during the holiday season, you better believe there is going to be some festive sangria in the mix.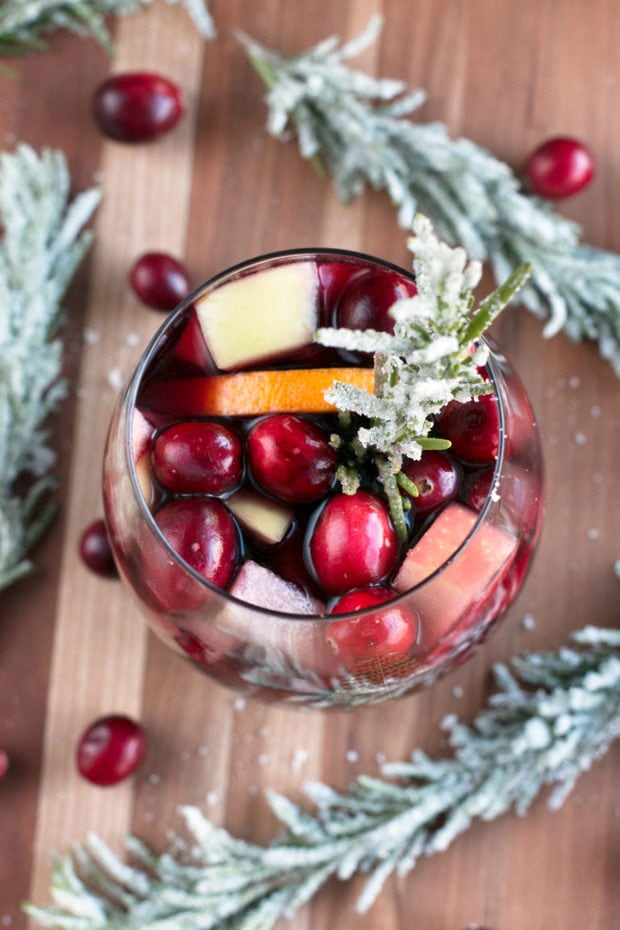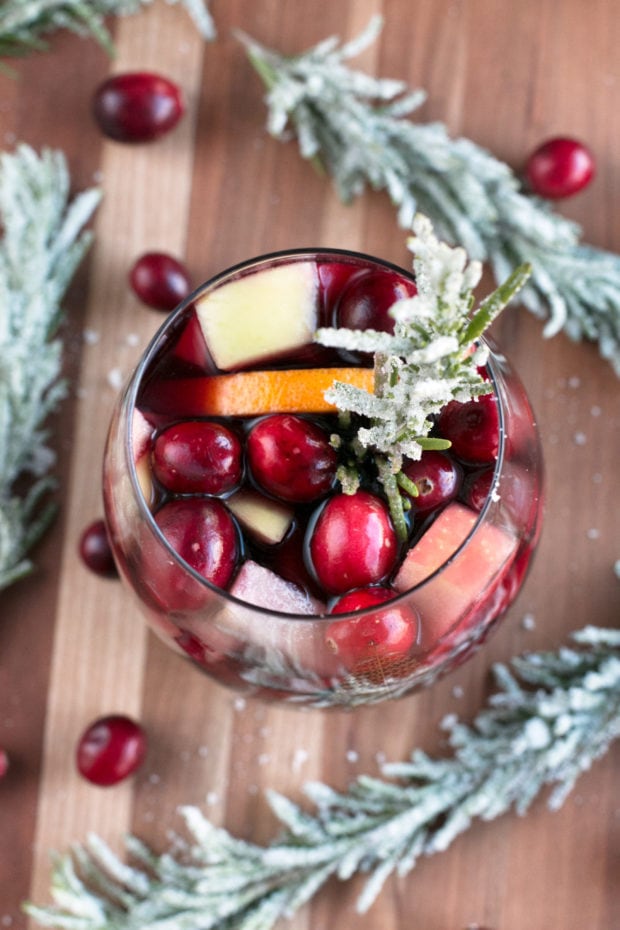 The colors, the flavors, all of it mixes together in the SIMPLEST drink in the world and makes hosting that much easier during this somewhat overwhelming, extremely social time of year.
My go-to sangria is always my Christmas Sangria from a handful of years ago. It happens to be the most popular recipe on this site, and it's no wonder why.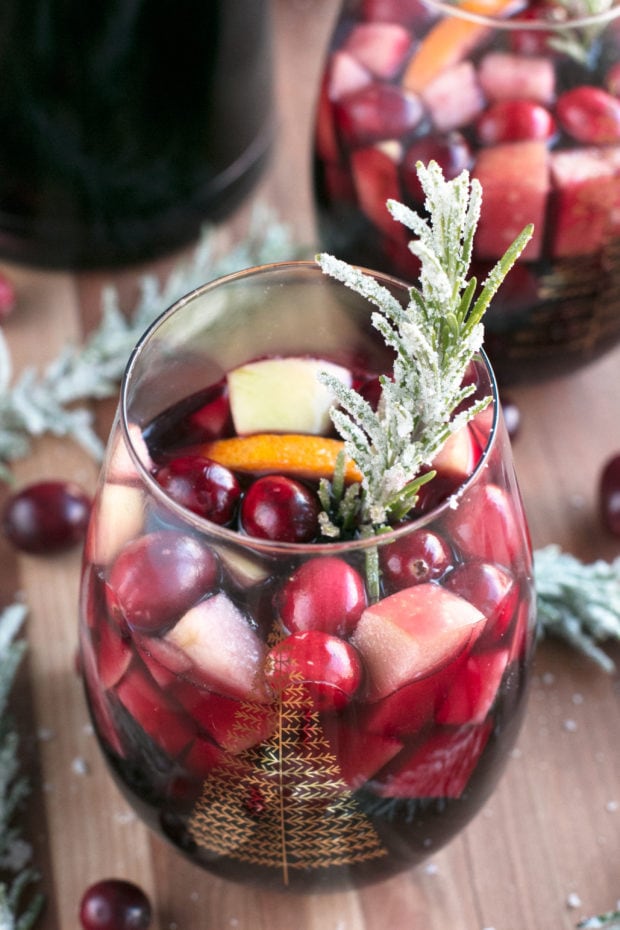 It's easy-to-make, it's colorful, and it's festively garnished with fresh rosemary!
As the years have gone on, two things have happened…
1) I am not hosting as many holiday events and 2) I am getting more and more into red wine.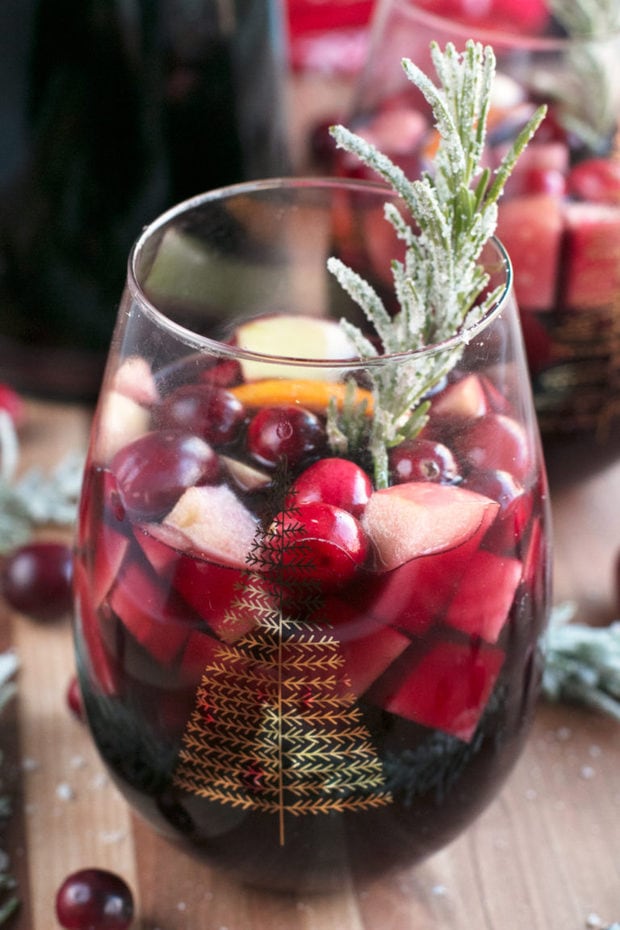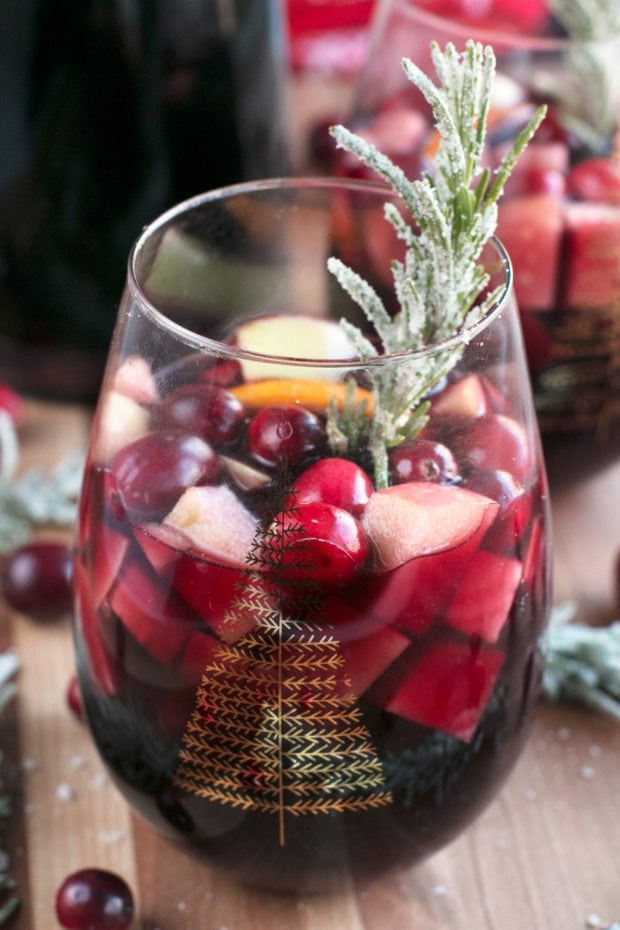 Now I may have made sangria when I had roommates that would help me drink it, but with the Man not loving white wine to begin with, a large batch of white wine sangria is out of the question (unless I want a nasty hangover from trying to consume it all by myself…).
SO, I decided it was high time to not only get my sangria fix without making a GIANT batch, and also incorporating red wine!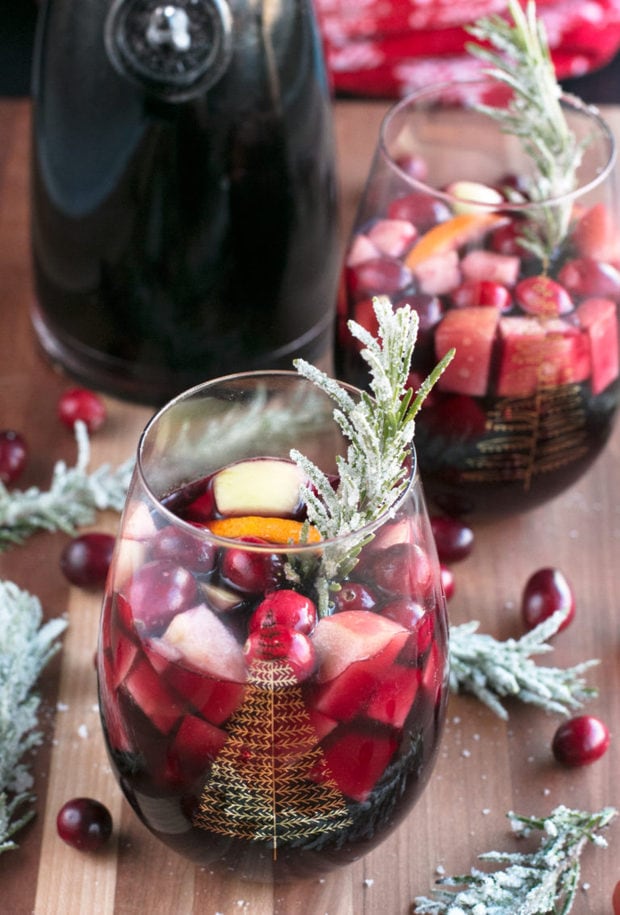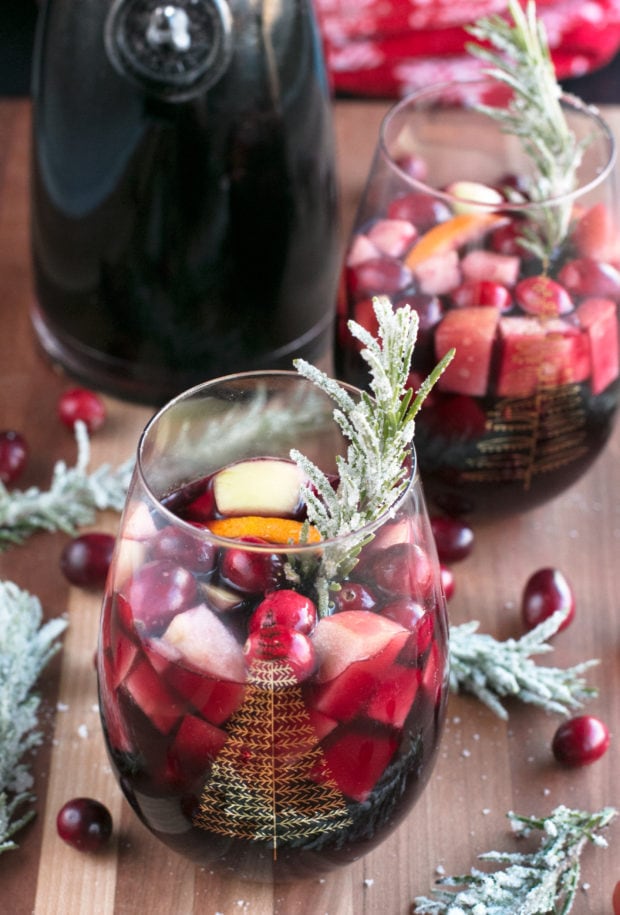 Taking a queue from my Christmas Sangria, I brought out the rosemary once again, but this time with a frosted look from the easy peasy sugar coating.
The fresh fruit, cinnamon, and brandy with the red wine makes this a bold and hearty sangria that is perfect for curling up under the Christmas tree with. It's perfect to make for yourself, you and your boo, or you and your BFF for a gal's/guy's night in.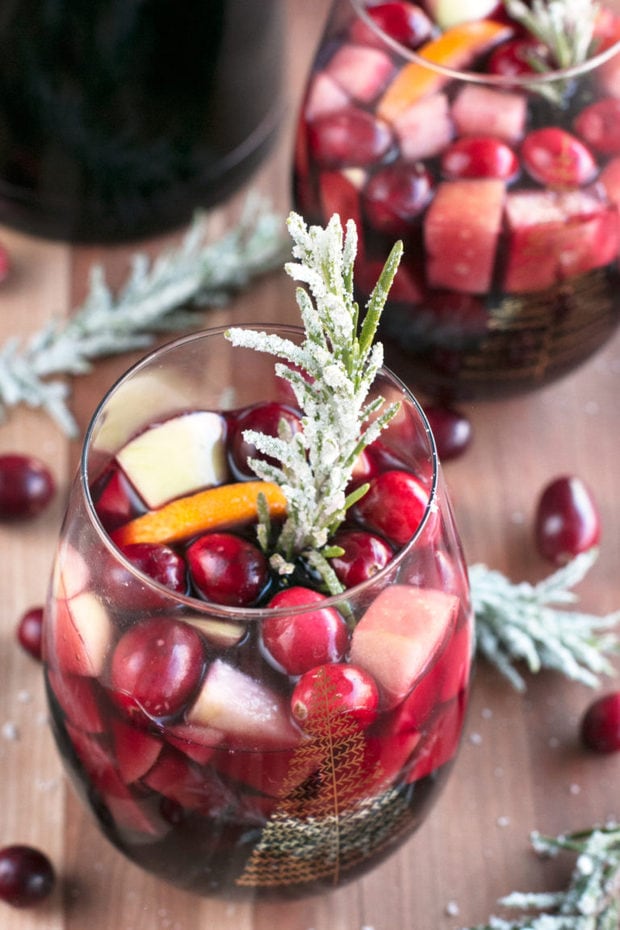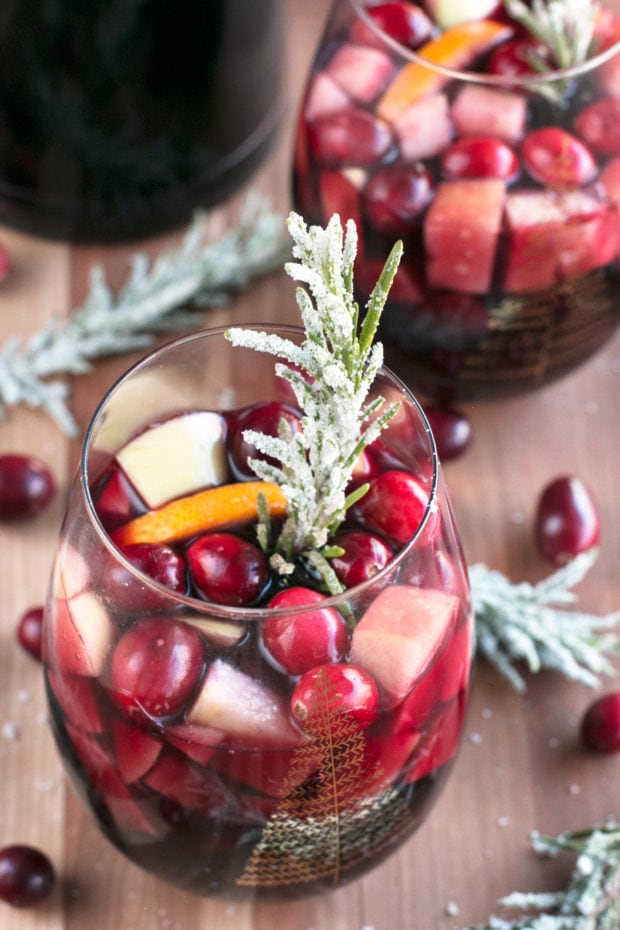 Plus, when you put anything in pretty little Christmas tree adorned glasses, everything tastes that much more amazing… Right?
This Recipe's Must Haves
This cutting board and chef's knife are a must so you can easily chop up everything you need for the sangria.
Cocktail spoons are perfect because you are just stirring everything up, right in the glass!
An OXO Good Grips 4-Piece Mini Measuring Beaker Set
is my favorite way to measure liquids! All the sizes cover everything you need for cocktail making, cooking, and even baking.


THIS GIVEAWAY IS NOW CLOSED.
As many of you know, it's the 12 Days of Jolly Giveaways and we are in the second half of the giveaway madness! Today is Day #8 and with this single serve sangria in mind, I wanted to give you something festive to enjoy it with.
I am going to be giving away a set of 4 of these Christmas Tree Stemless Wine Glasses that I am oh-so obsessed with! They are adorable and even have different leaf patterns so you will always know which glass is yours. Enter below the recipe!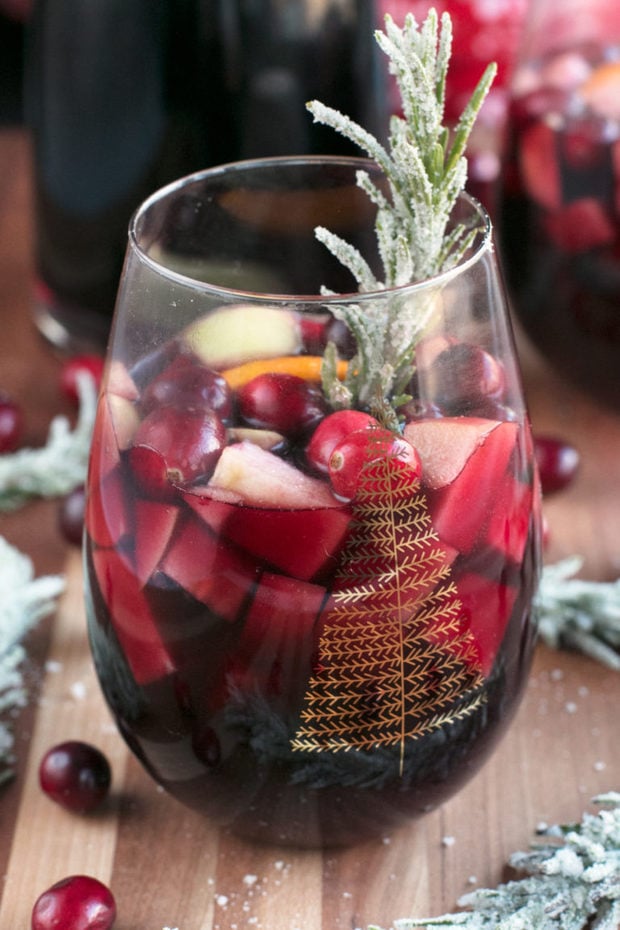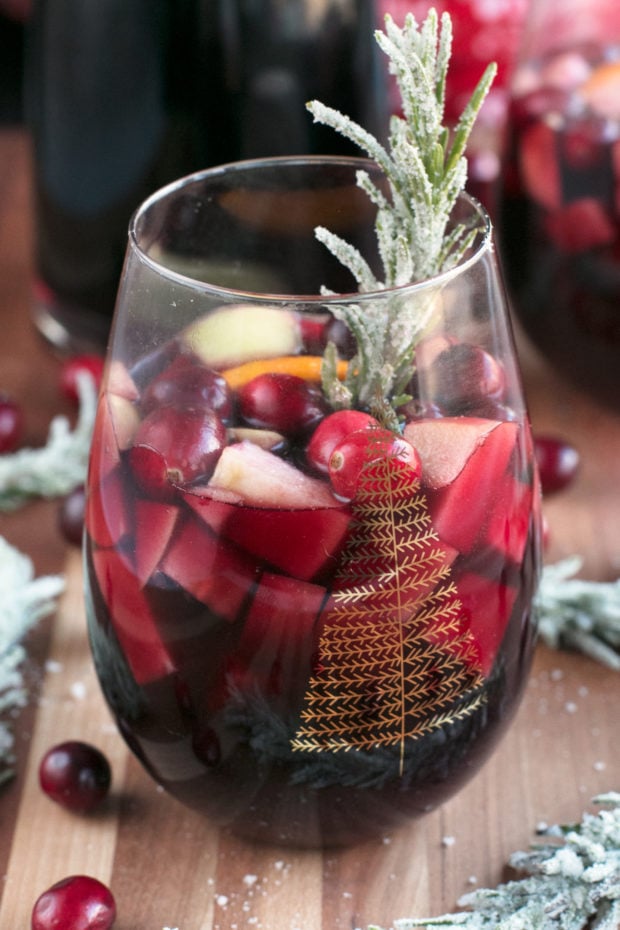 Also, don't forget to check out the other holiday recipes I've shared for the 12 Days of Jolly Giveaways (AND make sure to enter Day 7's giveaway because it's still open!)!
Day One – Red Wine Slow Cooker Short Rib Ragu
Day Two – Gingerbread Challah Bread
Day Three – Mini Beef Wellingtons
Day Four – Bourbon Gingerbread Punch
Day Five – Twice-Baked Chicken Shawarma Stuffed Potatoes
Day Six – Head Country BBQ Prize Pack
Day Seven – White Chocolate Dipped Dark Chocolate Peppermint Cookies
Day Eight – Red Christmas Single Serve Sangria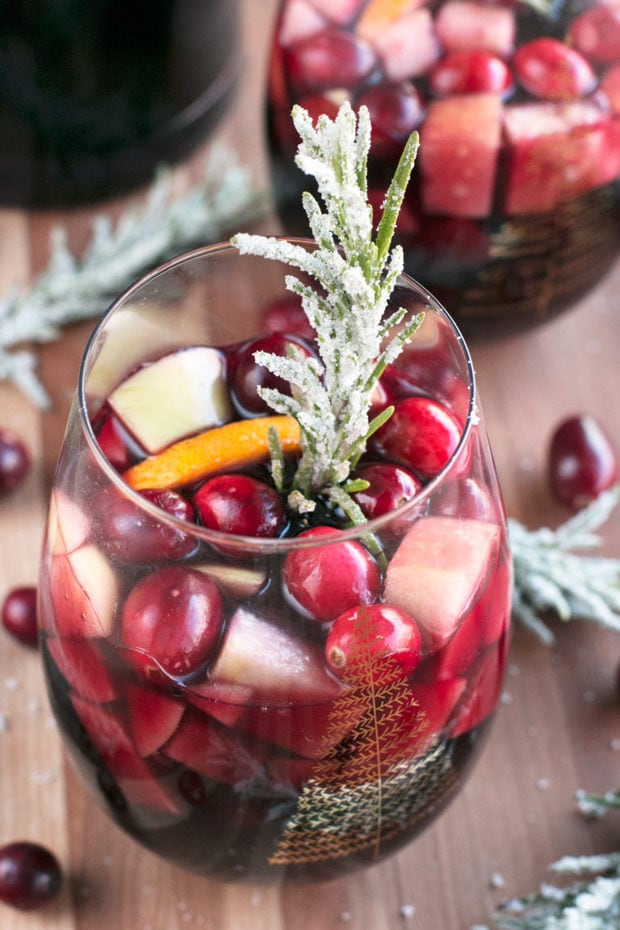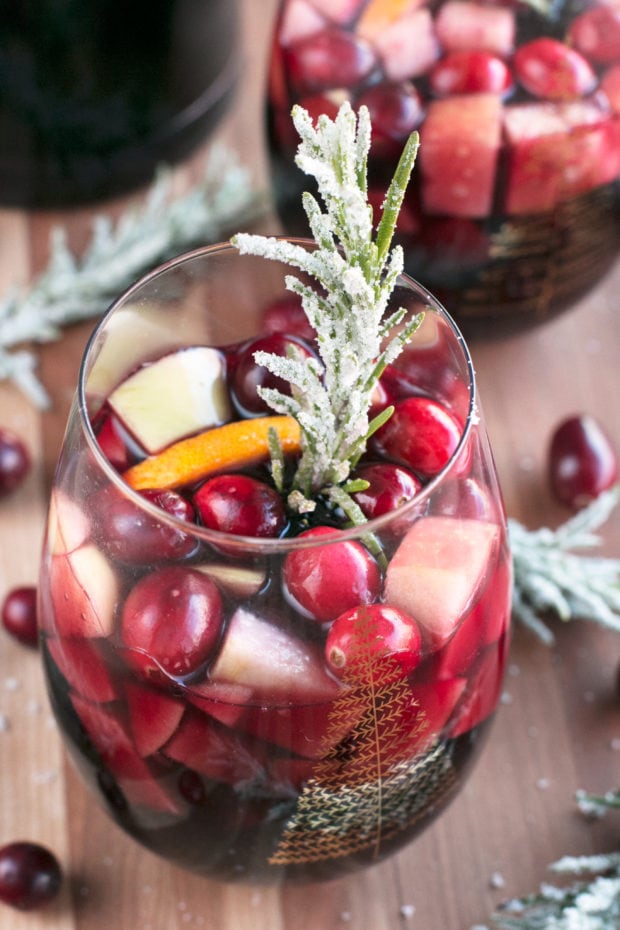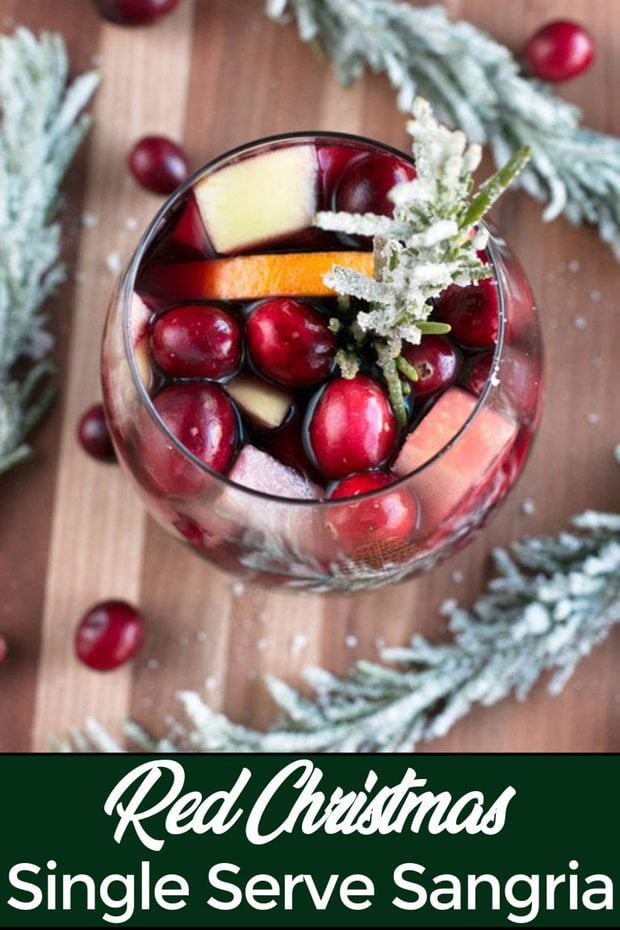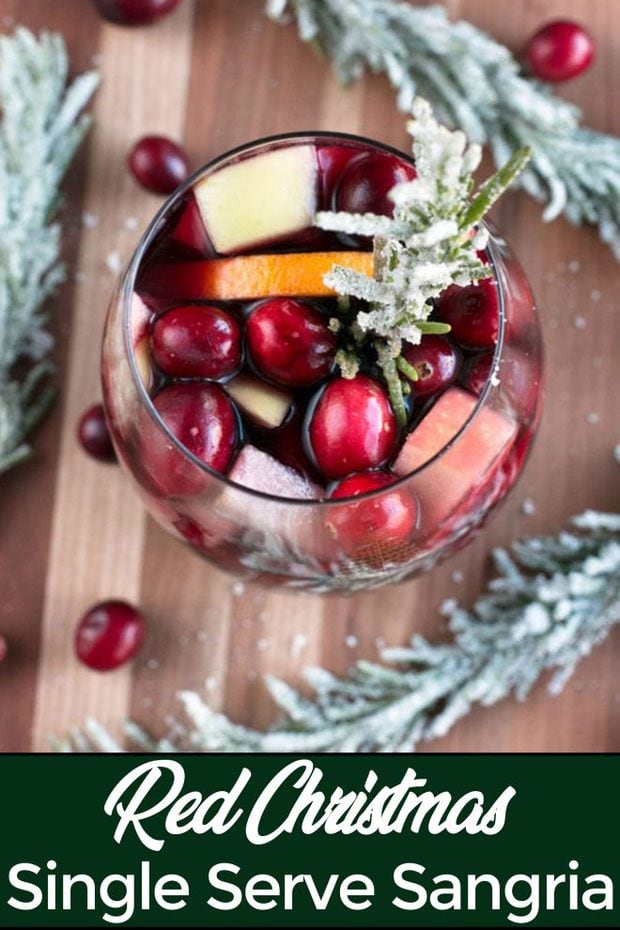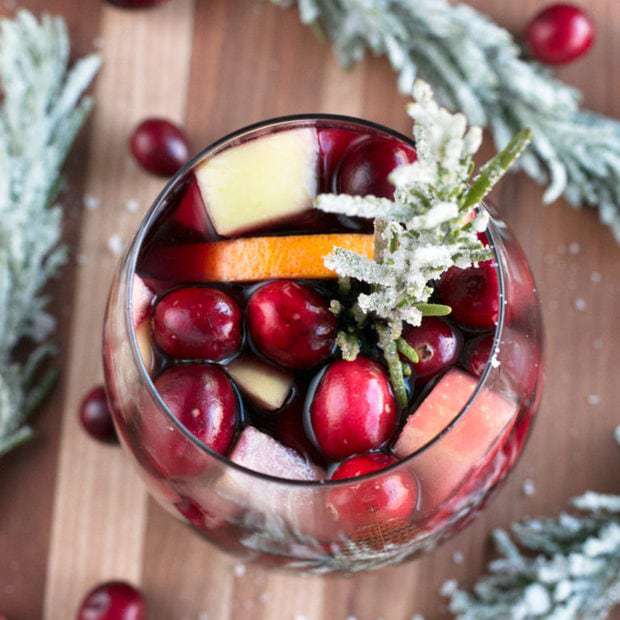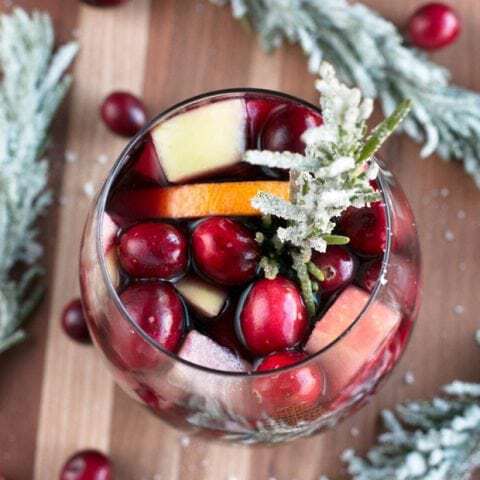 Red Christmas Single Serve Sangria
Total Time:
1 hour
10 minutes
Instead of making a GIANT batch of sangria, get your fix without hosting the party with these easy peasy glasses of delicious single serve red sangria! Garnished with sugared rosemary because you fancy, right?
Ingredients
Sangria
1 1/2 cups red wine
1/4 cup orange juice
1/4 cup brandy
2 slices of orange
1 apple, chopped
1/3 cup cranberries
2 cinnamon sticks
Garnish
2 sprigs rosemary
Water
1/4 cup sugar
Instructions
Divide the orange juice, red wine, and brandy evenly between two large wine glasses.
Add a slice of orange and a cinnamon stick to each glass.
Divide the chopped apple and cranberries evenly between the two glasses.
Stir briefly to combine.
Refrigerator for at least one hour.
Add sugar to a shallow dish with a wide mouth.
Briefly rinse rosemary sprigs under water, shaking excess water off.
Roll the rosemary sprigs in sugar. Set aside on a clean plate until ready to garnish.
Serve chilled or at room temperature.