Please note this post contains affiliate links.
If you have a burning question as you prep for Thanksgiving, I am here to answer all the Thanksgiving questions you might have! From pro tips to fixing emergencies, I'm sharing decades of knowledge here to make your Turkey Day the best ever.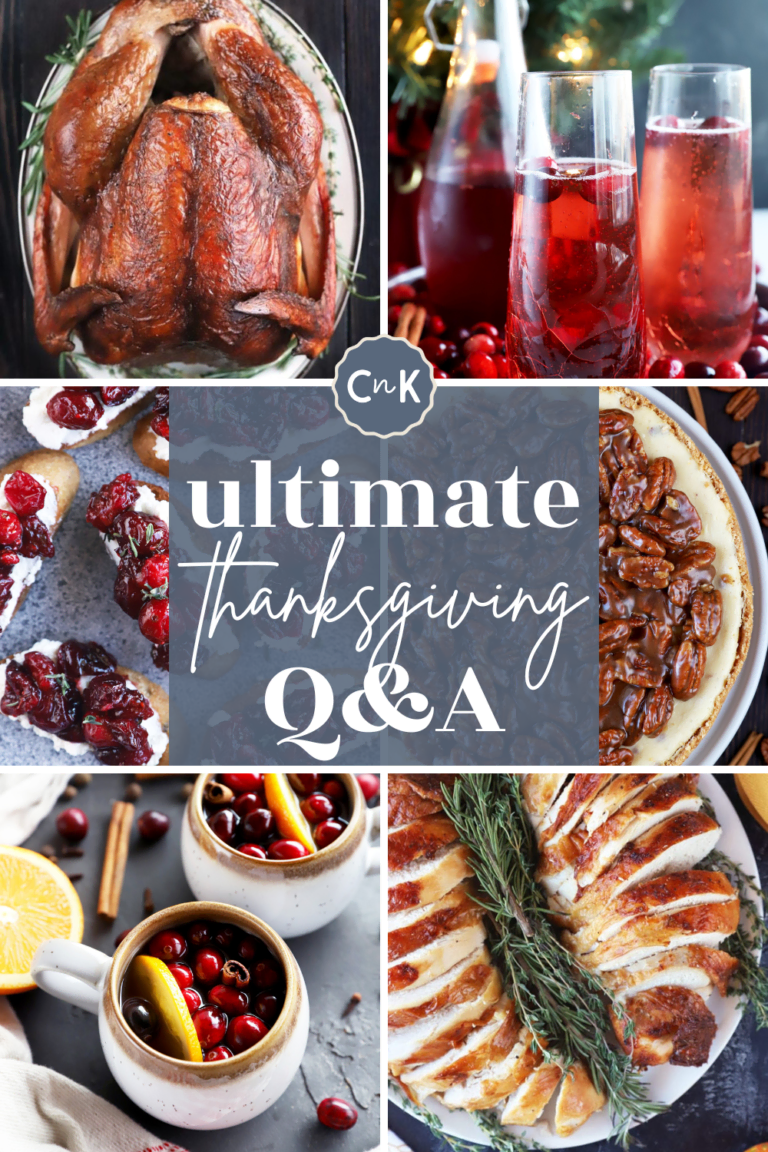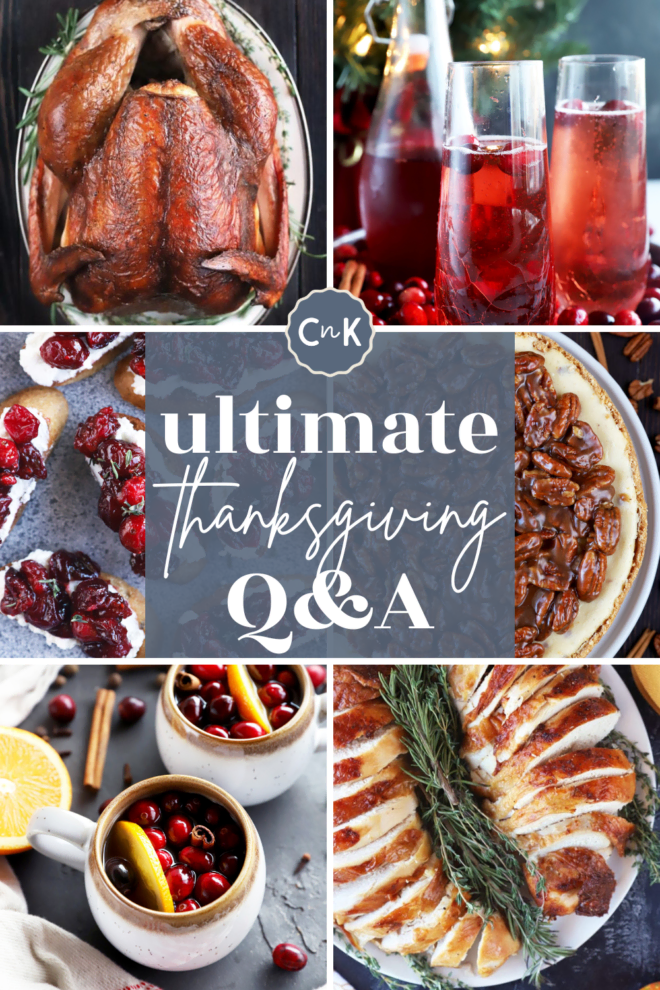 let's dive into the thanksgiving questions!
Be sure to check the Table of Contents above to skip to the section of Thanksgiving questions you are looking for!
prep tips
make and freeze pie crust
How much easier is it to just bake the crust and fill it the day of Thanksgiving instead of trying to make it all that day? Many pie crust recipes require resting so this is a great time saving idea. You can do this up to three months in advance! This way you'll be more prepared for Turkey Day.
make and freeze gravy
Again, another item you can make ahead and freeze. Just reheat on the stove when it's time to serve!
Pro Tip: avoid lumpy gravy. Bust out the sieve or strainer! This will get all those gross lumps right out. You can also use your good ol' blender to puree the lumps outta there.
make and freeze mashed potatoes
Sorry, but I've got one more for you! Mashed potatoes frozen and reheated will not lose their fluffiness, so banish that concern from your mind. You'll be grateful to not have to mash all those potatoes on the big day.
Need a great mashed potatoes recipe? Check out my Instant Pot Mashed Potatoes with Roasted Garlic and Parmesan recipe.
check all your cookware and kitchen tools
Don't get stuck without a potato masher or spatula on the day of (or too few serving dishes)! Check all the tools, the cookware and the serving dishes in your kitchen to make sure you have everything's covered. I like to make a list based on the recipes I'm planning on cooking, then cross-checking against what's in my kitchen. I actually HAVE run into issues with this – serving mashed potatoes in a sauce pan happened one year and I was so mortified…
don't assume you have to make it all from scratch
Buy the dinner rolls. Don't be ashamed to buy a pie from a local bakery or pick up some pre-made appetizers to save yourself time! If you run out of time, this is the best way to cut corners and trust me when I say, no one will care if everything isn't made from scratch.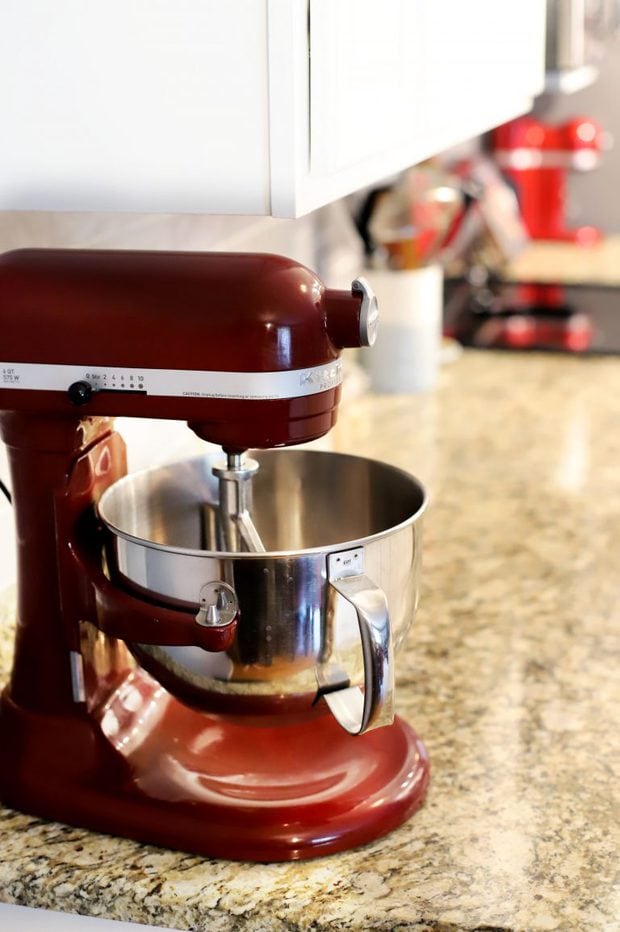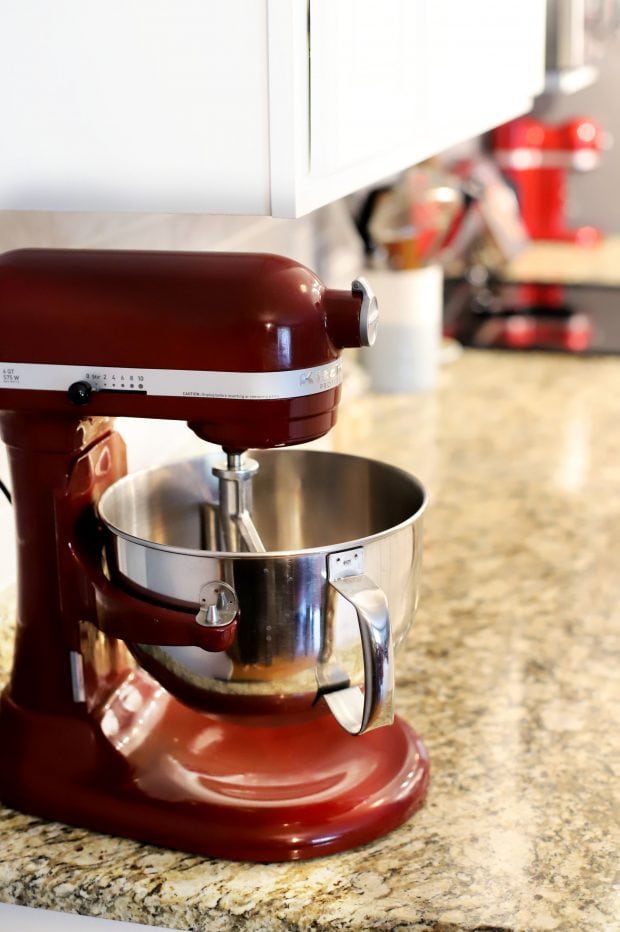 timing
how do you time what you make for a big meal?
This is one of the most common Thanksgiving questions I get!
Make a schedule: For the day of (and the days leading up to Thanksgiving), make a schedule so it's not a giant cluster of chaos. You need to know what you can prep in advance. Know how long everything needs to cook and at what temperature, etc. That way you don't end up in pure and utter chaos right when people start showing up, expecting to be fed.
what's a good strategy to prep before Thanksgiving Day?
If you are planning on a fresh turkey, order it as soon as you can so you don't lose out on one. I find that they can go pretty fast, so I like to secure mine November 1st.
The week before Turkey Day, pull out all the serving dishes and label them with notes for what each will be used for. That way you won't be standing in the kitchen wishing you had used that bowl for the green beans instead of the mashed potatoes.
A few days before, make sure your schedule is prepared and you know what's coming. Map out the 24 hours prior to the meal so you know exactly when you need to cook each dish. Even consider making a schedule 48 hours ahead and cook some dishes before hand to store in the refrigerator or freezer. There are many side dishes and fixings like cranberry sauce and gravy that you can make ahead of time.
Set the table the night before and save yourself the last-minute anxiety of pulling everything together.
Finally, the day of, follow your schedule and breathe. You have a plan so there's no need to panic!
how do I keep food warm if guests are late?
For the turkey, you can remove the turkey from the oven and hold it at room temperature for up to an hour safely. Cover it with foil and it will keep warm, likely in plenty of time for late guests to arrive!
With your turkey out of the oven, you'll have enough room to keep those sides warm in the oven and on the stove.
If the turkey gets too cool, warm it up in the oven again (or if you are lucky enough to have a spare oven, keep it warming in there at 200˚F). Finally, you absolutely have to wait to carve until everyone has arrived! Carving it early will cause it to become cold much faster.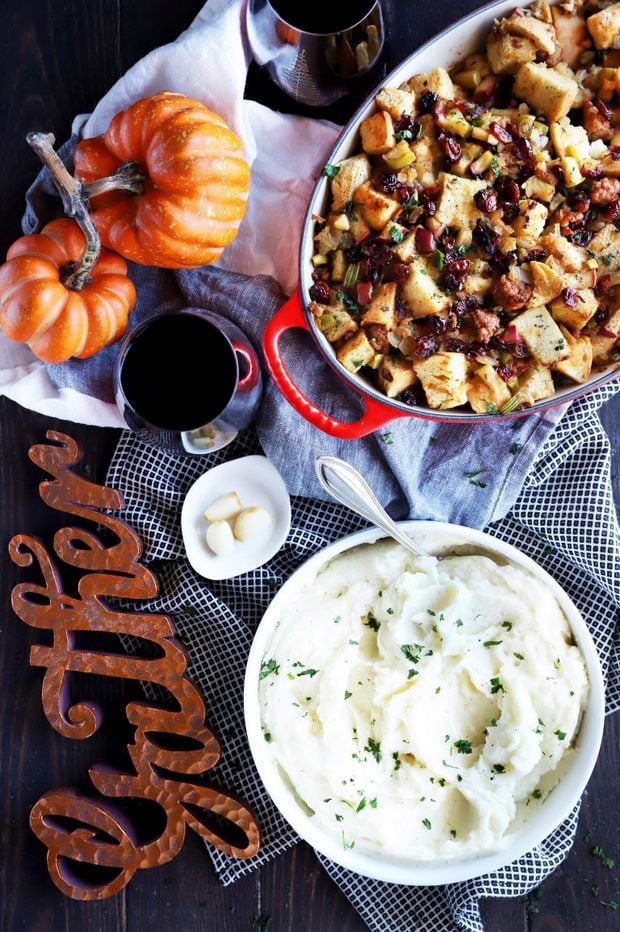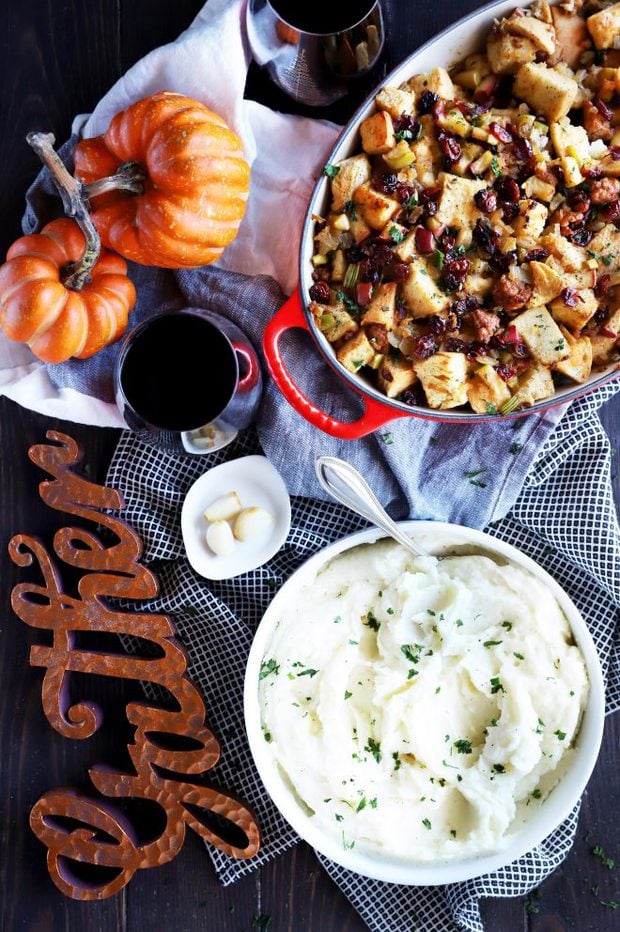 drinks
what's the best wine for Thanksgiving dinner?
Whatever wine your guests bring! Right? 😉 If you want to select the wine to be served with your meal, pick one white and one red. For a crisp, refreshing white, I would highly recommend the Charles Smith "Kung Fu Girl" Riesling (2013). For a red that isn't so bold it'll knock your socks off, try this year's Beaujolais Nouveau. I've been drinking them every year and they never fail to pair perfectly with a classic Thanksgiving dinner.
what's a good Thanksgiving cocktail to serve before dinner?
I have a TON of recipes on my site, but most seasonably notable would be a Sparking Thanksgiving Cocktail or this Christmas Sangria.
If you want more of those pie flavors in your drinks, consider a Bourbon Pumpkin Smash or Pecan Pie Manhattan.
For a crowd, this Big Batch Holiday Sangria is super flavorful! The depth of flavor for this sangria is unlike any you've ever tried.
what about after-dinner drinks?
Got those covered, too! Personally I like a warm drink after dinner, so alongside coffee, you could make an Irish Coffee or a Hot Orange Mocha Cocktail. A Hot Hazelnut Rum is also a classic wintertime libation to cozy up to.
I need non-alcoholic drinks please!
No problem! My friend over at Feast + West has a massive amount of options, but I personally love her Thanksgiving Spa Water and this Ginger Apple Pomegranate Sparkler Mocktail!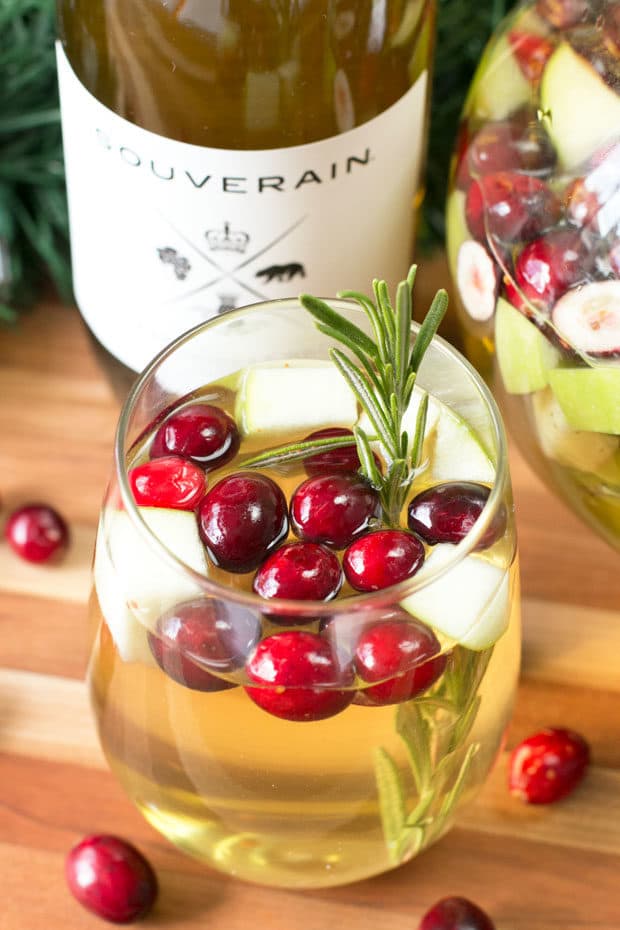 appetizers
what's a simple appetizer that requires no cooking?
When in doubt about what to make and with no time to cook, I always go with a meat and cheese board. If you choose the right combinations of meats and cheeses, as well as some nuts and dried fruit, it will taste incredible and won't fill up your guests too much before the main event!
Need some inspiration? Check out my festive holiday cheese board or make things even easier with this weeknight cheese board that's perfect for last-minute gatherings.
so how do I create an incredible meat and cheese board?
Ah that is one of the Thanksgiving questions that I love to answer! Select at least three cheeses – a fresh cheese such as burrata or mozzarella, a soft-ripened cheese such as camembert or brie, and a stronger cheese such as stilton or gorgonzola. For the meats, I like to go with the classics – prosciutto, sopressata, salami and speck. Finally, be sure to serve with crackers or bread, but don't forget other accompaniments. Add some olives, dried fruits like figs or apricots, and natural nuts like almonds or walnuts. They make all the difference!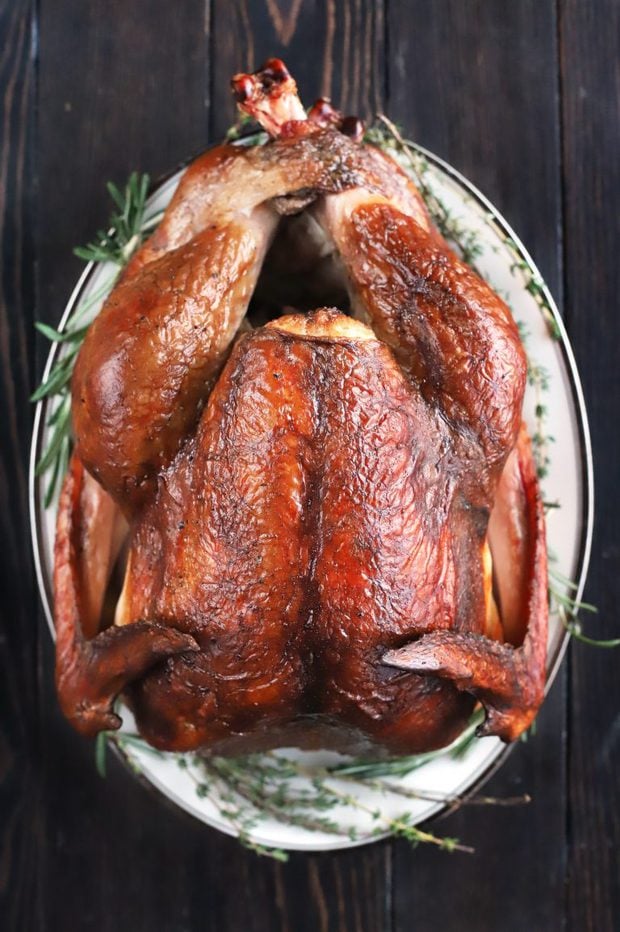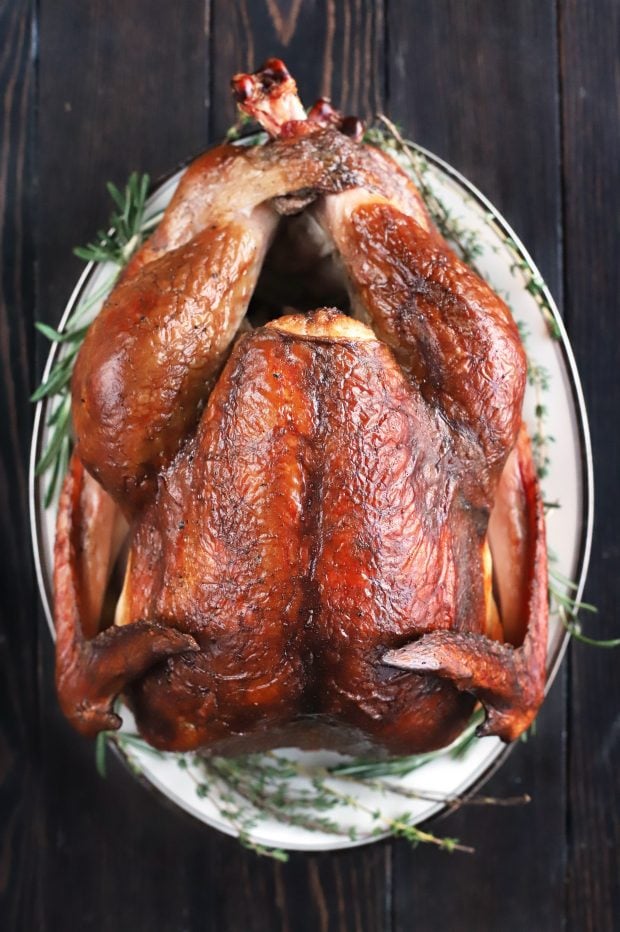 turkey
how much turkey should I plan on per person?
If you have a large party (10 or more) a good rule of thumb is approximately 1 1/2 pounds per person. For smaller gatherings, since smaller birds have a different meat to bone ratio, figure approximately 2 pounds per person.
get ready to thaw
For the love of everything that's holy, PLEASE know how long it will take to thaw your turkey. Also, make room in the fridge so the bird can actually fit in there (or load up a cooler and stock it with ice).
how do I thaw a turkey?
You can thaw your bird either in the refrigerator or cold water. If you're using the refrigerator, use the equation of 1 day to thaw for every 4lbs of meat.
Short on time? No problem. Cold water thawing is much faster at a rate of 30 minutes to thaw for every pound. If thawing in cold water, thaw unopened in enough cold water to cover the turkey and be sure to change the water every 30 minutes to 1 hour.
should I brine my turkey?
This is one of the Thanksgiving questions I see a lot. In my opinion, brining is a wonderful option if you want a deliciously moist bird and have the patience to go through the brining process. When you choose to brine, it's all about finding the right brine. Some brines can leave a turkey too watery or salty, so be sure to focus on finding the right one! This is the brine I use year after year, whether I am smoking or roasting my turkey. Highly highly recommend!
If you are skipping the entire bird and opting for the breast only, I also have a brine recipe for that.
how long should I brine a turkey?
For a 12 to 16 pound turkey, you'll want to brine for at least 16 to 18 hours after the turkey has been thawed.
should I baste a turkey?
Basting is optional when it comes to roasting a turkey. The true tip to avoid a dry turkey is to not overcook it. However if you do choose to baste your turkey, do so every 30 minutes throughout the roasting process.
how do I fix dry turkey meat?
One of those Thanksgiving questions that you should have the answer for BEFORE it happens, if you can manage it! As you carve the turkey, give it a good brush of chicken stock. This won't make it moist, but it will prevent further drying. Then, bring in the gravy! Be prepared to make extra whether it's from turkey drippings or not. As soon as you start serving the turkey, offer up the gravy right away. Gravy is a superstar when it comes to rescuing dry turkey!
how do I keep a cooked turkey warm?
The best way to keep your turkey warm is leaving it in the oven at 200˚F. However, if you don't have the space, cover it with foil and let it stand at room temperature. It should stay warm for about an hour. Another great way to warm up turkey is to smother it in hot gravy once it's ready to serve!
Pro Tip: buy a meat thermometer. Yes, it's worth not having dried out turkey. Get the meat thermometer and know when to pull the turkey (at 160 degrees, it'll go up the other 5 degrees as it rests and stay moist).
should I cook stuffing inside my turkey?
If you've ever heard Alton Brown speak on this topic, you'll know his answer is a firm no. His reasoning is the turkey cooks too quickly for the stuffing and you end up with a dry bird by the time stuffing is done. Personally, the effort of stuffing a turkey is just a bit much for me. With everything else going on, shoving my hands inside a turkey with raw stuffing is not my primary concern. I recommend cooking stuffing separately so you don't risk overcooking the turkey, which is the main event after all. You can always cook it separately and stuff it inside the turkey once it's cooled a bit, just in case your mother-in-law demands a stuffed turkey. She'll never know the difference.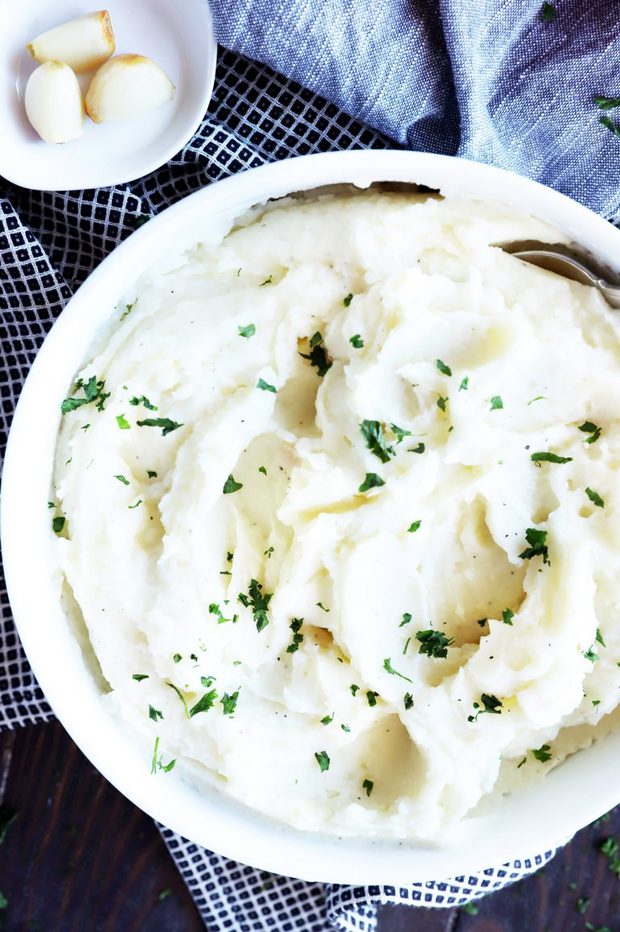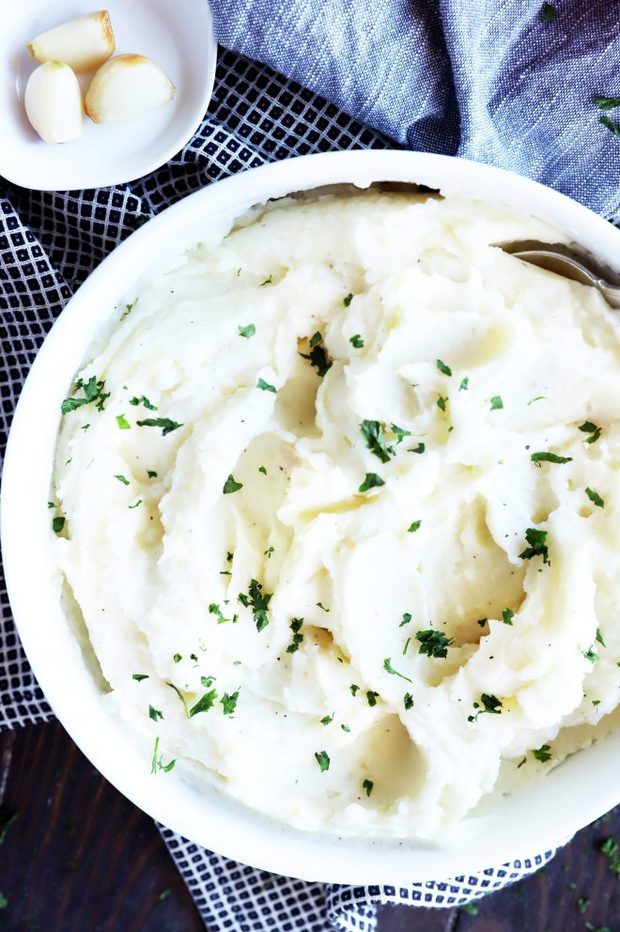 side dishes
what's an easy effortless side dish?
Roasted vegetables! Gather your favorites, chop them up and toss with olive oil, salt, pepper, and a little garlic powder or chopped garlic. Roast on a lined, rimmed baking sheet at 400˚F until tender.
what's the best way to mash potatoes?
If you have a ricer or a food mill, now's the time to get it out. It will give you creamy, fluffy mashed potatoes every single time.
However if you don't have a ricer or food mill, a great solution that doesn't involve a potato masher is your stand mixer. Add cooked potatoes and dairy to the bowl of the stand mixer fitted with the whisk attachment and let the whisk do all the work!
do better than canned cranberry sauce
Cook down fresh cranberries on the stove! It doesn't take long and while you are at it, toss in about 1 tsp of orange zest and 1/2 Tbsp of orange juice (or more if you prefer), along with a touch of brown sugar. Cook until the cranberries are soft and tender. Chill before serving!
how do I avoid dry stuffing?
To avoid dry stuffing, make sure you are adding enough liquid to the mixture. If your stuffing feels dry, pour in a little warm chicken stock, cover with foil, and let it bake in the oven for a couple minutes.
desserts
can I bake two pies at the same time with different cooking temperatures?
Of course! The key is to use the lower temperature out of the two. Check for doneness according to the instructions, and if it needs more time, check every 3-5 minutes until done. Be sure to keep a close eye on them so they don't burn!
how do I stop the edges of my pie from burning?
If you are lucky enough to have one of those pie crust edge protectors made of silicone, now's the perfect time to pull it out! If you don't, turn to your trusty aluminum foil and wrap it around the edges prior to baking. Remove the foil for the last 15 minutes of baking and you'll have perfect crusts.
how do I keep my pie crust from being soggy?
I always partially bake my crusts before adding in the filling to avoid this problem. Another option is to brush the bottom crust with beaten egg white.
what if I run out of pumpkin pie spice?
Pumpkin pie spice if made up of ground spices – cinnamon, ginger, nutmeg, allspice, and cloves. Combine equal parts of these ground spices + a little extra cinnamon and you'll have your own pumpkin pie spice!
what's a dessert that can be made a couple of days ahead of time?
Pumpkin pie and cheesecake can be made a couple days before and stored in the refrigerator. Other options include any frozen ice cream dessert, puddings, cookies, and even some cakes. You can also make and freeze your pie dough weeks ahead of time – this will save you time Thanksgiving Day!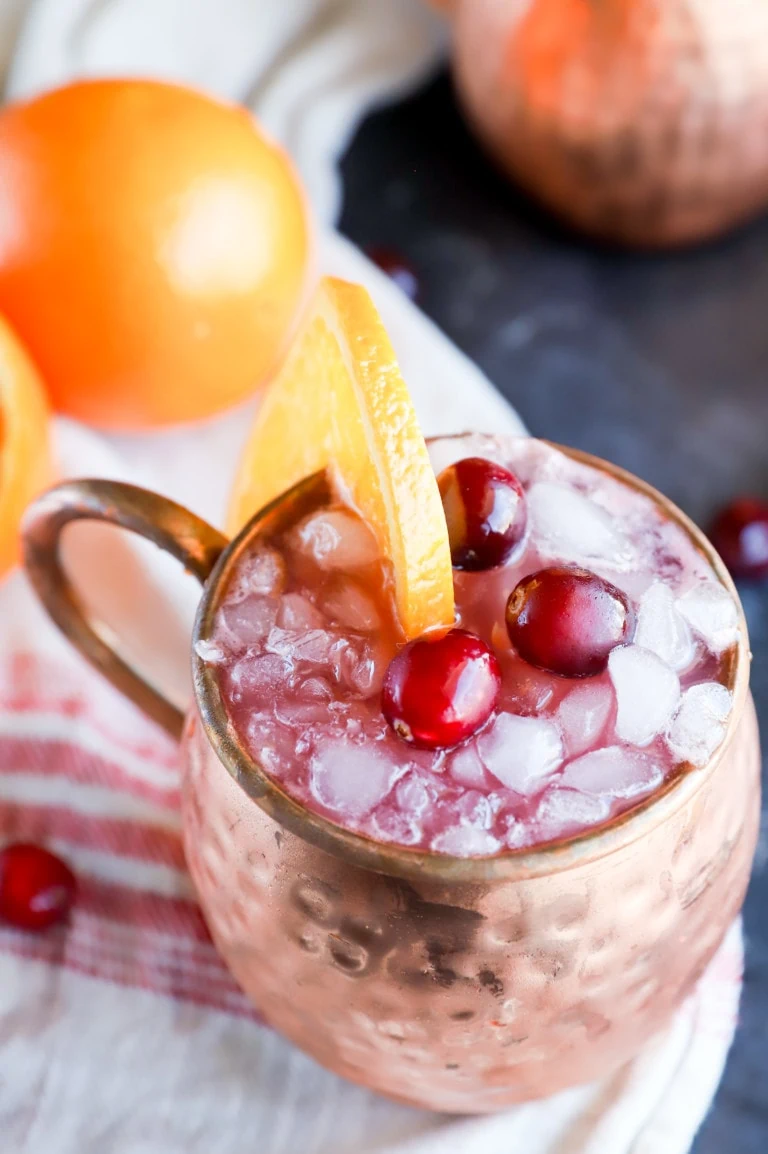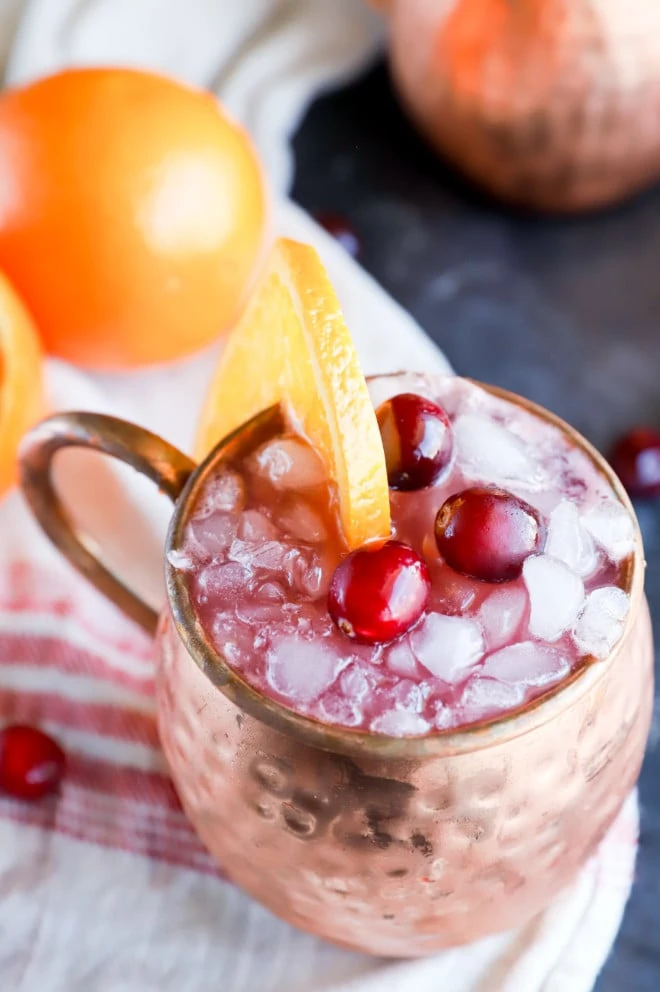 entertaining
stock up on booze
You never know how much people are going to drink, and if your friends and family are anything like mine, it's usually consumed more because it's a celebration and a holiday! I like to stock up on the basics so I have what everyone likes on hand. Another option? Instead of having guests bring food, have them bring their favorite drink! This is a fun way to get people talking before dinner too, because they can ask what each other brought!
not doing the cooking this year?
If you are attending Thanksgiving and expect leftovers to take home, make sure you bring your own Tupperware so the host doesn't have to give up theirs (and you don't have to worry about returning it!).
simple presentation tips
There's a lot of Thanksgiving questions I get, but I feel like there aren't enough people asking about how to make the food look just a little more inviting and special! This is where my whole "gatherings made easy" mindset comes in! Below I'm sharing my favorite way to make my dishes stand out, without a lot of fuss or fancy, expensive dishes and decorations:
Use the ingredients you are cooking with! I love to garnish my turkey platter with fresh herbs that I put into the brine like rosemary, thyme and sage.
Freshly chopped parsley sprinkled on mashed potatoes is an easy way to elevate a simple dish.
Meringue on sweet potatoes instead of marshmallows is one I am trying this year and I can't wait. It looks so elegant and you don't even need to pipe it.
Simple garnish, freshly chopped herbs, pretty platters or serving dishes, you can even ask to borrow something from a friend or your mother with your prep a week ahead!
If you have a buffet setup, use candles, flowers, fall decor like leaves and mini pumpkins to add to your layout. You can decorate as you set up the dishes from your prep plan! Also consider adding height with small boxes covered with napkins or linens like risers.
Don't forget to remove food from their original packaging (keeping it for later to label leftovers with), set out mustard in a bowl for ham, move a packaged dip to a bowl, etc.
Don't make it complicated, just make it fun! I am personally planning on using candles from our wedding with a couple bags of mini pumpkins for decor. That's it. Remember that SIMPLICITY IS PRETTY.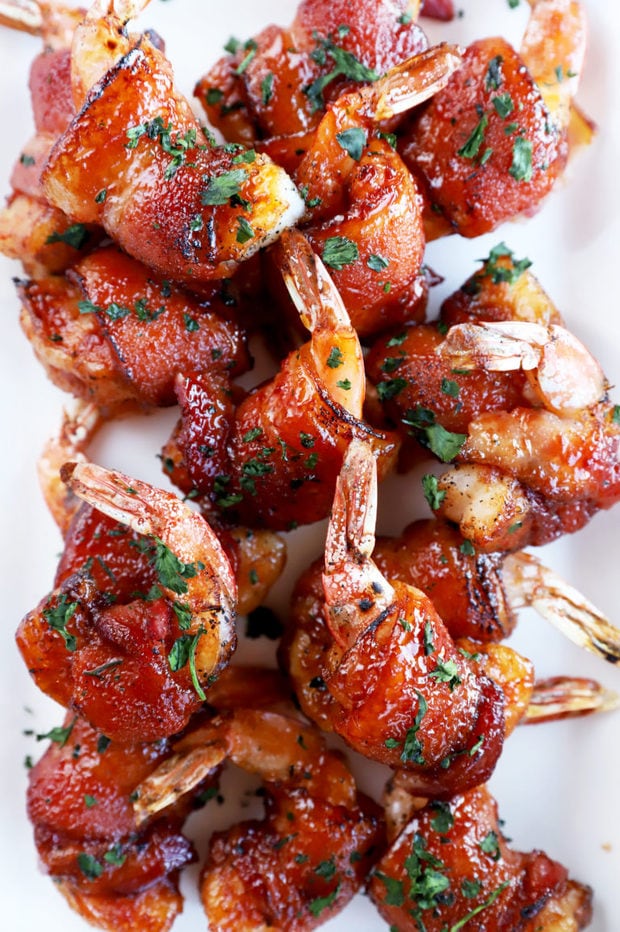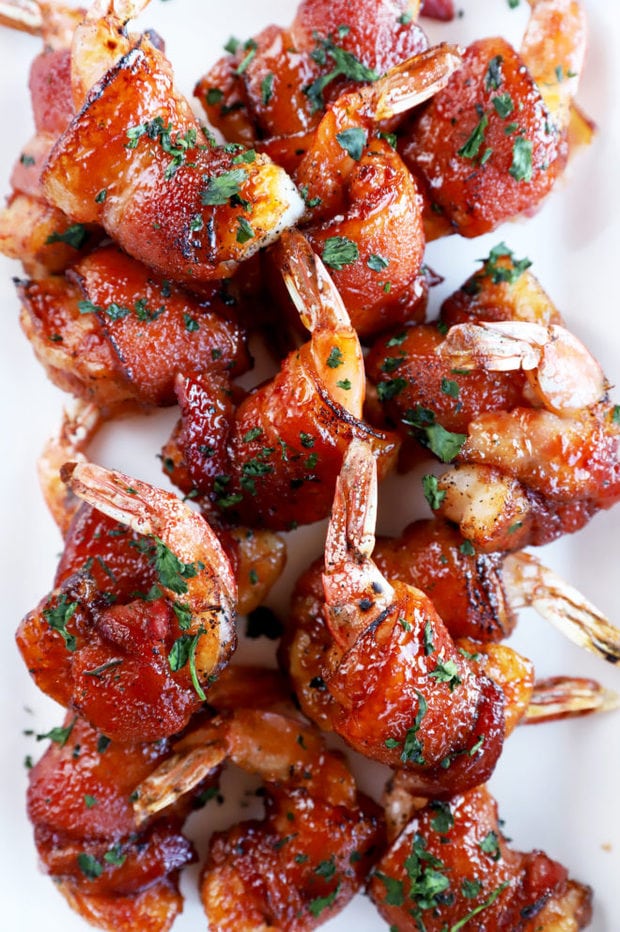 meghan's top tips
the one tip that will save you countless times in the kitchen
I get a lot of Thanksgiving questions about my top tip and this is it… Chicken stock is your ultimate Thanksgiving savior. Simply keep a large saucepan of chicken stock warm on the stove throughout the day. It can rescue dry stuffing, too-thick gravy, dry turkey, and countless other emergencies that pop up at the absolute worst time. Anything you have leftover can be stored or frozen for later use, or use it as a base for leftover turkey soup!
make sure there are leftovers!
Remember YOURSELF. The day after Thanksgiving is the day for you, the cook. Have your own personal leftovers all stored up and ready as people are sitting down to eat on Thanksgiving. That way you can make a giant leftovers sandwich and kick back for a day of serious "you time".
what happens if I have last-minute cooking disaster?!
Relax. See if it can be saved. If it's dry turkey or stuffing, or lumpy gravy, there are solutions for that! However if the turkey burns to a crisp or you run out of food, there isn't too much you can do but shrug it off. You're human and it's not the end of the world if a mistake was made. This is why restaurants are open on Thanksgiving. Order some take-out and continue to enjoy the company of loved ones. No big deal!
don't forget to EAT
Though this isn't really one of the Thanksgiving questions I get asked about, it's an important reminder! So often we get caught up in the kitchen and forget all about food for the chef – have some snacks made or bought to eat as you cook. If you have a late afternoon or early evening dinner, be sure to make yourself lunch so you don't snack all day and end up full when the big meal rolls around.
cleaning up tips
Leave it for the next day or put your guests to work for their leftovers. As you wrap up their leftovers, if you feel comfortable enough to ask, go ahead and tell them to help clean and dry dishes. In my family, I would totally do it. Probably will. Fair warning, fam.
Leaving it to the next day is another great option, because you likely have it off. You can then use the evening to RELAX and enjoy after being in the kitchen all day.
ASK FOR HELP – you cooked, others clean. End of story.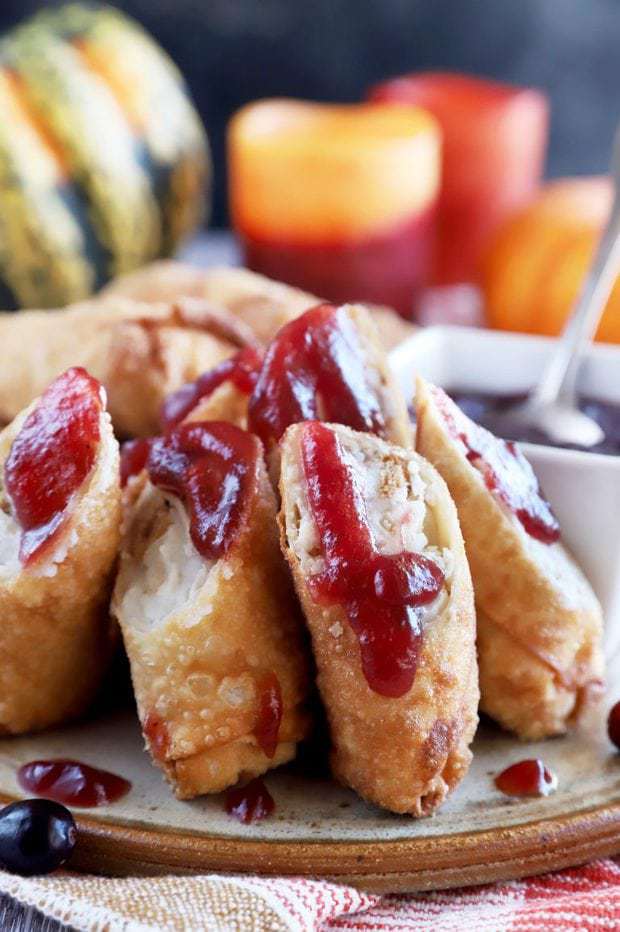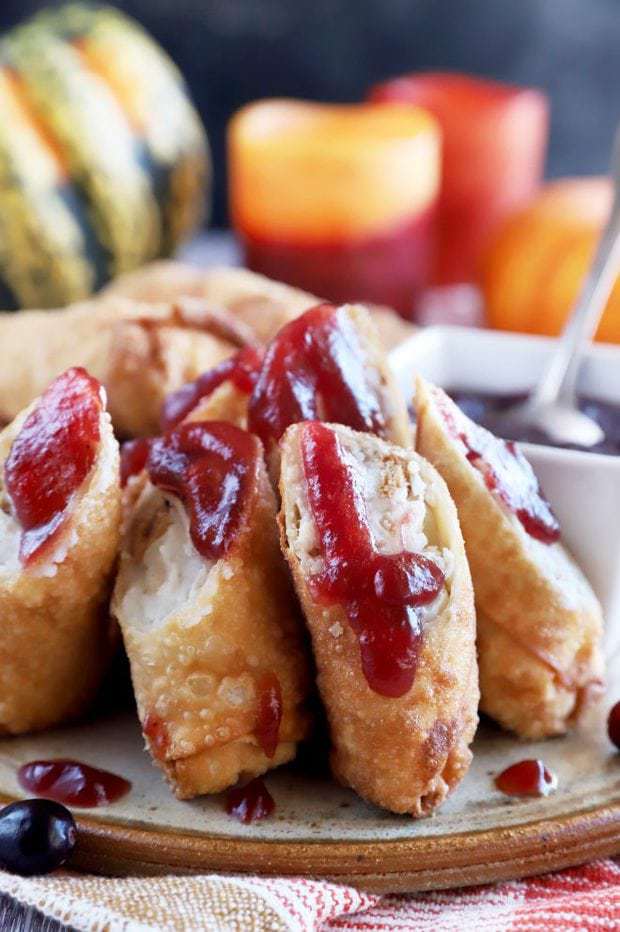 leftovers
how can I creatively use my leftovers?
Of all the Thanksgiving questions, this one has to be my favorite! The best in my opinion is the simplest – make the ultimate Thanksgiving leftover sandwich (just don't judge the photos because I made it back in 2013 before I knew better LOL). A toasted kaiser roll, smear on some mashed potatoes, pile on the stuffing and turkey, and top with cranberry sauce and gravy aioli.
Other fun ideas that you can find on my blog are:
what's the best way to store leftovers?
The best and safest way to store your leftovers is to start with cooling everything down as soon as possible. Pack them in shallow containers instead of one big deep container so your leftovers will cool faster. I know you probably want to keep everything in the serving dishes and simply cover them, but if you store them in clean containers, it's not only safer but also takes up less space in the refrigerator!
don't see the question that you are looking for here? Be sure to drop you Thanksgiving questions in the comments below, and I'll be sure to respond!