A Bourbon Pumpkin Smash on a cozy fall evening is just what this season calls for. With a homemade pumpkin spice simple syrup, this rich bourbon cocktail is full of flavor and just a little bit bubbly! It's ideal for a cocktail hour at home, whether it's a large gathering or just you on the couch with a blanket and a good book.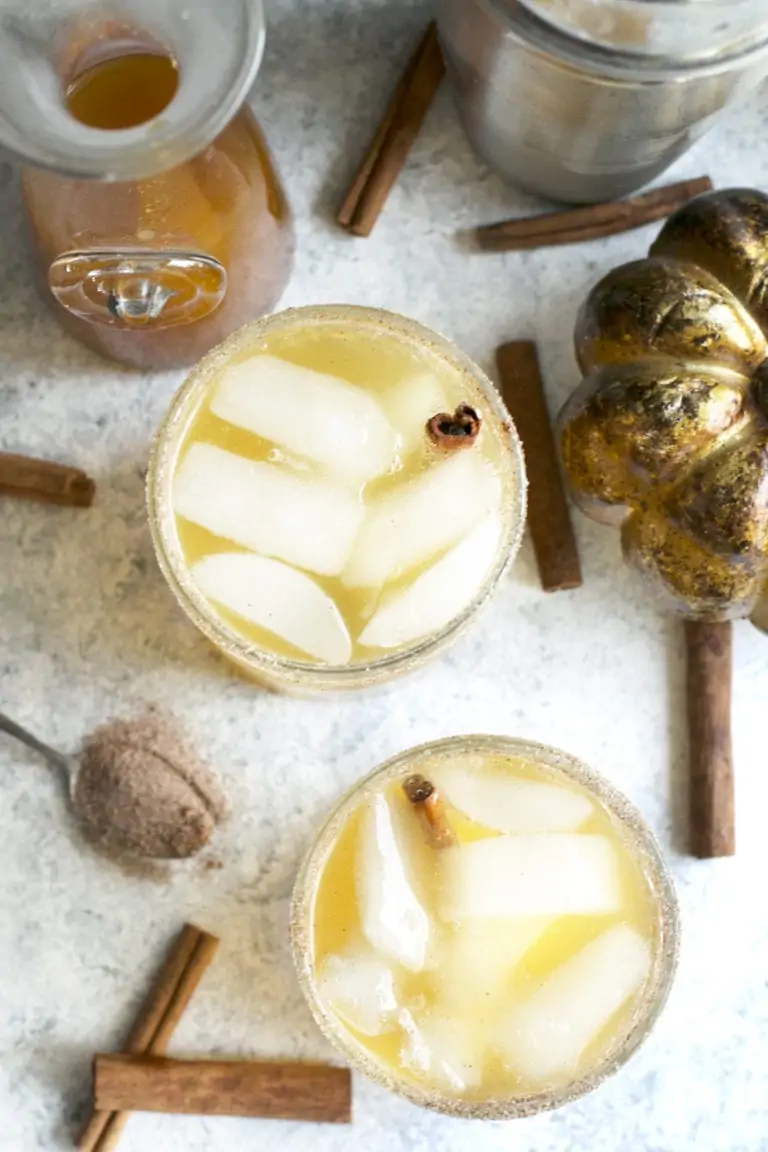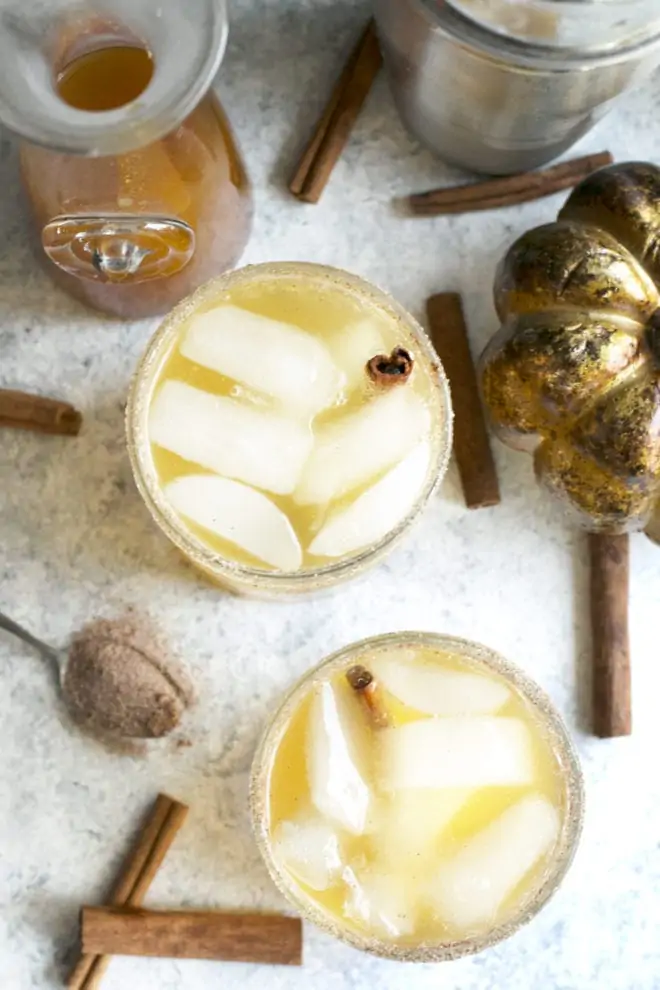 about this bourbon pumpkin smash
Now THIS is the kind of pumpkin spice that I get excited about.
You've heard me mention that my love of pumpkin spice isn't off-the-charts OMG I HAVE TO HAVE A PSL RIGHT NOW levels. However, as seen with my Chai Pumpkin Spice Cinnamon Rolls, I can let out a little girlish squeal when pumpkin spice is done right.
This cocktail strikes exactly that chord for me. The combination of pumpkin spice and bourbon is seriously the bomb diggity. I really don't have any other way to describe it.
It's the pumpkin spice simple syrup that is the real hero of the cocktail. Just LOOK at that color….
If that doesn't make you think of festive fall things, I don't know what will!
You will want to start making giant batches of this simple syrup, not only for this cocktail, but also for anything else you can use simple syrup in. Want to make a pumpkin spice cappuccino at home? A latte perhaps? You could give a whole new twist to rich, homemade hot chocolate. The possibilities are endless!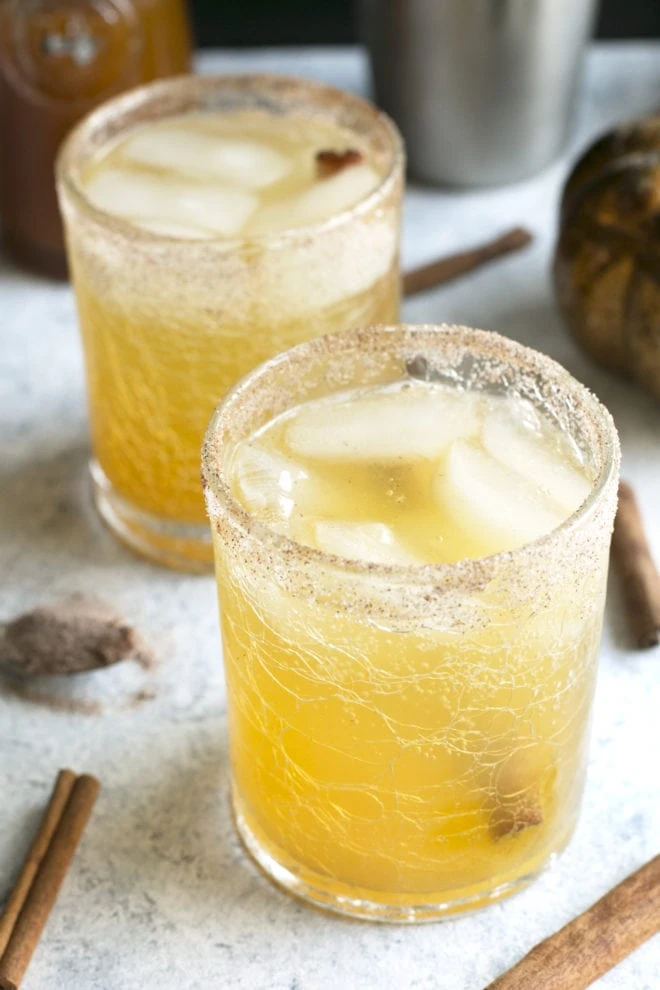 Why not make EVERYTHING pumpkin right? I told you I got your back, pumpkin lovers. Even if I'm not on the PSL train, I got your back. 😉
The rich and festive flavors of pumpkin spice in the simple syrup make the syrup a great sweetener that isn't too sweet to overpower the bourbon. Instead, it's the perfect complement to the bourbon.
The cinnamon, allspice and ginger in pumpkin pie spice are natural allies for bourbon, and the richness of the pumpkin puree brings out a savory and slightly bitter note that you can really taste in the cocktail.
It's just the right cocktail to drink while in your favorite flannel, oversized shirt and leggings, sitting by a window, watching the leaves gently fall to the ground. I mean, the bourbon pumpkin combo really is the best for this time of year, after all.
In reality, that is probably not what you'll be doing when you drink this cocktail. In all likelihood you'll be enjoying a drink at the end of a long day at work, or serving up the cocktail for a group of friends catching up around the dinner table.
But I like to imagine that movie moment in my head.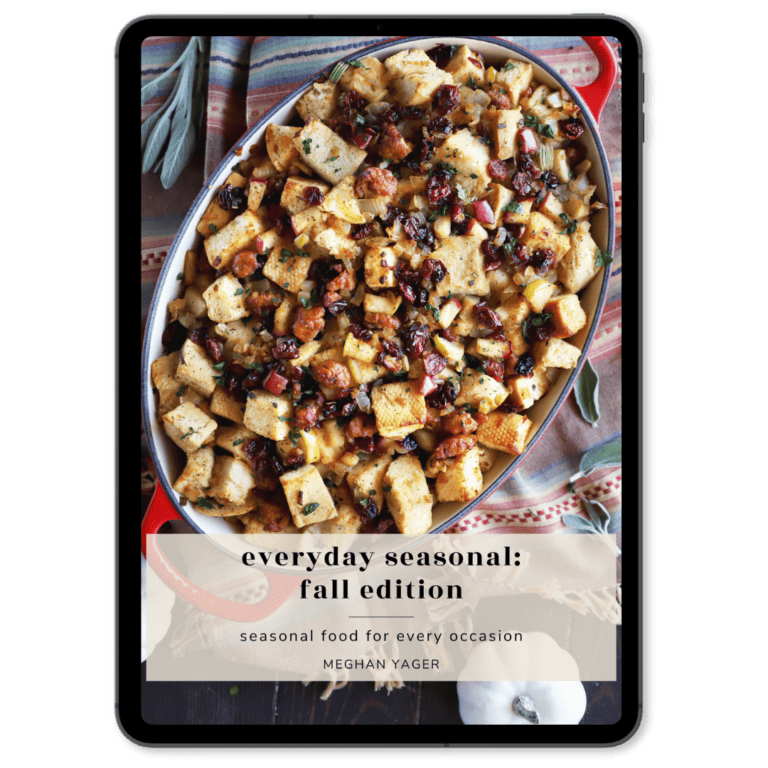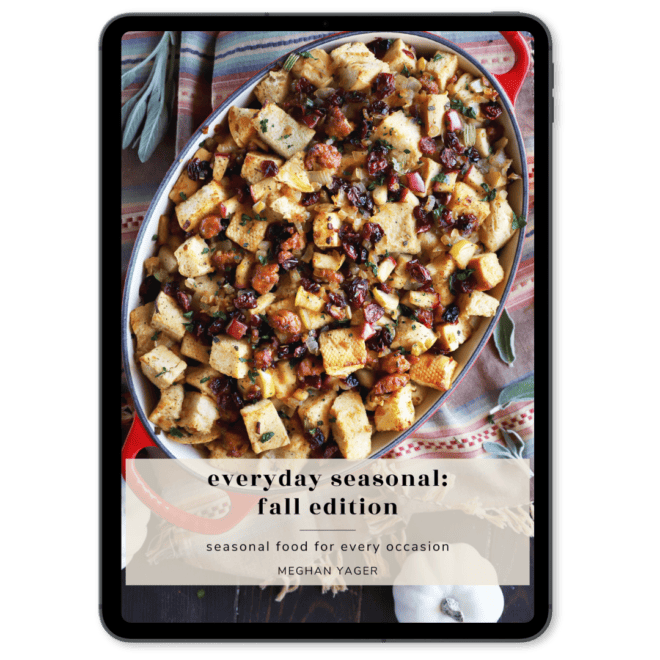 everyday seasonal: fall
With seasonal fall recipes, a comprehensive produce guide, and more, this is the cookbook to help you celebrate the season.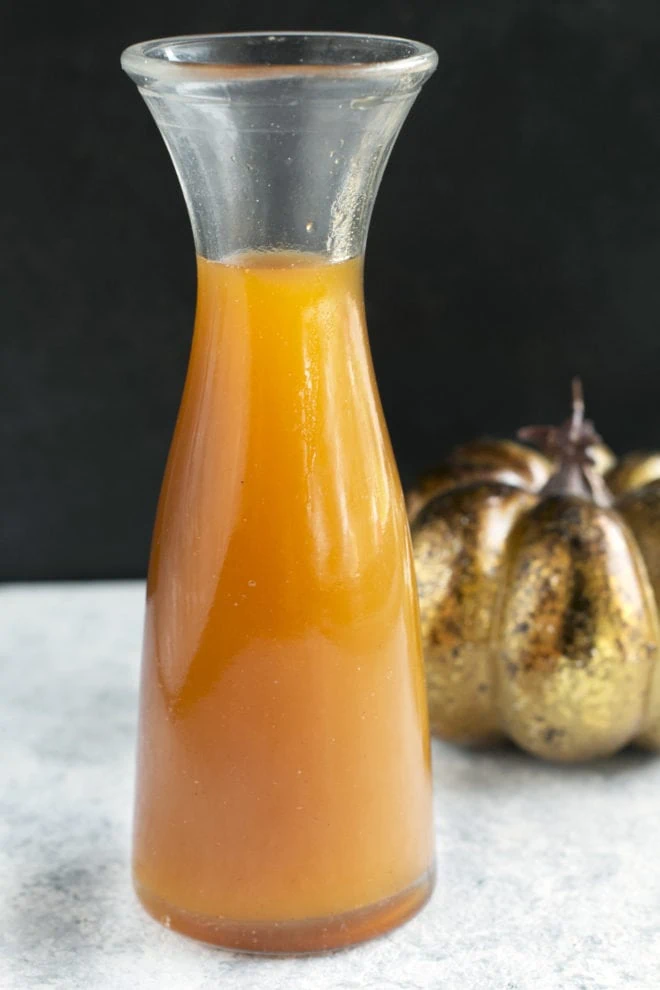 ingredients
pumpkin spice simple syrup – the versatile recipe that you'll want to use all fall long! You can use it to spice up cocktails, or simply as a sweetener for your morning coffee. I have the recipe included in the card below, but you can also visit the post linked here for more info!
bourbon – bourbon is the obvious choice for this cocktail (it is a bourbon smash after all!), and you can go with a nice mid-price range option like Bulleit or Woodford Reserve.
lemon juice – I always recommend fresh lemon juice because store-bought tends to taste a lot more sour, in my opinion at least.
soda water – This gives a little bubbly kiss to the cocktail, which I truly love! You can also use plain water if you don't keep soda water on hand.
sugar – to make the simple syrup, you will need granulated sugar and for the rimming mix, you will need brown sugar. I recommend using light brown sugar, but you can also use dark brown sugar if that's what you have handy.
spices – cinnamon, allspice and ginger are natural allies for bourbon, making these spices ideal for the rimming sugar.
this recipe's must haves
A Boston shaker is a great standard shaker to have on hand, especially if you don't have one yet. And if you don't, you really need to just get this now to make your life easier. Just sayin.
Cocktail spoons so you can always have a spoon to stir any cocktail!
You need to have your saucepan handy – this one especially because I LOVE the copper…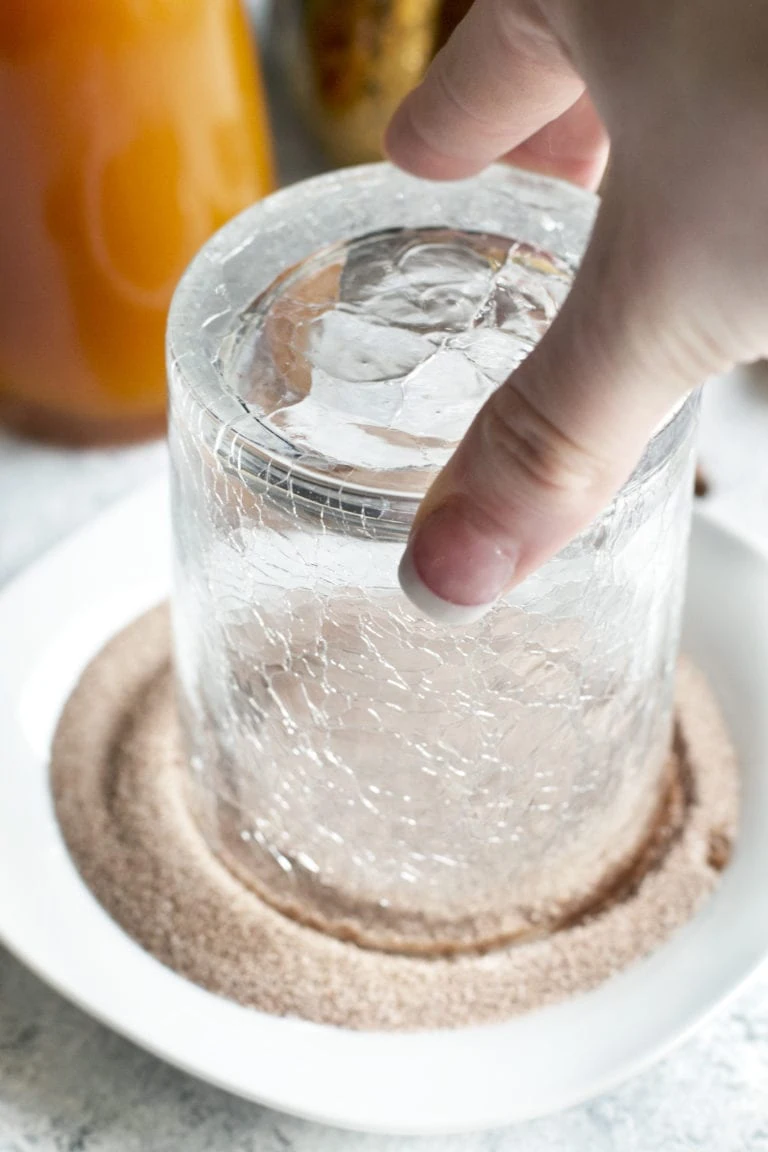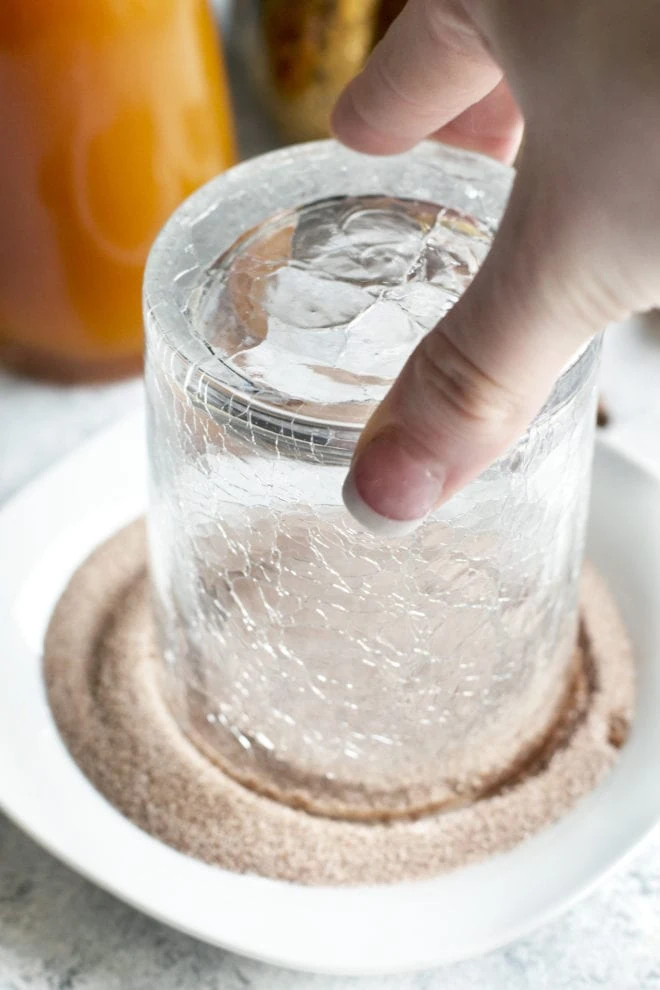 here's how to make a bourbon pumpkin smash
make simple syrup
Add pumpkin puree, water, sugar, and pumpkin pie spice to a saucepan. Bring the mixture to a boil over medium-high heat, stirring constantly. Once smooth and bubbling, remove from heat and cover. Let sit for 15 minutes.
Strain the syrup, pushing through as much liquid as you can. Syrup can be stored in an airtight container for up to 2 weeks.
make rimming mixture
Combine ingredients for the rimming mixture in a small bowl, stirring until combined. Dump on a shallow plate.
Rub the edge of a rocks glass(es) with lemon wedge to wet it, then roll in the rimming sugar. Set rimmed glass(es) aside.
make cocktail
In a cocktail shaker filled with ice, add pumpkin spice syrup, bourbon, and lemon juice for the cocktail. Shake well.
strain and finish
Fill the rimmed glass(es) with ice and strain cocktail mixture.
Top off with soda water, stir and garnish before serving.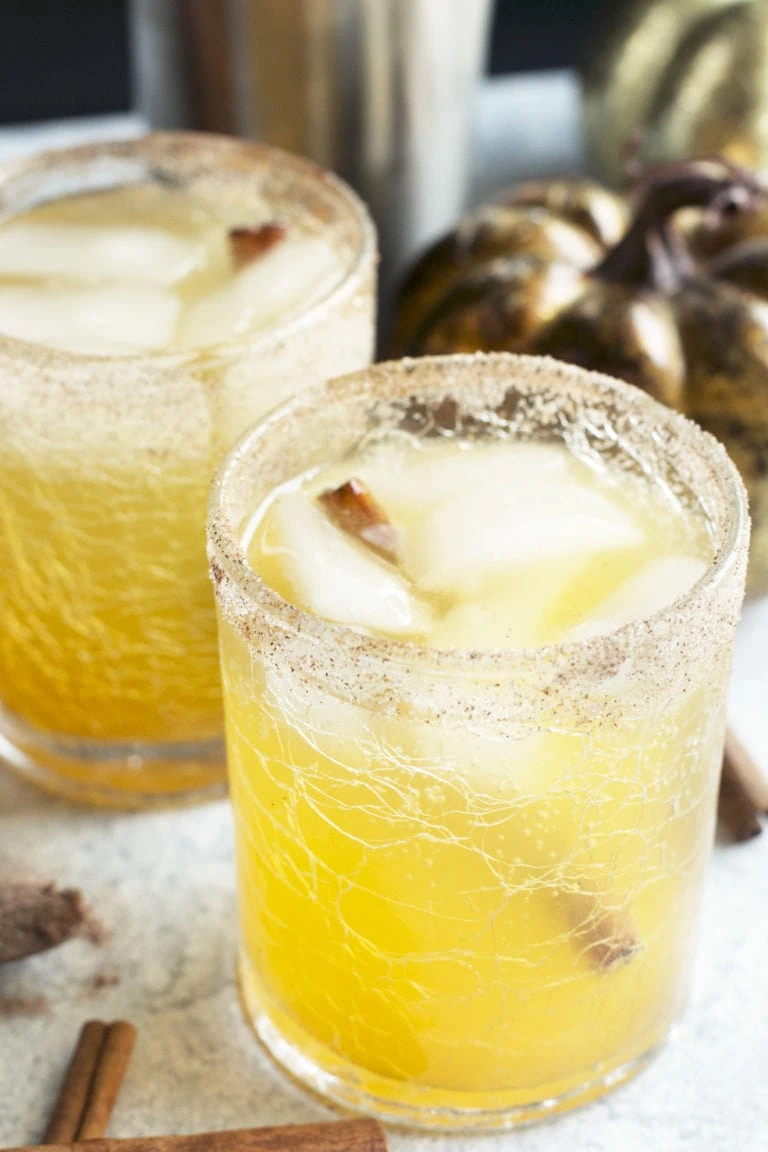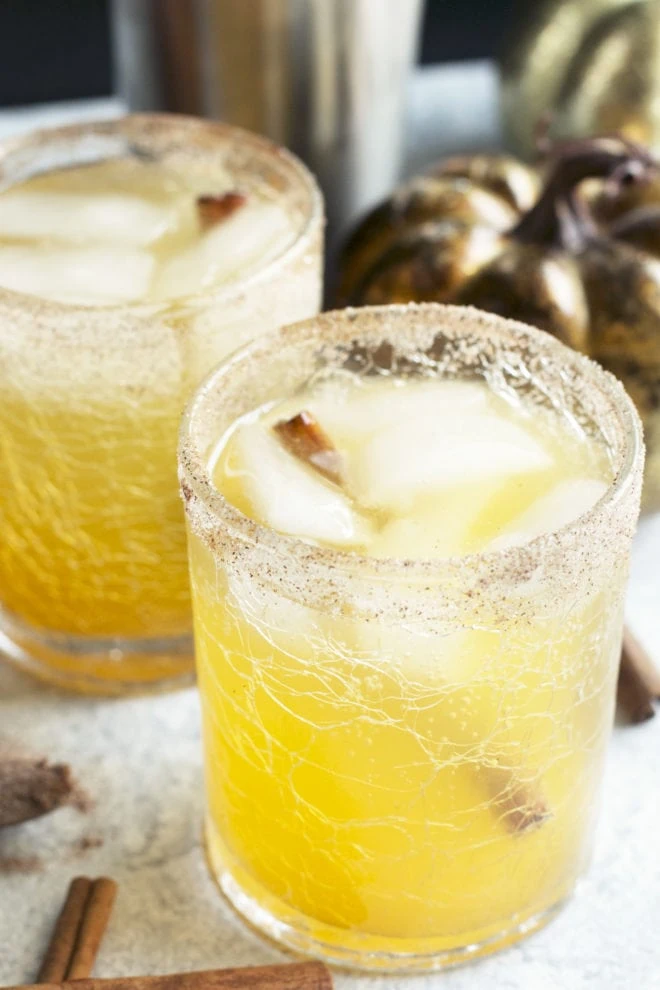 tips for success
use the right pumpkin puree. If you are buying pumpkin puree, make sure that you buy the puree and not the pumpkin pie filling in a can! You can also learn how to make pumpkin puree yourself for all your cocktails, pies, and other recipes this fall.
make it in bulk. Hosting a gathering? To make these in bulk, I recommend making the cocktail in batches of 4 at a time (this will fit most cocktail shakers!). You'll need 4 oz pumpkin spice simple syrup, 8 oz bourbon (1 cup), 1 oz lemon juice, and 16 oz soda water (2 cups) total for 4 cocktails.
More tasty pumpkin beverage recipes: Pumpkin Pie Martini | Homemade Pumpkin Non-Alcoholic Irish Cream | Pumpkin Spice Bourbon Old Fashioned | Pumpkin Pie Mimosa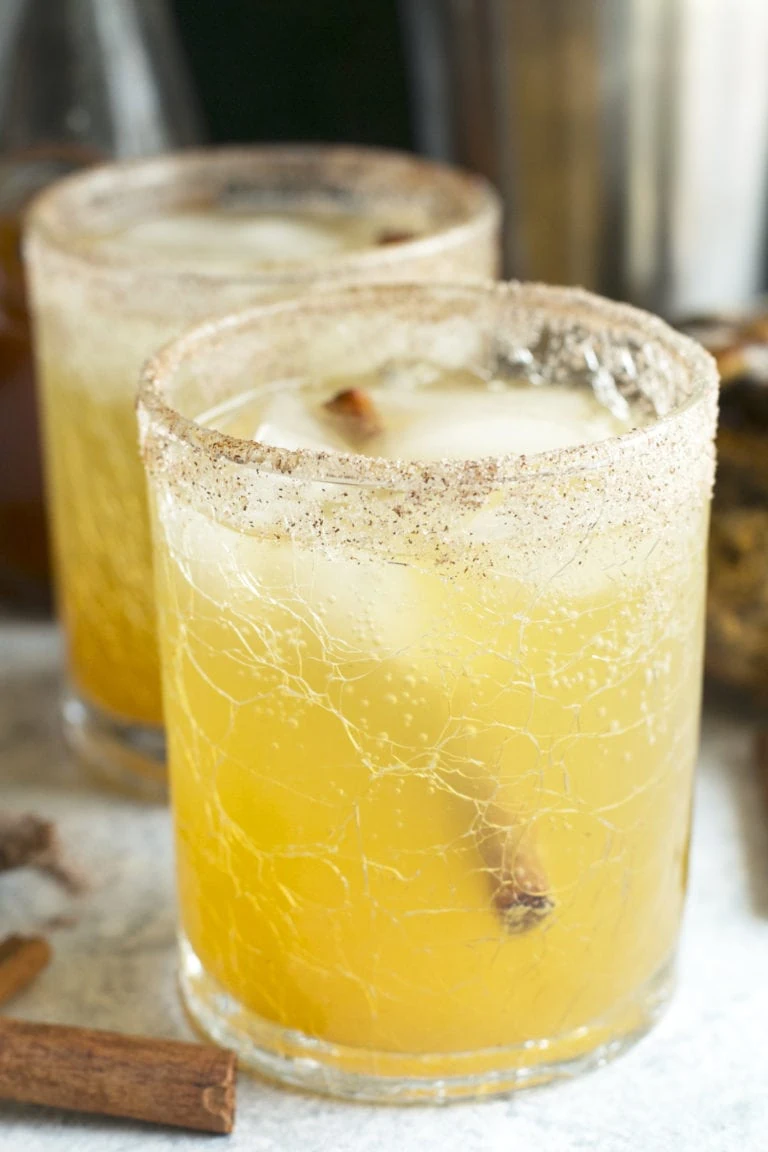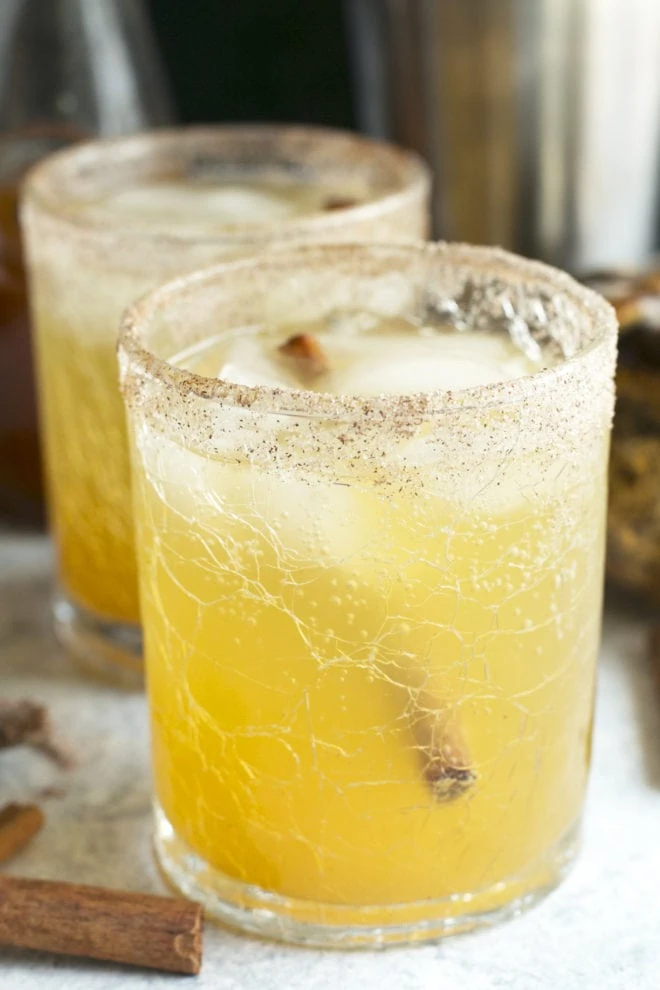 how long can I store the pumpkin spice syrup?
Once cooled, the pumpkin spice simple syrup will keep in an airtight container in the refrigerator for up to 2 weeks.
Need some more inspiration for cocktail hour? Check out my cocktail recipes page!
what to serve with a bourbon pumpkin smash
I love this cocktail because the balance of pumpkin pie flavor with a little sour and a little sweet is just right for all your favorite fall savory dishes!
Hosting a party? If this is your star cocktail, I suggest keeping the pumpkin theme going with chorizo pumpkin chipotle queso! You could also go with a classic cacio e pepe wings situation for a savory pairing that doesn't have pumpkin. For an elevated seasonal centerpiece, this fall charcuterie board highlights the seasonal flavors of autumn!
For dinner, if you want to pair with savory pumpkin flavors, this spicy black bean chicken pumpkin enchilada bake is a fun layered tray of goodness. Another classic savory fall meal is roasted chicken with white wine and fresh herbs!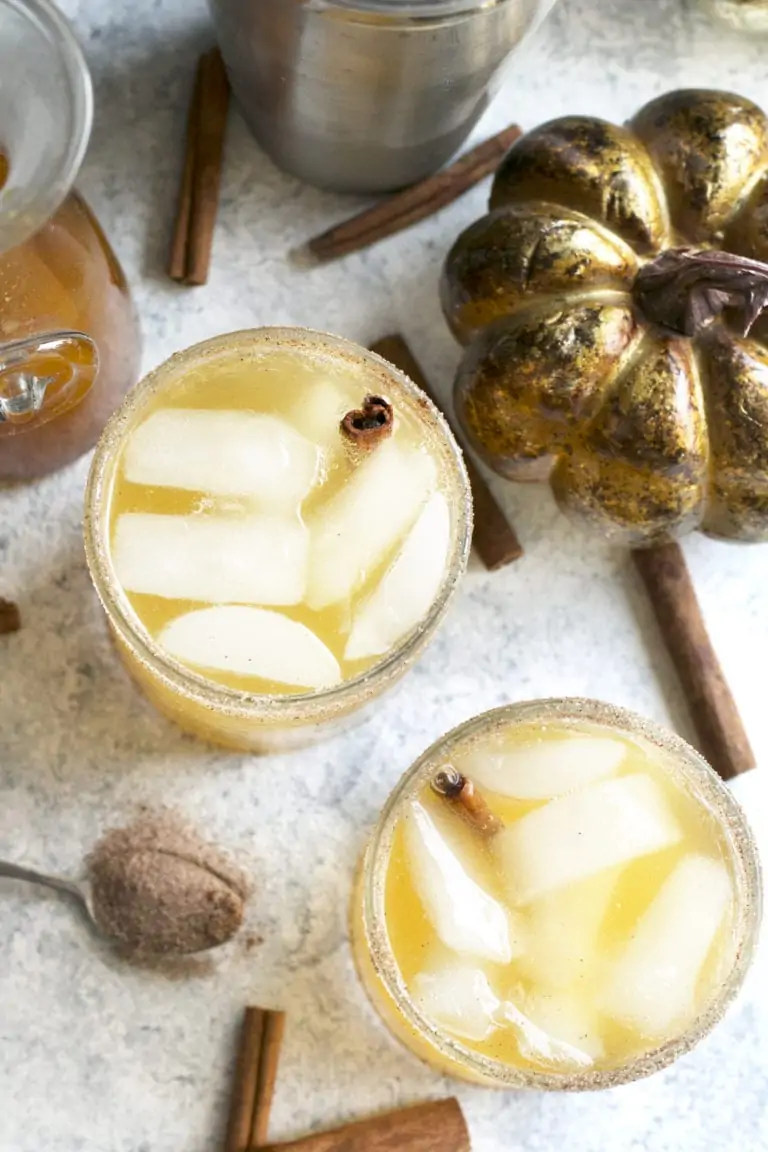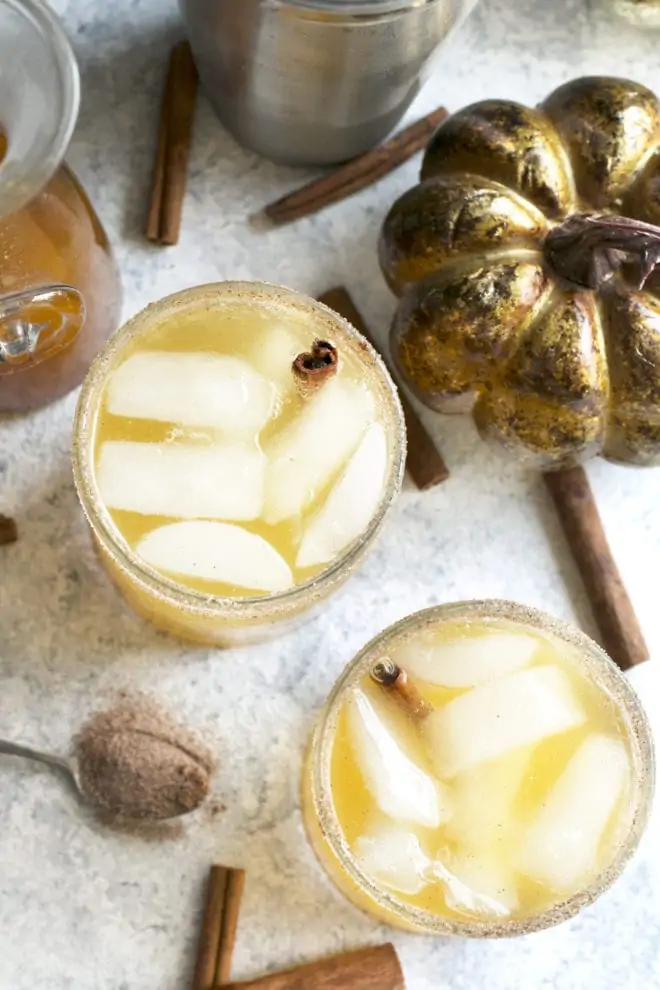 Finally, if you make this bourbon pumpkin smash, please be sure to give this recipe a rating or leave a comment! I love to hear when you all make recipes, and I do take the time to respond to every single comment. Feel free to drop questions below too, if you have them!
Oh and be sure to tag me on Instagram if you make the recipe! Love being able to see these recipes come to live in your homes – it's my favorite thing to look through those photos. It really means the world to me!
everyday seasonal cookbook
With seasonal produce guides, recipes, and more, this cookbook is filled with seasonal food for every occasion.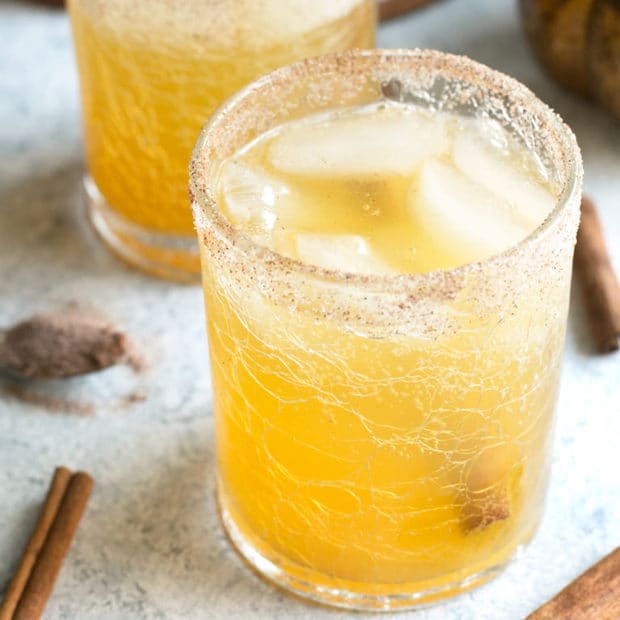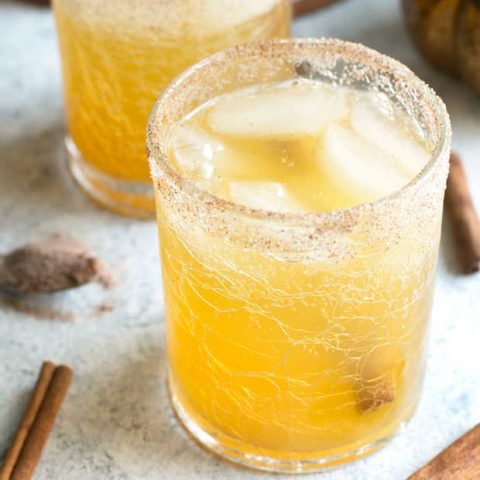 Bourbon Pumpkin Smash
Yield:
Makes 1 cocktail + extra simple syrup!
When you combine pumpkin spice simple syrup, bourbon and a splash of lemon juice, you have a pumpkin cocktail that makes any fall gathering truly memorable!
Ingredients
Cocktail
1 oz pumpkin spice syrup
2 oz bourbon
1/4 oz lemon juice
4 oz soda water
Lemon wedges
Pumpkin Spice Simple Syrup
8 oz pumpkin puree
1 cup water, more as needed
1 cup granulated sugar
1/2 tsp pumpkin pie spice
Cinnamon Rimming Sugar
1/2 Tbsp ground cinnamon
1/2 Tbsp ground ginger
Pinch of ground allspice
1/2 Tbsp brown sugar
Instructions
To make the simple syrup, add pumpkin puree, water, sugar and pumpkin pie spice to a small saucepan. Bring mixture to a boil over medium-high heat, stirring constantly. Once the syrup is boiling and smooth, remove from heat and cover. Let sit for 15 minutes.
Strain the pumpkin mixture into an airtight container. Let cool completely before making the cocktail. Syrup can be stored in the refrigerator for up to 1 week.
In a small bowl, stir together ingredients for the cinnamon rimming sugar.
Rub the edge of a rocks glass with a lemon wedge.
Pour the rimming sugar into a shallow dish. Rim the rocks glass with sugar. Set aside.
Fill a cocktail shaker with ice. Add pumpkin spice syrup, bourbon and lemon juice for the cocktail. Shake well.
Fill rimmed rocks glass with ice. Strain the cocktail into the glass.
Top with soda water. Give the cocktail one final stir and serve.