A Weeknight Cheese Board for any random weeknight? I say YES. Cheese boards don't just have to be for fancy occasions. A little spread of meat and cheese plus a glass of wine at the end of any day is well-deserved!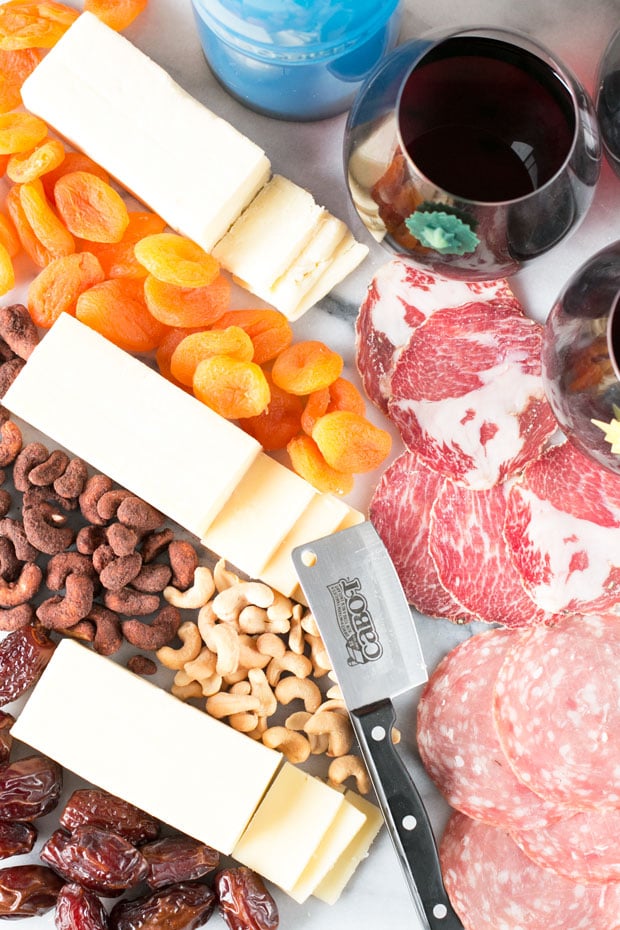 Sometimes work days are just wayyyyyy too long, aren't they? I feel like I've been working like a madwoman and then running from event to meeting to another event so much that my brain is mush.
Obviously my brain is still functioning on some level, as I sit here and attempt to sound somewhat coherent, but ahhhhhhhhh I'm a little bit spent.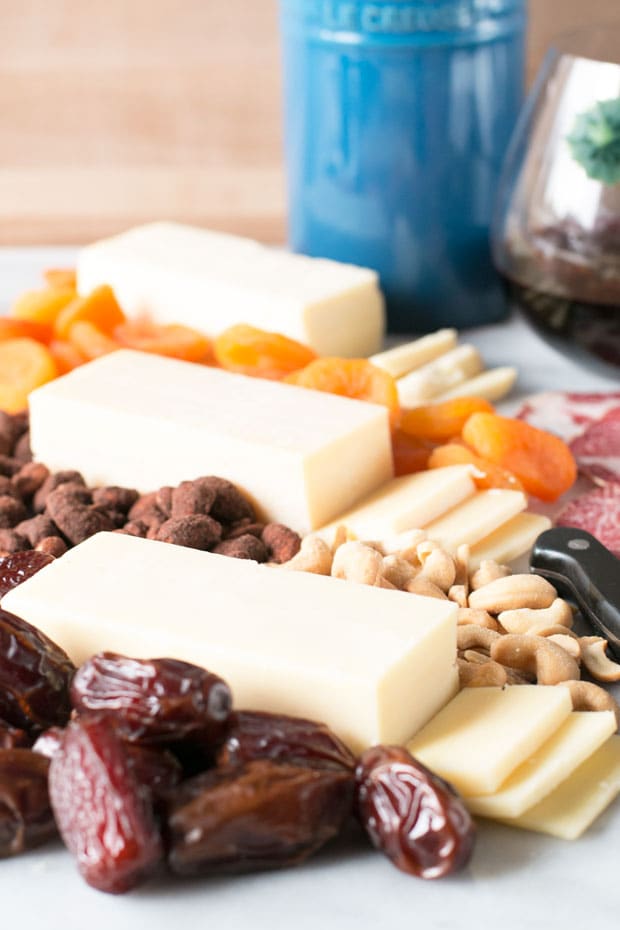 You know what is one of the most relaxing experiences in the world??
Saddling up to a little mini cheese board spread with a bottle of wine and whoever you come home to at the end of the night. There's something about just grazing on a variety of different flavors and textures that instantly calms me.
Well, I am sure the glass of wine helps too…
To make the whole experience a little more festive than just gorging yourself on snacks in the middle of the week, add some color and life to the whole thing with Le Creuset, Charles Viancin and Cabot cheese.
The Man and I always tend to (and by The Man and I, I mean ME) fight over who's wine glass is whose when we lose track. It's usually a struggle over the fullest one, but with Charles Viancin drink markers there's no wondering which wine glass is mine. I can always keep track of it (so take that, mister!).
Then you get the added gem of a feeling of pouring the wine out of a stunning Le Creuset carafe – yes, I am one for building a whole aesthetic no matter what I'm eating.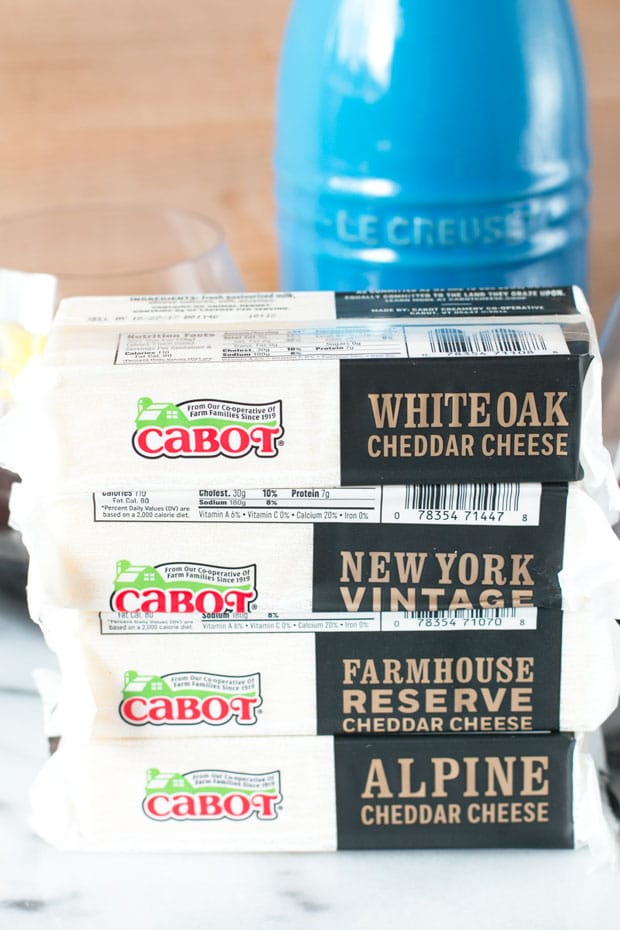 It. Matters.
The Cabot cheese is what really pulls this whole cheese board together, though. With the variety of flavors and the quality of ingredients, I loved playing around with a variety of the white cheddars on this board. Really you can combine any of their cheeses and the rest of the board just pulls itself together around it.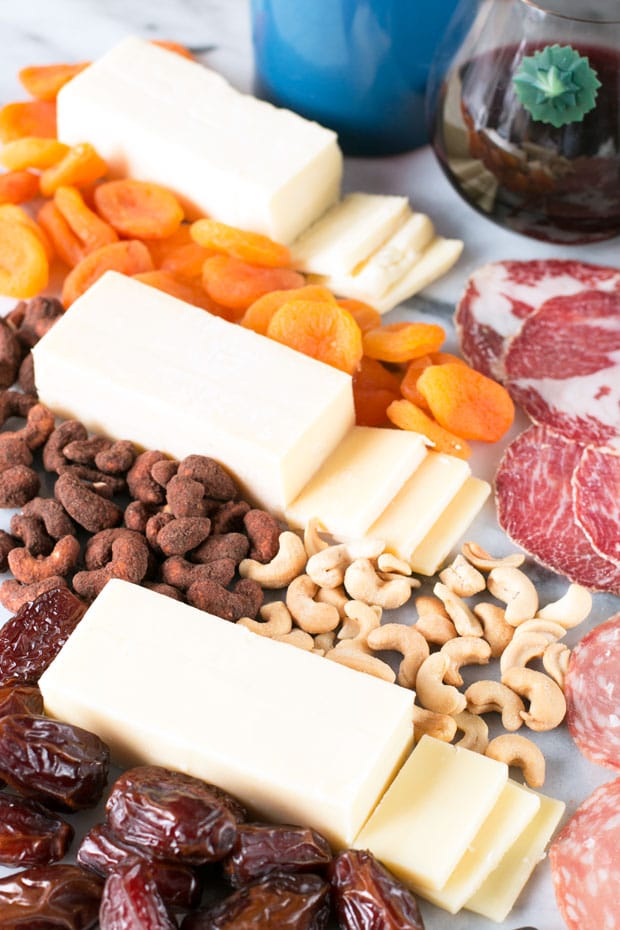 I say let's just start finding reasons to celebrate every day so we can have a spread like this in our lives any night of the week.
Sound like a plan?
This Recipe's Must Haves
Pin this Weeknight Cheese Board recipe for later!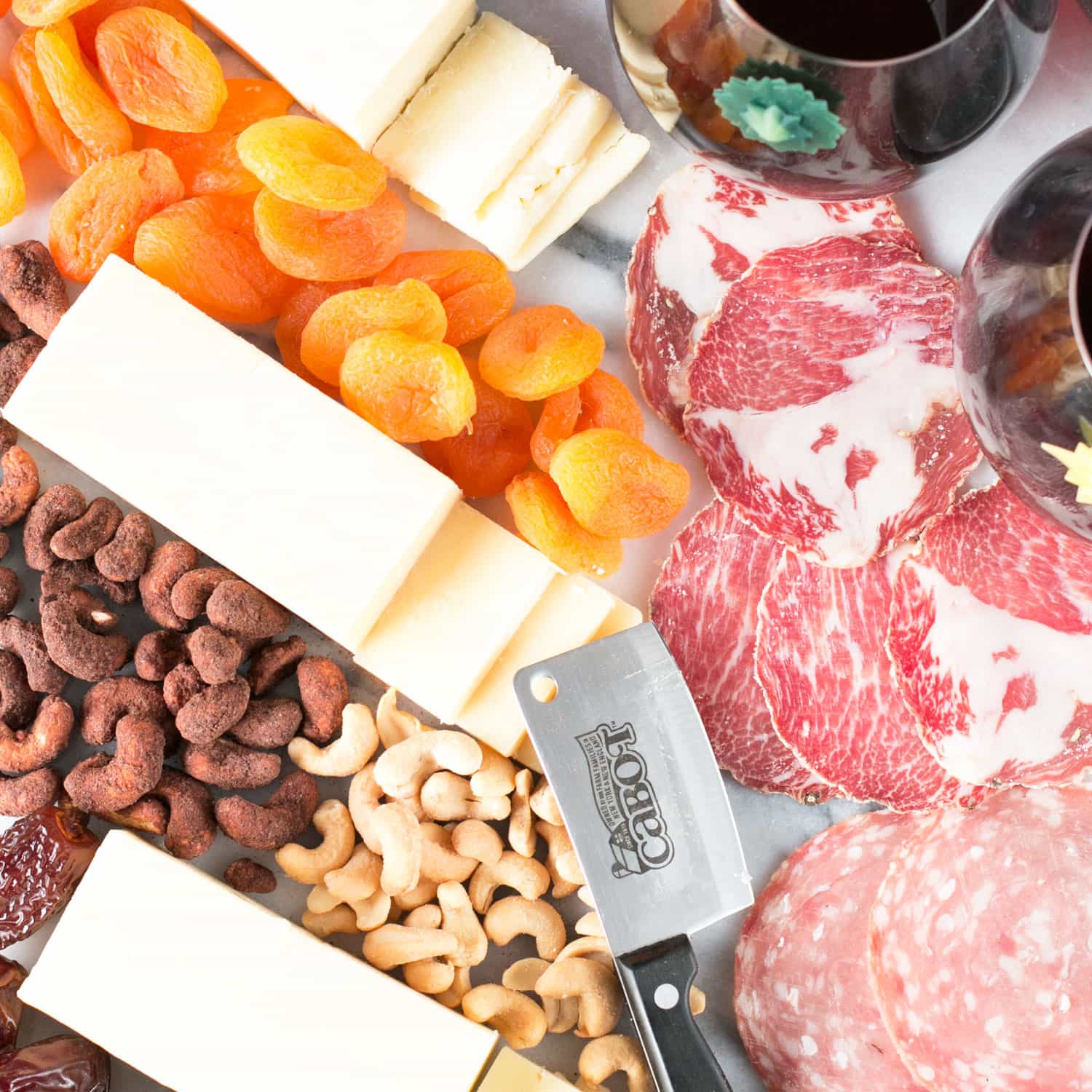 Weeknight Cheese Board
Who says cheese boards are only for fancy occasions?!
Ingredients
At least three styles of Cabot Cheese ( I used White Oak Cheddar Cheese, New York Vintage, and Alpine Cheddar Cheese)
Dried apricots
Dates
Sliced soppressata
Sliced capocollo
Cashews
Cocoa dusted cashews
Your favorite red wine (I used a Pinot Noir)
Crackers
Instructions
Arrange cheeses and other cheese board ingredients on a large tray, marble slab, or slate cheese tray.
Be sure to have cheese knives available to cut up all the cheeses.
Serve up with your favorite red wine and crackers as desired!