Please note this post contains affiliate links.
Big Batch Holiday Sangria is the sangria you'll want to bust out for all your holiday celebrations. With all the classic seasonal flavors, the depth of flavor in this sangria is INSANE. You'll never need another sangria recipe for the rest of your life, holidays or not!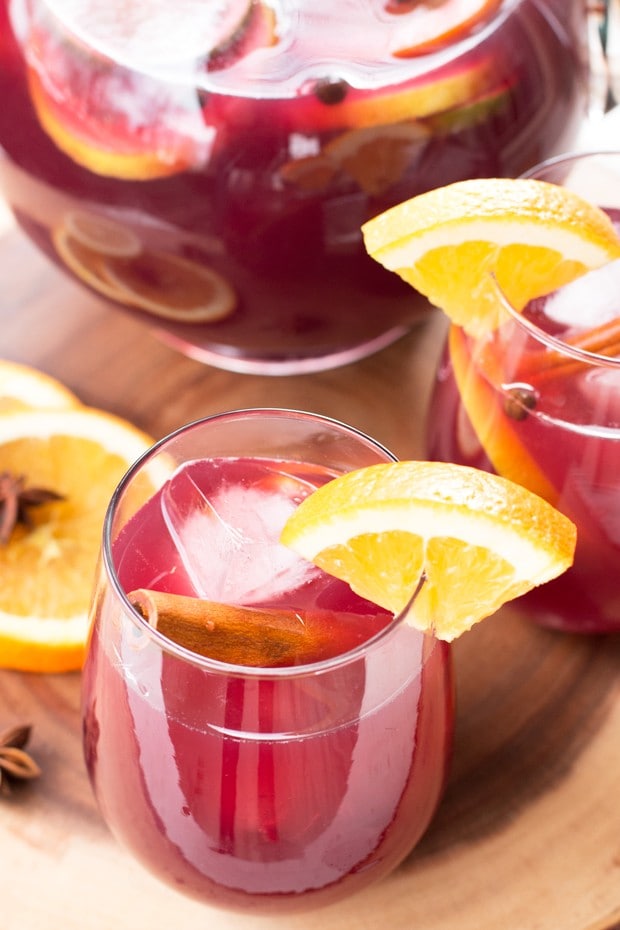 about this big batch holiday sangria
If you follow me on Instagram, you journeyed back to Asheville with me in August. Talk about the ultimate foodie trip! My mom and I were completely overloaded with some of the best food, drink and foodie experiences of our lives.
While on one of our adventures, we ventured to Zambra and promptly discovered the most incredible sangria recipe I've ever tasted. This sangria was so good, my mom and I spent the next week talking about it. We even went back later that same night for another glass… Ok maybe it was two…
Of course I HAD to get the recipe. Thankfully I was able to snag it and put my own little twist on it to make your holiday parties extra cheery!
Besides how amazing this sangria tastes, I love that it's a big batch recipe. With the holidays coming up, the parties are imminent and if you're anything like me you're hosting at least one get together, if not more.
This big batch recipe can easily be served up at your next party! Or simply cut it in half for a smaller gathering. Oh and when I say big batch, I mean BIG BATCH. This will serve 15 to 20 servings!
Regardless, this sangria is going to be the thing everyone will be talking about the next day.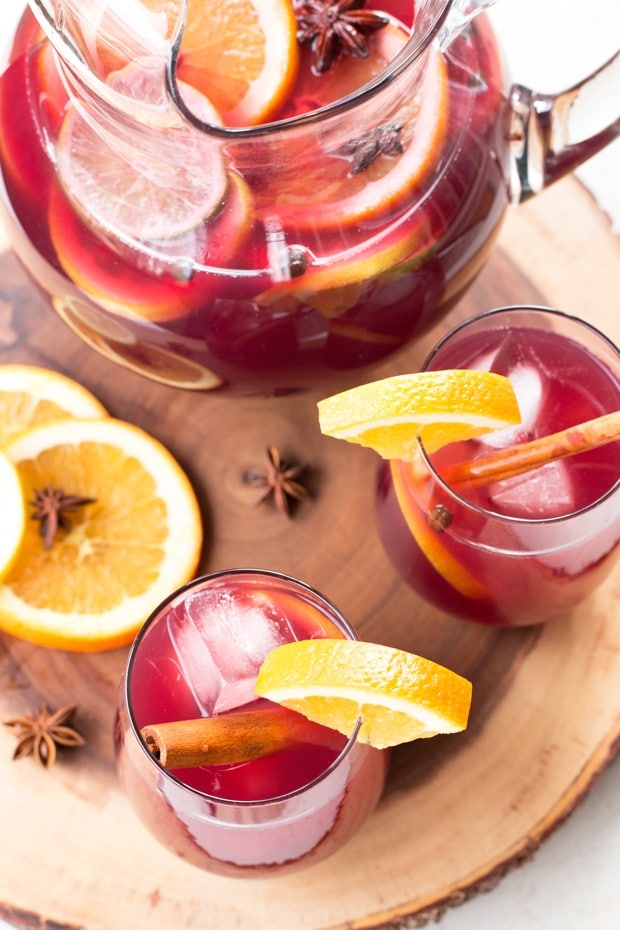 ingredients
white wine. For the white wine, I prefer to use a pinot grigio. You can also use a pinot gris!
red wine. I used a Syrah based on the original recipe recommendation. You could also use a pinot noir.
sherry. sherry is a fortified wine that is made from fermented grape juice and contains a lot of alcohol. The flavor add richness to the sangria.
port. port is another fortified wine that's sweet and can bring a lovely sweetness to this sangria.
brandy. brandy is a liquor that is produced by distilling wine. It is consumed as an after-dinner digestif and is another flavor component that makes this big batch holiday sangria stand out from others.
simple syrup. you can purchase simple syrup from the store, or simply make it at home. To make it at home use equal parts of water and granulated sugar, bringing it to a boil over high heat. Remove from heat and store in the refrigerator for up to two weeks.
juice. there are a few different juices you need for this recipe and you can use fresh or storebought. You will need orange juice, lemon juice, and lime juice.
ginger. grab whole ginger from the produce section to peel and chop for this recipe.
whole spices. this holiday sangria calls for a combination of cinnamon sticks, star anise, cloves, and allspice.
citrus fruit. you'll add slices of orange, lemon, and lime to compliment the juices in the sangria.
ginger ale. this soda adds a little bit of bubbly to the mixture and enhances the ginger flavor too!
vodka. I always say pick the best vodka that is in your price range! Since you are using this vodka in a cocktail, there's no need for it to be the top end that you might use for a martini where vodka is the star of the show. I recommend Tito's or Absolut (splurge for Absolut Elyx if you want to!).
Need a holiday sangria recipe that's not such a big batch? Try this Christmas Sangria!
this recipe's must-haves
Since this makes such a big batch, be sure to use a large pitcher like this 80 Ounce Clear Glass Pitcher
.
To stir it all together, you'll just need a long wooden spoon.
Don't forget your chef's knife and cutting board to prep the ginger and citrus fruits.
here's how to make big batch holiday sangria
combine ingredients
Combine ingredients for the sangria in a large pitcher or stockpot. Be sure to use a large container because this makes a BIG BATCH.
let chill
Let chill for at least 24 hours before serving. You can leave the spices and citrus fruit slices in when you serve, or strain them out before adding to pitchers.
More holiday drinks to try out this season: Cranberry Orange Moscow Mule | Cranberry Spice Sparkler | Red Christmas Single Serve Sangria | Christmas Sangria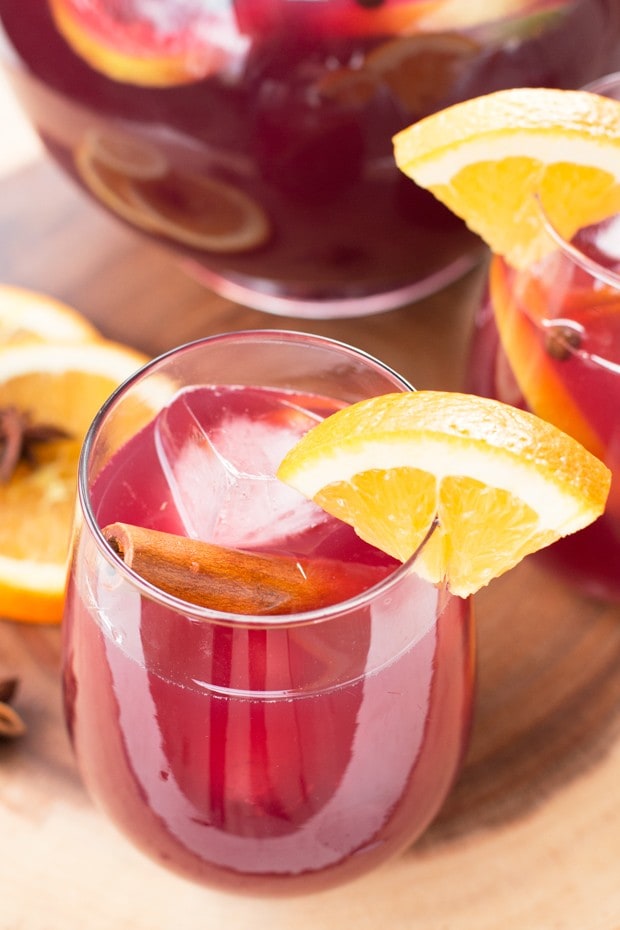 how do you serve sangria at a big party?
Serve it from a pitcher, beverage dispenser, or a punch bowl! Make sure that you are using an extra large pitcher or that you have a few on hand to set out for the party because this makes such a large batch.
how far ahead of time can I make this?
You'll want this to sit in the refrigerator 24 hours before serving! You can also serve it earlier (after 12 hours) if you are in a hurry.
Finally, if you make this big batch holiday sangria recipe, please be sure to give this recipe a rating or leave a comment! I love to hear when you all make recipes, and I do take the time to respond to every single comment. Feel free to drop questions below too, if you have them!
Oh and be sure to tag me on Instagram if you make the recipe! I love being able to see these recipes come to life in your homes – it's my favorite thing to look through those photos. It really means the world to me!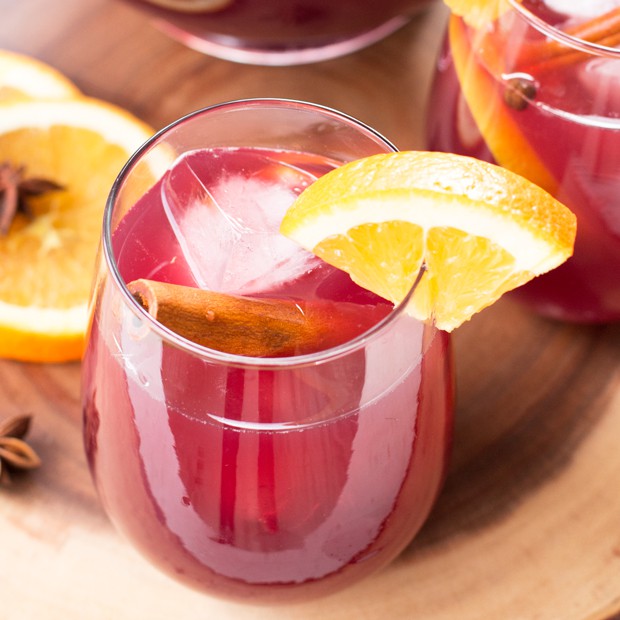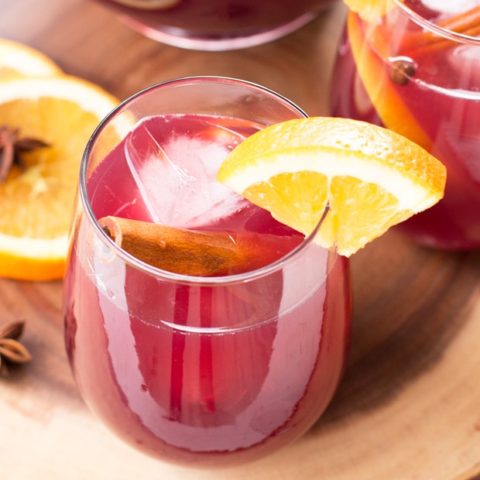 Big Batch Holiday Sangria
Yield:
4 1/2 quarts (serves 15-20)
Total Time:
1 day
10 minutes
The layering of flavors in this sangria makes it the best sangria you'll ever taste.
Ingredients
1 750ml bottle of white wine (I used a Pinot Grigio)
1 750ml bottle of red wine (I used a Syrah)
1 3/4 cups dry sherry
2 cups port
1/2 cup brandy
2 cups simple syrup (half water, half sugar)
2 cups orange juice
1/2 cup lemon juice
1/2 cup lime juice
1/3 cup chopped ginger
3 cinnamon sticks
1/2 Tbsp star anise
1/2 Tbsp cloves
1/2 Tbsp allspice
1 orange, cut into round thin slices
1 lemon, cut into round thin slices
1 lime, cut into round thin slices
2 cups ginger ale
1 cup vodka
Instructions
Combine all ingredients in a large pitcher or jar. This makes a HUGE batch so a regular pitcher ain't gonna cut it! I used a large stock pot and served in pitchers.
Let the sangria chill for at least 24 hours before serving.
Recommended Products
As an Amazon Associate and member of other affiliate programs, I earn from qualifying purchases.