Please note this post contains affiliate links.
A Chocolate Tart with Hazelnut Crust is the elegant dessert that is deceptively simple to make. The dark chocolate ganache filling is creamy and rich, topping a toasted hazelnut pastry. The addition of tart berries on top makes for a killer combo for any gathering!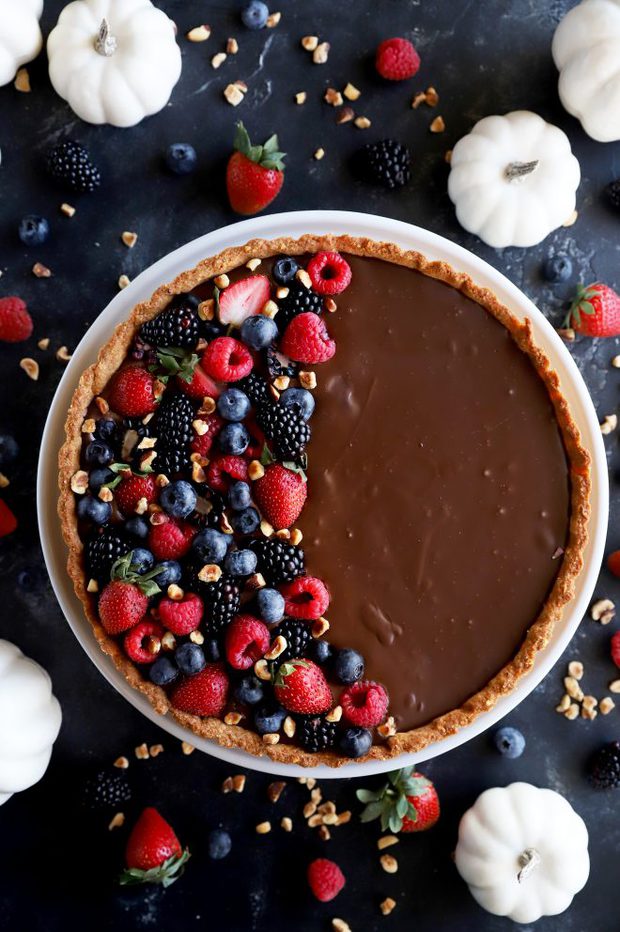 You know what is super fancy but the easiest thing in the world to make? GANACHE.
Every time I heard the word ganache before I finally made it for myself, I thought it was this lofty thing that only pastry chefs could master.
The funny thing is, ganache couldn't be simpler to make. It's as simple as heating up some cream and pouring it over chocolate.
No seriously, that's all you have to do.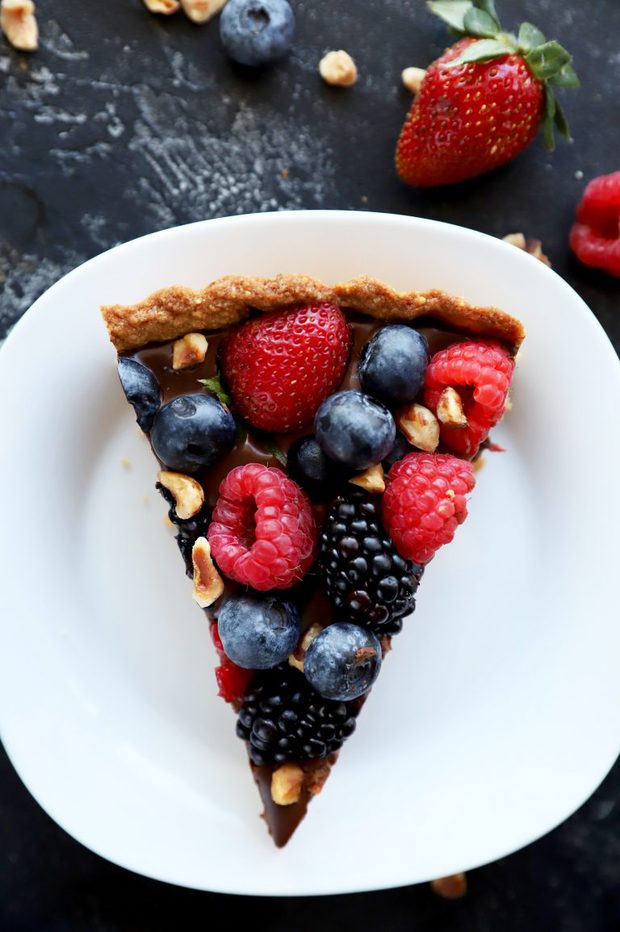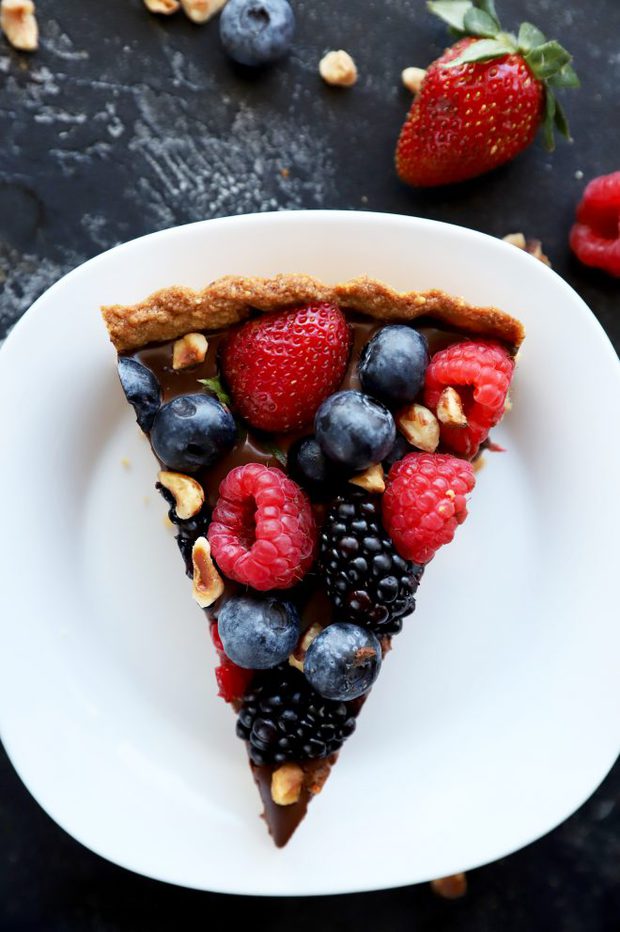 A chocolate tart should be the centerpiece of the dessert spread for whatever holiday gathering you have coming up this season.
Why?
Because it's so simple to make AND you can make it ahead of time! The tart itself can be kept in the fridge for a few days, which is a serious savior when it comes to prepping for the holiday nuttiness, am I right? For me, entertaining shouldn't be a headache and you should never avoid it because you think it is too much work.
There are always easy recipes to make and there is always an excuse to come together to celebrate and make memories around the dinner table together.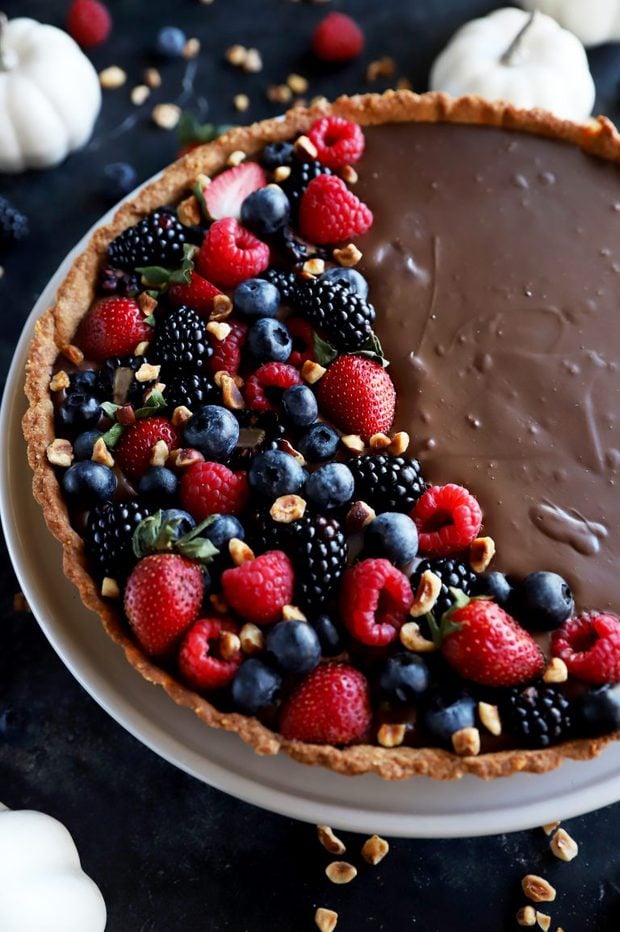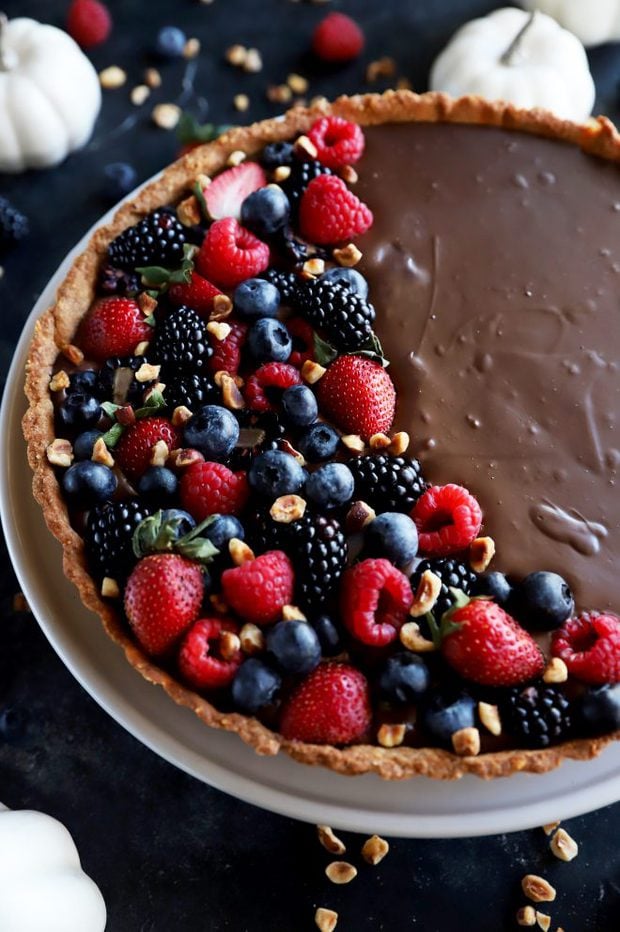 This Recipe's Must-Haves
To make the crust, you'll need some mixing bowls and a stand mixer to pull the hazelnut goodness together.
For the filling, you just have to grab a saucepan and another mixing bowl. Mix it all together with a whisk and you have a ganache ready to fill the tart shell.
For the tart, you will need a 9-inch fluted tart pan with a removable bottom!
Finally, make sure you have a chef's knife and cutting board to cut up the berries to top the chocolate tart.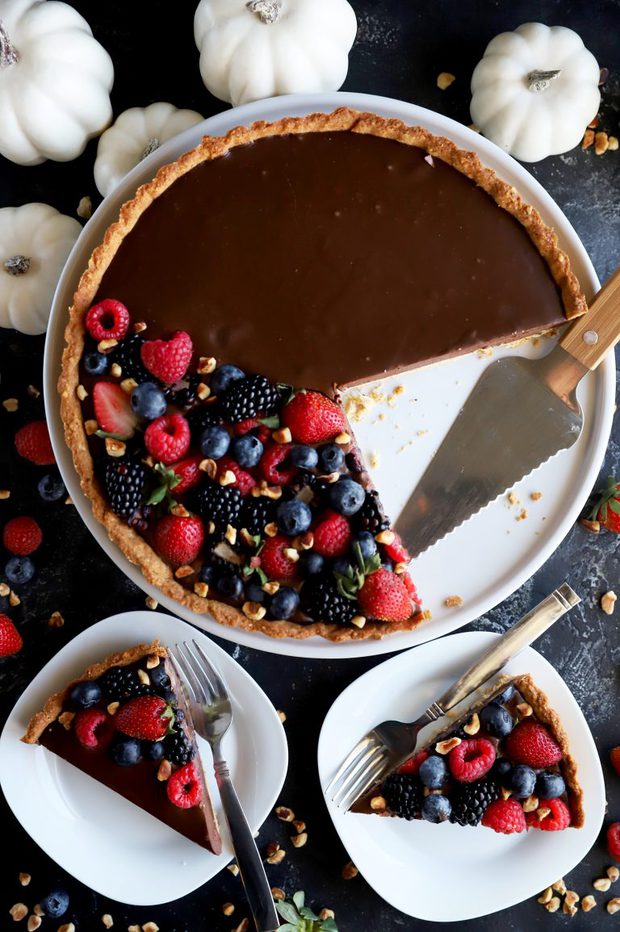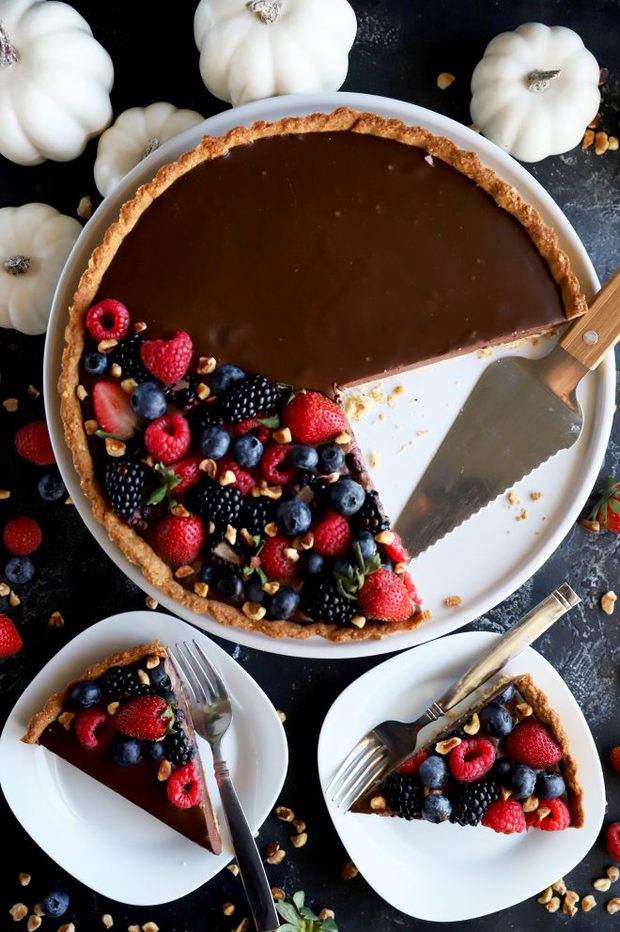 How To Make A Chocolate Tart
Make The Crust
Making the crust for this tart is just like making pastry for any other tart. The whole thing actually comes together in your stand mixer, so it's even easier to make! There's no kneading involved and it's a super easy dough to roll out.
You partially bake the crust with pie weights inside so that it doesn't puff up too much. After that, take out the weights and bake until the crust is nice and golden brown.
The crust needs to cool completely in the pan, so set it someplace cool. If you are in a hurry, you can even add it to the freezer or the fridge to cool faster. Just make sure to place it on a trivet if you are placing the hot pan on a glass shelf in the fridge.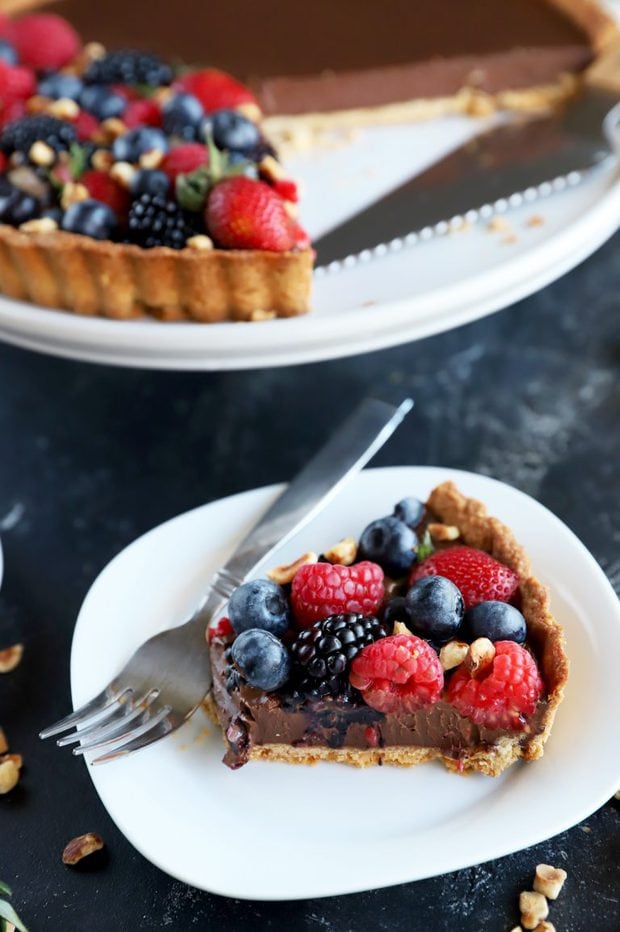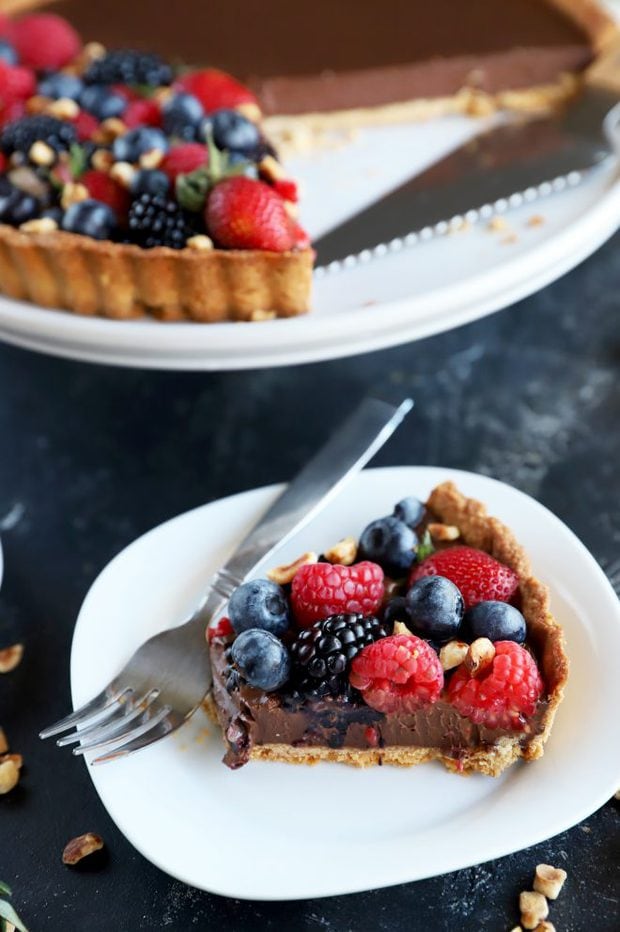 Make The Ganache
Ganache is a breeze to make! First, add the chopped chocolate to a mixing bowl.
After that, bring the cream to a simmer over medium heat. Once the cream is hot, you pour it over the chocolate and let it rest at room temperature for 5 minutes.
Whisk it all together until it is smooth, and you are done.

Decorate And Chill
Pour the ganache into the tart shell and decorate immediately with your favorite berries and chopped toasted hazelnuts.
All that's left is to place the tart in the fridge and let it chill until it's ready to serve!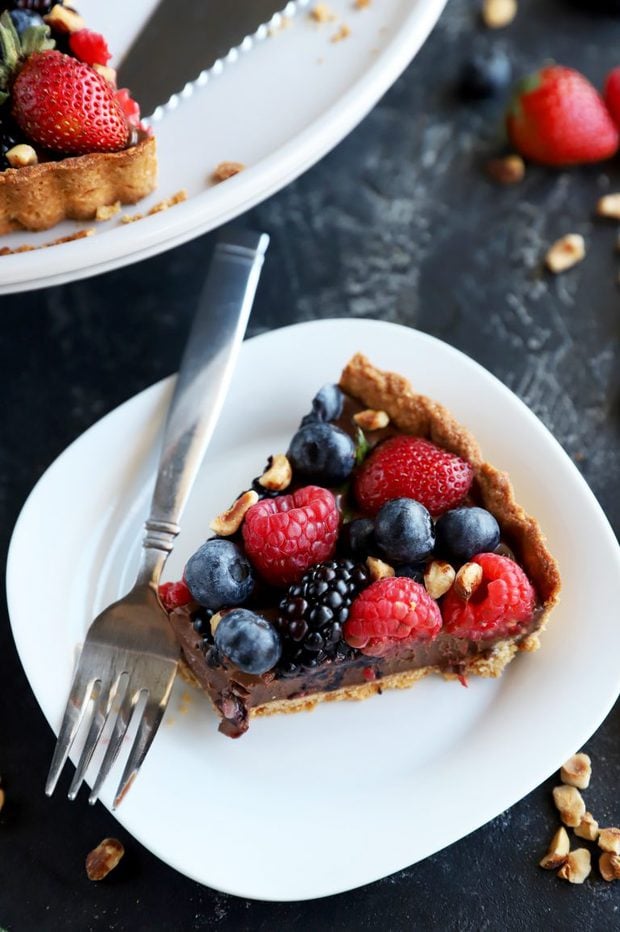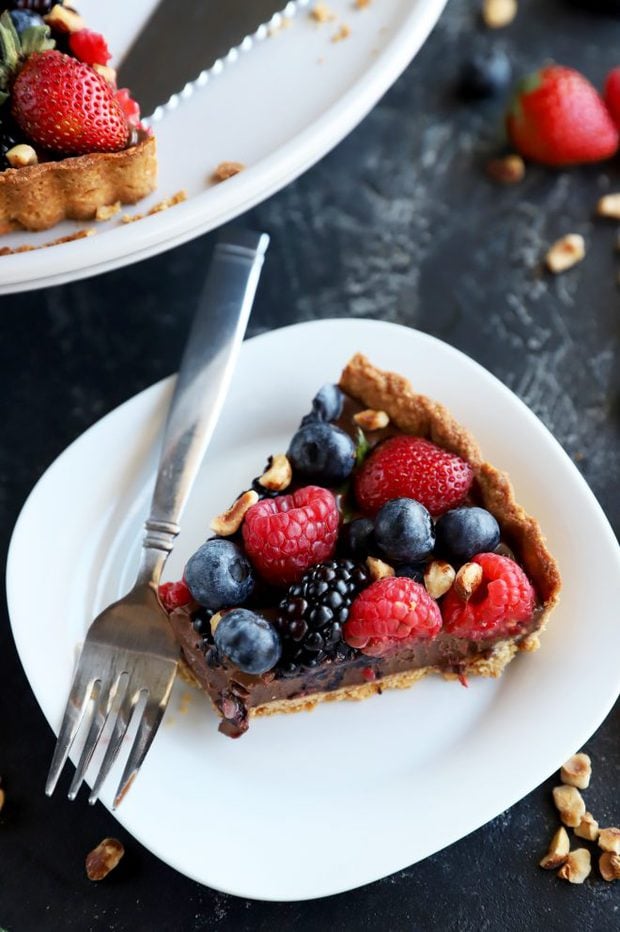 What percent chocolate should you use?
I love to use bittersweet or dark chocolate for this tart. The key is to have to the chocolate in the range of 70% to 85% cocoa.
How should I decorate this tart?
I love how this tart turned out with the fruit on top. You could double the amount of fruit and space it out all over the top of the tart if you want to get berries in every single bite.
The easiest thing to do is to be sure to top the tart once you pour the ganache into the tart crust. When you are decorating, don't overthink it. Embrace being random!
I start by spacing out some blueberries on half of the tart, then I go with the next type of berry, and so on. Leave some of each berry so you can go in and fill in any empty spots at the very end. Give it a nice sprinkle of toasted chopped hazelnuts at the end and voila!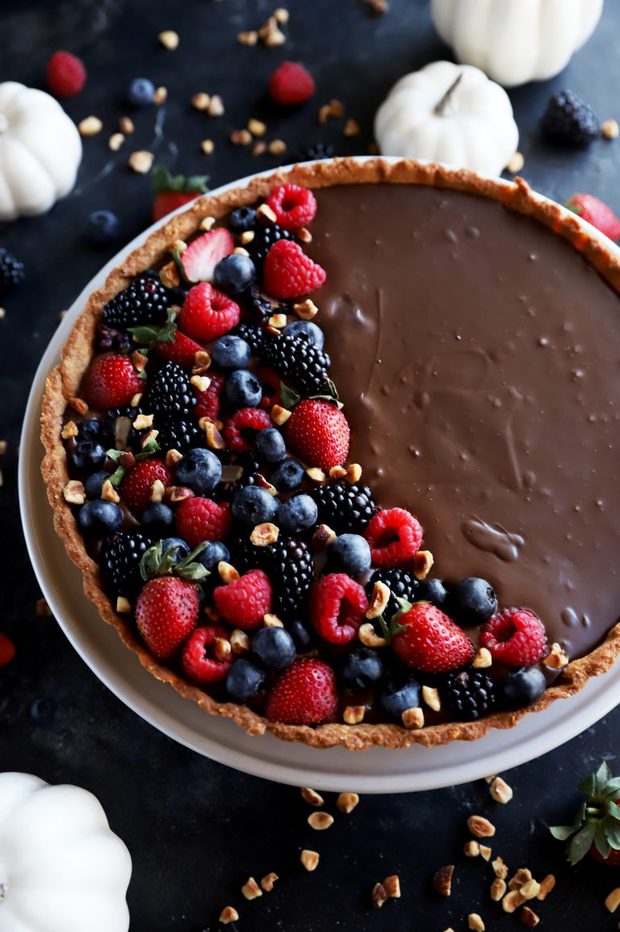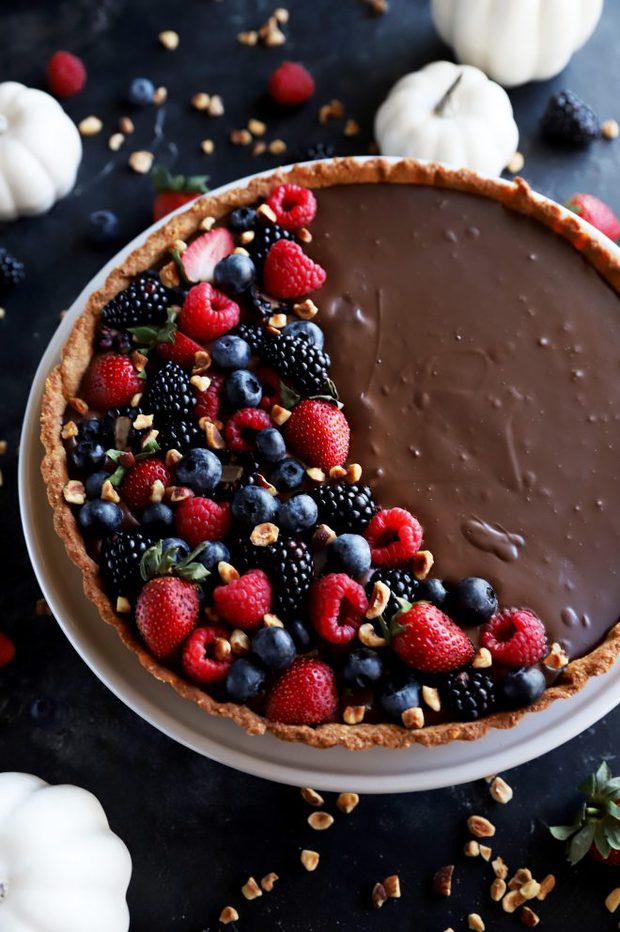 Pro Tips For This Chocolate Tart
Be sure to use high quality chocolate. Since this chocolate tart is all about the chocolate, you want to make sure the chocolate is good quality. This is the time to splurge.
When you use hazelnut for this recipe, make sure they are toasted. You can either buy them toasted or you can toast them yourself.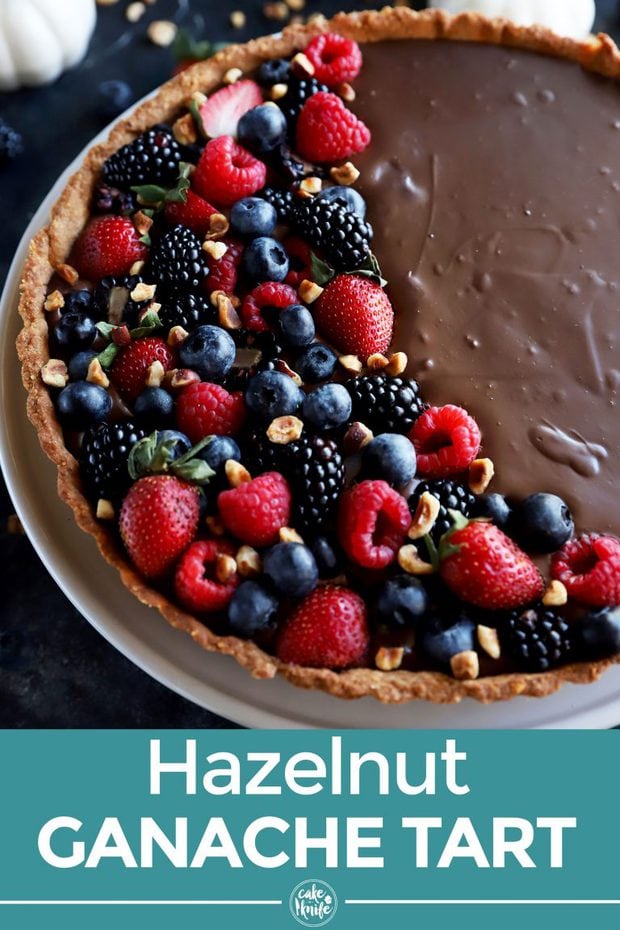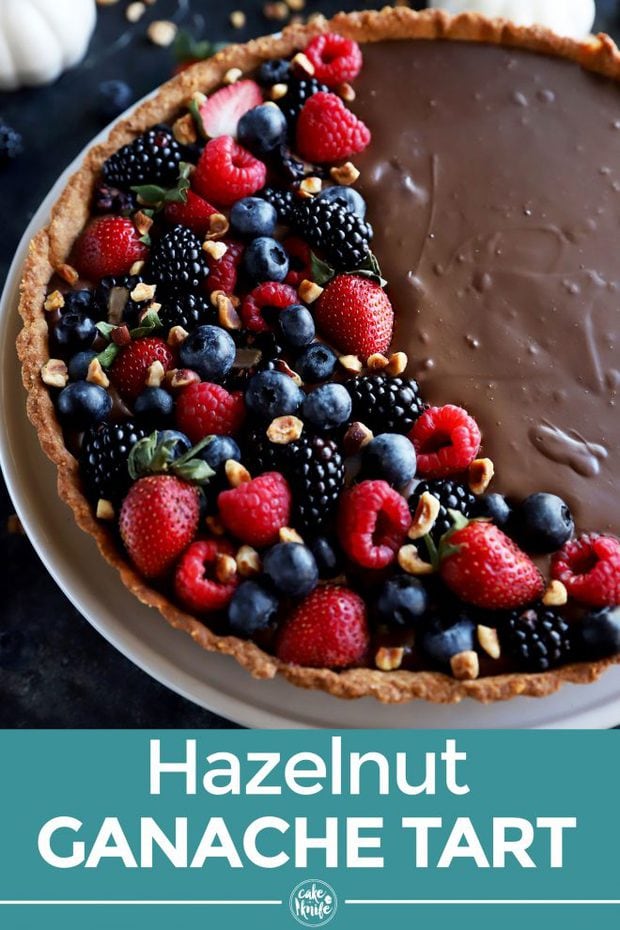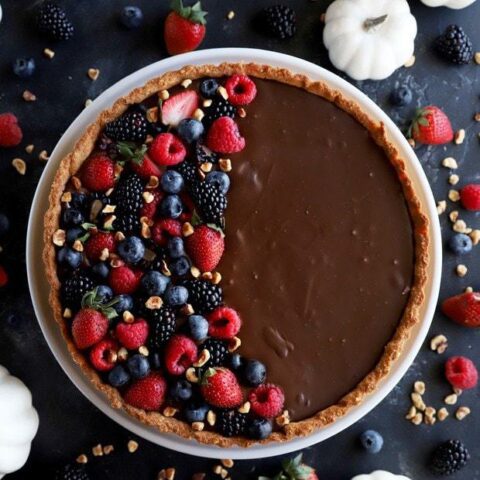 Chocolate Tart with Hazelnut Crust
Additional Time:
2 hours
40 minutes
Total Time:
3 hours
35 minutes
Rich and smooth chocolate ganache fills a toasted hazelnut crust and is topped with tart and tangy berries. It's an easy dessert that you can make ahead of time!
Ingredients
Pastry
1/4 cup plus 2 tablespoons toasted hazelnuts (2 ounces)
1/4 cup sugar
1 cup all-purpose flour
Pinch of salt
1 stick cold unsalted butter, cut into 1/2-inch cubes
1 large egg
1/2 teaspoon pure vanilla extract
Filling
12 ounces bittersweet chocolate (at least 80%), chopped
1 1/2 cups heavy cream
Topping
1/2 cup strawberries, halved
1/2 cup blueberries
1/2 cup blackberries, halved
1/2 cup raspberries
1/4 cup chopped toasted hazelnuts
Instructions
To make the pastry, add hazelnuts to a food processor with 1 Tbsp sugar. Process until finely ground.
Scrape the nut mixture into a bowl of a stand mixer fitted with the paddle attachment. Add flour, salt, and remaining 3 Tbsp sugar, mixing until combined.
Add butter and beat on low speed until incorporated fully. Beat in egg and vanilla until combined. For the dough into a disc and wrap tightly in plastic wrap. Refrigerate for 1 hour.
When ready to bake, preheat oven to 350˚F. Spray a 9-inch fluted tart pan with removable bottom with vegetable oil spray.
On a lightly floured work surface. roll out pastry into a 12-inch round. Gently lift the dough and place in the tart pan. Be sure to press it into the corners and patch any tears. Remove any excess pastry. Refrigerator for 10 minutes while oven preheats.
Line the pastry shell with parchment paper and fill with pie weights or dried beans. Bake for 20 minutes, then remove parchment and weights. Bake for another 15 minutes, until golden brown. Cool completely in the pan.
Add chocolate to a heatproof mixing bowl.
Bring cream to a simmer in a small saucepan. Once simmering, remove from heat and pour over chocolate. Let stand for 5 minutes, then whisk until smooth.
Pour chocolate into the cooled tart shell. Arrange fruit on top as desired with chopped hazelnuts.
Refrigerate until firm, about 1 hour and 30 minutes.
When ready to serve, remove tart ring and cut into wedges.


Notes
This tart can be refrigerated for up to 3 days.
Recommended Products
As an Amazon Associate and member of other affiliate programs, I earn from qualifying purchases.