Please note this post contains affiliate links.
Pecan Pie Cheesecake is the ultimate combo of your favorite fall pie and creamy cheesecake! The easy baked dessert can be made ahead of time and is perfect to feed a crowd.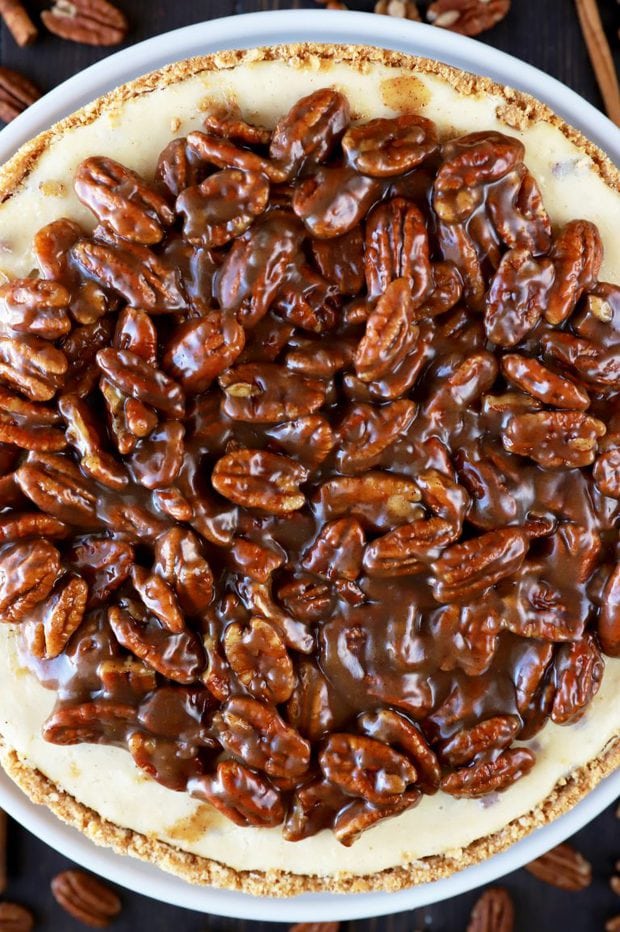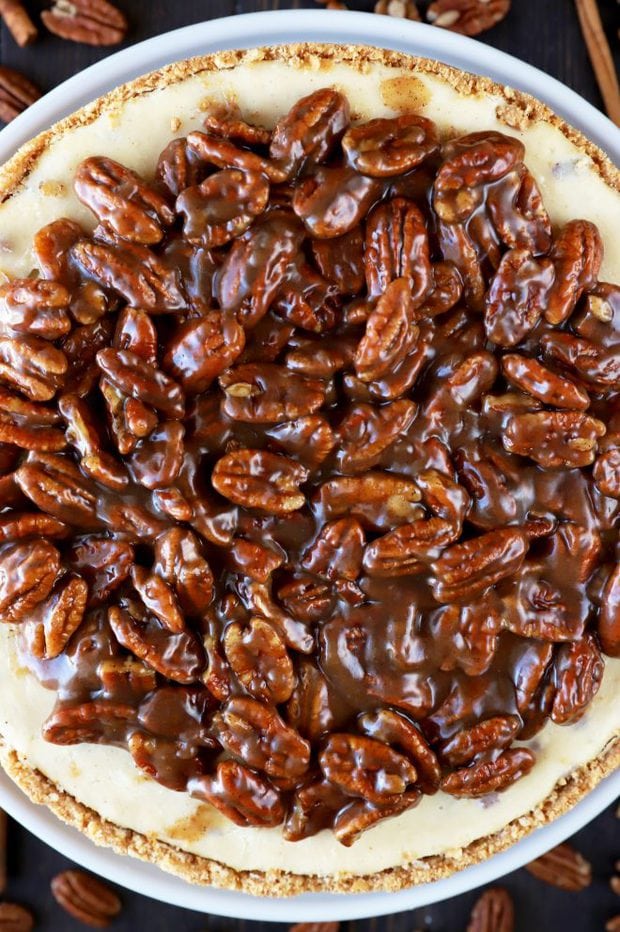 O.M.G.
I just made the best cheesecake of my life, people.
I'm dead serious when I say this, so just know I am not exaggerating. This cheesecake is the creamiest, dreamiest dessert in the entire world.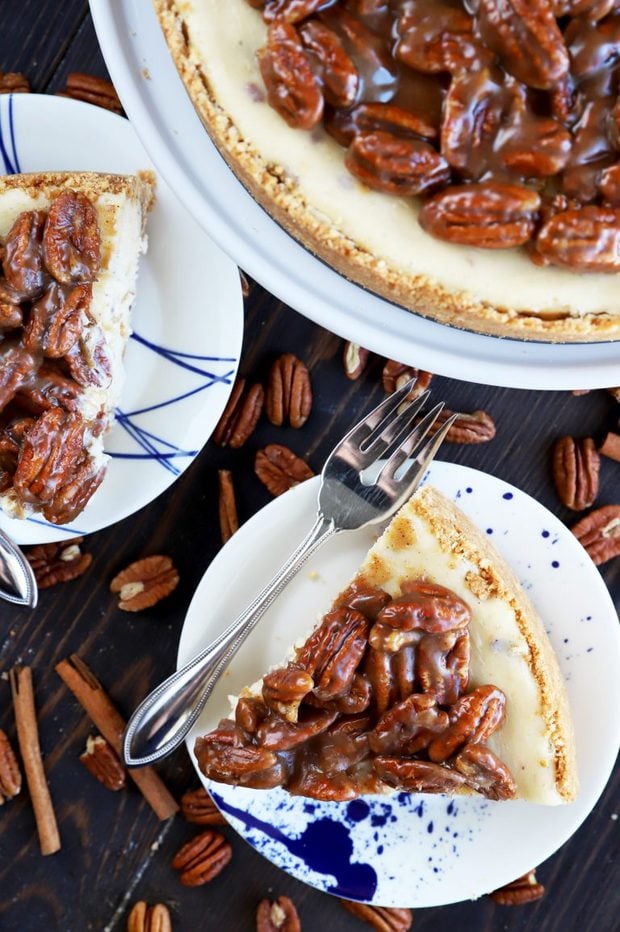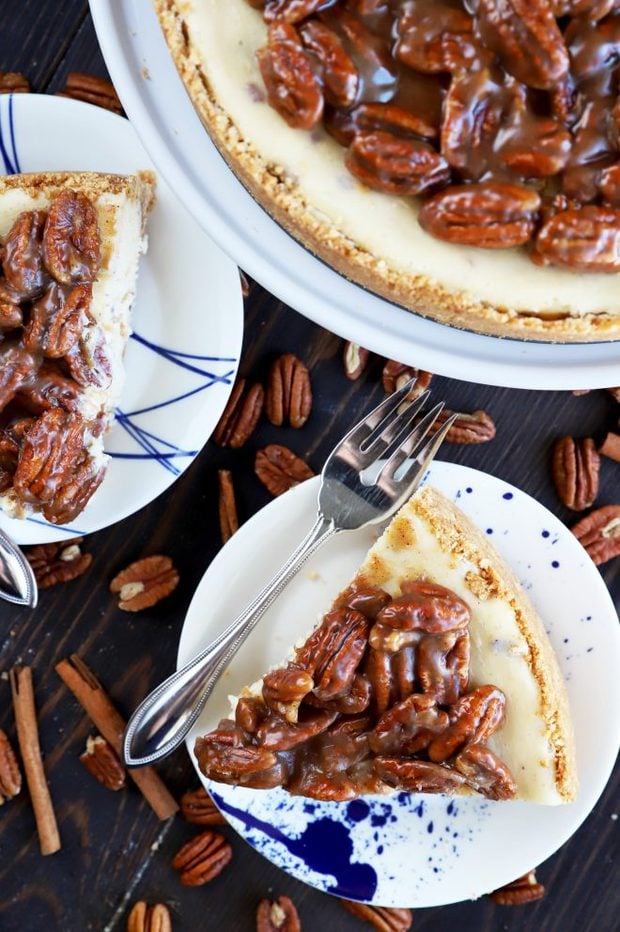 The cheesecake is the best texture EVER. It's not too try, it's really smooth, and it literally melts in your mouth. The addition of cinnamon and chopped pecans in the cheesecake is just the little lift to make the cheesecake taste even better!
This is the one dessert you HAVE to serve for Thanksgiving.
I mean, it's a combination of pie and cheesecake – how can you possibly go wrong with that?!
Not to mention that you can make the cheesecake up to three days in advance, making your Thanksgiving preparation oh-so much easier.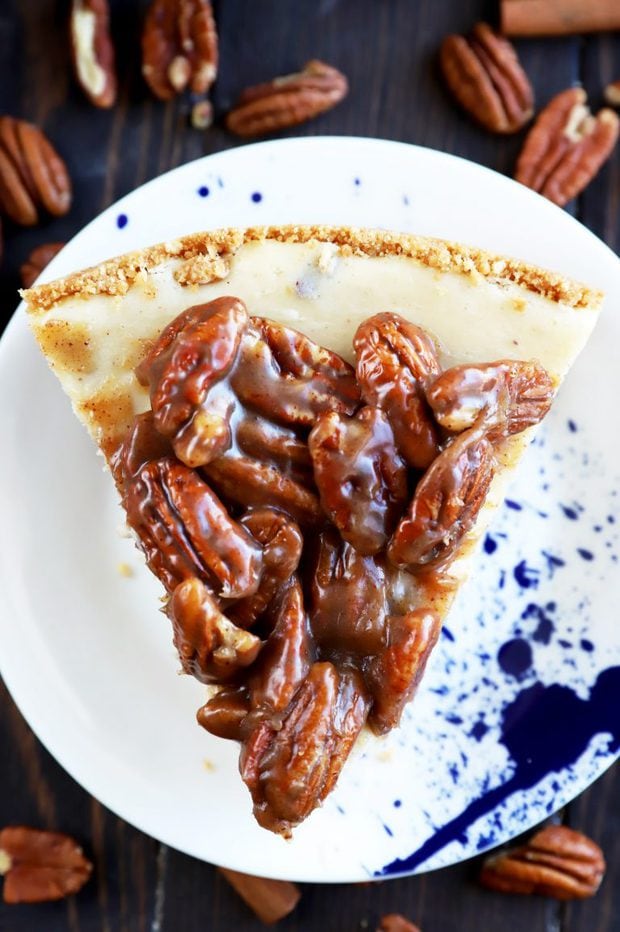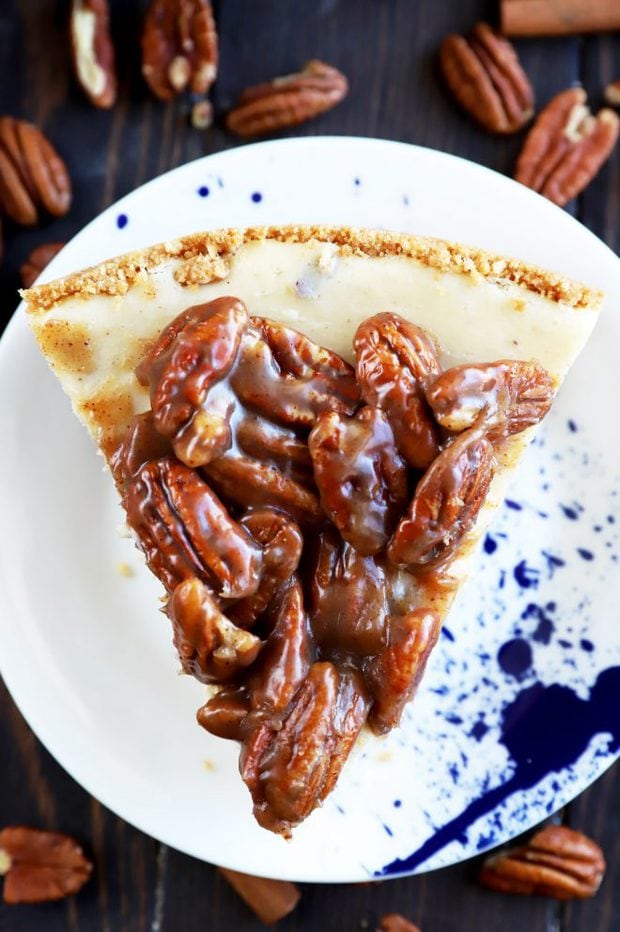 This Recipe's Must-Haves
As with all cheesecakes, you need a reliable springform pan! Make sure it is one that doesn't leak 😉
To put together the crust and filling, you will need a set of mixing bowls and a wooden spoon, as well as a stand mixer.
Finally, to make the topping, grab your favorite nonstick skillet!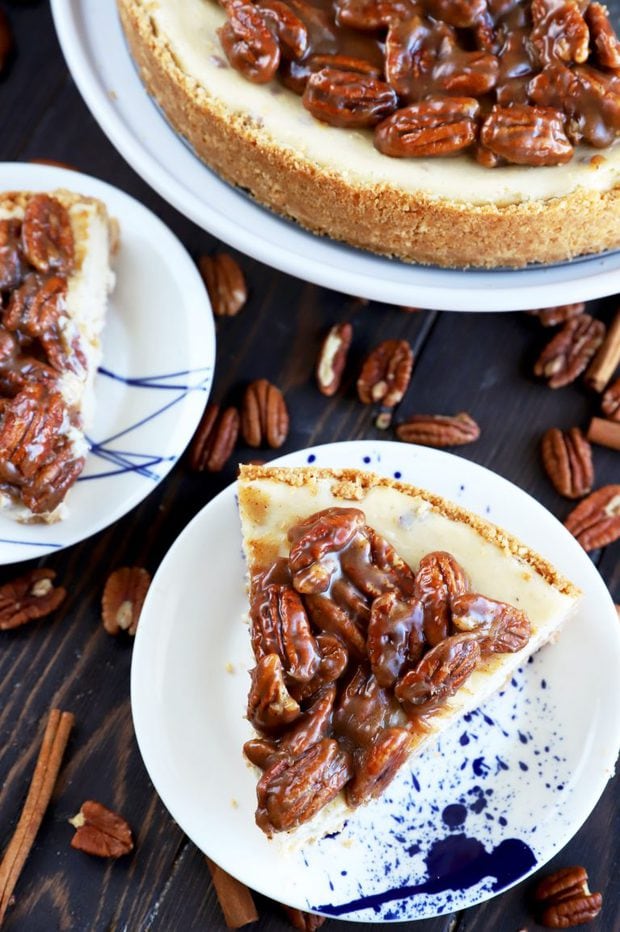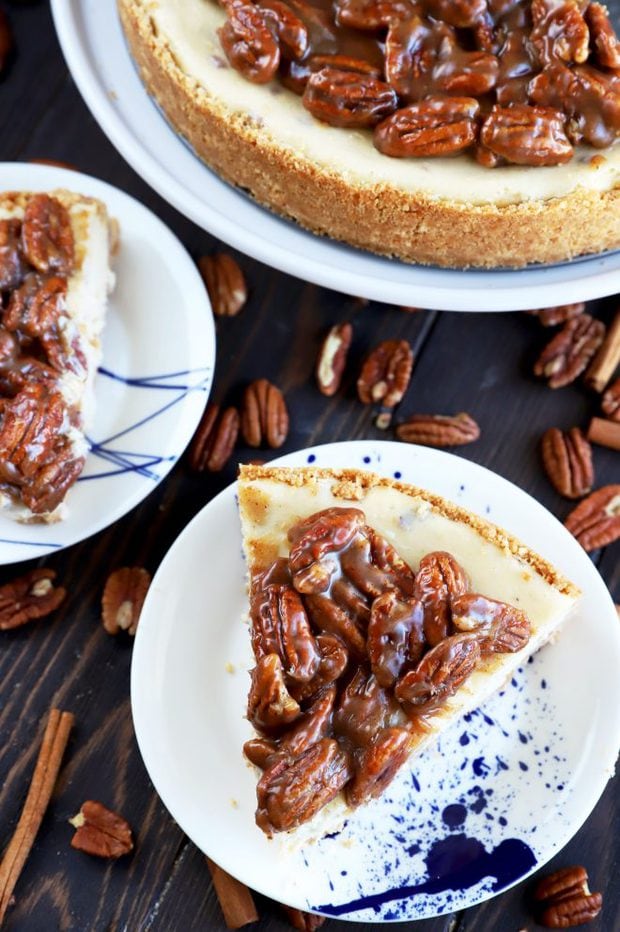 How To Make Pecan Pie Cheesecake
Make Crust
To make the crust, you simply stir everything together and press it into a springform pan. The key here is to press the crust mixture into the pan and up the sides in an even layer. Take your time to do this and really pat it down using your fingertips and palms.
Bake the crust until it just turns golden and is nice and fragrant. You might be used to graham cracker crusts, but once you try this vanilla wafer version, your mind shall be blown!
Don't forget to cool it completely before you add in the filling!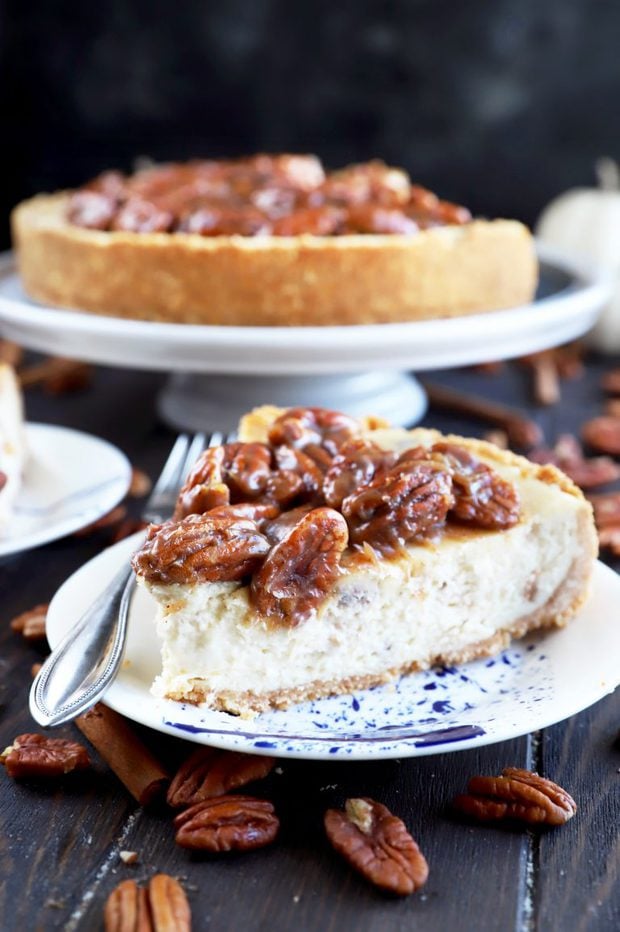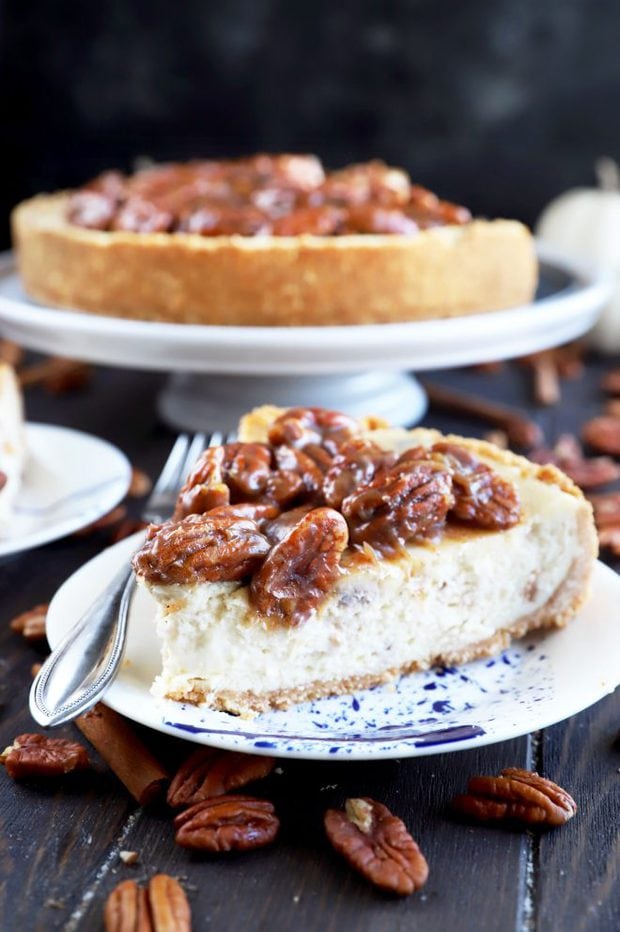 Make Filling
To make the filling you start by beating the cream cheese with flour and salt. The key in this step is to get the cream cheese nice and fluffy. You don't want any lumps in there, so beat until it's really smooth.
After that, you beat in the remaining ingredients as noted in the instructions.
Add this filling to the completely cooled crust.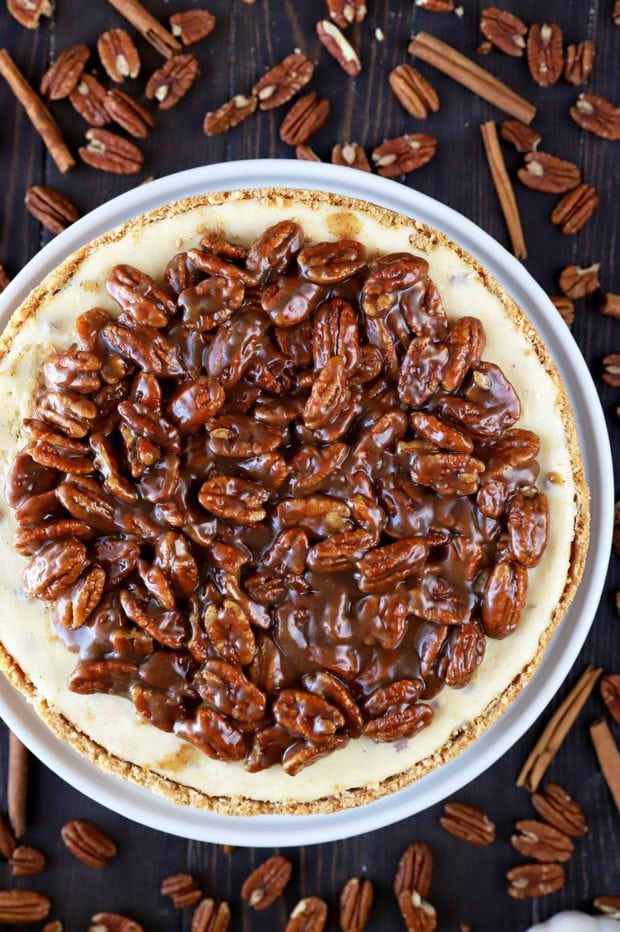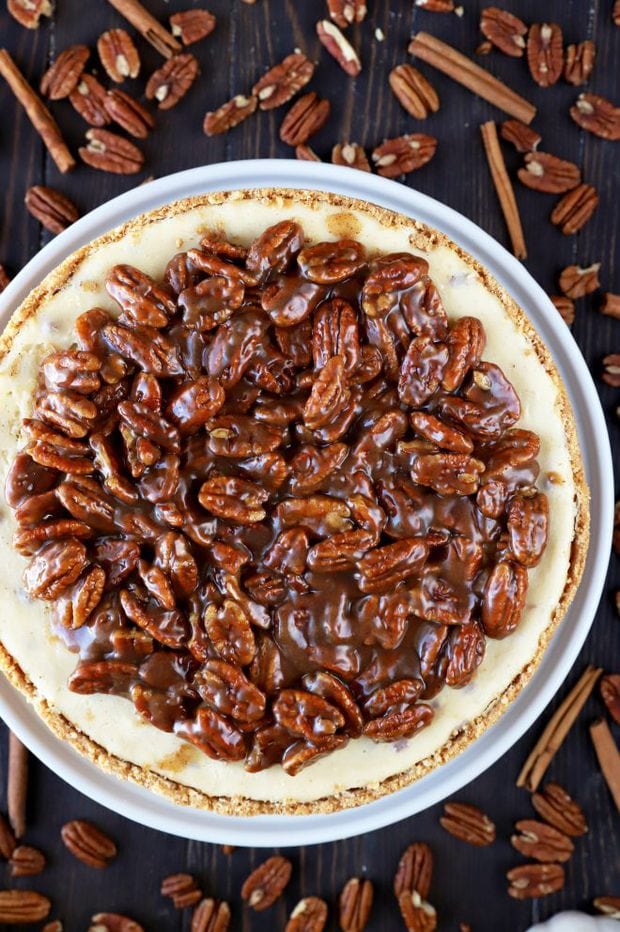 Bake
Bake the cheesecake until it is cooked through. You will know when it is cooked through when the edges are nice and puffed, but the center jiggles just like Jell-O.
Cool the cheesecake completely in the pan before you chill it.
Chill
As I'm sure you know, chilling the cheesecake is a necessary step! You want to chill this one for at least 8 hours, but you can also chill it for three days (making it a great dessert for Thanksgiving!).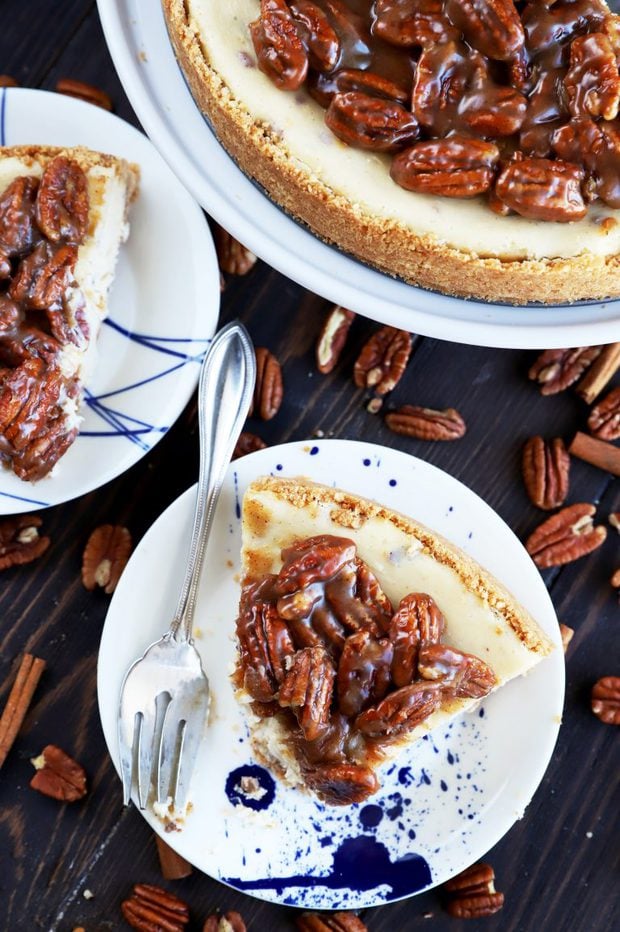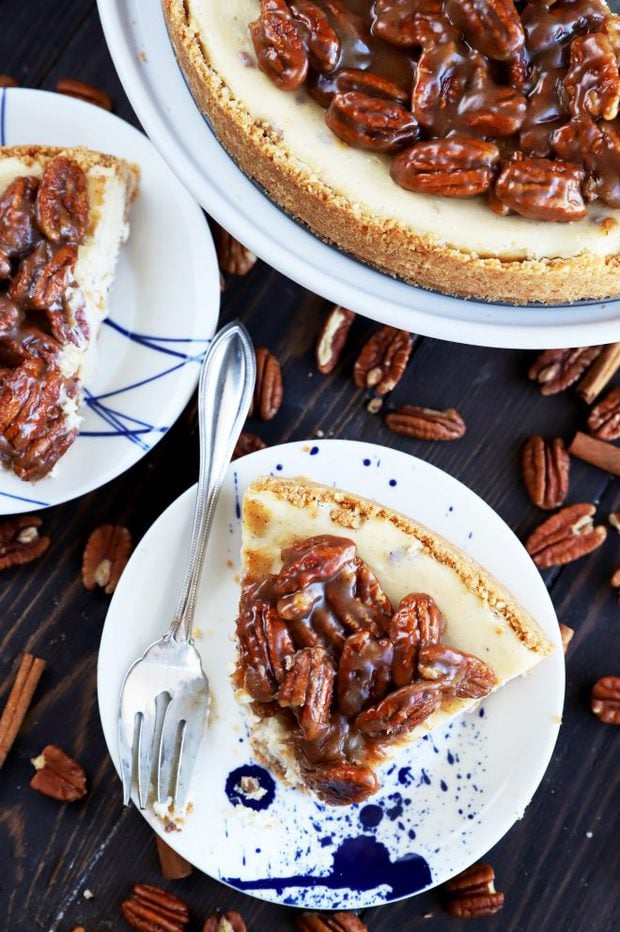 Make Topping
When you are ready to serve the cheesecake, make the filling! It all comes together easily and quickly in a nonstick skillet pan. You can make the pecan pie topping about an hour ahead, but make sure it is kept at room temperature. If you refrigerate the topping, the butter will solidify and it won't be the same mixture, even if you reheat it.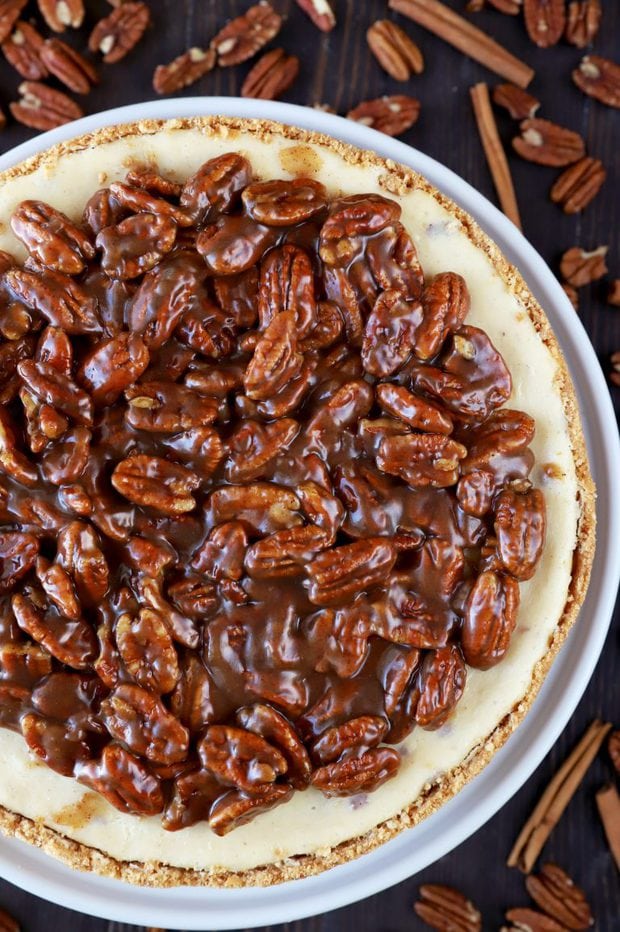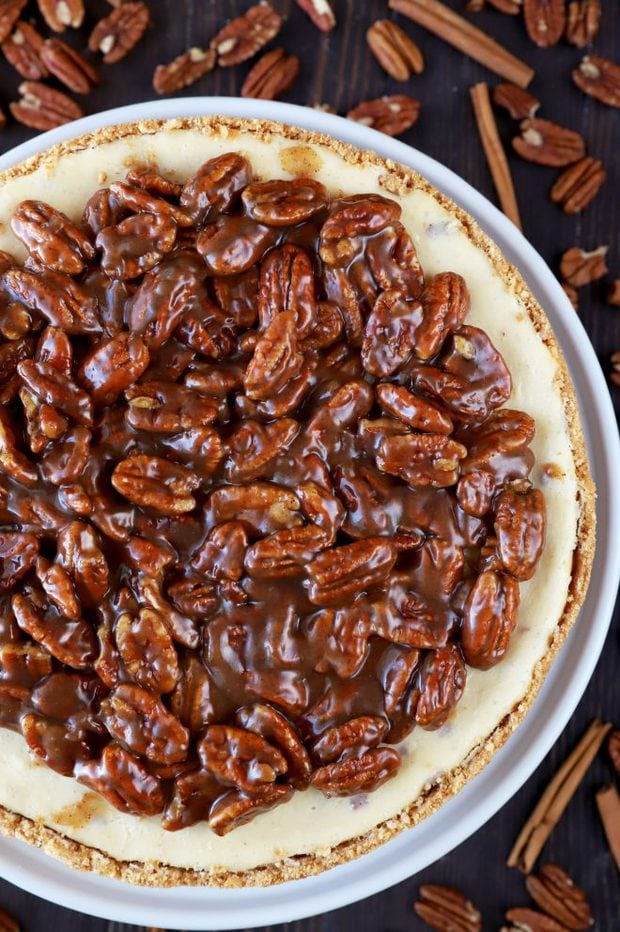 Can you freeze pecan pie cheesecake?
Yes, you can! First, make sure that you don't freeze the cheesecake with the topping. Wait to make the pecan pie topping until you are ready to serve the cheesecake.
To freeze the cheesecake, remove the outer rim of the springform pan, leaving the cheesecake sitting on the bottom of the pan. Wrap the cheesecake with the bottom of the pan in several layers of plastic wrap. Then, wrap it with a final layer of aluminum foil on the outside.
When you thaw the cheesecake, be sure to do so overnight in the refrigerator. When the cheesecake is partially thawed, unwrap the cake and add it to a serving plate.
Can I use chopped pecans for the topping?
Of course you can! You can use the same amount as you would whole pecans. Personally I prefer whole pecans because of the look and the crunch of whole nuts!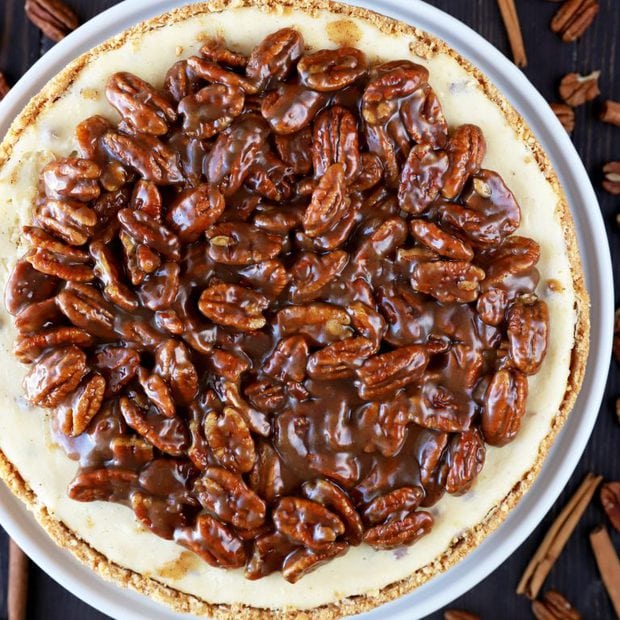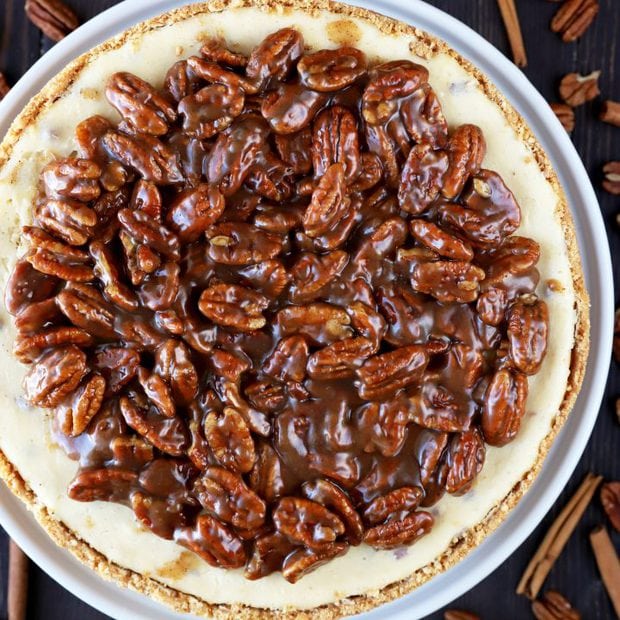 Pecan Pie Cheesecake
Cook Time:
1 hour
25 minutes
Total Time:
9 hours
40 minutes
The ideal combination of pecan pie and cheesecake! It has a vanilla wafer crust, a creamy spiced filling, and a gooey pecan pie filling.
Ingredients
Crust
8 oz vanilla wafer crumbs (2 cups)
3 Tbsp brown sugar
7 Tbsp unsalted butter, melted
Filling
4 8oz cream cheese packages
2 Tbsp all-purpose flour
Pinch of salt
1 1/4 cups granulated sugar
1 Tbsp vanilla extract
1/3 cup chopped pecans
1/2 tsp ground cinnamon
4 large eggs, room temp
Topping
4 tbsp. butter
1/2 c. brown sugar
1/2 tsp. ground cinnamon
1/4 c. heavy cream
1 3/4 c. whole or chopped pecans
Pinch of kosher salt
Instructions
Preheat oven to 375˚F.
In a medium bowl, stir together all of the crust ingredients until well combined. Add the crust mixture to a 9-inch springform, pressing into the bottom and up the sides about 2 inches.
Bake the crust until golden and fragrant, about 9 to 12 minutes. Let cool completely.
Lower oven temperature to 300˚F.
In a stand mixer fitted with a paddle, beat cream cheese, flour, and salt until the mixture is smooth and fluffy. This will take about 5 minutes. There should not be any lumps in the mixture.
Add sugar and blend until combined. Add vanilla, pecans, and cinnamon, stirring until combined.
Beat in eggs, one at a time, until just combined after each.
Pour filling into cooled crust and smooth the top.
Bake for 55 to 65 minutes until puffed and the center jiggles a bit, like Jell-O.
Cool on a wire rack until cooled completely. Place in the refrigerator for at least 8 hours, up to 3 days.
Before serving, make the pecan pie topping. Add butter and brown sugar for the topping to a nonstick skillet over low heat. Cook, stirring occasionally, until bubbly, about 5 to 7 minutes. Stir in cinnamon, heavy cream, pecans, and salt until the nuts are completely coated. Remove from heat and let cool and thicken slightly, about 5 to 10 minutes.
Release cheesecake from springform pan and spoon over cooled pecan pie topping. Serve.
Notes
You can make the topping up to an hour in advance. Keep it at room temperature and don't refrigerate.
Recommended Products
As an Amazon Associate and member of other affiliate programs, I earn from qualifying purchases.