Please note this post contains affiliate links.
Smoked Beer Brined Turkey is hands down the best way to cook your bird for Thanksgiving. This is my super secret most flavorful brine recipe that gives you the juiciest bird EVER. You smoke it low and slow, getting that perfect crispy skin on the outside. Literally the best turkey I've ever made.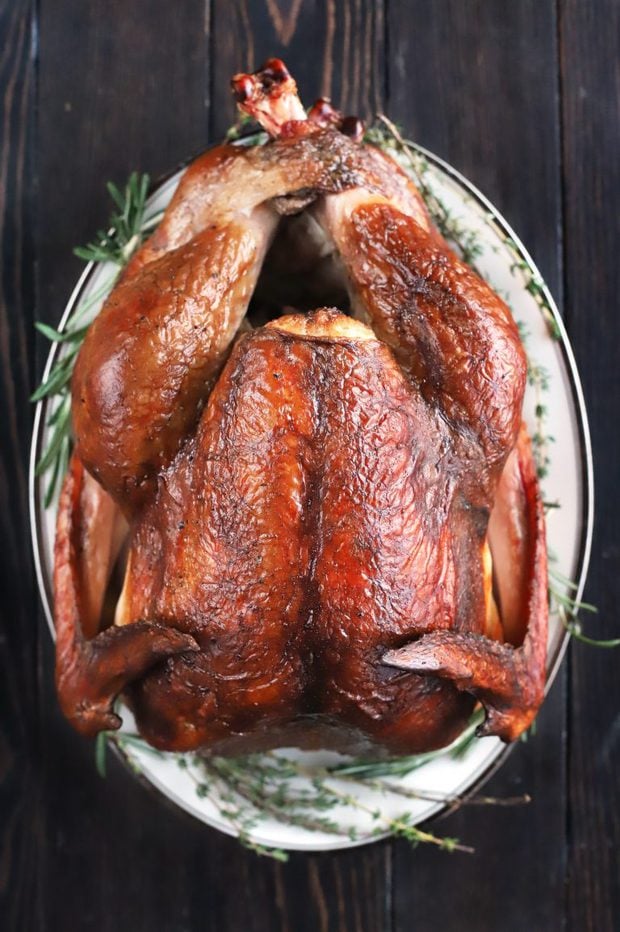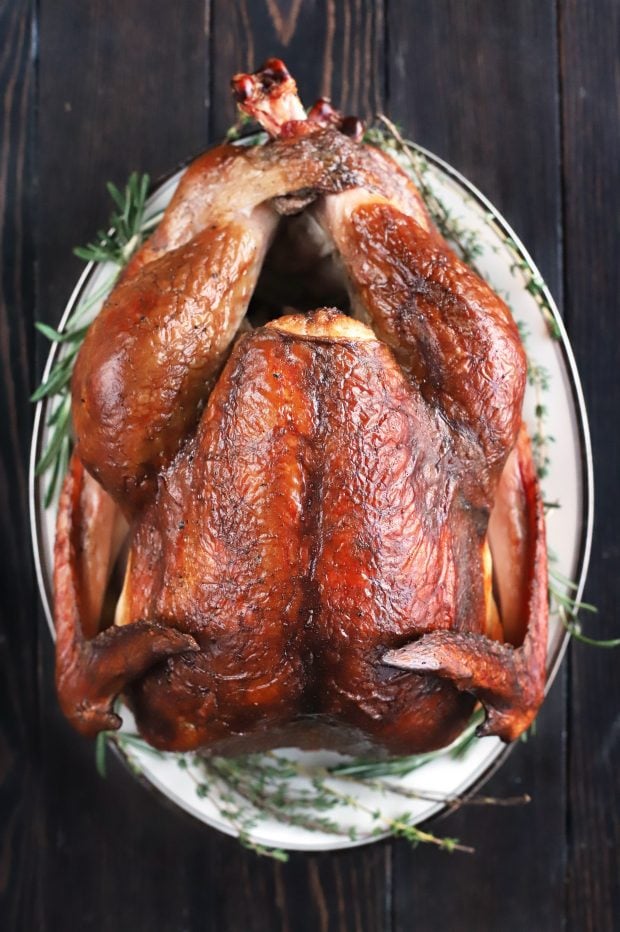 about this smoked beer brined turkey
If you need to know how to cook a turkey, this is the way to do it. Every time.
I swear you will get perfect results. The meat is nice and moist (I still hate that word, but I have to use it here…. that's how good this bird is), the skin is crispy and brown, and the whole things gets a subtle infusion of smoky flavor.
Like, mind-glowingly good. Turkey isn't my favorite part of the Thanksgiving spread – I'm more of a sides and dessert gal myself – but this beer brined turkey has made me actually want to eat turkey multiple times.
Smoking is not a quick process, BUT if you have a smoker it's just about checking on it occasionally. You don't have to even baste it.
It does take time to make so just make sure that you have your meat thermometer ready and that you are starting with plenty of time.
When I did a test run of this beer brined turkey before Thanksgiving I was sure glad I did. It took longer than I initially guesstimated, which would have been a DISASTER on turkey day, lol.
Times might vary because I made this while the snow was falling outside, so it might take you less time depending on where you are and the weather. Just keep an eye on the temperature of the bird and trust that first and foremost.
No dry birds on turkey day, I beg you!
If you don't have a smoker, I'm including notes in the recipe card below to cook it in your oven (something I've done with this brined bird many times). It will still come out delicious, moist and flavorful.
I just love that sticking the bird in my Traeger means I have my entire oven free as we count down the hours before dinner time.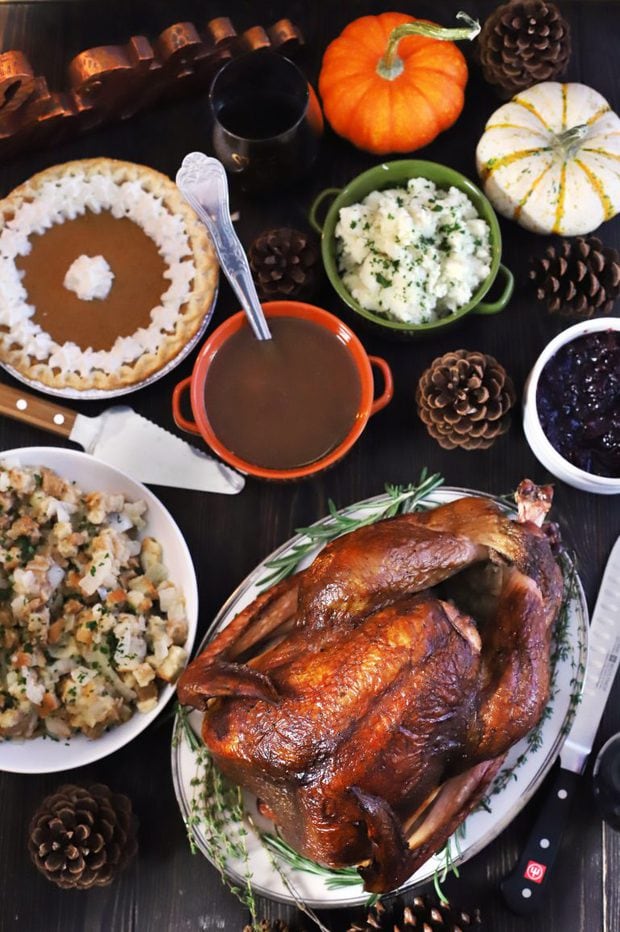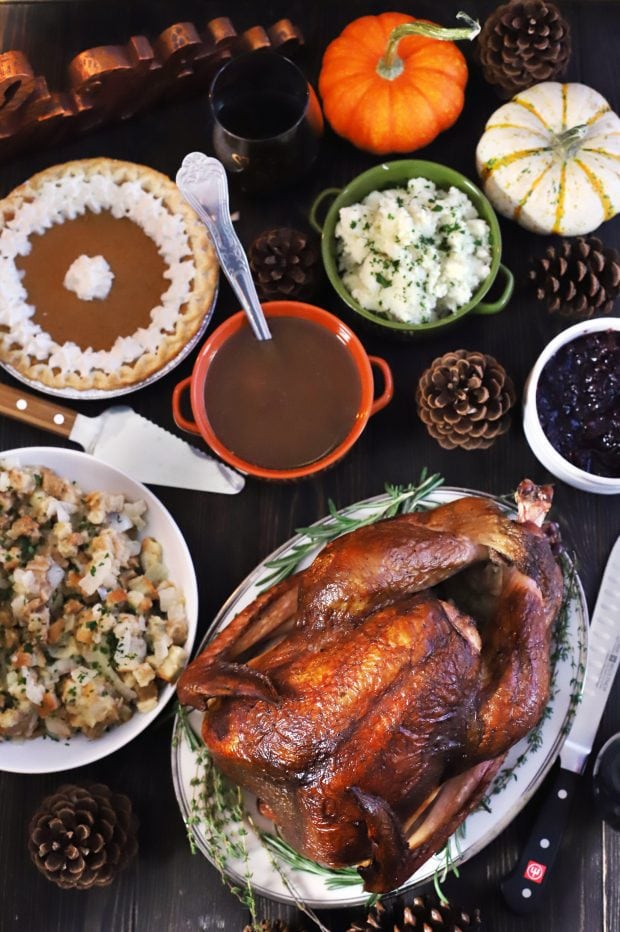 ingredients
turkey. Aim for a 12 to 16lb turkey, which will serve between 6 and 10 people. If you have a turkey that is larger than this, you will need to increase the brine accordingly!
water. I just use tap water for the brine. There's no need to use filtered water unless you absolutely have to in the area you are living.
salt. I separate salt out here because you will need a lot of it! One and a half cups of kosher salt to be exact.
spices. This beer brine gets a lot of its flavor from spices! You will need whole allspice berries (I order mine via Amazon if I can't find them at my local supermarket), whole cloves, and bay leaves.
herbs. For the fresh herbs, you'll need thyme, rosemary, and sage. I always recommend using fresh to get the most flavor into the brine. However you can always use dried if you have to.
onion. I like the flavor of a sweet yellow onion with this brine, but you can also use a white onion for this recipe.
beer. Use a brown ale for the brine if you can! I usually turn to Newcastle, but any brand is good. You can also use a lager or even Guinness if you like a bolder flavor to your beer brine.
ice. Be sure to have a couple cups of ice ready to cool down the brine!
oil. Use your favorite olive oil, whether that's pure olive oil or extra-virgin olive oil.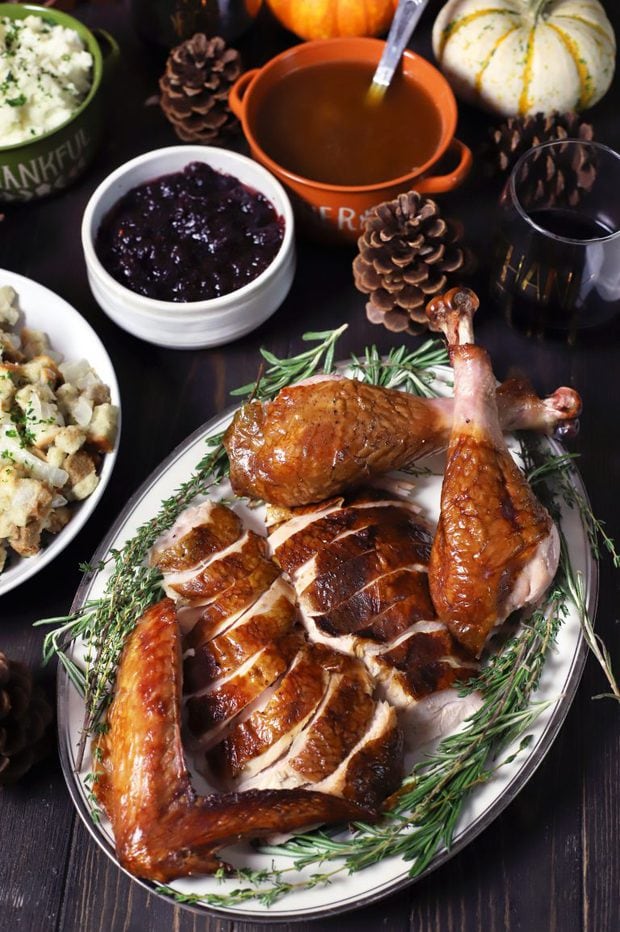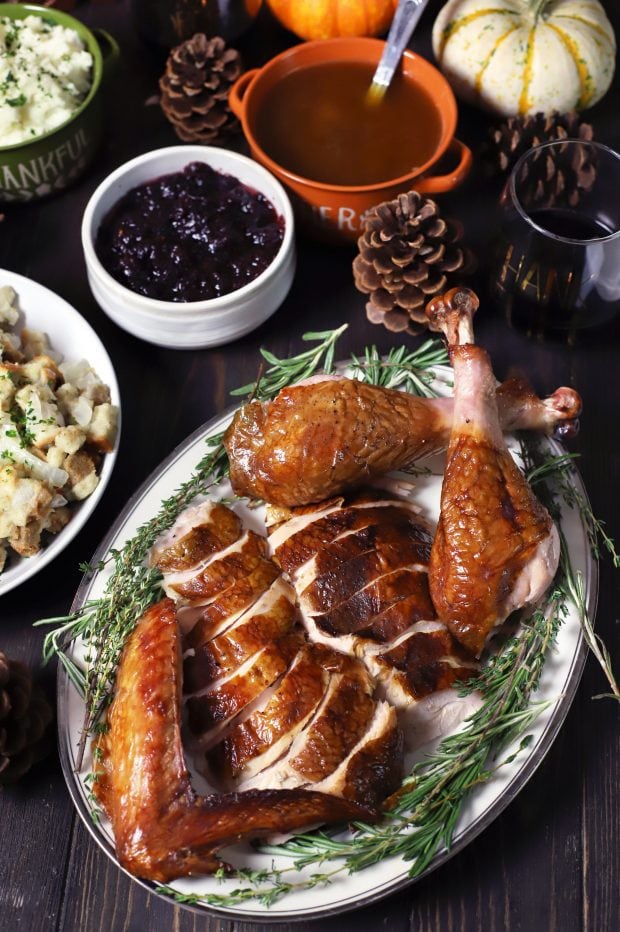 this recipe's must-haves
I use this a roasting pan with a rack directly on my grill and it held up BEAUTIFULLY. Plus it is dishwasher safe. BOOM.
If you don't have a smoker but want to treat yourself, I HIGHLY recommend this Traeger grill. I used Traeger signature pellets, but you could also use Apple or Pecan for a fun flavor twist!
For the perfect carving knife, I used this butcher knife. Holy CRAP it's amazing. So smooth. So perfect. It's my new fave knife.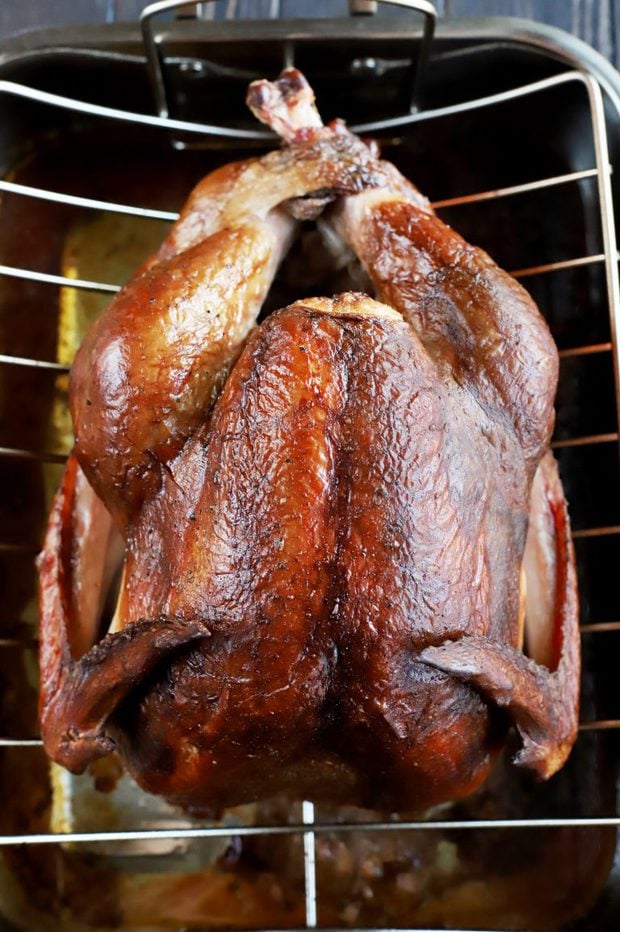 here's how to make a smoked beer brined turkey
make brine
Bring all the brining ingredients to a boil over high heat. Once boiling, remove from heat. Pour in beer and ice. Allow the brine to cool completely to room temperature before adding the turkey.
brine turkey
Rinse your turkey off with water after removing it from the packaging. Remove the bag of innards and discard or save to use to make the base of gravy.
Place the turkey in whatever container you plan to brine it in, whether that be a food-grade bucket, a brining bag, or a giant stock pot. Add the brine to the pot and cover with a lid or plastic wrap. Place in the refrigerator.
Brine for 16 to 18 hours. Rotate the turkey every 6 to 8 hours if your turkey isn't completely covered in the brine.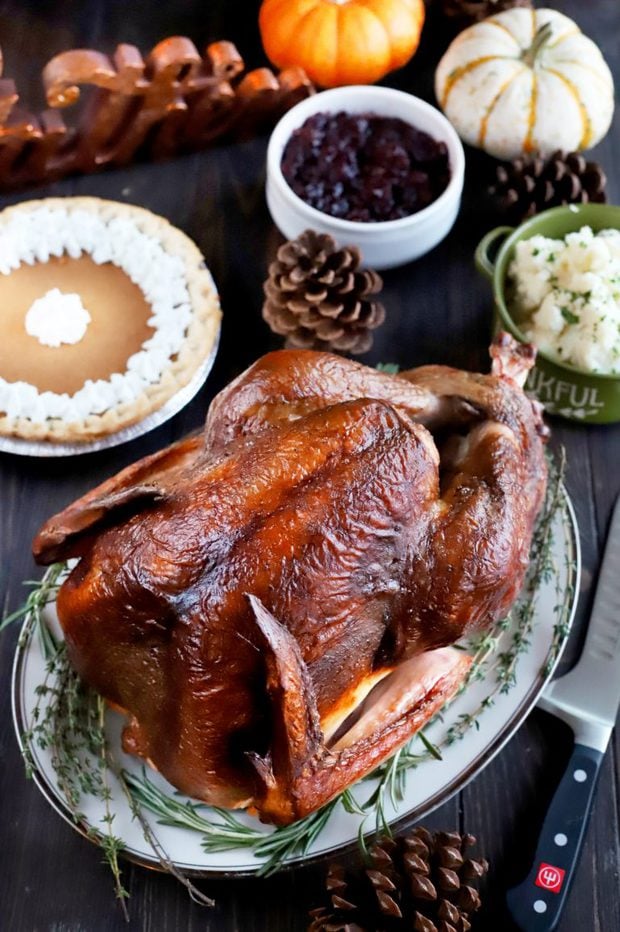 smoke turkey
Remove the turkey from the brine. Truss the legs with baker's twine and tuck the wing tips back around the bird so they don't stick out. Rub the bird with olive oil and season with a small amount of black pepper.
Place the bird in a roasting pan with a rack (or you can place it directly on the grate). Smoke at 225˚F until the internal temperature is 100˚F to 110˚F. It took about 2 1/2 hours on a very cold day for it to cook a 13+lb bird. It'll take between 1 1/2 to 3 hours depending on the size of your turkey.
Increase temperature of the smoker to 350˚F. Cook until a meat thermometer inserted in the thickest part of the breast registers 160˚F. Remove from the grill and let rest at least 15 minutes before carving. The turkey will come up to 165˚F in this time.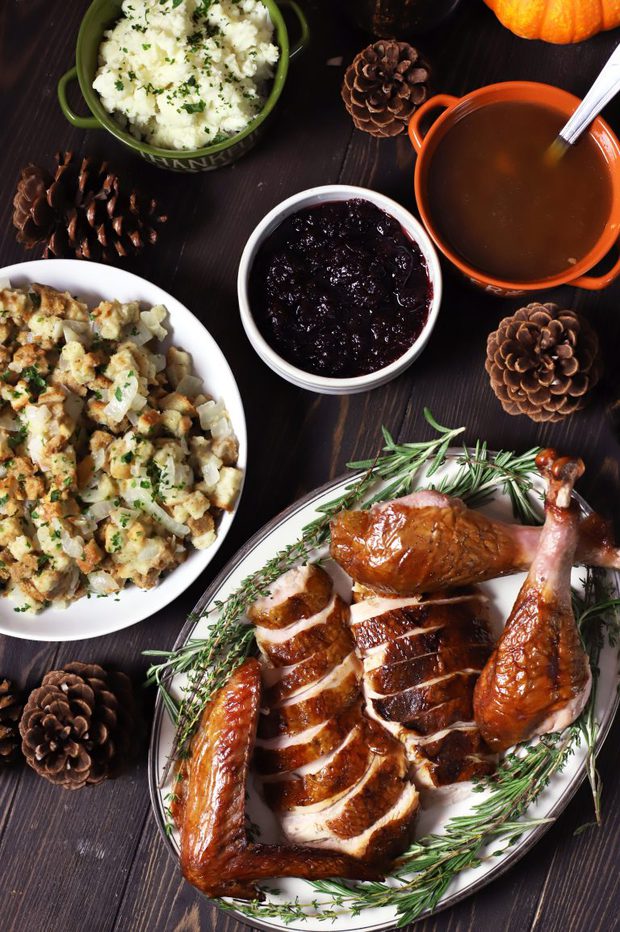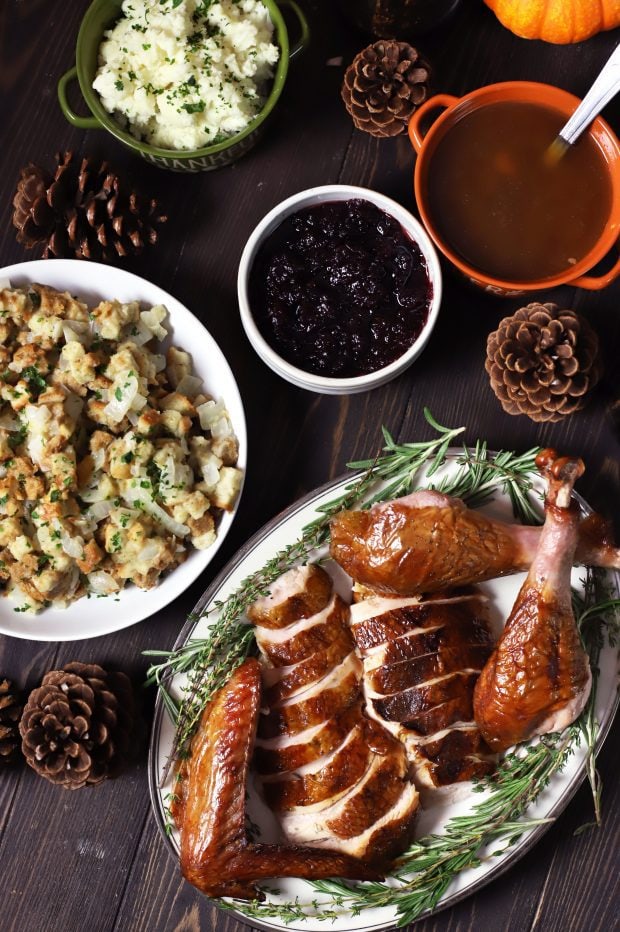 can I roast this in the oven?
If you don't have a smoker, you can definitely roast this turkey in the oven! I have the instructions for this method noted at the bottom of the recipe card below.
does beer tenderize turkey?
It sure does! Not only does beer tenderize the turkey, make it the perfect mouthwatering juicy bird you love on Thanksgiving… It also provides a delicious subtle flavor to the white meat.
how long should I brine my turkey?
Brine your turkey for at least 12 hours and up to 18 hours. This is the sweet spot that I've found to make it the most delicious. I do not recommend brining the turkey for longer than 18 hours because there is a possibility of over-brining your turkey. Over-brining will result in a turkey that is too salty!
If you have leftovers but aren't sure what to do with them, I've got the best Thanksgiving leftovers ideas for you!
what to serve with smoked turkey
Well obviously, all of the classic side dishes will be perfect with this turkey!
Start the evening with a proper Thanksgiving-themed cocktail like this sparkling Thanksgiving cocktail, bourbon apple cider cocktail or a cranberry ginger bourbon fizz.
For a unique take on sweet potatoes, cheesy hasselback sweet potatoes are a tasty combo of sweet potatoes, herbs, butter and cheese.
Any of these last minute Thanksgiving recipes are fantastic, plus they can be made in a hurry!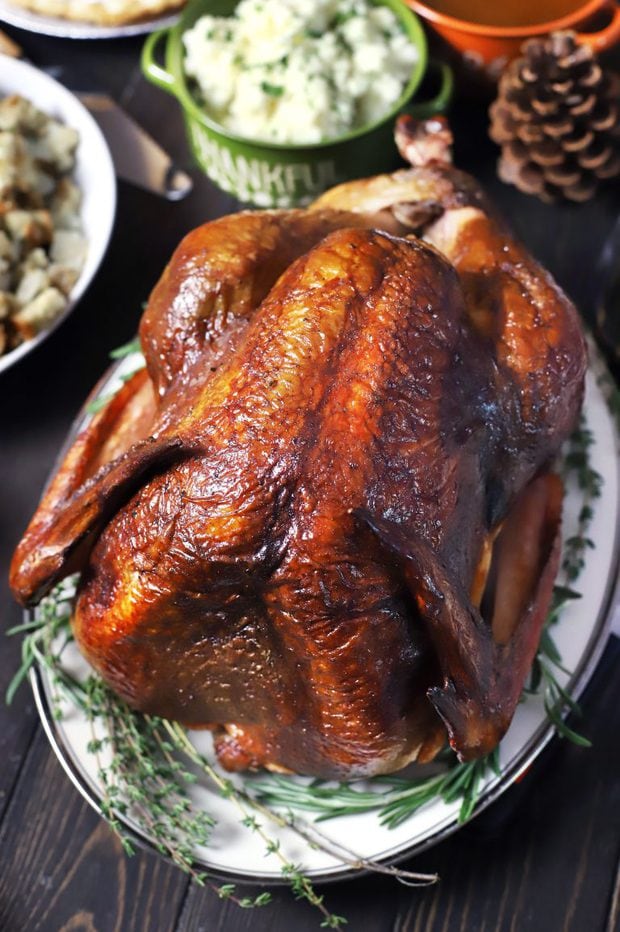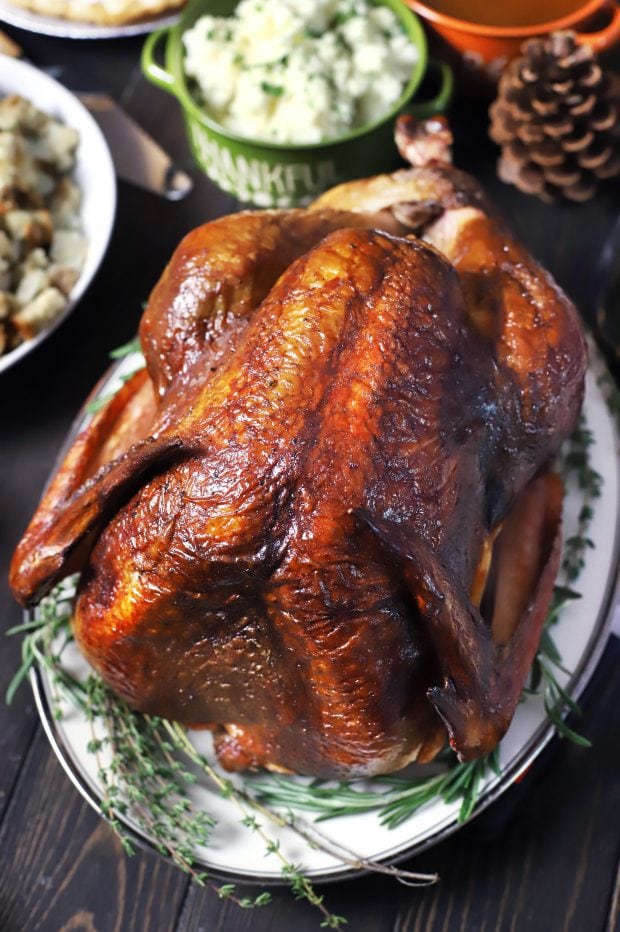 Finally, if you make this smoked beer brined turkey recipe, please be sure to give this recipe a rating or leave a comment! I love to hear when you all make recipes, and I do take the time to respond to every single comment. Feel free to drop questions below too, if you have them!
Oh and be sure to tag me on Instagram if you make the recipe! I love being able to see these recipes come to life in your homes – it's my favorite thing to look through those photos. It really means the world to me!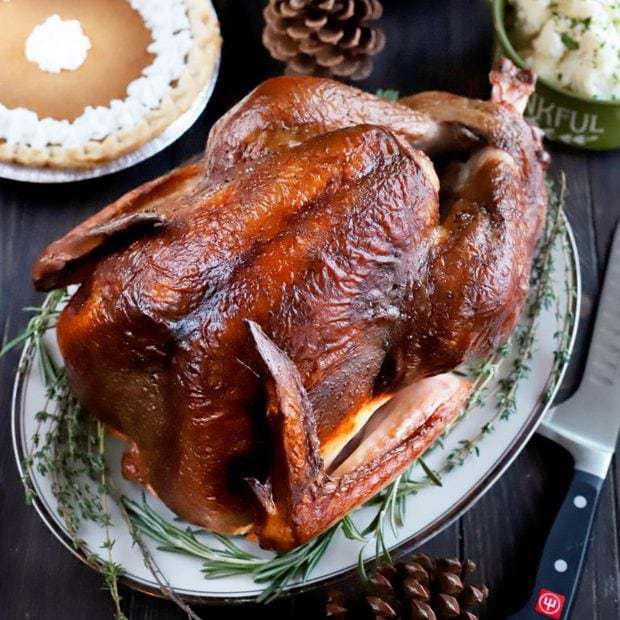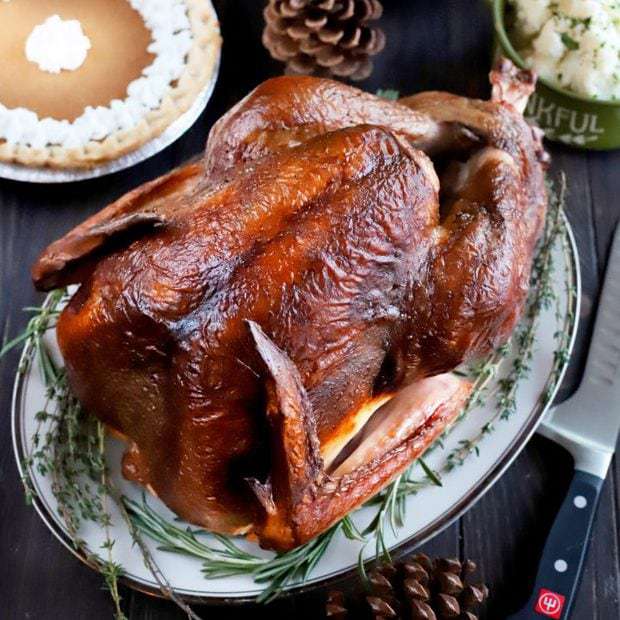 Smoked Beer Brined Turkey
Prep Time:
18 hours
15 minutes
Cook Time:
6 hours
30 minutes
Total Time:
1 day
45 minutes
The juiciest, most flavorful turkey you will ever eat. Period.
Ingredients
One 12-16 lb turkey, thawed
10 cups of water
1 1/2 cups kosher salt
1/4 cup whole allspice berries
1 Tbsp whole cloves
2 bay leaves
4 sprigs thyme
4 sprigs rosemary
2 sprigs sage
1 large yellow onion, peeled and quartered
5 1/2 cups (44 fl oz) brown ale (I used Newcastle Brown Ale)
2 cup ice
1/4 cup olive oil
Freshly cracked black pepper
Instructions
In a large pot, stir together 10 cups water, salt, allspice, cloves, bay leaves, thyme, rosemary, sage, and onion. Bring the mixture to a boil, then remove from heat. Pour in beer and ice.
Allow the brine liquid to cool completely to room temperature.
Rinse your turkey and remove the bag of innards that are tucked inside. Place the turkey into whatever you plan to brine it in. I used a giant stock pot that fits a 13-lb turkey, but you can also use a food-grade safe bucket or oven bags.
Pour the brine over the turkey and cover. Place in the refrigerator.
Brine your turkey for 16 to 18 hours, rotating every 6 to 8 hours if your turkey is not completely covered in the brine.
Remove from fridge and remove the turkey from the brine. Truss the legs and tuck the wing tips back around the bird. Rub the bird all over with olive oil. Season with a small amount of black pepper.
Set your smoker to smoke at 225 degrees F and preheat with the lid closed for 10 to 15 minutes.
Place the turkey on a roasting rack set inside a roasting pan. Place the pan directly on the grill grate or directly in your smoker, depending on the model you are using. Cook until the internal temperature reaches 100 to 110 degrees F. This took me about 2 1/2 hours for a 13+lb bird. It should take between 1 1/2 to 3 hours depending on the size of the turkey.
Increase temperature to 350 degrees F. This will take another 1 1/2 to 3 hours, depending on turkey size. Continue to cook until a meat thermometer registers 160 degrees F when inserted into the thickest part of the breast.
Remove the roasting pan from the grill and let rest 15 minutes until the turkey is 165 degrees F before carving.
Notes
If you are cooking the turkey in the oven, preheat oven to 400 degrees F. Truss turkey as mentioned above and rub with olive oil all over (about 1/4 cup). Place turkey on the roasting rack in the roasting pan. Cook until turkey reaches about 160 degrees F, about 3 to 4 hours. Again, allow to rest to get to temperature before carving.
Recommended Products
As an Amazon Associate and member of other affiliate programs, I earn from qualifying purchases.