Please note this post contains affiliate links.
Instant Pot Mashed Potatoes with Roasted Garlic and Parmesan are the easy way to make your favorite side dish! No more waiting for water to boil, because the Instant Pot does all the work for you. Made with roasted garlic and parmesan, the potatoes are creamy, cheesy, savory bliss.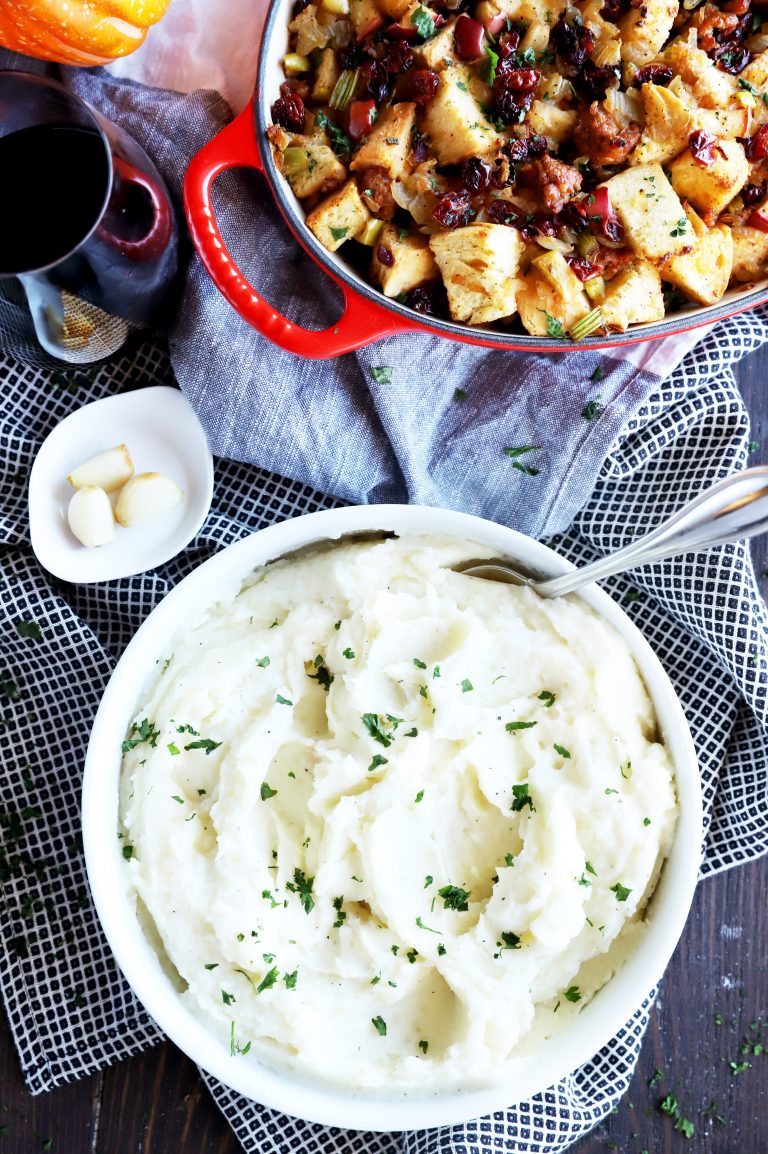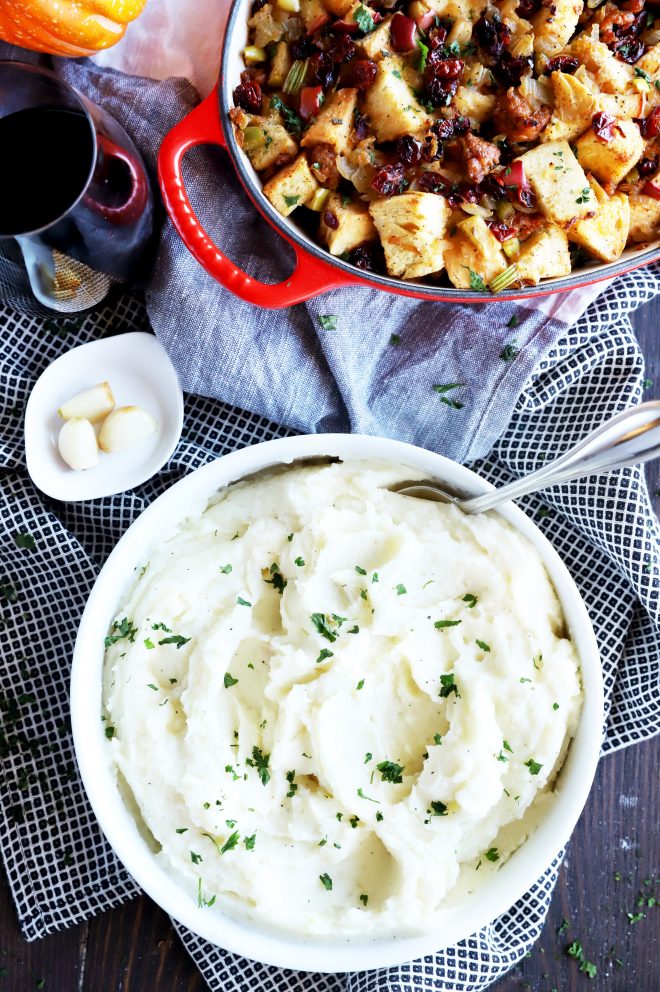 To me, it isn't Thanksgiving without mashed potatoes. The creamy starchy goodness is pure deliciousness and it goes so perfectly with gravy and turkey… It's a must on the table.
However, it's also kind of a pain to make, am I right? I mean, if you are serving a big group, there's a lot of time involved even though it's such a simple dish.
Waiting for a pot of water to boil takes FOREVER (whether you are watching it or not, trust me, I've tested both ways). Then waiting for the water to come back up to a boil once you add the potatoes takes FOREVER.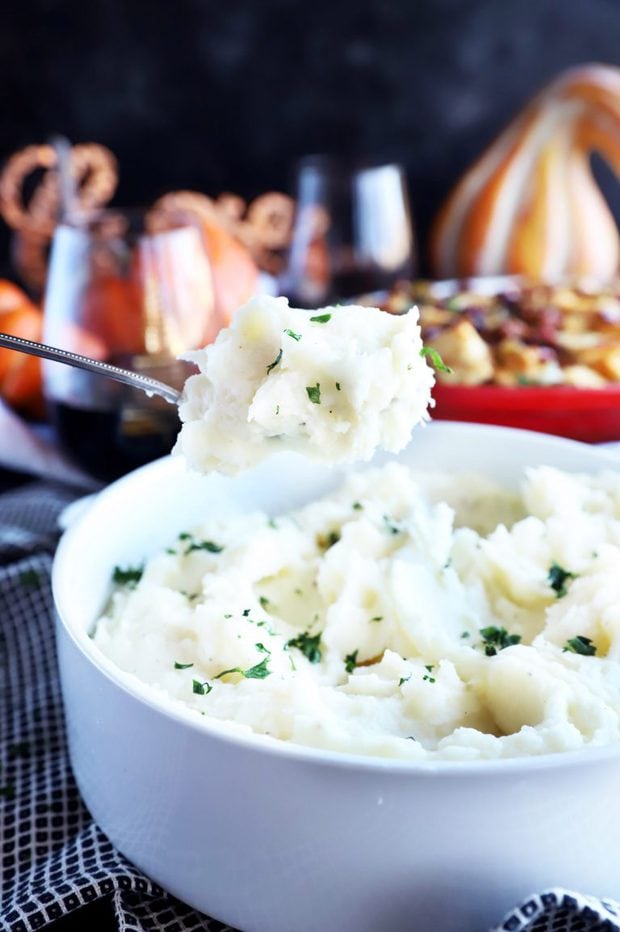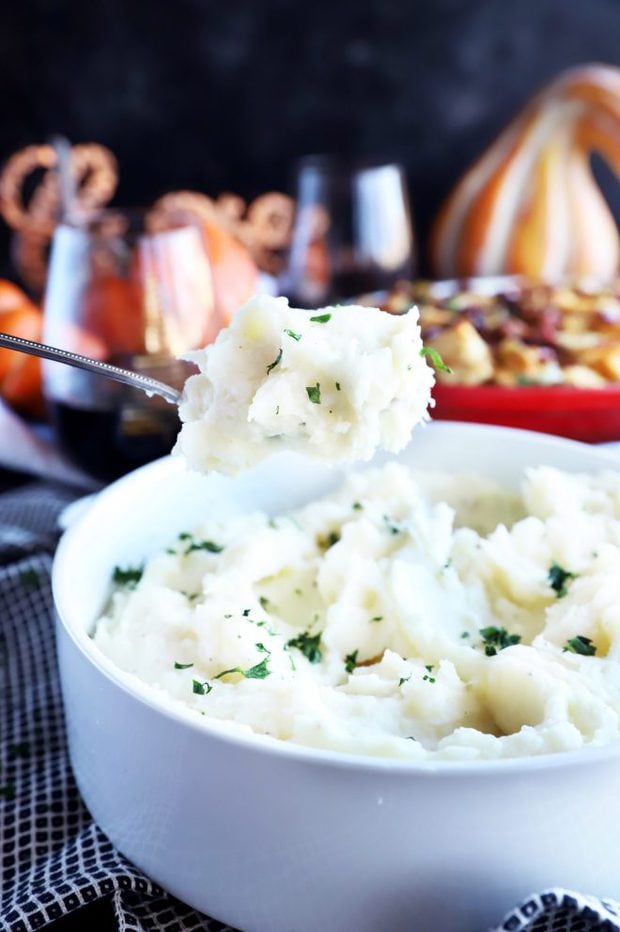 Well, this recipe takes all that time out of the equation, as well as clearing up space on your stovetop.
The Instant Pot makes it so easy to make mashed potatoes. It takes less than 10 minutes to cook the potatoes, and then all you have to do is mash and season.
This recipe is so much better than the average mashed potatoes. With the addition of savory roasted garlic and Parmesan cheese, it's an explosion of flavor that pairs with any Thanksgiving recipe you are planning on serving.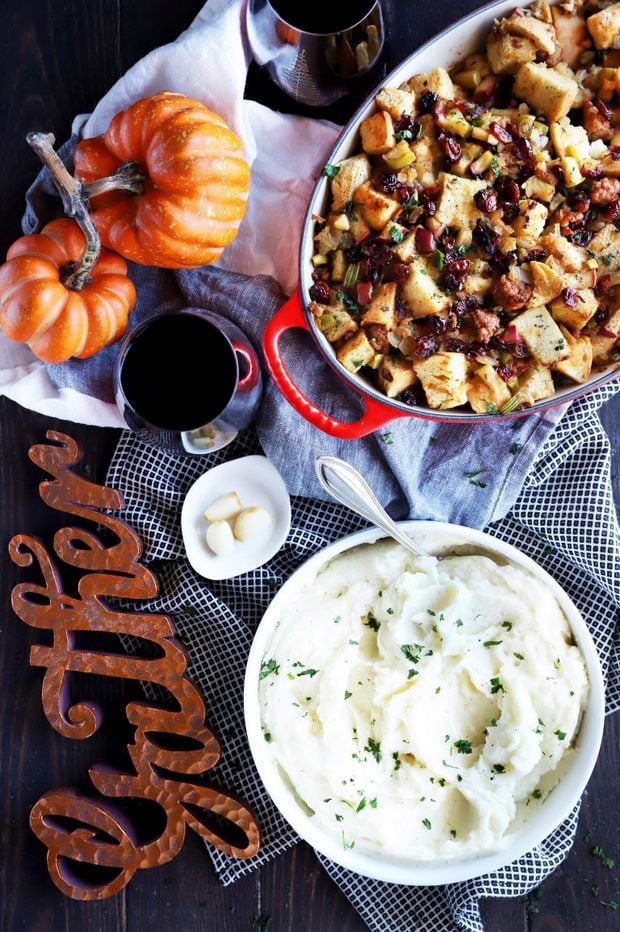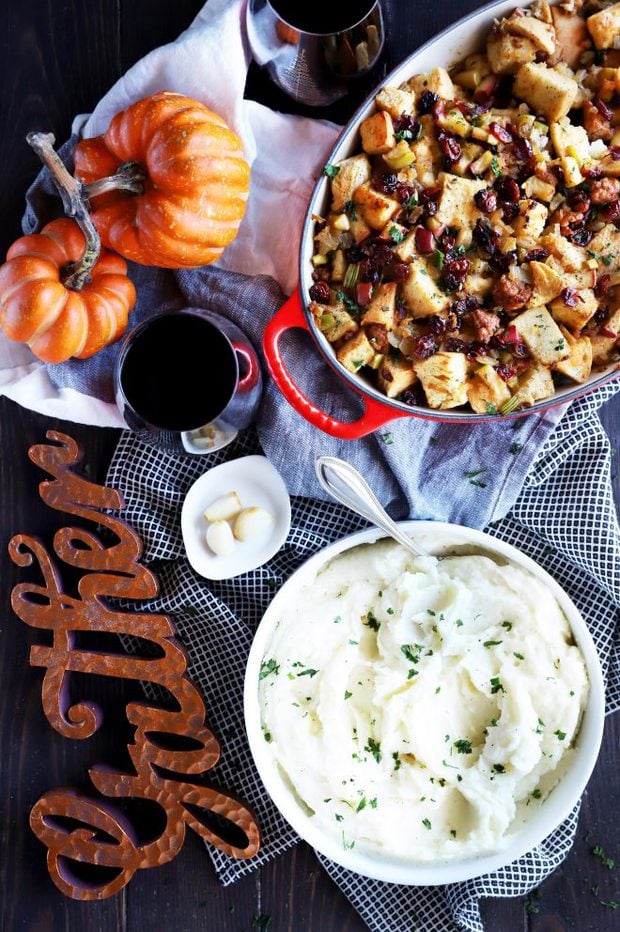 This Recipe's Must-Haves
Obviously the recipe needs an electric pressure cooker like my favorite Instant Pot Ultra! I seriously still can't believe that the potatoes cook in just EIGHT MINUTES. That's less time than it takes for the water to boil if you were making this on the stovetop!
Next up, you need a spider strainer to strain the potatoes from the water in the bottom of the Instant Pot and a potato masher to mash 'em all up.
The final step is to mix in all the delicious seasoning from the roasted garlic to the Parmesan cheese to the spices.
I don't have the exact link to the serving bowl you see here, but the one I linked is very similar and holds a lot of potatoes!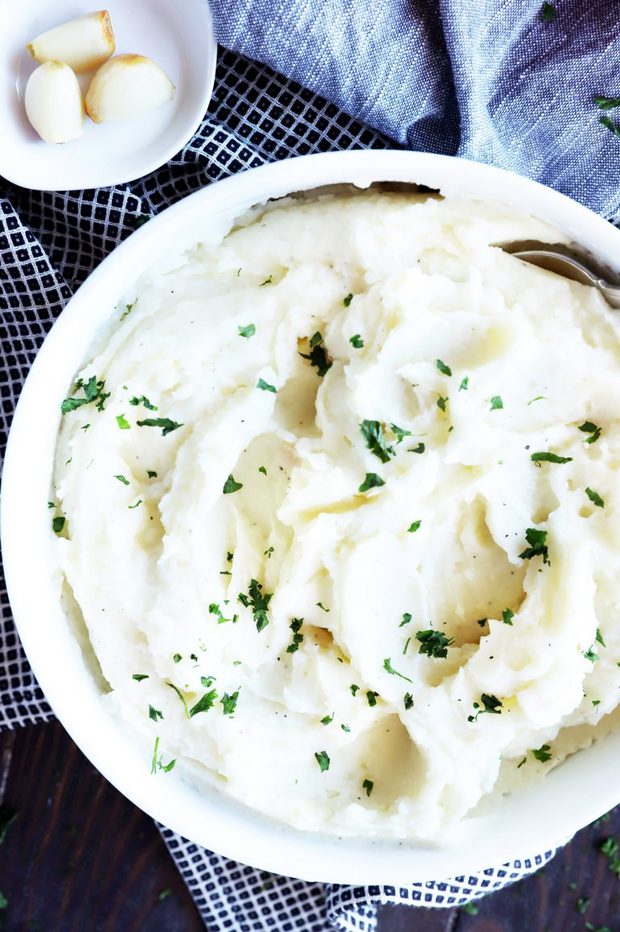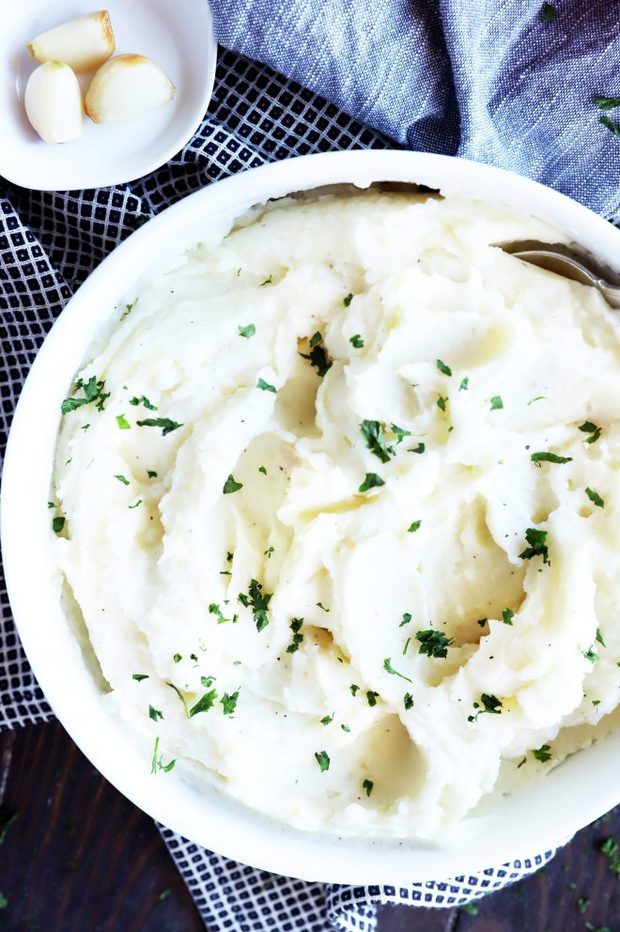 How To Make Instant Pot Mashed Potatoes
Roast Garlic
One of the big factors that makes these potatoes really stand out is the roasted garlic! It's super easy to do because all you have to do is cut off the head and bake it for 30 minutes.
Also, it fills your home with the BEST garlic smell… YUM.
Pressure Cook Potatoes
Add sliced potatoes to the bottom of the Instant Pot. You will need to add just enough water to cover the potatoes and stir in salt.
After that, all you have to do is set it for 8 minutes on High pressure! The potatoes cook super quickly.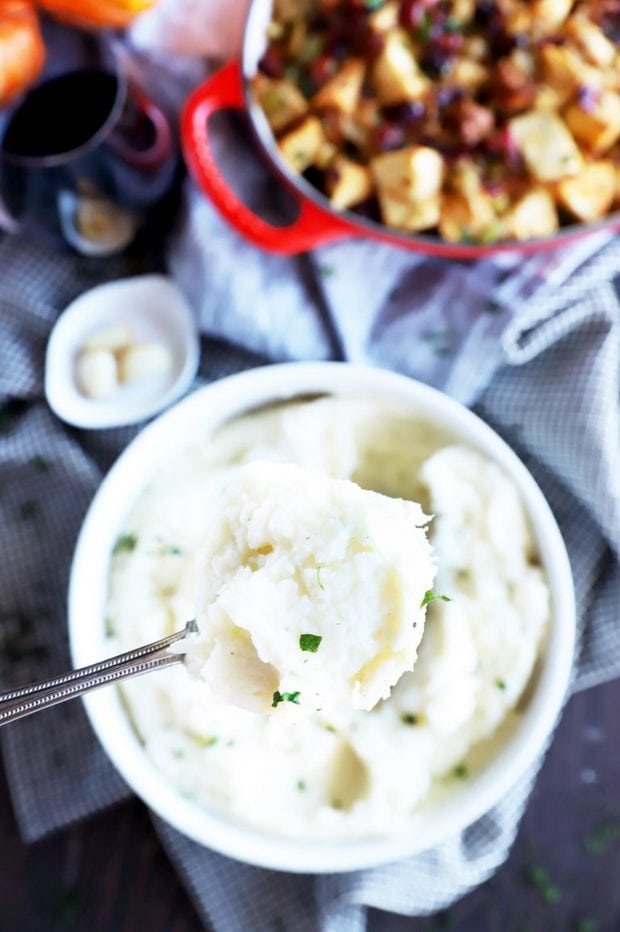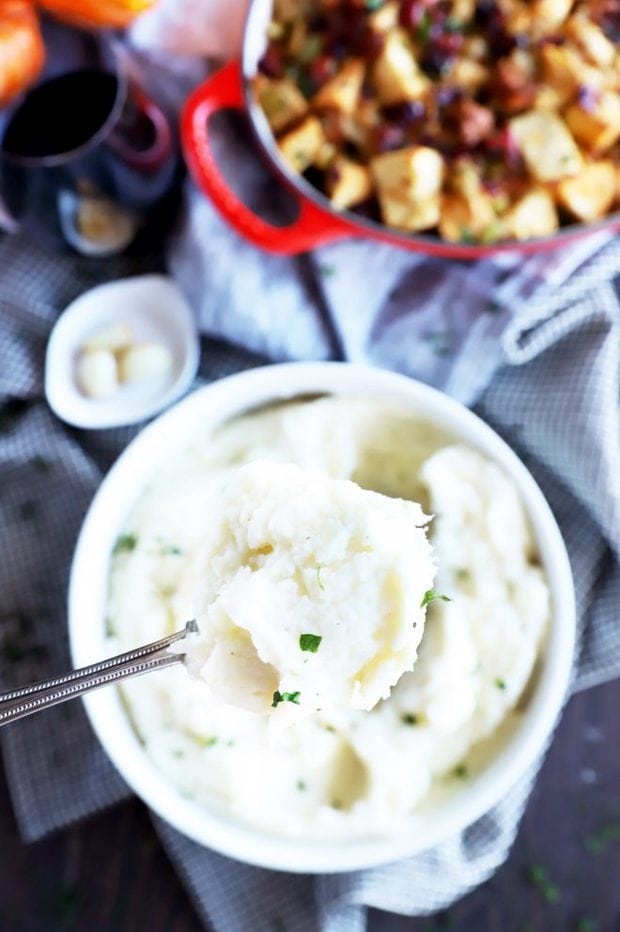 Mash
Once you drain the potatoes, add them back to the Instant Pot insert. Mash them however you like them, whether that's a little more chunky or completely smooth.
Season
Then all you have to do is stir in the garlic, cheese, and seasonings! Serve it up with a garnish of chopped parsley for a touch of green.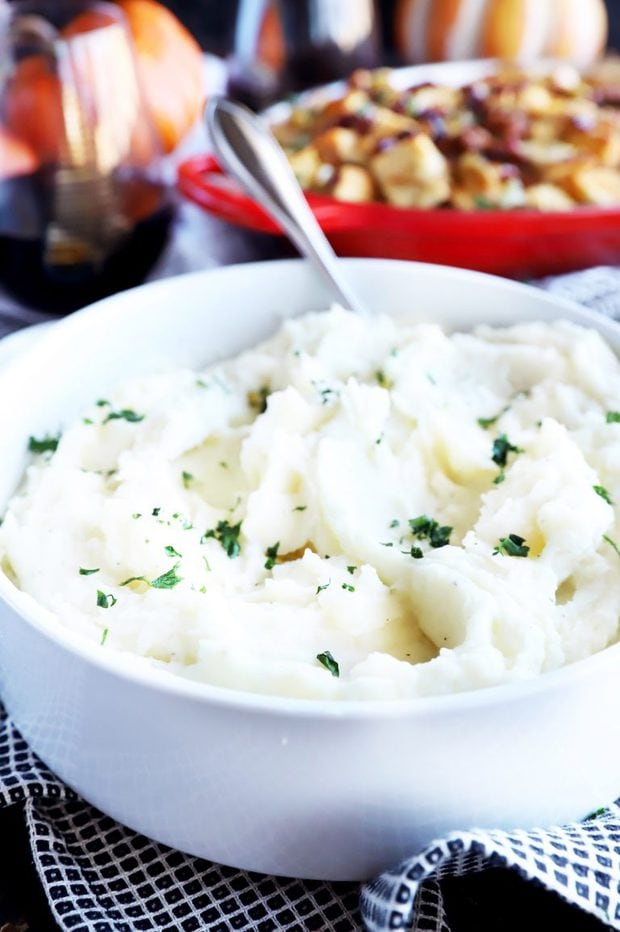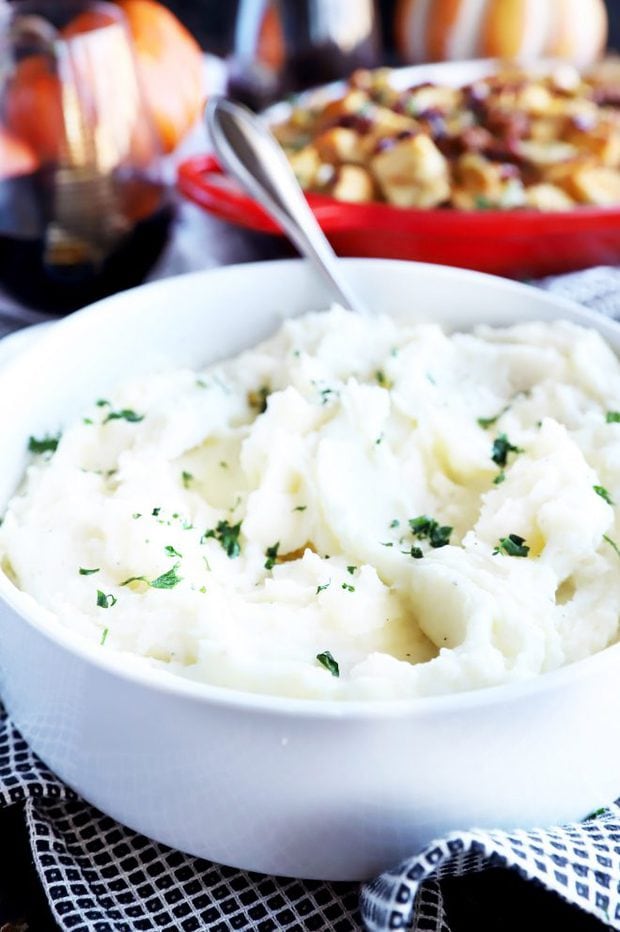 If you have any leftovers, be sure to make these loaded mashed potato egg rolls!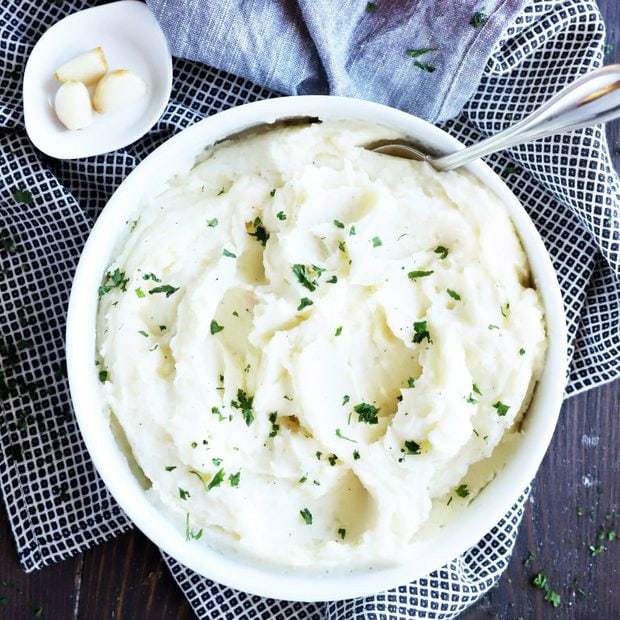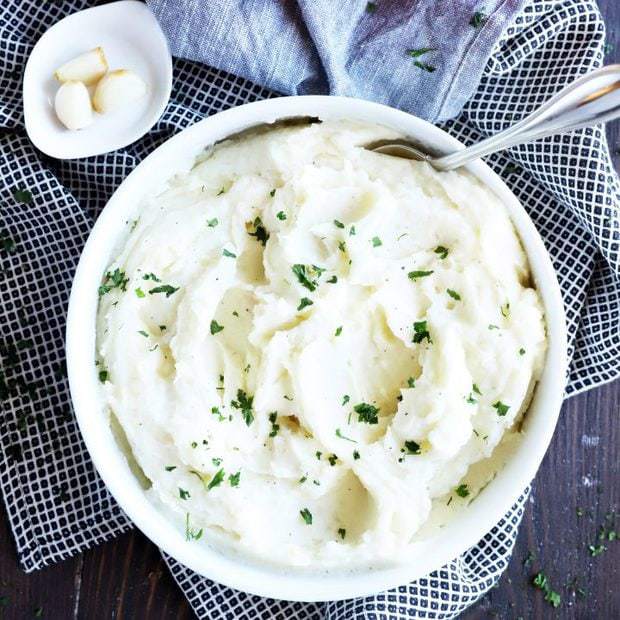 Instant Pot Mashed Potatoes with Roasted Garlic and Parmesan
Take all the work of mashed potatoes with the Instant Pot! The pop of roasted garlic and Parmesan is a surefire win.
Ingredients
ROASTED GARLIC
1 head garlic
1 tsp olive oil
POTATOES
3 pounds russet potatoes, peeled and sliced
4 cups water
2 tsp kosher salt
1/2 tsp black pepper
1/3 cup half-and-half
1/4 cup unsalted butter
3 Tbsp grated Parmesan
4 cloves roasted garlic, finely chopped
Garnish: freshly chopped parsley
Instructions
To make roasted garlic, preheat oven to 400 degrees F. Cut the top of a head of garlic off. Wrap the exterior the the garlic head with aluminum foil, making sure not to cover the top. Drizzle the top with 1/2 tsp olive oil and place the garlic directly on the middle rack in the oven. Bake for 30 to 40 minutes.
In the bottom of an Instant Pot, add sliced potatoes. Cover with water and stir in 1 teaspoon salt.
Seal the top and make sure the valve is set to "seal."
Cook on High manual pressure for 8 minutes. Quick release pressure when the timer goes off.
Drain potatoes and return them to the Instant Pot. Mash potatoes to desired consistency. We like them a little more chunky instead of completely smooth.
Stir in remaining salt, pepper, half-and-half, butter, Parmesan, and roasted garlic. Serve warm with a garnish of chopped parsley.
Serve warm with gravy.
Recommended Products
As an Amazon Associate and member of other affiliate programs, I earn from qualifying purchases.