Please note this post contains affiliate links.
With a Fried Turkey Thanksgiving Leftover Sandwich in hand, you are ready to master the art of devouring Thanksgiving leftovers. This sandwich has everything from crispy turkey to cranberry sauce, stuffing to mashed potatoes. PLUS it's all topped off with a cajun gravy aioli thats simply irresistible.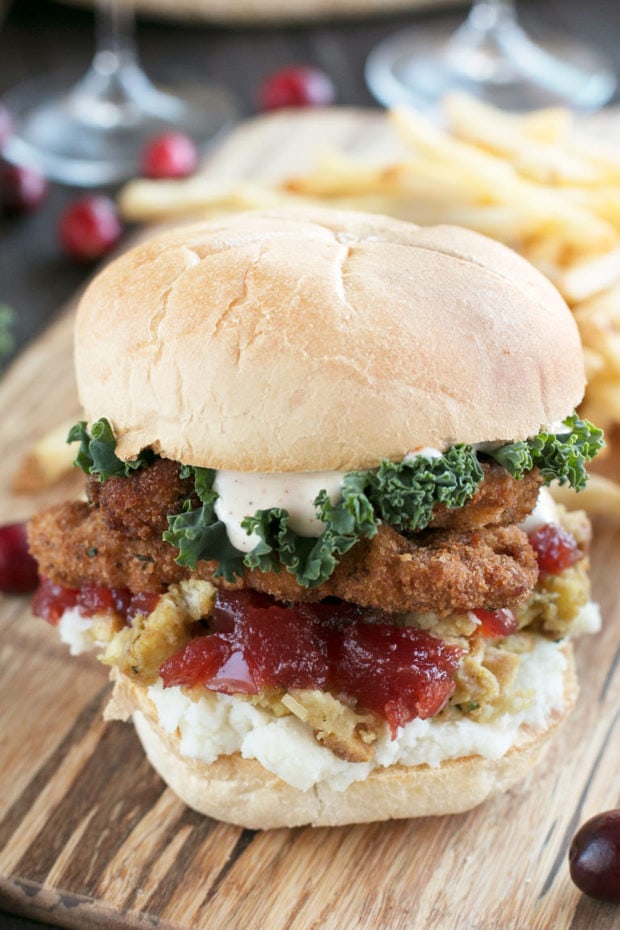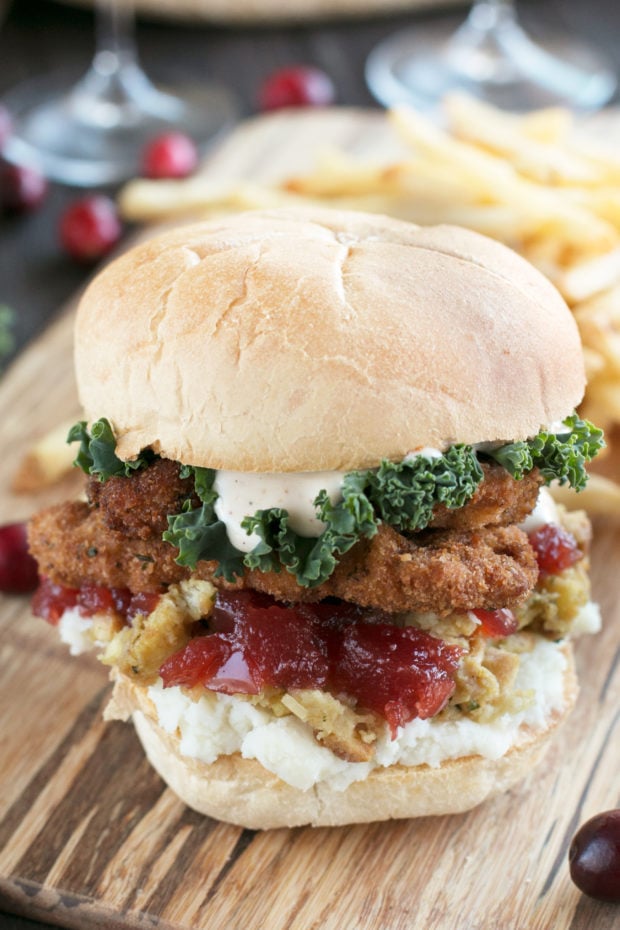 Thanksgiving leftovers are my LIFE. There's just so many things you can do with them, but primarily, I like to keep the Thanksgiving flavor combination going as long as possible. Preferably throughout the weekend, in new and innovative ways of course.
I've told you this time and time again. I'm honestly surprised you aren't sick of it yet…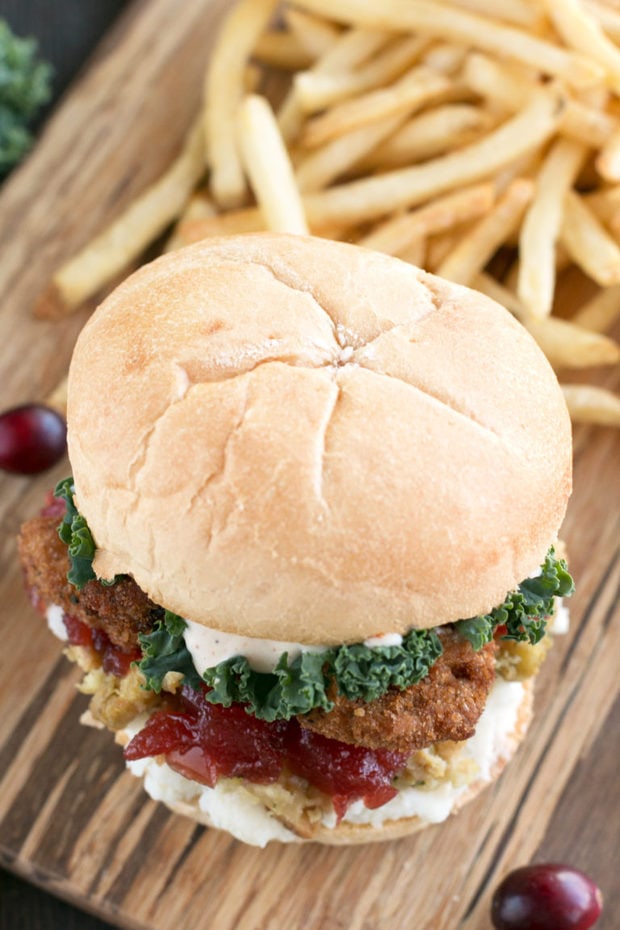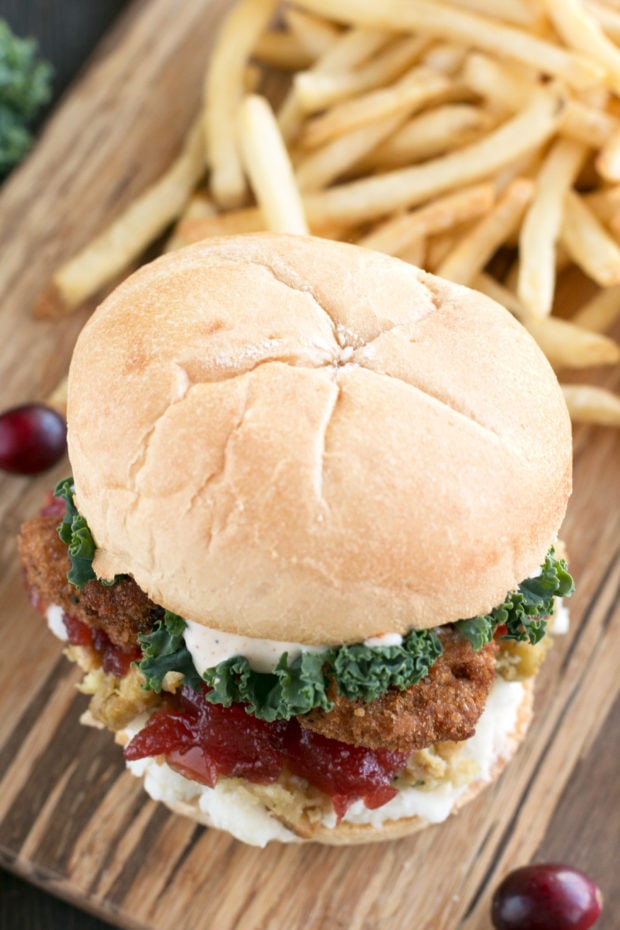 Even if you are, pleeeeease don't tell me, ok? I wanna live in my happy leftovers world!
This is my favorite new take on the Thanksgiving leftover sandwich and holy CRAP have I hit it big with this one, friends.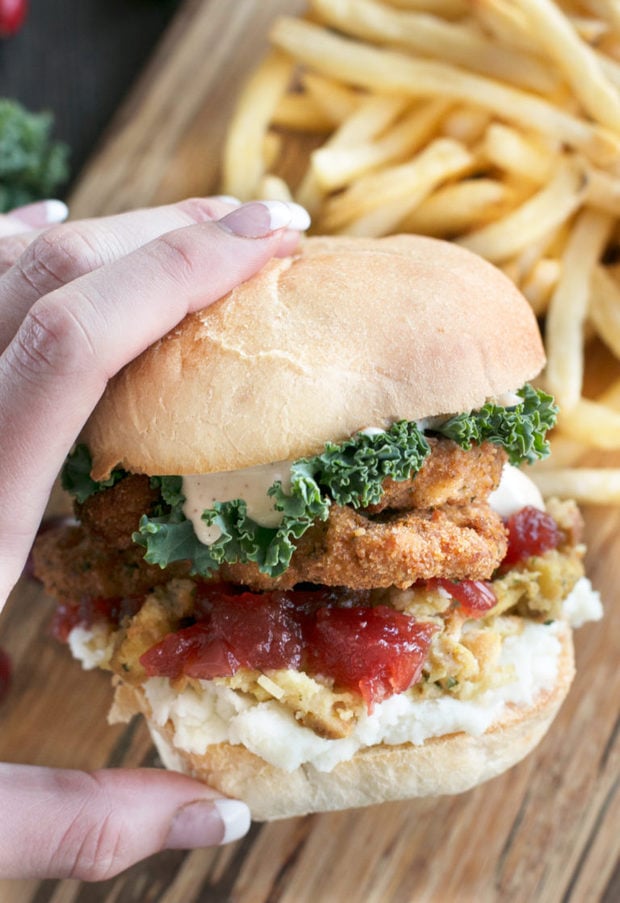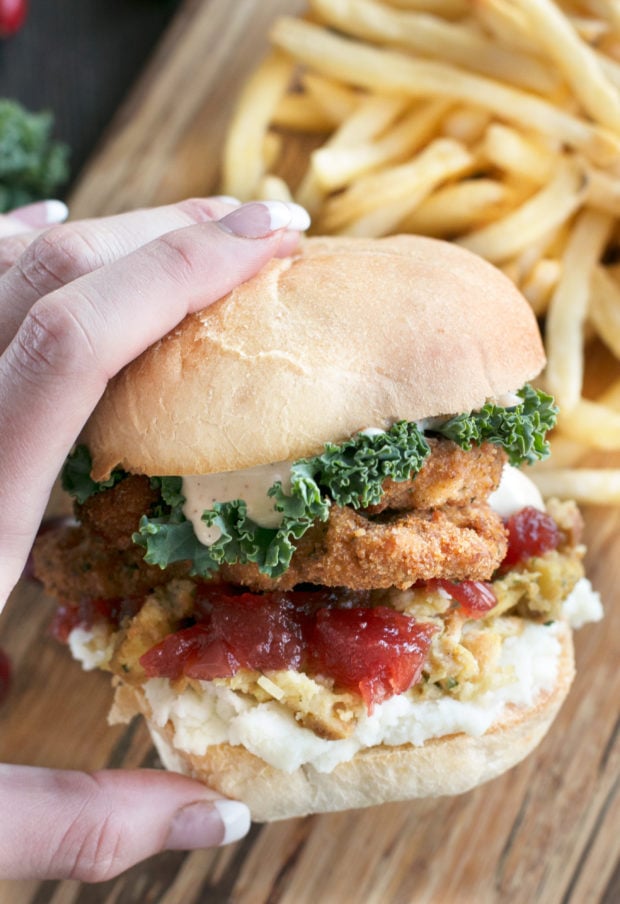 It all starts with the fried leftover turkey. Yep, you read that right – FRIED turkey. Giving the turkey a crispy, golden brown exterior makes the turkey just different enough to shake things up from the normal leftovers routine, without making the turkey something it isn't.
These little fried pieces of deliciousness are then piled up on a toasted bun with all of my favorite side dishes.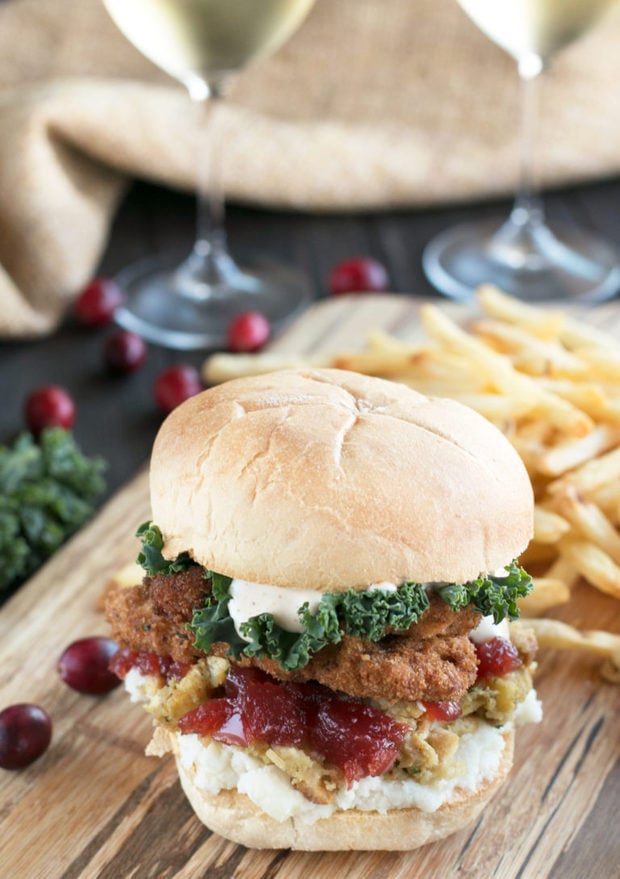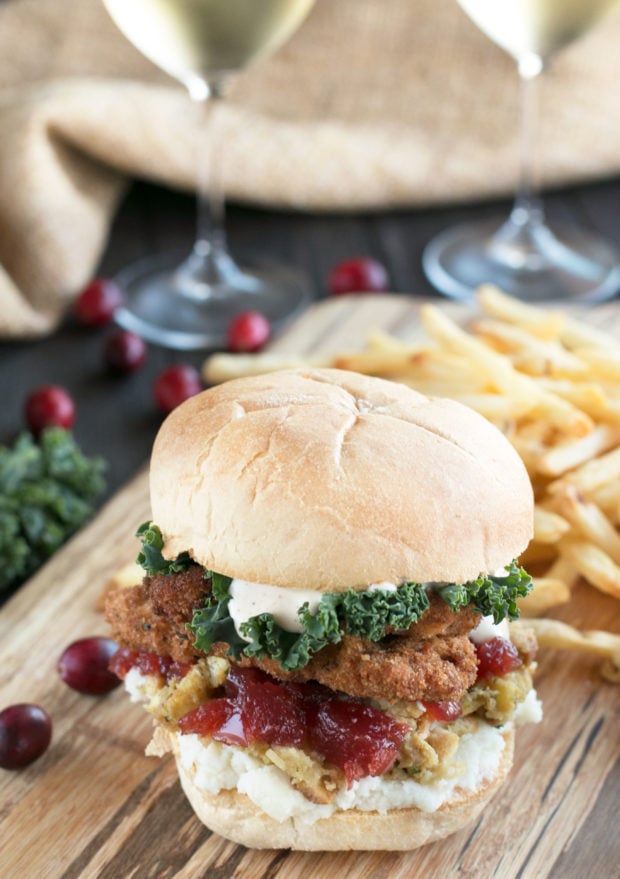 Cranberry sauce.
Mashed potatoes.
Stuffing.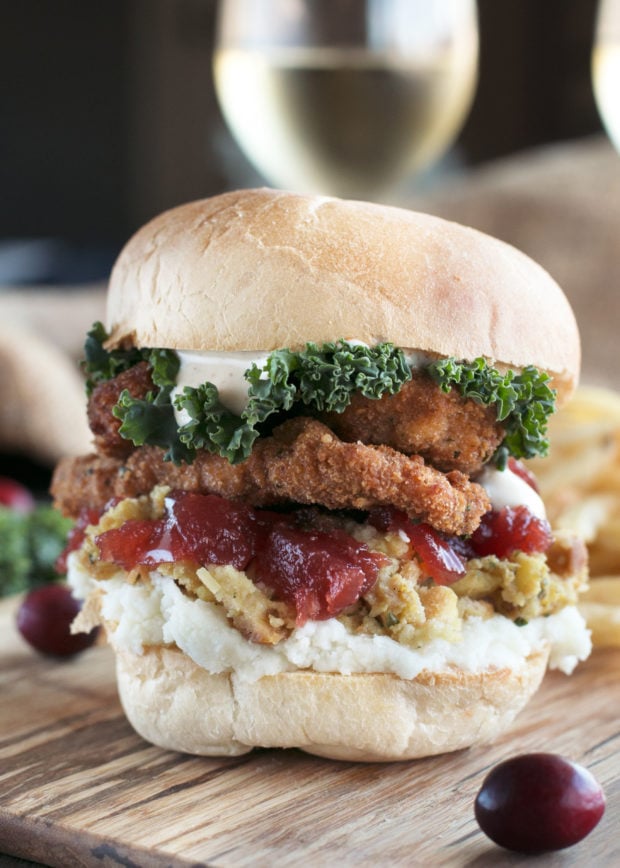 It's all layered up on this Thanksgiving leftover sandwich! Instead of drizzling the whole thing with gravy, I made a gravy aioli with some cajun infusion for some heat to liven things up. It is absolutely delicious and I like to use the leftovers to dip the fries in (because a Thanksgiving leftover sandwich should be served with more fried things, am I right?).
With the peppery bite of kale in the mix and the fresh bite of greens on such a heavy sandwich, you get just the right balance and literally a bite of Thanksgiving in every tantalizing morsel.
This is what having leftovers is meant for.
Get some and keep the Thanksgiving deliciousness going for as long as possible.
can I use any cut of turkey?
You sure can! I personally like to use up the breast this way because it's the part of the turkey that tends to dry out the quickest if you are storing the leftovers. However you can also use cuts of thigh meat if you have that leftover. Just make sure you can get good slices that won't fall apart on you!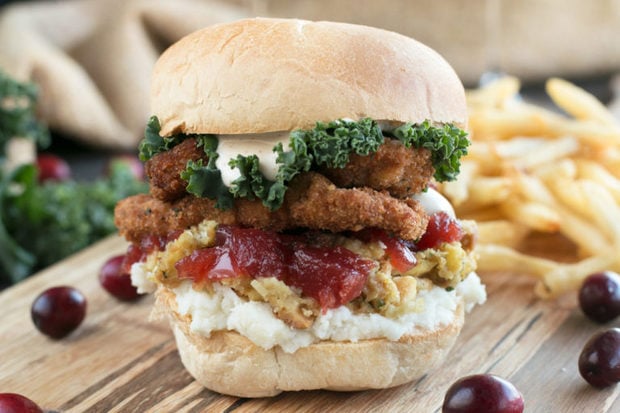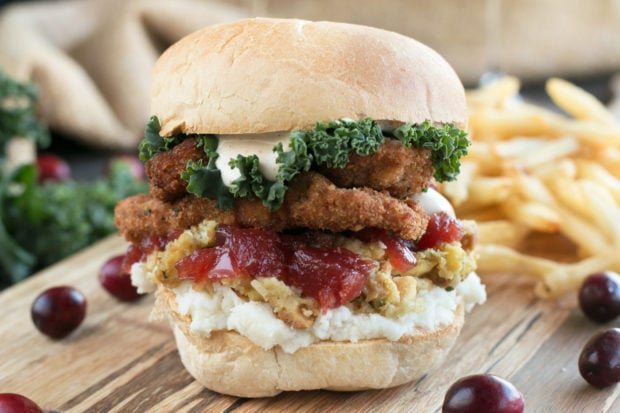 This Recipe's Must Haves
When it comes to frying the turkey, I like to fry mine in a dutch oven or you can use a wok. To remove the turkey pieces, I make sure to use a spider strainer and this one has lasted me for years!
You'll also need a half baking sheet pan to finish off the recipe as well.
If you need to add a bread knife to your knife set, you really can't do better than this one! I love it for slicing through buns, but also slicing through any kind of bread I happen to have around the house.
If you have more leftovers but aren't sure what to do with them, I've got the best Thanksgiving leftovers ideas for you!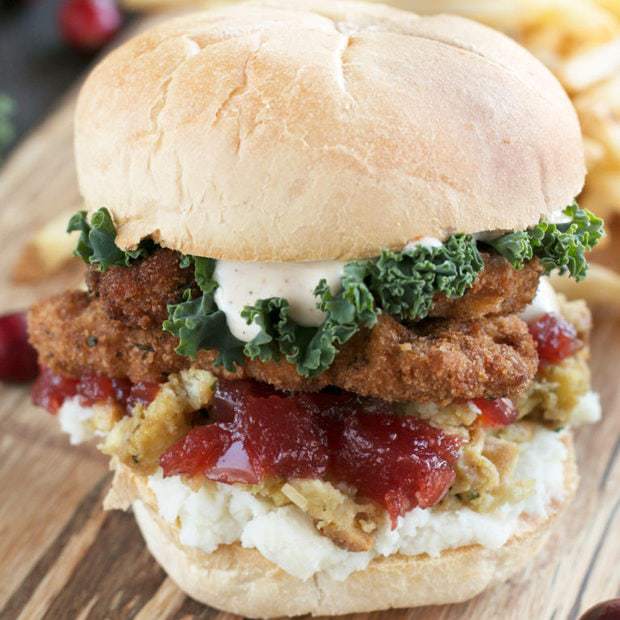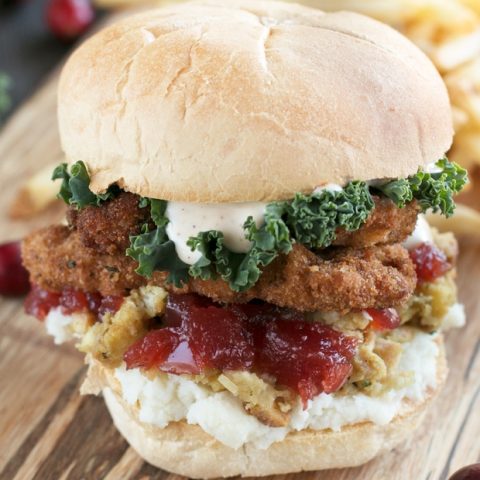 Fried Turkey Thanksgiving Leftover Sandwich
Fried leftover turkey with all the traditional fixings and a cajun gravy aioli to top it all off with! It's the BEST way to enjoy Thanksgiving leftovers EVER.
Ingredients
Fried Turkey
1 cup breadcrumbs
1 tsp salt
1/2 tsp ground black pepper
1/4 tsp cayenne pepper
1/4 cup milk
3 large eggs
1/2 lb leftover turkey, cut into round slices approximately 1/4 to 1/2-inch thick (best time to use that leftover breast!)
Canola oil for frying
Sandwich
4 white Kaiser rolls, cut in half and toasted
1 cup mashed potatoes
1 cup stuffing
1/2 cup cranberry sauce
Cajun Gravy Aioli
1/2 cup mayonnaise
1/2 cup gravy
1 tsp cajun seasoning
1/4 tsp cayenne pepper
Instructions
To make the gravy aioli, whisk together mayonnaise, gravy, cajun seasoning and cayenne pepper in a small bowl. Set in the refrigerator until ready to serve.
In a small bowl, stir together breadcrumbs, salt, pepper and cayenne. In a separate small bowl lightly whisk together milk and beaten eggs. Set aside.
In a medium heavy saucepan, heat approximately 5 inches of canola oil over medium heat until the oil reaches 350°F.
To fry the turkey, dredge each piece in the breadcrumb mixture, then the egg mixture, and then the breadcrumb mixture.
Add the turkey pieces, frying about 4 to 5 at a time, for about 2 to 3 minutes on each side until golden brown and cooked through. Drain on a sheet pan lined with paper towels.
To assemble the sandwiches, spread a layer of mashed potatoes on the bottom half of each roll. Top with a layer of stuffing, and then a layer of cranberry sauce. Add 2 to 3 pieces of fried turkey on top and then add a few pieces of fresh kale.
To finish, spread the top halves of the rolls with the cajun gravy aioli. Top the sandwich and serve.