Please note this post contains affiliate links.
Pecan Pie Manhattan is a nutty version of a bourbon cocktail that I am always obsessed with come fall. The pecan pie bourbon brings a whole new level of flavor to the Manhattan! Dessert can come BEFORE dinner with this bad boy.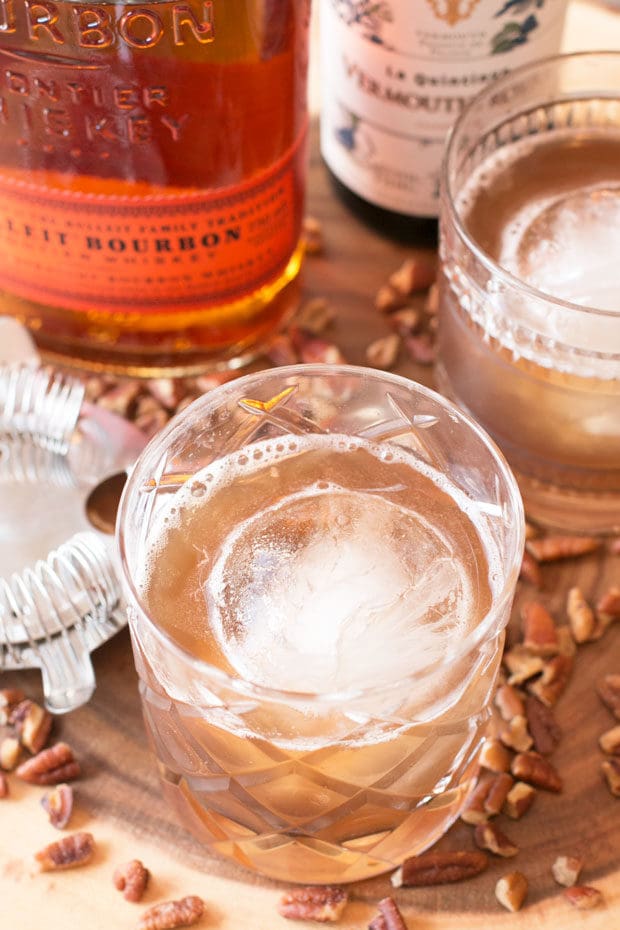 In case you missed my post yesterday, I kicked off the official start to Thanksgiving season with my Cranberry Goat Cheese Tarts AND Blogsgiving!
I thought it would be only fitting to follow it up with a tasty cocktail that'll get you in the mood for Thanksgiving (without you feeling like you have to wait until Thanksgiving to enjoy it).
Whenever I think about Thanksgiving I think about PIE.
I know it's usually turkey, mashed potatoes and stuffing taking up your thoughts when you think of the holiday, but for me it's all about the end of the meal.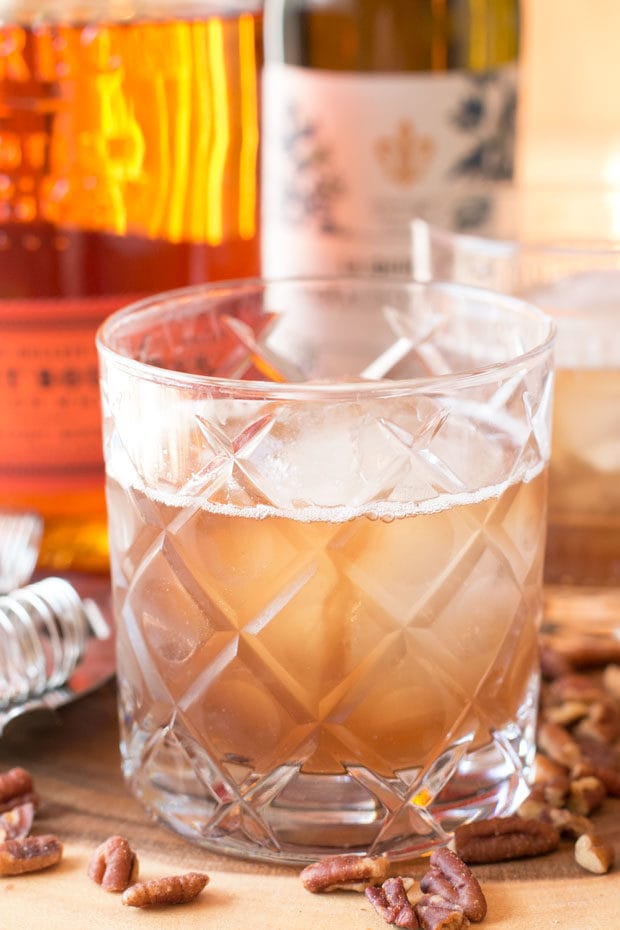 Those luscious pies… from pumpkin to sweet potato, apple and especially pecan.
Oh boy my mouth is already watering just thinking about it…
Side note: Is anyone else starting to prep for their Thanksgiving menu? I want to do something different with my turkey this year (I still want to roast it) and I have no idea where to start.
A chipotle rub? Maybe chili lime? HALP. If you've done something outside the norm, will you pleeeeeeease share below? I need inspiration!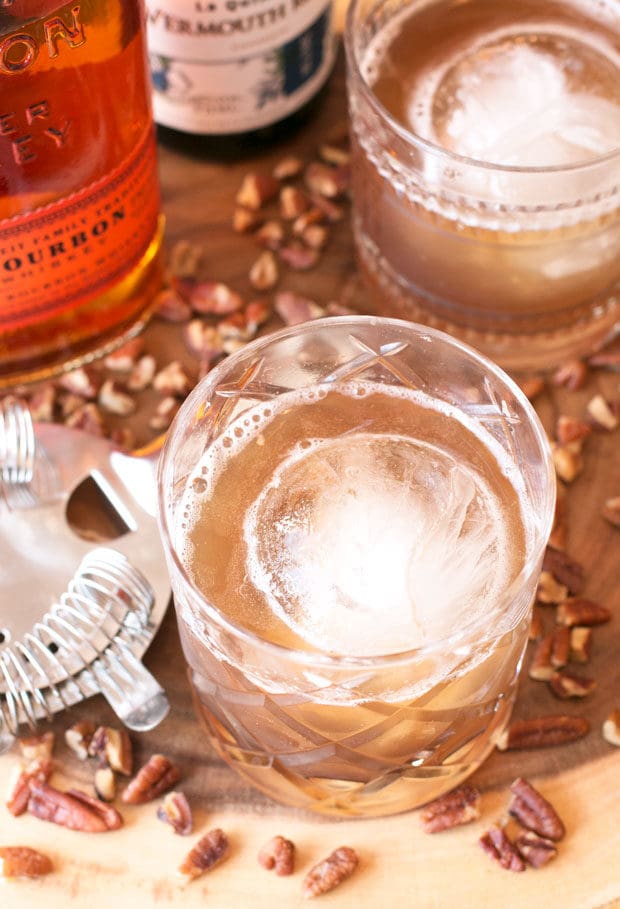 Sorry, that was an intense random tangent… back to regularly scheduled programming!
Pecans are oh-so fall to me. The nutty rich flavor is almost intoxicating, especially when you add it to some bourbon. I used toasted pecans and vanilla to infuse the pecan pie bourbon I have in this cocktail.
The flavor of the bourbon really gives the classic Manhattan cocktail a deeper, richer flavor.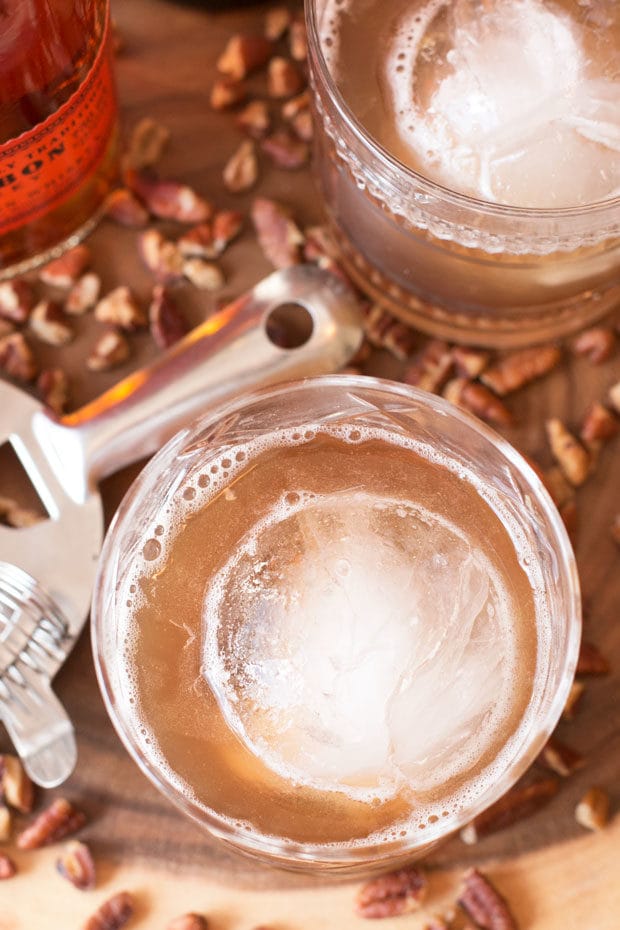 So I'm going to kick back and indulge in one more of these bad boys tonight to get myself in that Thanksgiving-y mood. Cheers, folks!
This Recipe's Must Haves
I like to use one of my mason jars to infuse the bourbon with the pecan pie flavor that makes this cocktail truly unique. I love to also imbibe in the pecan pie bourbon on the rocks after a delicious meal. It also makes for a fun hostess gift if you want to surprise whoever is hosting Thanksgiving dinner this year!
To make the cocktail, you need standard bar items like a cocktail spoon, cocktail shaker, and cocktail strainer.
When you are serving your cocktail in one of your double old fashioned glasses, I love to use an ice cube made in these sphere ice molds. The ice melts a lot slower so the cocktail doesn't get diluted! It's one of my must-haves in our freezer all the time.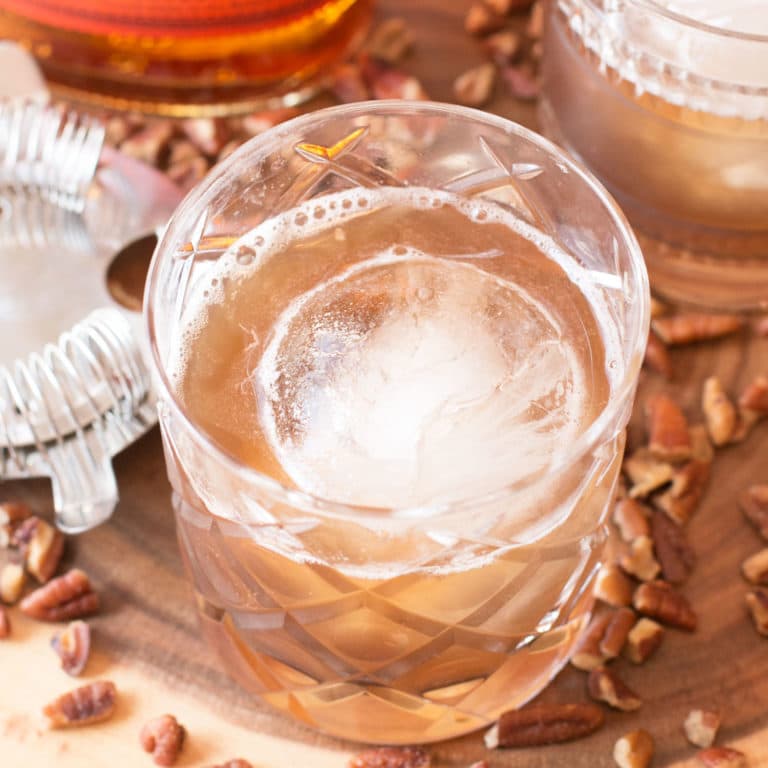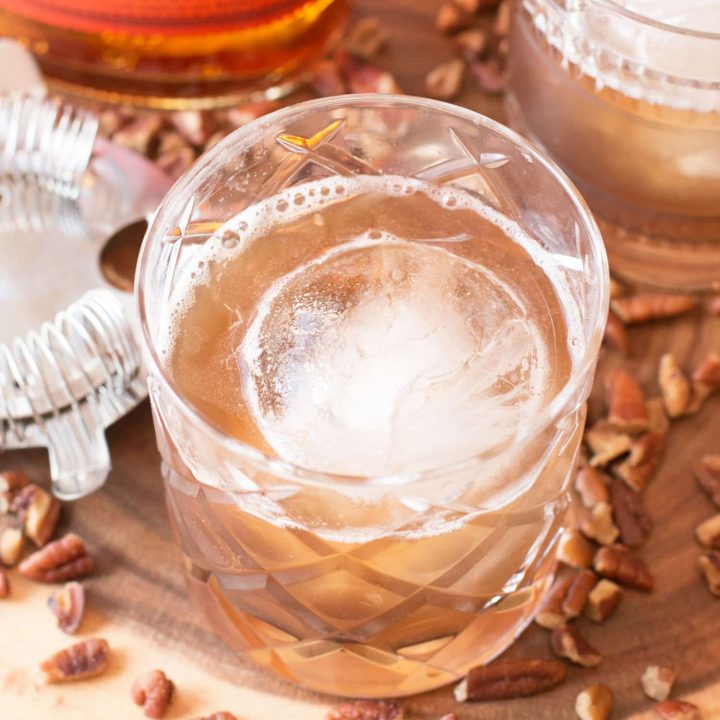 Pecan Pie Manhattan
Yield:
1 cocktail + 2 cups pecan pie bourbon
Total Time:
2 days
5 minutes
Toasted and nutty, this cocktail is a delicious twist on the classic cocktail for happy hour.
Ingredients
Pecan Pie Bourbon
1 cup toasted pecans
1 tsp vanilla extract
2 cups bourbon
Manhattan
1/2 oz sweet vermouth
1 dashes Angostura bitters
2 oz Pecan Pie Bourbon
Orange twist
Instructions
To make the pecan pie bourbon, combine pecans, vanilla and bourbon in an airtight container. Let the bourbon infuse for at least 2 to 3 days.
To make the Manhattan, add sweet vermouth, bitters, and pecan pie bourbon to a shaker. Fill the shaker with ice and shake.
Strain into a rocks cocktail glass filled with ice. Garnish with an orange twist, if desired.
Recommended Products
As an Amazon Associate and member of other affiliate programs, I earn from qualifying purchases.