Please note this post contains affiliate links.
Caramelized Onion, Apple, & Sausage Stuffing is a tasty take on the traditional recipe for your Thanksgiving table. Packed with sausage, caramelized onions, apple, herbs, and dried cranberries, this side dish is warm and comforting. Not to mention, it's oh-so easy and can be made ahead of time!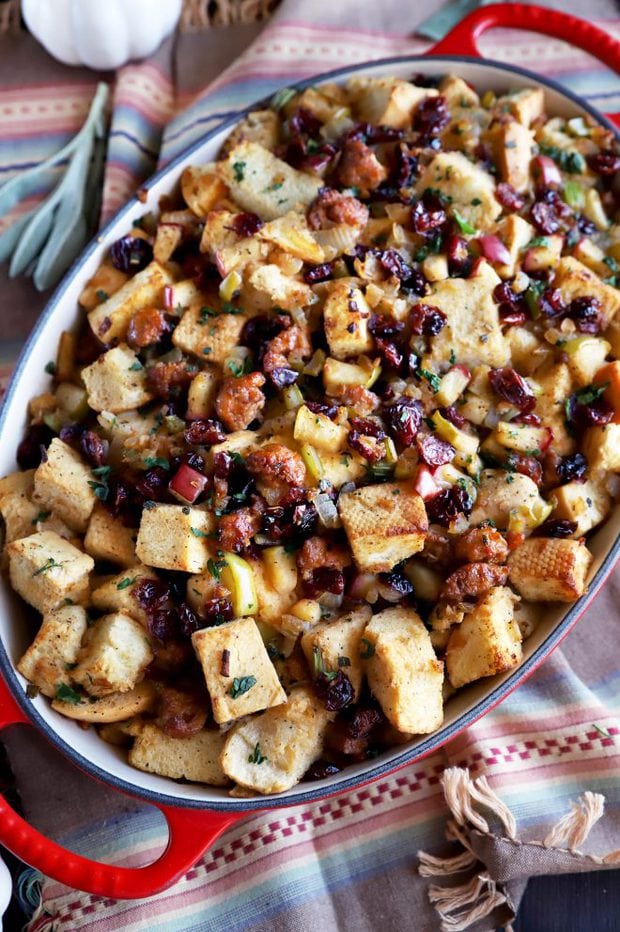 'Tis the season for ALL. THE. FOOD.
Thanksgiving is the Man's favorite holiday. There's nothing as satisfying as cooking his favorite foods throughout the month.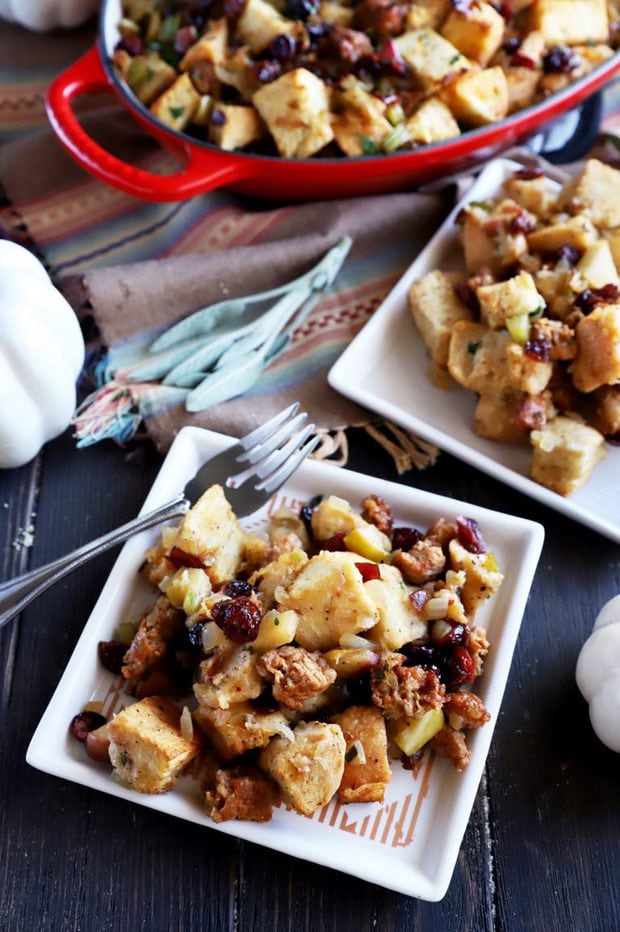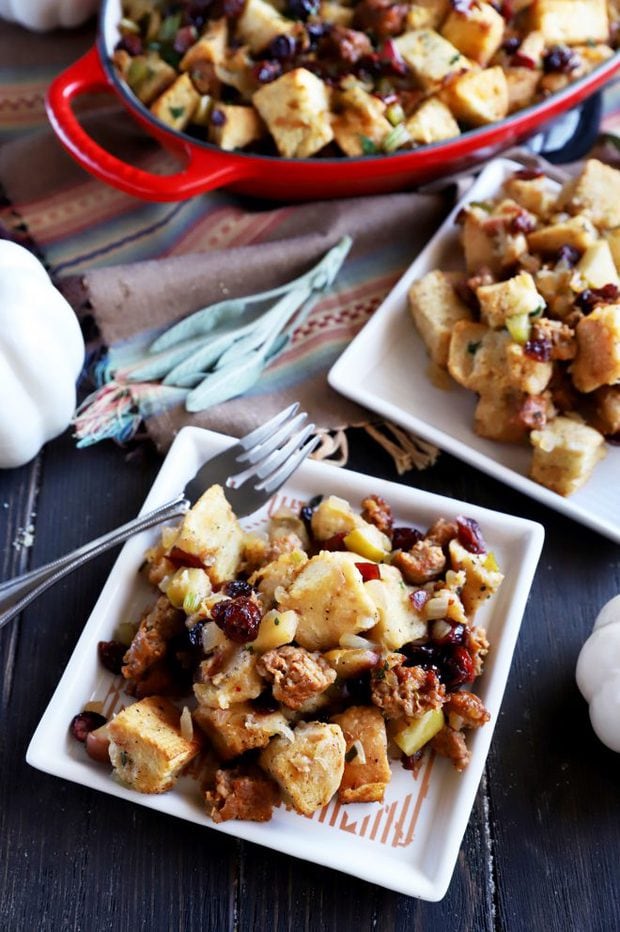 I mean, I always love cooking for others. However, the Man does this little wiggle dance whenever he eats his favorite Thanksgiving foods, and nothing beats the silly grin that spread across his face.
This means that I will make sure he gets all the Thanksgiving food he could ever want, and not just on Thanksgiving.
Behold the glory of being married to a food blogger 😉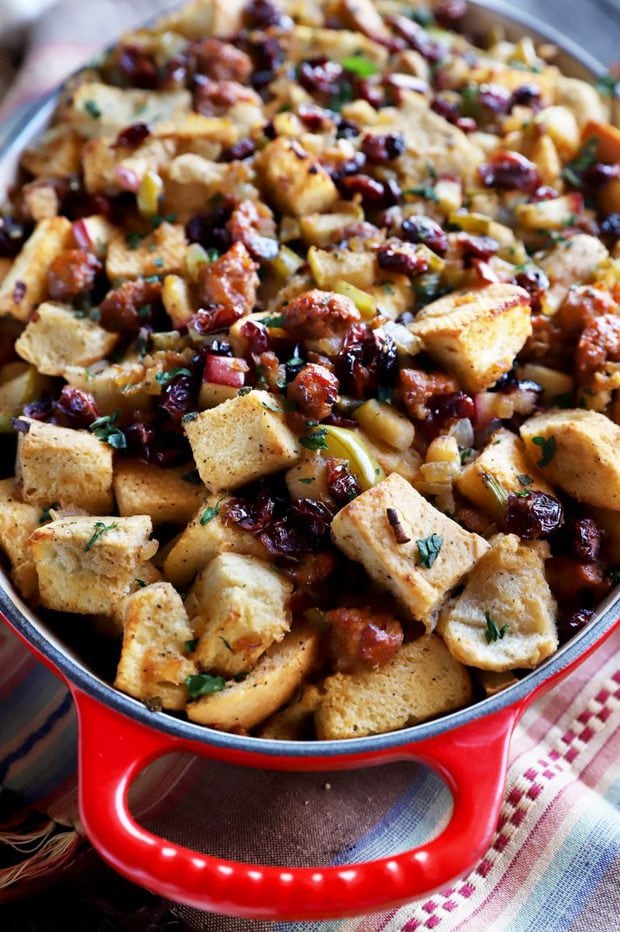 This stuffing is the best one I've made so far. I totally loved the green chile cornbread stuffing I made last year, but if I had to choose, I will always lean towards the more traditional stuffing.
For this recipe, I added in the elements of a traditional stuffing, but this has so much MORE. There's caramelized onions, apples, dried cranberries, French bread, sausage, and fresh herbs.
It's a giant casserole dish of Y-U-M.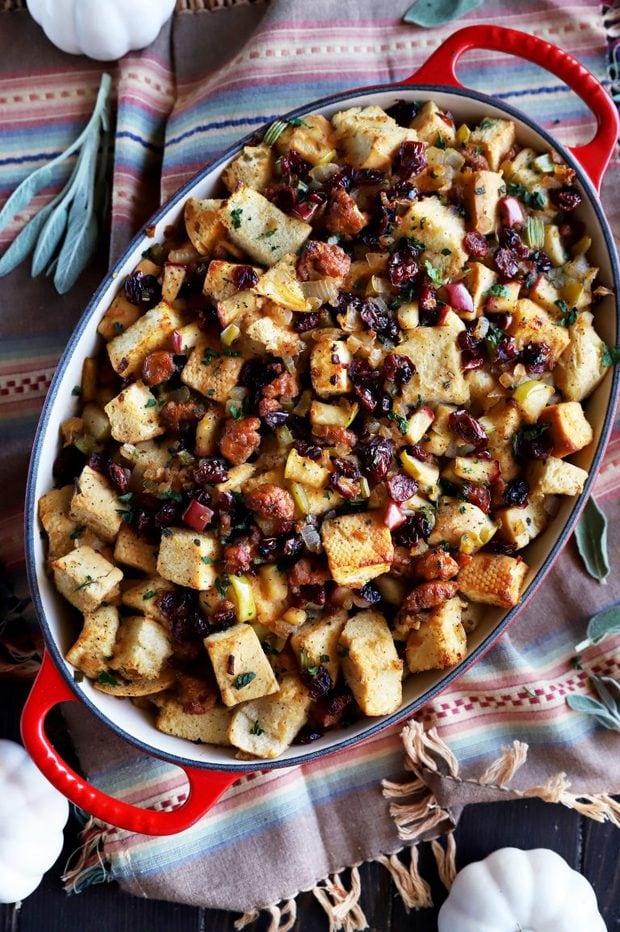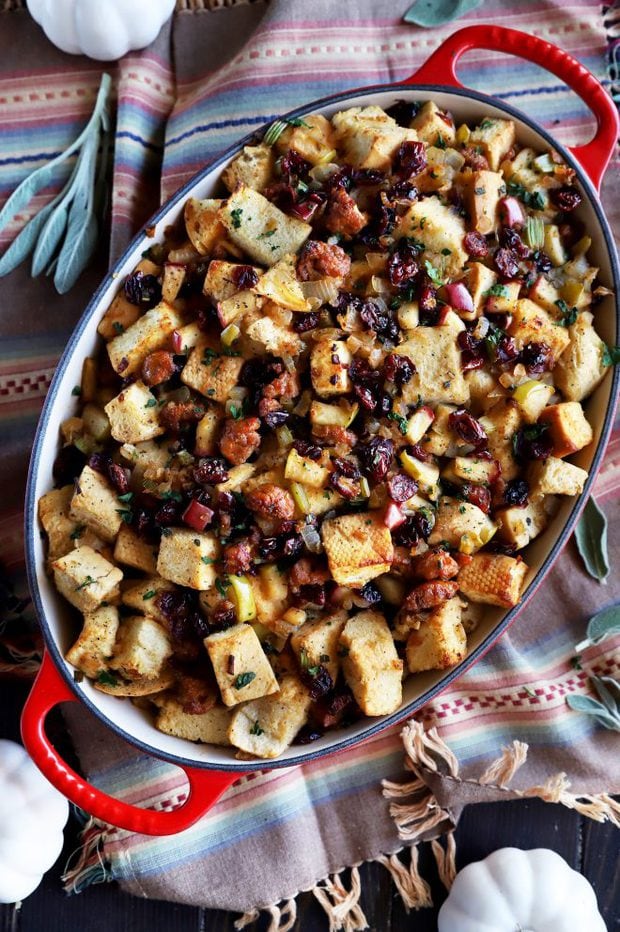 This Recipe's Must-Haves
To get all of the apples, onions, bread, and more chopped up for the recipe, you will want to have your chef's knife and cutting board handy.
You will need to toast up the bread on a half sheet baking pan before making the stuffing mixture. That way the bread doesn't get all soggy when you combine everything and bake it up!
To mix together said stuffing mixture, make sure you use the largest of the mixing bowls that you have. This is a pretty big recipe, so you need a bigger bowl to mix it together well before baking.
I like to bake my stuffing in an oval casserole that is at least 2 1/2 to 3 QT in size. Le Creuset is my favorite because it's a fantastic company, but it also can go from oven straight to the table to serve.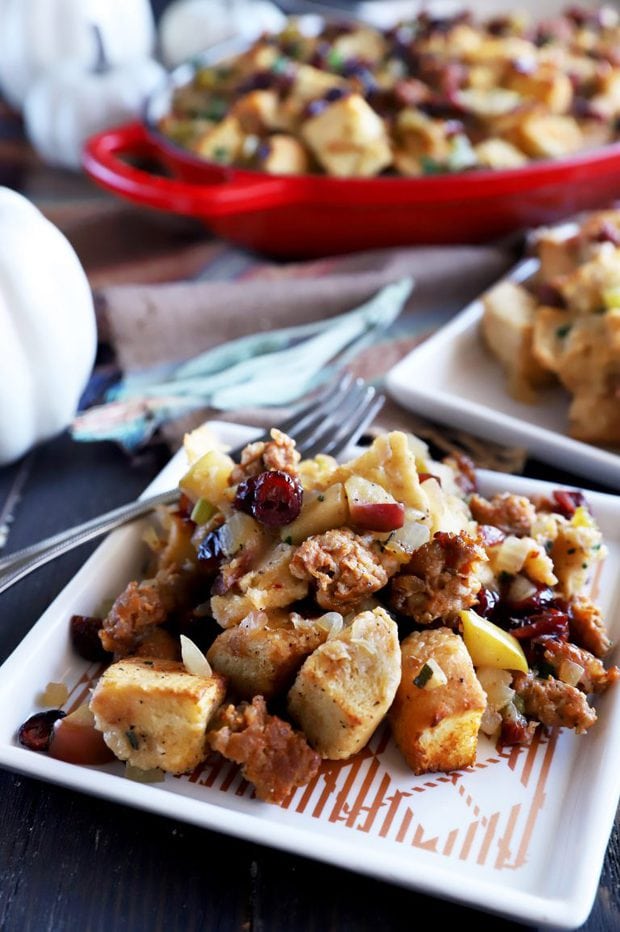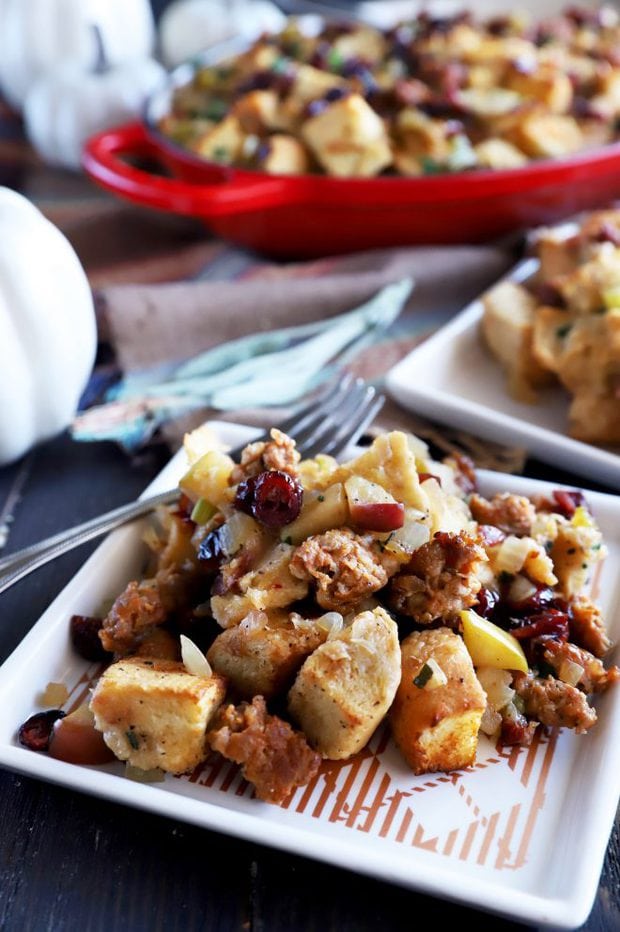 How To Make Homemade Sausage Stuffing
Toast Bread
First, you need to start by toasting the bread cubes on a large baking sheet in an even layer. This is a key step to make sure that you dry out the bread before you mix in all the other elements. It is this step that ensures your stuffing doesn't get too soggy after it bakes up in the oven.
Caramelize Onion
I LOVE caramelized onions. Making them takes a little bit of time on the stovetop, but it is well worth it. The flavor comes out strongly in the stuffing, along with the savory sausage and sweet, tart apples. All you have to do is throw the onions in a pan and cook them down until they are a deep, golden brown.
Cook Vegetables And Apples
Once you remove the onion from the pan, you can cook the remaining celery, apples, and herbs down in the same pan! When everything is softened, remove it from the pan to combine with the bread and onions.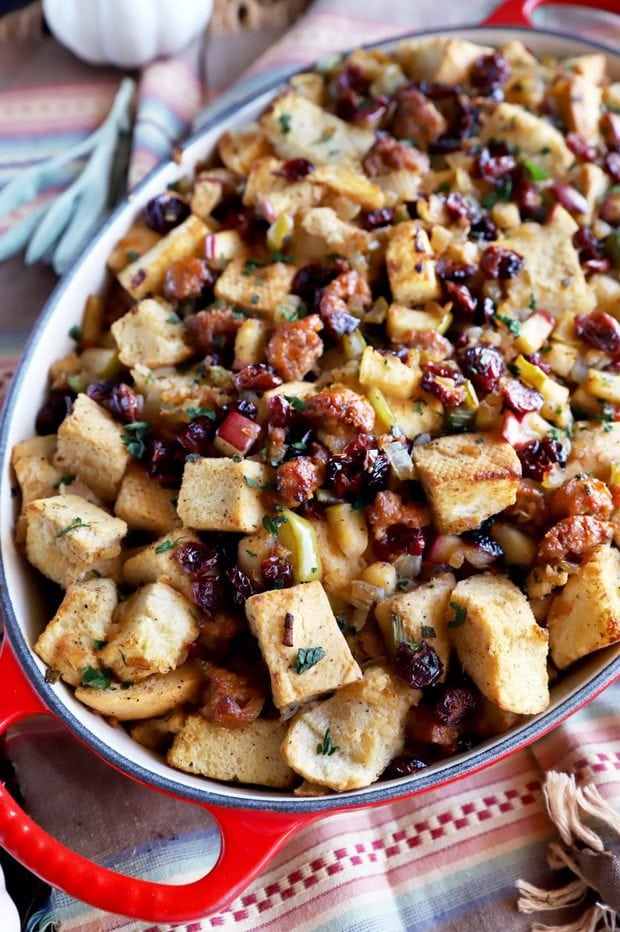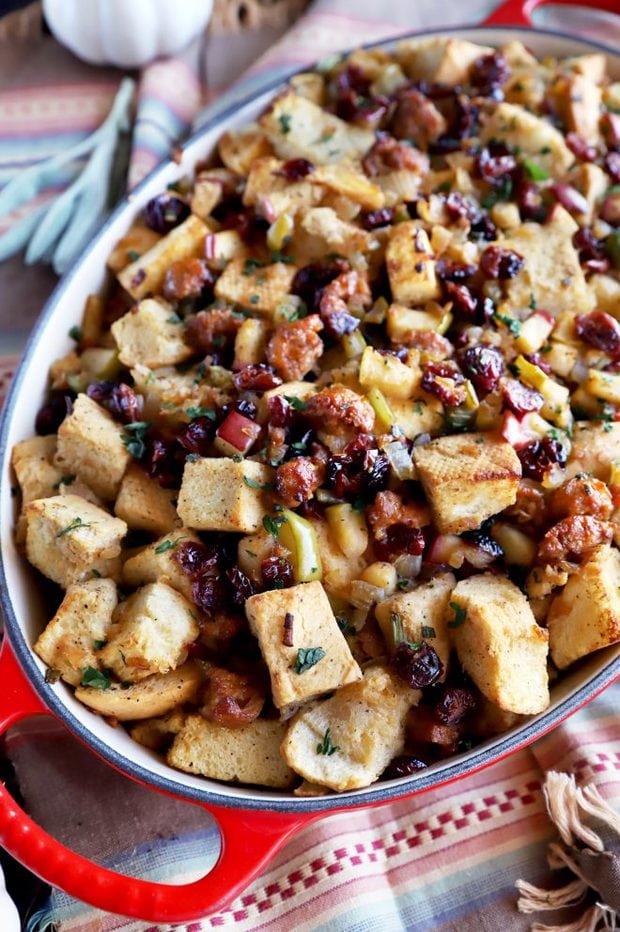 Cook Sausage
Once again, in the same pan even, you can cook the sausage until it's broken down into chunks and cooked completely through.
Stir
When everything is together in a bowl, you stir it all until everything is easily distributed throughout the mixture.
Bake
After it's all combined, just add it to your favorite baking dish that is at least 2 1/2 quarts total. Once it's all warmed through and the top is golden brown, it's ready to devour.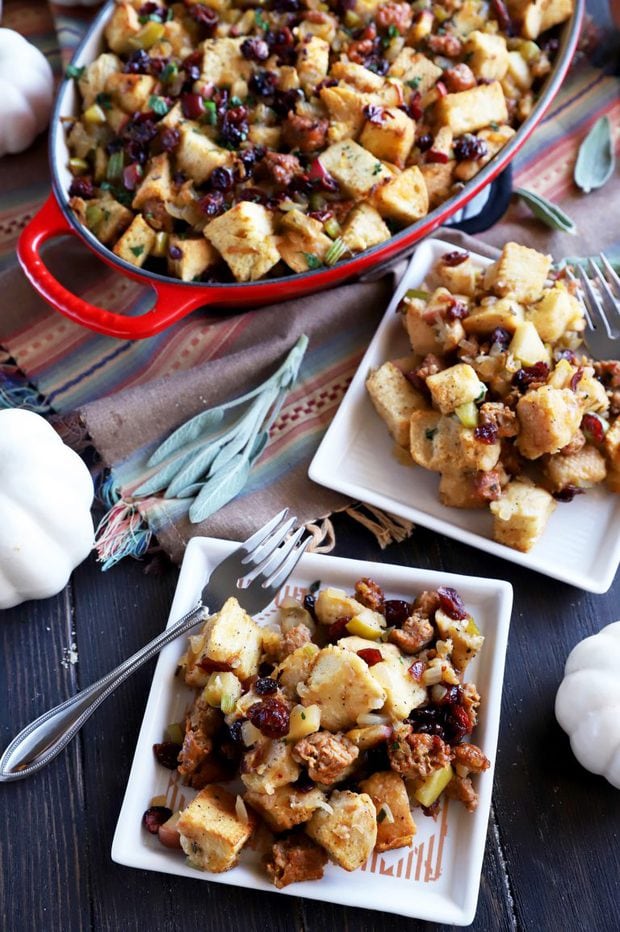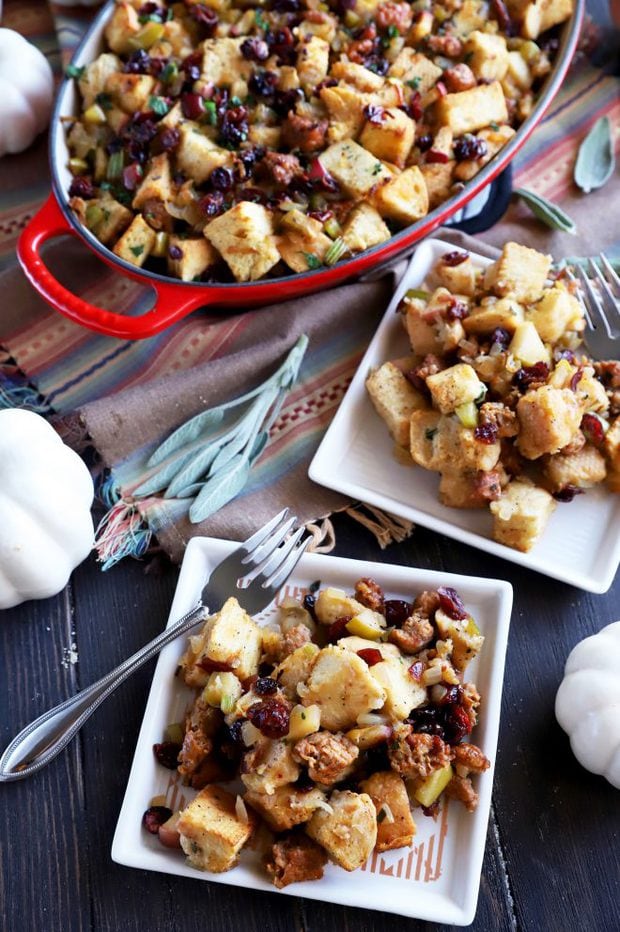 What sausage is best for stuffing?
When it comes to choosing the sausage for this recipe, you can one of two ways – sweet or spicy! Personally, we love the heat in spicy Italian sausage because it brings another level of flavor to the mixture with the savory, tart, and sweet elements. However if you don't like spicy or you have guests who do not like heat, you can use sweet sausage as well. It's just as tasty!
For another side that's a unique take on sweet potatoes, these cheesy hasselback sweet potatoes will blow your mind.
If you are looking for the best turkey, you have to try a smoked turkey! Plus, if you are short on time, you can skip the brine and opt for a turkey injection recipe instead.
Need a tasty dessert for Thanksgiving? Check out my Bourbon Caramel Apple Galette.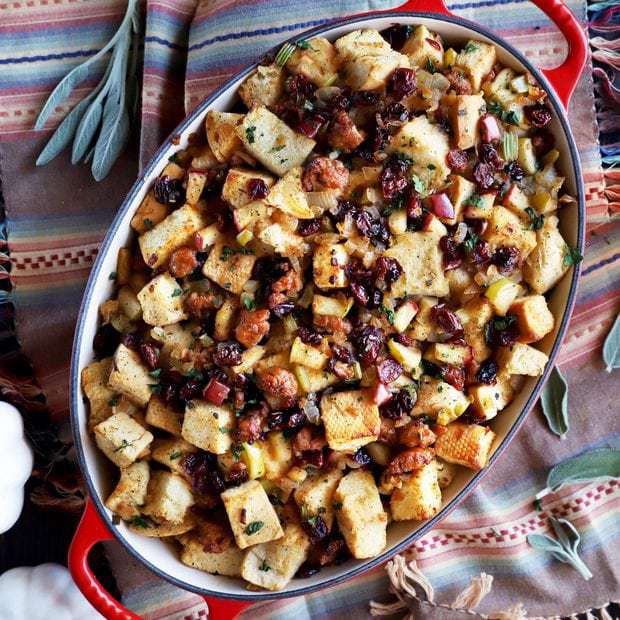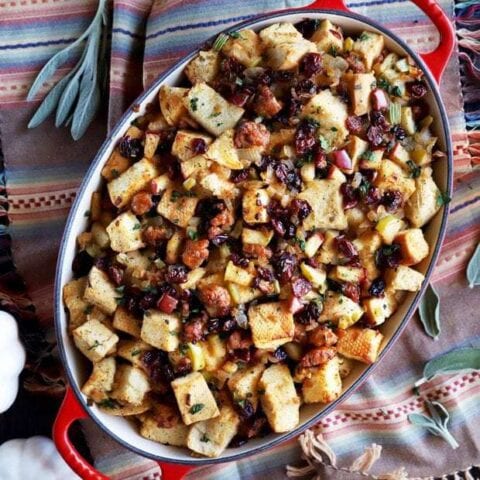 Caramelized Onion, Apple, & Sausage Stuffing
Cook Time:
1 hour
5 minutes
Total Time:
1 hour
15 minutes
This traditional stuffing is packed with sausage, apple, caramelized onions, and cranberries! It's just what your holiday table is craving.
Ingredients
16 cups 1-inch bread cubes, white or sourdough (1 1/2 pound loaf)
8 Tbsp unsalted butter
2 medium yellow onions, finely chopped
2 stalks celery, diced
1 Granny Smith apple, unpeeled, cored and large-diced
1 Red Delicious apple, unpeeled, cored and large-diced
2 Tbsp chopped flat-leaf parsley
1 tsp kosher salt
1 tsp freshly ground black pepper
1 Tbsp freshly chopped sage leaves
3/4 lb sweet or spicy Italian sausage, casings removed
1 cup chicken stock
1 cup dried cranberries
Instructions
Preheat the oven to 300˚F.
Add bread cubes to a sheet pan in a single layer. Bake for 7 minutes, until toasted and lightly golden brown. Remove from oven and place cubes in a large bowl.
Raise oven temperature to 350˚F.
Melt 4 Tbsp butter in a large saute pan over medium-high heat. Once melted, add onions and cook down until they are caramelized and a deep golden brown, stirring occasionally, about 15 minutes.
Remove onions and add to the large bowl with bread. Melt remaining butter in the pan. Once melted, add celery, apples, parsley, salt, pepper, and sage. Cook until the celery has softened, about 7 to 10 minutes, stirring occasionally. Add to the bread.
In the same saute pan, cook sausage for about 10 minutes, until browned and cooked through. Make sure to break up the sausage with a fork while cooking. Drain the sausage and add meet to the bread and vegetables.
Add chicken stock and cranberries to the bread mixture. Use a spoon to mix well until combined and everything is evenly distributed.
Pour stuffing into a 2 1/2 to 3 quart baking dish.
Bake for 30 minutes, until browned on top and hot in the middle. Serve warm.
Recommended Products
As an Amazon Associate and member of other affiliate programs, I earn from qualifying purchases.