Please note this post contains affiliate links.
These Thanksgiving Leftovers Tostadas are a new favorite way to enjoy my favorite Thanksgiving foods after the holiday is over. All the stuffing, cranberry sauce, turkey, mashed potatoes and gravy you could want in every single crispy bite!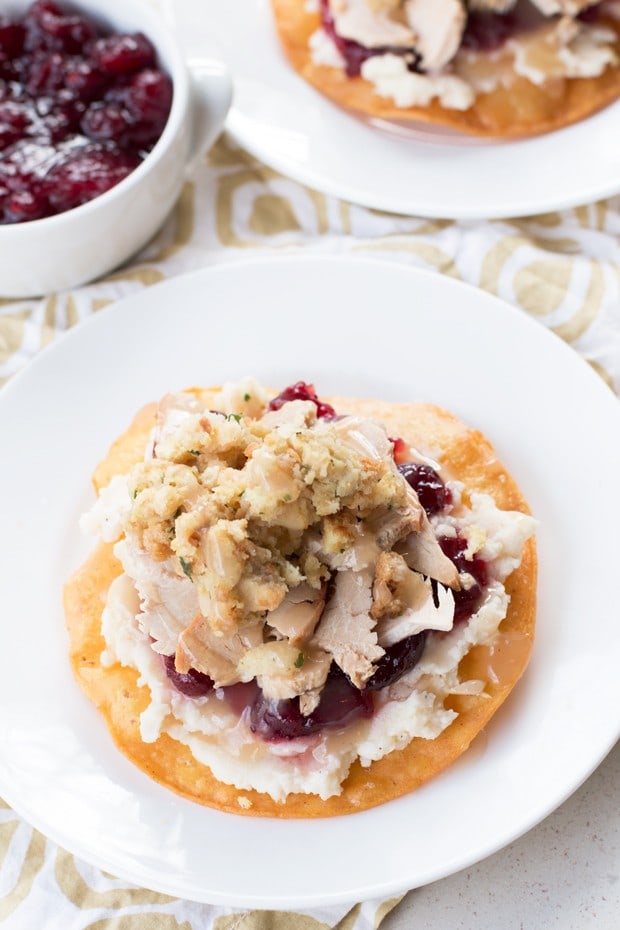 Every single year I end up making some sort of recipe with Thanksgiving leftovers, like these sandwiches and these egg rolls. Is it bad that part of me looks forward to the leftovers more than eating all that deliciousness on Thanksgiving?
You know, the day after Thanksgiving, I avoid all shopping.
I spend the day curled up on the couch or in bed, being as lazy as possible, watching movies and indulging in leftovers. It's kind of the perfect day… Really it's become a tradition so I have to keep finding new ways to enjoy my leftovers every year!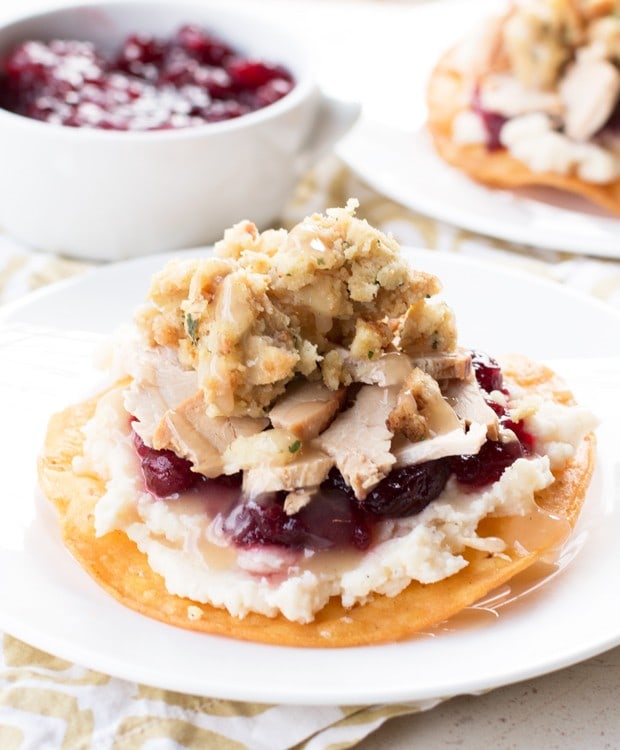 Transforming Thanksgiving leftovers into a carefully layered pile on top of an oh-so crispy fried tortilla is just…. perfection. The crunchiness of the fried tortilla with all those classic Thanksgiving flavors is just the right extra ingredient to bring to the party. It makes the leftovers taste THAT much better.
No seriously. It does.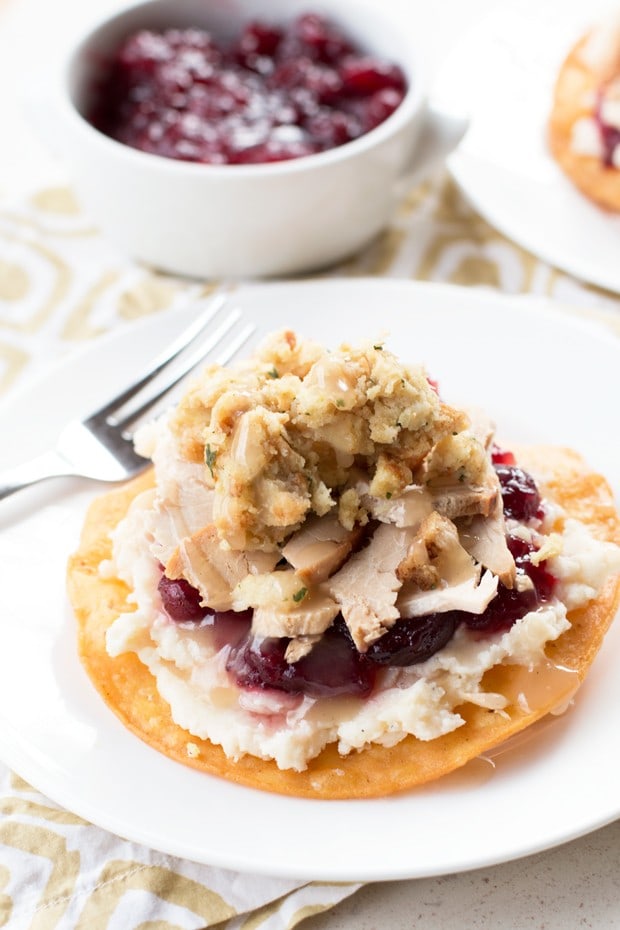 Thanksgiving really snuck up on me this year, you guys. I am having a hard time accepting that it's happening this week! Perhaps it's because this is the first year I'm not doing intense cooking and prep…
I thought I'd be thankful for the break and getting to kick back and just enjoy this holiday, but now I feel anxious and off.
Ridiculous right? I need to just cool it and remember that these tostadas are coming (again) into my life soon!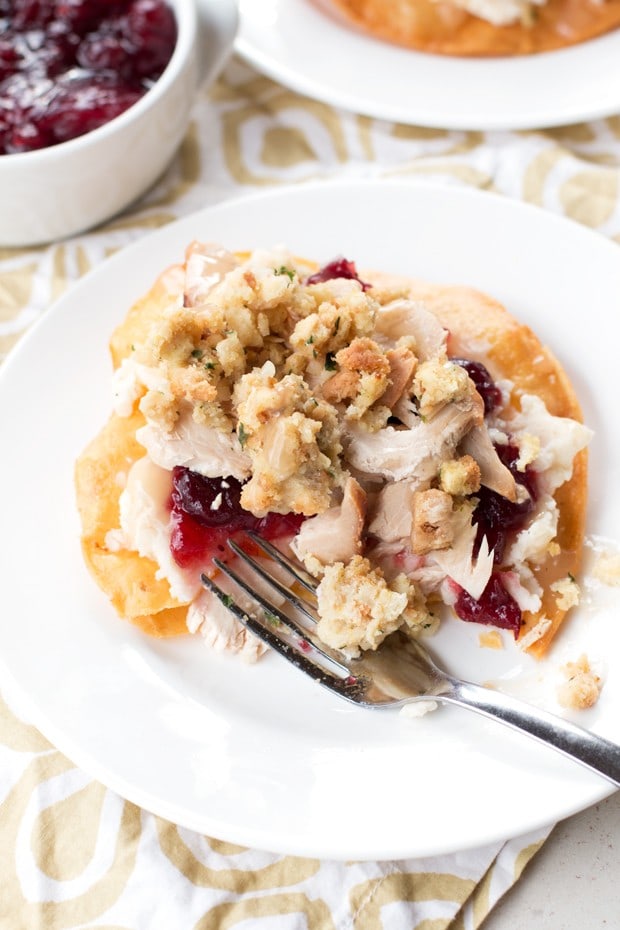 Now I need you to distract me!
And we all know, food is the best distraction for a girl like me. What are you looking forward to cooking (or eating) most on Thanksgiving?
I know it's weird, but one of the things I look forward to the most is a homemade cranberry sauce made with fresh cranberries, a little orange zest, and grand marnier… It's absolutely divine with turkey and stuffing, giving you a tart pop with all those savory flavors you love at Thanksgiving.
Though, bacon gravy is a close second for sure because that savory goodness is fantastic on EVERYTHING. I am pretty sure everyone I serve it to would like to bottle it and stick it in their fridge LOL. It's honestly one of those things that you really need to pull these tostadas together – a really good gravy totally makes it!
This Recipe's Must Haves
You will need your favorite chef's knife to cut up the turkey for topping these easy tostadas! I say you always need a killer knife in your kitchen for absolutely everything you cook.
A skillet like a cast iron skillet is what I like to use to fry up the tortillas in oil. I also use clongs to easily flip them until they are nice and golden brown! They hold up in the oil really well and don't melt at all!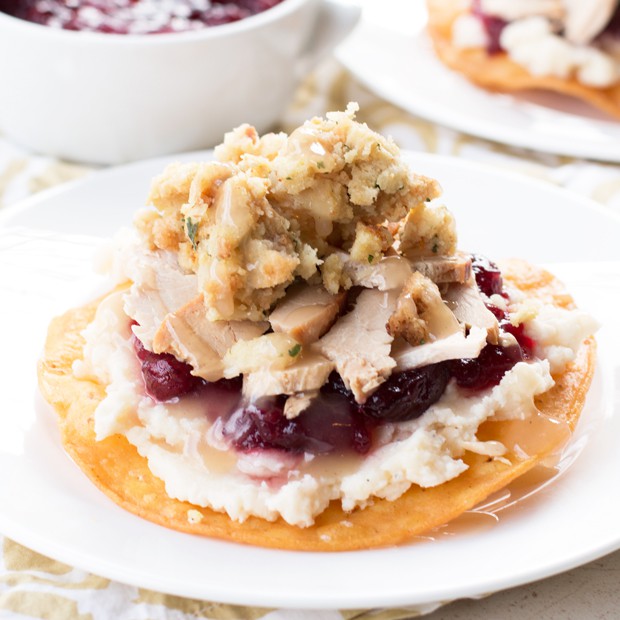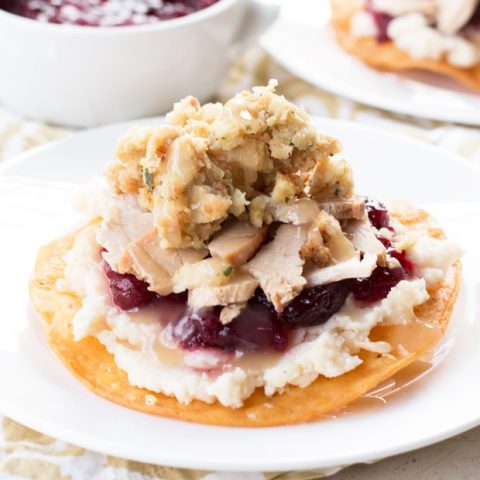 Thanksgiving Leftovers Tostadas
All the stuffing, cranberry sauce, turkey, mashed potatoes and gravy you could want in every single crispy bite!
Ingredients
4 corn tortillas
Frying oil
Salt
1 cup mashed potatoes
3/4 cup cranberry sauce
8-10 oz sliced turkey, cut into small pieces, any size is good
1 cup stuffing
1/3 cup gravy
Instructions
In a small skillet, add canola oil until about 1 inch deep. Heat oil over medium-high heat. Once the oil is hot and shimmering, fry corn tortillas one at a time, until golden brown, approximately 1-2 minutes per side. Remove to a paper-towel lined plate to drain and sprinkle with salt. Repeat with the remaining tortillas.
Reheat the mashed potatoes, stuffing, turkey and gravy in the microwave or oven.
To build your tostadas, slather the crispy corn tortilla with a thick layer of mashed potatoes. Then top with cranberry sauce, sliced turkey, stuffing and drizzle over the gravy. Serve immediately.
Recommended Products
As an Amazon Associate and member of other affiliate programs, I earn from qualifying purchases.