Please note this post contains affiliate links.
If you need a drink for a crowd in a hurry, this Last Minute Apple Pie Sparkling Sangria is just the boozy treat to serve. With fresh apples, homemade Apple Pie Infused Whiskey, and cinnamon, the chilled white sangria is a killer cocktail for Thanksgiving.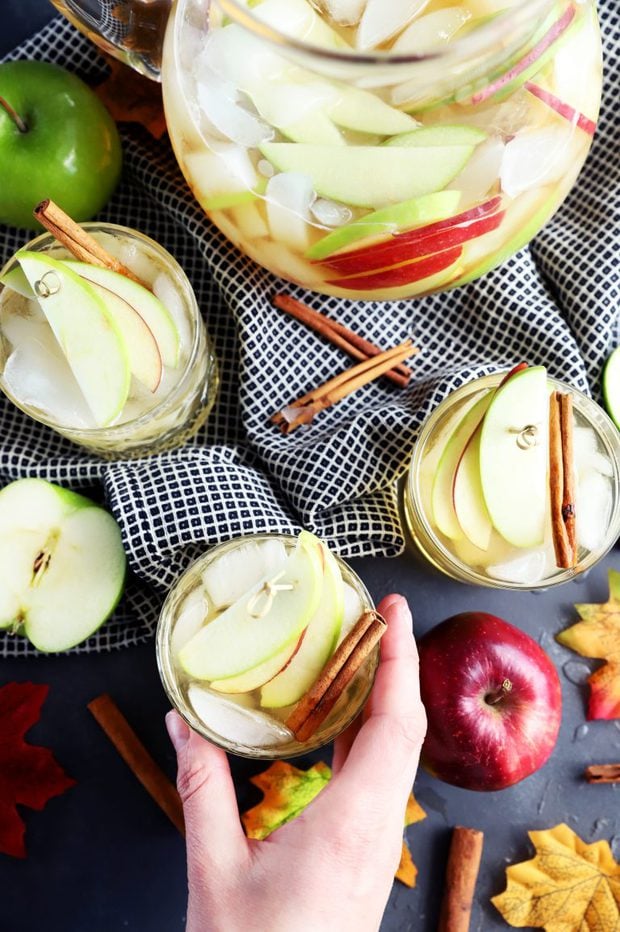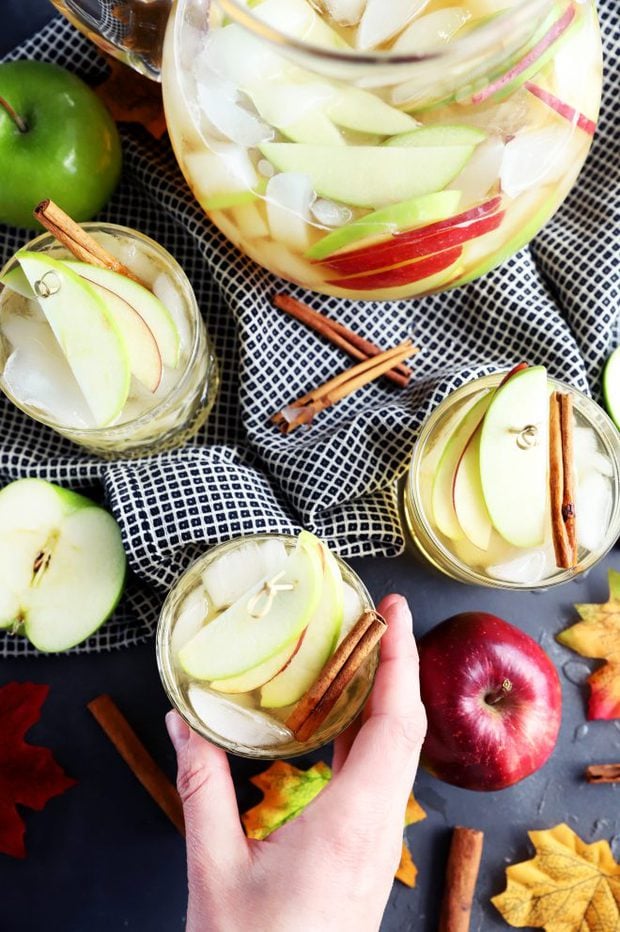 Can you believe how quick Thanksgiving is coming up? I am still in shock that it is even November, let alone almost halfway through the dang month.
All I can think is I AM NOT READY.
I mean, I am ready (so so so ready) for holiday season and the merriment. However I am NOT ready for me to blink my eyes and the year to be over. It all just flies by so quickly and by the time it's Christmas Eve, I've missed it all.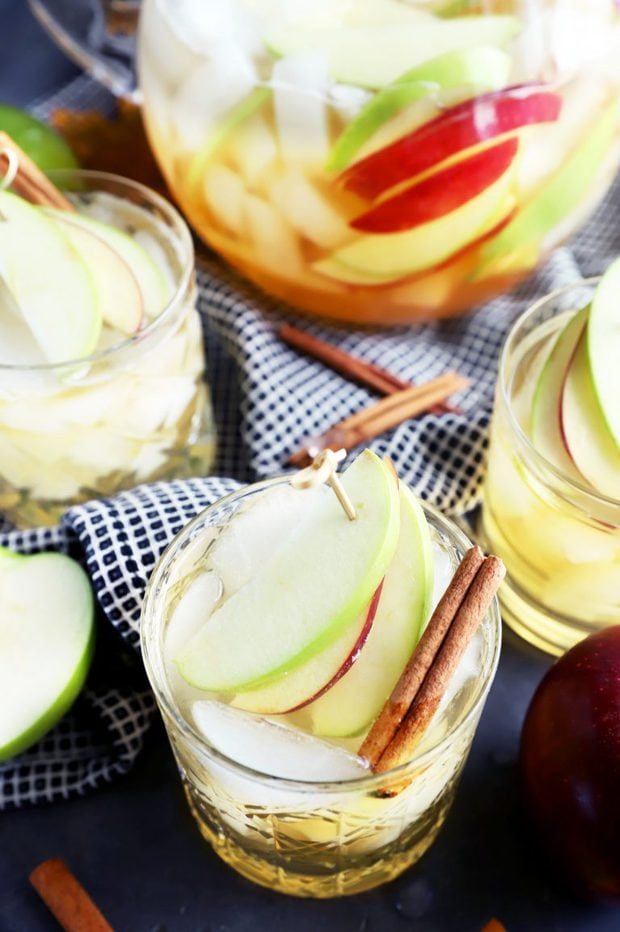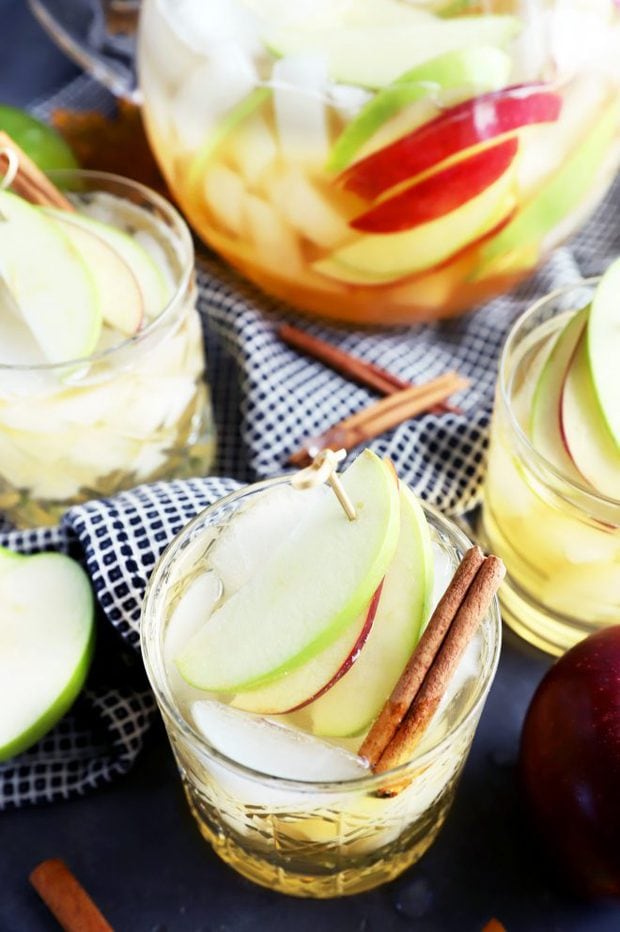 This year, I am trying to plan to take a whole week off in December. Not to go anywhere. Not to do anything. Just to shut down, spend time with family and friends, and BE.
When I worked in the corporate world, there was one job where the office shut down from Christmas Day through New Year's Day. I remember those days so fondly because, hello lots of paid time off! However it was also because of the time I got to just enjoy my life around the holidays.
It's my favorite time of year and it's been at least 10 years since I took that time off.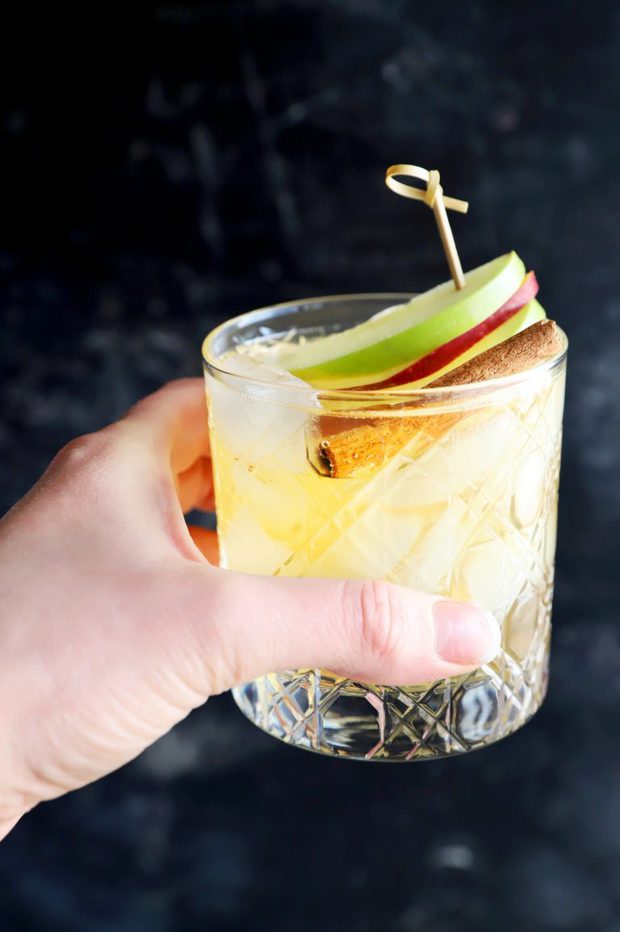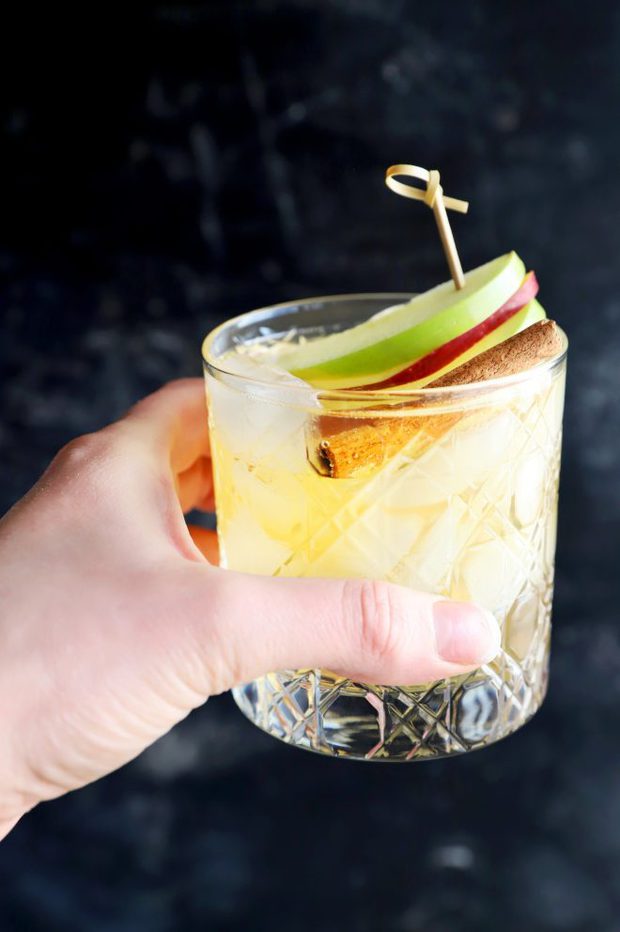 So I might as well do it now, shouldn't I?
You know, before we start thinking about being on the baby train again and our lives change completely.
When it comes to Thanksgiving, things can be oh-so stressful. Not only are you planning out an entire meal for many people, hoping you don't screw it up, and trying to entertain, you have to prepare many many days ahead.
Often, something gets forgotten. Usually, for me, it's prepping a special drink for the pre-dinner gathering that happens.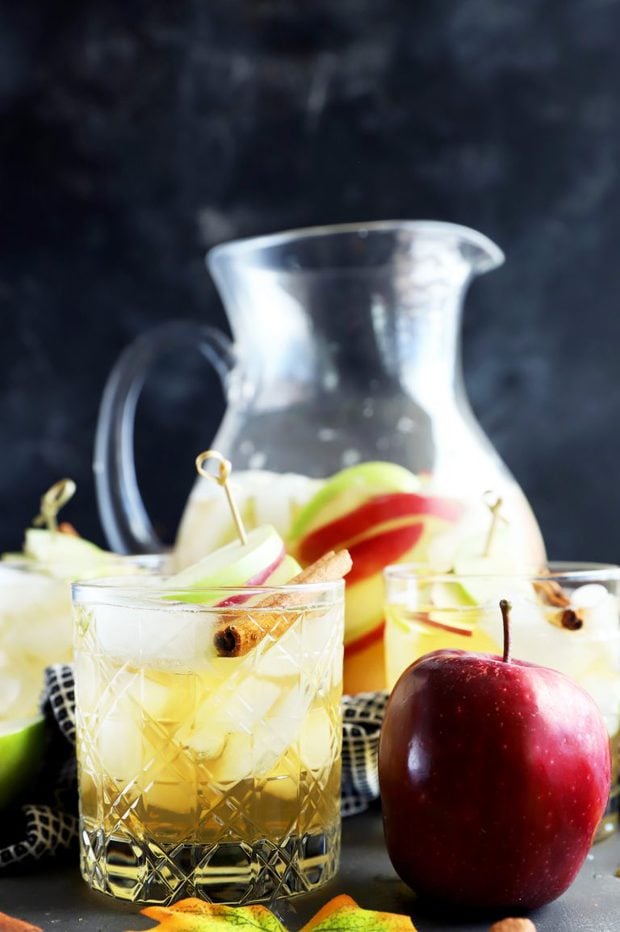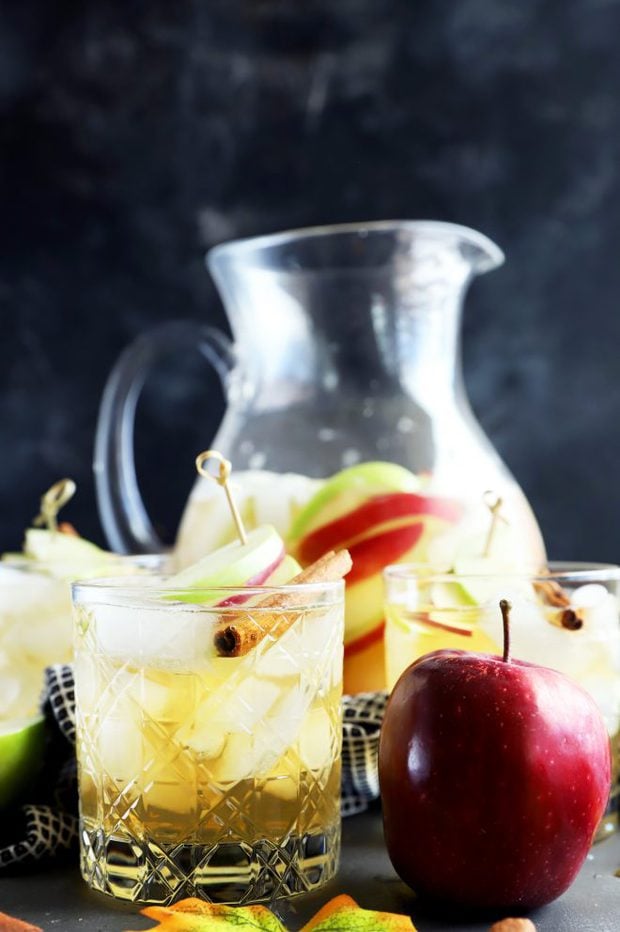 Well, this year, you are COVERED.
This last minute apple pie sparkling sangria is all the bubbly goodness you could ever want. It has fresh apples, my favorite apple pie infused whiskey, and sparkling wine.
It comes together in mere minutes and you don't even have to let the sparkling sangria sit in the refrigerator for any period of time. Just mix it all together and it is ready to go!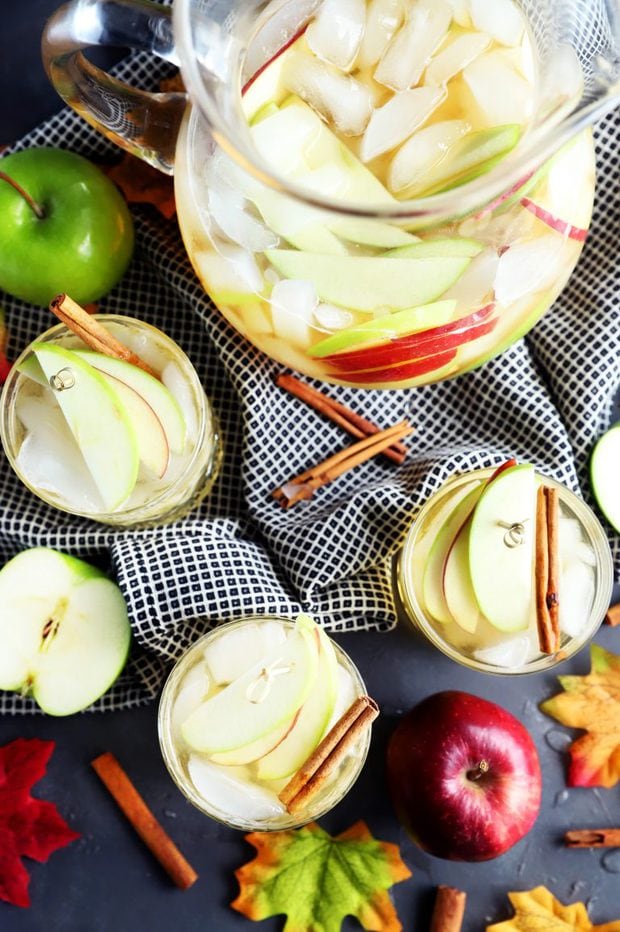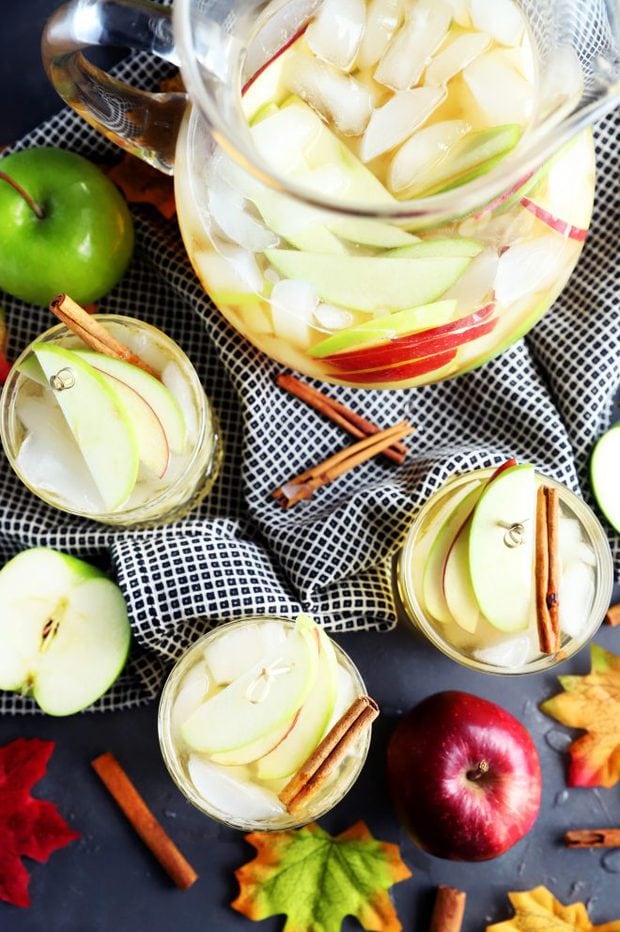 This Recipe's Must-Haves
To make the sparkling sangria, you'll need a pitcher. I love the Mikasa one you see pictured here! It's festive and works for any occasion.
Then you stir everything together with a wooden spoon!
Serving can be in any kind of glasses from stemless wine glasses to double old fashioned glasses. As long as it can be filled with ice, it works!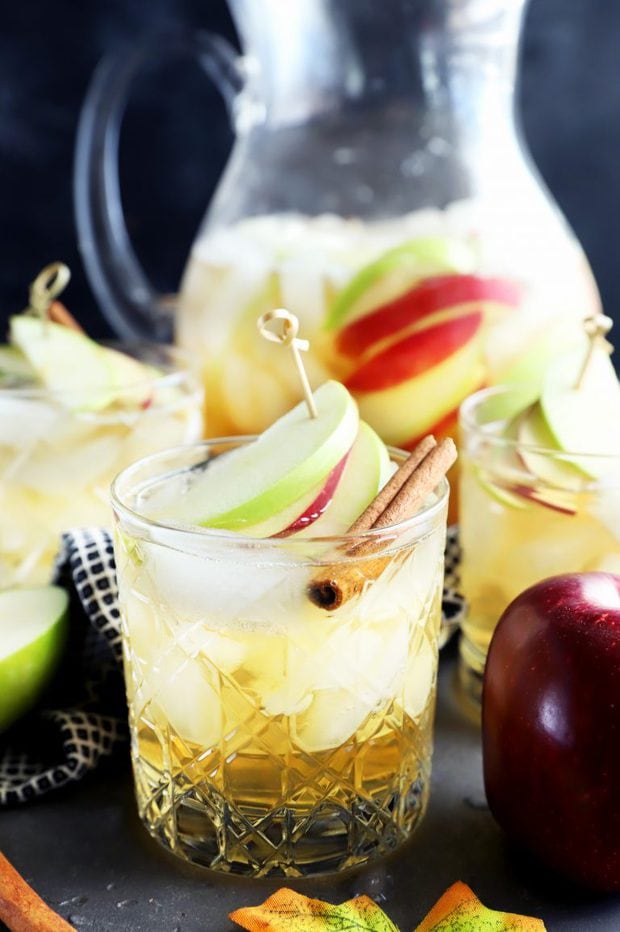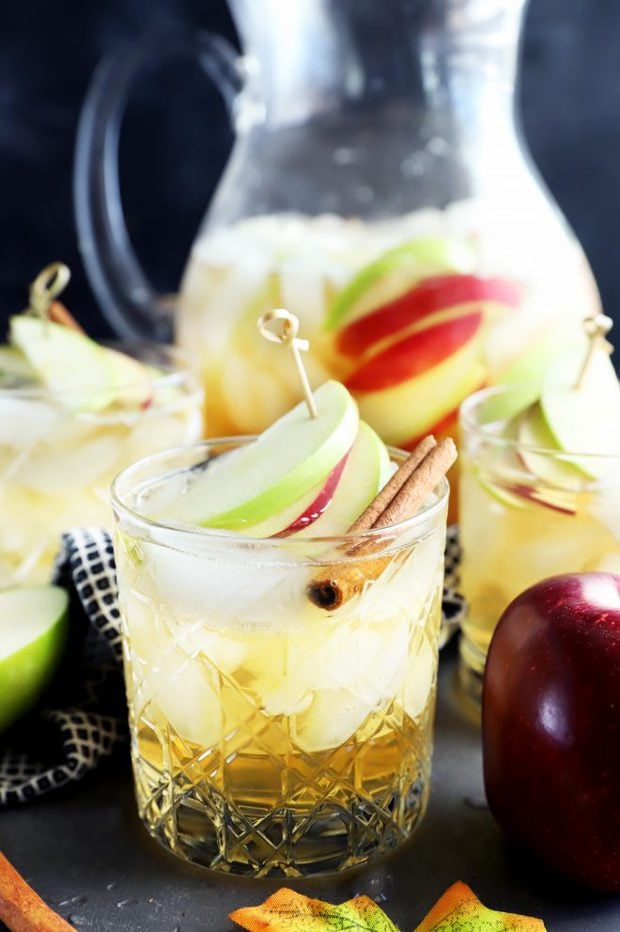 How To Make Apple Pie Sparkling Sangria
Slice Apples
Want to know how easy this apple pie sparkling sangria really is? Literally two whole steps are involved… WHOA, right?
First, slice up the apples into thin slices. You'll use almost all of them in the pitcher for the drink, setting aside about one cup total for garnish.
Make Sangria
Making the sangria means putting everything into a pitcher, stirring it up, and filling it up with ice. That's. It.
Talk about a last minute savior of a recipe!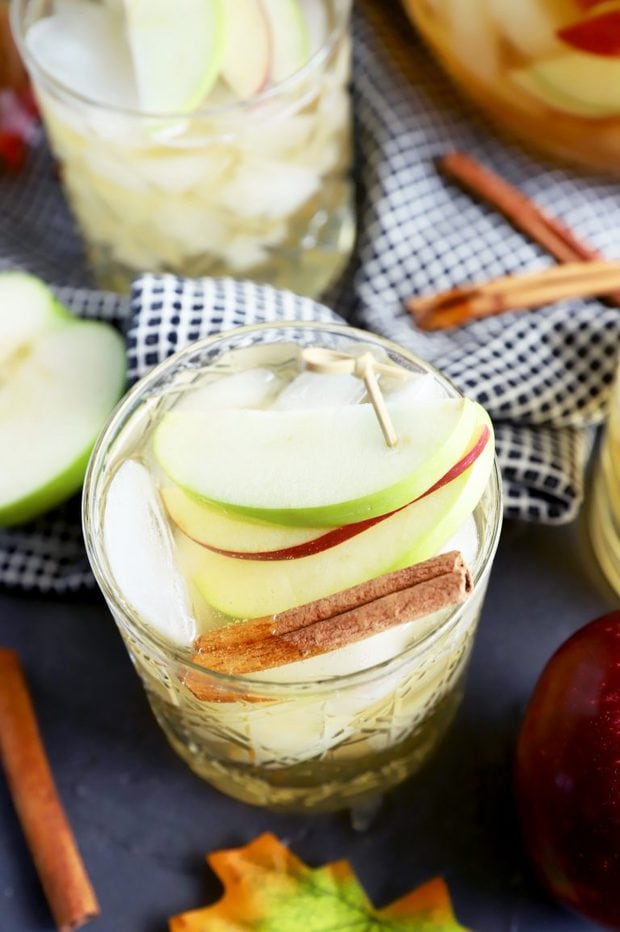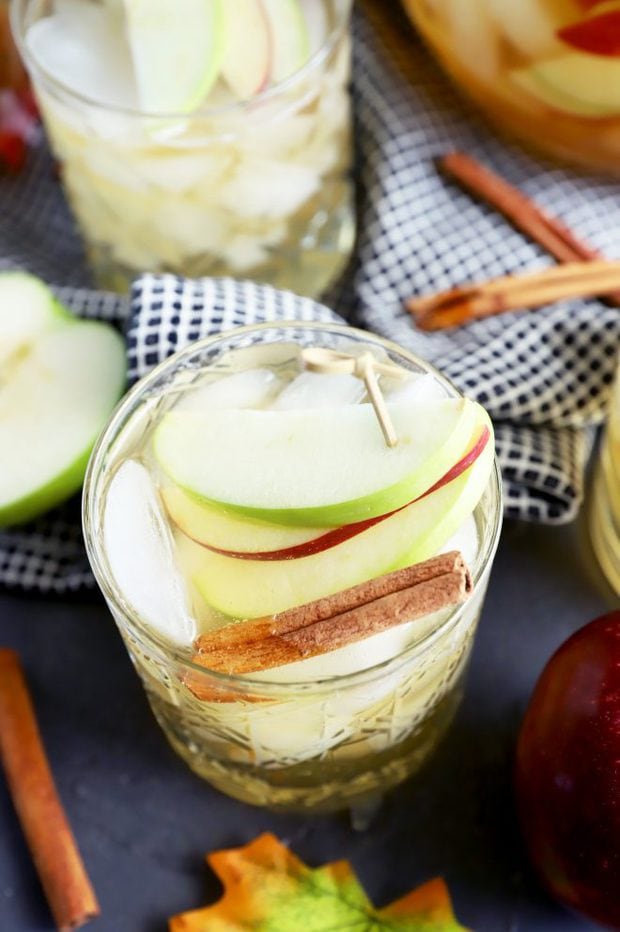 Can I make this sangria ahead of time?
Now, for all you prep-loving people out there, there is a way to make this sangria ahead of time. Simply add all the ingredients except for the sparkling wine to a pitcher. Stir to combine and place in the refrigerator.
When you are ready to serve, add in the sparkling wine and stir to combine. Fill the pitcher with ice and serve!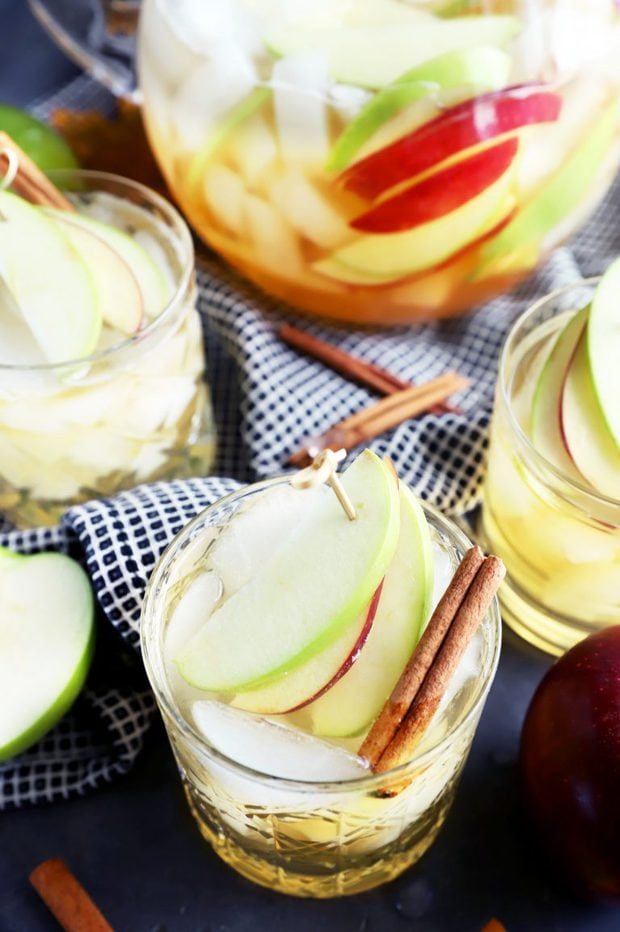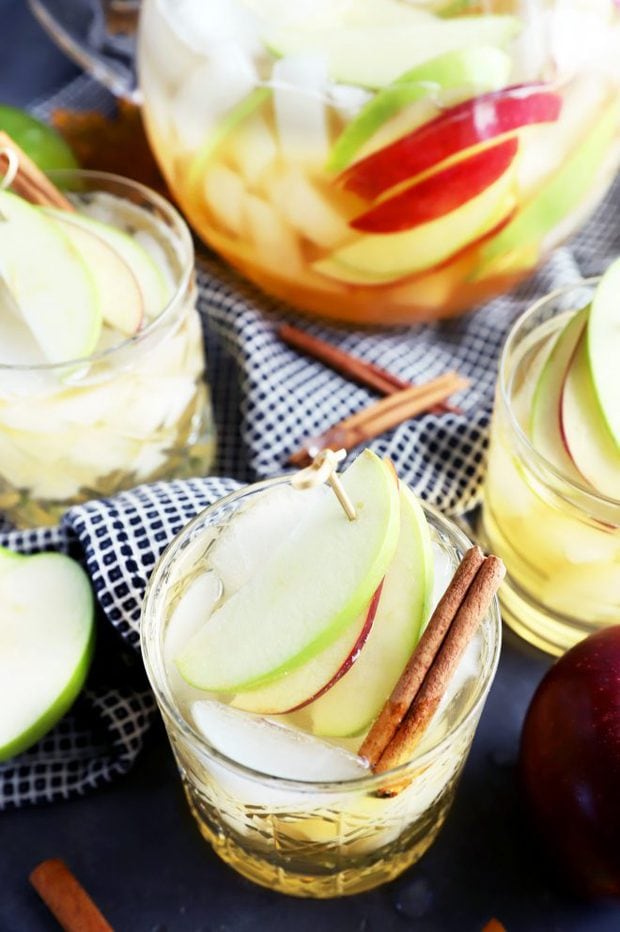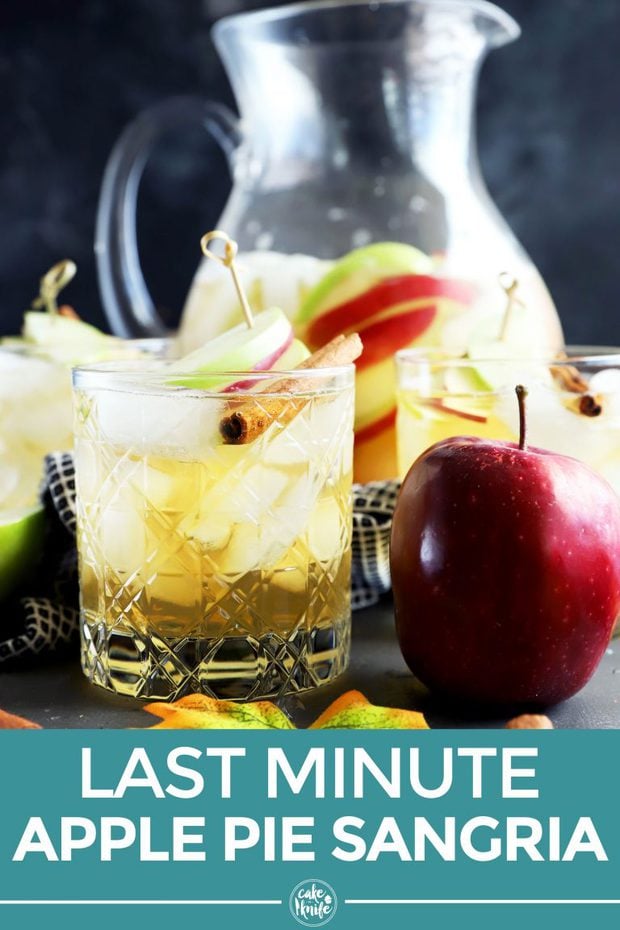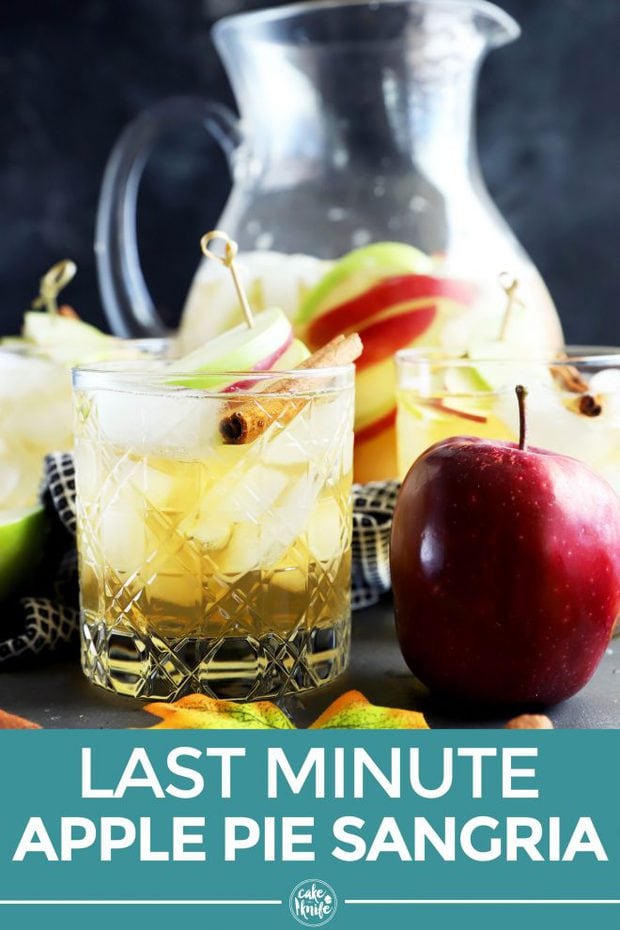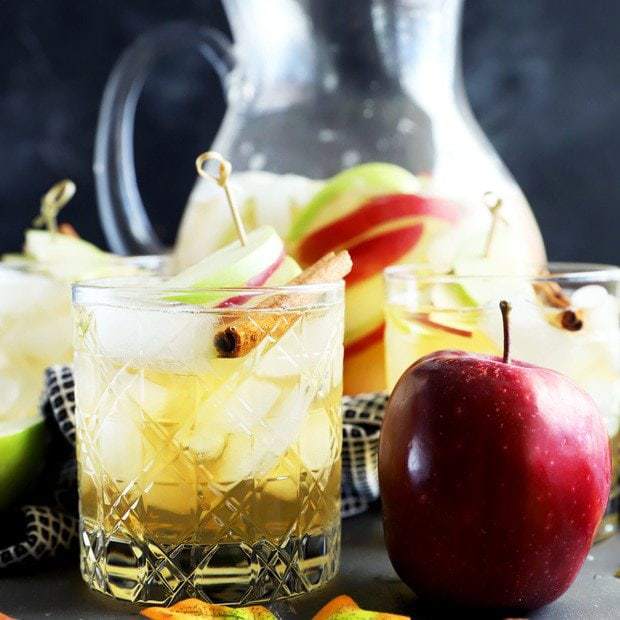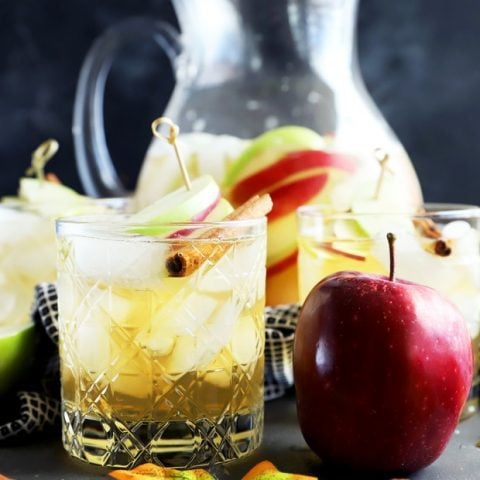 Last Minute Apple Pie Sparkling Sangria
Got no time and want to throw together a sangria? This is the last minute recipe for you! Full of apple flavor and sparkling wine, this sangria doesn't even need time to sit.
Ingredients
2 apples, peeled, cored and thinly sliced
1/2 cup cognac
1 cup Apple Pie Infused Whiskey
750ml bottle chilled dry sparkling wine
3 cinnamon sticks
Instructions
In a large pitcher, add sliced apples, reserving 1/2 cup for garnish. Stir in cognac, apple cider, and chilled wine until combined.
Fill pitcher with ice.
Serve sangria in glasses filled with ice. Top with sliced apple and cinnamon sticks.
Recommended Products
As an Amazon Associate and member of other affiliate programs, I earn from qualifying purchases.