Please note this post contains affiliate links.
Individual Ginger Acorn Squash Soup Bowls are full of bright ginger flavor paired with smooth, creamy acorn squash and savory sage. It's an easy soup to make for an holiday meal, especially Thanksgiving! Served up in individual acorn squashes, these adorable soups are a real stunner for all your guests.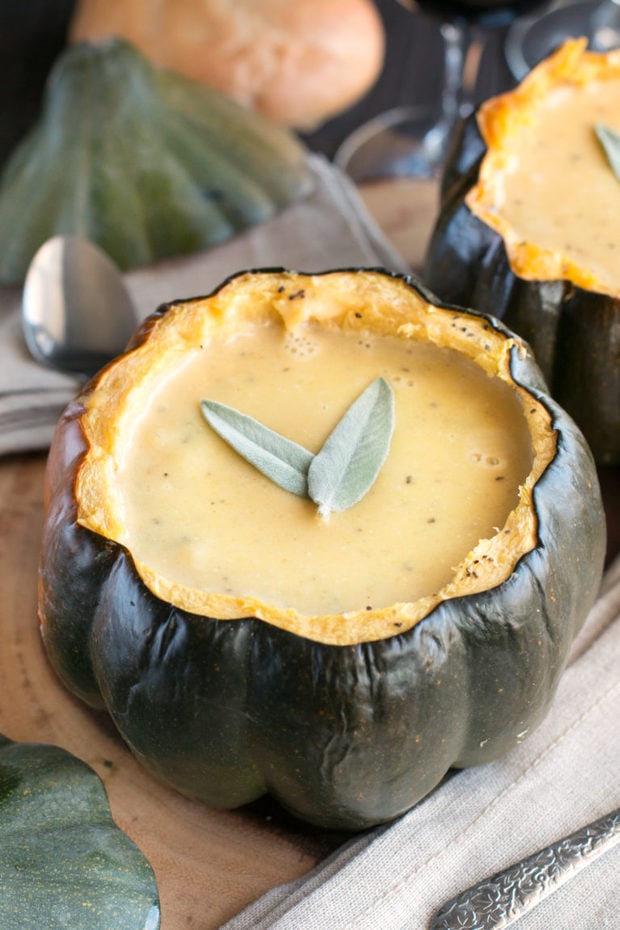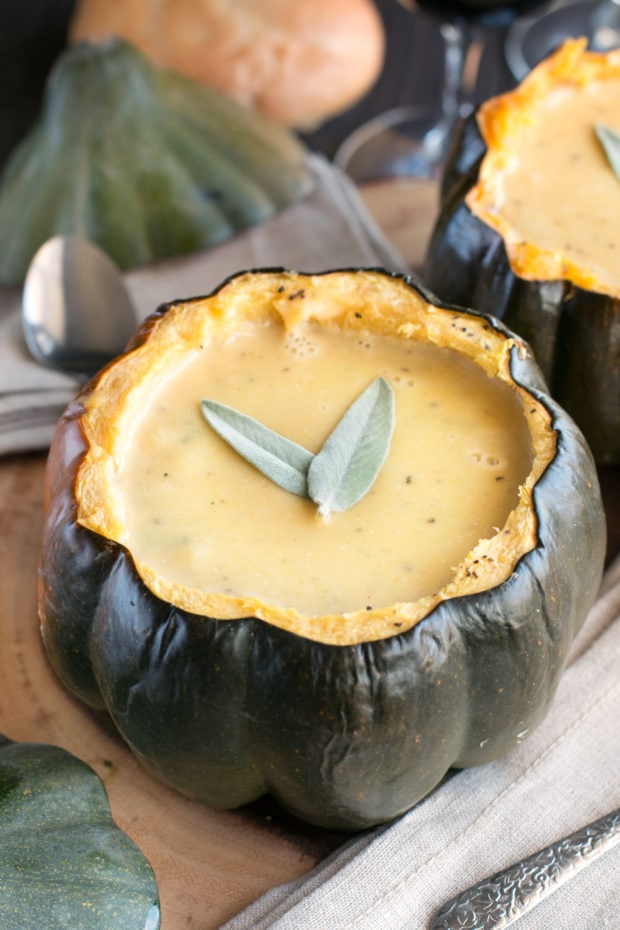 Please note that some of the links below are affiliate links. If you make a purchase through one of these links, I will receive a small commission. Thank you for supporting Cake 'n Knife!
I'm always a sucker for a creamy squash soup.
As a person who isn't a real "soup person", that's saying a lot.
For some reason, despite the weather being pretty mild here in Denver this week, I've needed soup to comfort my soul this week.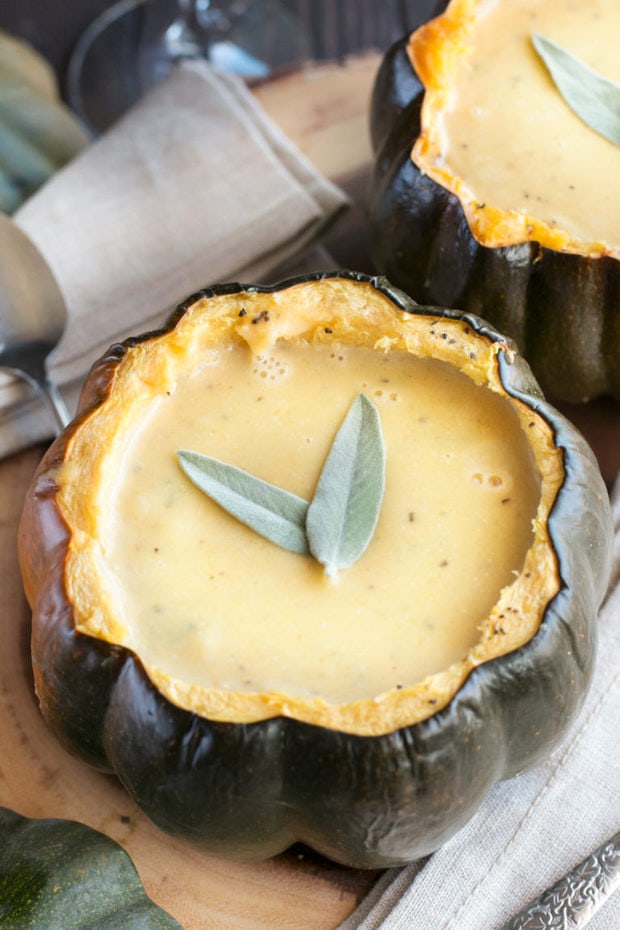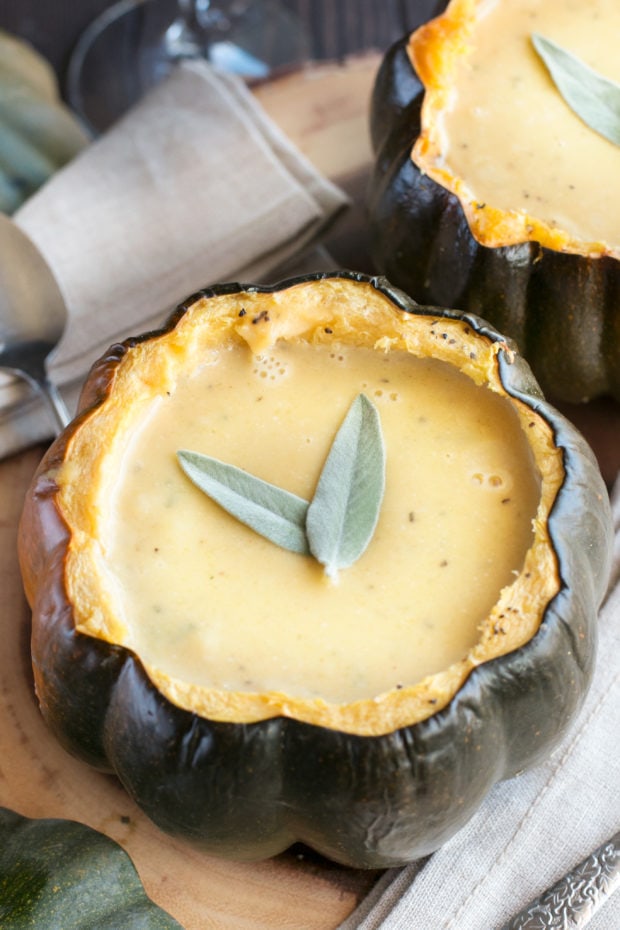 Is anyone else finding this November to kinda be a "blaahhhhhhhhh" month? I feel like I can't quite win this month and I am REALLY ready to be into December, where I can take solace in the never-ending joy of Christmastime.
While I usually go the grilled cheese and tomato soup route (which is exactly what I ate for dinner last night), with Thanksgiving coming up in less than a week (AHHHH) I am alllll about those squash soups that are perfect before digging into some serious bird and potatoes situation.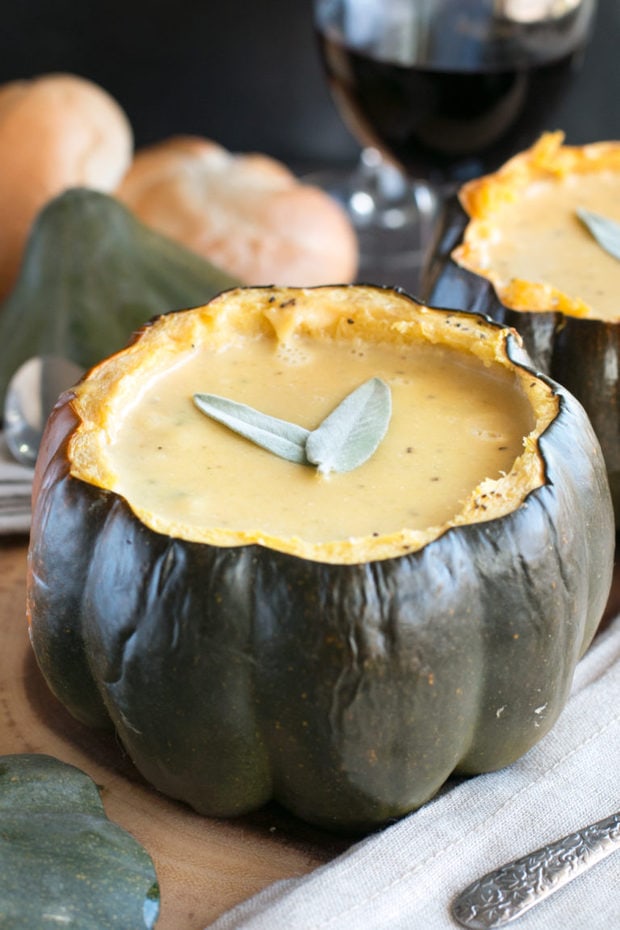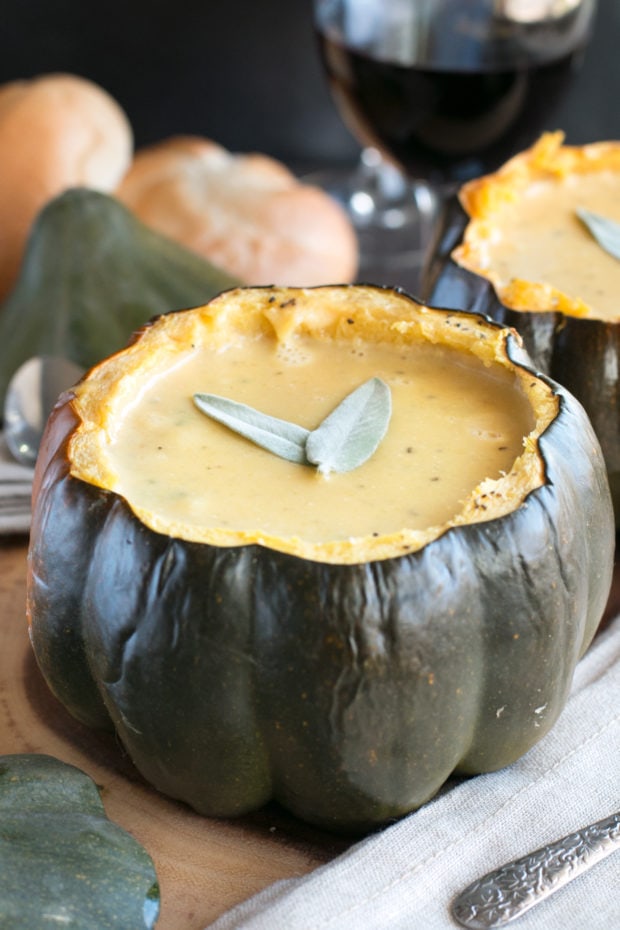 These little acorn squash bowls are the most adorable thing in the world aren't they?
I always thought it was so clever and seasonal to serve soup in squash bowls (and much less carb-loaded than those bread bowls I loooooove to dive into). Even though I might not be hosting Thanksgiving this year, I am already prepping my menu for next year and these are so making it on the list.
I just can't wait to have them sitting there on the table, all warm and ready to eat as soon as my guests arrive!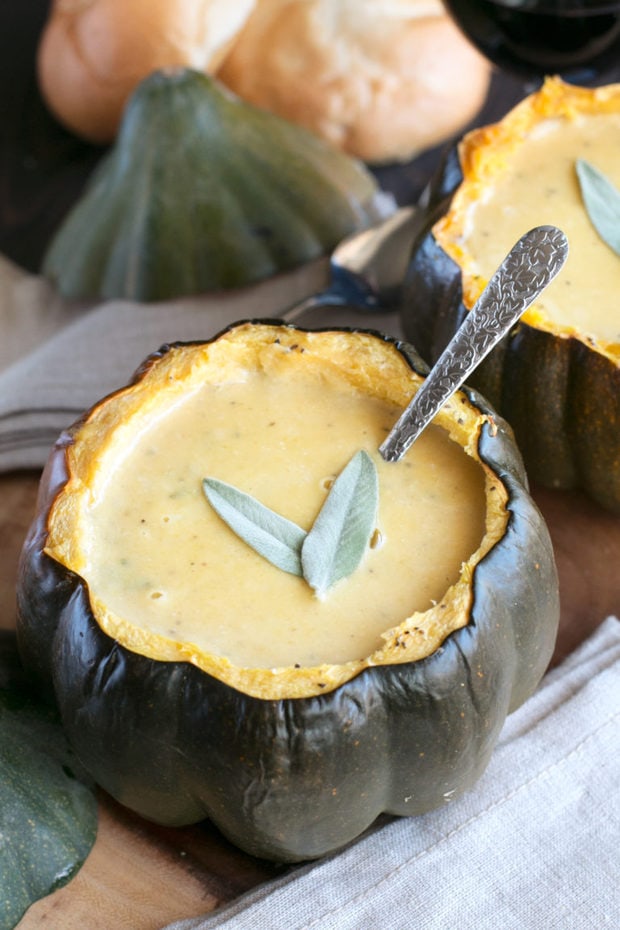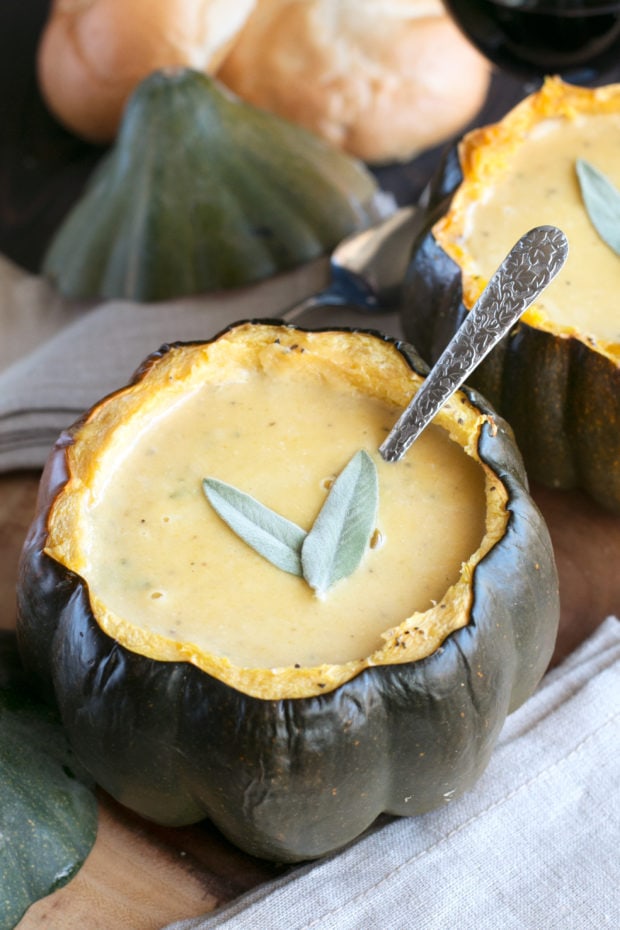 Not to mention they make decorating the table a snap – it's decoration and food all in ONE.
The ginger and the sage in this soup are the other flavor stars, aside from the acorn squash.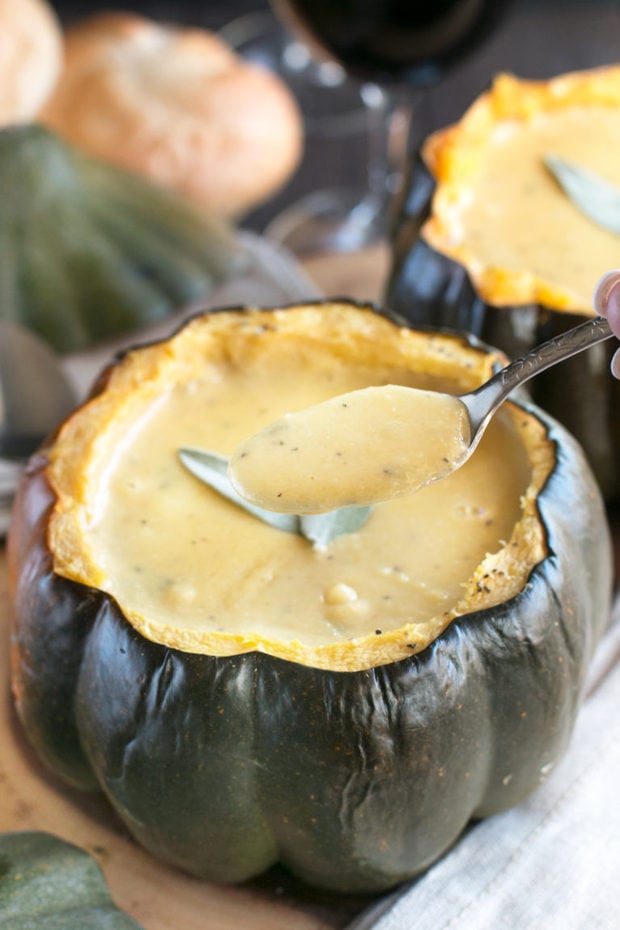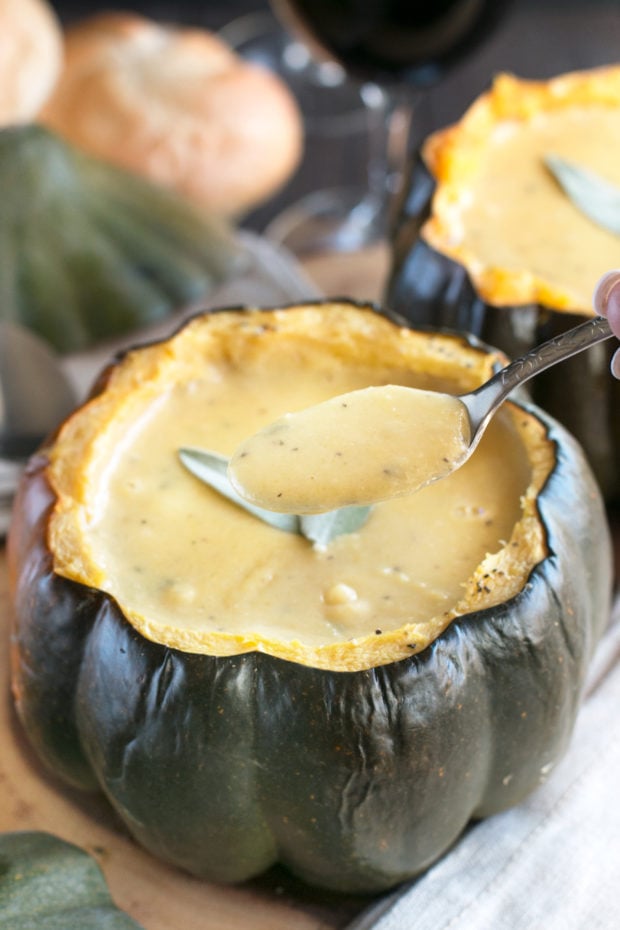 The bright and spicy ginger balances out the rich and creamy squash, and then the sage comes in to give a savory punch to the whole soup that elevates it another level.
It's just the right amount of fall harvest flavor, and a zing of something a little different, to round out any autumn holiday meal!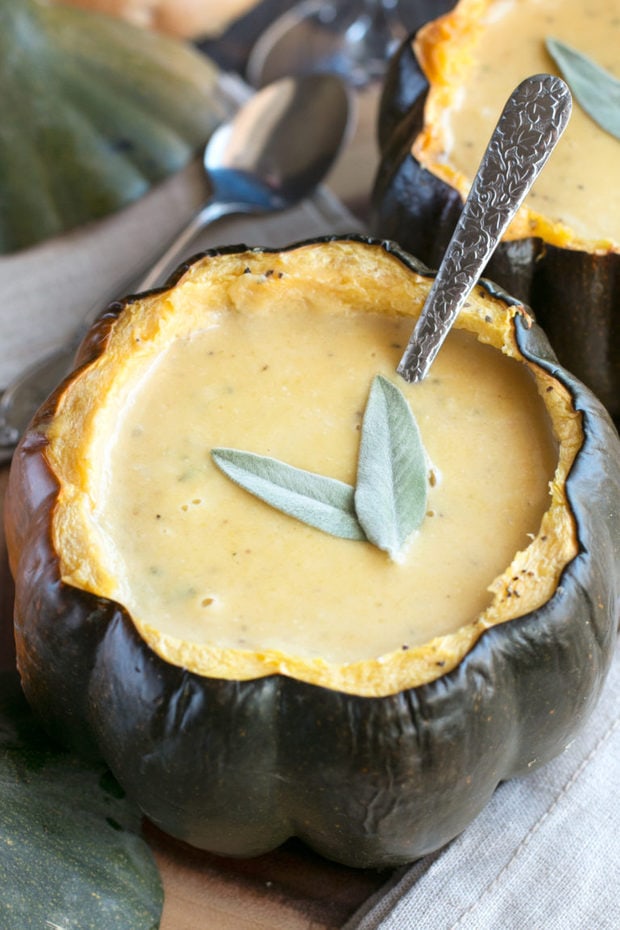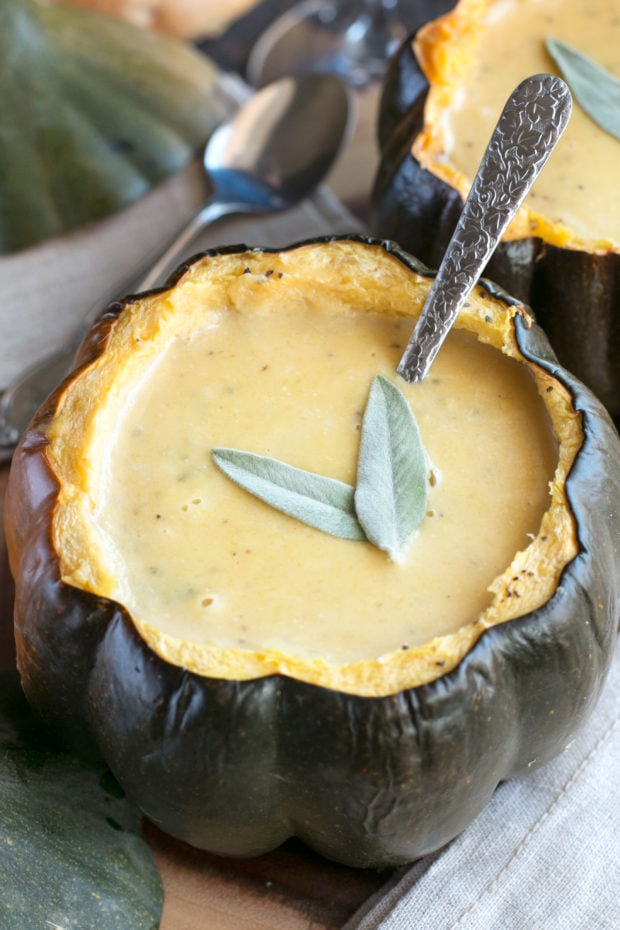 This Recipe's Must Haves
Pin this Individual Ginger Acorn Squash Soup Bowls recipe for later!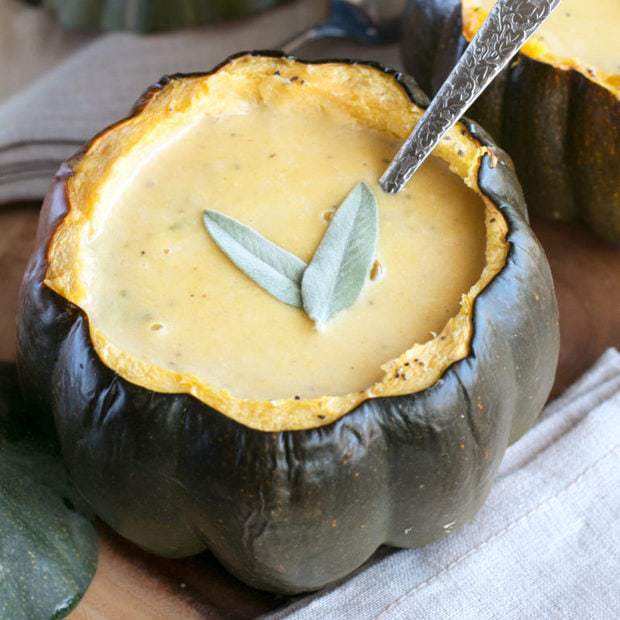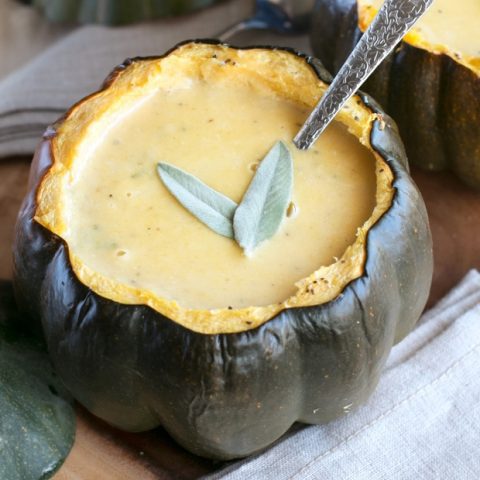 Individual Ginger Acorn Squash Soup Bowls
Cook Time:
1 hour
15 minutes
Total Time:
1 hour
20 minutes
Serve up one of autumn's favorite squashes in an adorable form! The sage and ginger infused in this soup jumps off the spoon, dancing on your taste buds as a perfect into to any holiday meal.
Ingredients
4 whole acorn squash, approximately 8 cups when cooked
4 garlic cloves, peeled
3 Tbsp olive oil
1 Tbsp salt
1 Tbsp pepper black pepper
1/2 yellow onion, diced
1 1/2 tsp minced ginger
4 Tbsp unsalted butter, divided
2 1/2 cups chicken stock, low-sodium
1/4 tsp cayenne
1 tsp freshly chopped sage
1/2 tsp dried oregano
1/2 tsp pure vanilla extract
1 cup heavy cream
1/2 cup grated Parmesan
Instructions
Preheat oven to 350 degrees. Line a baking sheet with parchment paper.
Cut the top third of the squash off and remove the seeds with a spoon. Cut a flat spot on the bottom of each squash so they sit flat. Place squash bowls on prepared baking sheet, cut side up.
Add a clove of garlic to each squash bowl. Drizzle with 2 Tbsp of olive oil and season with 1 Tbsp salt and 1 Tbsp black pepper.
Roast in the oven until very tender, just before the sides begin to collapse, approximately 1 hour. Remove from oven and when cool enough to handle, remove the squash and garlic cloves from the bowls, leaving enough to allow the bowls to stand up (leaving approximately 1/4 to 1/2-inch border of squash all around.
In a large Dutch oven or heavy-bottomed pot, heat 1 Tbsp of olive oil and 2 Tbsp of butter on medium-high heat. When the butter begins to foam, add onion and ginger, and cook until the onion is tender, approximately 5 to 6 minutes.
Stir in 1/2 cup of the chicken stock and scrap the bottom to remove any bits. Reduce heat to medium-low and add the squash, garlic, and remaining chicken stock. Stir to combine.
Puree mixture with a stick blender. The mixture will be thick. Stir in cayenne, sage, oregano, vanilla, heavy cream and 2 Tbsp of butter. Heat slowly.
When the soup reaches a simmer, mix again with the stick blender and stir in the Parmesan cheese. Reduce heat to low and stir until the cheese is melted. Keep warm until ready to serve.
Ladle the soup into the acorn squash bowls when ready to serve. Garnish with fresh sage leaves.