Please note this post contains affiliate links.
Cranberry Goat Cheese Tarts are a bright, savory appetizer for any of your upcoming holiday parties, especially for Thanksgiving! This appetizer is light enough to open up a large meal. That makes it easy for you to load up on a few without spoiling your appetite!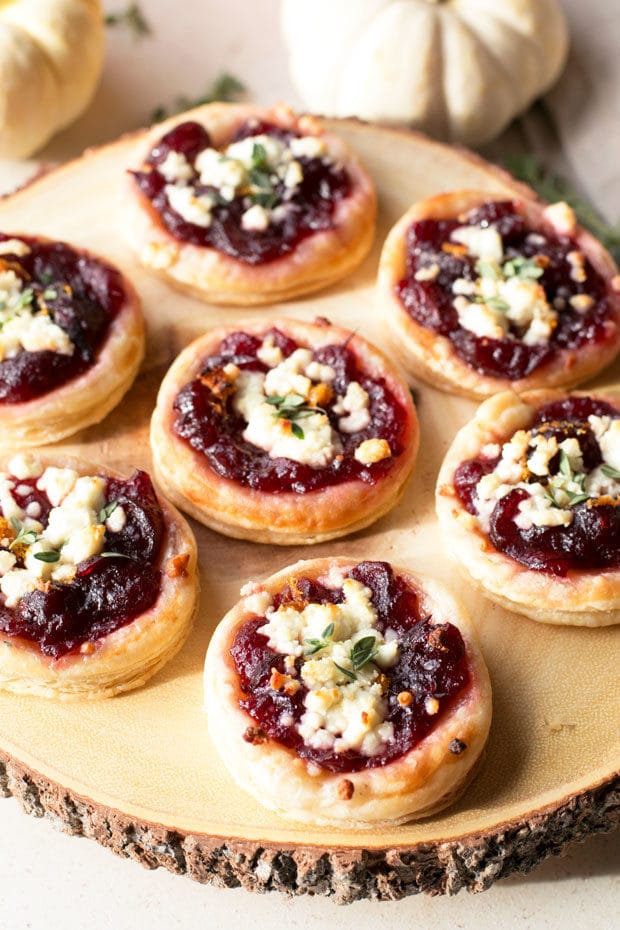 It's that time of year again! Now that Halloween is all wrapped up, it's time for the holidays to ramp up and holy crap, things are about to get crazy once again.
This year I'm excited not only to be kicking off November with the best Thanksgiving appetizer I've ever made…
And I'm excited to kick off the third annual Blogsgiving!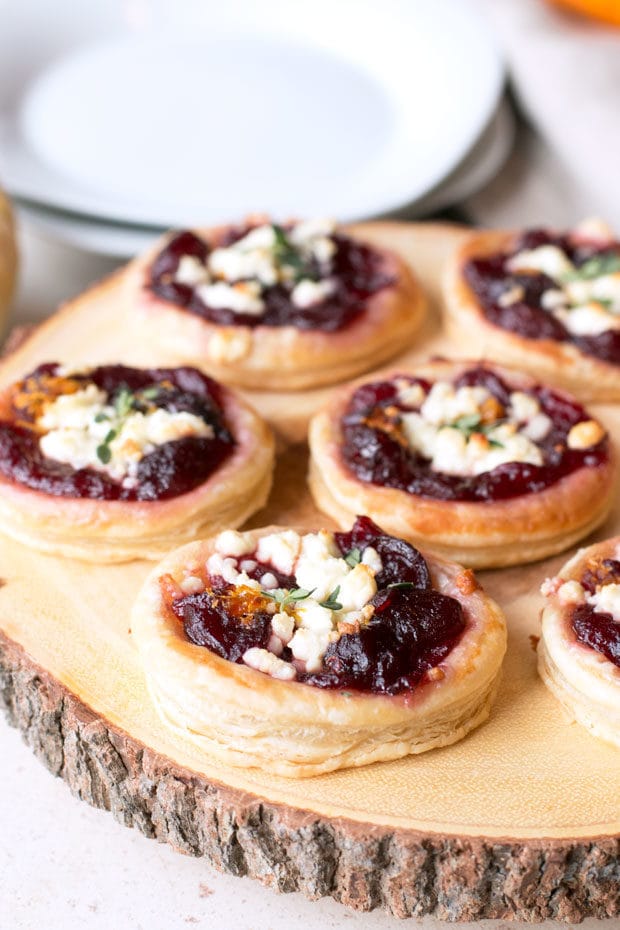 It's time for you to stuff yourself silly with all the best Thanksgiving recipes from bloggers all over the web, and get into the mood of the season!
Scroll on down paste the recipe for the FULL roundup! Let me just say there are some cocktails and pasta dishes that I am drooling over already – trust me, you are gonna freak out about each and every single one of them.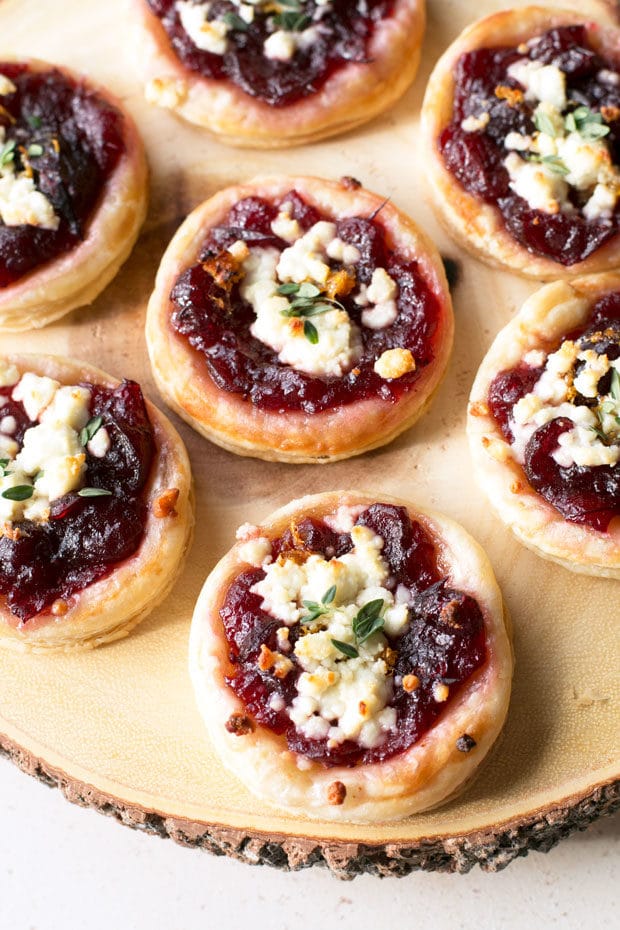 These cranberry goat cheese tarts are the bomb dot com, you guys.
They are savory, tangy, acidic, herbaceous and slightly sweet.
The tarts have all the flavor you cherish about Thanksgiving. They are wrapped up in a bite-sized vessel to give you a little bit of tangy tartness that is irresistible.
The tarts themselves are light enough so they won't spoil your appetite for that turkey.
Best part is, this appetizer is only 5 ingredients AND it takes barely any time to pull together.
If your mom assigned you an appetizer to bring on Thanksgiving, know that there's no way you will screw this one up.
It's too dang easy! Your mom will think you spent a ridiculous amount of time on it. You're welcome.
This Recipe's Must Haves
A half sheet baking pan is what I like to use along with a silicone mat for baking these little tarts!
To cut the tarts out, I like to use my biscuit cutter set because you get the perfect circle every time.
Finally, I love to serve on a wood slice serving board like this one. It's not the exact one you see here but it's very similar!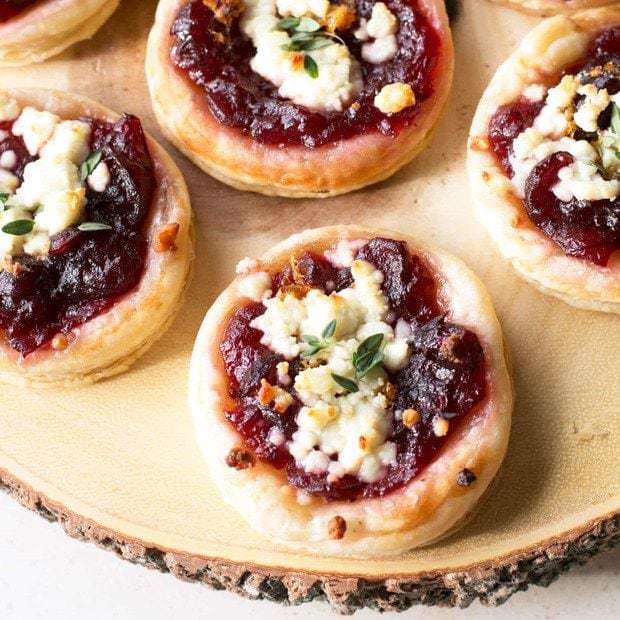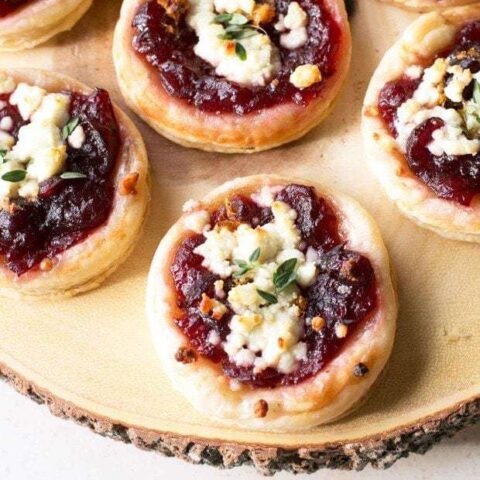 Cranberry Goat Cheese Tarts
Light, bright and layered with a bunch of flavor! It's an ideal appetizer for Thanksgiving so you don't spoil your appetite.
Ingredients
1 package puff pastry, defrosted
1 cup cranberry sauce
Zest of one orange
1/2 cup goat cheese crumbles
2 Tbsp fresh thyme leaves, chopped
Instructions
Preheat oven to 400 degrees.
Slightly roll out puff pastry sheets with a rolling pin. Using a biscuit cutter or cookie cutter, cut 1 1/2" rounds. Place these rounds on a baking sheet lined with a silicone mat or parchment paper.
Using a smaller biscuit cutter or a small knife, create a border just inside the end of the pastry rounds (you are creating a little crust by doing this). Poke the inner circle with a fork all over.
Spread each inner circle with 1 to 2 tsp of cranberry sauce. Top with a pinch of orange zest and crumbled goat cheese.
Bake for 15 minutes.
Remove from the over and sprinkle each with fresh thyme leaves. Serve immediately.
Recommended Products
As an Amazon Associate and member of other affiliate programs, I earn from qualifying purchases.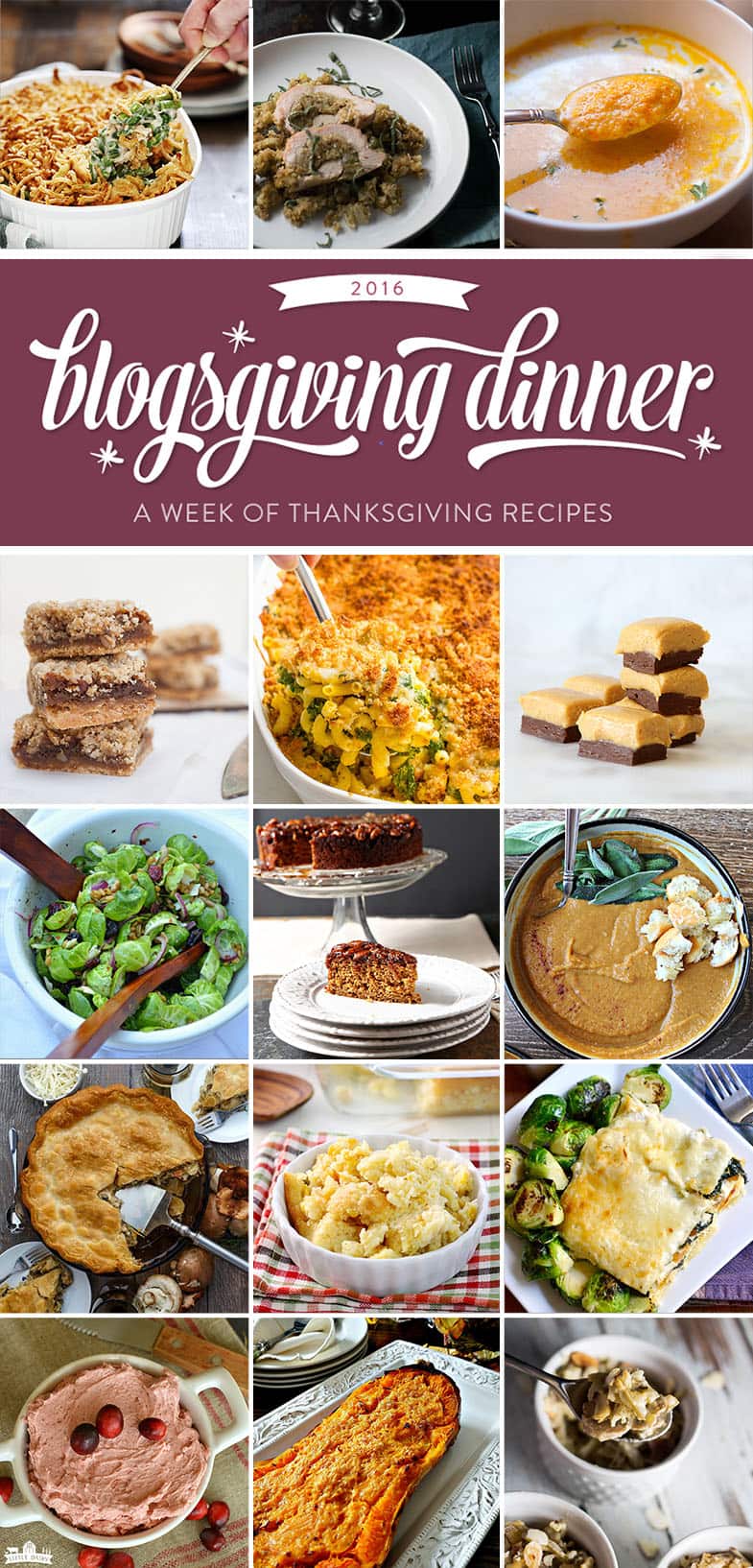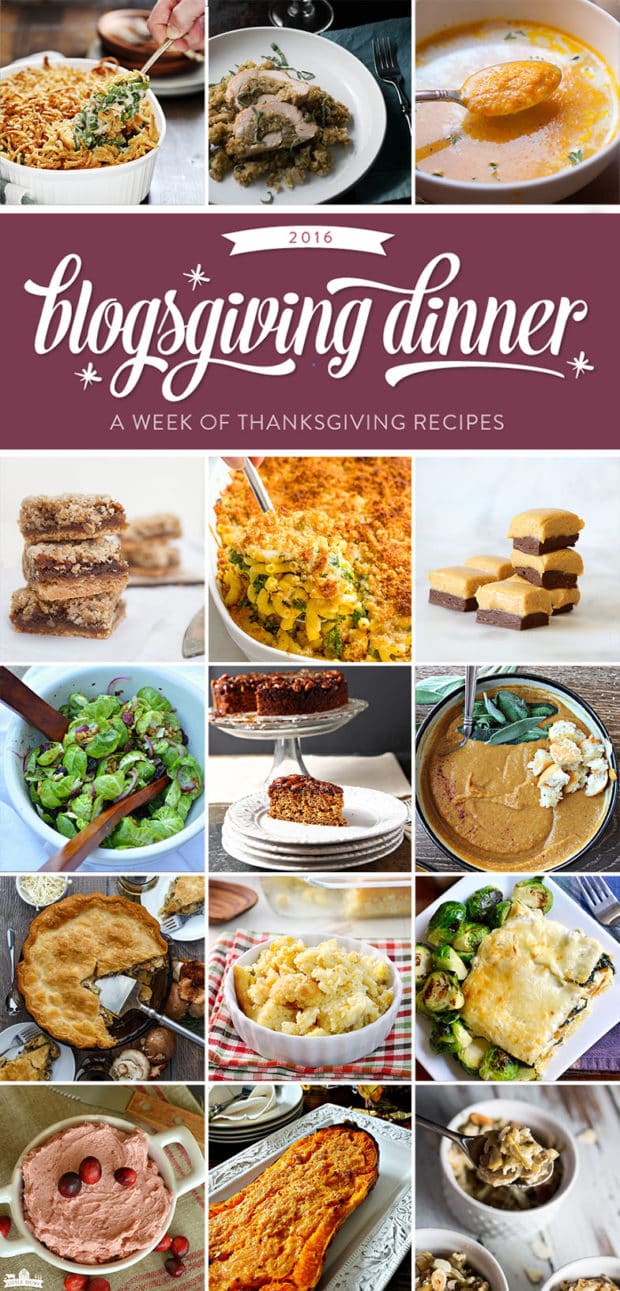 Every year, we all gather around the dinner table on Thanksgiving to gorge ourselves on the best food ever. Where do you get all this delish food? Food bloggers!
Susannah from Feast + West and I are hosting our THIRD (!!!) Blogsgiving Dinner this year and we're bringing out the best of the best for the shindig.
Below you are going to find a HUGE amount of Thanksgiving recipes to start pinning for turkey day.
Each blogger is bringing a dish (or cocktail!) to the party and you need to be sure to stop by each to get some ideas. We'll be posting to social media with the hashtag #blogsgivingdinner all week long, and you can snag the entire menu below in our recipe roundup.