Mini No-Bake Pumpkin Spice Cheesecakes are the easy way to give everyone a Thanksgiving dessert they'll never forget. No need to mess with making a pie from scratch, these no-bake mini cheesecakes are stupid simple AND have two different toppings to choose from!
Hey hey heyyyyyyyy…. Guess what holiday we are only DAYS away from???
Eeeeeeek that's right! Thanksgiving is almost here!
Thanksgiving, the day we eat and eat and eat and drink and drink and drink. Also the day that I host Thanksgiving for the first time EVER (haha I swear, I am not having a meltdown… that won't happen until Wednesday night after all).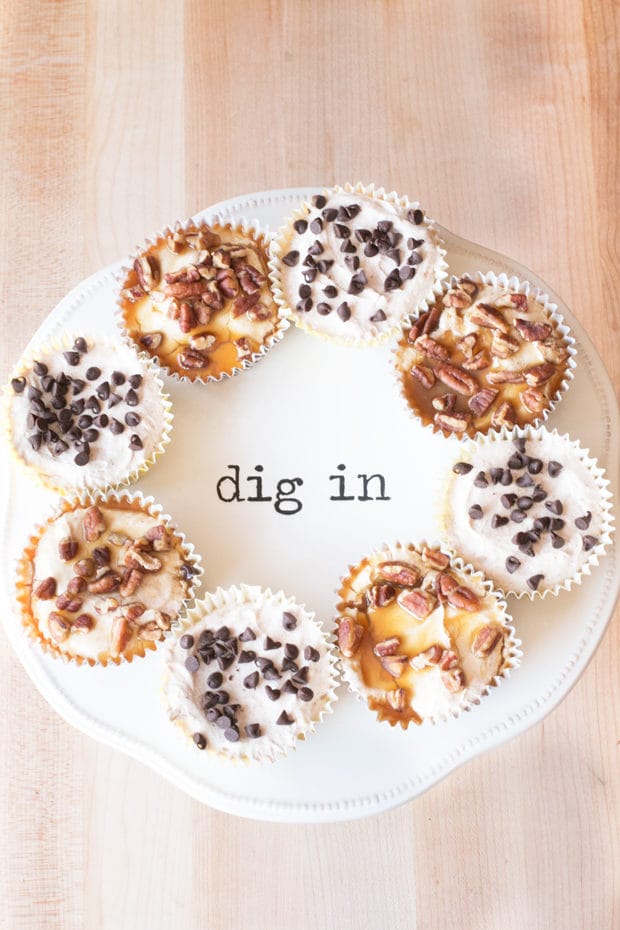 Thankfully Thanksgiving is going to be small and intimate this year so I won't be overwhelming myself by serving 15+ people like Christmas Eve usually goes. My head shouldn't explode… at least not in front of any of the guests (fingers crossed they aren't reading this right now and seeing my inner anxiety about making the perfect Thanksgiving meal…).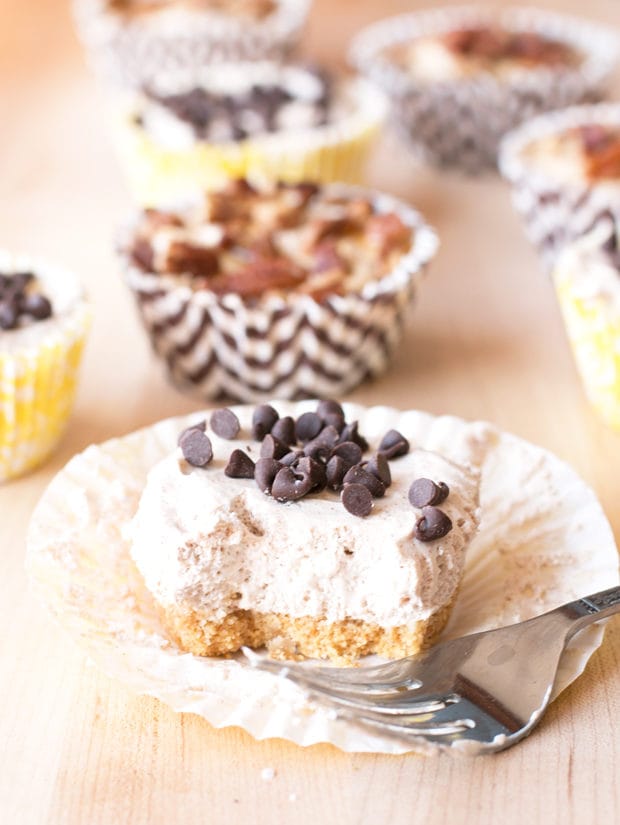 Instead of having my last post about Thanksgiving be my yearly leftovers recipe, I decided I simply had to sneak in one last dessert for all you procrastinators out there (you know who you are).
Chances are you've been given a simpler task of bringing a dessert and you were thinking about picking up a pie from the store. You can do better than that people…
These mini no-bake pumpkin spice cheesecakes are the dessert you should be making.
They are easy, flavorful and this recipe comes with two different toppings for your friends and family to choose from! A caramel pecan topping and a mini chocolate chip topping… Yea, these bad boys are seriously to die for.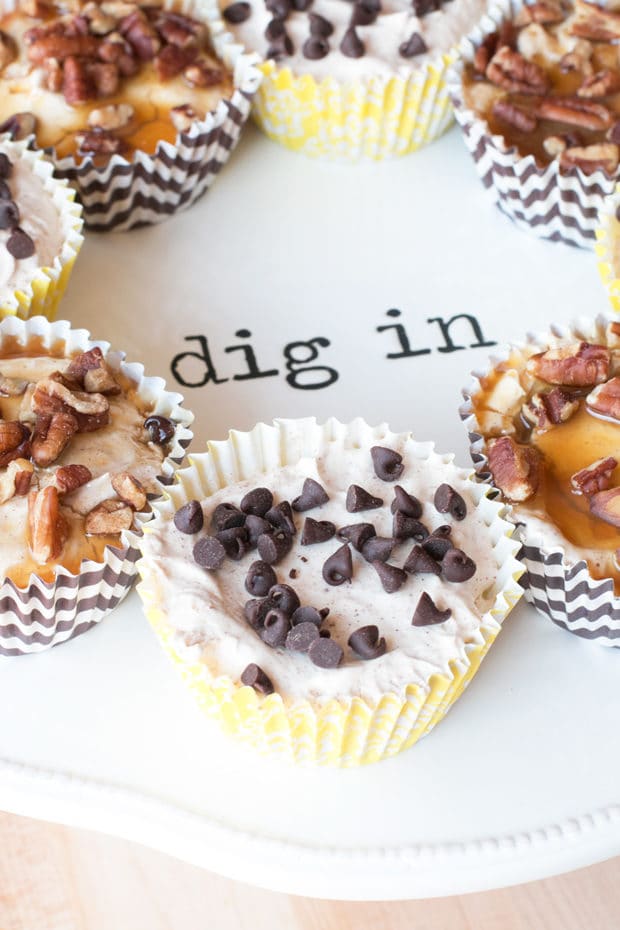 And your mom will be SO impressed that you actually pulled off a homemade recipe without burning down the house.
Happy Thanksgiving friends!
This Recipe's Must Haves
Pin this Mini No-Bake Pumpkin Spice Cheesecakes recipe for later!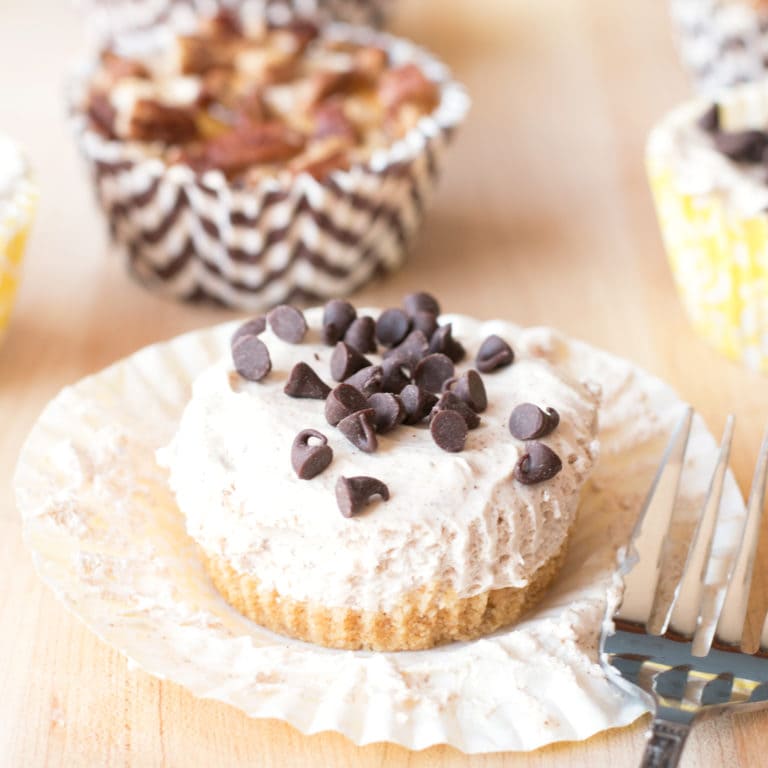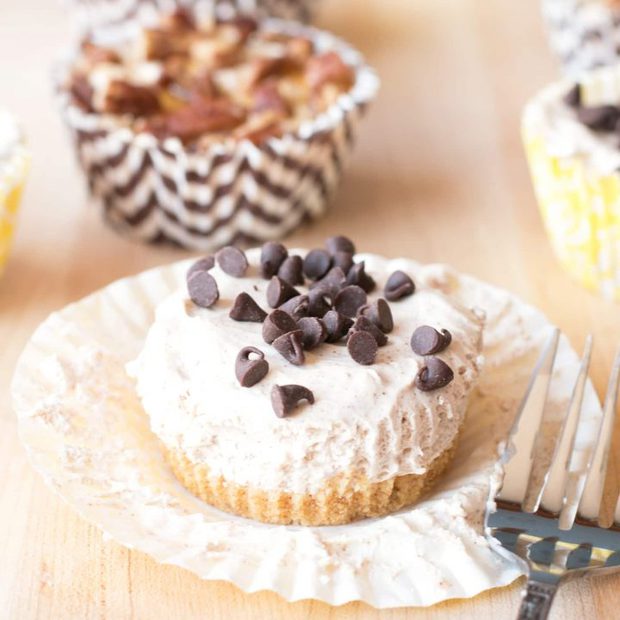 Mini No-Bake Pumpkin Spice Cheesecakes
Yield:
Makes 16 to 20 cheesecakes
Total Time:
6 hours
10 minutes
Creamy pumpkin spice cheesecakes are SO much easier than making a pumpkin pie from scratch. Plus two different topping choices for people to choose from!
Ingredients
Crust
1 1/2 cups graham cracker crumbs
1/3 cup brown sugar
6 Tbsp unsalted butter
Filling
1 1/2 cups heavy cream
1 1/2 tsp pumpkin pie spice
1/2 tsp vanilla extract
12 oz cream cheese, room temperature
1/4 cup granulated sugar
Toppings
1/3 cup caramel sauce
1/2 cup mini chocolate chips
1/2 cup chopped pecans
Instructions
Line 2 cupcake tins with cupcake liners.
In a medium bowl, stir together crust ingredients. Press 1 to 2 Tbsp of the crust mixture into cupcake liners and chill for 2 hours.
In a large bowl, beat together heavy cream, pumpkin pie spice, and vanilla until stiff peaks form. Add in the cream cheese and sugar, beating until completely combined.
Pour mixture into the prepared pie crusts, smoothing over the top with a rubber spatula. Cover and refrigerate at least 2 hours, Add 1 Tbsp caramel sauce to half of the pies and a sprinkle of chopped pecans. Add a sprinkle of chocolate chips to the other half of the pies. Refrigerate another hour before serving.