Roasted Grape & Balsamic Crostini is a bold sweet and savory appetizer that I love to serve in the winter. You all know my love of balsamic runs deep, so the balsamic reduction with the grapes and creamy ricotta takes this crostini to a whole other level.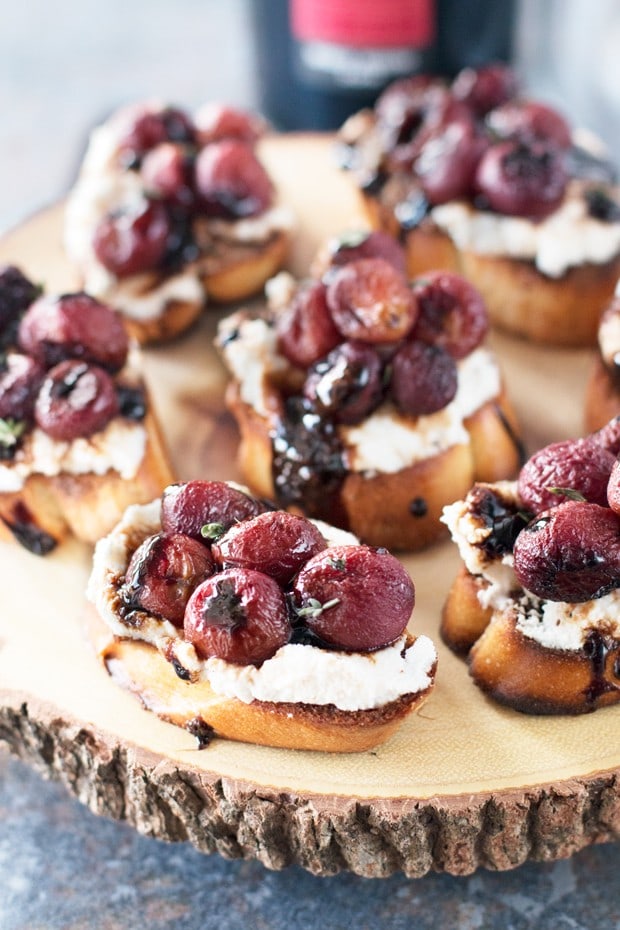 It's almost 2016, guys. Is anyone else silently screaming in their heads like I am? Normally I'd be running around and getting some real screams in, but I've done more cooking in the past week than EVER.
My brain is in basic mode at this point; forming complete sentences isn't happening and I'm doing just enough to survive until I can get a solid night of sleep. I need one of those sleep-like-the-dead nights right now.
That means I'm bringing a realllllllllllly easy recipe to you all today that will also blow minds.
If you serve these bad boys, I can guarantee you everyone is going to think you spent hours creating the perfectly balanced appetizer and you'll be smiling to yourself thinking about how you used those hours to watch trash TV with a glass of wine (that may or may not be based on what I did yesterday afternoon…).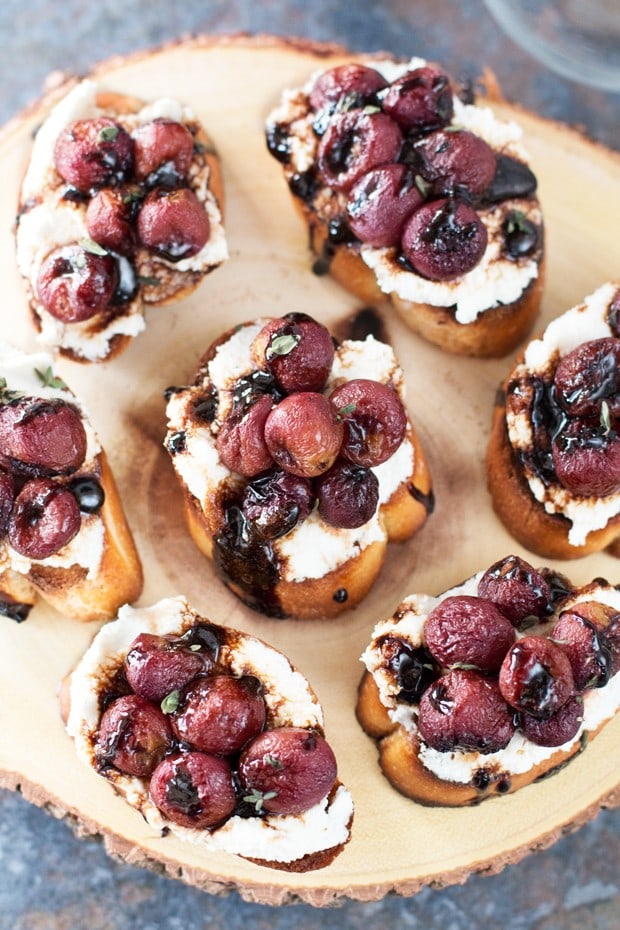 With New Year's Eve coming up, appetizers are all I'm trying to pull off this week. Parties never start until late and no one wants to sit down to a massive dinner around 9pm, right?
Apps are where it's AT on New Year's Eve. I probably end up eating the equivalent of a ten course meal, BUT it doesn't feel like it.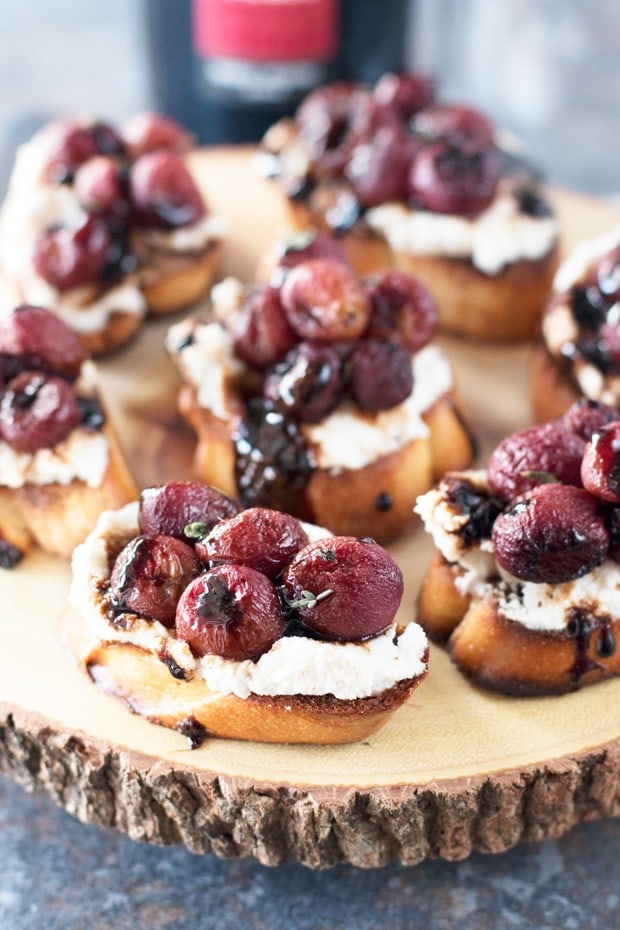 The balsamic reduction and roasted grapes are like a smack in the mouth, in the best possible way. Sweet, savory, tart and ridiculously indulgent are the words that flood my brain with every bite.
I can't find a better way to describe it.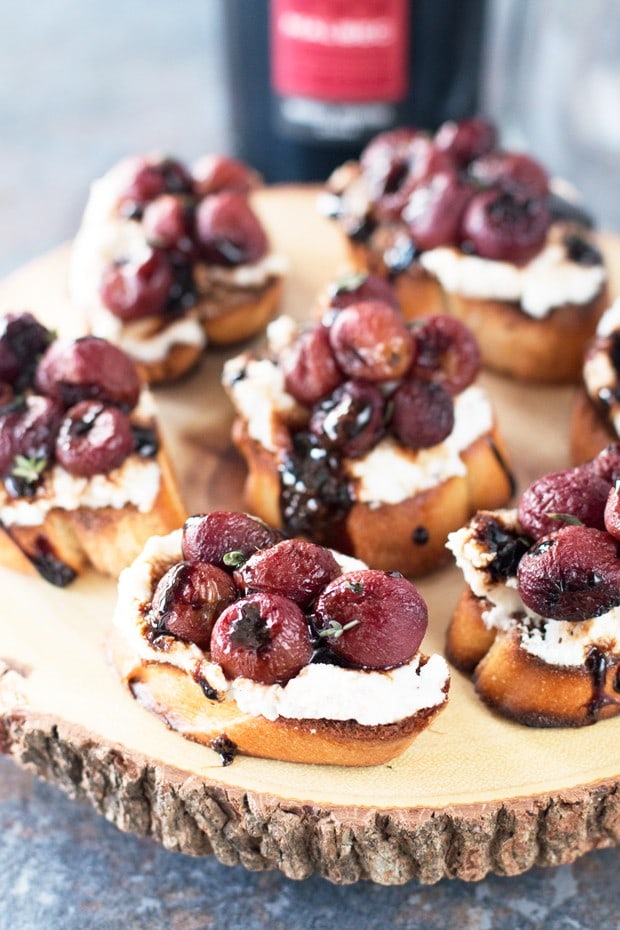 Just don't burn yourself removing the grapes from the oven. Not that you would. That's just a me thing.
An utterly exhausted, half asleep me thing. Ok one more crostini and then it's nap time… right?
This Recipe's Must Haves
Pin this Roasted Grape & Balsamic Crostini recipe for later!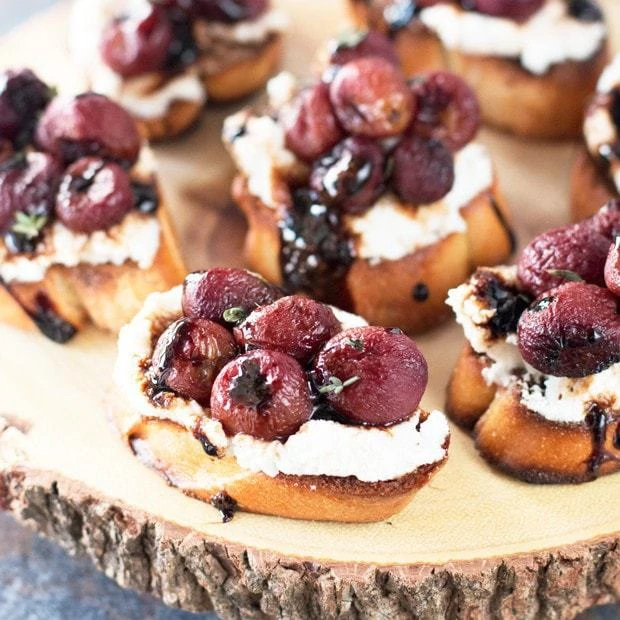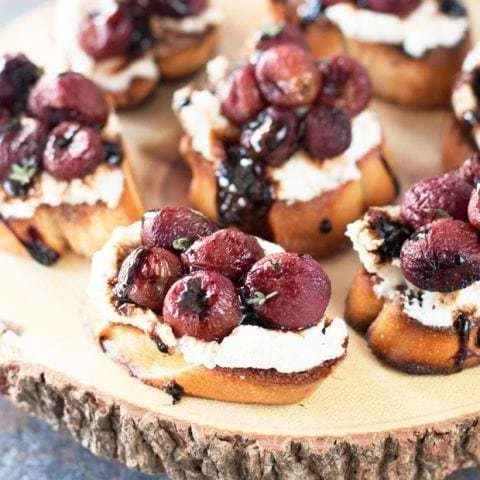 Roasted Grape & Balsamic Crostini
The roasted grapes and balsamic pair perfectly with the smooth and creamy ricotta for this winter party appetizer.
Ingredients
1/2lb small red seedless grapes
1/2 Tbsp olive oil
1/3 cup balsamic vinegar
1 tsp brown sugar
1/2 tsp black pepper
Pinch of salt
Fresh thyme, chopped
6oz whole milk ricotta
1 French baguette, cut into 1/2 to 1-inch thick slices & toasted
Instructions
Preheat oven to 450 degrees.
In a small bowl, toss together the grapes and olive oil. Add a pinch of salt and toss again. Add the grapes to a rimmed baking sheet in an even layer and roast until they start to blister, approximately 12 minutes. Remove from oven and set aside.
While the grapes are roasting, reduce the balsamic vinegar over medium-high heat until it thickens and is reduced to about 2 Tbsp. Stir in brown sugar, black pepper, and a pinch of salt.
To assemble the crostini, spread a thick layer of ricotta on each slice of bread. Top with roasted grapes and drizzle with the balsamic reduction. Sprinkle each with chopped thyme and serve.