Please note this post contains affiliate links.
A Pumpkin Pie Martini is a slice of pumpkin pie, made for your cocktail glass! The rich and creamy cocktail is just the right balance of sweet, boozy, pumpkin spice, and pure pumpkin. With the whipped cream topping, it's the ideal indulgence for the season!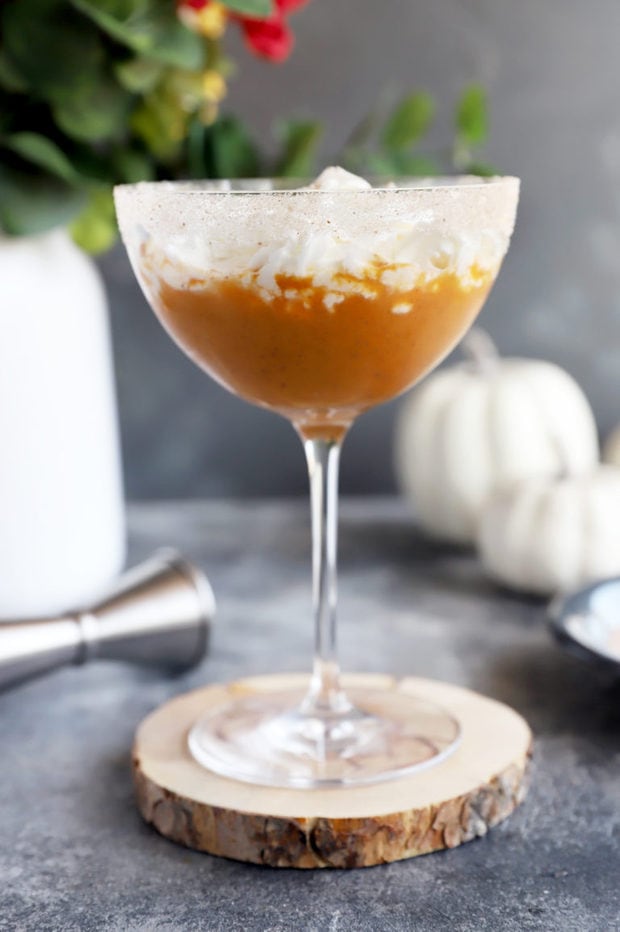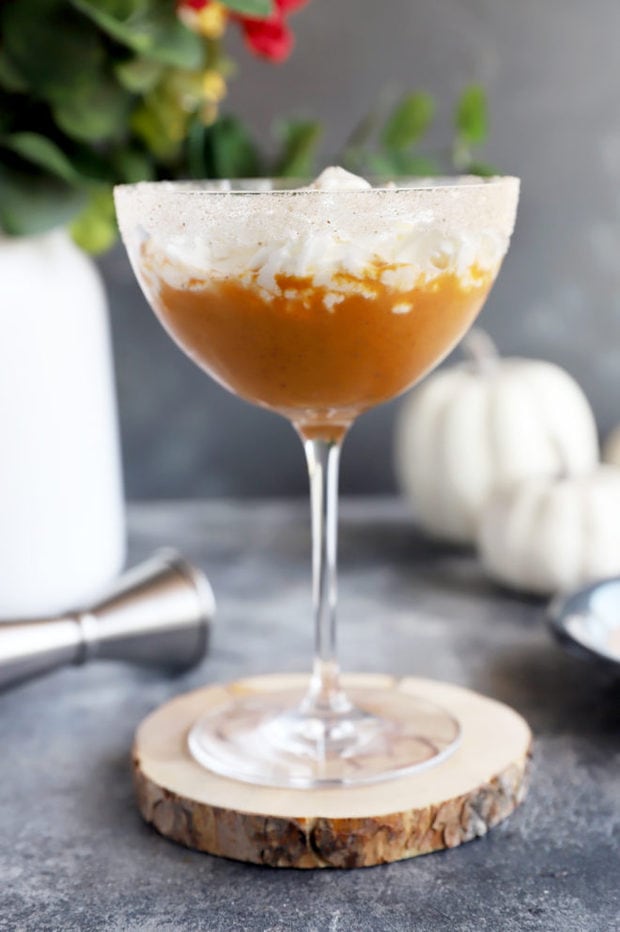 Who's ready for a drink?!
This gorgeous fall martini is literally a slice of pumpkin pie in your mouth. Made even better by the addition of booze, naturally.
Note: This is an updated version of the original posted on October 23, 2013.
I don't know how many of you out there are mothers, but I have to talk to you for a moment. If you aren't, just go ahead and scroll past the next few lines LOL.
Does this whole 'mom brain' thing ever go away?
Because I am OVER. IT.
The funny thing is Babycakes is such a chill little dude. He has his grumpy days, but for the most part, he is just a sweetheart of a child and I love spending time with him.
On the other hand, I am absolutely exhausted all the time. My brain can't seem to remember what is happening half the time. I start things and can't seem to finish them because I forget I started them. HELP PLEASE.
Someone give me some hope that it either goes away OR it gets better and you can manage it as the years roll by.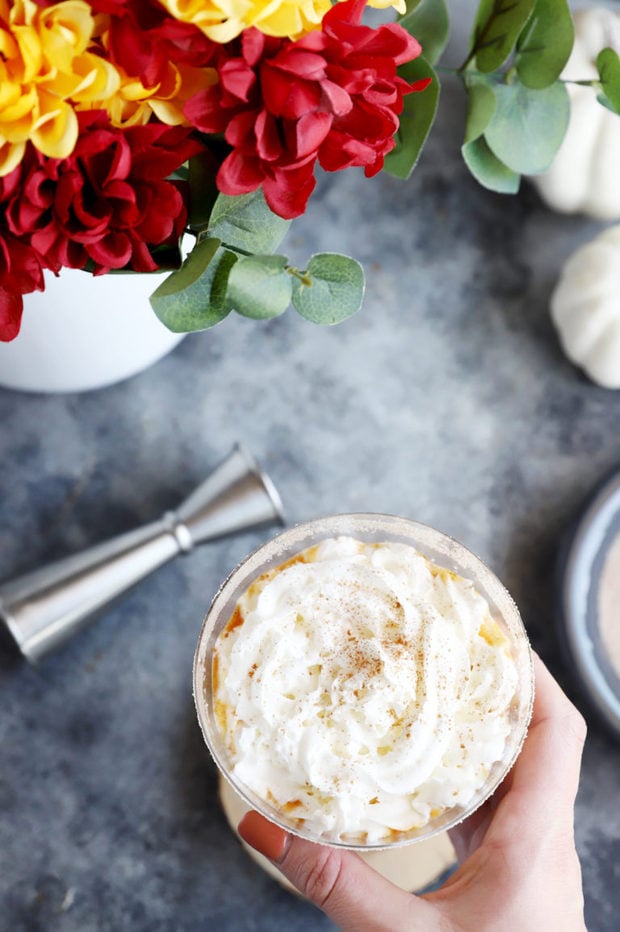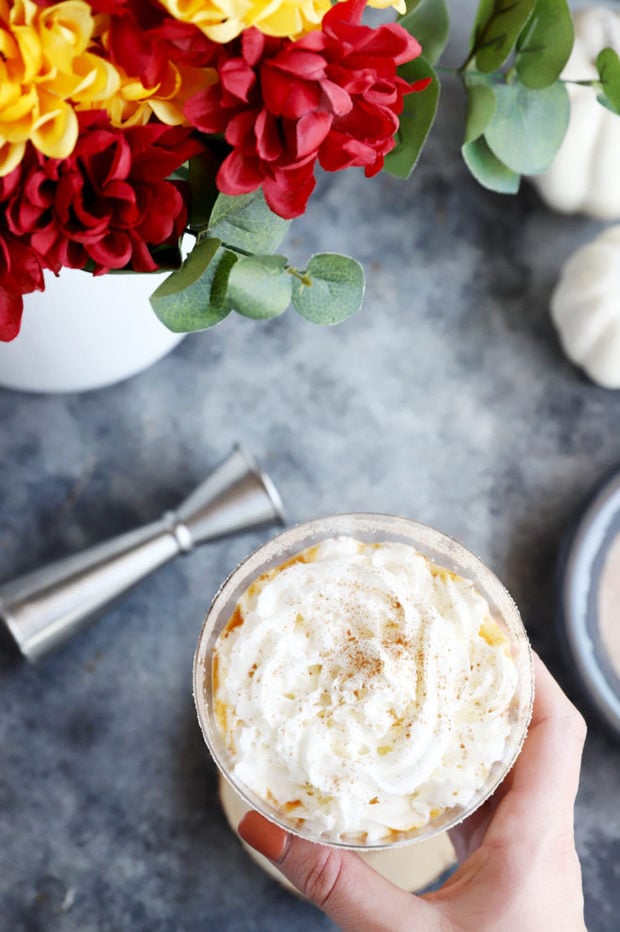 Now, let me get back to the cocktail.
This creamy, dreamy pumpkin martini is a total indulgence. It's the one that I reach for on a particular festive evening. The easy cocktail I throw together to impress friends at a gathering throughout the fall season. It's the fun drink to bring out after Thanksgiving dinner as a pairing with your pies and other sweet treats.
It's exactly what the name says – pumpkin pie in a martini glass.
Cheers to my favorite season, friends! FALL FOREVER!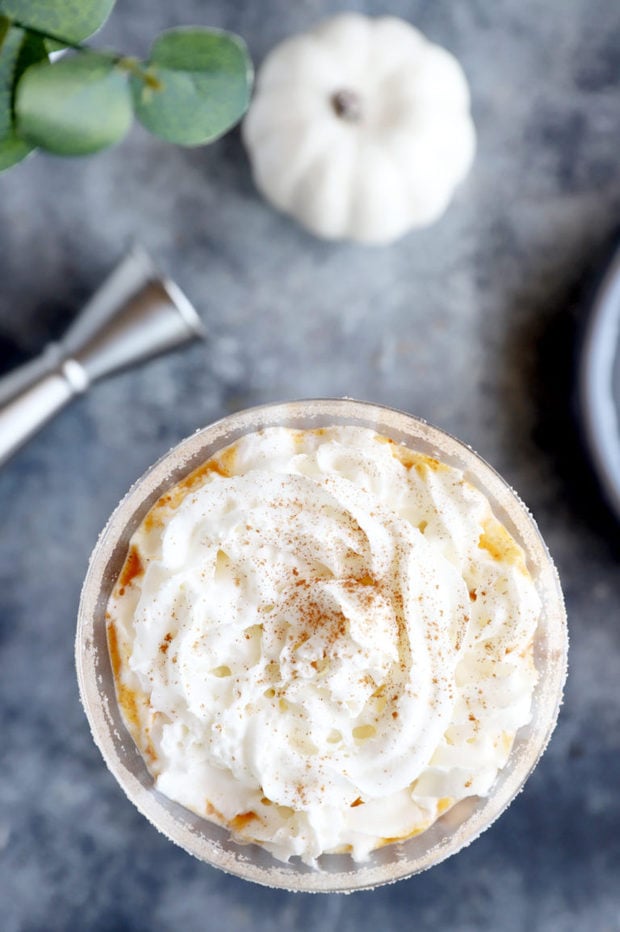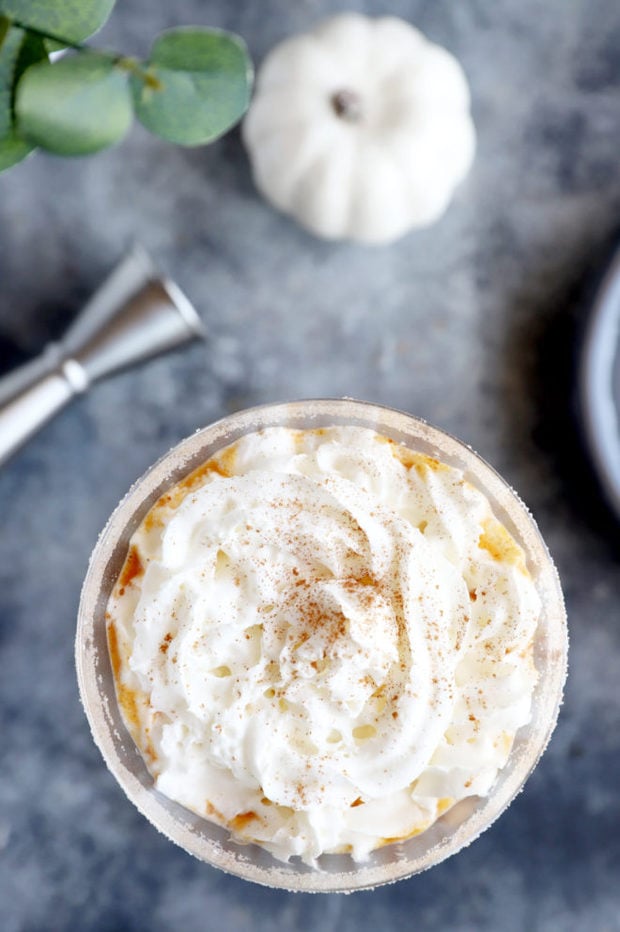 this recipe's must-haves
All you need to make this cocktail is a cocktail shaker! I personally prefer a Boston cocktail shaker for this.
I used these pretty martini glasses for the cocktail as you see in the pictures here. However, you can use any martini glass you like!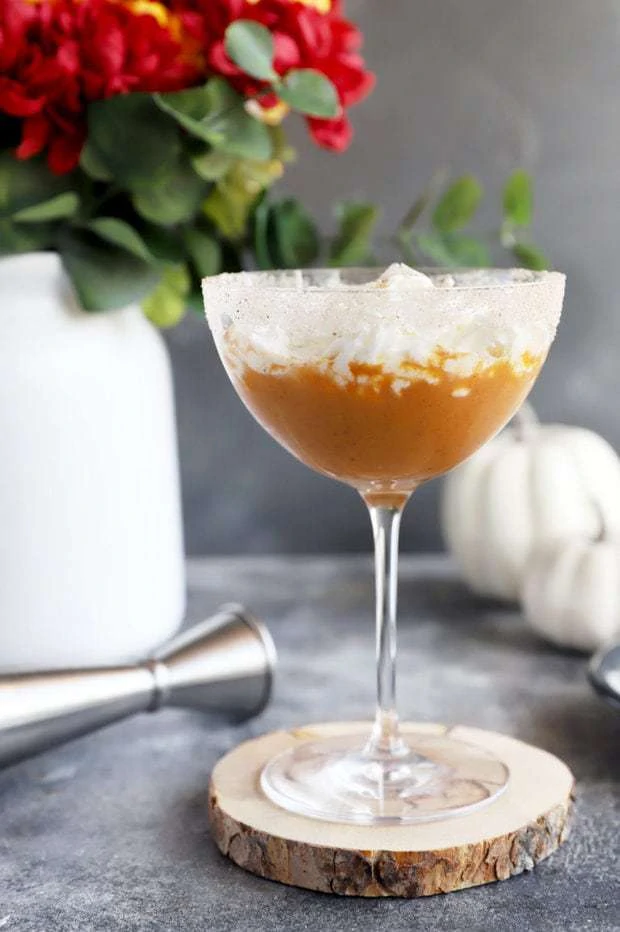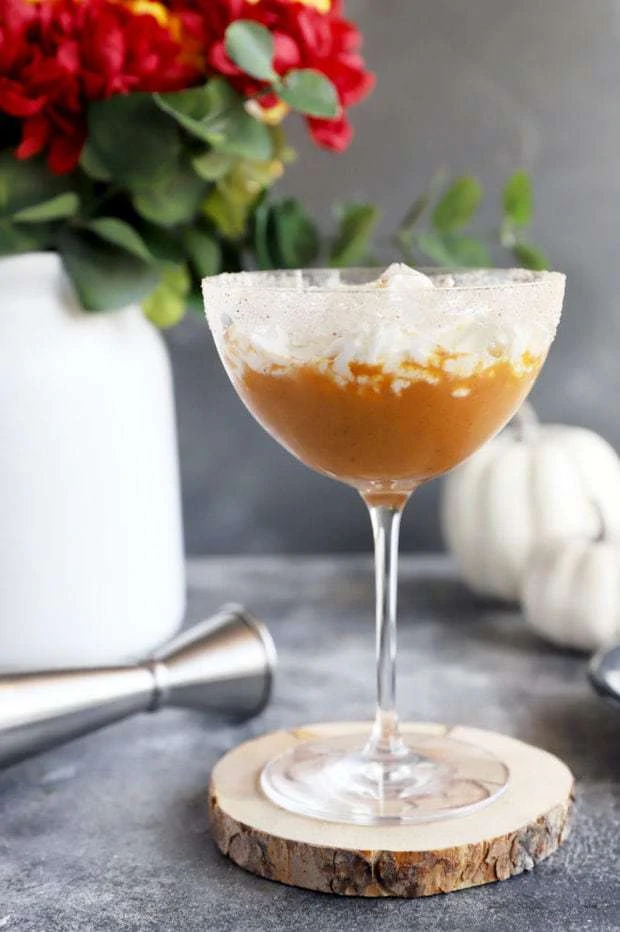 here's how to make a pumpkin pie martini!
Rim Glass
Combine sugar and pumpkin pie spice in a small bowl, then add to a small plate.
Wet the rim of the glass with a wedge of lemon, then roll in the rimming sugar mix. Set glasses aside.
Shake
Combine all cocktail ingredients in a cocktail shaker filled with ice. Shake well until thoroughly chilled.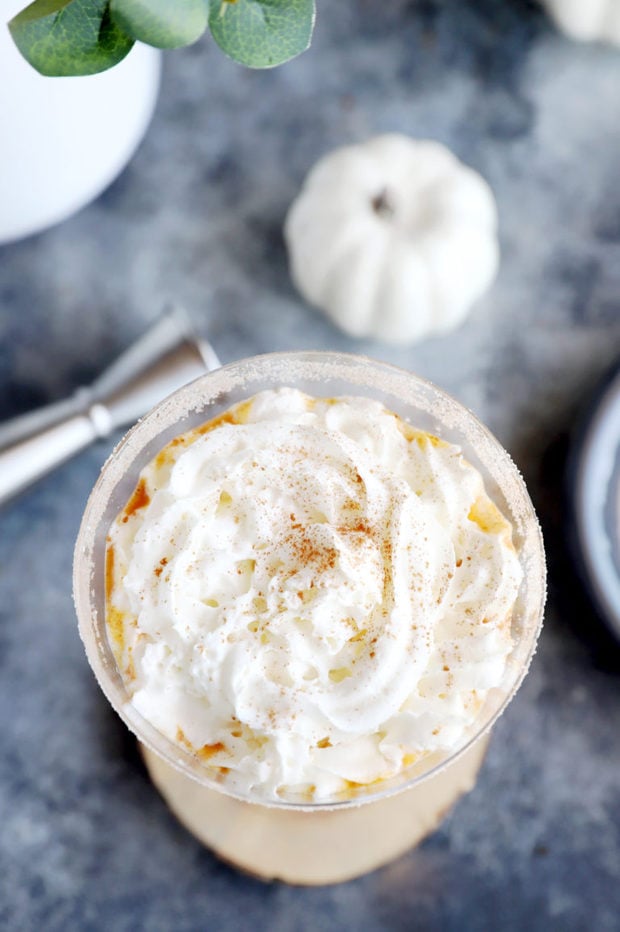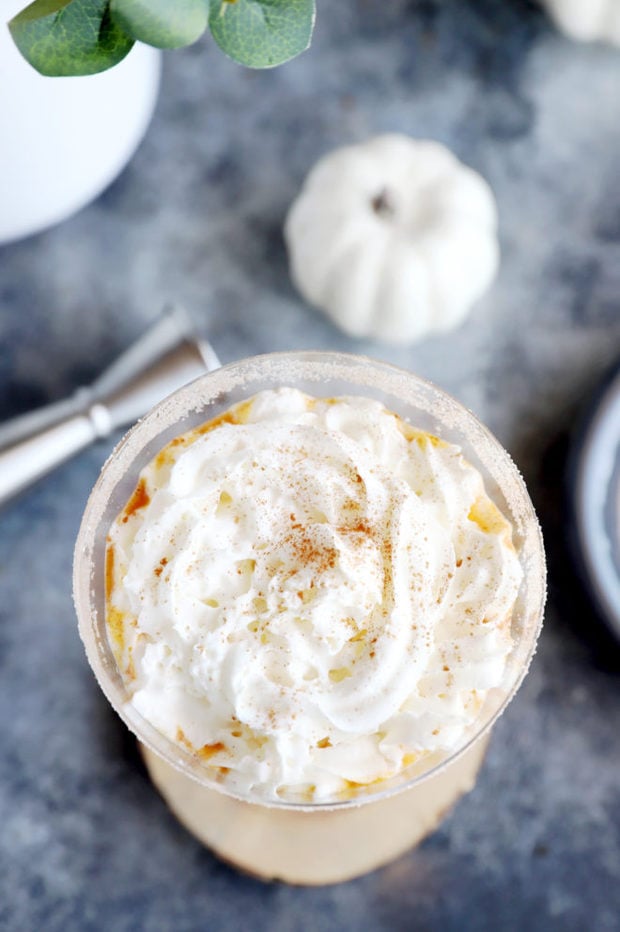 Strain
Strain into prepared cocktail glass and top with whipped cream and a sprinkle of ground cinnamon. Serve.
Need some more inspiration for cocktails? Check out my cocktail recipes page!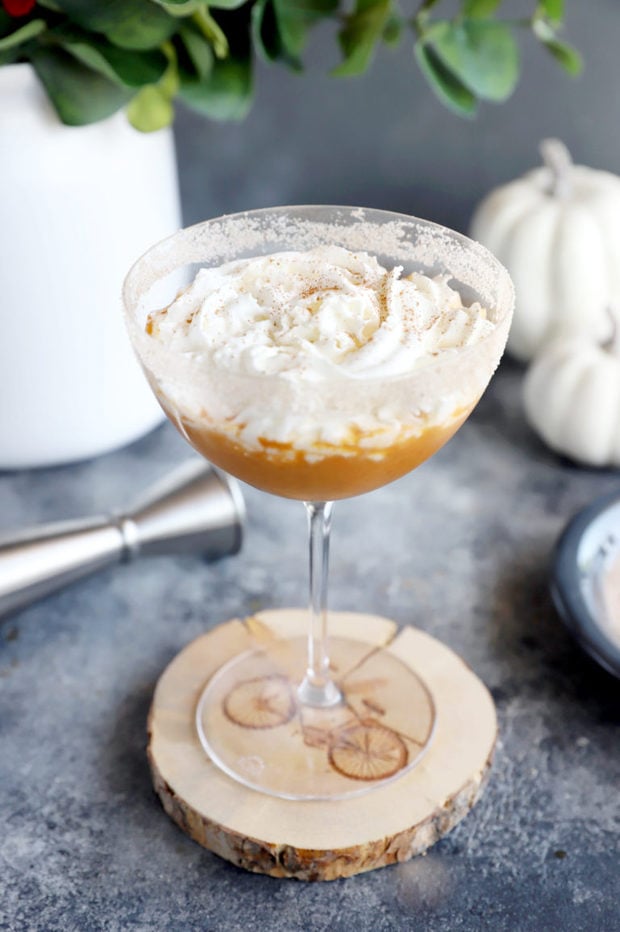 can I make this non-dairy?
You can! I recommend using oat milk as a replacement for the half-and-half. You can also use coconut cream as a topping, if you prefer.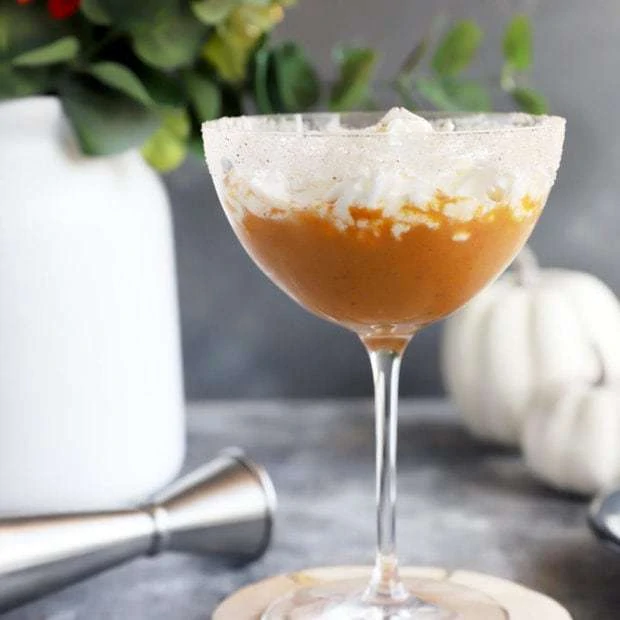 Pumpkin Pie Martini
Pumpkin pie in a glass! A cocktail glass... 😉
Ingredients
Rimming Sugar
2 Tbsp sugar
1/2 tsp pumpkin pie spice
Cocktail
2 oz vodka
1 1/2 tsp half and half
2 Tbsp maple syrup
1/4 tsp pumpkin pie spice
1/4 tsp vanilla extract
2 Tbsp pumpkin puree
Topping: whipped cream, ground cinnamon
Instructions
Combine sugar and 1/2 tsp of the pumpkin pie spice on a flat plate. Rim two martini glasses with the spice sugar.
Combine vodka, half and half, maple syrup, pumpkin pie spice, vanilla extract, and pumpkin puree in a shaker filled with ice. Shake thoroughly and strain into rimmed martini glasses.
Recommended Products
As an Amazon Associate and member of other affiliate programs, I earn from qualifying purchases.