Please note this post contains affiliate links.
Chocolate Chip Apple Pie Bread Pudding is my new favorite seasonal dessert addiction. It's got all the flavor of rich, dense apple pie PLUS chocolate… This decadent dessert is easy to make and oh-so tasty. What more could you possibly want?!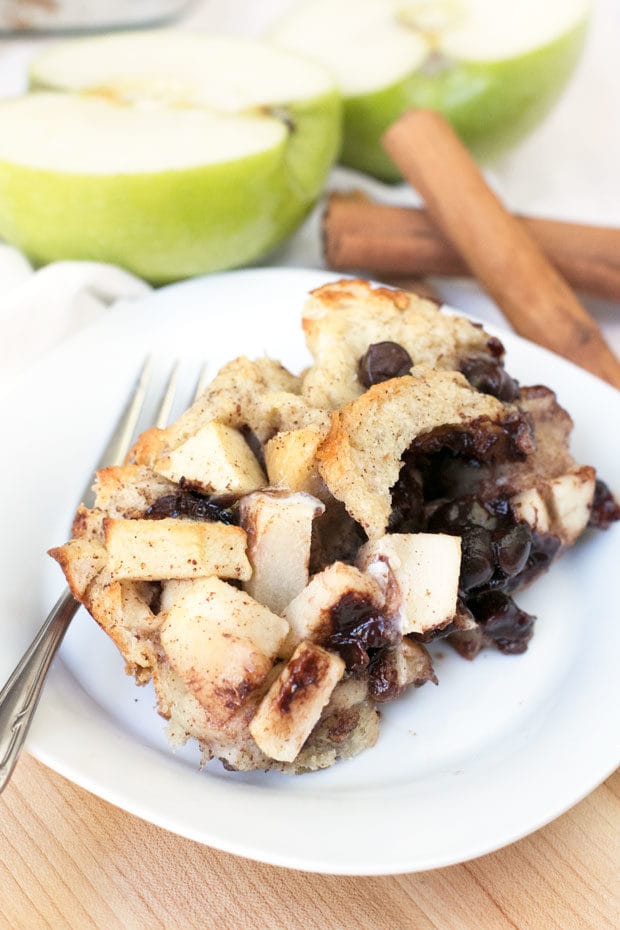 There are few things in this world as comforting as apple pie. Apple pie is one of those all-American recipes that embraces you like an old friend with every warm, ice cream-covered bite.
I've needed a bit of comfort lately.
I know I've dropped some snide remarks about moving in the next few days, but I've been on the freakout stress train for a wee bit too long now.
I'm in the process of a way too personal, overly detailed post about the whole thing (because writing your feelings is a good thing right?), so I'll dump on you all the feels in a separate post.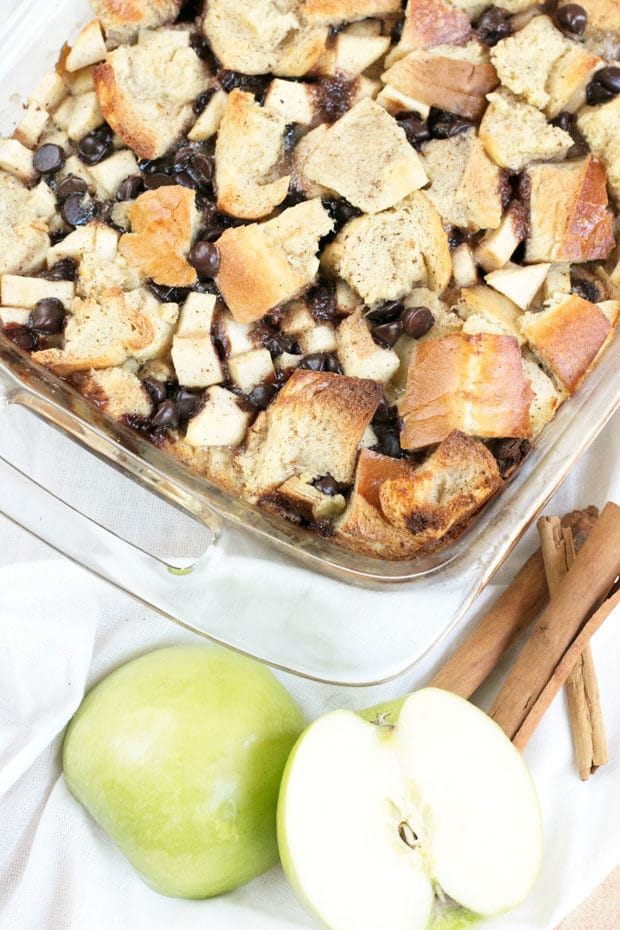 Suffice to say, I've needed to take a step back and I finally did.
With the encouragement of amazing blog friends, both old and new, I am going to stop pushing my freelancing game to a point of danger. It's time to refocus on what I love, and that's Cake 'n Knife (well, and you guys of course).
Sometimes you can only take a step backwards to take 10 steps forwards, you know what I mean? There's no knowing what the future holds, but pushing myself to the point of making me insane and unhappy is never going to solve it, that's for sure.
I've got ebooks and videos in the works – plus another HUGE giveaway (have you entered the other one yet?!) – and I'm finally feeling back to a balanced person. It's so nice to finally feel productive and to enjoy exactly what I am doing every day!
Now I just need to get back into my workout routine and I think I might stop losing my shit every five seconds on everyone around me…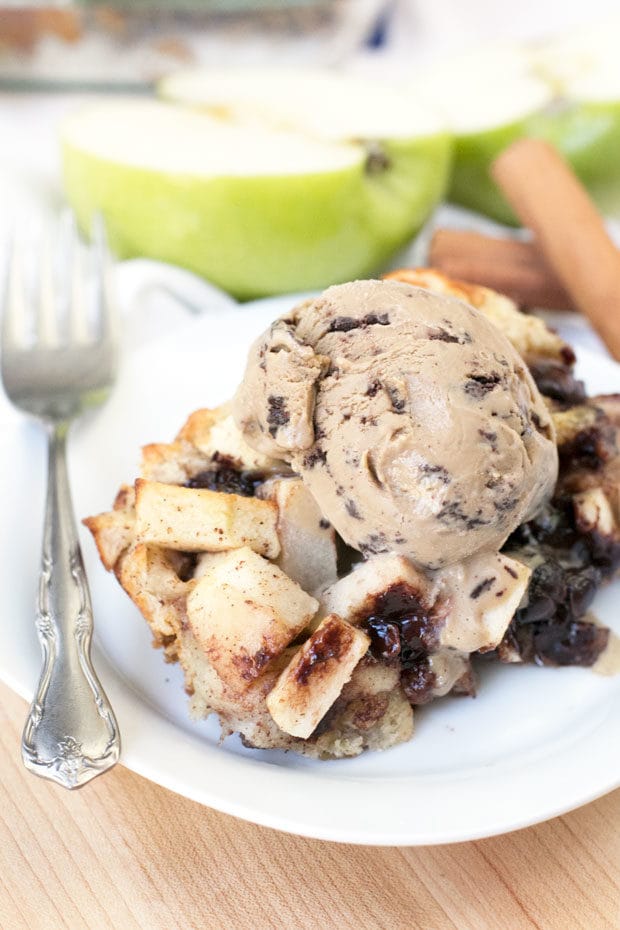 I've been turning to comfort food a lot lately, both on the blog and in the kitchen, and this bread pudding is the ultimate success recipe so far. It's rich, chocolatey, and filled with all those apple pie flavors you know and love.
It's ridiculously simple to make (much easier than apple pie) and it feeds a crowd! I have taken to eating this bad boy for breakfast (#noshame), and with a cup of coffee?! HOLY CRAP.
I then got the idea to pair it with a coffee chocolate chip gelato – because why not?
Mind. Officially. Blown.
So go. Make this. Right NOW. Revel in the bliss with me. Then top it with ice cream and have a party!
This Recipe's Must Haves
I like to use a stoneware baking dish when I am making this recipe to serve straight out of the pan. However, a glass baking dish also works really well!
To make the mixture, go ahead and reach for mixing bowls. I like the metal ones like these because they can be put in the dishwasher.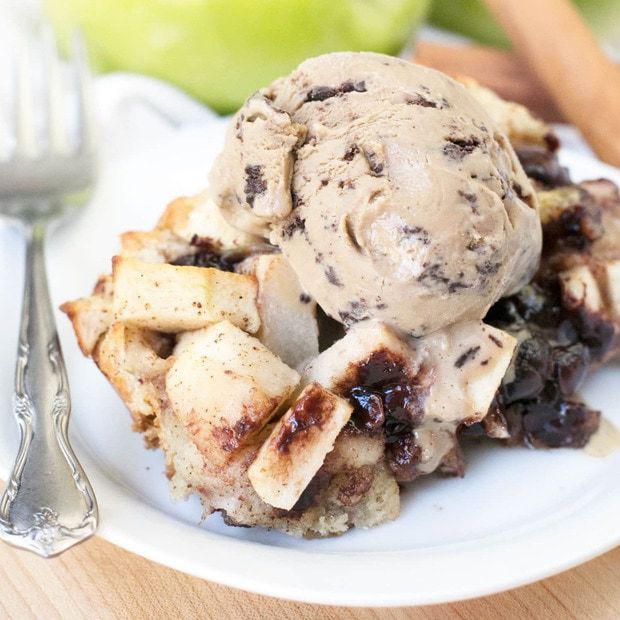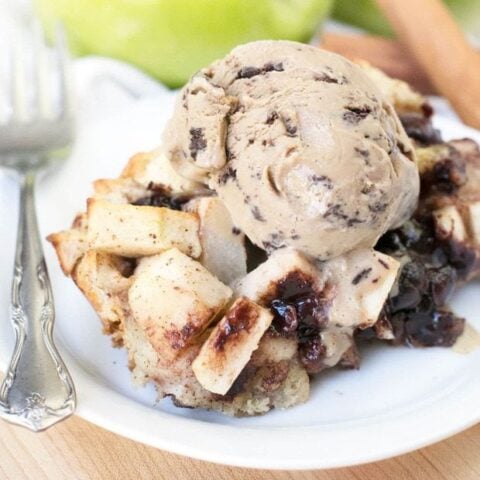 Chocolate Chip Apple Pie Bread Pudding
Apple pie in bread pudding form, with chocolate! What could be better?!
Ingredients
10 cups cubed (preferably day-old) French bread (approx. 1 inch in size)
3 granny smith apples, peeled, cored and cut into small 1/2-inch pieces
1 cup dark chocolate chips
4 eggs, lightly beaten
1 cup heavy cream
1 cup milk
1 cup sugar
2 tsp vanilla
1 tsp ground cinnamon
1/2 tsp nutmeg
1/4 tsp ground clove
1/4 tsp ground allspice
Instructions
Grease a 9x13 inch dish with cooking spray or butter.
Add half of the bread in an even layer to the baking dish. Top with the chopped apples and a layer of half the dark chocolate chips. Top with a final layer of cubed French bread.
In a large bowl, whisk together eggs, heavy cream, milk, sugar, vanilla, cinnamon, nutmeg, ground cloves and allspice. Pour the mixture over the bread and chill the dish for at least 2 hours.
When ready to bake, preheat oven to 350 degrees. Bake 40 to 50 minutes until the custard is set.