Please note this post contains affiliate links.
Easy Individual Bourbon Apple Pies are the perfect sized dessert to fulfill a fall dessert craving or to serve at your next holiday party. All the flavor of apple pie, a quarter of the effort and spiked for your merriment!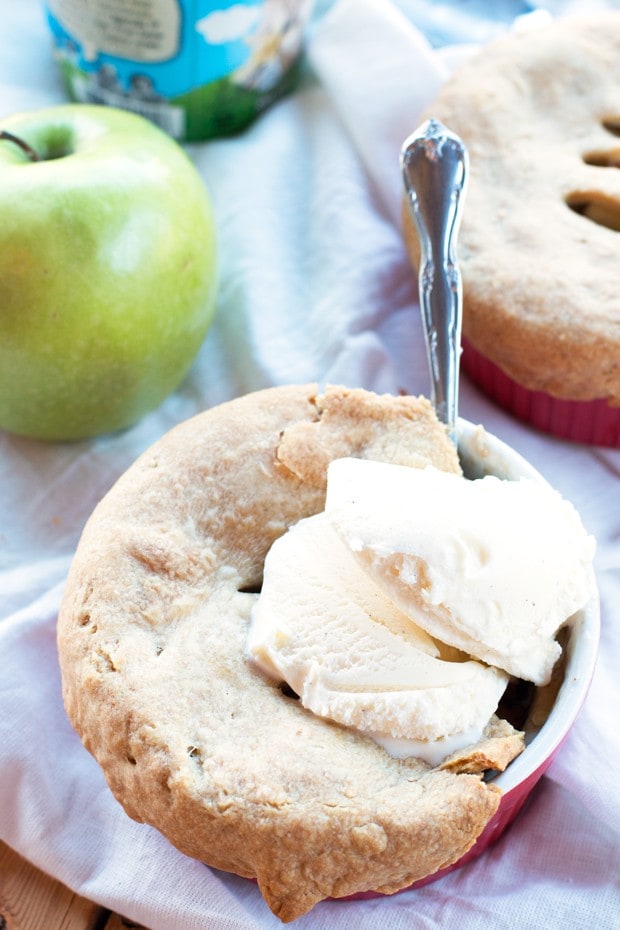 These little easy individual bourbon apple pies were born out of a combination of craving apple pie, not being able to readily access a food processor and pure laziness.
The best ideas are born from a combination of cravings, limitations and laziness, right? I say YES.
I went back and forth all week about whether I wanted to make a traditional apple pie, an apple tart, or just throw my hands up and hide from the disastrous baking luck I've had lately.
It's been a rough week in my kitchen folks.
When I finally decided I was making something apple pie-like, the idea popped in my head to make them individual pies.
I'd love to say it was an effort to keep my diet in check, but really it was an effort not to share with anyone else.
She says the week before Thanksgiving…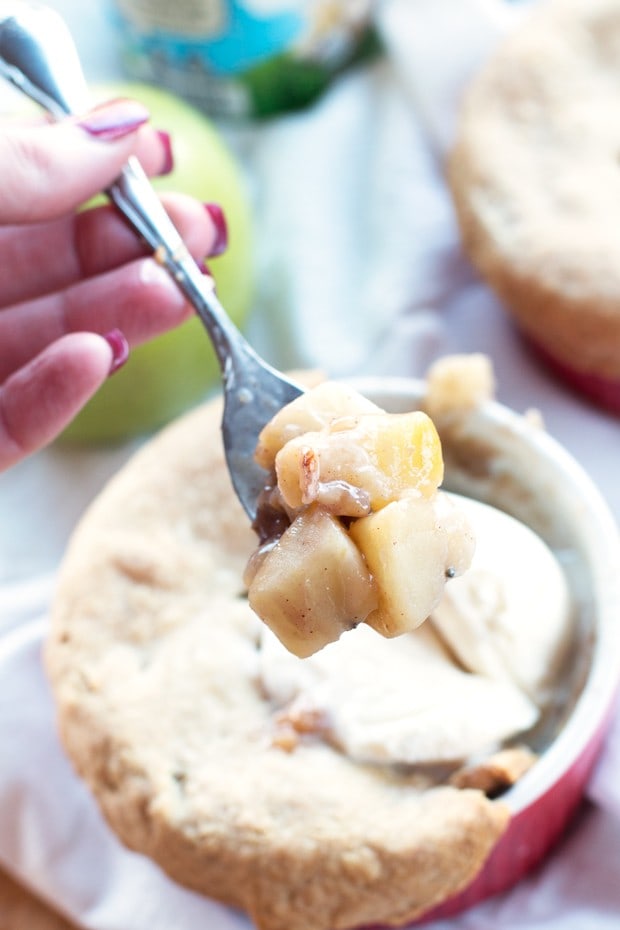 If you aren't feeling the baking but want all the warm goodness of a slice of apple pie, this is your new bestie.
I even threw in some bourbon to make that warm feeling in your belly last a little longer with every bite.
Bourbon makes everything better.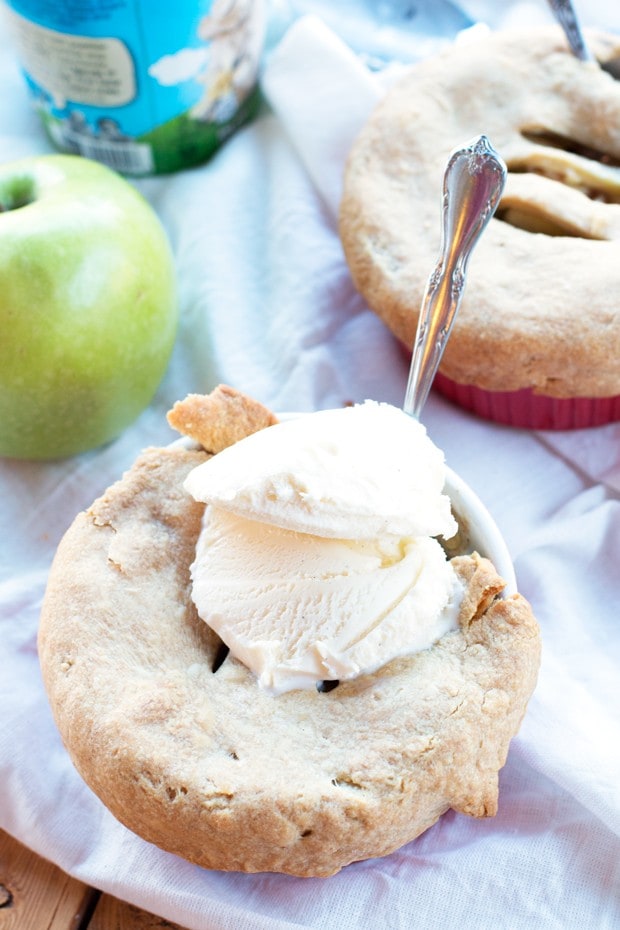 Dessert cravings, girls night in, holiday parties, Thanksgiving dessert, a special dessert for two (which will surely get you some lovin', just saying…) – there's no occasion that isn't right for these little pies.
They take barely any effort to pull together, the majority of the time is spent baking in the oven so you can sit back, relax, and start prepping your palette with a little bourbon and vanilla ice cream.
What, that isn't your typical Thursday night?
Don't judge.
This Recipe's Must Haves
For the filling, all you need is your trusty skillet and wooden spoon!
I bake these pies in ramekins! Super simple and they look great to go straight from oven to table.
To roll out the dough that goes on top, I like to use my marble pastry board and marble rolling pin. The marble keeps the dough cool and the heavy rolling pin makes it super easy to roll out.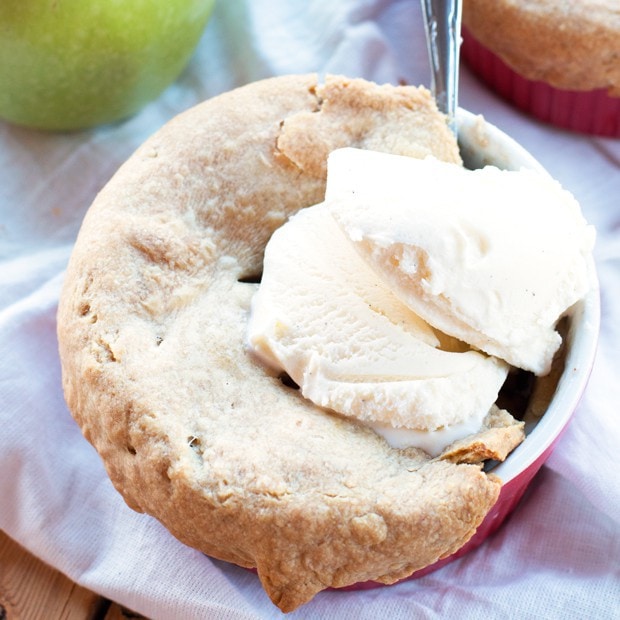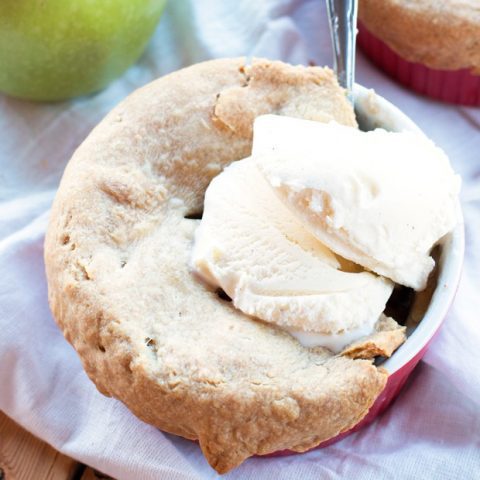 Easy Individual Bourbon Apple Pies
Yield:
2 large ramekin or 4 small ramekin pies
All the flavor on an apple pie, wrapped up in an individual ramekin just for you!
Ingredients
9-inch pie crust, thawed if frozen and removed from pan
3 large granny smith apples, peeled, cored, and chopped
2 Tbsp unsalted butter
1 1/4 tsp lemon juice
1 1/2 Tbsp flour
1/3 cup brown sugar
1/8 cup granulated sugar
1 tsp cinnamon
1/4 tsp nutmeg
2 Tbsp bourbon
1/4 tsp salt
1/3 cup chopped pecans
Vanilla ice cream
Instructions
Preheat oven to 350 degrees.
Lightly roll out pie crust into a large rectangle. If the dough is dry you can add a little water and work the dough until it's malleable enough to roll into a large rectangle. Cut circles that are 1/2" wider around the edge than the mouths of the ramekins you plan to use. Set dough aside for the moment.
In a large skillet, combine chopped apples, lemon juice, flour, 1 Tbsp unsalted butter, brown sugar, granulated sugar, cinnamon, nutmeg, bourbon and salt. Cook the apples over medium heat until they are just turning soft but are not falling apart, approximately 10-12 minutes.
Fill the ramekins with the apple mixture, dividing evenly between them. Butter the edges and rims of the ramekins. Add 1/2 Tbsp to the top of the apple mixture in both ramekins (if you're using 4 small ones, add 1/4 Tbsp to each ramekin filling).
Add a circle of pie crust to the top of each ramekin, letting the crust drape over the edges and pressing down firmly on the edges all the way around.
Bake for 20 minutes until the crust is golden brown and cooked through. Serve immediately with vanilla ice cream.