Please note this post contains affiliate links.
Toast the holiday season with any of these Thanksgiving cocktails! From chilled cranberry cocktails to seasonal moscow mules, warm cider to autumn old fashioned cocktails, these flavorful libations are perfect to sip, savor, and celebrate.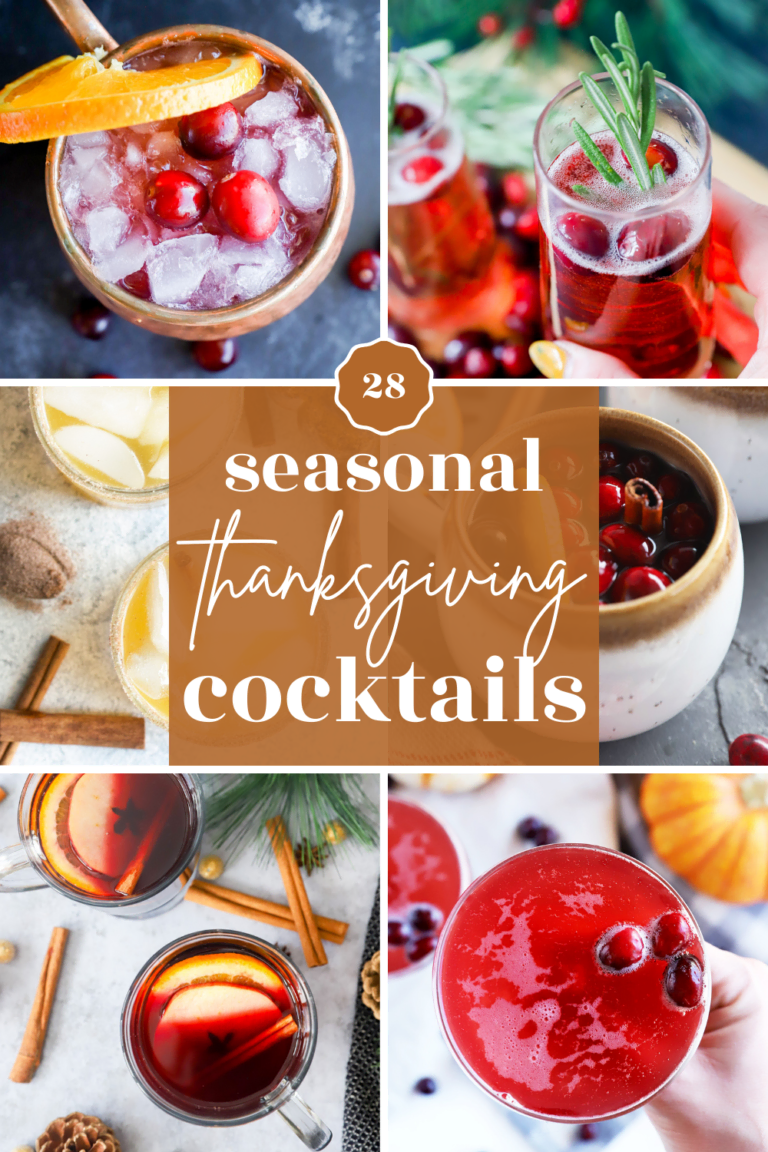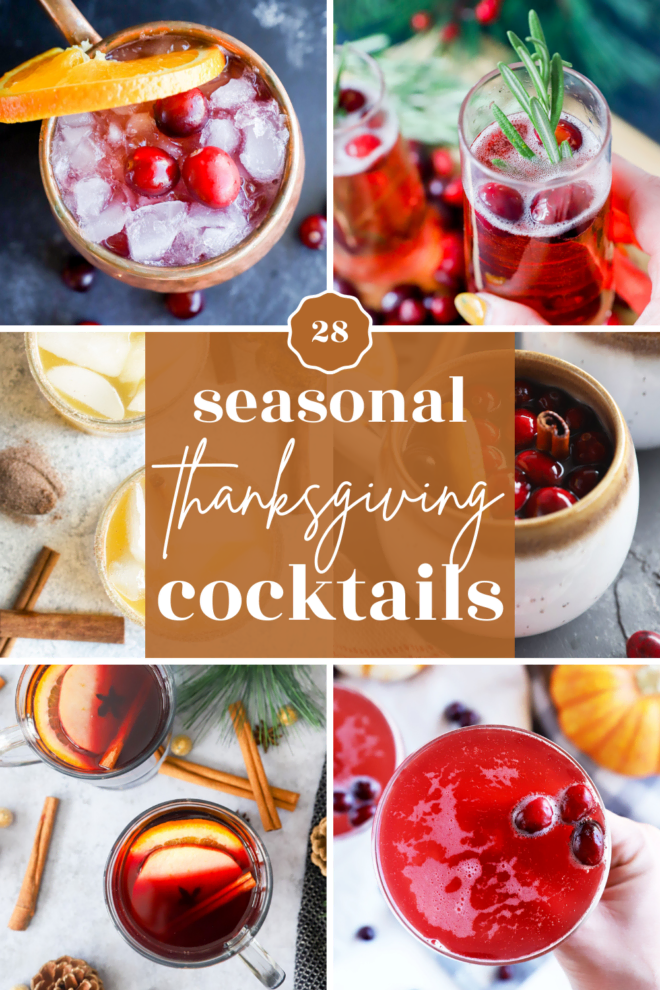 table of contents
about thanksgiving cocktails
With a touch of crispness in the air and the autumn leaves falling to the ground, the smell of turkey and pumpkin pie is about to fill the air. Thanksgiving is one of my favorite holidays, but not only because of the seasonal food and excuse to nap in the middle of the day after a giant meal.
Thanksgiving is the holiday that brings everyone together to spend time together. Whether you are hosting on turkey day or planning to attend a gathering, any of these Thanksgiving cocktails are the ideal addition to your celebration.
In this round up, we invite you to raise a glass and join us as you peruse the list of seasonal flavors that make up these Thanksgiving cocktails. Any one of these make the perfect accompaniment to the holiday's warmth and abundance.
everyday seasonal cookbook
With seasonal produce guides, recipes, and more, this cookbook is filled with seasonal food for every occasion.
thanksgiving cocktails
my must-haves for thanksgiving cocktails
To make any of these cocktails, make sure you have all the barware must-haves. For the drinks that are made in a shaker, you will need a cocktail shaker, jigger, and cocktail strainer. If you are making these cocktails in bulk, using a cocktail mixing glass with a bar spoon makes it much easier to make shaken drinks quickly in one go.
For the punch-style drinks, have a copper punch bowl or a pitcher handy.
When it comes to glassware, I have an obsession. Therefore I always have my favorite cocktail glasses on hand in bulk. If you are looking to expand your glassware, picking up coupe glasses and double old fashioned glasses are always the best options to have on hand for any kind of drink you plan to make. Don't forget the copper mugs for the moscow mules!
just one more thing…
It's hard to end a post about Thanksgiving cocktails without mentioning Thanksgiving dinner recipes! Obviously, these drinks need to be paired with your favorite Thanksgiving recipes.
For appetizers, easy baked camembert is topped with cranberries and walnuts, making it perfect for dipping. You could also make roasted cranberry goat cheese crostini!
When it comes to the main dish, this smoked beer brined turkey is what I make every single year. If you are having a smaller gathering, beer brined turkey breast or smoked turkey breast is ideal. You could also use this delicious turkey brine and roast the turkey however you like!
For side dishes, sausage stuffing is a personal favorite, stuffed with caramelized onions and apples. Creamy bacon butternut squash risotto is comforting and cozy as well. Don't forget about the instant pot mashed potatoes too!
Finally, for dessert, pecan pie cheesecake is the ultimate dessert mashup. If you prefer something more fruity, these light and airy cranberry cheesecake mousse cups are a lovely make-ahead option.
Not seeing anything that inspires you here? Check out my full Thanksgiving recipes archive for all the recipes you could ever need to make the holiday extra special for you and your family and friends.