Please note this post contains affiliate links.
A Bourbon Caramel Apple Galette is how to do pie, the easy way. The rustic dessert is filled with a spiced apple mixture, wrapped up in the perfect homemade crust, and topped with a luscious bourbon caramel. You may never go back to those double-crust pies again…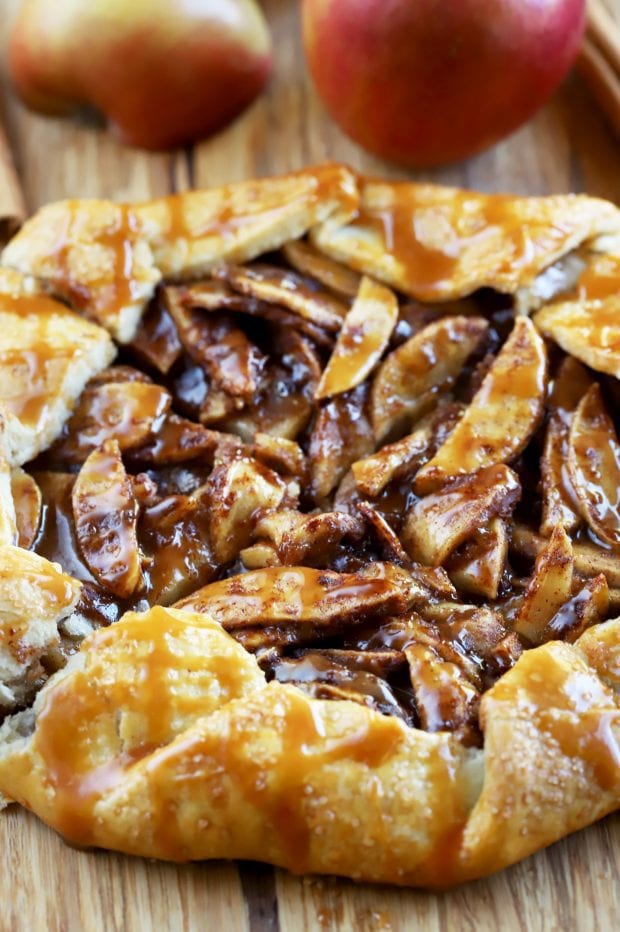 Disclosure: This post was sponsored by Bob's Red Mill. As always, all opinions are my own. Thanks for supporting the brands that support Cake 'n Knife!
Ok, it's confession time.
My strength does not lie in making the most gorgeous baked goods. In particular I struggle with making those perfect harvest fruit pies everyone fawns over come Thanksgiving.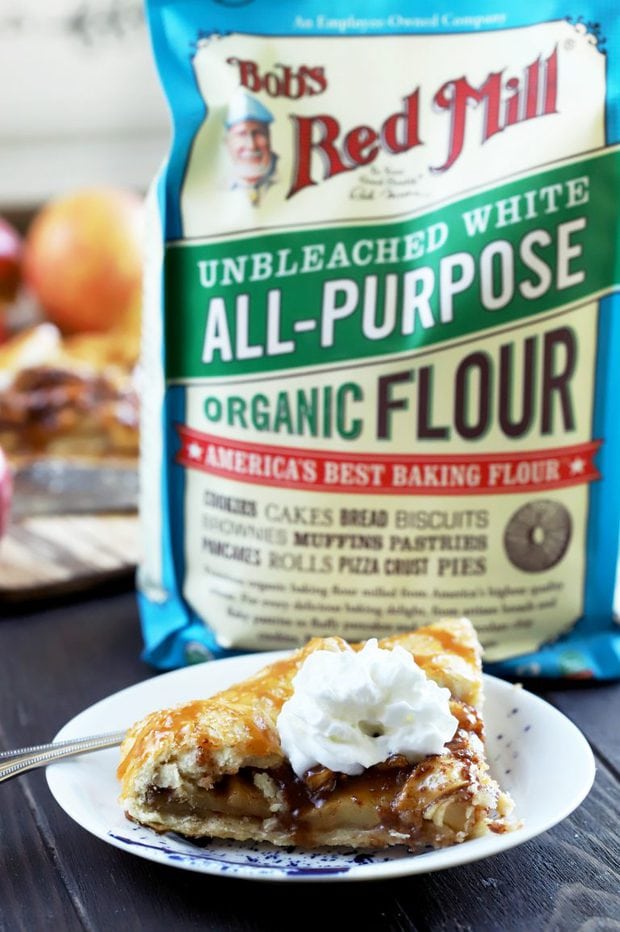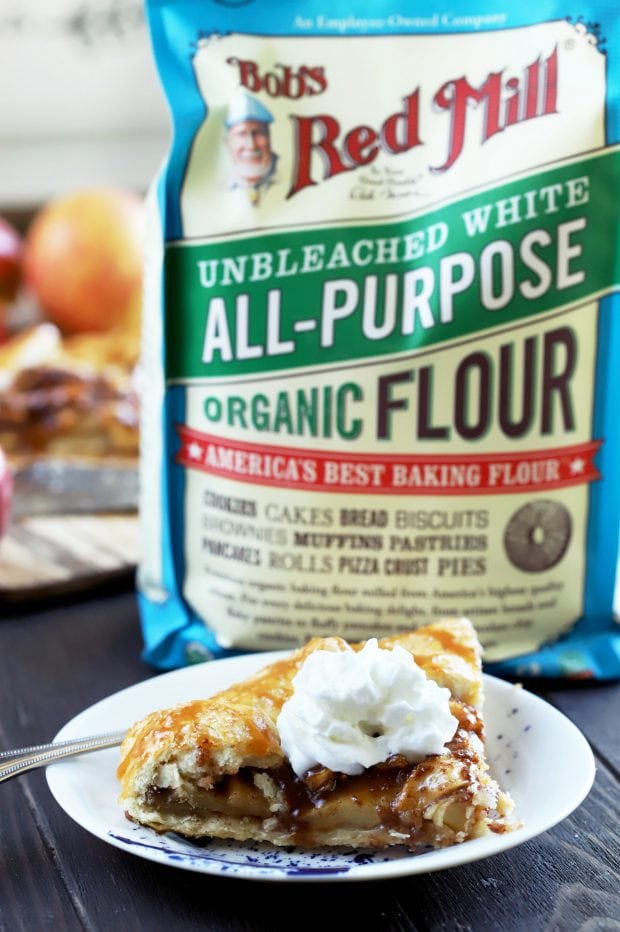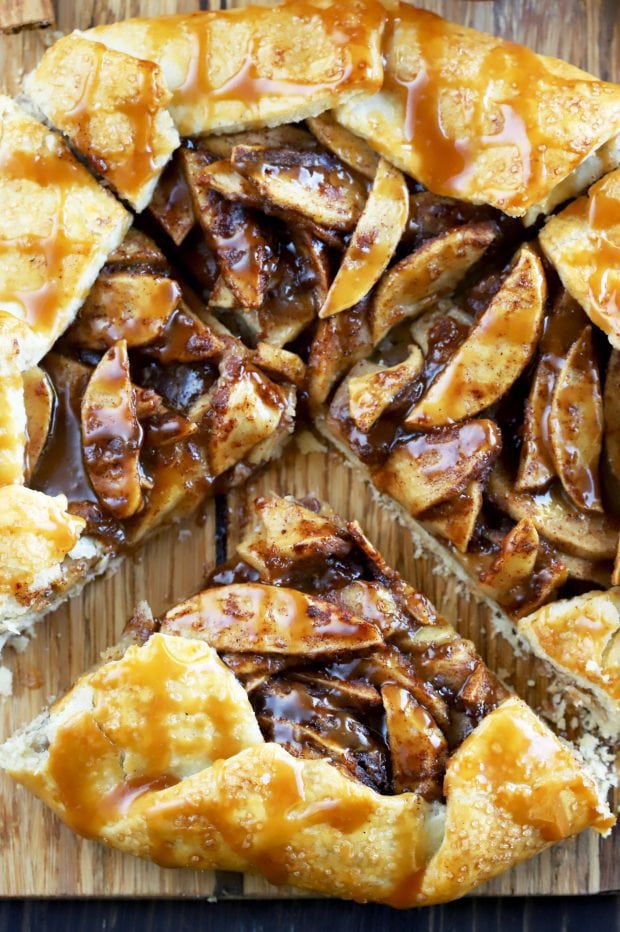 I wish I could say that I've tried to master it, but after a couple of fails and mortification in front of family, I ran away from fruit pies SO HARD.
That's why I spend all my time on galettes now.
Why?
They are rustic and come out gorgeous no matter how you pull them together. You can fill them with anything, from sweet to savory ingredients.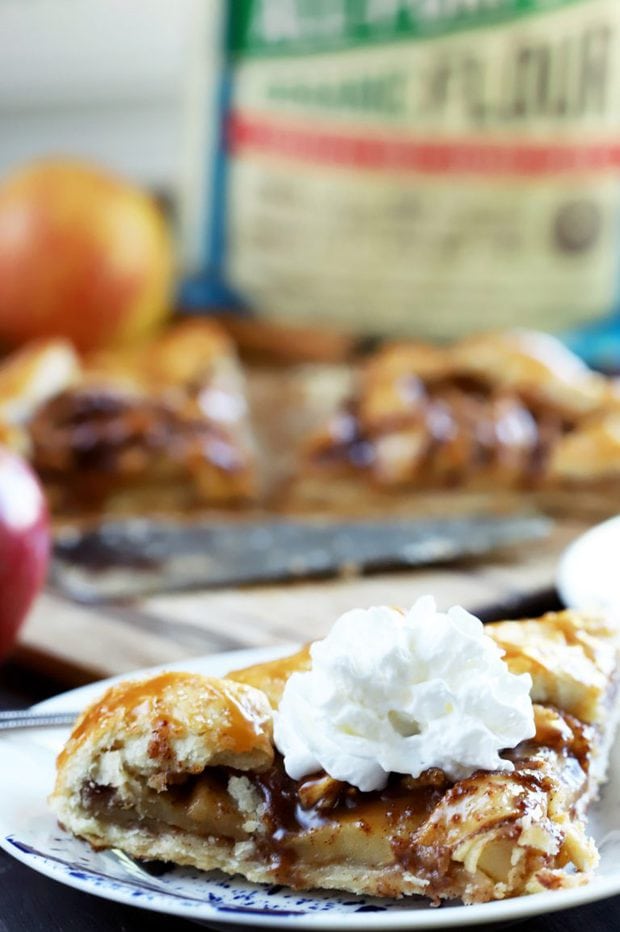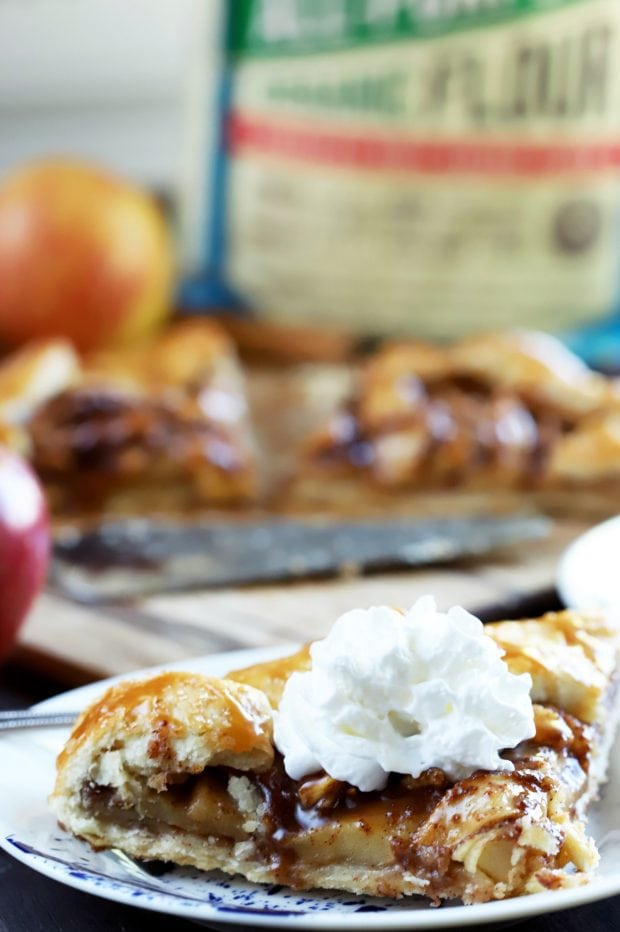 Finally, you aren't spending hours fussing over perfectly latticed tops, nor are you worrying about soggy bottoms (lol soggy bottoms… great British bake off fans, I salute you).
The latter of those last two issues is because of the most perfect galette crust in the WORLD.
Seriously, this is not an understatement. I have made galettes with this homemade dough countless times. Every single time the crust comes out crisp and flaky, while always being cooked through on the bottom. It comes out just the right way every. single. time.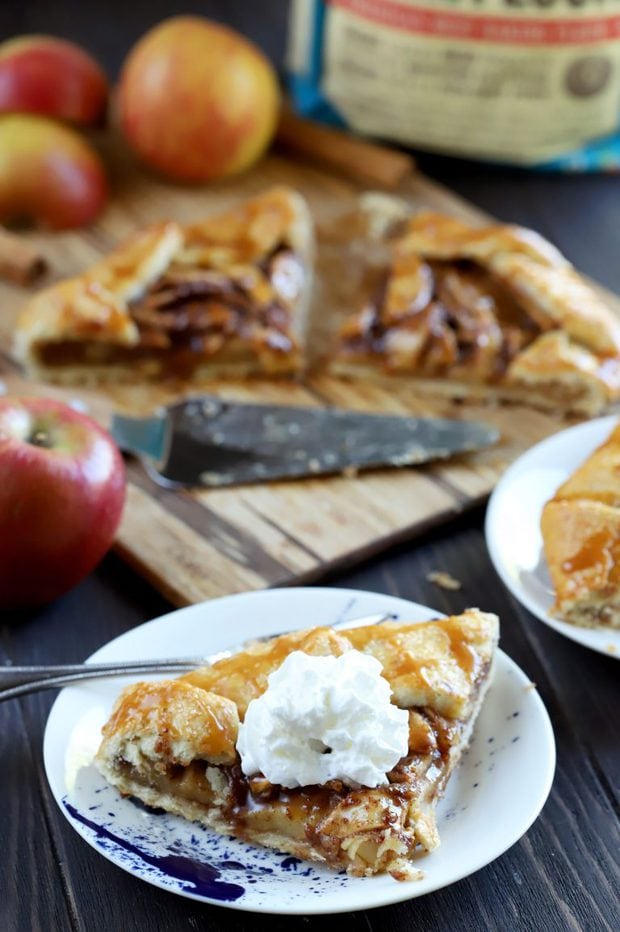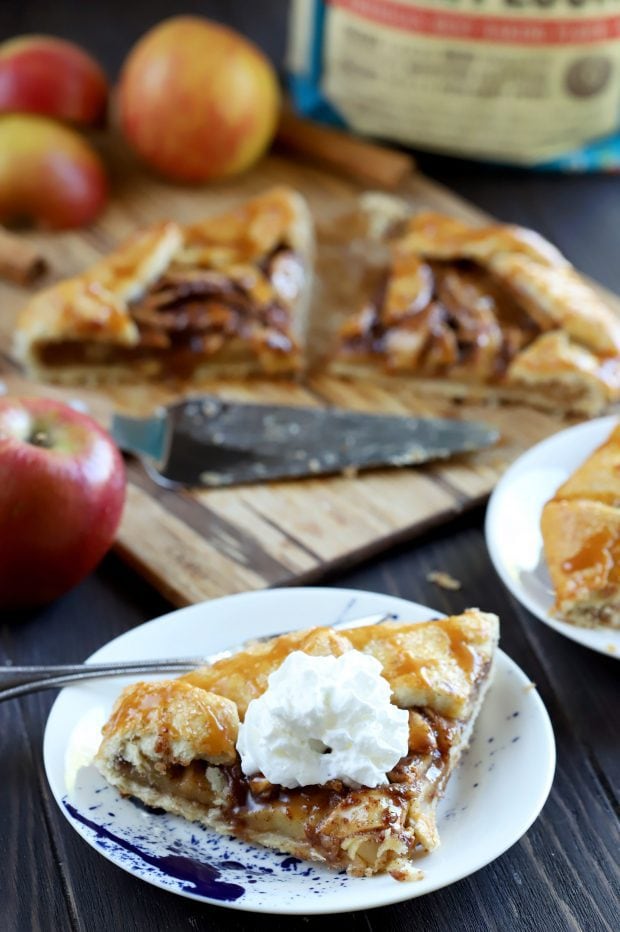 Now that's the kind of recipe you need in your back pocket when the holidays roll around, isn't it?
When you are making pastry/pie crust of any kind, you need to take care that you are choosing the right ingredients. It makes a world of difference, especially when the recipe requires so few ingredients in total. That's why I always go back to my favorite flour when I'm baking. That flour is Bob's Red Mill Organic All Purpose Unbleached White Flour!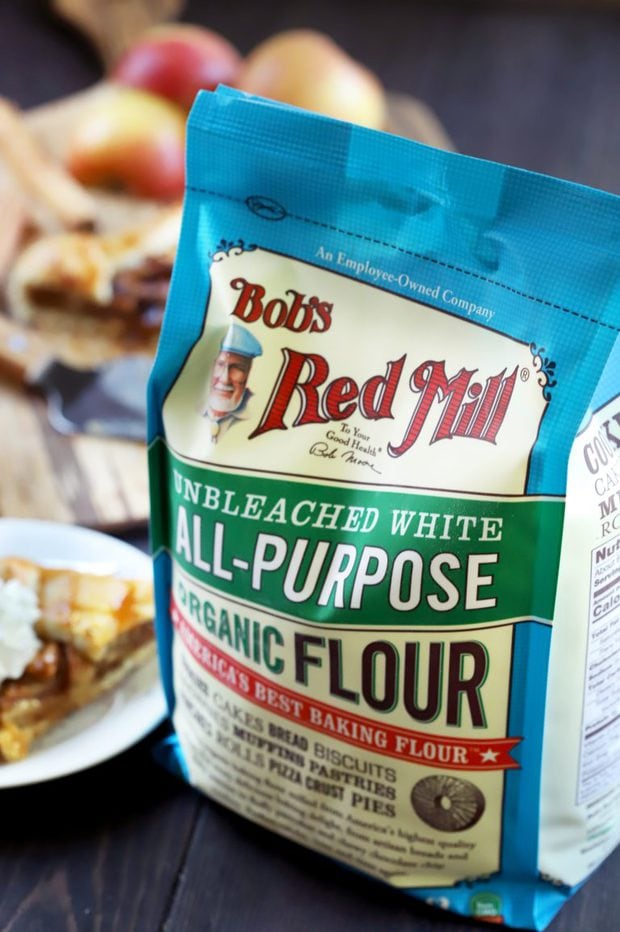 This flour is made from high quality wheat, which helps get the crust nice and flaky, but without falling apart with every bite. Their flour is made from high quality wheat and it makes the crust dough nice and fluffy. It also gives great flavor and texture!
As someone who is trying to care more about the ingredients that I put in my food, even when it comes to pantry staples, it feels great to know that I am not getting any of those extra necessary ingredients by using this flour.
Trust me when I say, once you go with Bob's Red Mill, you never go back!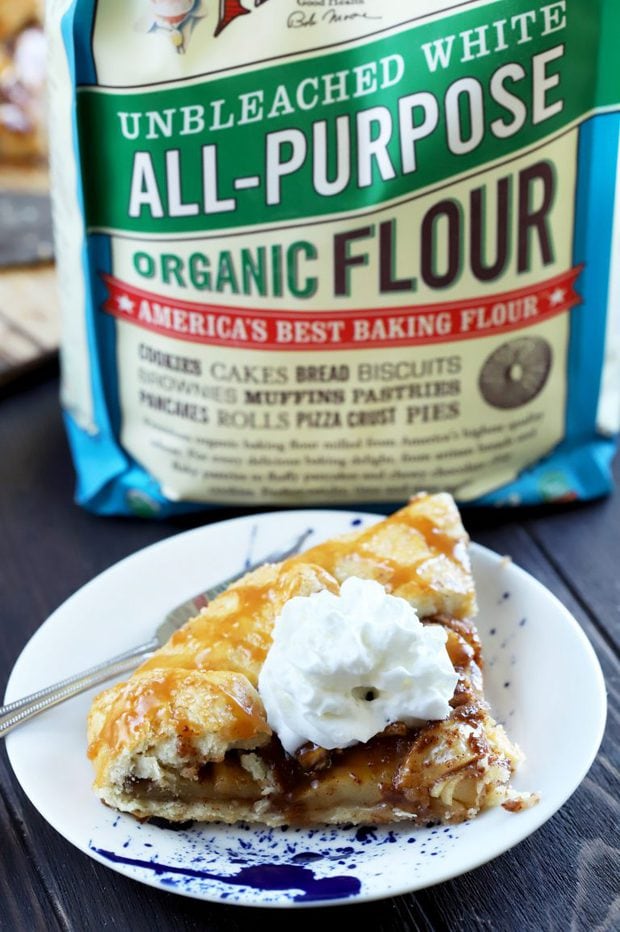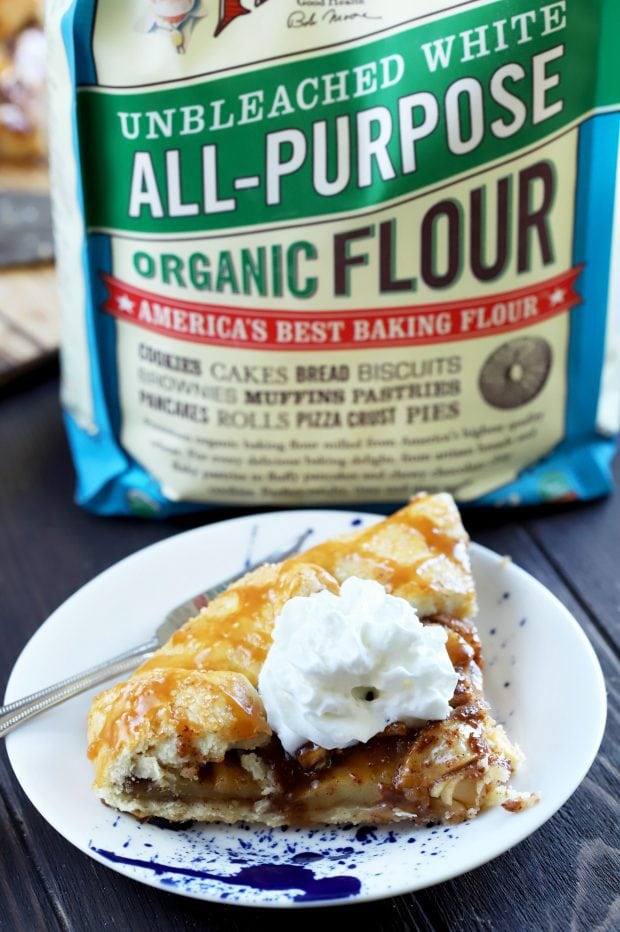 Want more easy pie-like desserts that aren't pie? Check out some of my faves below (all of which can be made using Bob's Red Mill Organic All-Purpose Flour!):
Easy Individual Bourbon Apple Pies
Strawberry Mint Champagne Galette
OR you can go savory with your galette deliciousness!
Whole Wheat Asiago Sweet Potato Galette
Savory Chicken Caprese Galette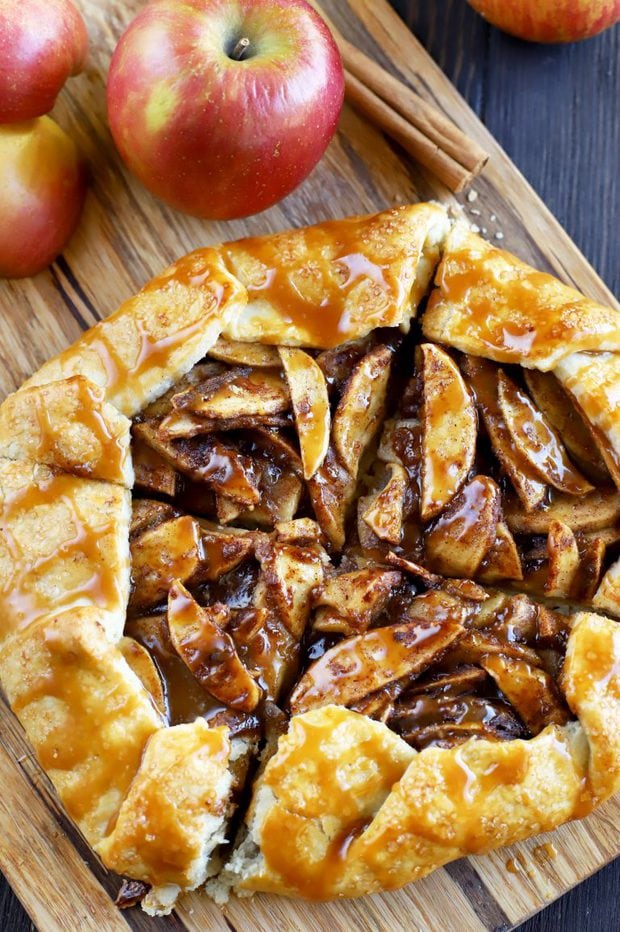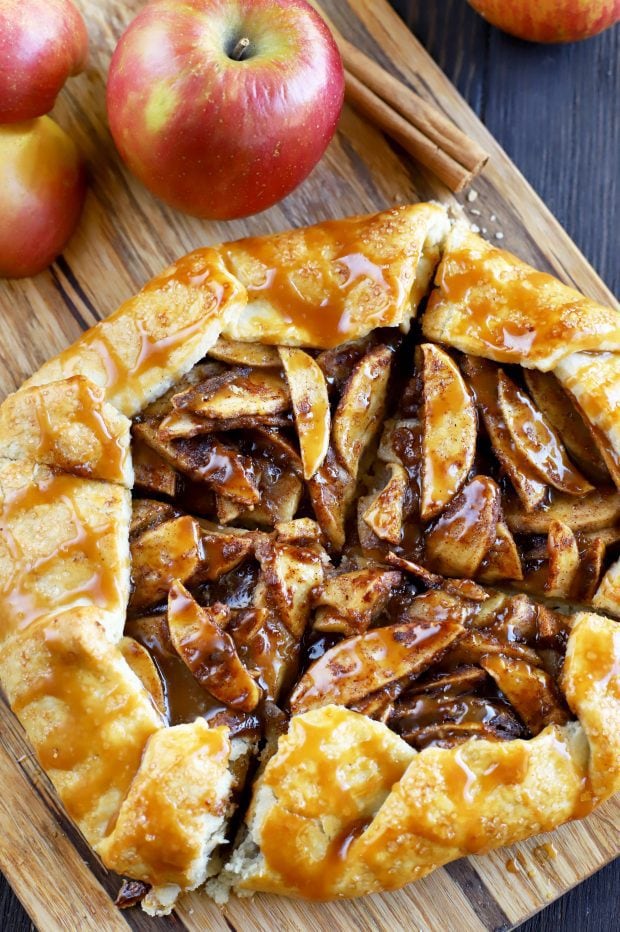 Regardless of which way you go, you are going to fall in love with this simpler version of all things pie! Don't believe me? See how easily this bourbon caramel apple galette comes together in the video below!
This Recipe's Must Haves
When making caramel, this saucepan is just the right size for the caramel sauce and the wooden spoon stands up to the sticky heat!
I recently received this half sheet baking pan and I am officially a new convert to this brand. Heavy duty, warp-resistant, and you can just feel the difference in quality when you handle it!
For rolling out the dough, go with a marble rolling pin! It's gorgeous, as well as being nice and heavy. This makes it oh-so easy to roll out the pastry dough!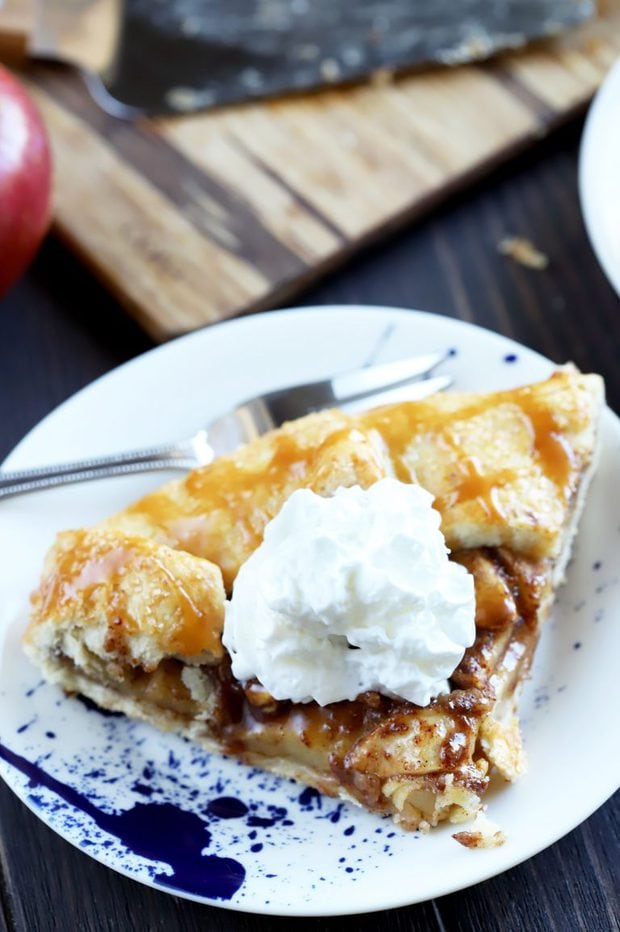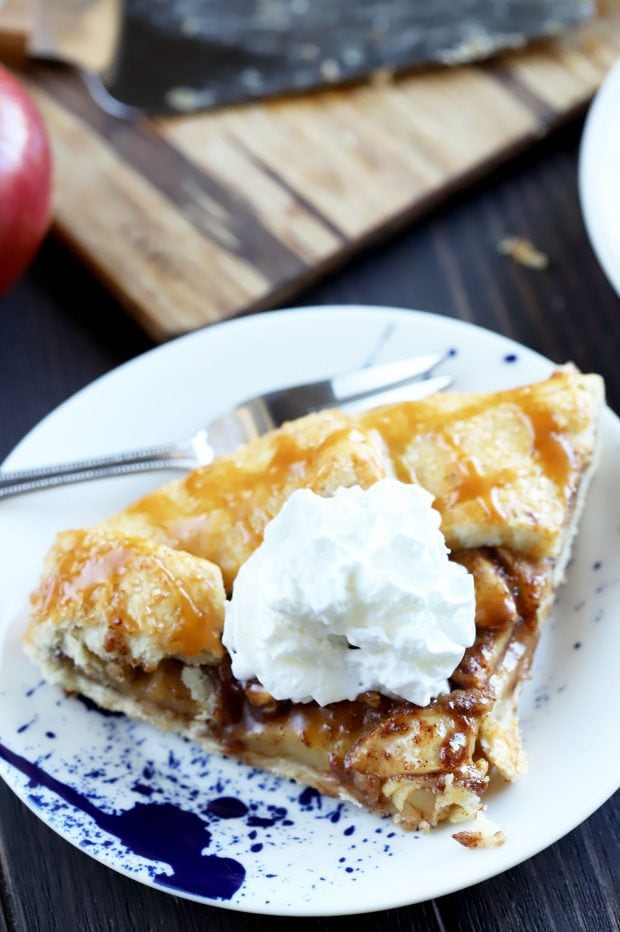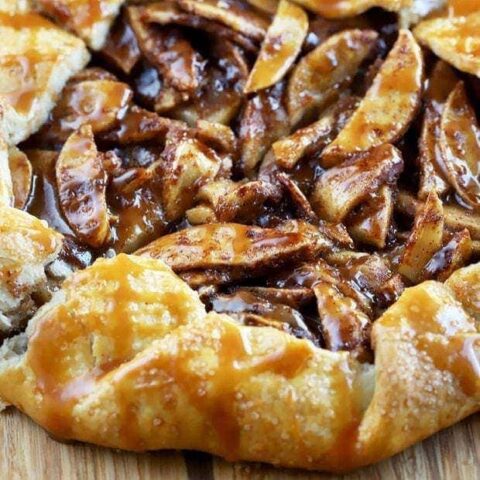 Bourbon Caramel Apple Galette
Additional Time:
30 minutes
Total Time:
1 hour
45 minutes
A rustic dessert is filled with a spiced apple mixture wrapped up in the perfect homemade crust, topped with a luscious bourbon caramel.
Ingredients
Crust
1 1/2 cups Bob's Red Mill Organic All-Purpose Flour
1 1/2 tsp sugar
1/4 tsp salt
8 Tbsp cold unsalted butter, cubed into 1/2" pieces
1/3 cup ice water
Egg wash: 1 large egg beaten with 1 Tbsp milk
Turbinado sugar
Filling
2 - 3 large apples, peeled and sliced into 1/4 inch slices (about 4 1/2 cups slices)
1/4 cup packed light brown sugar
1 1/2 Tbsp Bob's Red Mill Organic All-Purpose Flour
2 tsp fresh lemon juice
1 tsp cinnamon
1/2 tsp ground cloves
1/4 tsp nutmeg
1/4 tsp ground cardamom
Bourbon Caramel Topping
1 cup granulated sugar
6 Tbsp salted butter, room temperature and cut into chunks
1/2 cup heavy cream
1/4 cup bourbon
Instructions
To make the dough, mix together flour, sugar and salt. Using your hands, mix in half of the butter, squeezing the cubes between your fingers, until the mixture resembles a coarse meal. Add in the remaining butter, squeezing the cubes between your fingers once again, until the largest pieces of butter are approximately the size of a pea. Drizzle water over the dough and bring together, kneading 3 to 4 times. Note: you may not need to use all the water depending on where you live so use a little at a time until it comes together.
Flatten the dough into a disk, wrap tightly in plastic wrap and cool in the refrigerator for 30 minutes.
When ready to bake, preheat oven to 375˚F. Line a rimmed baking sheet with parchment paper.
Mix the apples, brown sugar, flour, lemon juice, cinnamon, cloves, nutmeg, and cardamom. Cover tightly and let sit in the refrigerator until ready to use.
Roll out the galette dough into a 14" round. Arrange the fruit in the center of the dough, leaving about a 1 to 2-inch edge of dough all the way around. Fold the pastry edge up and over the filling, pleating the dough in evenly spaced folds, pressing to seal as you work your way around. Brush the pastry border and edges with the melted butter. Sprinkle the edges generously with turbinado sugar.
Bake for 35 to 45 minutes, until the pastry is cooked through and golden brown.
While the galette is baking, add granulated sugar for the bourbon caramel to a medium saucepan. Cook over medium heat, stirring constantly with a wooden spoon.
When the sugar is melted, add in the butter (the mixture will bubble a lot here, so be careful!). Stir until the butter is completely melted, about 2 minutes.
Slowly drizzle in the heavy cream and bourbon, stirring constantly until combined. Note that the mixture will bubble up again, so be careful!
Bring the mixture to a boil and let cook for 1 minute. Remove from heat and allow to cool slightly before using.
When the galette is done baking, transfer the galette with the parchment paper onto a rack to cool for approximately 5 minutes before serving.
Drizzle with bourbon caramel and serve with whipped cream.
Recommended Products
As an Amazon Associate and member of other affiliate programs, I earn from qualifying purchases.