Please note this post contains affiliate links.
A Pumpkin Bourbon Sidecar is my fall twist on the classic sidecar cocktail. I replace brandy with bourbon and also swap in pumpkin spice simple syrup to give the cocktail a boost of fall flavor. In just 5 minutes, you can have the perfect simple cocktail that is anything but basic!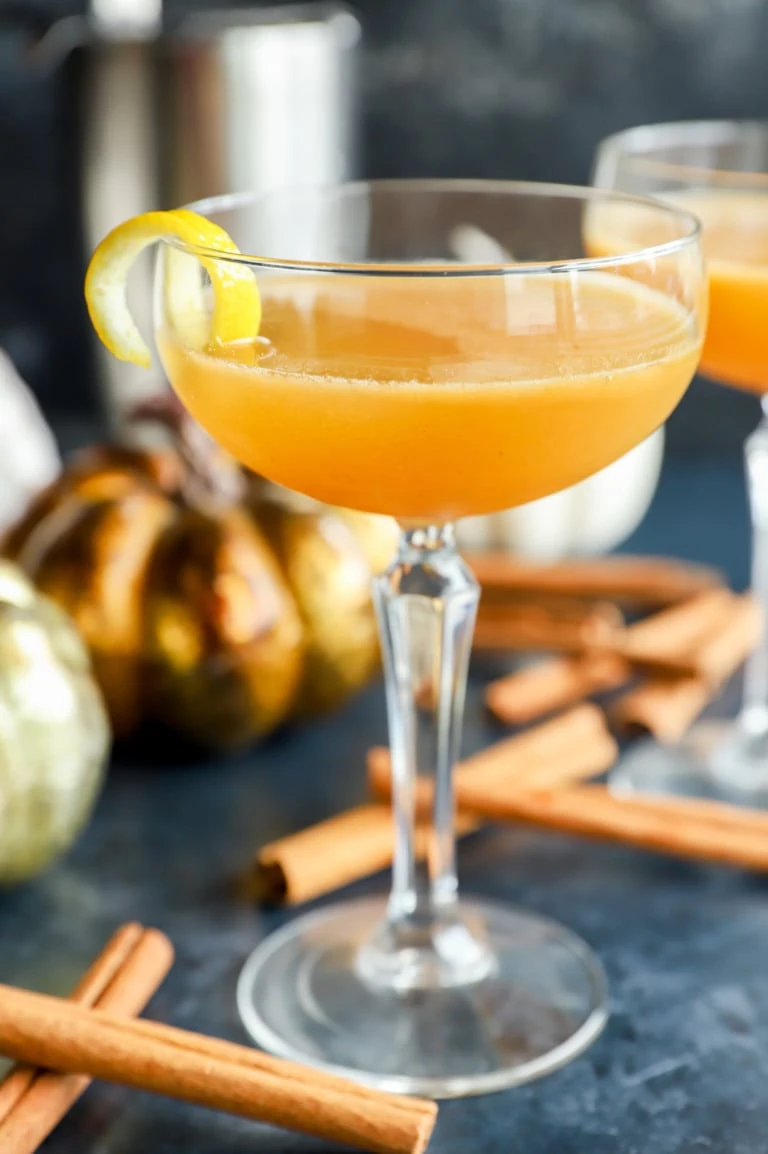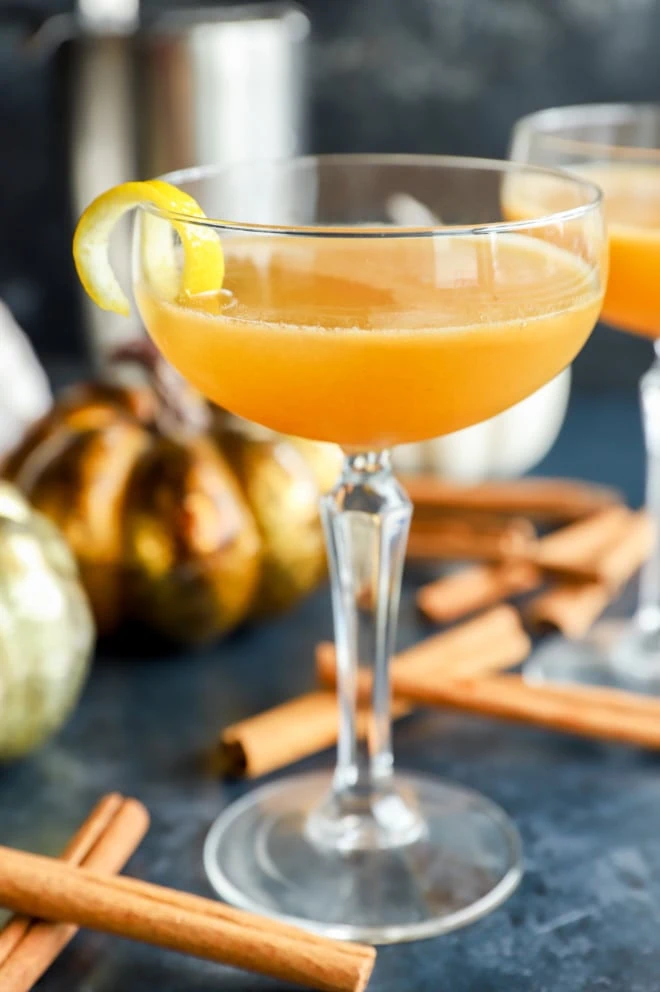 about this pumpkin bourbon sidecar recipe
I'm back with more bourbon this fall.
I swear, fall is the time when I really shine. Honestly, I feel like it's the last three months of the year for me. It all starts with my mom's birthday at the beginning of the month and the celebrations just keep rolling right through the end of the year.
Every year, I like to challenge myself to make a new cocktail for fall featuring my favorite spirit – bourbon.
This year, I tried a bourbon sidecar while I was out, and I made a note for it because I thought it would lend itself well to fall flavors.
Turns out, it does! Now I know some purists out there might come after me about this take on a sidecar… But honestly this cocktail is so good, I don't care. Just three ingredients and 5 minutes are all you need to make this cocktail happen!
Let's dive right in, shall we?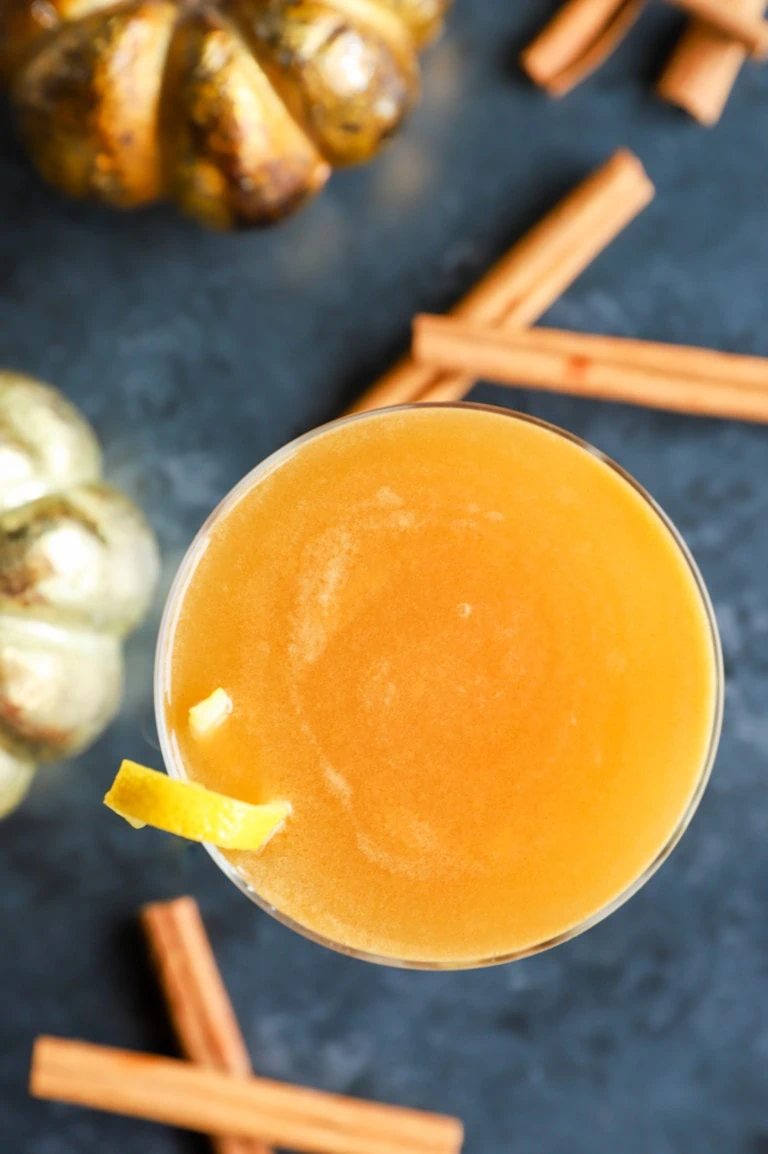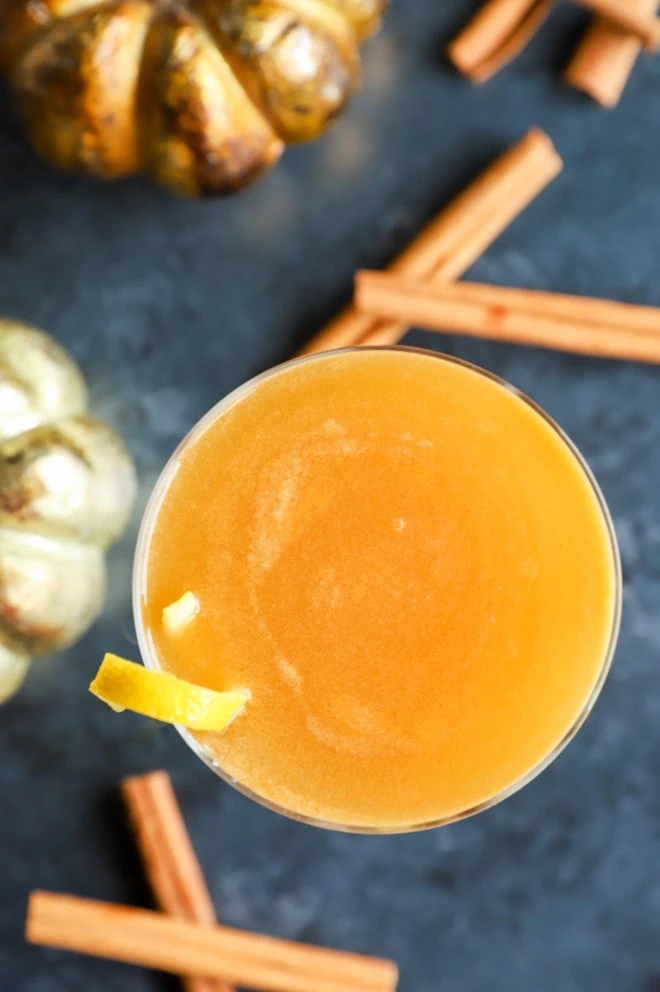 More tasty bourbon recipes to check out: Bourbon Manhattan | Bourbon Sazerac | Apple Bourbon Smash | Bourbon Cherry Peach Crumble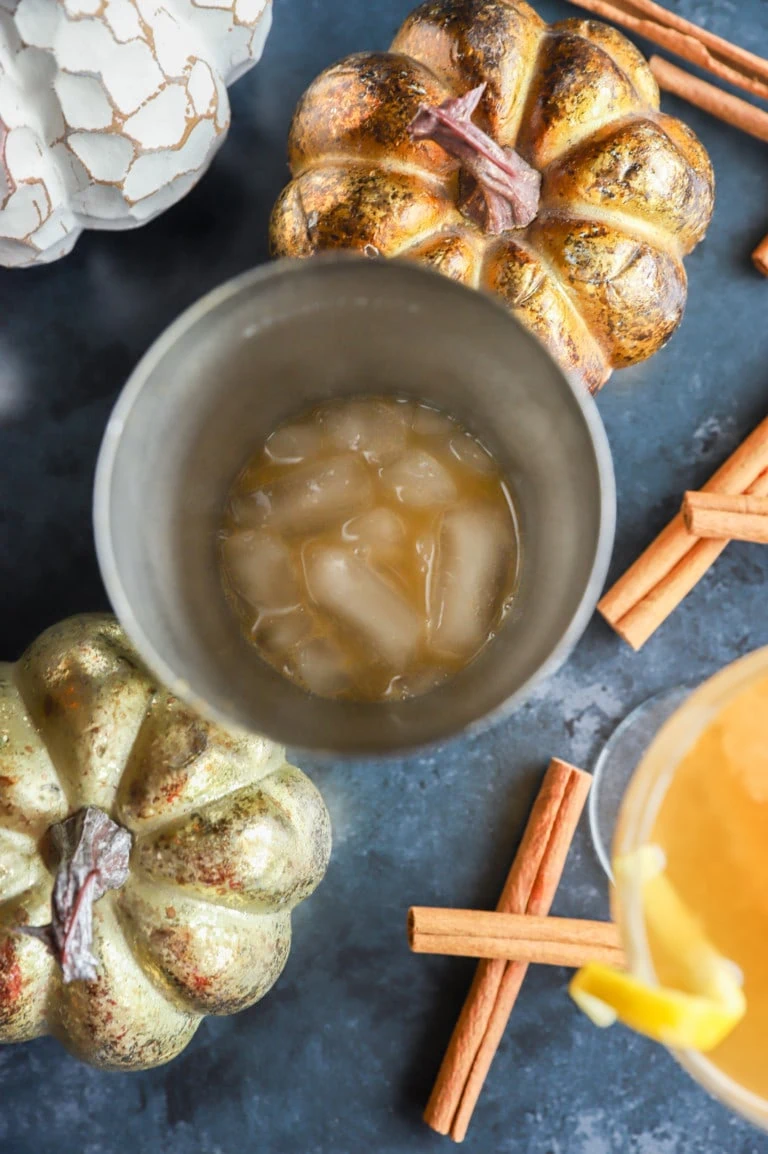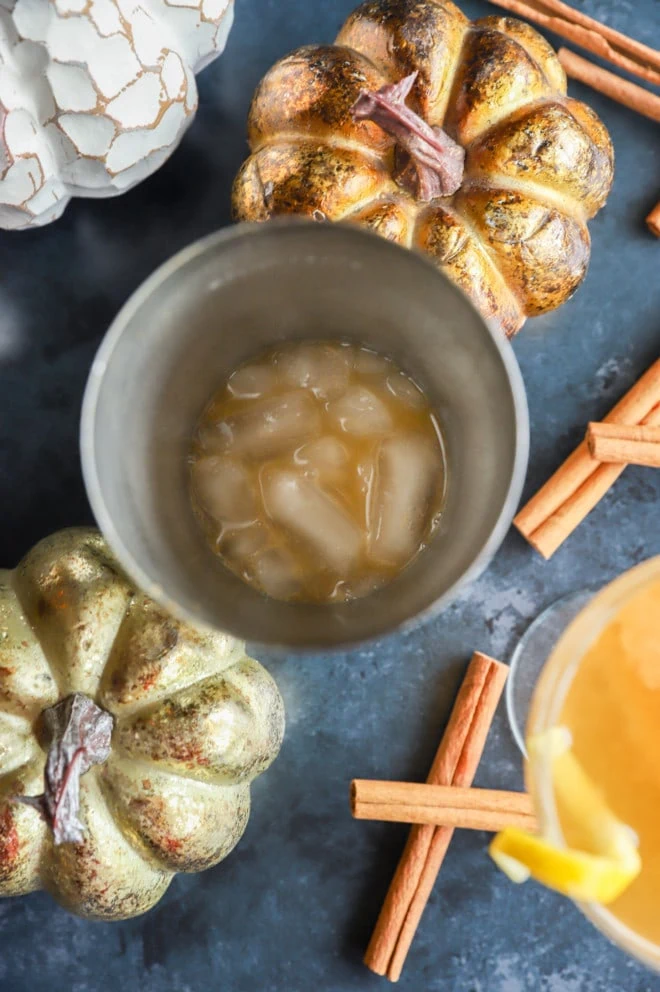 ingredients
bourbon. choose your favorite bourbon for this cocktail. It is spirit-forward, so keep that in mind when you make your selection. I usually opt for a nice mid-price range option like Bulleit or Woodford Reserve.
pumpkin spice simple syrup. this simple syrup is so simple to make, and you can use it for your cocktails all season long! It's also fantastic in coffee drinks and over ice cream.
lemon juice. fresh lemon juice is best here!
this recipe's must haves
You only need typical barware for this bourbon cocktail recipe! A jigger for measuring, a Boston cocktail shaker for shaking, and a cocktail strainer to strain the cocktail.
I like to serve my sidecars in couple glasses (the ones pictured here are discontinued, but I've linked another favorite set that I have!).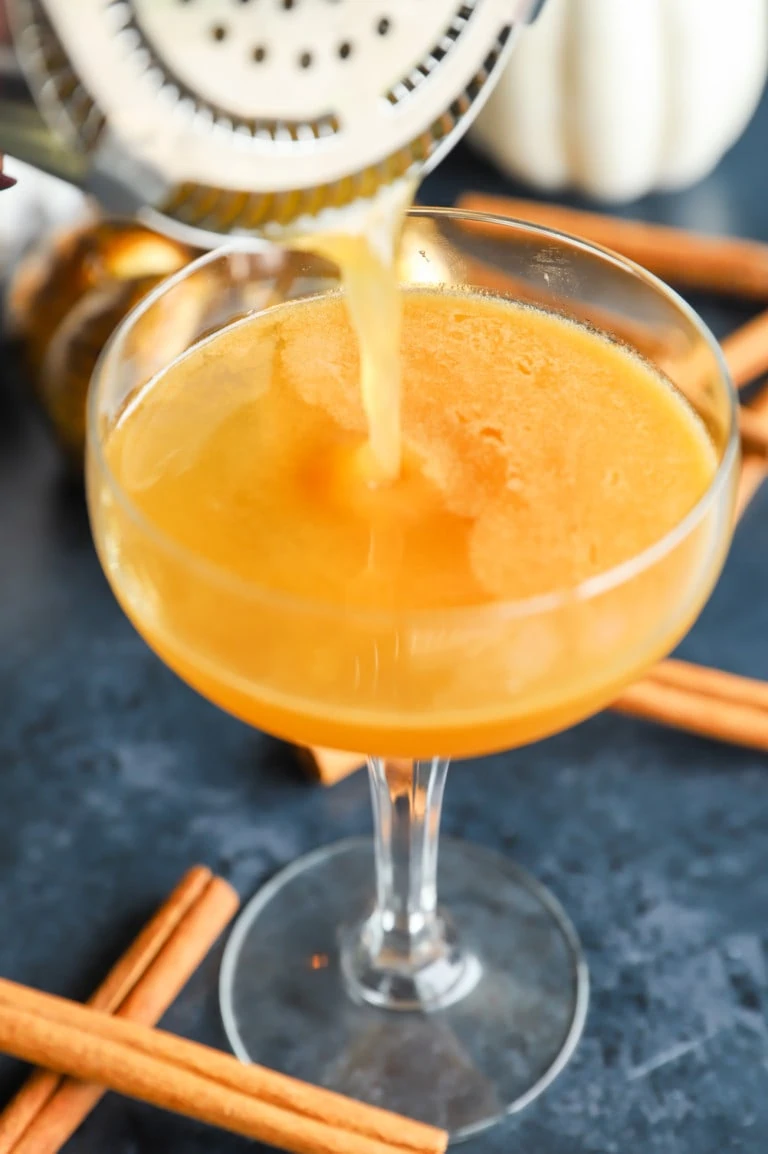 here's how to make a pumpkin bourbon sidecar cocktail
shake
Add all ingredients for the cocktail to a shaker filled halfway with ice. Shake until cold.
strain
Strain into a chilled cocktail glass. Garnish with lemon twist.
Pro Tip! Make more of these easily in the same shaker! If you fill the shaker halfway with ice, you can make up to 4 in one cocktail shaker.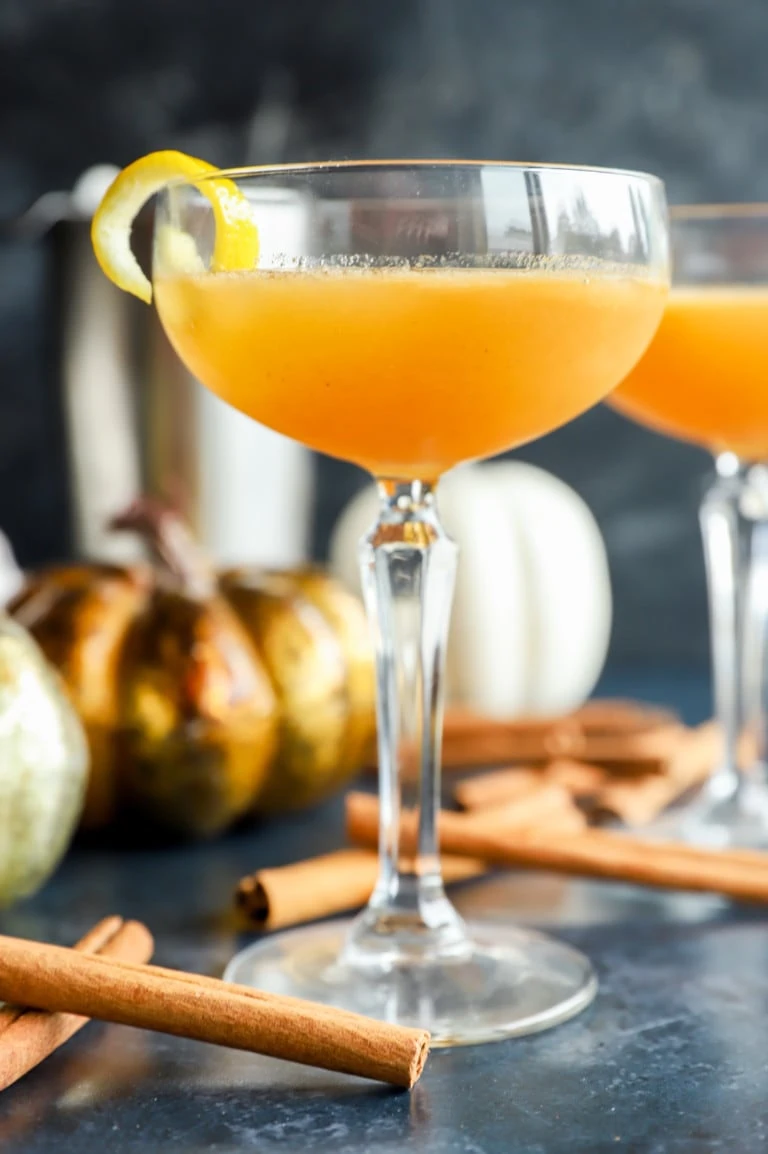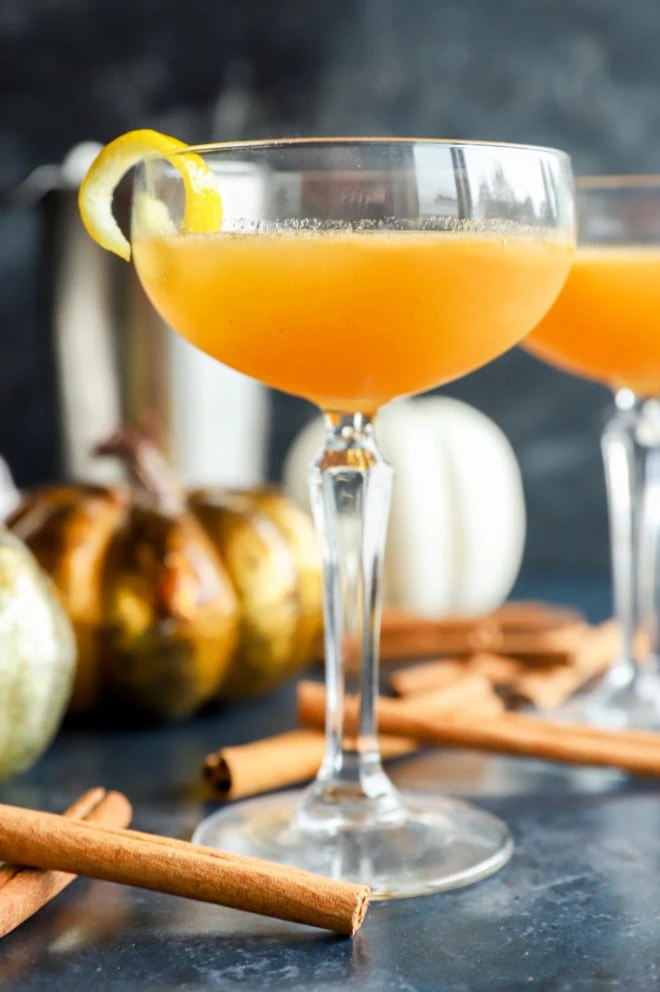 what alcohol is in a sidecar?
A sidecar is typically made with brandy, lemon juice, and orange liqueur. It's a simple enough cocktail to make, as I outlined above, but the flavor combination is elevated enough to satisfy all palates!
I give this version a fall twist by opting for a pumpkin spice simple syrup, instead of the orange liqueur. The warming spices really give this classic cocktail a new fall spin!
why is the drink called a sidecar?
It was named after the sidecar motorcycle attachment used commonly back in the 1920s! The Ritz Hotel in Paris claims the origin of the drink, if you want to get specific about it.
how do you serve a sidecar drink?
A sidecar is served straight up, in other words without ice. I like to chill all my ingredients before mixing a cocktail to make sure it's chilled well. My top tip? Go the extra mile by placing your cocktail glass in the fridge while you mix the cocktail (longer if you can!). A chilled glass really seals the deal with cocktails that are served without ice!
Need some more inspiration for cocktail hour? Check out my cocktail recipes page!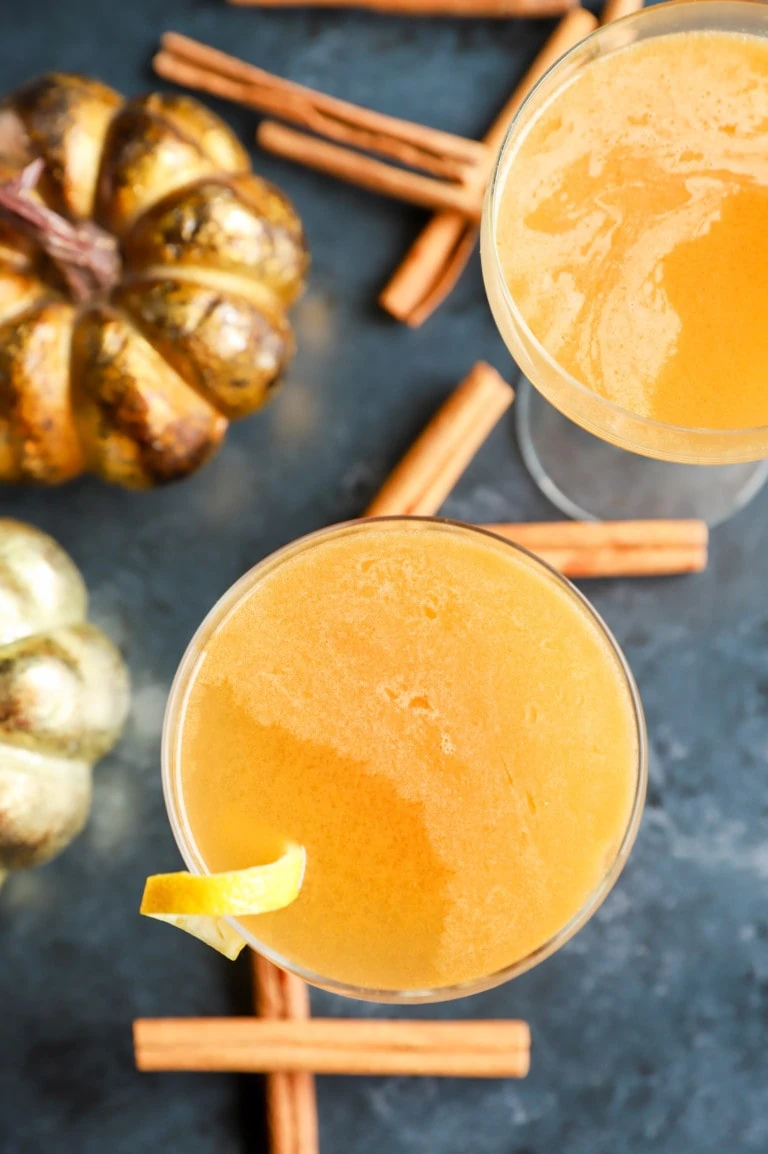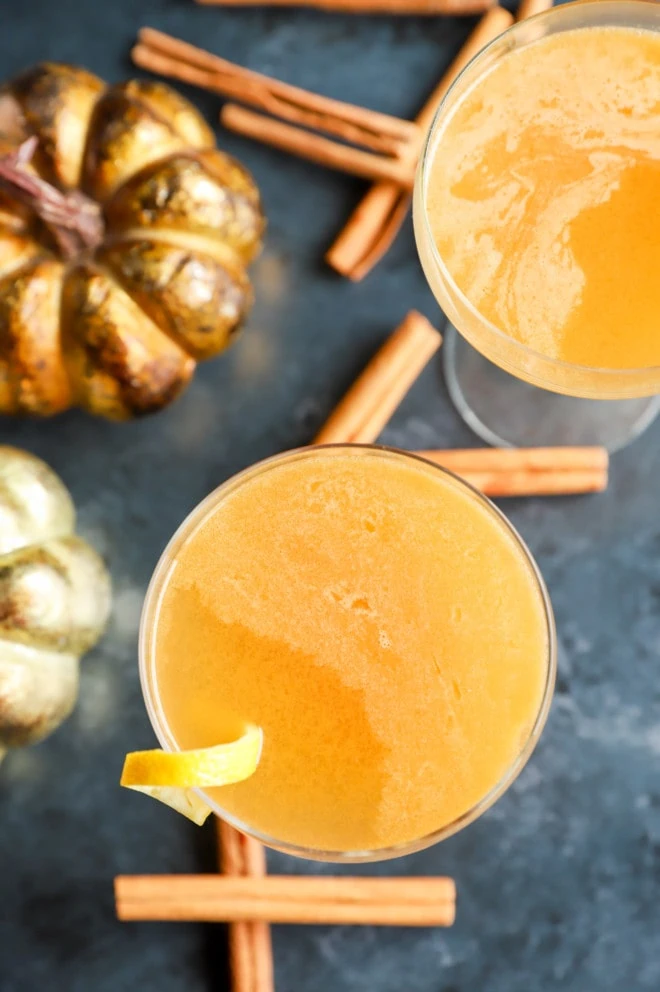 what to serve with a pumpkin bourbon sidecar
When you are serving this pumpkin bourbon sidecar, be sure to garnish it with a twist of lemon rind!
If you are pairing it with some bites for a party or for a dinner, I've dropped some recipes that go well with the flavors below:
Finally, if you make this pumpkin bourbon sidecar, please be sure to give this recipe a rating or leave a comment! I love to hear when you all make recipes, and I do take the time to respond to every single comment. Feel free to drop questions below too, if you have them!
Oh and be sure to tag me on Instagram if you make the recipe! Love being able to see these recipes come to live in your homes – it's my favorite thing to look through those photos. It really means the world to me!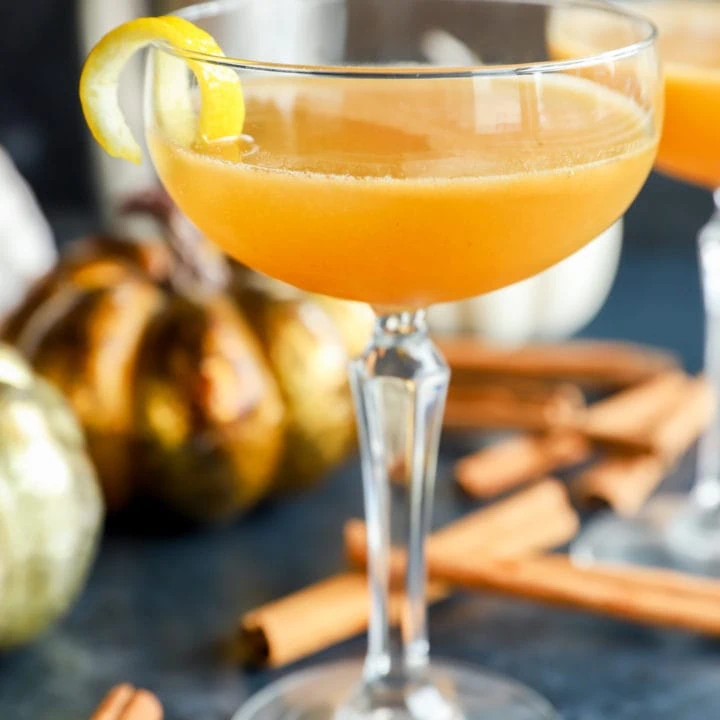 Pumpkin Bourbon Sidecar
A fall spiced twist on the classic sidecar cocktail!
Ingredients
2 oz bourbon whiskey
1 oz pumpkin spice simple syrup
1/2 oz lemon juice
For the garnish: lemon twist or lemon peel
Instructions
In a cocktail shaker filled halfway with ice, add bourbon, pumpkin spice simple syrup, and lemon juice.
Shake until cold.
Strain into a chilled cocktail glass. Garnish with a lemon twist.
Recommended Products
As an Amazon Associate and member of other affiliate programs, I earn from qualifying purchases.