Please note this post contains affiliate links.
Kick off September with a Pumpkin Spice Bourbon Old Fashioned! Pumpkin spice simple syrup takes this classic bourbon old fashioned to a whole new level of fall flavor. It's pumpkin and spice and everything nice!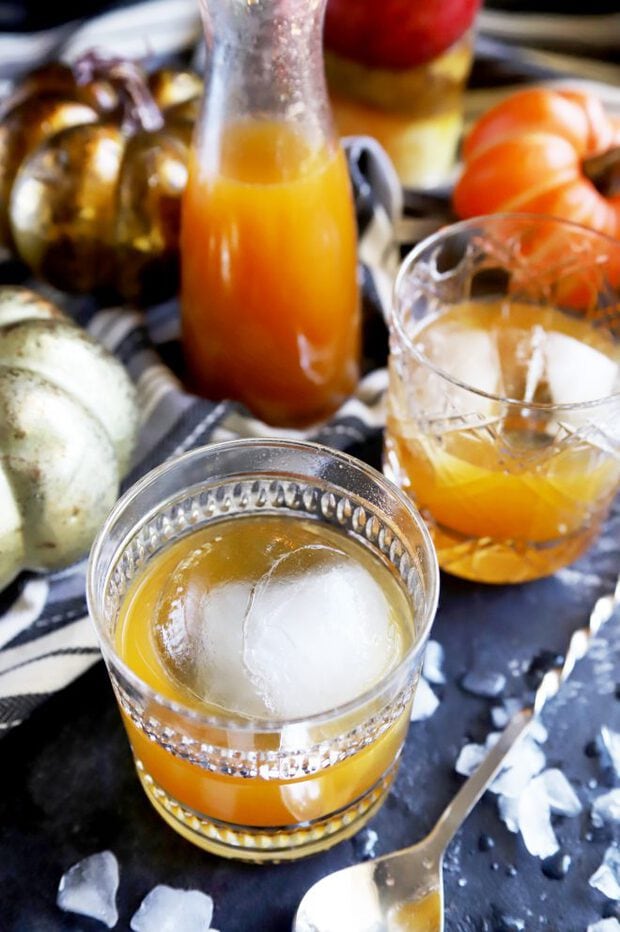 about this pumpkin spice bourbon old fashioned
Is it just me or are all shortened weeks longer than normal weeks?
Technically I didn't really take Monday off because I had to work ahead for the upcoming Europe trip we have… But I still took it easier than normal, so it kinda felt like a holiday off?
Now that it is OFFICIALLY September, I feel like fall is in the air. Even though it is so hot outside still…
So to get all the pumpkin happiness that I love, I am serving up this pumpkin spice bourbon old fashioned! This cocktail has it all, without being overly complicated. First there's the pumpkin spice simple syrup, and then you just have the normal old fashioned ingredients to think about.
Seriously, that. is. it.
The pumpkin flavor and spice comes through in the simple syrup without being overly sweet. This makes it a perfect pairing for bourbon, and the bitters come in to give just the right balance to the other two ingredients.
When it comes to choosing a bourbon for this cocktail, I personally like Bulleit or Knob Creek. They are nicer, but they aren't super expensive. Since you are using it to mix in a cocktail, there's no need to break the bank on a bottle!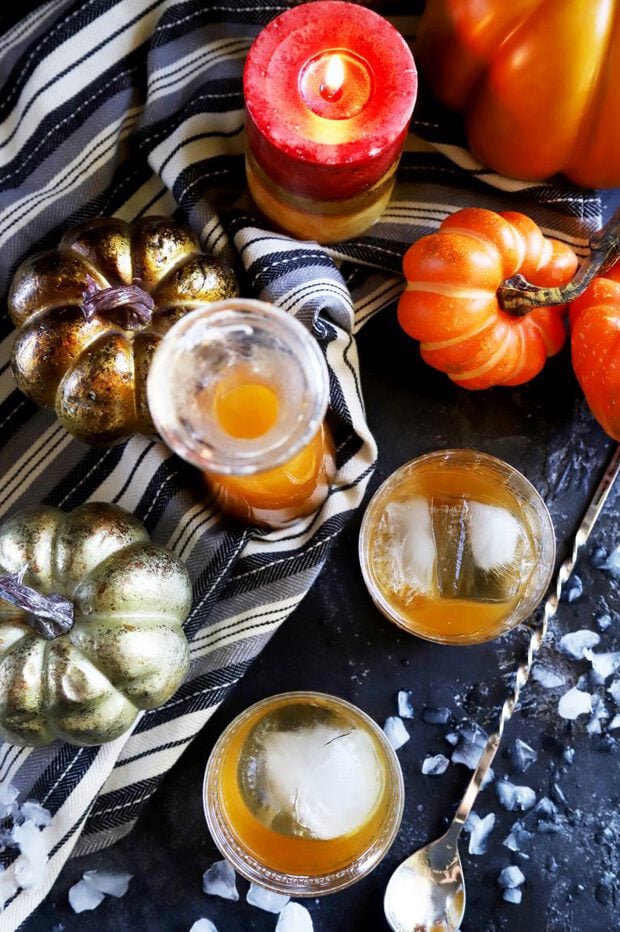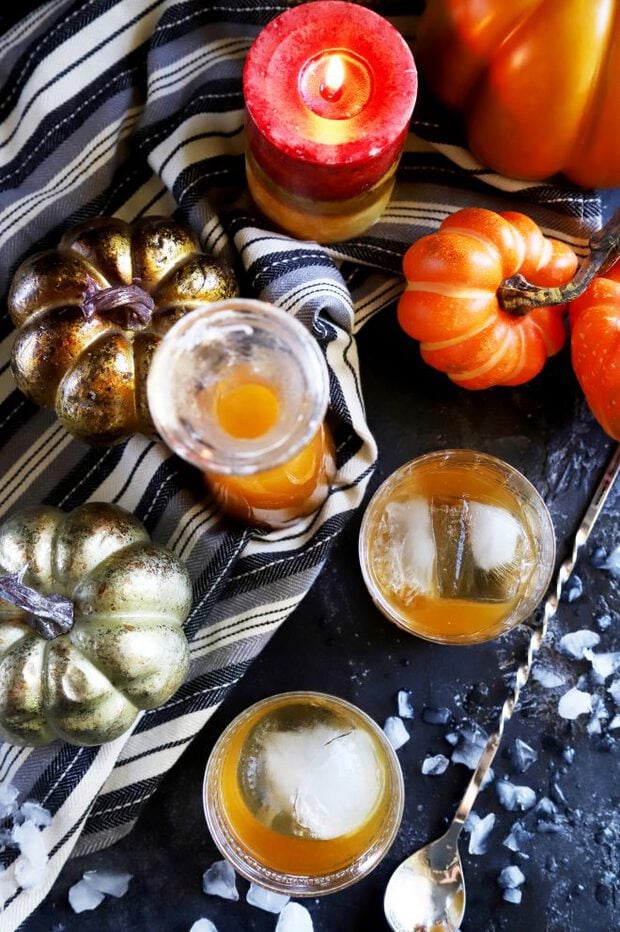 ingredients
bourbon. when it comes to a bourbon-forward drink like this, I recommend a nice mid-price range option like Bulleit or Woodford Reserve.
pumpkin spice simple syrup. an extremely simple recipe to whip up, you'll be able to use it for this cocktail and others all season! It's also fantastic in coffee drinks and over ice cream.
bitters. I personally like to use orange or smoked orange bitters, but you can use any kind of citrus bitters in this cocktail.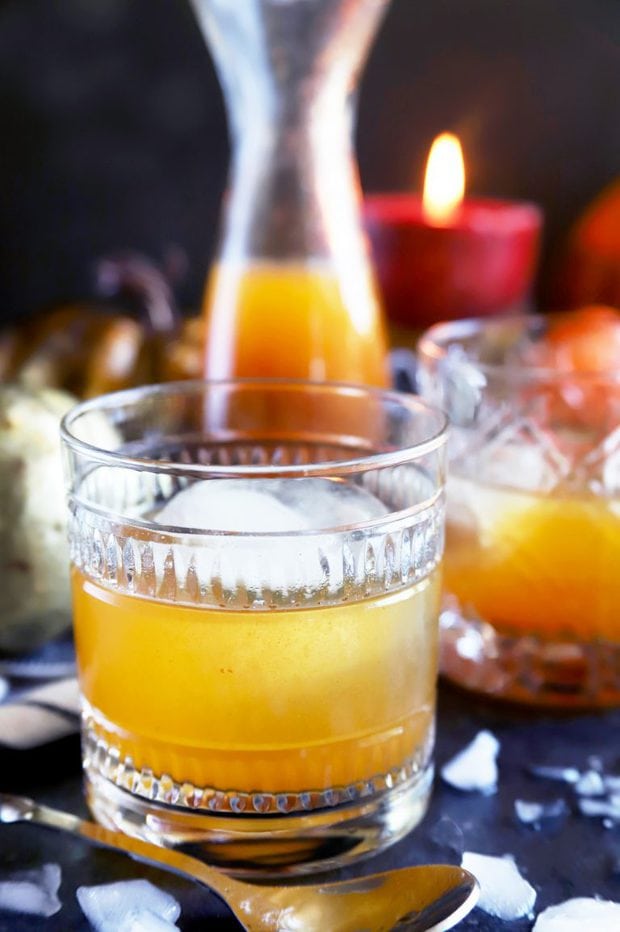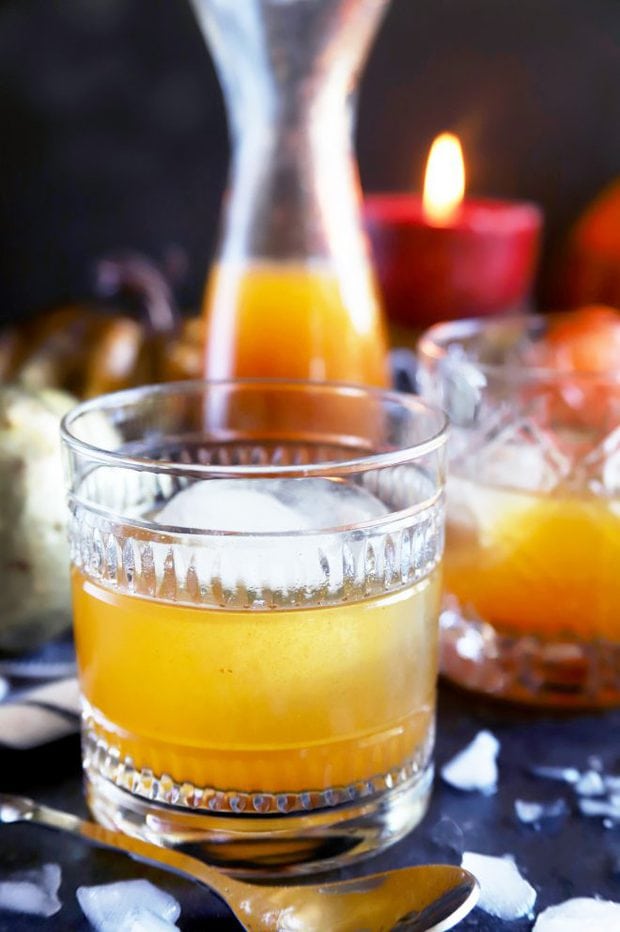 this recipe's must-haves
To start with, if you don't already have them, you should definitely look into securing some sphere ice molds! I love them for old fashioned cocktails because they don't water down your drink. Plus they are great for big drinks too (I love my giant glasses of cold water lol).
Plus those spheres fit perfectly in double old fashioned glasses! All you need then is a bar spoon to stir everything up before you serve it.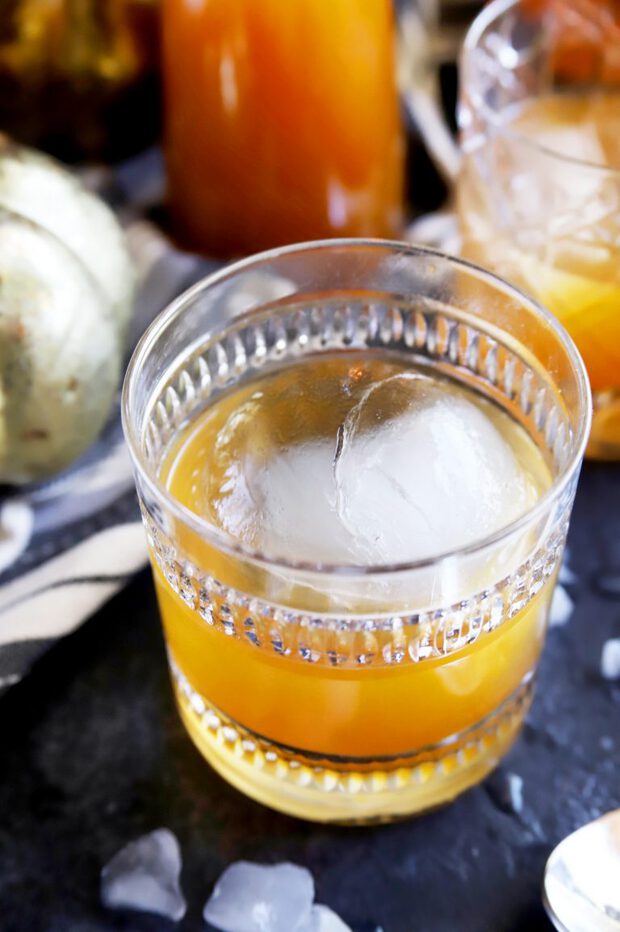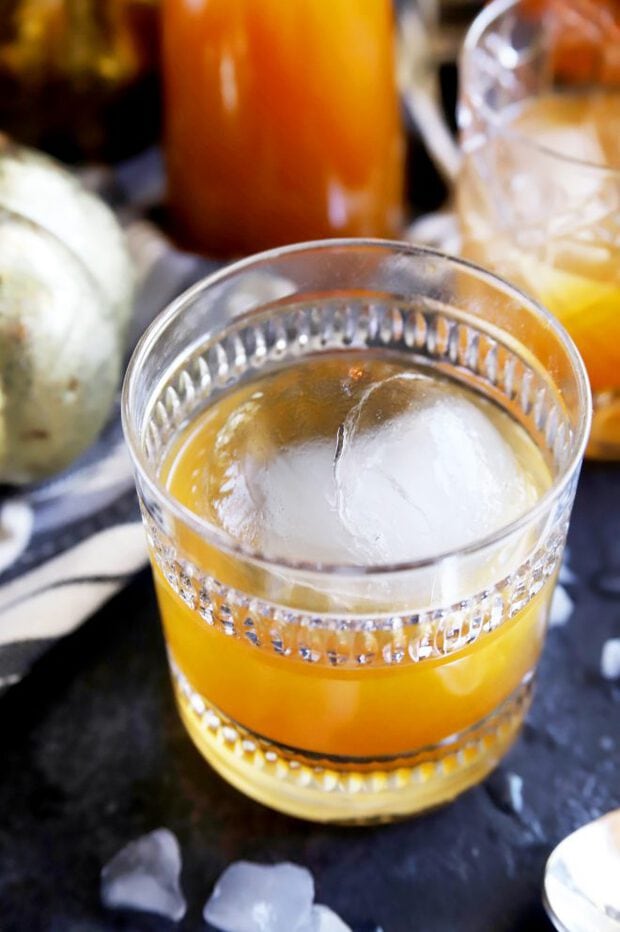 here's how to make a pumpkin spice bourbon old fashioned
stir & serve
Literally all you have to do is stir and serve this cocktail! Just combine all the ingredients in a glass with ice and that's it.
How simple is that?
More old fashioned recipes: Apple Pie Old Fashioned / Earl Grey Old Fashioned / Smoked Orange Old Fashioned / Jameson Old Fashioned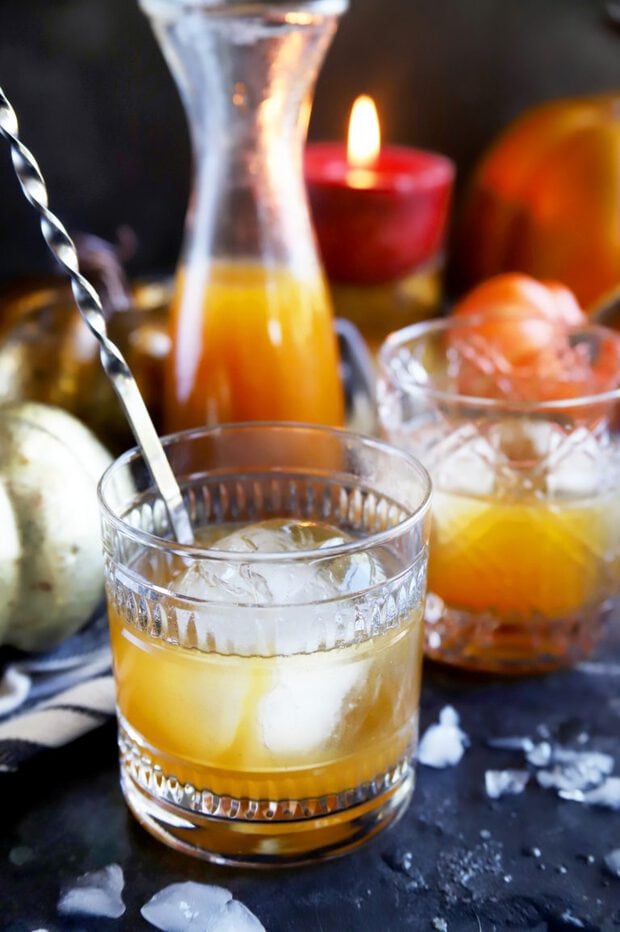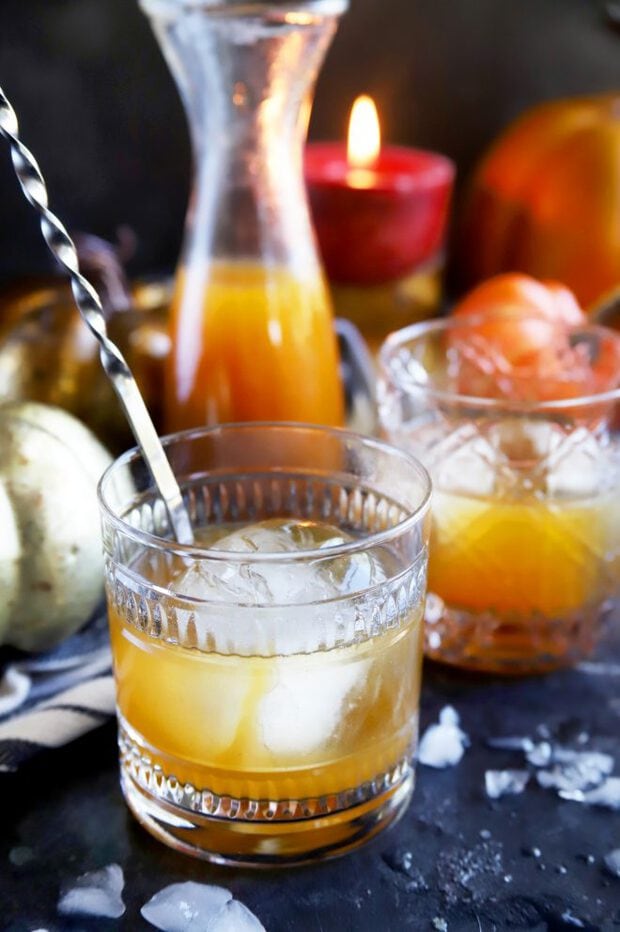 is an old fashioned made with bourbon or rye?
An Old Fashioned is a popular whiskey drink that is usually made with bourbon, but you can also make it with rye whiskey if you prefer. I do not recommend using rye whiskey with this cocktail because it will alter the overall flavor of the cocktail too much.
Need some more inspiration for cocktail hour? Check out my booze recipes page!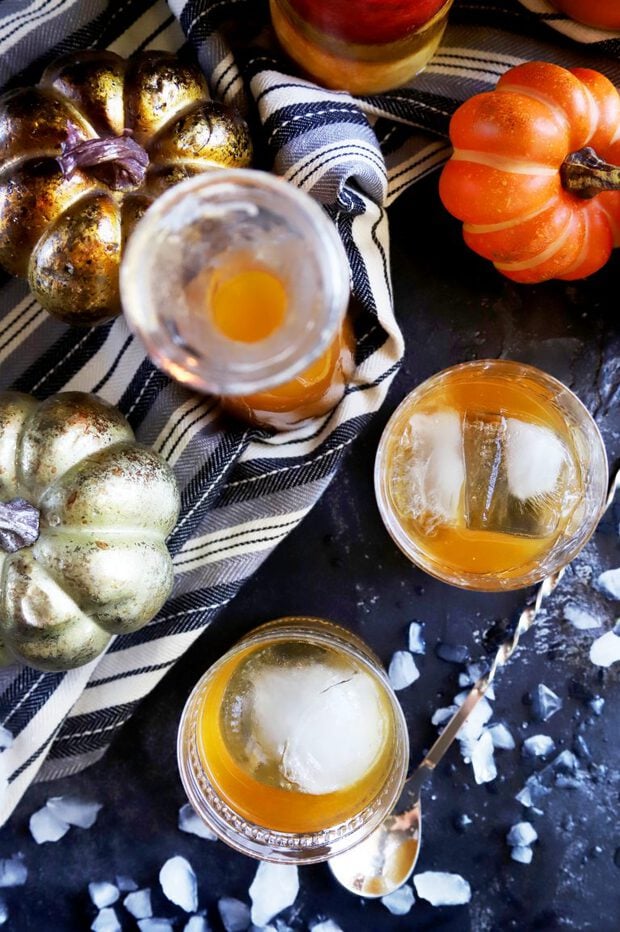 where do I get the pumpkin spice simple syrup for this recipe?
The pumpkin spice simple syrup is an easy recipe you can make at home! It just takes a few ingredients and a handful of minutes to make. Then you can keep it in your refrigerator to enjoy for days on end.
Plus you can use the extra in your coffee or ice tea 😉 It's my new favorite way to get my pumpkin spice fix at home (you know, to save money and all those adult-like things).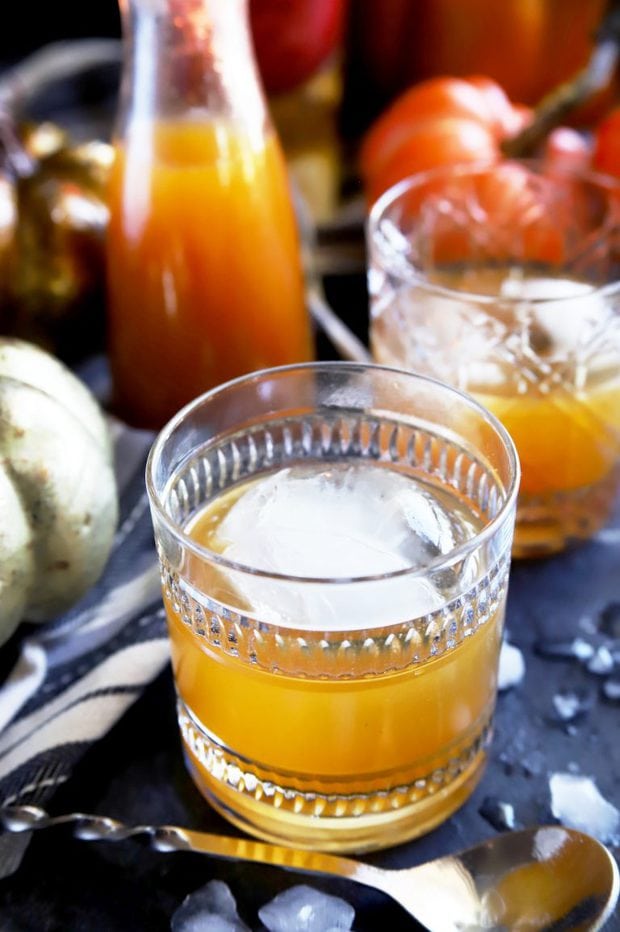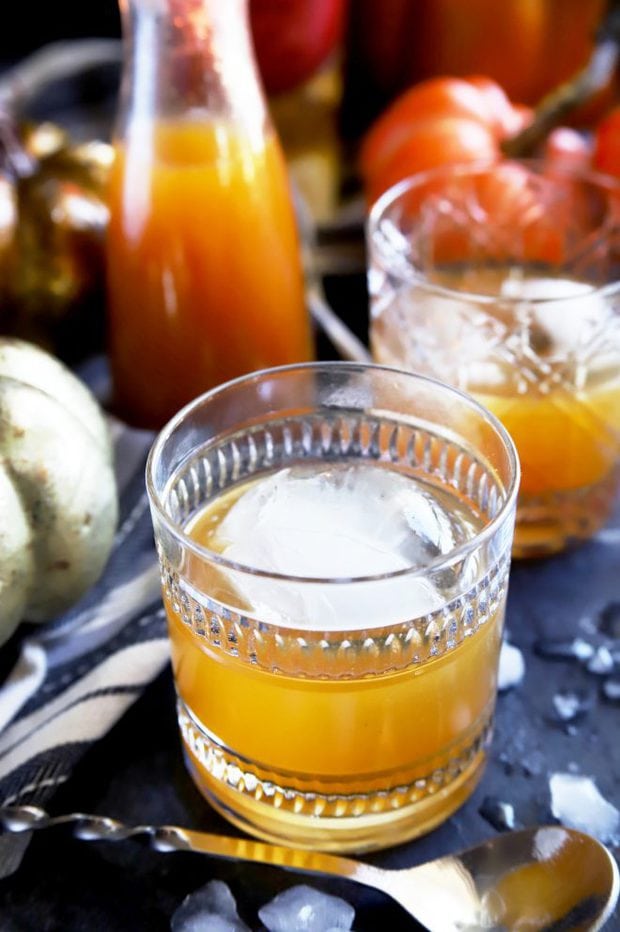 what to serve with a pumpkin bourbon old fashioned
This cocktail is one that I love to whip up any night of the week because it's fantastic on its own, but it also goes so well with other fall seasonal flavors. If you are making this for a party, I recommend making a self-serve station! Set out the three ingredients, with measurements listed on a piece of paper in a frame, and be sure to have all your bar tools there too. People can make their own cocktail and you won't be stuck whipping them up all night long!
If you need some party bites to go with this cocktail, here's what I recommend pairing it with:
butternut squash goat cheese empanadas
air fryer buffalo jalapeño poppers
Finally, if you make this pumpkin spice bourbon old fashioned, please be sure to give this recipe a rating or leave a comment! I love to hear when you all make recipes, and I do take the time to respond to every single comment. Feel free to drop questions below too, if you have them!
Oh and be sure to tag me on Instagram if you make the recipe! Love being able to see these recipes come to life in your homes – it's my favorite thing to look through those photos. It really means the world to me!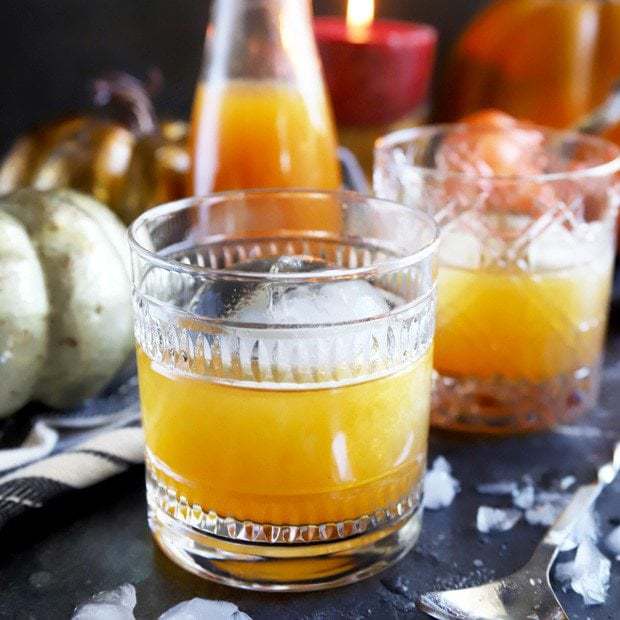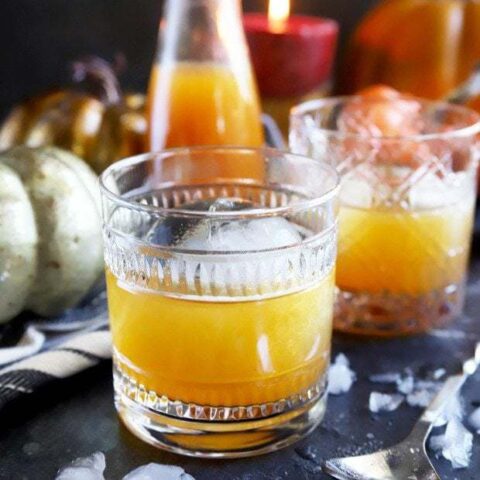 Pumpkin Spice Bourbon Old Fashioned
Pumpkin spice simple syrup takes this classic bourbon old fashioned to a whole new level! It's the ideal simple cocktail for fall.
Ingredients
2 oz your favorite bourbon
2 dashes orange or citrus bitters
Instructions
Add bourbon, Pumpkin Spice Simple Syrup, and bitters to a double old fashioned cocktail glass that has a large ice cube in it.
Stir to combine.
Serve.
Recommended Products
As an Amazon Associate and member of other affiliate programs, I earn from qualifying purchases.