Please note this post contains affiliate links.
Kick off September with a Pumpkin Spice Bourbon Old Fashioned! Pumpkin spice simple syrup takes this classic bourbon old fashioned to a whole new level of fall flavor. It's pumpkin and spice and everything nice!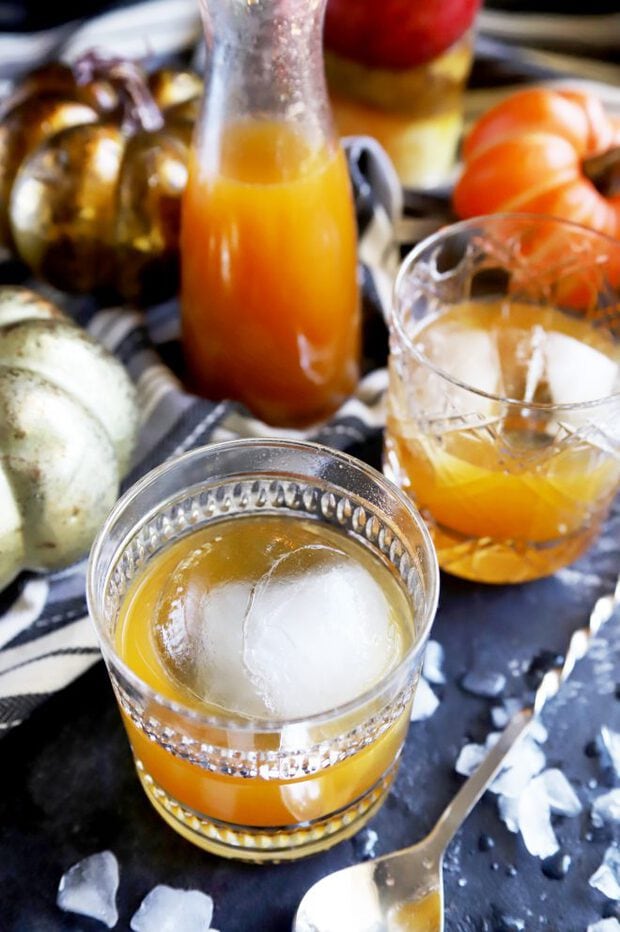 Is it just me or are all shortened weeks longer than normal weeks?
Technically I didn't really take Monday off because I had to work ahead for the upcoming Europe trip we have… But I still took it easier than normal, so it kinda felt like a holiday off?
Anyway, I feel like this entire week is DRAGGING??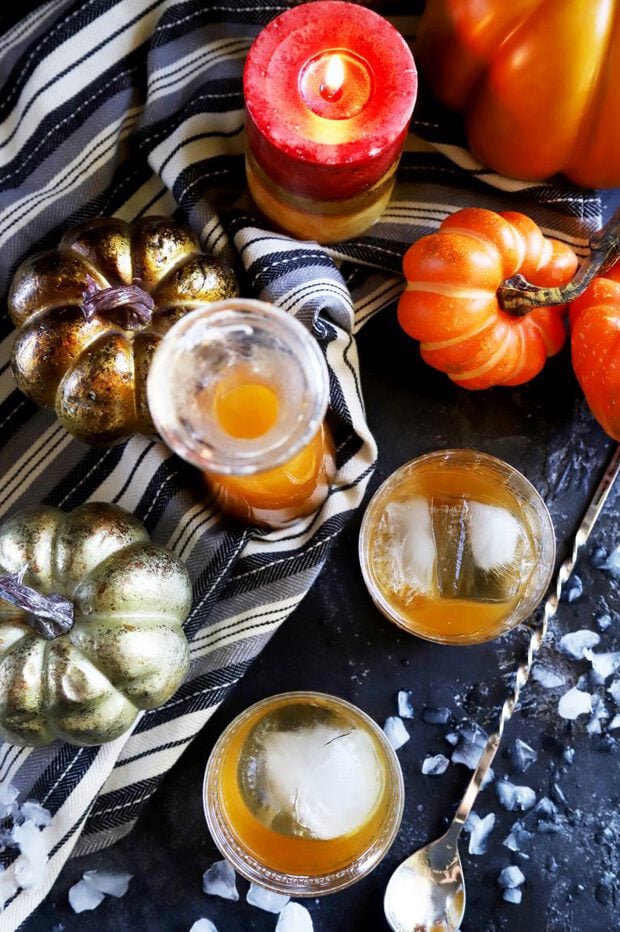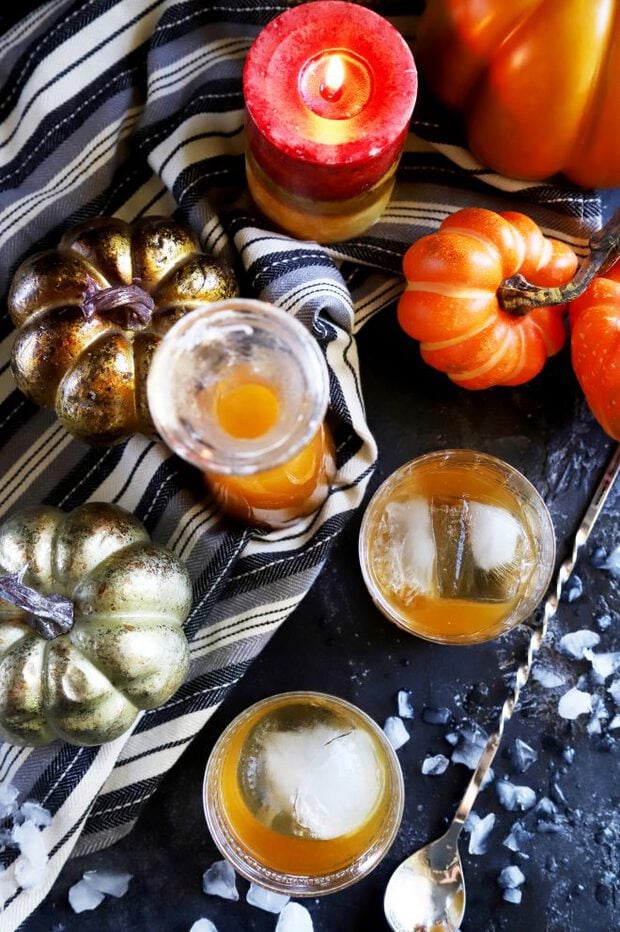 All I want is for it to be the weekend again already!
Now that it is OFFICIALLY September, I feel like fall is in the air. Even though it is so hot outside still…
Seriously though, when is the weather going to change? I'm ready to use our new fire pit on our finished patio for goodness sake!
So to get all the pumpkin happiness that I love, I am serving up this pumpkin spice bourbon old fashioned!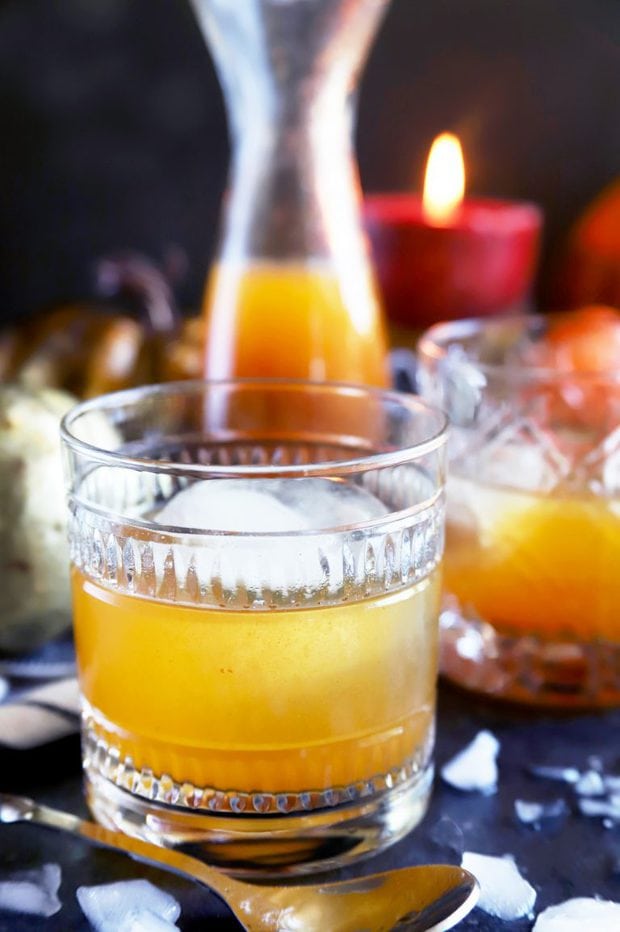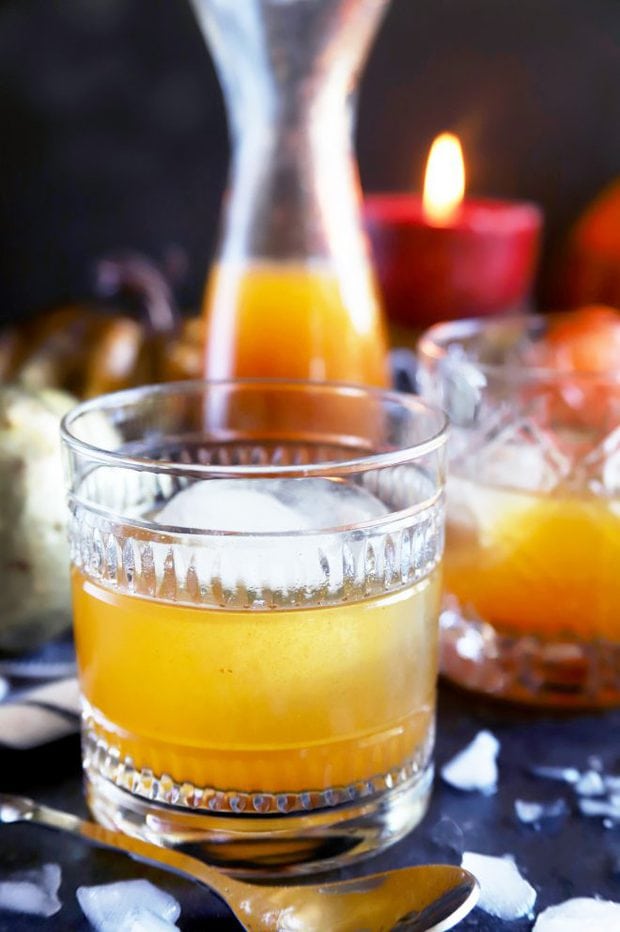 This cocktail has it all, without being overly complicated. First there's the pumpkin spice simple syrup, and then you just have the normal old fashioned ingredients to think about.
Seriously, that. is. it.
The pumpkin flavor and spice comes through in the simple syrup without being overly sweet. This makes it a perfect pairing for bourbon, and the bitters come in to give just the right balance to the other two ingredients.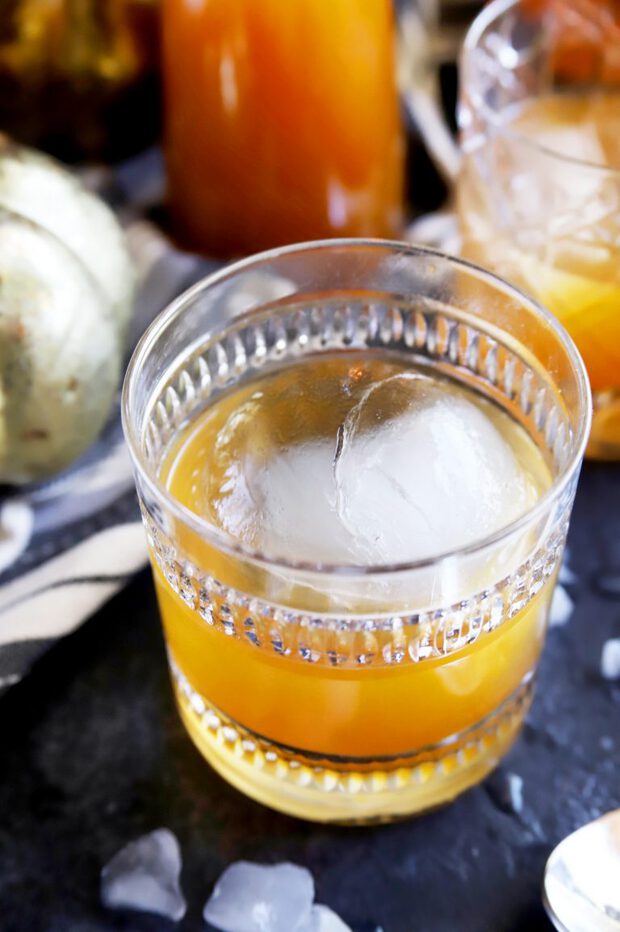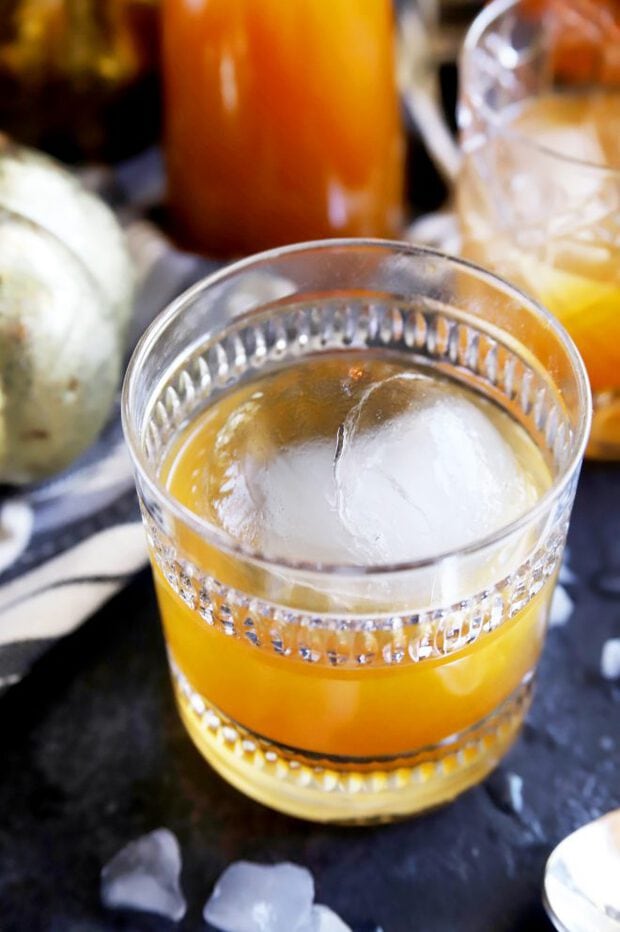 When it comes to choosing a bourbon for this cocktail, I personally like Bulleit or Knob Creek. They are nicer, but they aren't super expensive. Since you are using it to mix in a cocktail, there's no need to break the bank on a bottle!
This Recipe's Must-Haves
To start with, if you don't already have them, you should definitely look into securing some sphere ice molds! I love them for old fashioned cocktails because they don't water down your drink. Plus they are great for big drinks too (I love my giant glasses of cold water lol).
Plus those spheres fit perfectly in double old fashioned glasses! All you need then is a bar spoon to stir everything up before you serve it.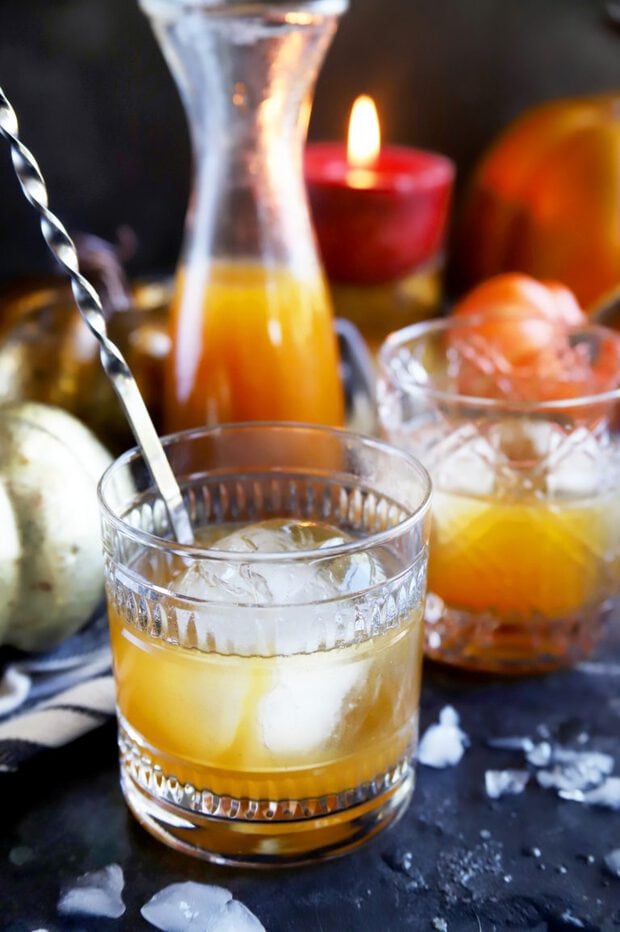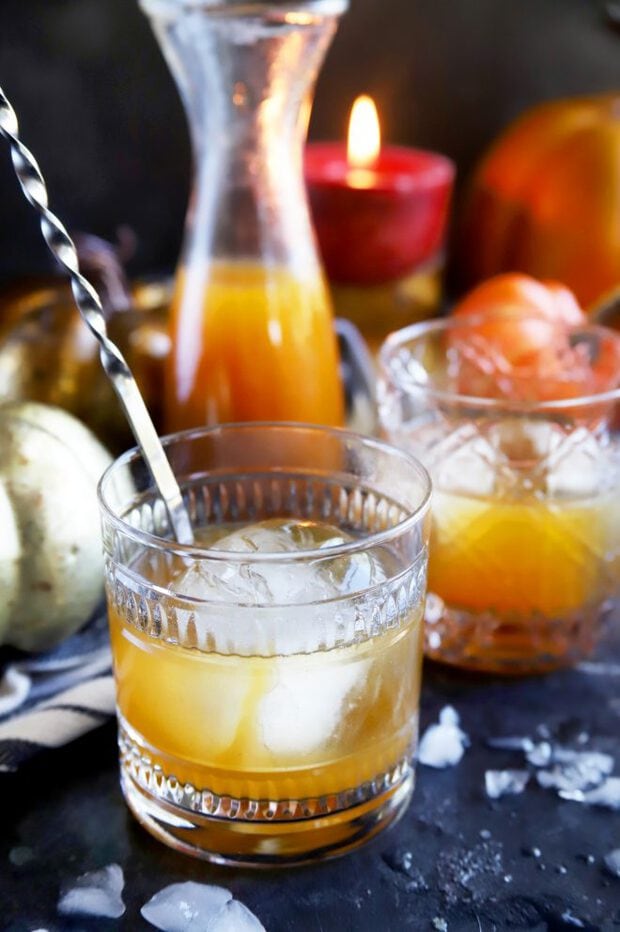 How to make a pumpkin spice bourbon old fashioned
Stir & serve
Literally all you have to do is stir and serve this cocktail! Just combine all the ingredients in a glass with ice and that's it.
How simple is that?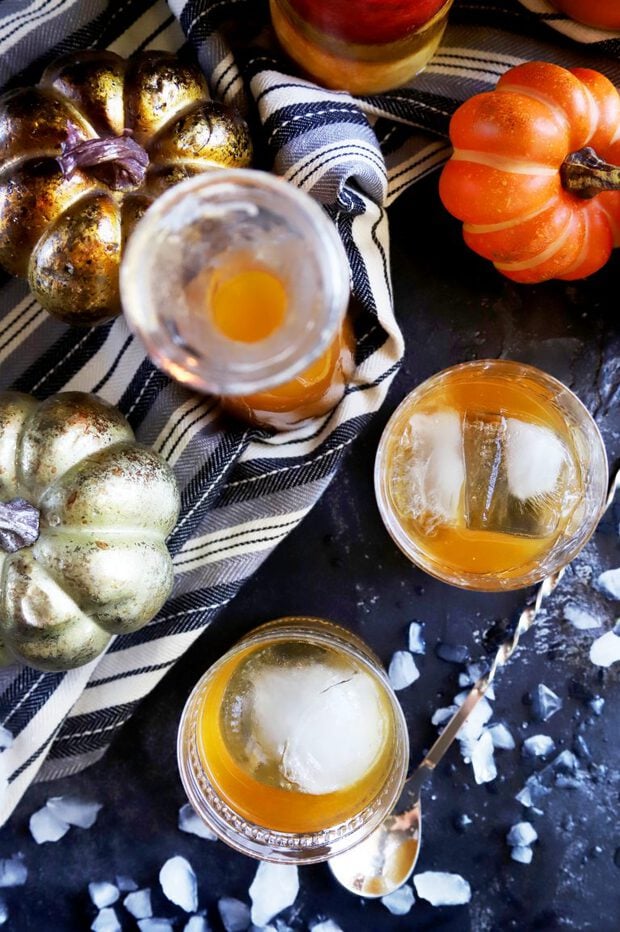 Where do I get the pumpkin spice simple syrup for this recipe?
The pumpkin spice simple syrup is an easy recipe you can make at home! It just takes a few ingredients and a handful of minutes to make. Then you can keep it in your refrigerator to enjoy for days on end.
Plus you can use the extra in your coffee or ice tea 😉 It's my new favorite way to get my pumpkin spice fix at home (you know, to save money and all those adult-like things).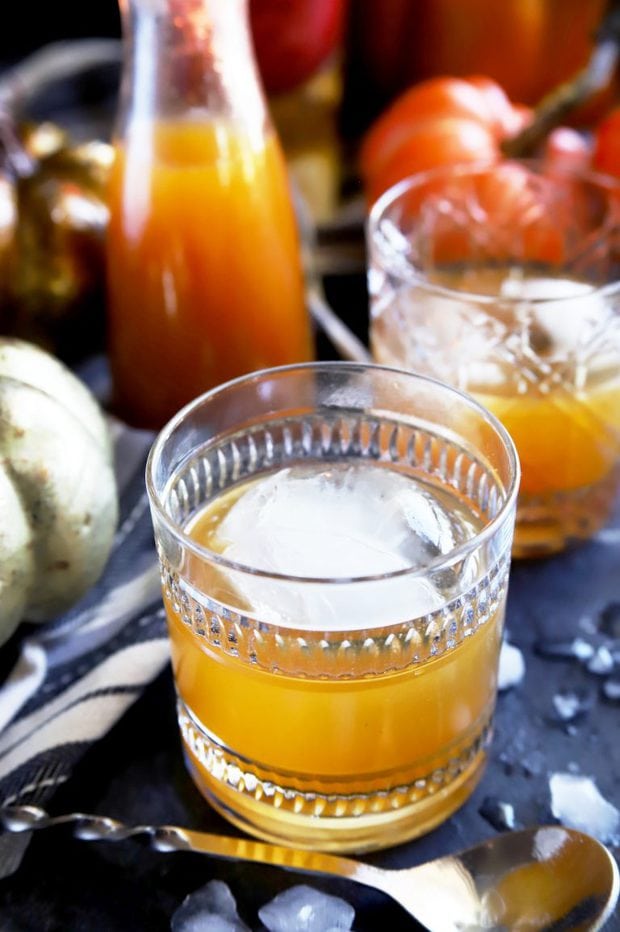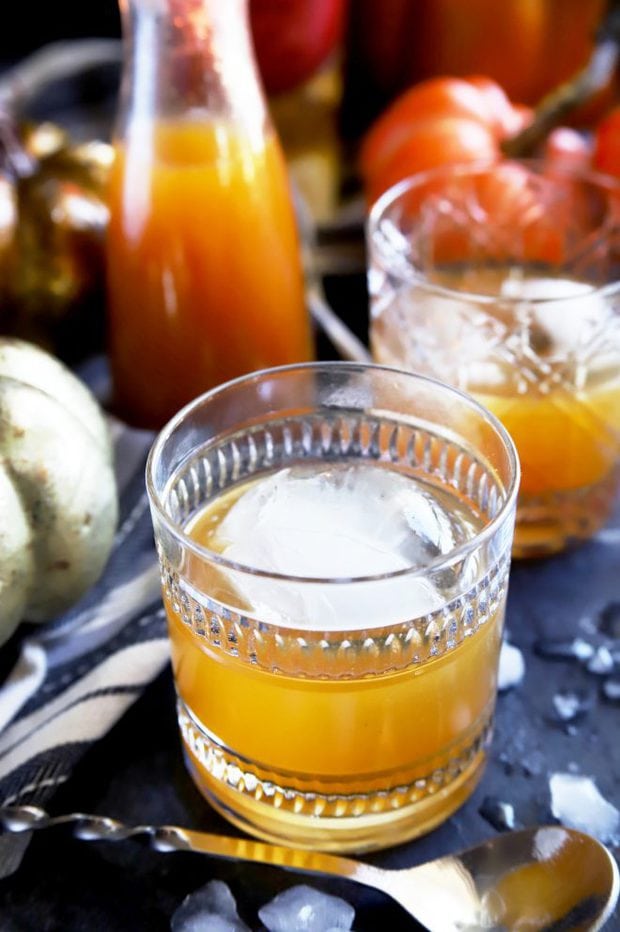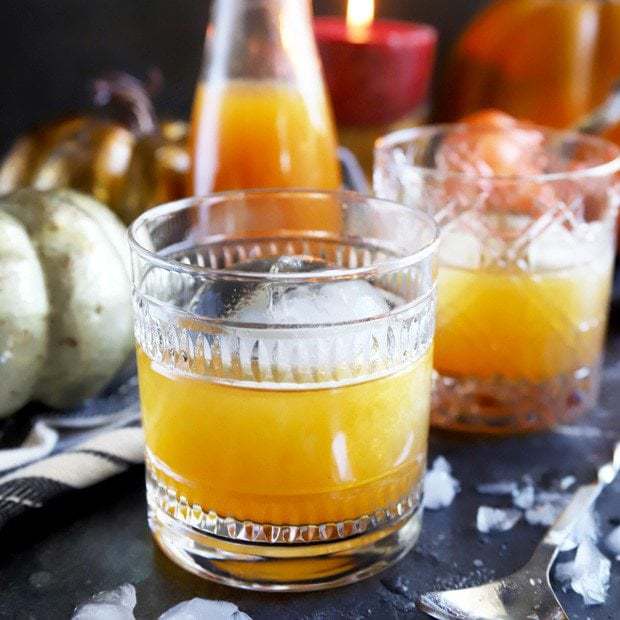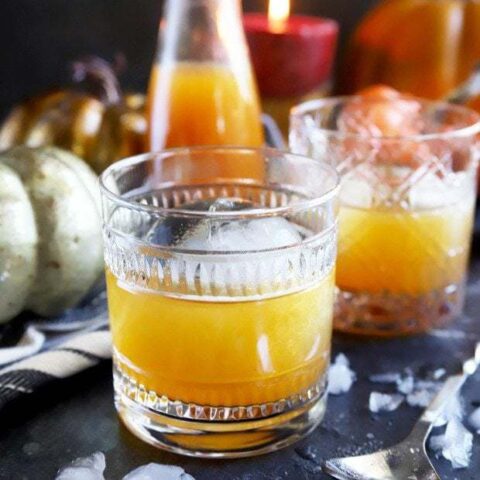 Pumpkin Spice Bourbon Old Fashioned
Pumpkin spice simple syrup takes this classic bourbon old fashioned to a whole new level! It's the ideal simple cocktail for fall.
Ingredients
2 oz your favorite bourbon
2 dashes orange or citrus bitters
Instructions
Add bourbon, Pumpkin Spice Simple Syrup, and bitters to a double old fashioned cocktail glass that has a large ice cube in it.
Stir to combine.
Serve.
Recommended Products
As an Amazon Associate and member of other affiliate programs, I earn from qualifying purchases.