Please note this post contains affiliate links.
This Bacon Butternut Squash Risotto recipe is a comforting, cozy dish to highlight the best flavors of fall. The roasted squash with fresh sage and crispy bacon makes this a lovely side dish for any protein! Serves 4.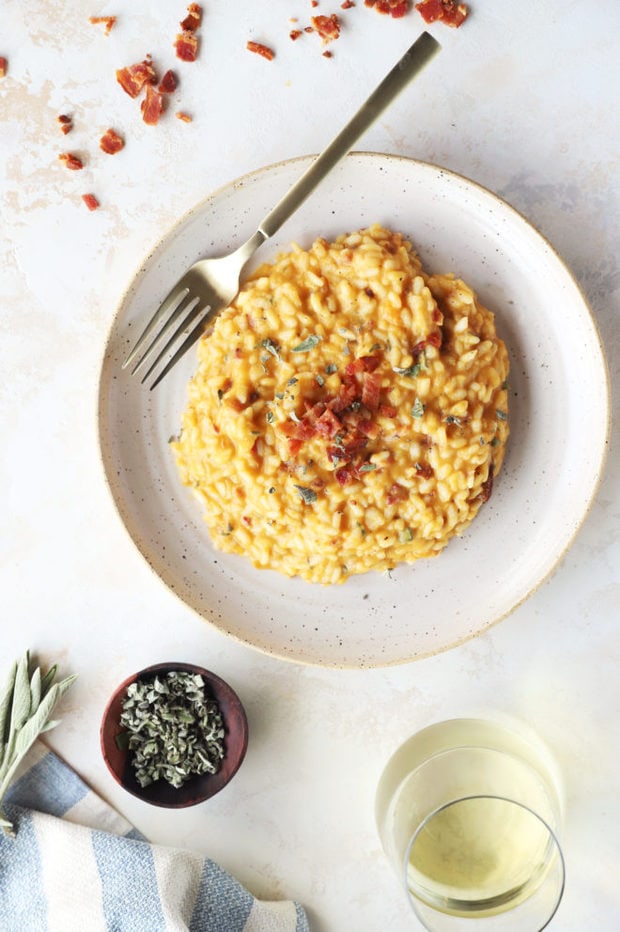 I'm back on the risotto train with a new fall version to tickle your taste buds with!
You all know that risotto is one of my food love languages, and this year after making my How to Make Risotto post, I wanted to whip up four seasonal recipes.
We are deep into fall now (I daresay it's feeling like winter with all the holiday decor and freezing temps at this point!), so I have to squeeze in some more fall goodness before it's all Christmas cookies and turkeys!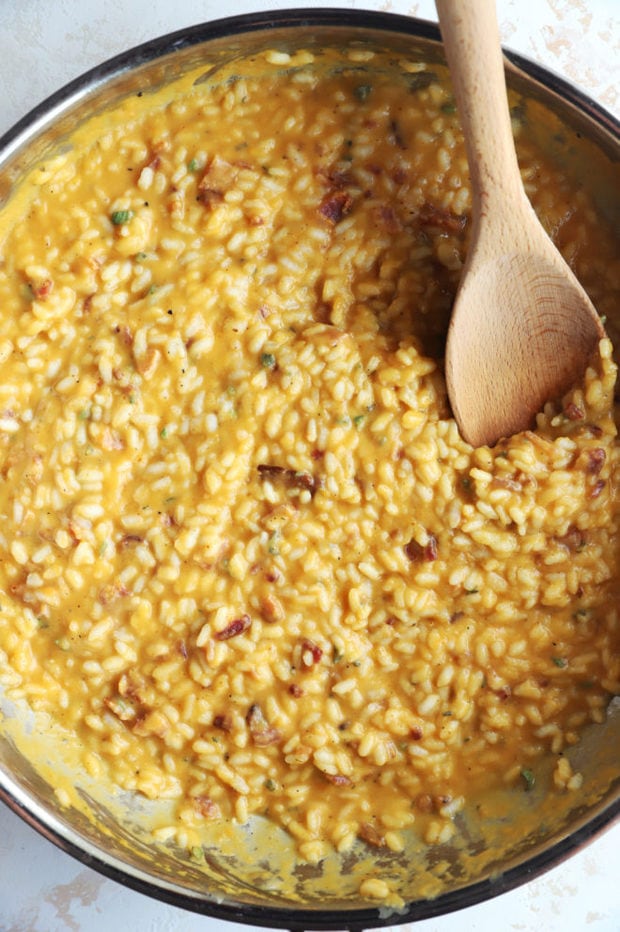 I love butternut squash this time of year. The flavor is so rich and sweet, and it goes so well with some of my favorite flavors (aka BACON).
This butternut squash risotto recipe actually contains similar steps to making my roasted butternut squash soup since you start with roasting the squash and turning it into a puree.
The puree gets incorporated after you've made my go-to risotto base, along with fresh sage and crispy bacon bits. When you take that first bite, it's like fall just came waltzing into your home to give you a giant bear hug.
I like to pair this butternut squash risotto recipe with my favorite steak, but you can really pair it with any protein! It also is a tasty winner of a side dish if you want to elevate your Thanksgiving gathering this year.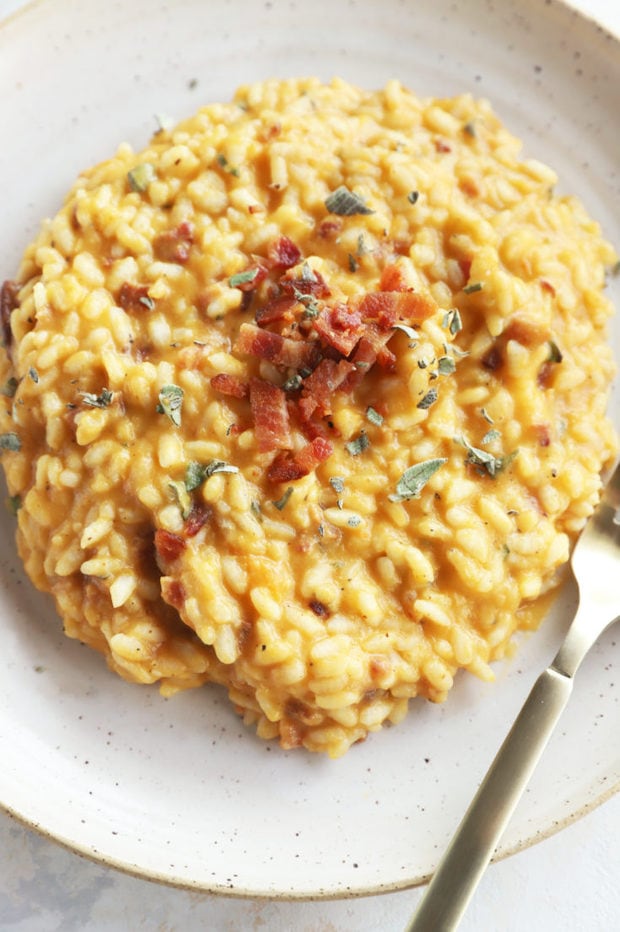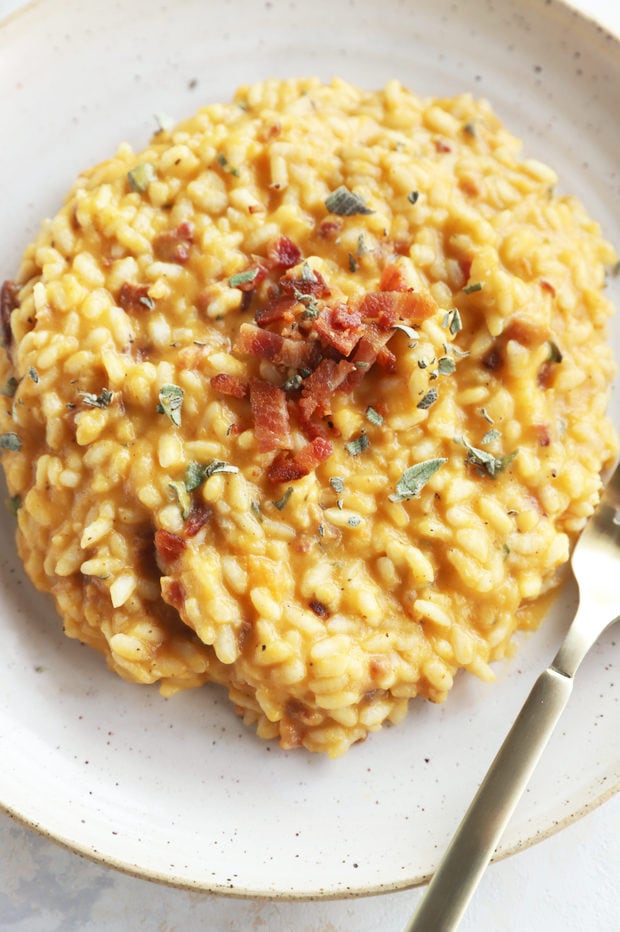 this recipe's must-haves
I personally love to use a risotto skillet to make this dish, but any skillet with deep sides will do. Make sure you have a wooden spoon handy because you will be stirring, a lot.
For the squash, you'll need silicone baking mats and a half sheet baking pan. Don't forget the large chef's knife to cut the squash in half!
To make the puree, I used this food processor and didn't have to work in batches. You can also use a high-speed blender like a Vitamix.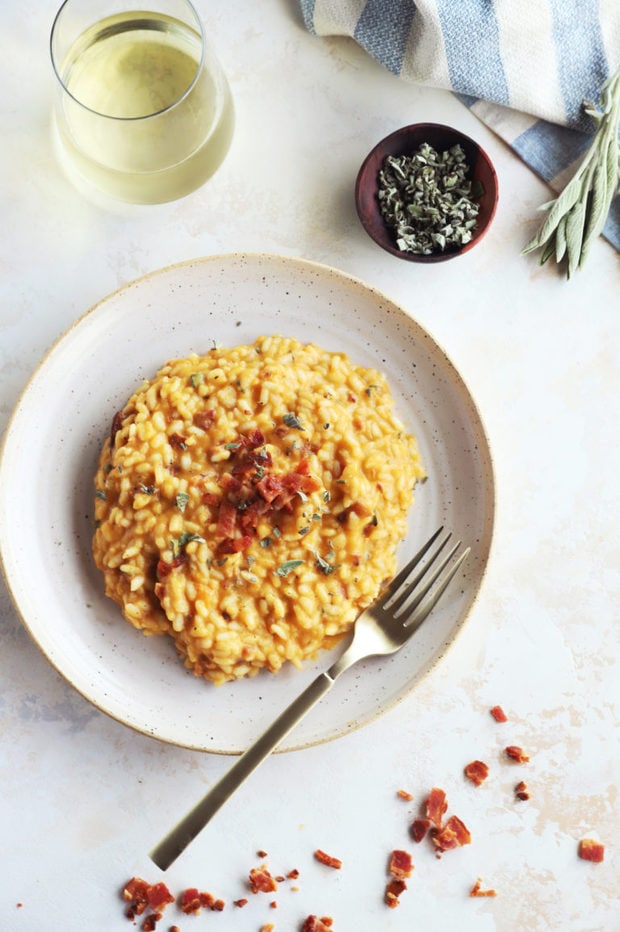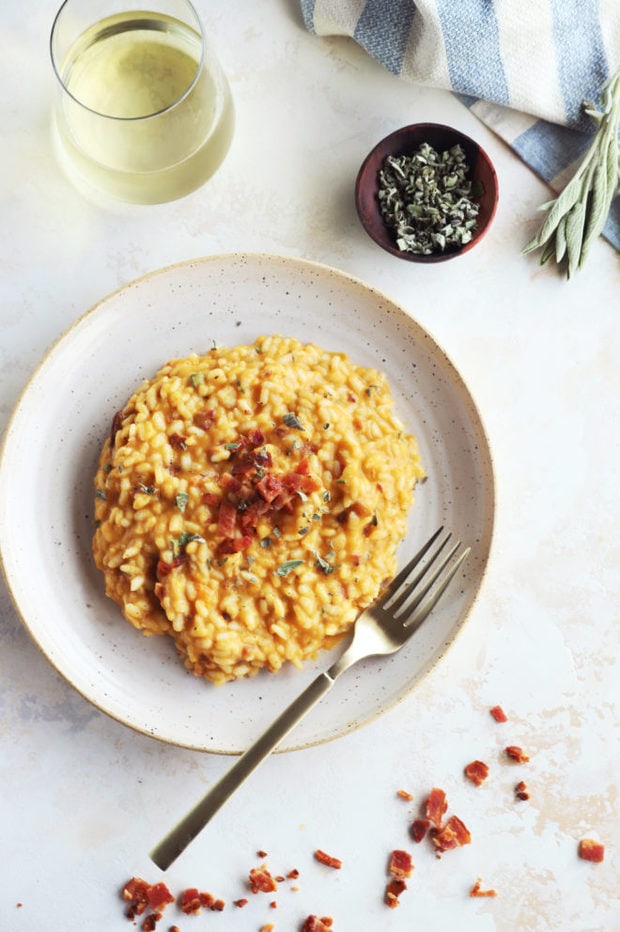 we're making a bacon butternut squash risotto recipe!
Roast Squash
Start by cutting the squash in half lengthwise and removing all the seeds. Season with a simple seasoning mix and add 1 Tbsp of butter to the well of each half.
Roast for about 30 to 35 minutes, until it's fork tender. Remove the flesh from the skin to a large blender or food processor.
Make Risotto
While the squash is roasting, get started on the risotto. Make sure that your stock is warming in a pot over low heat as you start cooking.
You'll brown the garlic, then add the rice to toast it. This helps with the flavor and the texture of the risotto, so don't skip the step!
Add wine, stir and simmer until the liquid is absorbed. Now you'll be adding stock in one cup at a time, consistently stirring until the liquid absorbs before adding the next cup. Make sure to check the rice before each addition of stock to check doneness. It will take about 25 to 35 minutes total.
Stir in parmesan cheese and butter until it's melted and keep warm by covering off the heat.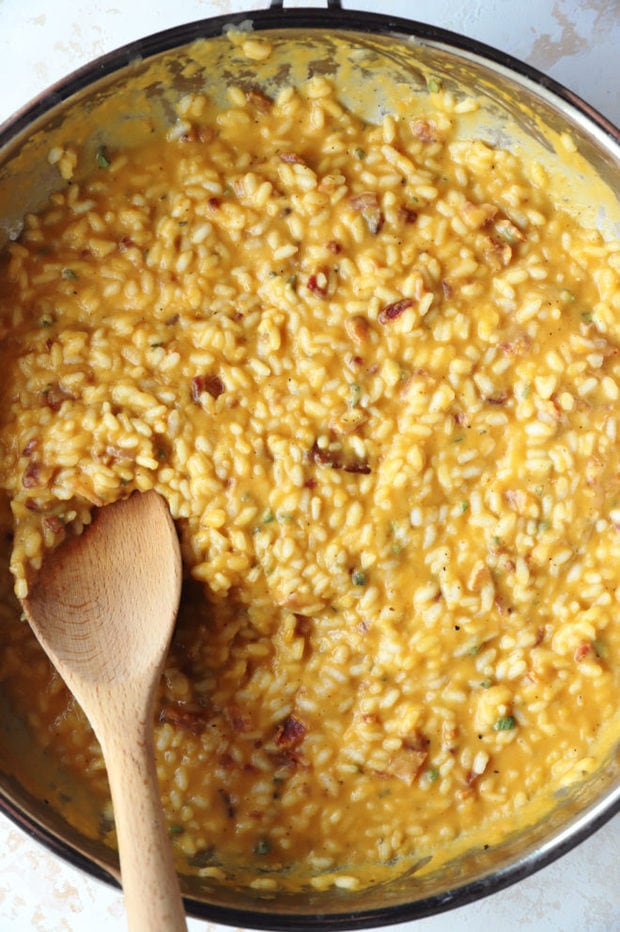 Make Puree
Once the squash is roasted, puree it with a little heavy cream until it's smooth.
Finish
Add 1 1/2 cups puree to the risotto with bacon and sage. You can reserve the rest of the puree for another batch or use in the roasted butternut squash soup I mentioned above!
Season with salt and pepper to taste. Serve butternut squash risotto warm.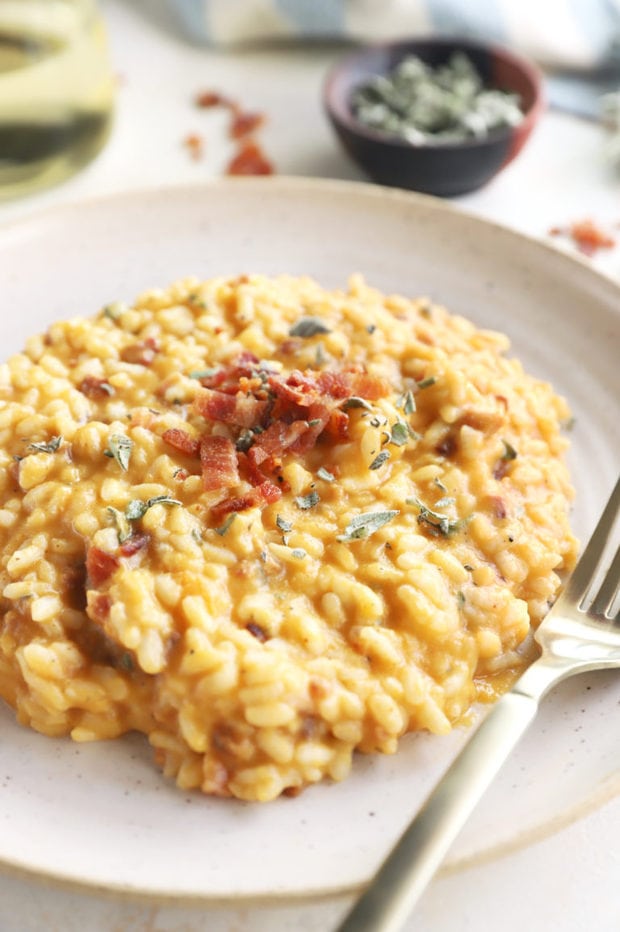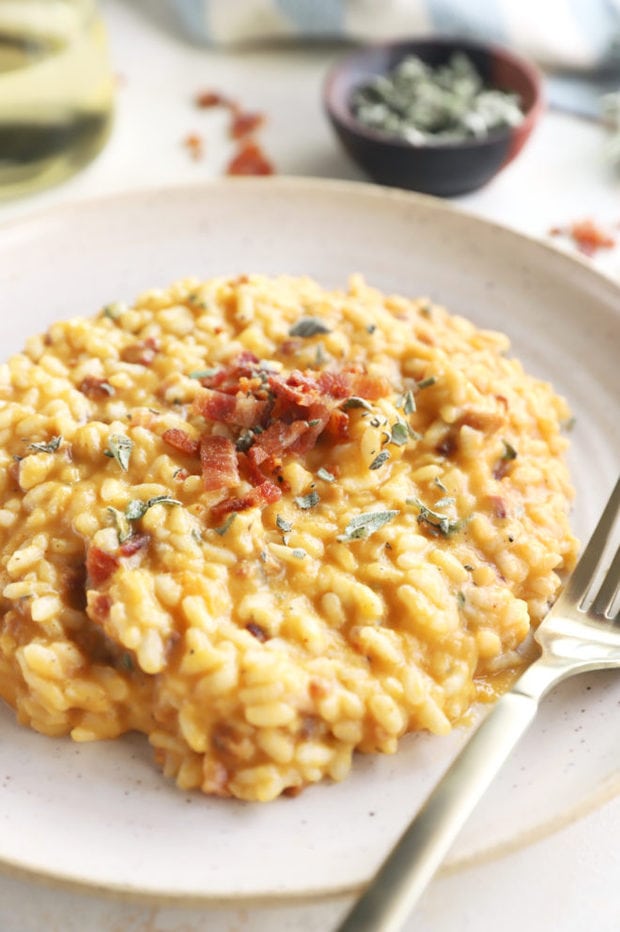 can I make this vegetarian?
Of course! To make the recipe vegetarian, swap chicken broth for vegetable broth and omit the bacon.
how long do leftovers last?
Stored in an airtight container in the refrigerator, this butternut squash risotto recipe will keep for up to 3 days. To reheat, simply warm in the microwave until warmed through.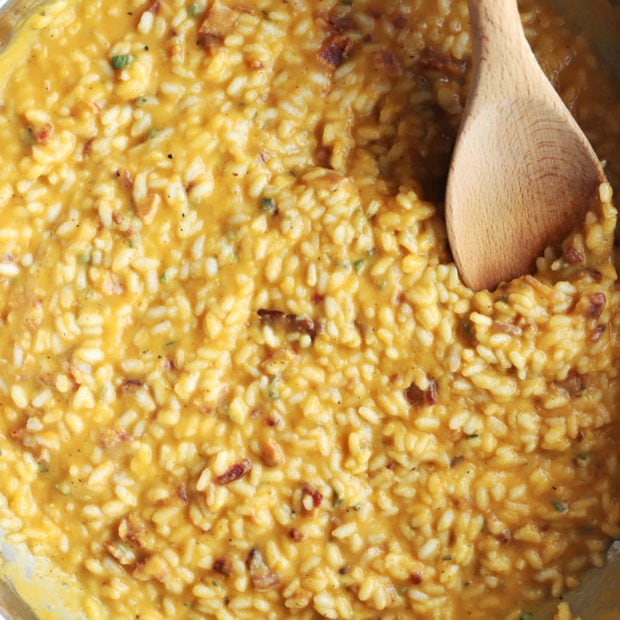 Bacon Butternut Squash Risotto
Cook Time:
1 hour
10 minutes
Total Time:
1 hour
20 minutes
Comforting and rich, this fall-themed side dish is perfect for any protein!
Ingredients
1 large butternut squash, cut in half and seeded
1/4 tsp salt
1/8 tsp ground cloves
1/8 tsp ground nutmeg
1/4 tsp chili powder
3 Tbsp unsalted butter
2 to 3 cups chicken stock
1 tsp olive oil
2 garlic cloves, minced
1 cup arborio rice
1 cup white wine (I used a chardonnay)
1/4 cup grated parmesan cheese
2 Tbsp heavy cream
3 slices thick-cut bacon, cooked and chopped
2 Tbsp freshly chopped sage
Instructions
Preheat oven to 400˚F. Line a baking sheet with a silicone baking mat or parchment paper. Place butternut squash cut side up on the baking sheet.
In a small saucepan, bring the chicken stock to a simmer; cover and keep warm over low heat.
In a small bowl, stir together salt, cloves, nutmeg, and chili powder. Sprinkle over the squash evenly. Place 1 Tbsp butter in each well of the squash, reserving the final Tbsp butter for later.
Roast for 30 to 35 minutes, until fork tender (thicker squash may take longer). Scoop out squash into a large blender or food processor. Set aside.
While the squash is roasting, in a large high side skillet, heat 1 tbsp olive oil over medium heat. Add the garlic and cook until browned, about 1 minute. Stir in the rice and toast for 2 minutes. Add the wine and simmer until almost evaporated. Pour in approximately 1 cup of the hot stock. Cook, stirring constantly, until the stock has been absorbed. Repeat this process, adding 1 cup of stock at a time and stirring until the rice is tender. You may not need all the stock so test the rice between each addition. It should take approximately 25 to 35 minutes total.
Stir in parmesan cheese and butter until melted. Cover and set aside.
Add 2 Tbsp heavy cream to the squash and puree until smooth.
Stir in 1 1/2 cups puree (reserve rest for later! It's great for soup!), bacon, and sage. Season with salt and pepper to taste. Keep warm over low heat until ready to serve.
Recommended Products
As an Amazon Associate and member of other affiliate programs, I earn from qualifying purchases.