Please note this post contains affiliate links.
An Old Fashioned Moscow Mule is the stunning combination of an old fashioned cocktail and a Moscow mule! Bringing together two of your favorite cocktails, the flavors meld together in a unique and balanced way. It'll be the star cocktail of your next gathering!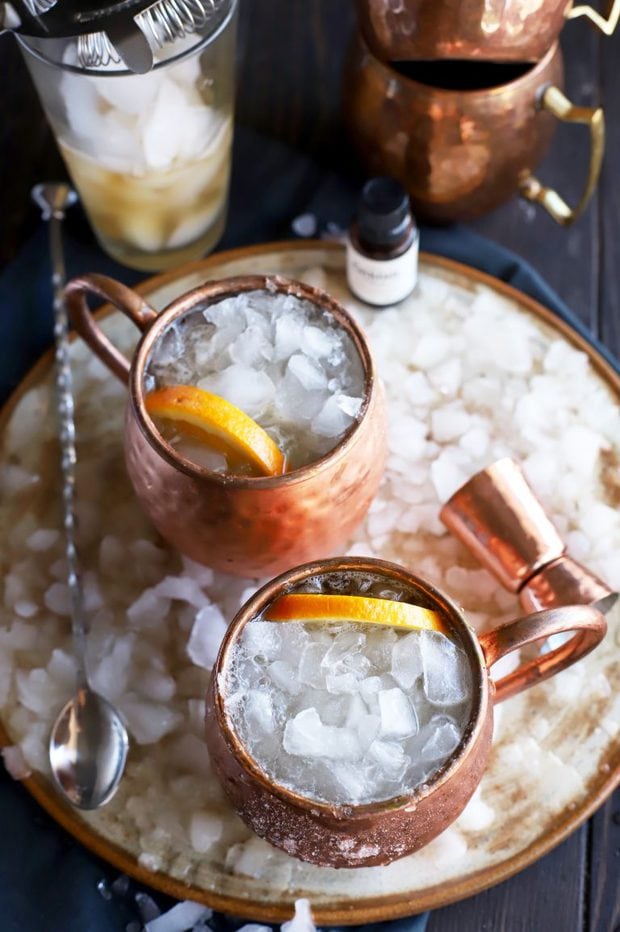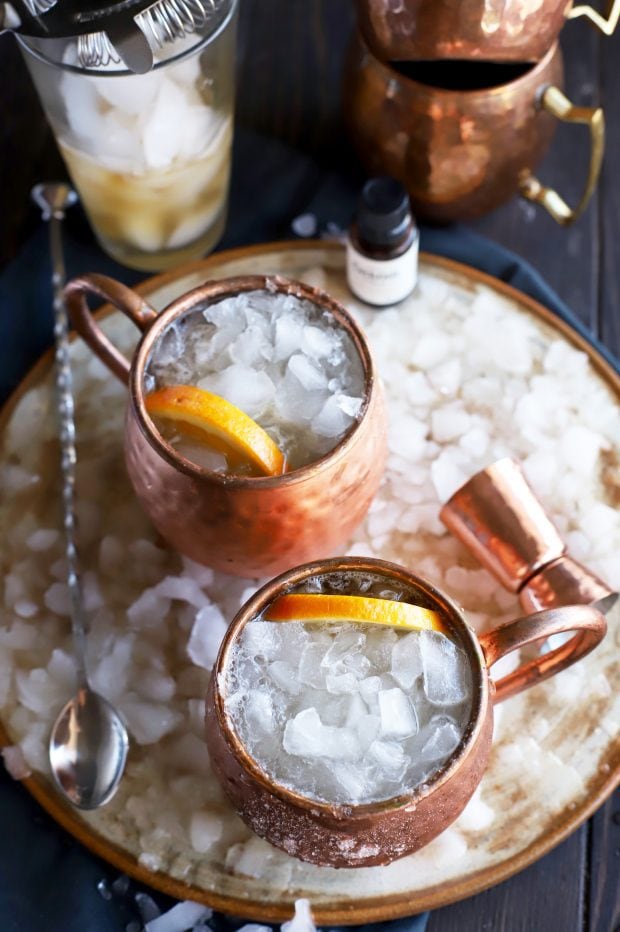 about this old fashioned moscow mule
So I decided it would be a good idea to throw two cocktails in the same glass and see what happens this week…
OH BOY, that was the best decision I've made in a longgggg time.
As you all know, I am a huge fan of Old Fashioned and Moscow Mules. I've made Old Fashioned cocktails with twists like apple pie, strawberry rhubarb, earl grey, smoked orange, and sparkling grapefruit.
I've created Moscow Mules with twists like peach mint, blood orange, pear, cherry, blackberry, and mezcal.
However, amongst all this cocktail experimentation, I had overlooked the most obvious combination of all…
Old Fashioned + Moscow Mule = YUM.
I have always loved putting whiskey or bourbon in a Moscow mule, so this cocktail is already pure deliciousness in my book. However, instead of it simply being an Irish Mule (a Moscow mule with whiskey), this drink adds bitters into the mix with a touch of simple syrup and lime.
You can honestly use any type of bitters you like in this cocktail. I've used orange and cherry, as well as Angostura or smoked orange. There are so many options to choose from in the bitters department nowadays, so you can really make this cocktail your own. I would recommend sticking with standards or fruit flavors for the bitters. Feel free to try more and report back with your findings!
This is seriously going to become one of your new favorite cocktails for happy hour or gatherings! Plus you can set out a bar full of everything you need for Moscow mules and old fashioned cocktails, then set out instructions for this cocktail. It's a fun way to host a cocktail party or gathering. You'll be surprised by how much guests get into whipping up their own concoction.
Love all things bourbon? Check out my bourbon Kentucky mule recipe for another tasty mule option.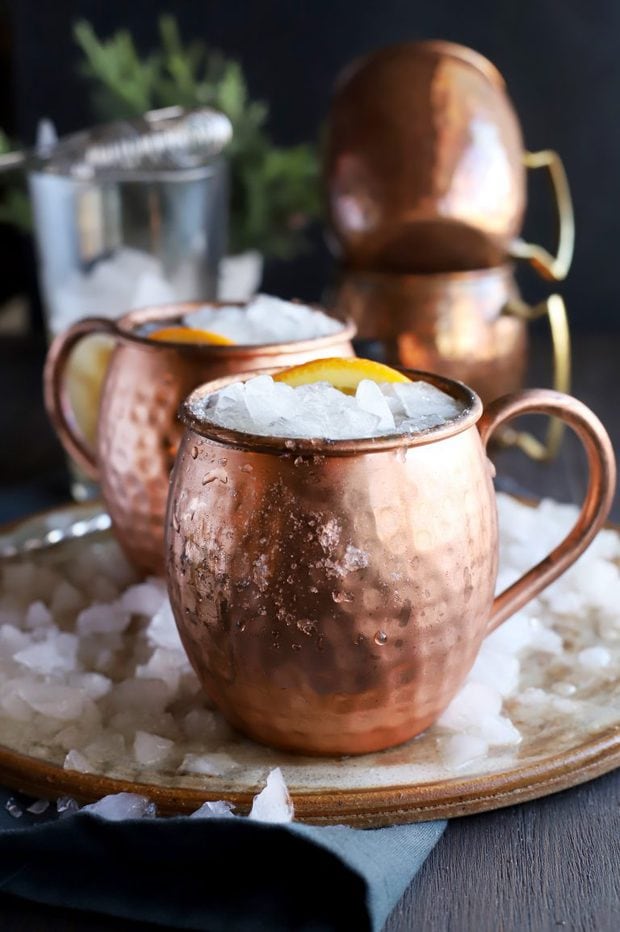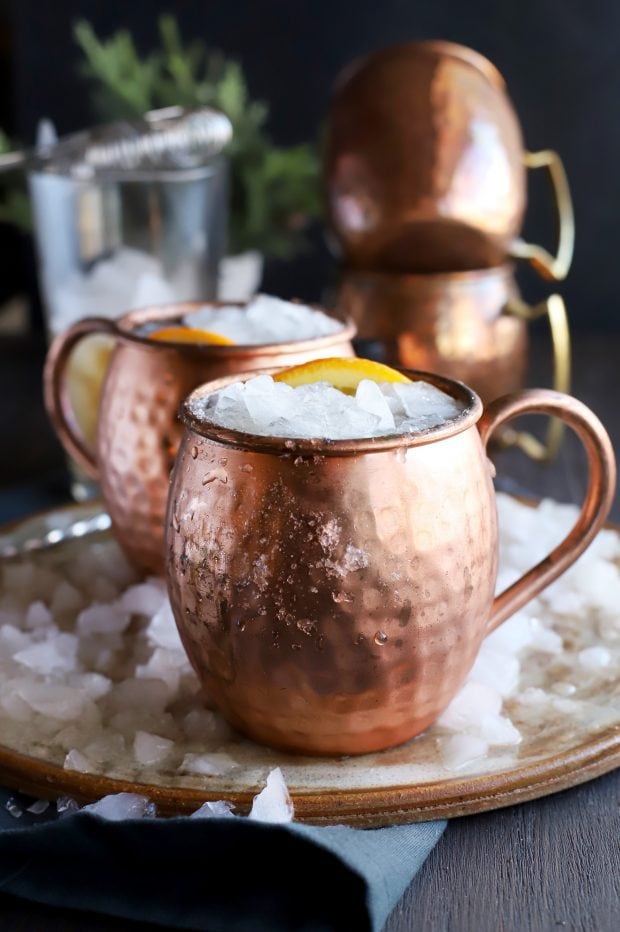 ingredients
whiskey. An old fashioned cocktail is generally made with bourbon or rye whiskey, so you can use your favorite in this cocktail! Both of these types of whiskeys work well with the flavors in the drink. Personally, I prefer bourbon (just in case you can't decide!).
simple syrup. Snag a bottle of simple syrup at the store if you want to, but it's so much easier (and cheaper!) to make at home. You will need equal parts water and granulated sugar. I've got a whole post on how to make simple syrup where I answer any questions you might have!
lime juice. In my opinion, fresh lime juice is always the best option!
bitters. You can go traditional with Angostura bitters, but you can also change it up with fruity options. I personally love to use orange or cherry bitters in the cocktail.
ginger beer. Non-alcoholic ginger beer is a bubbly beverage that has a tasty ginger kick at the end. I like to opt for brands that have a good kick of heat, like fever-tree ginger beer. You could also use a less-spicy option like bundaberg ginger beer.
ice. Crushed ice is preferred for this cocktail!
this recipe's must haves
This recipe comes together in a tall pint glass, but you can also assemble it right in the copper mugs you want to serve them in. I like these moscow mule mugs or these gorgeous floral moscow mule mugs, if you are looking for some!
You will need a cocktail strainer and a cocktail stirring spoon as well.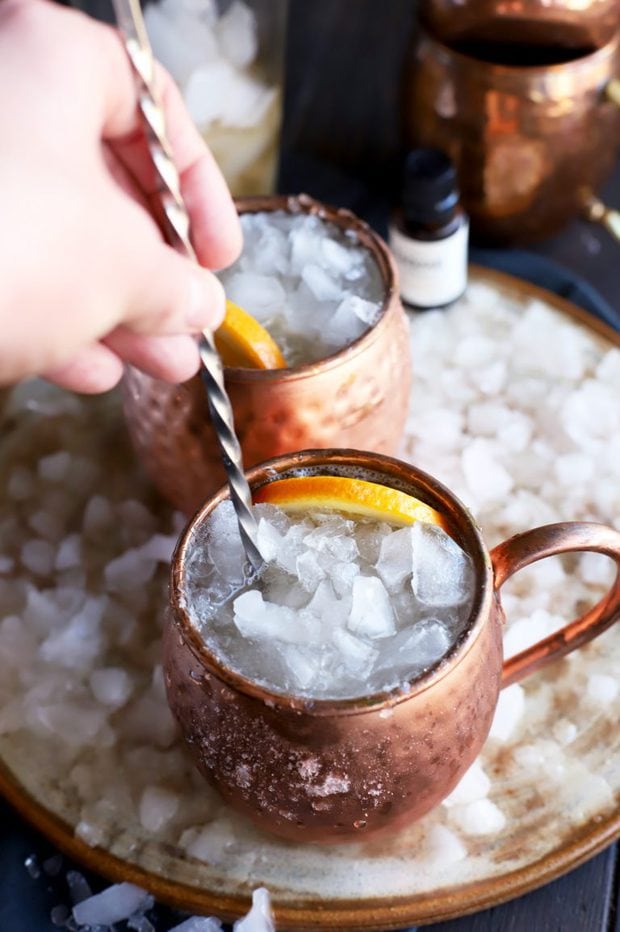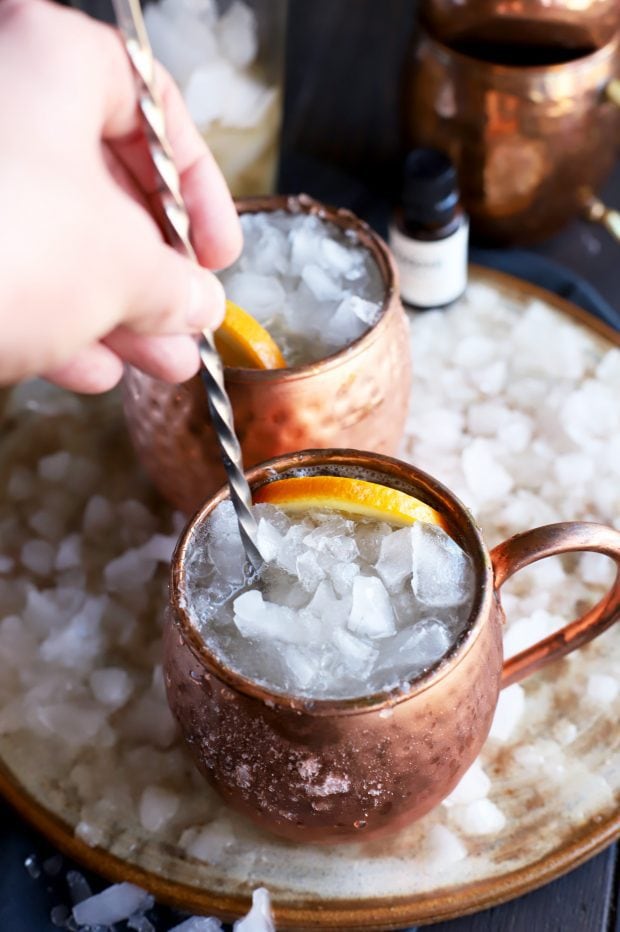 here's how to make an old fashioned moscow mule
stir
In a copper mug filled halfway with ice, add whiskey, simple syrup, lime juice and bitters. Stir briefly to combine. Fill to the top with crushed ice.
top off
Top off with ginger beer. Stir one more time before serving. I like to garnish with an orange wheel!
tips and ideas
use different bitters. Just like with a classic old fashioned, you can easily experiment with different bitters to change the flavor of this cocktail. From fruity to spicy to smoky, have fun with experimenting.
adjust the ratio. As I like to clarify with all of my recipes, these measurements are just a starting point. Some people like their drinks stronger or weaker. Others prefer sweetness to tartness. Therefore, make this recipe once and take a sip. Then adjust the whiskey, lime juice, ginger beer, simple syrup, etc.
More delicious whiskey cocktails to try: Sparkling Whiskey Sour | Bourbon Mule | Bourbon Manhattan | Bourbon Sidecar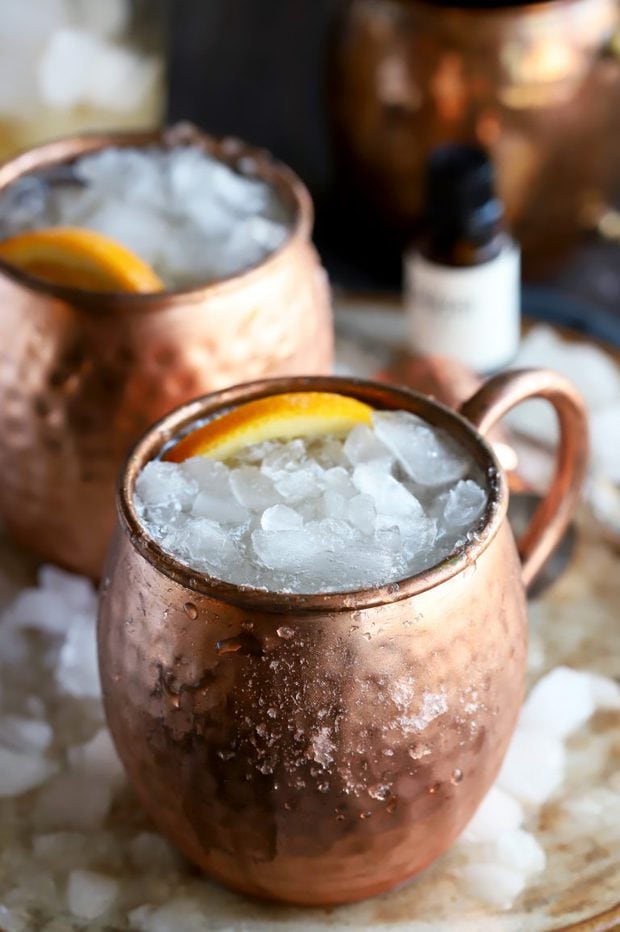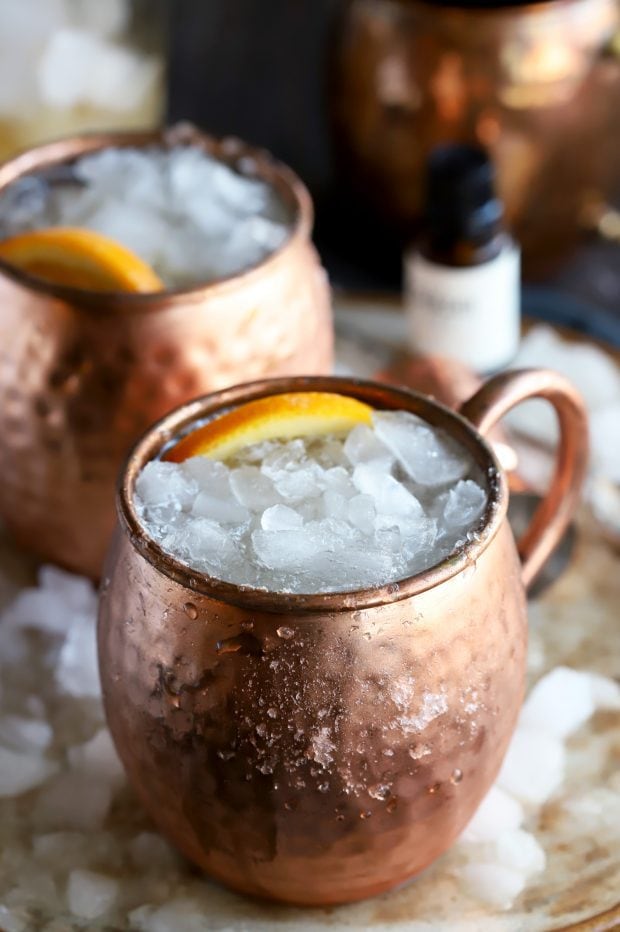 what's the difference between a moscow mule and an old fashioned mule?
A Moscow mule is typically made with vodka, lime juice, and ginger beer. This old fashioned Moscow mule recipe is a riff on two cocktails – the Moscow mule and the old fashioned cocktail.
Therefore, instead of vodka, this cocktail uses whiskey! It also adds bitters to the mix, giving an added depth of flavor.
should I use bourbon or rye?
You can use either in this cocktail! I personally prefer bourbon for the slight sweetness as it pairs so well with the heat from the ginger beer. Rye works really well with the cocktail too! It just depends on what kind of whiskey you prefer.
is this different than a Kentucky mule?
A Kentucky mule is essentially a Moscow mule, but made with bourbon. Therefore, it's a bit different than this cocktail! It doesn't incorporate the bitters, and therefore it has a very different flavor profile to it.
can I make this cocktail into a big batch cocktail?
Yes, a moscow mule is an easy cocktail to turn into a pitcher! To serve 8, you will need 2 cups bourbon or rye whiskey, 1/2 cup simple syrup, 2 oz fresh lime juice, 16 dashes bitters, 4 cups ginger beer. Stir together all the ingredients in a pitcher filled with ice and serve right away.
Need more inspiration for cocktail hour? Check out my cocktail recipes page!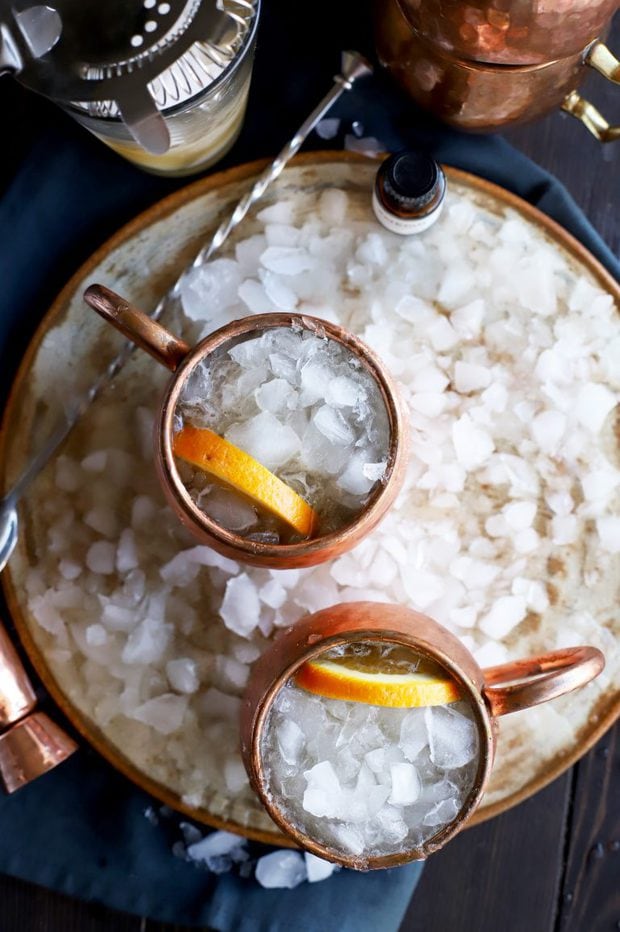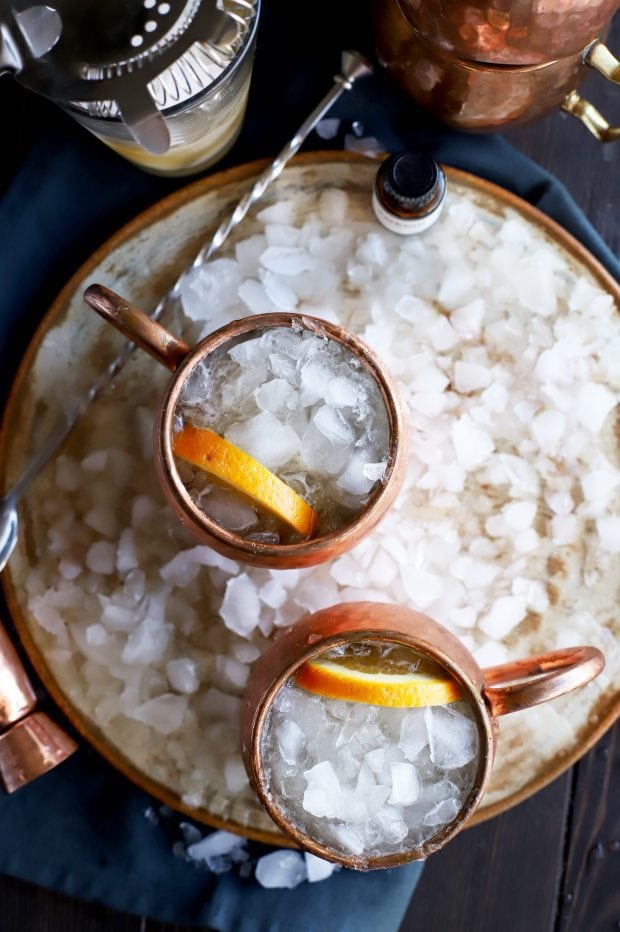 what to serve with an old fashioned moscow mule
This cocktail is a classic combination of flavors, so it goes with a lot of different foods! The ginger in the cocktail goes really well with two different types of food – Asian-inspired recipes and seafood recipes.
If you want some Asian recipe inspiration:
For an appetizer, spicy beef dumplings are absolutely delicious! A creamy crab rangoon dip is also a winner every single time.
Gochujang noodles are made with leftover chicken, making it ideal for any night of the week. If you prefer a heartier dish, instant pot pumpkin curry is the ultimate comfort meal.
For some seafood recipes to pair with this cocktail:
I love these shrimp tostadas because they work for either an appetizer or dinner!
Simple baked lemon garlic salmon can be paired with you favorite seasonal sides, no matter what time of year it is.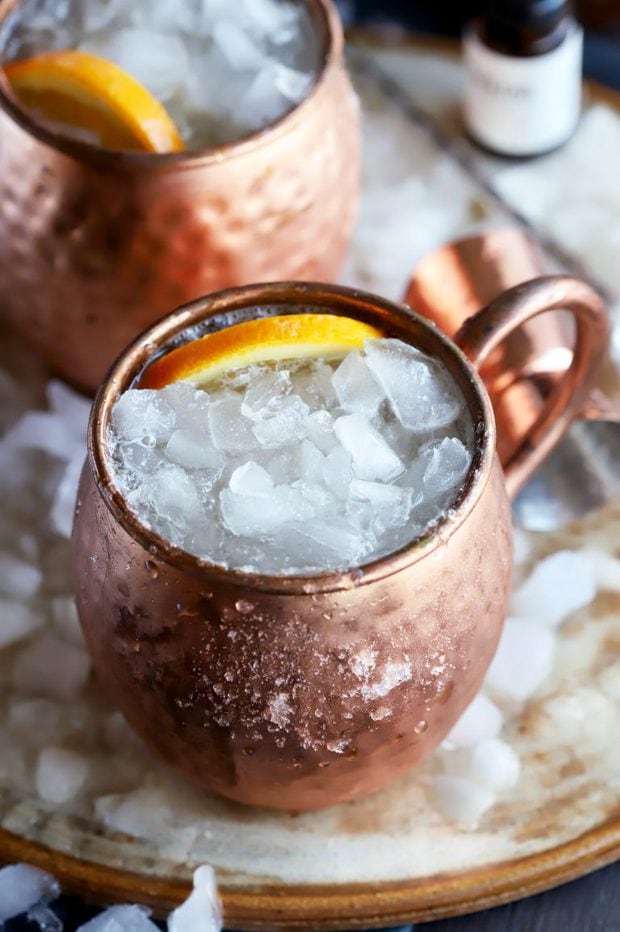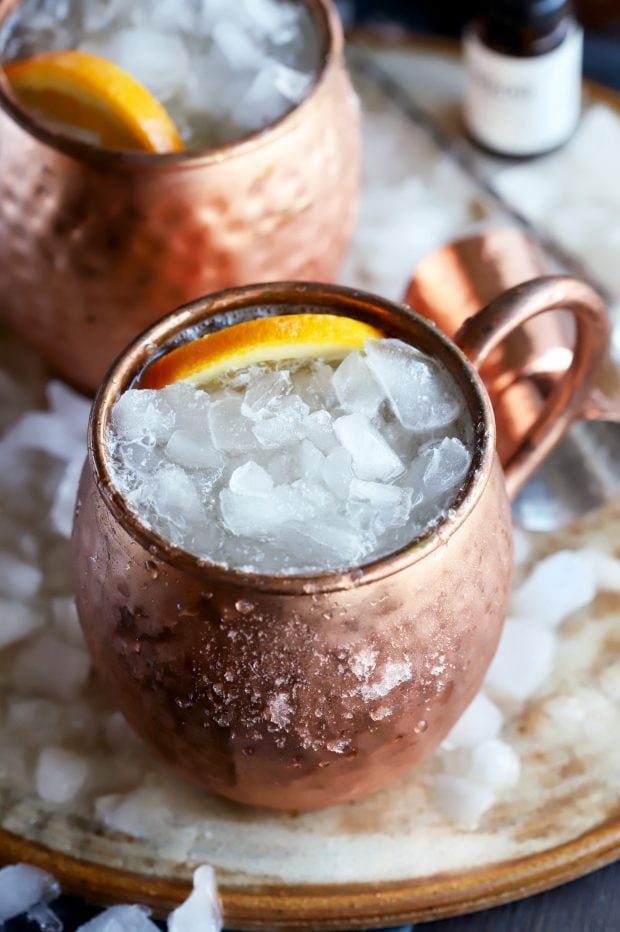 more moscow mule recipes
A spicy jalapeno mexican mule will get your taste buds tingling!
If you love cranberry cocktails, this cranberry orange moscow mule is ideal for an winter gathering.
Enjoy a good mash up? This margarita mexican mule is for you!
everyday seasonal cookbook
With seasonal produce guides, recipes, and more, this cookbook is filled with seasonal food for every occasion.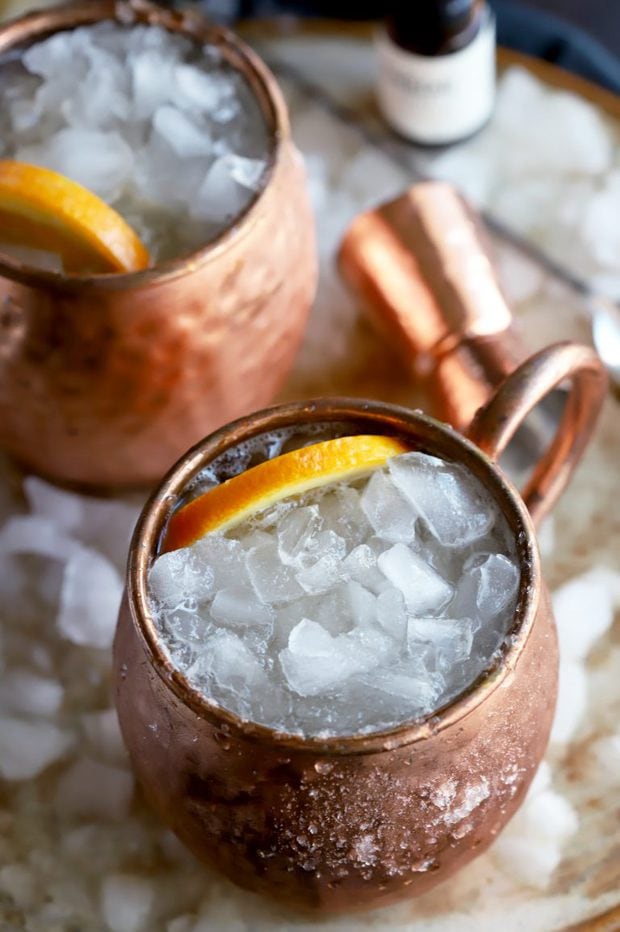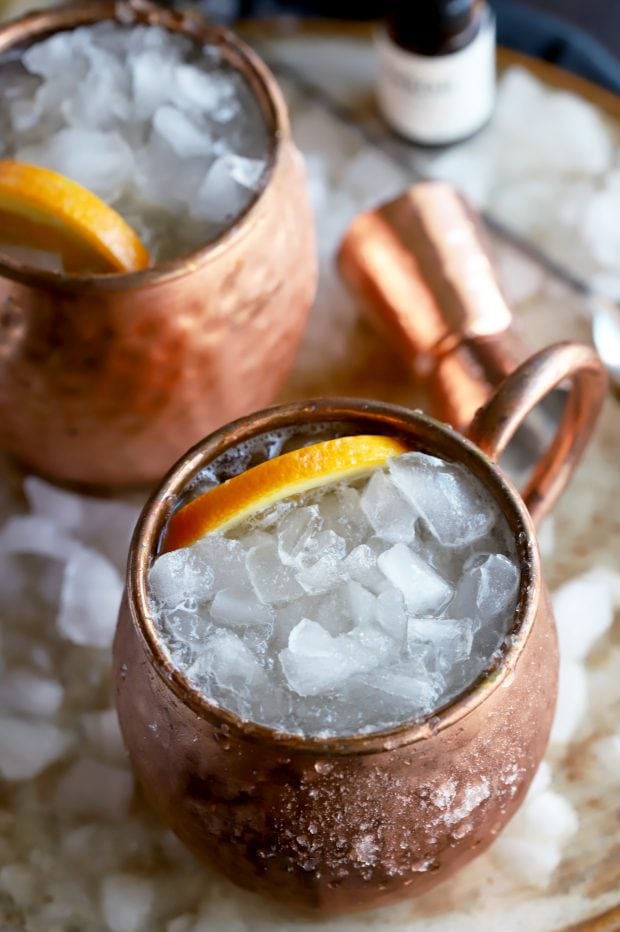 Finally, if you make this old fashioned moscow mule recipe, please be sure to give this recipe a rating and/or leave a comment! I love to hear when you all make recipes, and I do take the time to respond to every single comment.
Feel free to drop questions below too, if you have them!
Oh and be sure to tag me on Instagram if you make the recipe! I love being able to see these recipes come to life in your homes – it's my favorite thing to look through those photos. It really means the world to me!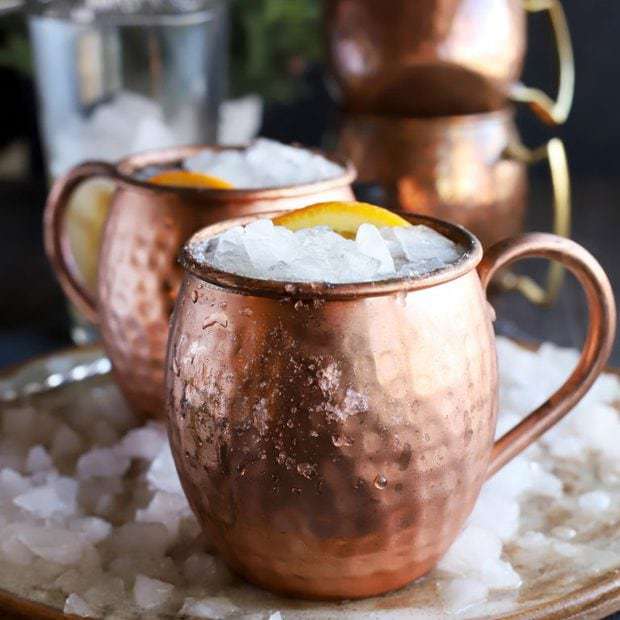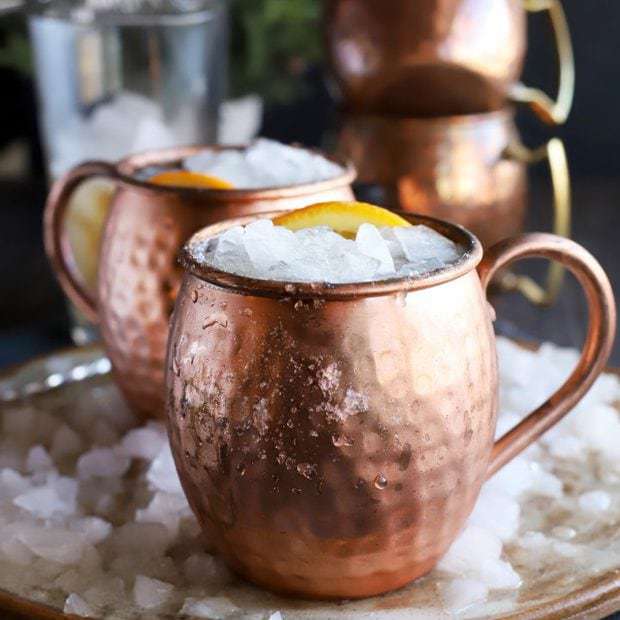 Old Fashioned Moscow Mule
Your favorite old fashioned cocktail meets a moscow mule in a bubbly, balanced mug! It'll become your new favorite way to enjoy BOTH cocktails at one time.
Ingredients
2 oz bourbon or rye whiskey
1/2 oz simple syrup
1/4 oz lime juice
2 dashes bitters (you can use Angostura bitters, but other fruity options like orange, cherry, etc are good too!)
4 oz ginger beer
Crushed ice
Instructions
Add whiskey, simple syrup, lime juice, and bitters to copper mug filled halfway with crushed ice. Stir to combine. Fill with crushed ice all the way to the top.
Top with ginger beer and give the drink one more stir before serving. Garnish with an orange wheel and additional crushed ice, if desired.
Recommended Products
As an Amazon Associate and member of other affiliate programs, I earn from qualifying purchases.