Please note this post contains affiliate links.
A Spicy Jalapeño Mexican Mule is a classic Moscow mule with a spicy tequila twist! If you are looking to spice up your cocktail hour, this recipe is for you. It's zesty, spicy, and bubbly!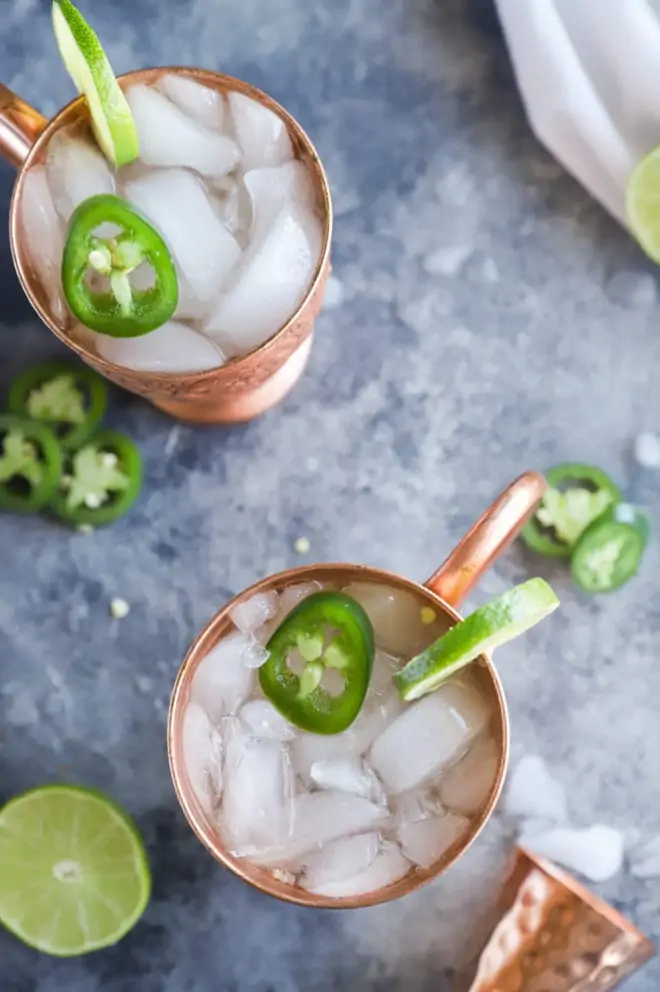 about this jalapeño spicy mexican mule
What's your go-to cocktail when you want to celebrate?
For me, it's usually a Moscow Mule.
I remember the first time I had one. I was up at Copper Mountain for a work event (this is back when I was in the marketing world, many years ago) and one of the cocktails being served at the first happy hour gathering were those mules.
The first thing that caught my eye was the copper mugs of course. Then once I took a sip, that spicy ginger kick had me hooked. I spent the next few days only drinking mules, trying all the variations that the different bars and restaurants were serving up.
Since then, I've built up a fun variety of mule recipes here on the blog, but with Cinco de Mayo just around the corner, I wanted to give things a spicy spin.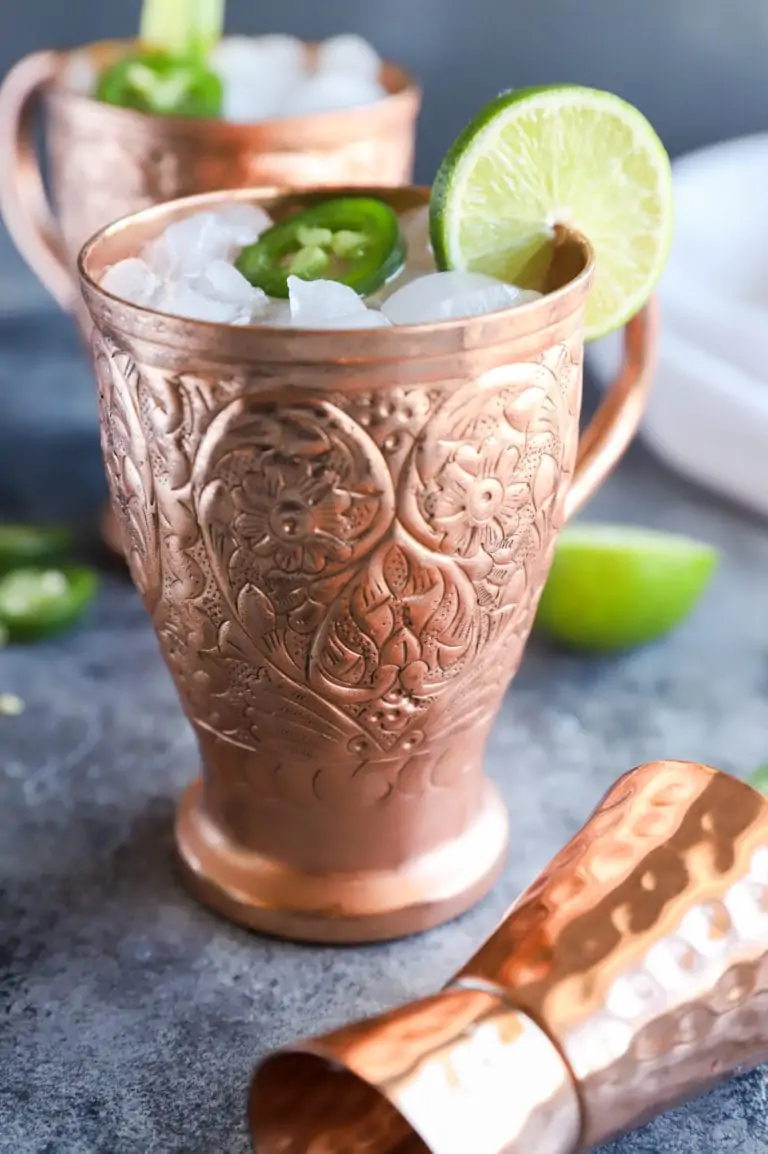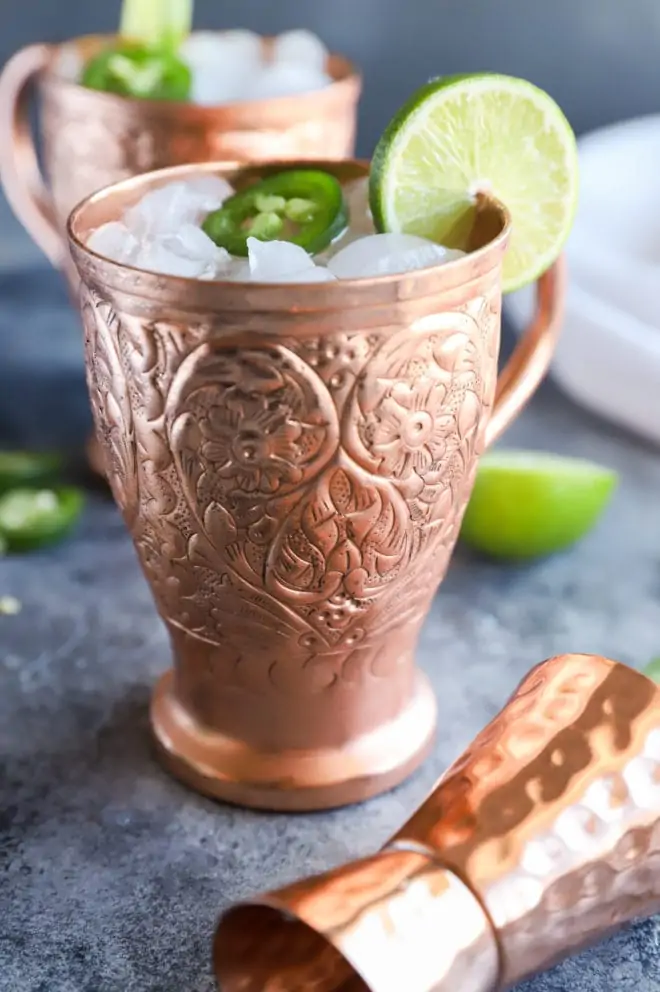 what is a mexican mule?
A Mexican mule is simply a Moscow Mule made with tequila instead of vodka! I like the variation in flavor that the tequila gives. It goes so well with ginger beer, but I amped up the flavor a bit more with orange liqueur (a classic ingredient you find in margaritas) and jalapeño!
ingredients
jalapeño – since you are just slicing the jalapeño for this recipe, you don't have to worry about scooping out the seeds!
lime juice – freshly squeezed lime juice is best! I always like to have a handful of limes on hand for cocktails specifically.
tequila – for this recipe, I find that a blanco or silver tequila is best. I recommend looking for a mid-range price point option like El Jimador or Dobel. You can always use something more top shelf if you prefer (think Patron)!
orange liqueur – you are welcome to buy a more expensive option like Cointreau or Grand Marnier, but I just reach for the triple sec. It's more affordable and personally I can't tell the difference between this and other top shelf options in mixed cocktails.
ginger beer – if you didn't already know, ginger beer isn't actually beer! It's a non-alcoholic beverage that's bubbly with a kick of ginger. I prefer a spicy ginger beer option like fever-tree ginger beer. However, if you prefer less spice, you can look for a brand like bundaberg.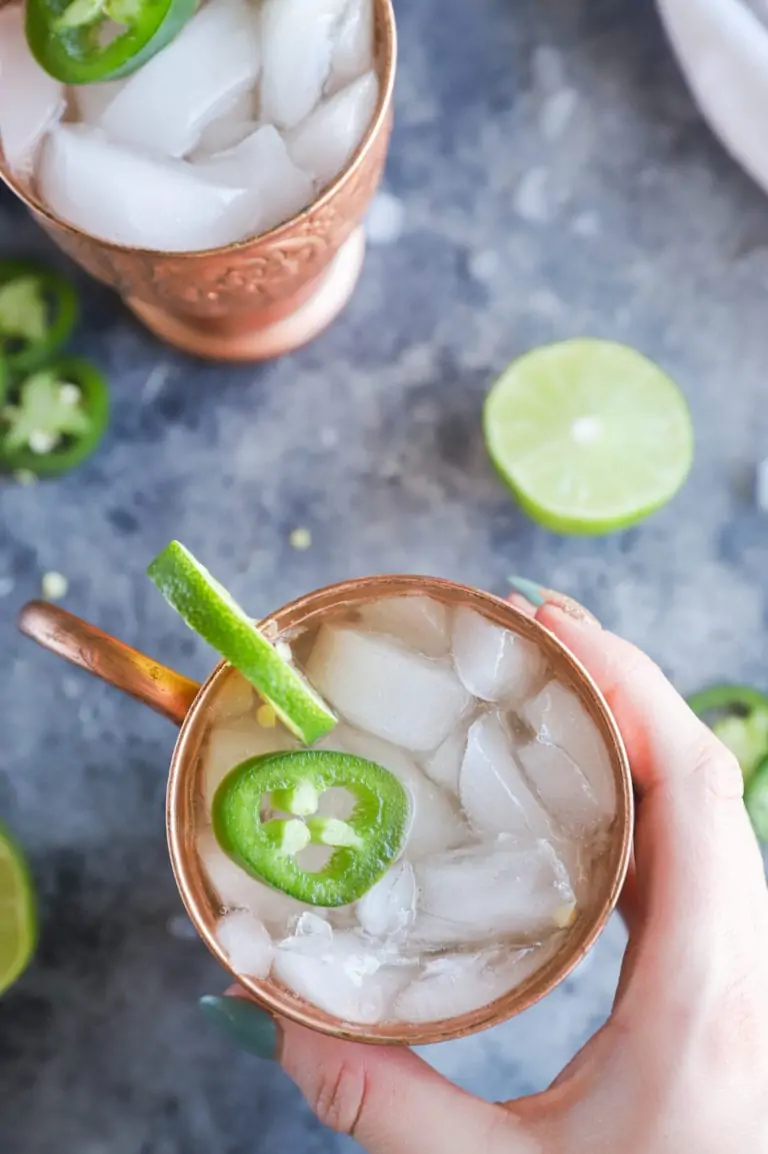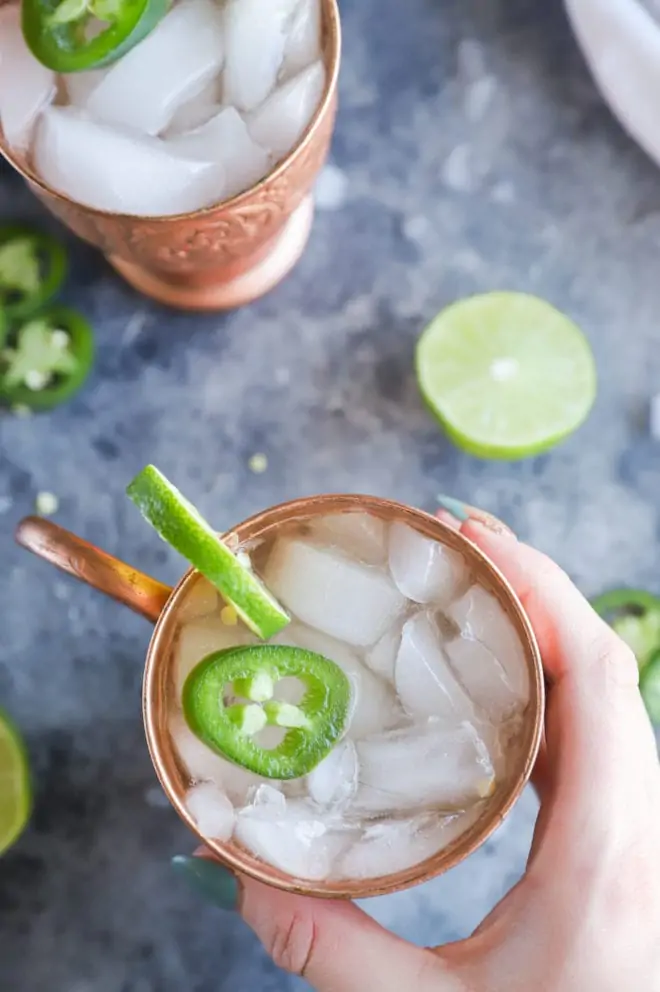 this recipe's must haves
To make the cocktail, you will need all the basic barware including a jigger, cocktail shaker, and cocktail strainer.
I love to serve my mules in mugs! You can pick up a set of standard moscow mule mugs or get the look you see here with these floral moscow mule mugs.
here's how to make a jalapeño mexican mule cocktail
muddle
In the bottom of a shaker, muddle the jalapeño slices with lime juice until the slices are broken down.
shake
Top the mixture with tequila and orange liqueur. Fill with ice and shake.
strain
Strain the mixture into a copper mug and fill with ice. Top with ginger beer and serve.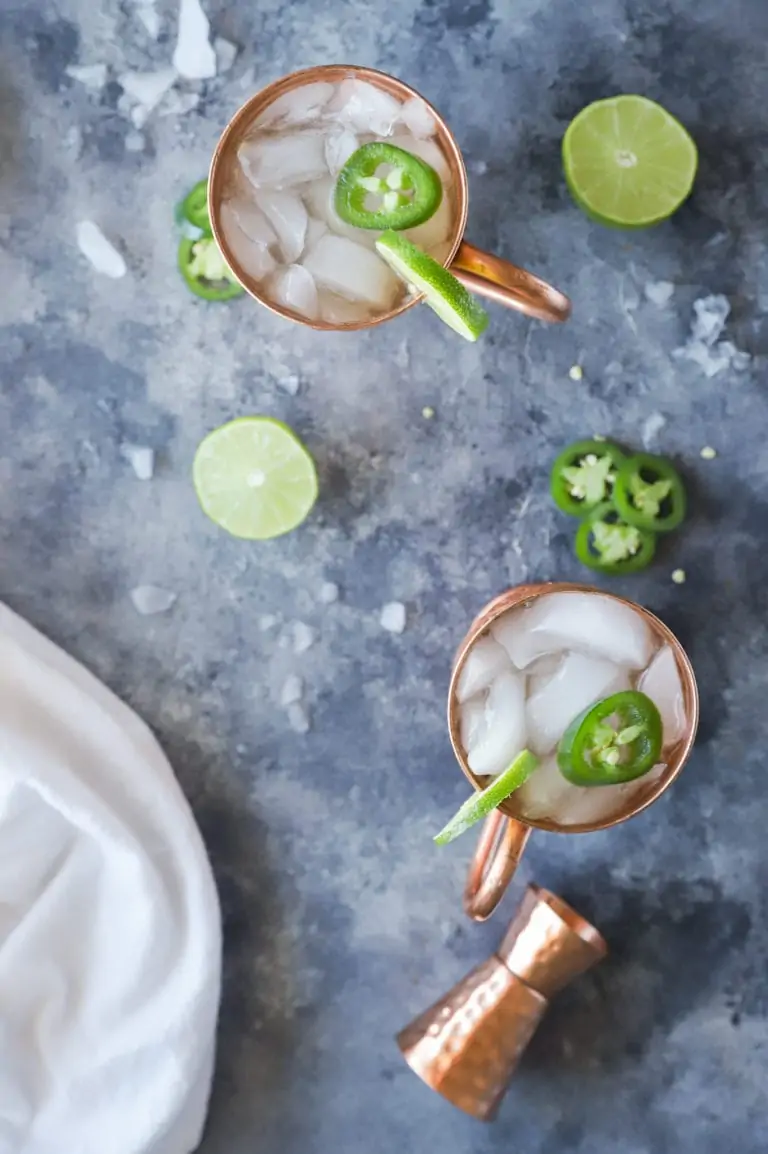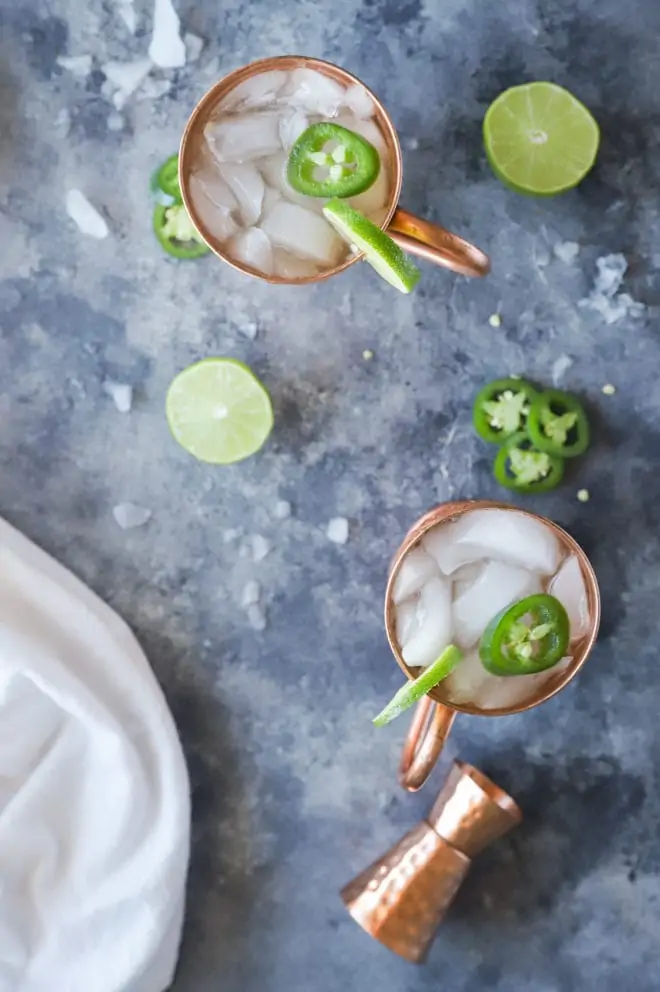 tips for success
get a good ginger beer. ginger beer is the key to the cocktail, and with a subpar ginger beer the cocktail with just taste blah. Therefore I recommend picking up fever-tree ginger beer or even Trader Joe's Triple Ginger Brew to make the cocktail extra tasty.
leave the seeds. There's no need to remove the jalapeño seeds before you slice it! You want to keep the seeds because it's what helps make the drink spicy. If you want to alter the level of heat in the drink, see below where I address how to do just that!
Other tasty moscow mules to explore: Irish Mule | Pear Moscow Mule | Old Fashioned Moscow Mule | Peach Mint Moscow Mule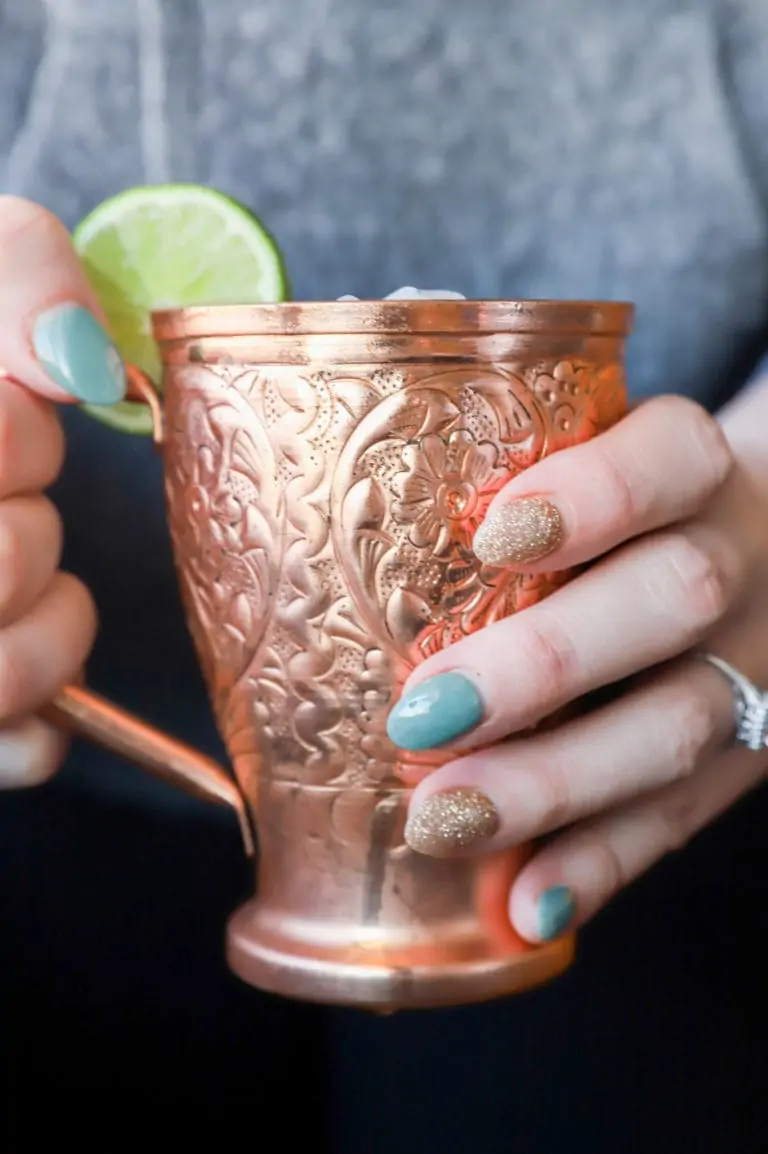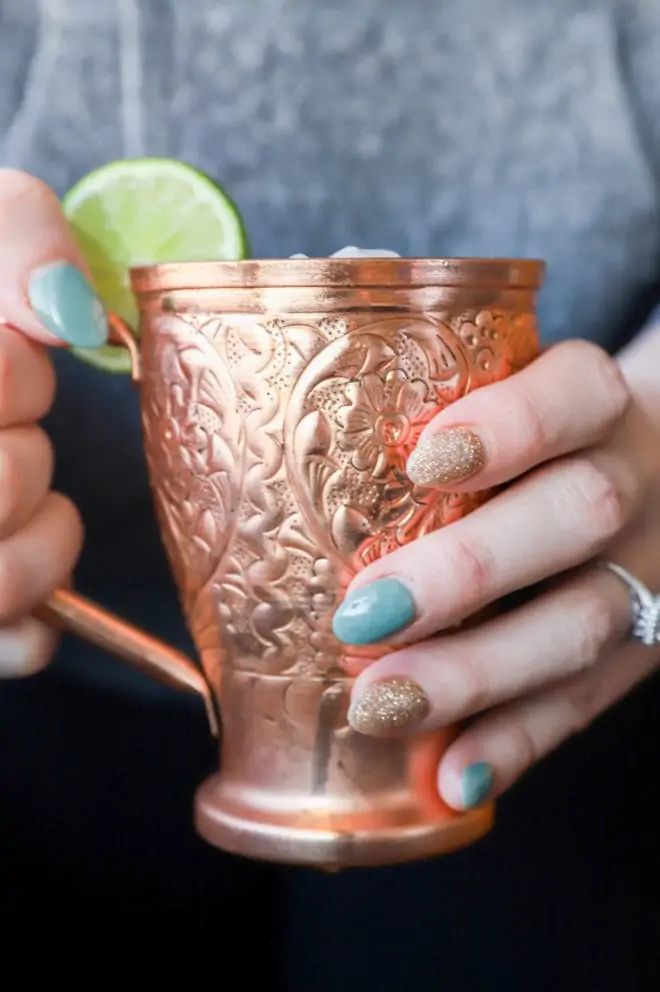 how can I alter the spice level of this drink?
I find that two jalapeño slices is just the right kick of spice that lets you taste the rest of the ingredients in the cocktail but makes your tongue tingle. If you want it spicier, you can always add one to two more jalapeño slices.
If you don't like a lot of heat, you can reduce the amount of jalapeño to one slice. Another option is to remove the seeds from the slices before making the cocktail!
why do you shake and strain part of this drink?
I like to shake and strain the base of this cocktail because I don't love all the muddled jalapeño getting into my drink. I don't particularly love eating the chunks of pepper by accident, so I strain them out.
Of course, if that doesn't bother you, you can easily assemble this in the copper mug. Simply muddle, top with tequila, orange liqueur, and ice. Stir briefly then top with ginger beer.
do I have to use copper mugs?
It's traditional to serve mule cocktails in copper mugs! I personally love the tradition, plus they are just gorgeous. The copper keeps the drink cold so the ice doesn't melt as quickly and won't water down the drink.
Scroll up to my "must-haves" sections for links to my favorite copper mugs!
Need some more inspiration for cocktails? Check out my cocktail recipes page!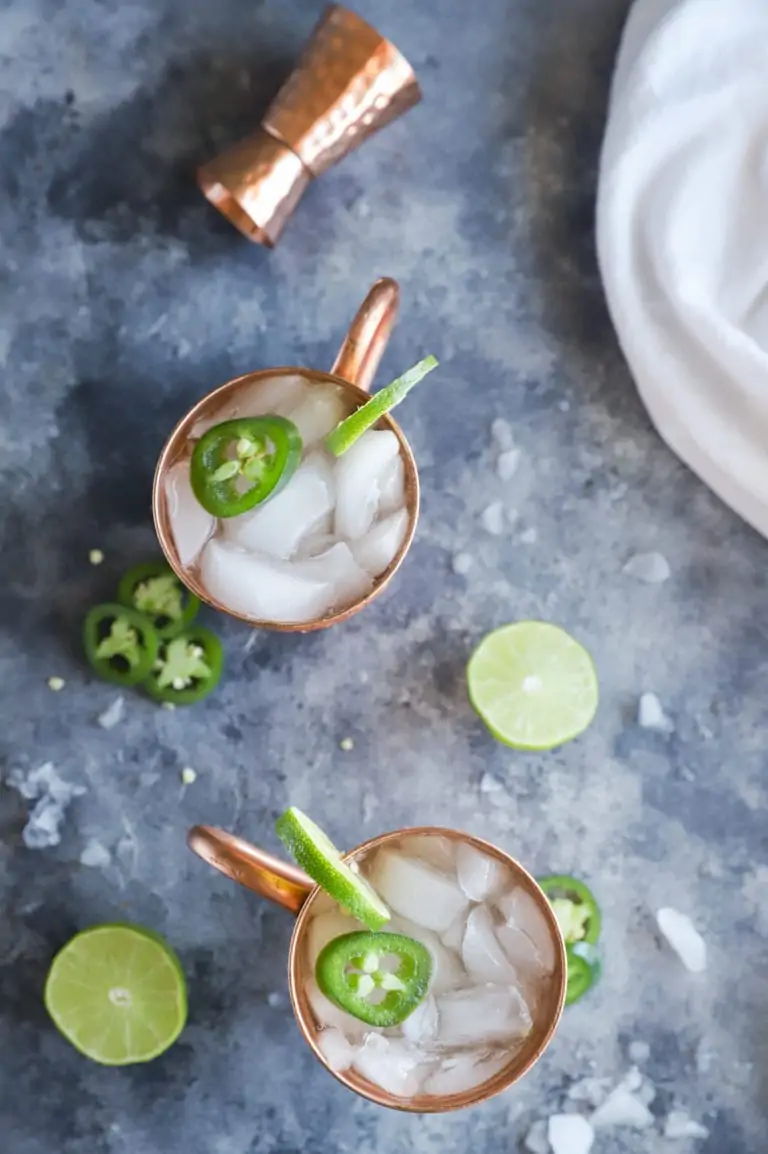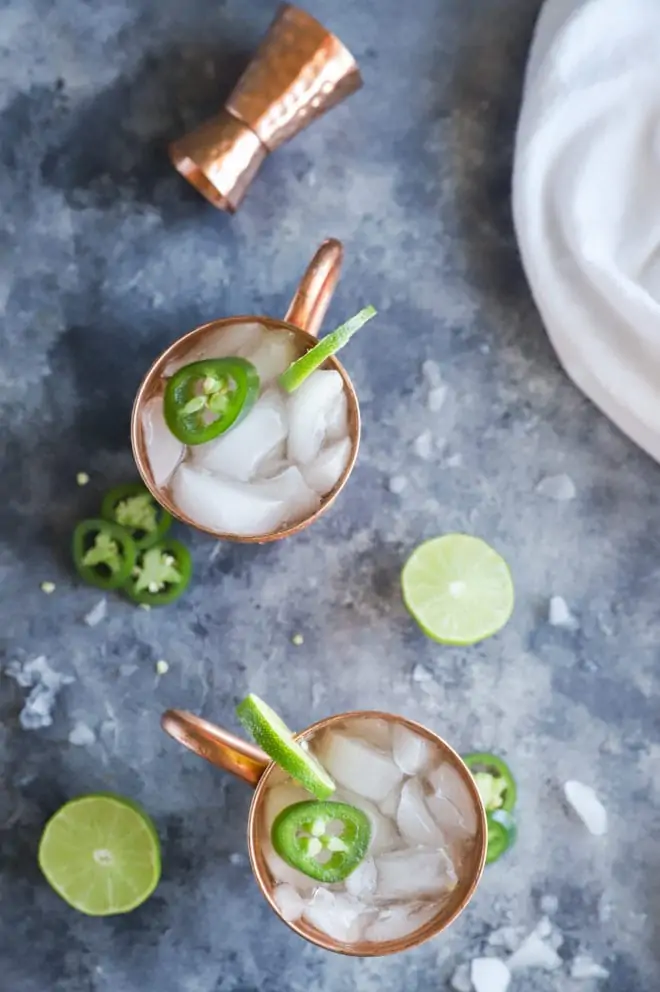 how to serve a jalapeño mexican mule
I love making a jalapeño mexican mule any day of the week, but they are also super easy to scale up for a party! There are lots of different dishes that go with this cocktail:
Finally, if you make this jalapeño mexican mule recipe, please be sure to give this recipe a rating or leave a comment! I love to hear when you all make recipes, and I do take the time to respond to every single comment. Feel free to drop questions below too, if you have them!
Oh and be sure to tag me on Instagram if you make the recipe! I love being able to see these recipes come to life in your homes – it's my favorite thing to look through those photos. It really means the world to me!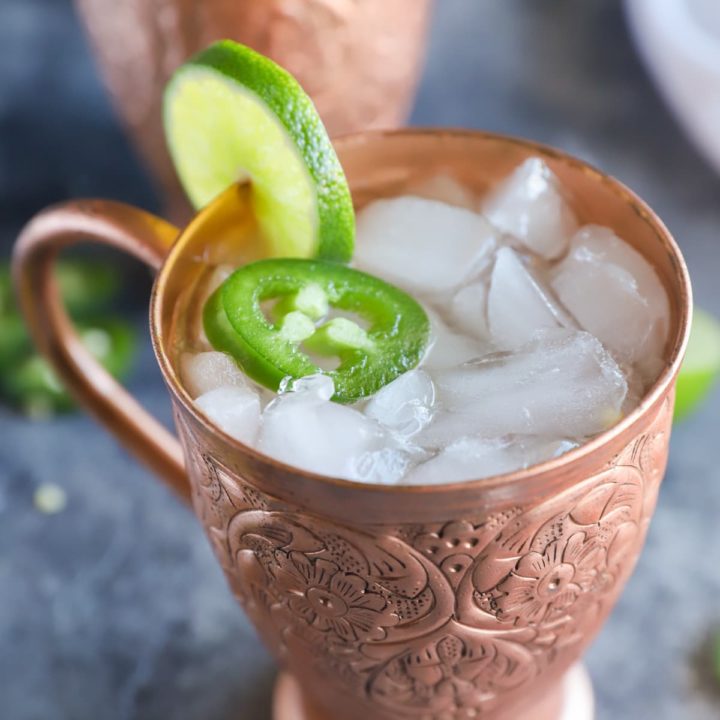 Jalapeño Mexican Mule
This twist on a mule gives you a little extra heat!
Ingredients
2 slices of jalapeño (or more depending on your heat preference!)
1/2 oz fresh lime juice
2 oz silver tequila
1/2 oz orange liqueur
4 oz ginger beer
Instructions
In the bottom of a cocktail shaker, muddle jalapeño and lime juice.
Add tequila and orange liqueur. Fill with ice and shake.
Strain the mixture into a copper mug filled with ice. Top with ginger beer and serve.
Recommended Products
As an Amazon Associate and member of other affiliate programs, I earn from qualifying purchases.