A Spicy Mezcal Mule is a smoky take on one of my favorite cocktails. The smokiness from the mezcal, the heat from a touch of cayenne, and the tingle from the ginger beer all come together to make this unlike any other mule you've ever tasted. With only 4 ingredients, you have no excuse not to make one tonight!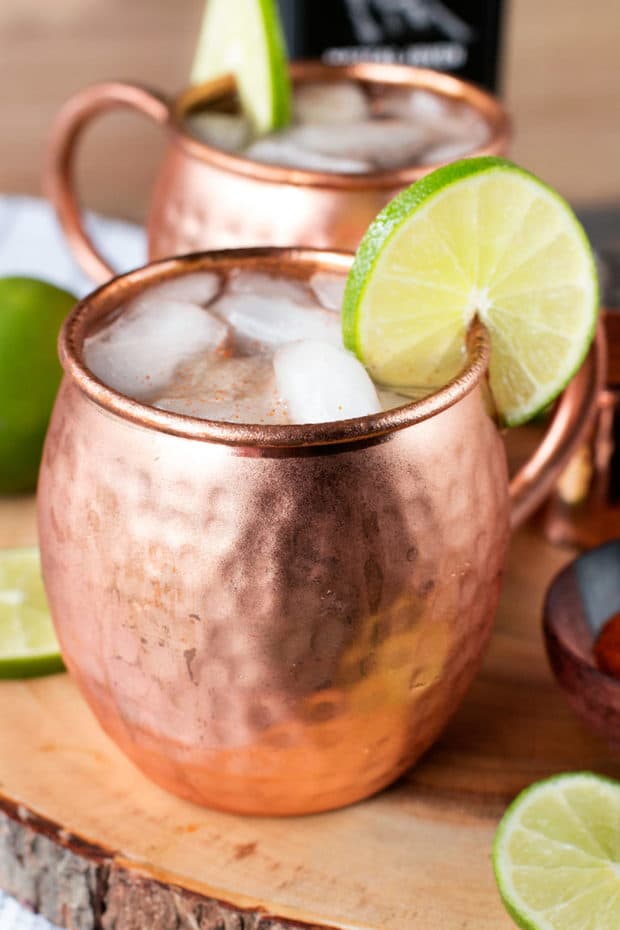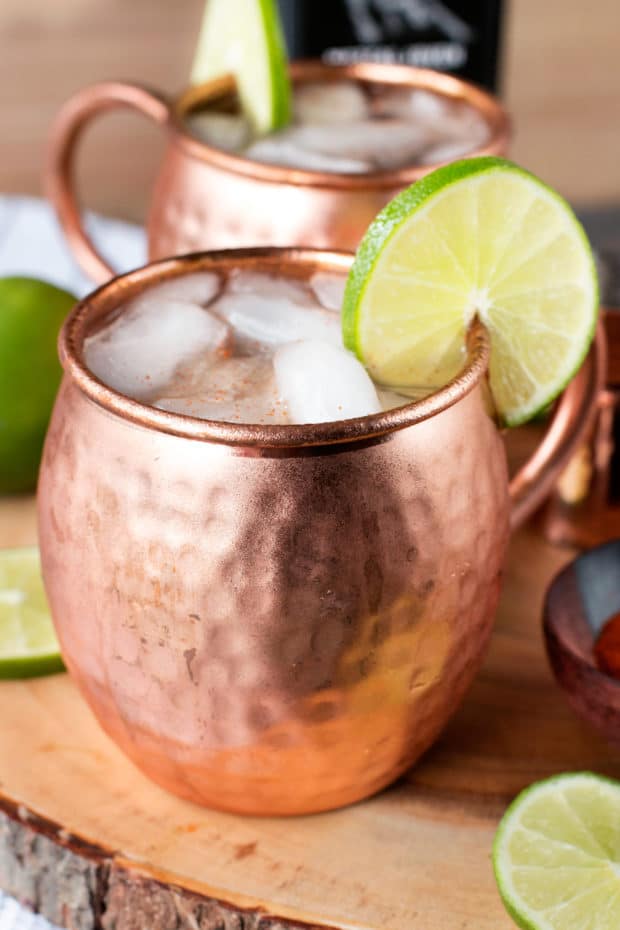 It's time to get spicy and smoky with your cocktail hour, my friends!
I have always love playing with different flavors of Moscow Mules.
The simple concoction of a mere few ingredients makes it easy to add and swap out a ton of different flavors so you can make unique Moscow Mules easily in your own home!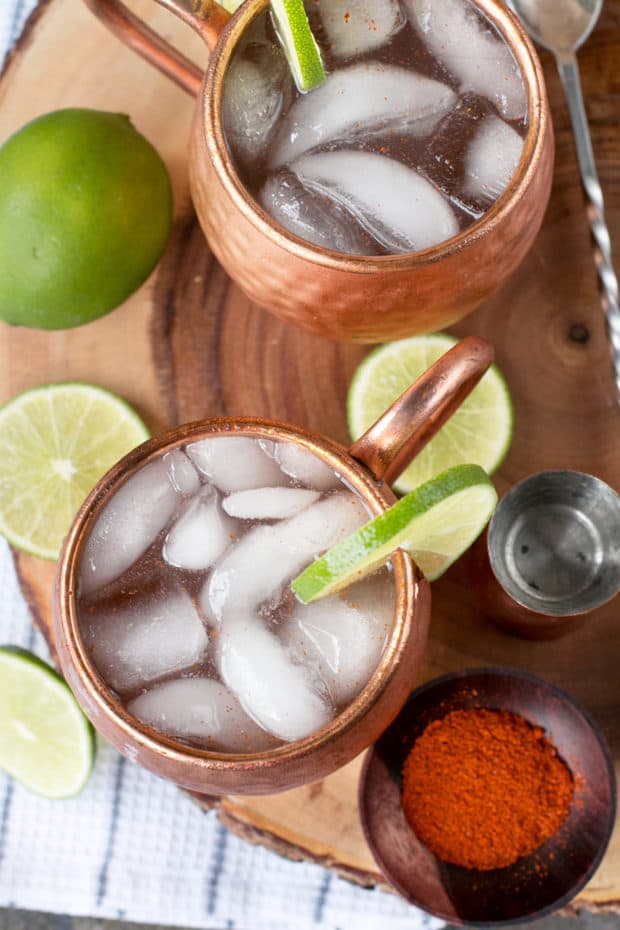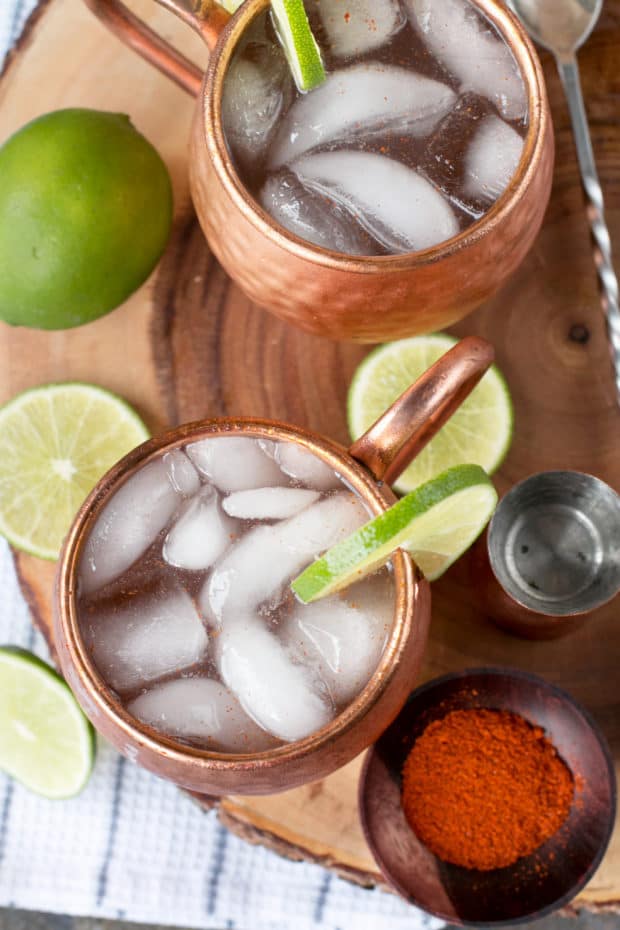 Now, as you all know, I am a bourbon girl. It's the spirit that is the way to my heart.
I used to be all about the whiskey and the vodka, but once I started sipping on bourbon in the evening and at events, it quickly became my spirit of choice.
I love my bourbon in everything, particularly when that bourbon has a hint of smoke or an extra bite of spiciness.
But recently, I have been converted to something else…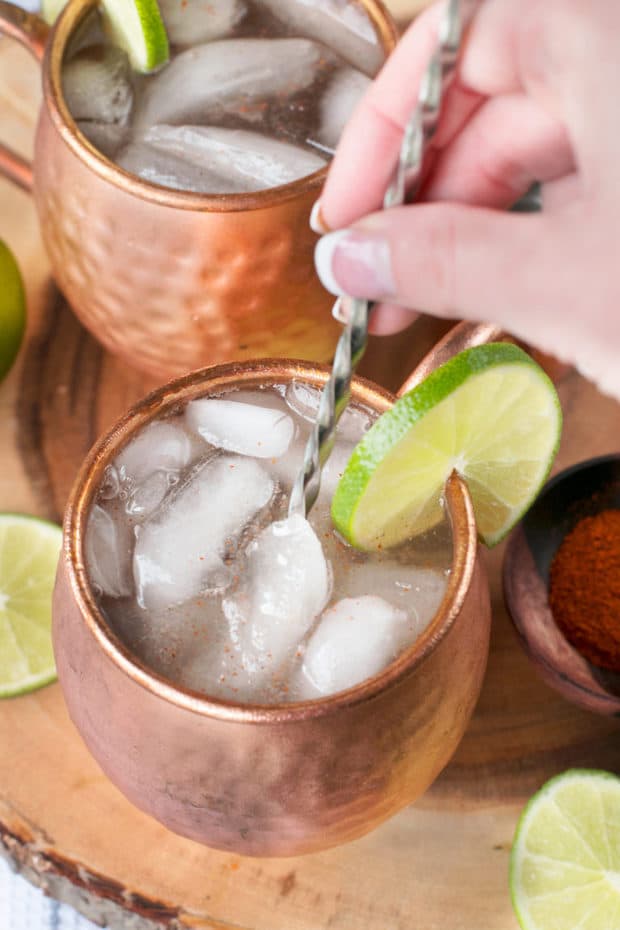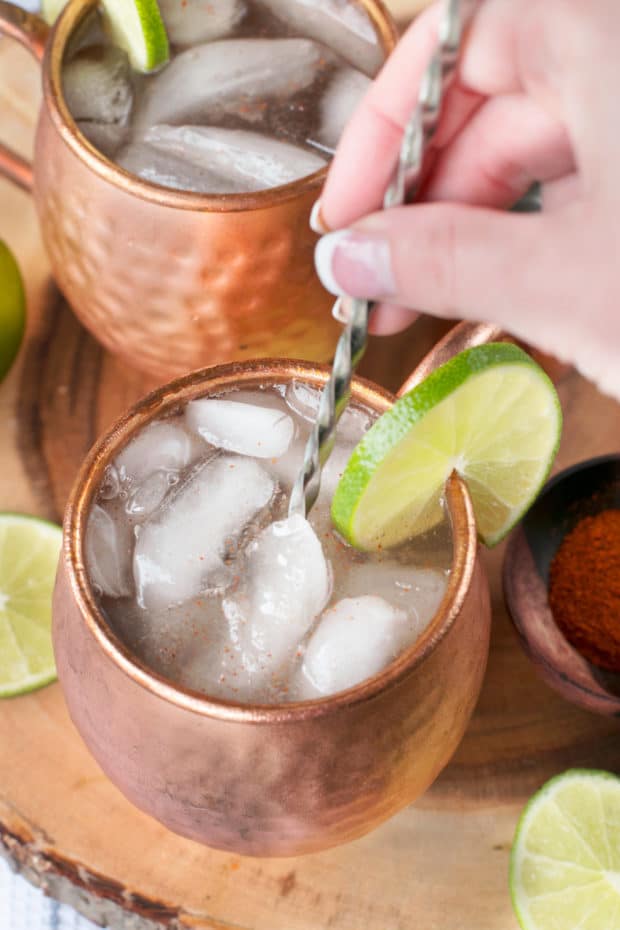 Smoke and spice are actually one of my favorite flavor combinations.
From drinks to food, smoky depth and lingering heat come together to play a symphony of flavors on your taste buds that begs you to keep coming back for another sip or bite.
I actually made this Spicy Mezcal Mule in honor of the Man. He is a mezcal and tequila kinda guy. He's also a little smoky (no, not because he smokes because EW – he's just mysterious at times. In nerdy cute ways.).
He's going to hate me for putting that into a post…
He's also spicy, because #sarcasm. Therefore Spicy Mezcal Mule 😉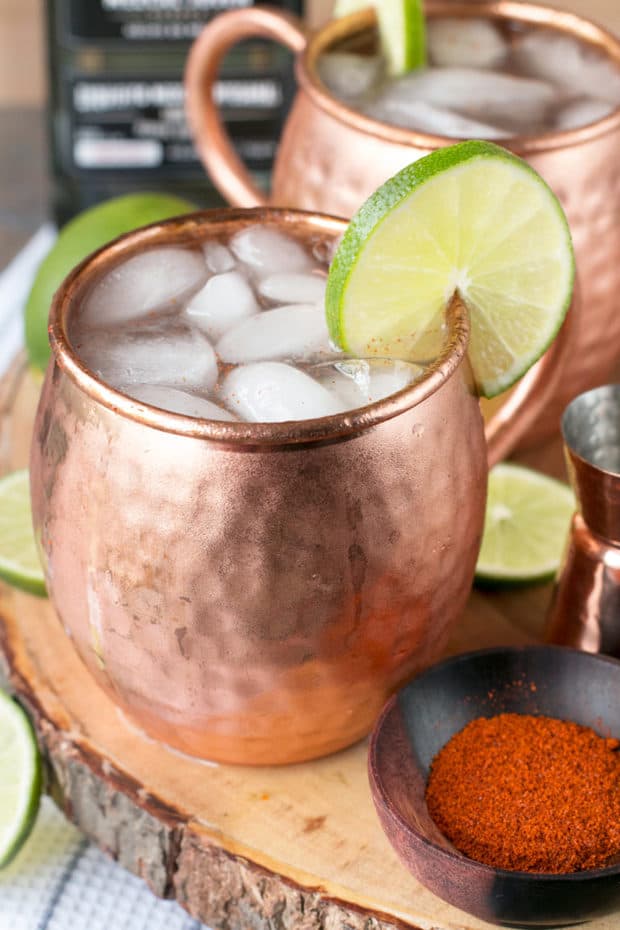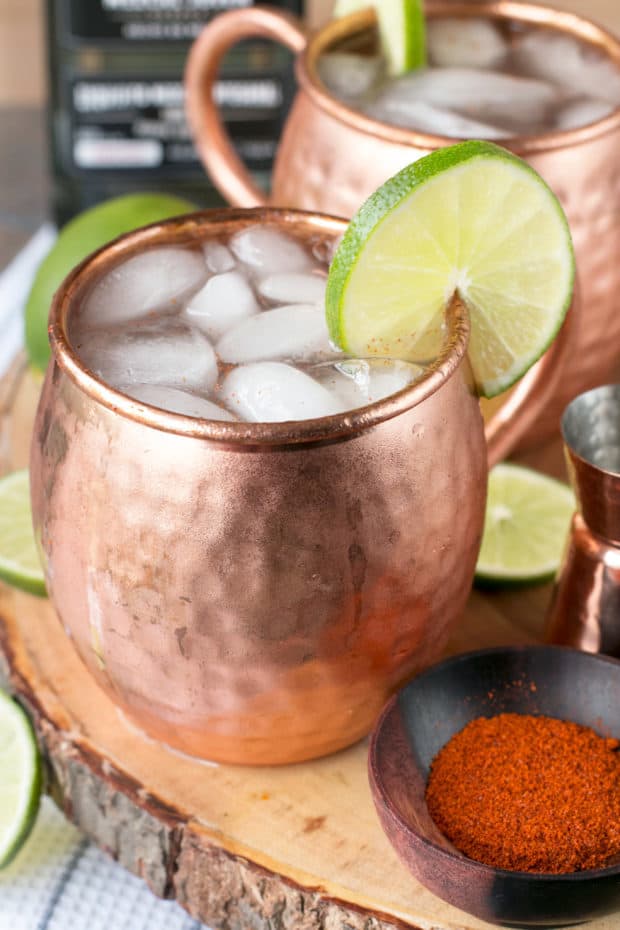 It's basically the Man in a cocktail. 🙂
This is the cocktail to be sipping on throughout tailgating season because it will pair wonderfully with any of the tailgating bites you are serving up.
This spicy mezcal mule brings out the smoky flavors of whatever you are grilling, and it complements any rich and heavy dips with a kick of ginger!
You won't be able to stop at just one, trust me…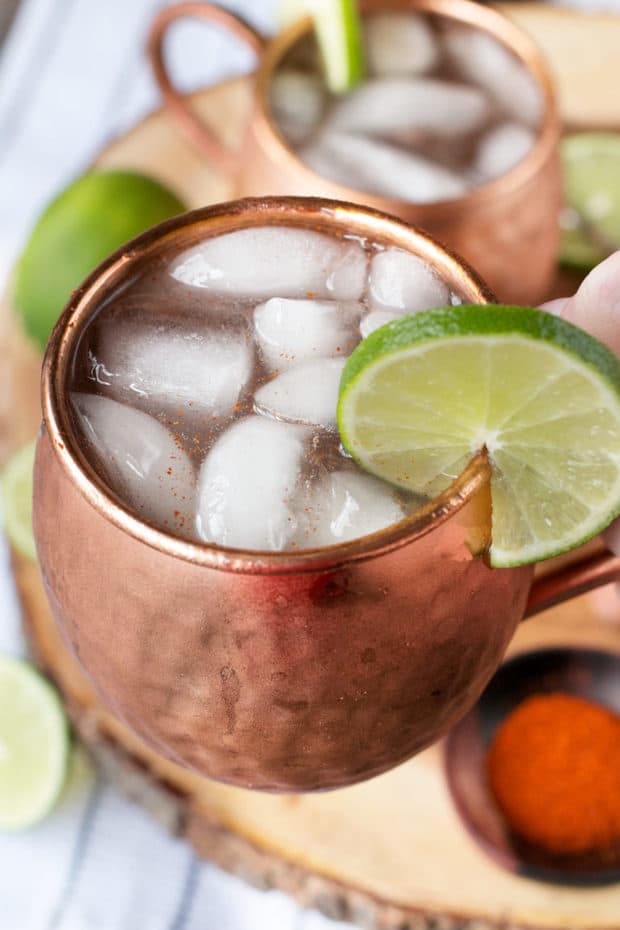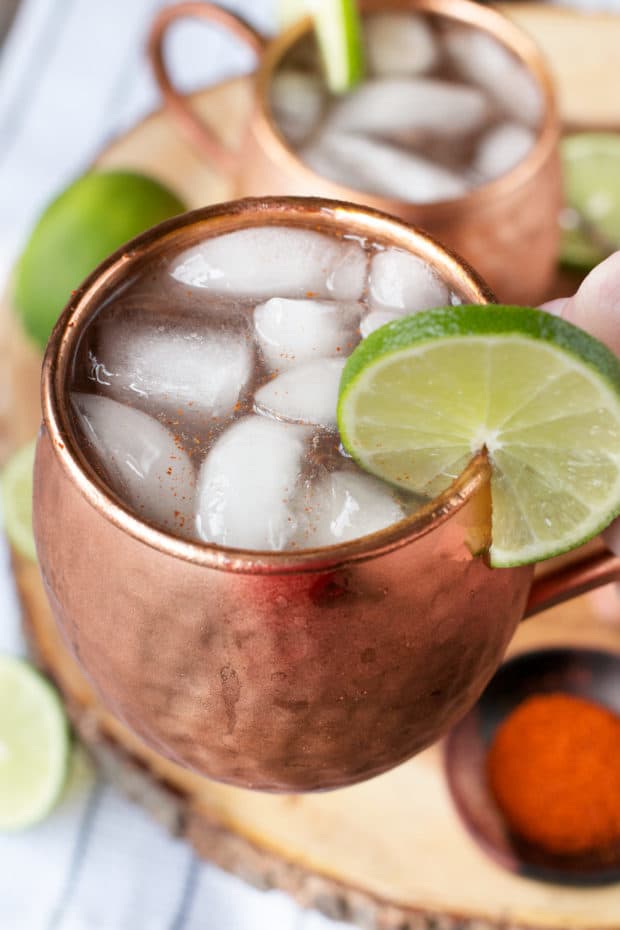 BONUS: Just for fun, I took a second to round up all my mules on the blog for you Moscow Mule obsessed folks out there… Try one, try them all! There's no limit to the gingery fun that's in your future 😉
Cranberry Pomegranate Champagne Mule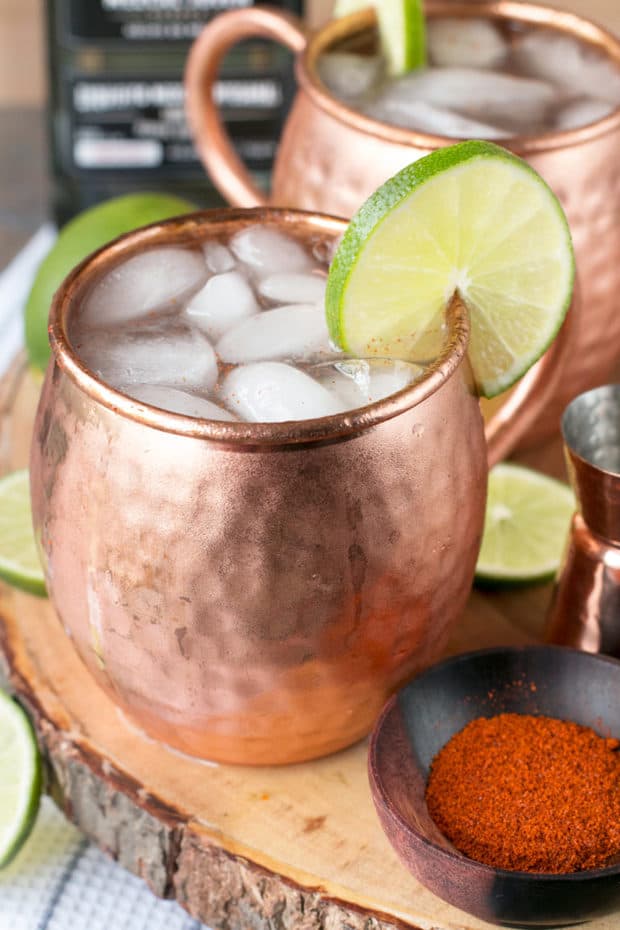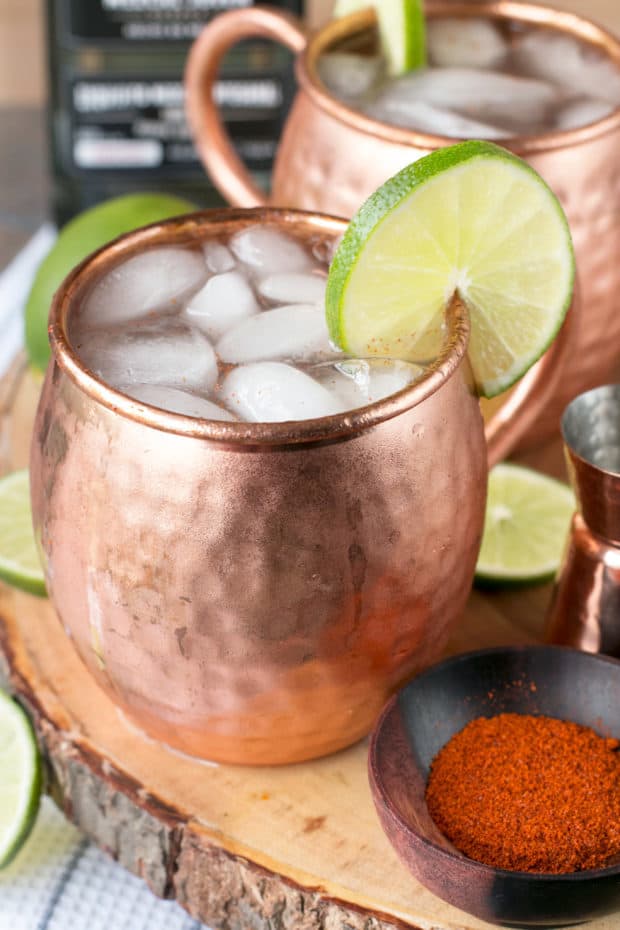 This Recipe's Must Haves
You don't need too many tools to make this super simple cocktail! 2 Pack Silicone Ice Cube Tray Molds
are ones that I rely on time and time again for the cutest little cubes of chill your cocktails could ever have.
Get the look with Mule Science Moscow Mule Copper Mugs
and a cocktail spoon
!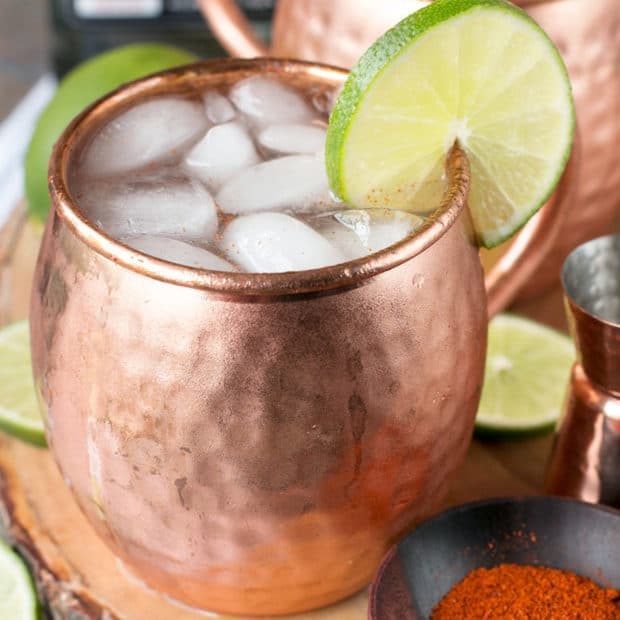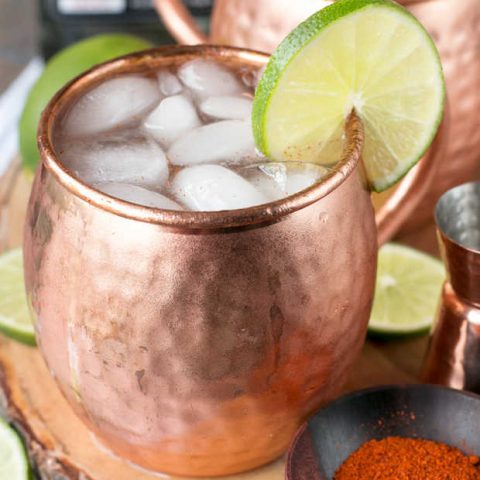 Spicy Mezcal Mule
Simply using Mezcal in a Moscow Mule turns the cocktail into a whole new drink! Smoky, spicy and oh-so addictive...
Ingredients
2 oz mezcal
1/2 oz lime juice
Pinch of cayenne pepper
1/2 cup chilled ginger beer
Ice
Garnish: lime wheel
Instructions
Fill a copper mug with ice.
Add mezcal, lime juice and cayenne pepper to the mug.
Stir well to combine.
Top with chilled ginger beer.
Give it one more stir.
Serve.