Please note this post contains affiliate links.
The Best Black And White Cookies are the soft, melt-in-your-mouth cookies you know and love. You don't have to be intimidated by these chic, flavorful treats anymore. This recipe is ridiculously easy, and you'll be munching on these beauties in less than 30 minutes!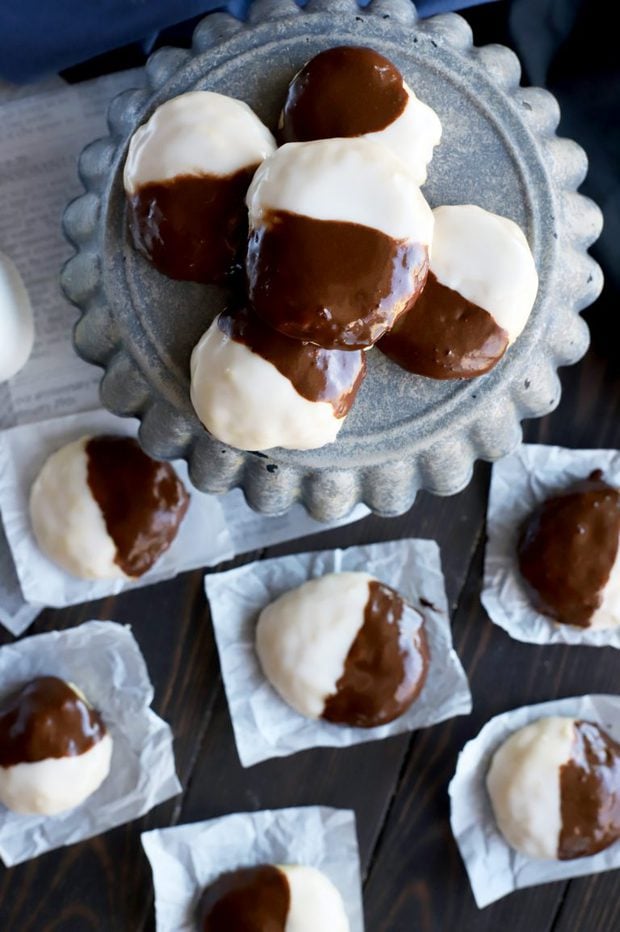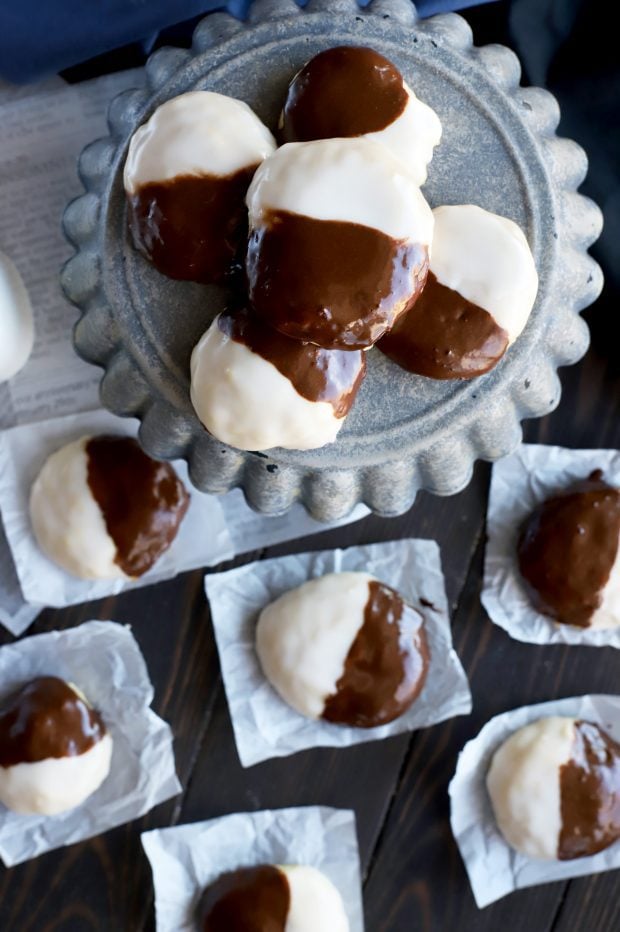 Please note that some of the links below are affiliate links. If you make a purchase through one of these links, I will receive a small commission.
Ah the black and white cookie.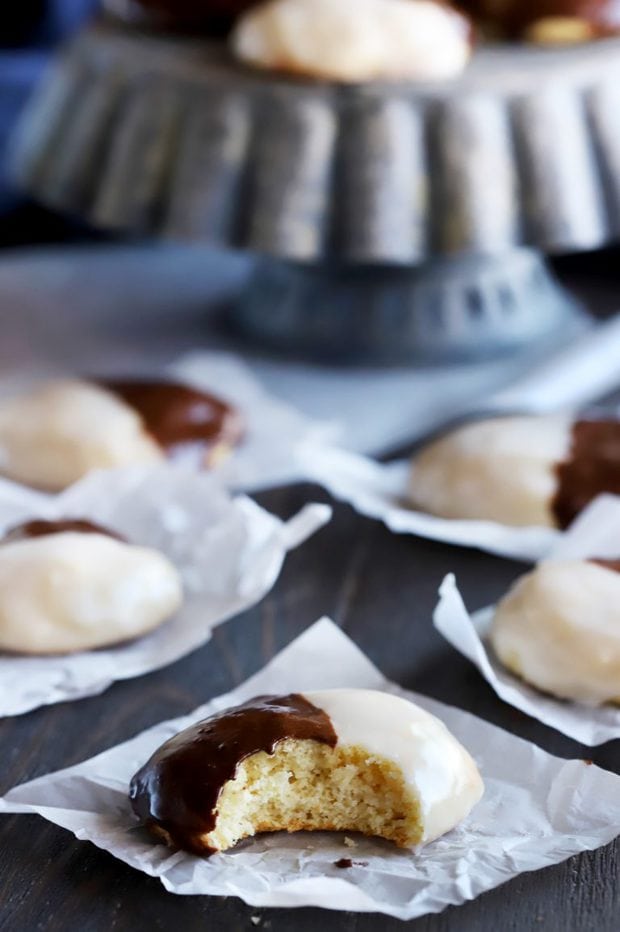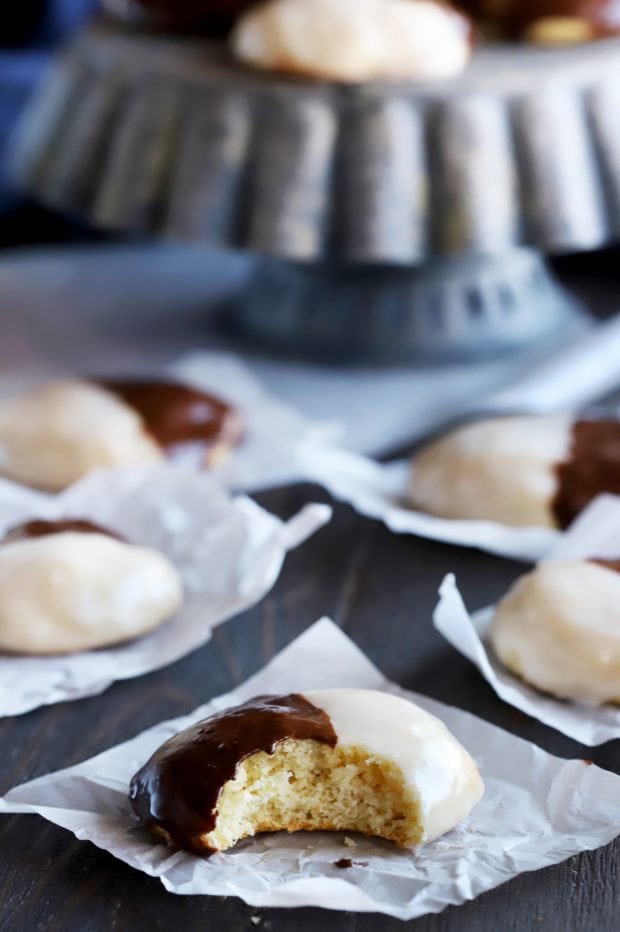 It's such a classic, isn't it? It's like the chic classic cookie. The chocolate chip cookie's older sister who does everything perfectly and never gets in trouble.
Yep, that pretty much sums up the black and white cookie in my mind.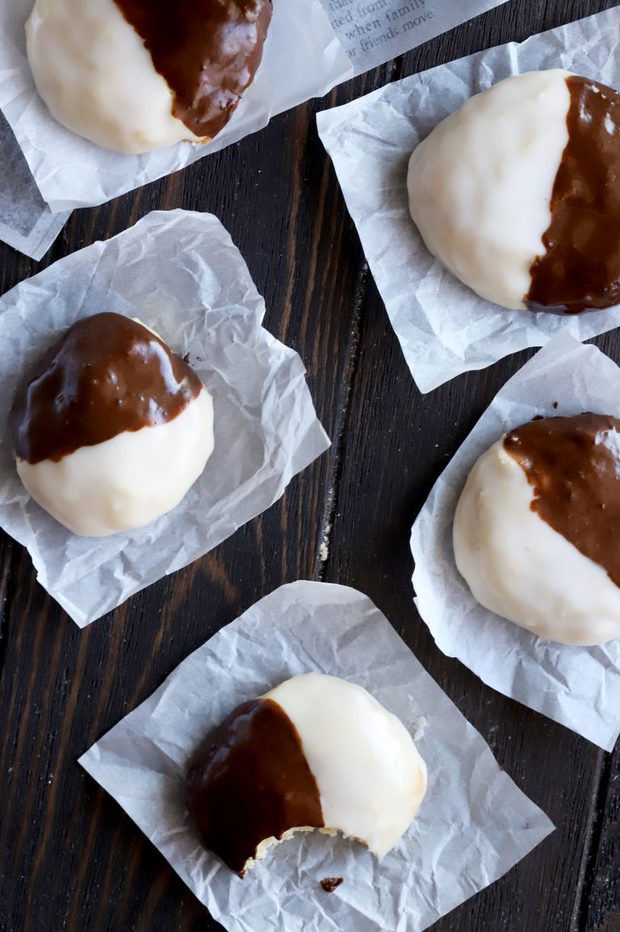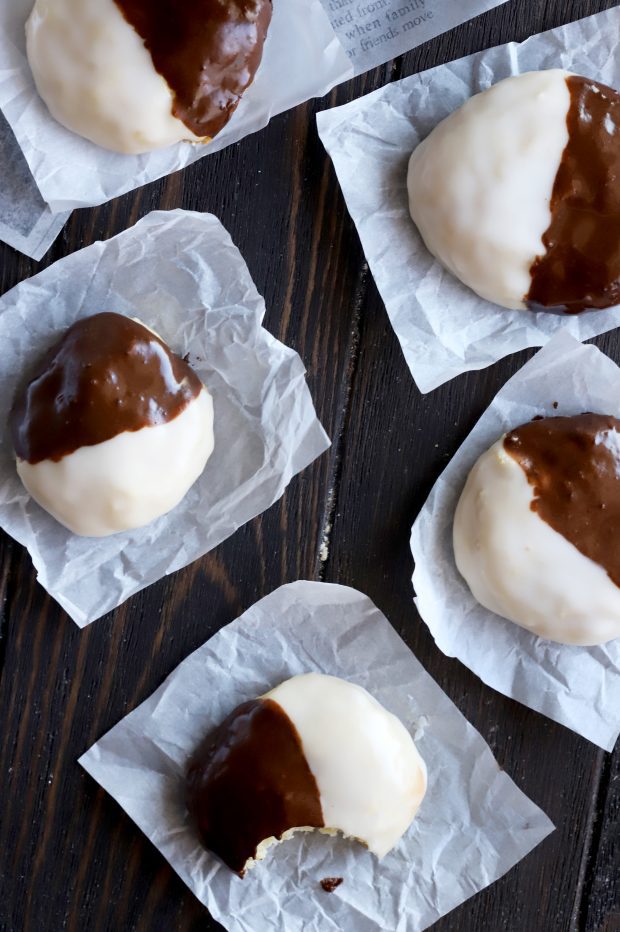 Now, with a husband who happens to LOVE this cookie, I've tried several dozen of these cookies from different locations in the last few years. Some are melt-in-your-mouth heaven, whereas others are hard or flavorless.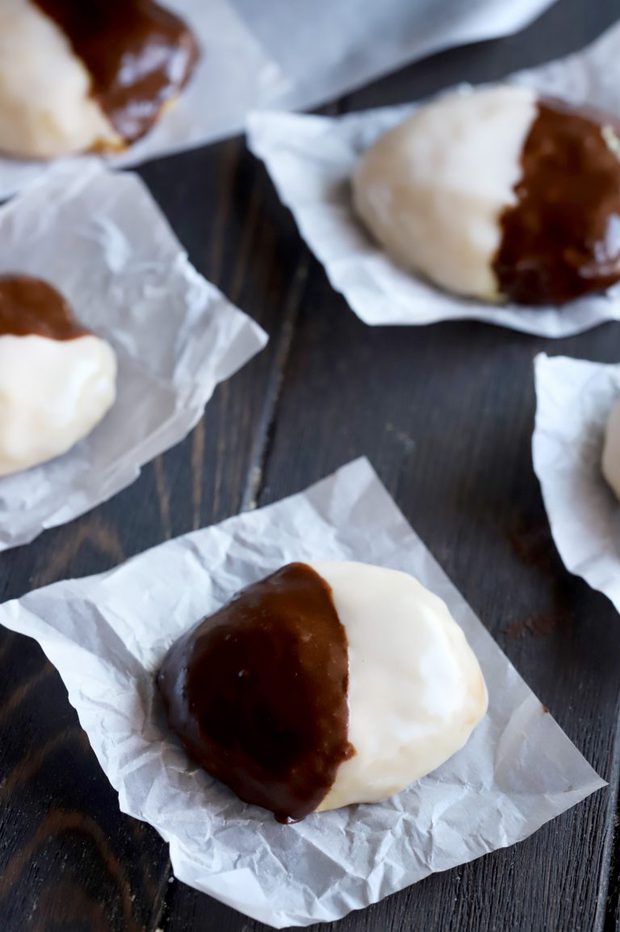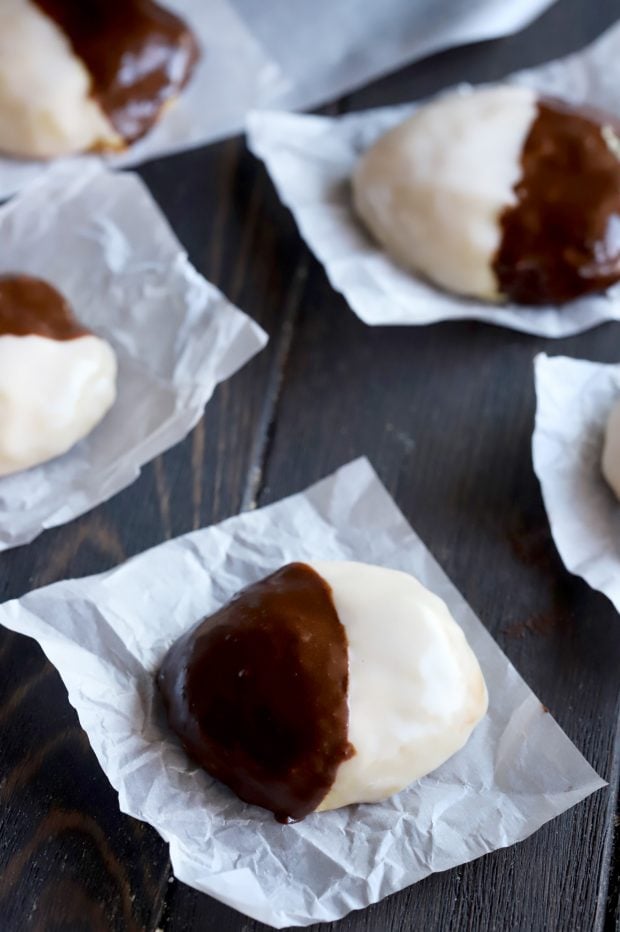 It's such a disappointment to bite into a cookie that is sub par isn't it? All you are hoping for is a delicious bite of heaven, and then you are met with a mouthful of something you wish you didn't eat. There's no excuse for crappy cookies. That's my mantra for 2019, people. NO EXCUSE FOR CRAPPY COOKIES.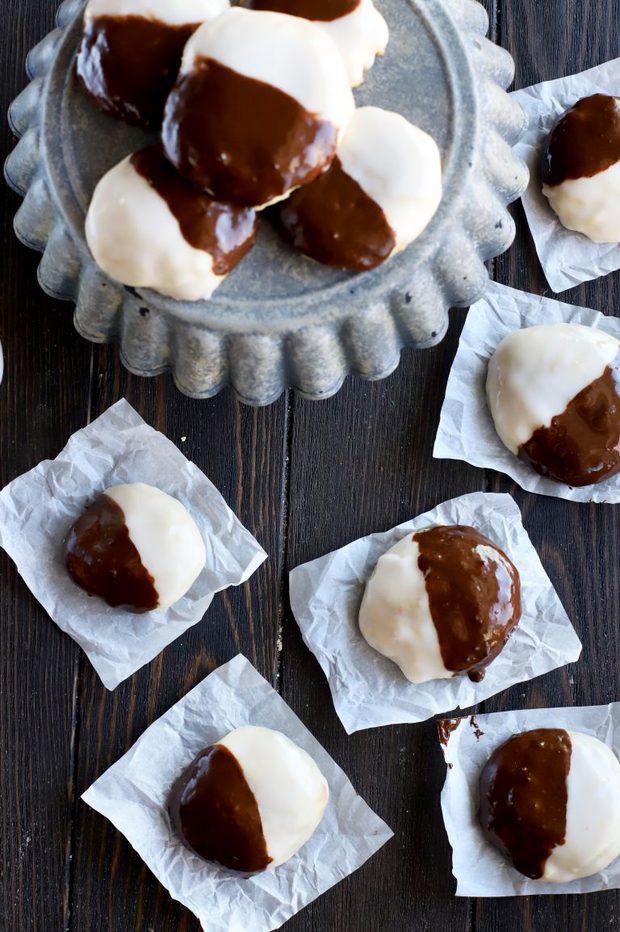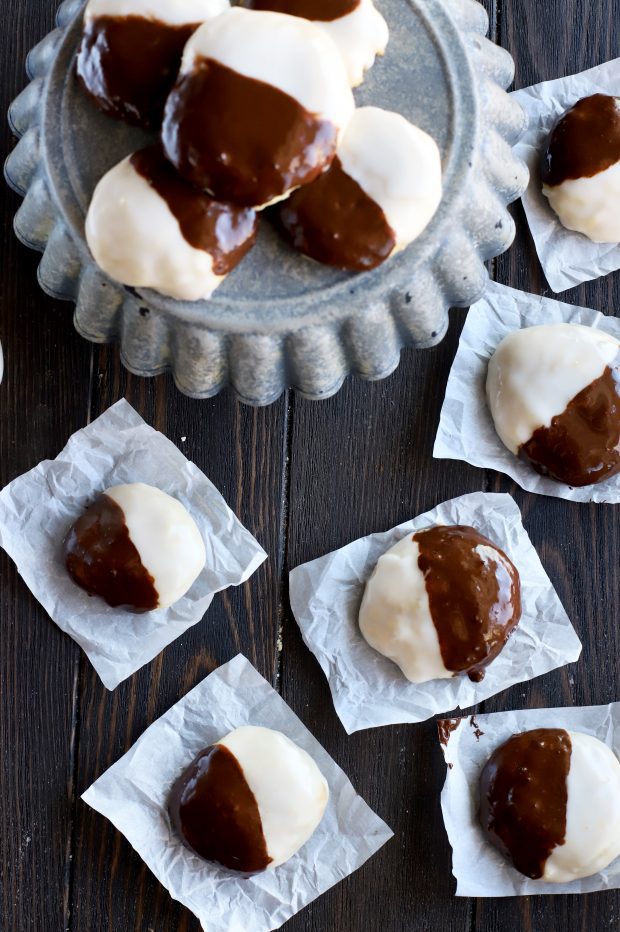 This is by far the BEST black and white cookie recipe I've come across so far, at least from the homemade side of things.
These cookies are the soft, supple, and unbelievably flavorful. They are nice and fluffy, but also the ideal size because they aren't just the giant ones. Instead, these are medium-sized, so you can indulge in one (or two).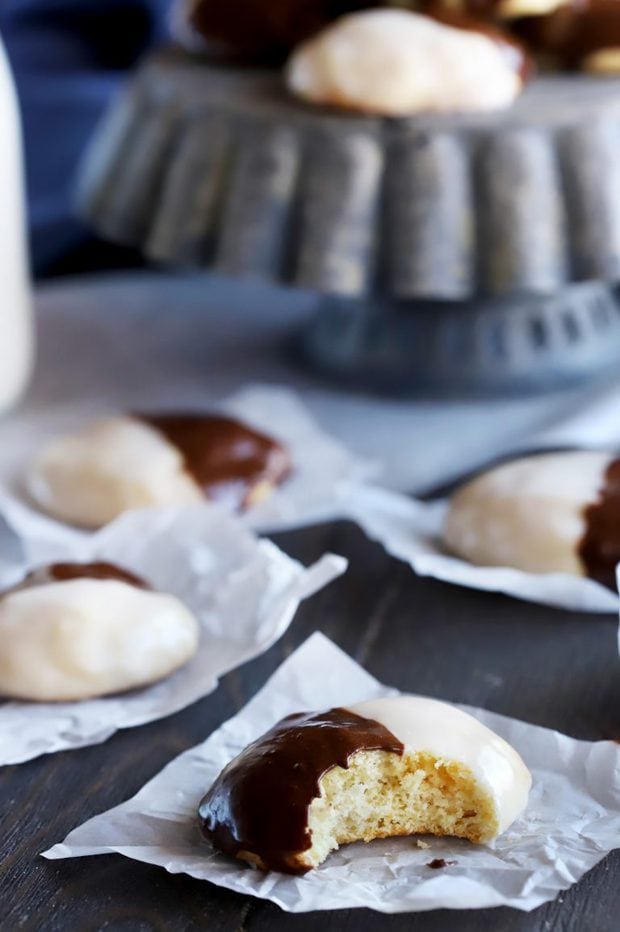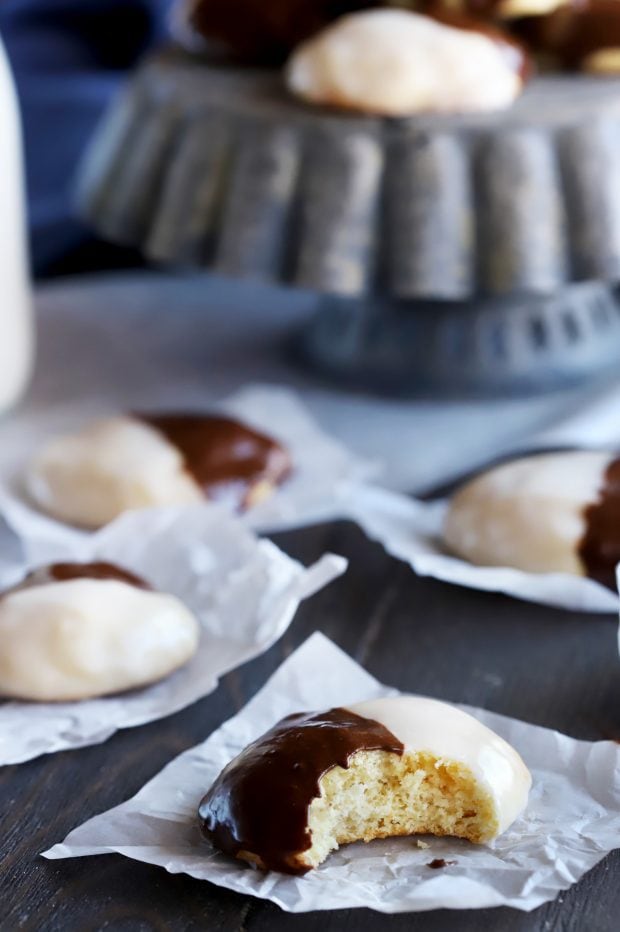 Usually, black and white cookies feature lemon juice in the dough, but I chose to go with a mix of vanilla and almond extracts. I feel like it gives the cookies an added depth, and it pairs well with the hint of lemon that is in the icings that you spread on each cookie.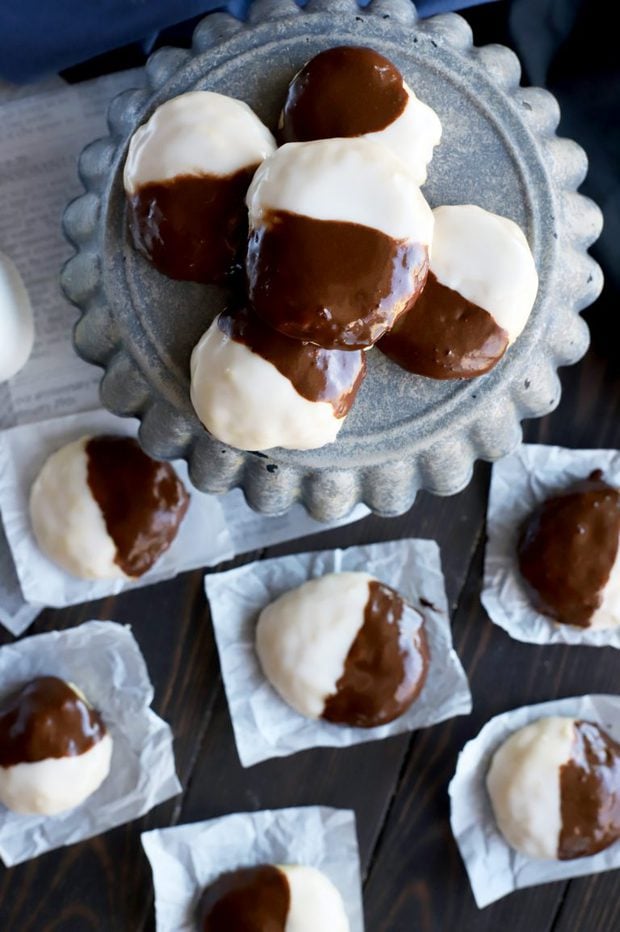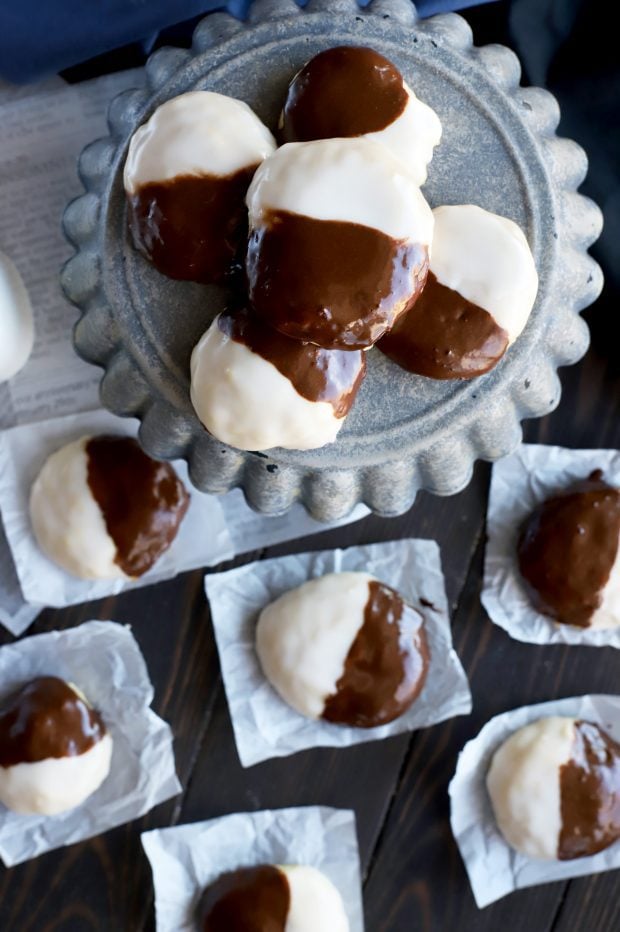 Do you need some more cookie inspiration? Here are some of my favorite classic recipes:
Olive Oil Salted Caramel Brownie Cookies
Vanilla Bean Cardamom Sugar Cookies
Don't forget the best soft and chewy gingerbread cookies! I could seriously eat these all year round. YUM.

This Recipe's Must-Haves
I love my KitchenAid 7-Quart Pro Line Stand Mixer
so. freaking. much. At first, I wasn't sure that upgrading from my standard mixer would be that much of a difference, but boy was I wrong. I can make regular recipes, but now I can bake double and even triple batches of things when I want to. If you are considering a stand mixer, or want to upgrade your current one, this is the one I always recommend.
When it comes to bakeware, I am USA PAN gal all the way. This USA Pan Bakeware Half Sheet Pan
and this USA Pan Bakeware Cookie Sheet
are ones that I use consistently for baking, roasting, and so much more.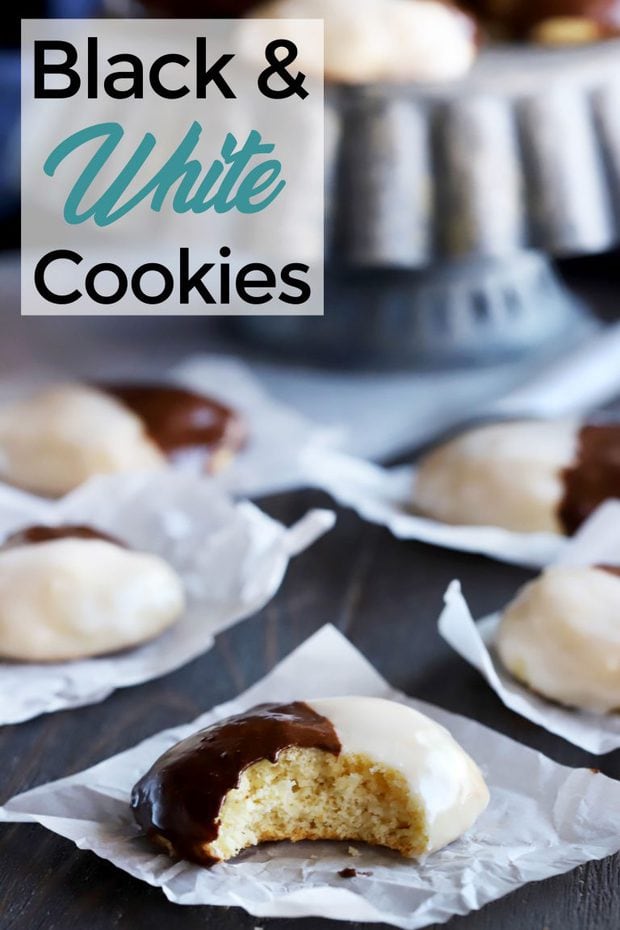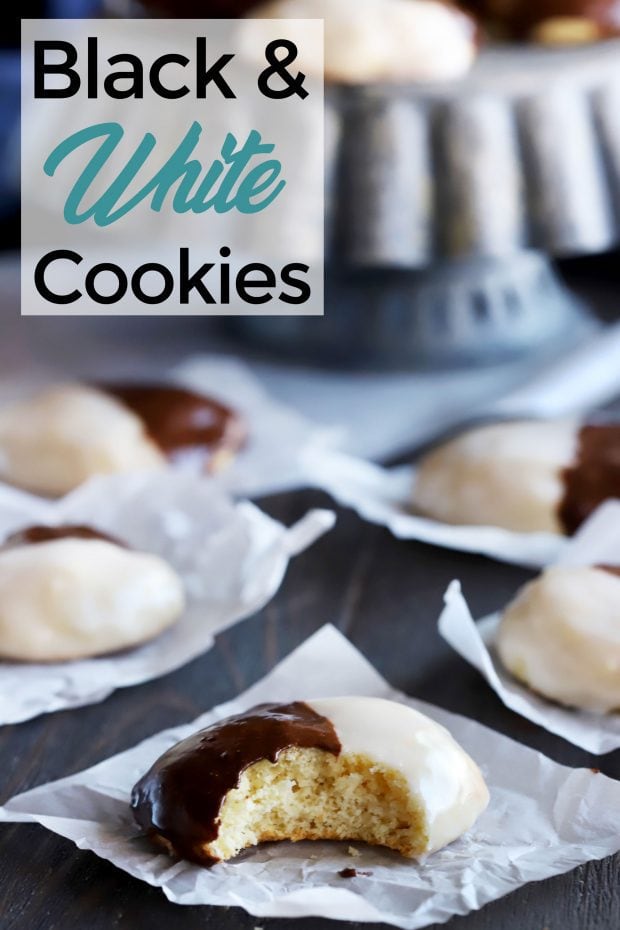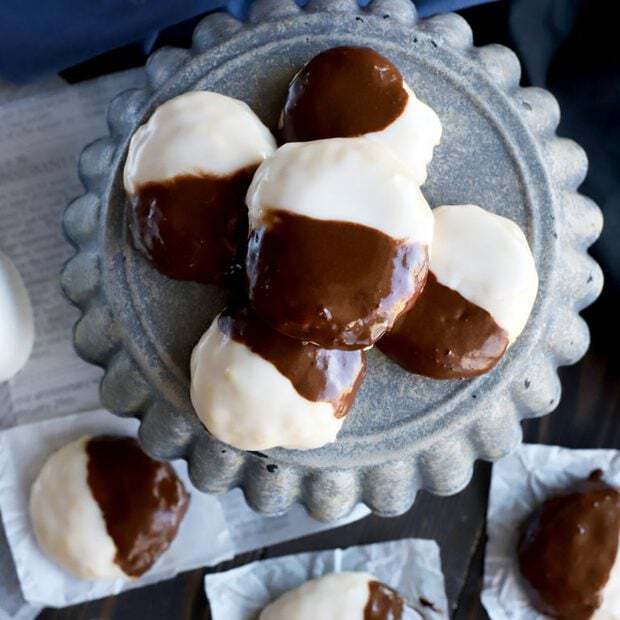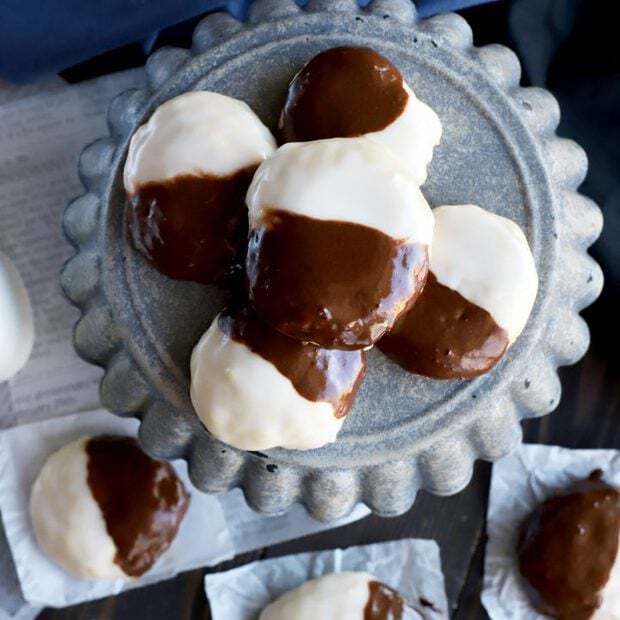 The Best Black And White Cookies
Yield:
Makes about 1 1/2 dozen cookies
Soft, pillowy cookies are the classic you love and deceivingly easy to make!
Ingredients
Cookies
1 1/4 cups all-purpose flour
1/2 tsp baking soda
1/4 tsp salt
1/3 cup buttermilk
1/2 tsp vanilla extract
1/2 tsp almond extract
6 Tbsp unsalted butter
1/2 cup granulated sugar
1 large egg
Icing
1 1/2 cups confectioner's sugar
1 Tbsp light corn syrup
1 tsp lemon juice
1 tsp vanilla extract
2 Tbsp water
2 tsp espresso powder
6 Tbsp cocoa powder
Instructions
Preheat oven to 350 degrees F. Line two rimmed baking sheets with parchment paper.
In a medium bowl, stir together flour, baking soda, and salt. Set aside.
In the bowl of a stand mixer, beat butter and sugar on medium-high until creamy. Beat in vanilla extract and egg until well combined.
Alternate adding in the flour mixture and buttermilk, dividing each into three additions. Mix until just combined after each addition.
Spoon tablespoonfuls of the mixture onto baking sheets, spacing them about 1-inch apart. Bake for 6 to 8 minutes, until the puffy and the centers are springy. Cool cookies completely on wire racks before frosting.
As the cookies cool, make the two icings. In a large bowl, whisk together sugar, corn syrup, lemon juice, vanilla, and water until combined. Take out half of the mixture and place in a separate bowl. Add espresso powder and cocoa powder to one of the bowls, whisking until combined. The chocolate frosting might thicken up on you, so add 1 tsp of water at a time until thinned to the same consistency as the white icing.
Both icings should be thin but not runny. Spread vanilla icing on half of each cookie, then spread with chocolate icing on the other half. Let set at room temperature for a few minutes before serving.
Store in an airtight container for about 2 to 3 days.
Recommended Products
As an Amazon Associate and member of other affiliate programs, I earn from qualifying purchases.